VITOLA:   Corona
SIZE:   6-1/2″ x 42
ORIGIN:   Nicaragua
FACTORY:   Small fabrica outside of Condega, Nicaragua
WRAPPER:   
Small-farm Ecuadorian Connecticut Desflorada; Aged Nicaraguan dark Prieto Habano; aged Nicaraguan maduo
BINDER:   
Aged sourced small-farm Nicaraguan medio tiempo
FILLER:   
Aged sourced small-farm Nicaraguan medio tiempo, unripe ligero and Corojo
STRENGTH:   Full
SOURCE:   
Samples provided by Isabela Cigar Company
WHERE:   
Three-season porch at home & Puff the Magic cigar lounge (Hyannis, MA)
WHEN:   
January 27, 2020 at 9 PM
DRINKS:   
Water
WEATHER:   
30s and windy in Cape Cod – smoking inside luckily
WHAT'S ON:   
A movie about golf with Pierce Brosnan?
RELEASE TYPE  Semi-Annual Limited Edition
ORIGINALLY RELEASE DATE  December 7, 2019
TOTAL PRODUCTION
Typical Box Size:     
Boxes of 12; bundles of 25
Production Totals:  
100 signed collector boxes of 12
50 bundles of 25
(2,450 cigars total)
VITOLA BREAKDOWN
o  Corona  (6-1/2″ x 42)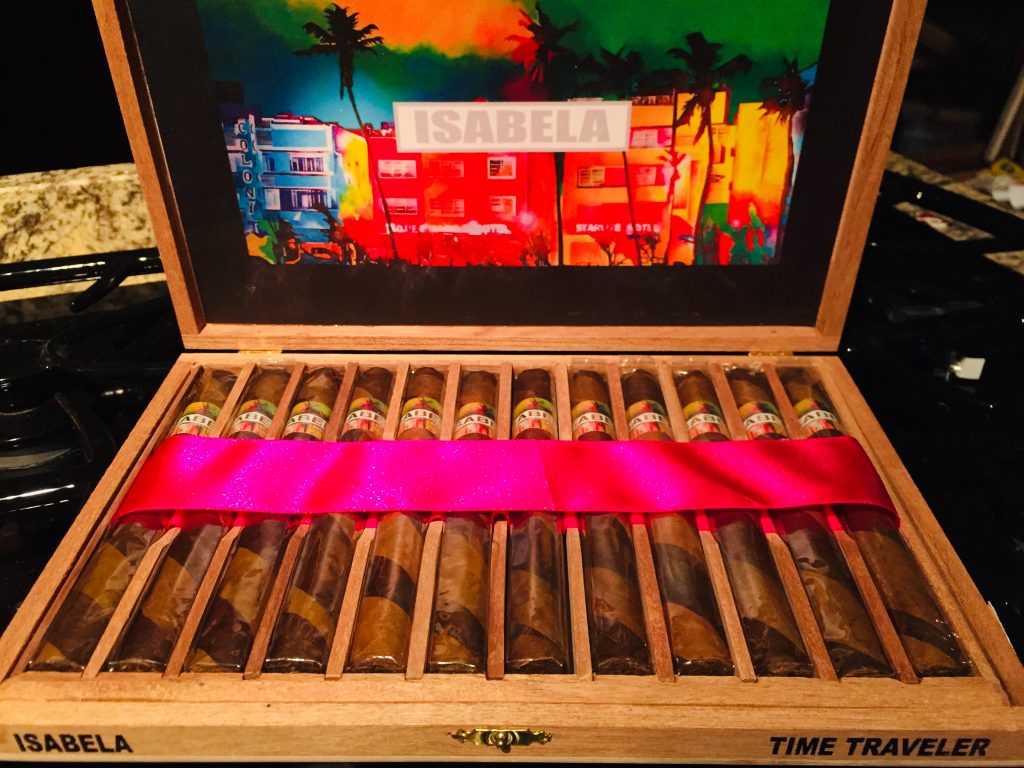 RESEARCH & BACKGROUND INFO
Isabela is a lesser known brand by many but just about any cigar reviewed from the brand lands some stellar scores.  In particular, last year's Shape Shifter earned some extremely high / perfect scores and found its way to several best of 2018 lists.
Despite its minor footprint in most B&M humidors, Isabela has been around for over 20 years.  
Founder Johnny Piette launched the company after meeting Cuban Master Vicente Ortiz down in Miami's Little Havana.
Isabela made a concerted effort to expand production in 2015 – ramping up production significantly.
I asked Piette about the factory they use down in Condega.  He surpirsed me by saying it was an extremely small operation 'more like a glorified motel or garage.'
All Isabela cigars are 'rolled by six pairs of level 9+ ex-pat Cuban Master rollers, each with over 30 years of experience.'  If you don't know, level 9 is basically as good as it gets down there – these guys are the best of the best.
Each cigar follows the 'typical methods of artisan custom master rolling and finished tres capa and sealed with a sugar-based sealant.'
Isabela's limited edition cigars are all developed out of their Imagine Creative Magic Studio.  The studio focuses on aggressive blending, using small farm-sourced tobacco and utilizing many different aging methods in both pre- and post-production.
Piette remarked on how the very small batch nature of Isabela gives them a lot of freedom to use small runs of tobacco from smaller farms – something larger companies may not be able to do as easily since large production equates to needing larger quantities of tobacco.  They are constantly hunting down tobaccos throughout Nicaragua – especially on the lookout for those "Ma and Pa" farms that can provide some awesome – but small – runs of tobacco.
Piette also enlightened me on how Isabela is different from the big dogs of the industry and maybe even separating themselves from other small batch operations.  Isabela approaches cigar-production as art – meaning the end goal is to make something beautiful and, if needed, buck traditional business logic.  The smaller releases and size of their company leaves them unconstrained by looming deadlines, bank loans, etc that can plague larger manufacturers.  Piette continues that their approach acknowledges that each blend will age for an unknown extended amount of time – they age them until the test samples are deemed 'ready' – not necessarily releasing to meet a promised delivery date.
Isabela's website notes that the Time-Traveler is a three-year long labor of love from blending to aging.  The cigars have been aged 32-months prior to release.
The age on the Time-Traveler helps (1) cool down some of the pepper from that unripened ligero, yielding the palate real estate to the complex flavors hiding behind the pepper blast and (2) age out the heavy oils, which serves to improve the burn experience.
Isabela's tasting notes state the Time-Traveler will deliver "8 seamless transitions of flavor profiles, blended to take you on a journey thru some of the most prominent, luscious flavors of the most popular Cuban cigars of the nineties."  A transition of eight profiles as an homage to Cuban tobaccos of the 90s?  Sounds pretty ambitious …
This cigar uses the highly-coveted medio tiempo leaf.  For those unfamiliar, medio tiempo is a higher priming leaf that only occurs on a small percentage of plants.
"Every time we produce a run of the Time-Traveler, we are trying to get the intent of the blend, obviously sourcing the tobaccos that are available, which fluctuates every season of production," said Piette.  "We never really know when the blend is ready from batch to batch, so we project a two-year minimum, and then do the 'fire one up' every couple months after that, until the blend tells us it's ready."  Cool approach.
Each version of the Time-Traveler is unique in that it is blended to meet an intent – not necessarily to recreate the previous blend.  In fact, given that Isabela uses extremely small runs of tobacco, it would probably be very difficult if not impossible to exactly replicate the previous releases.
Not quite an annual release, Time-Traveler's only other release was its inaugural release in early 2017.  Seemingly, it looks like this will be a 2-3 year release as tobacco yields and aging allows.
 I read somewhere that Time-Traveler sports 13 different tobaccos in its filler!  13?!  That seemed like a lot to me so I asked Piette how they worked that magic.  He responded that there is no way the Time-Traveler is stuffed with 13 unique filler leaves.
The 2019 release added a bit more ligero that the 2017 to 'punch it up a bit.'
You can find a list of Isabela retailers here.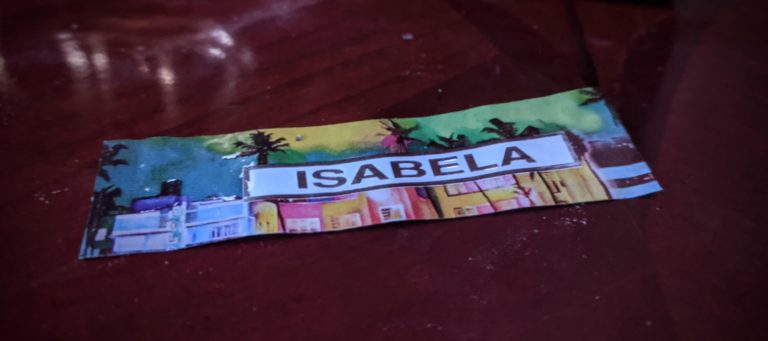 As far as I know Isabela adorns all of its cigars with the same wrapper – no differentiation between lines or sizes.  The band itself is eye-catching against the barberpole wrapper leaves – utilizing an array of bright colors painting what appears to be a elevation-style view of Miami's Art Deco inspired Ocean Drive.  Palm trees are silhouetted in the foreground in case you need any more clarification of where you are.  I admire Isabela's persistent blanket approach to banding their cigars – one band to fit them all.  However, this leaves some pressure on the consumer to track down exactly which Isabela they are enjoying.  For the limited editions, it would be great to see some kind of indication that the cigar is special – at the very least so you don't grab it out of your humidor and fire it up without the  proper knowledge of what you're smoking.  This feels oddly similar to one of my standing complaints with Ezra Zion – sometimes it's damn near impossible to track down what on earth you're smoking without significant Googling.  At the end of the day, I really do like the band and the art but wish Isabela would display a bit more information to help us out.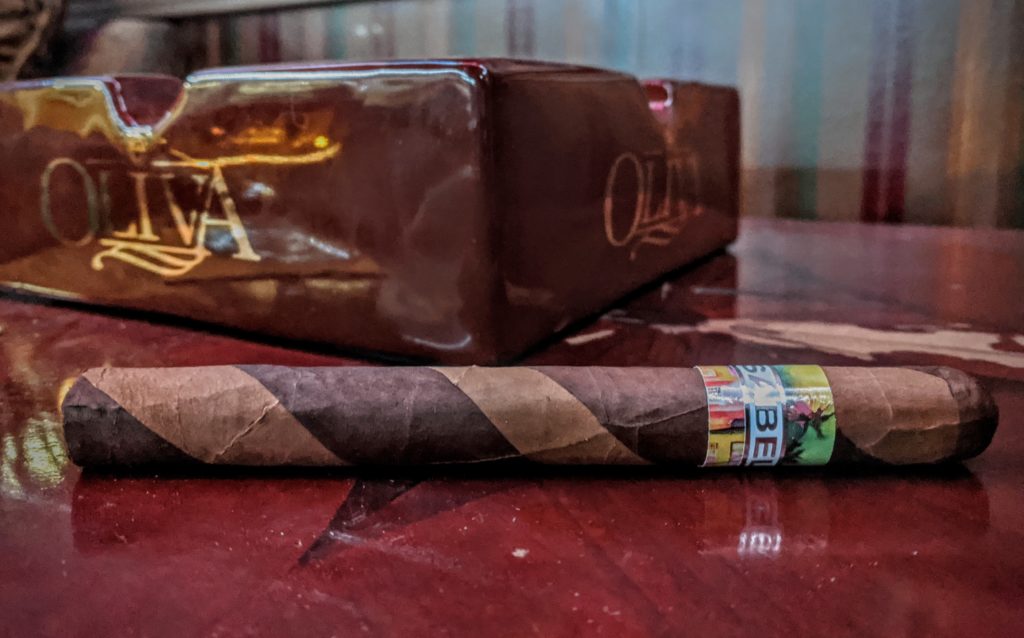 CONSTRUCTION
The barberpole wrapper adorning the Time Traveler is nothing short of gorgeous.  The wrapper itself is comprised of three different grades and types of leaf – Ecuadorian Connecticut Desflorada, aged Nicaraguan dark Prieto Habano and an aged Nicaraguan maduro.  I feel like you don't see desflorada often but it's worth noting that Kyle Gellis of Warped uses it frequently – most notably in their La Colmena line.  Each of the light and dark wrappers have an amazingly even color to them resulting is a stunning contrast of color.  The darker leaves have more of an oily sheen whereas the lighter is a bit more matte.  The leaves have minor veins running throughout but no significantly raised areas – in fact, the seams sit almost perfectly flat.  The beautiful aesthetic draws you in to notice the truly expert-level craftsmanship.
The cigar yields very little give when compressed and inspected. I couldn't really find any soft or lumpy spots – everything pointing to a very well rolled cigar.  No real surprises on the cap or foot – each looks flawless.  The cap is nearly impossible to differentiate from the leaves of the body.  A fantastic array of color is visible in the foot – showcasing the very eclectic blend.
I love the vitola of the Time-Traveler.  Interestingly, the quantity of tobacco Isabela's blenders are able to source is what drive the vitola shape and size.  So if you ever see Time Traveler creep into the 6×60 range, you know they found a whole mess of good tobacco from somewhere.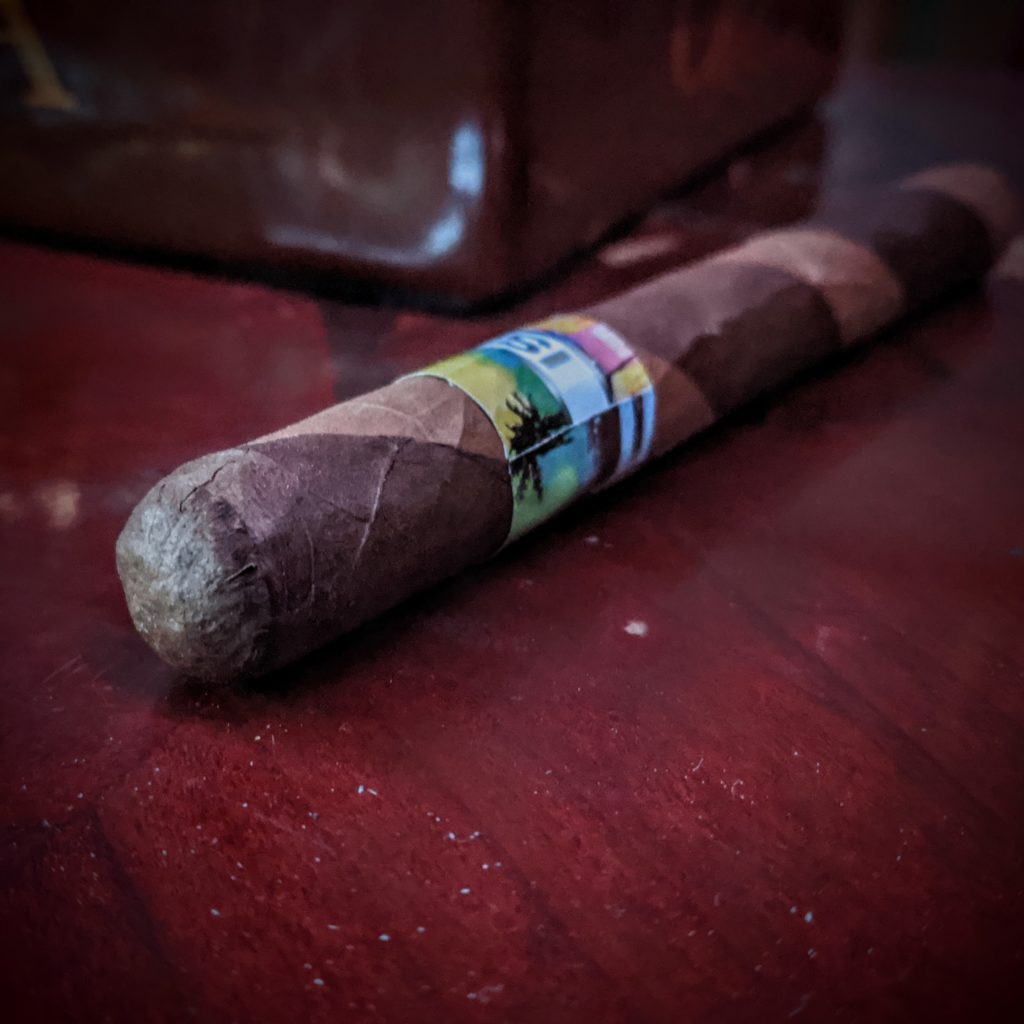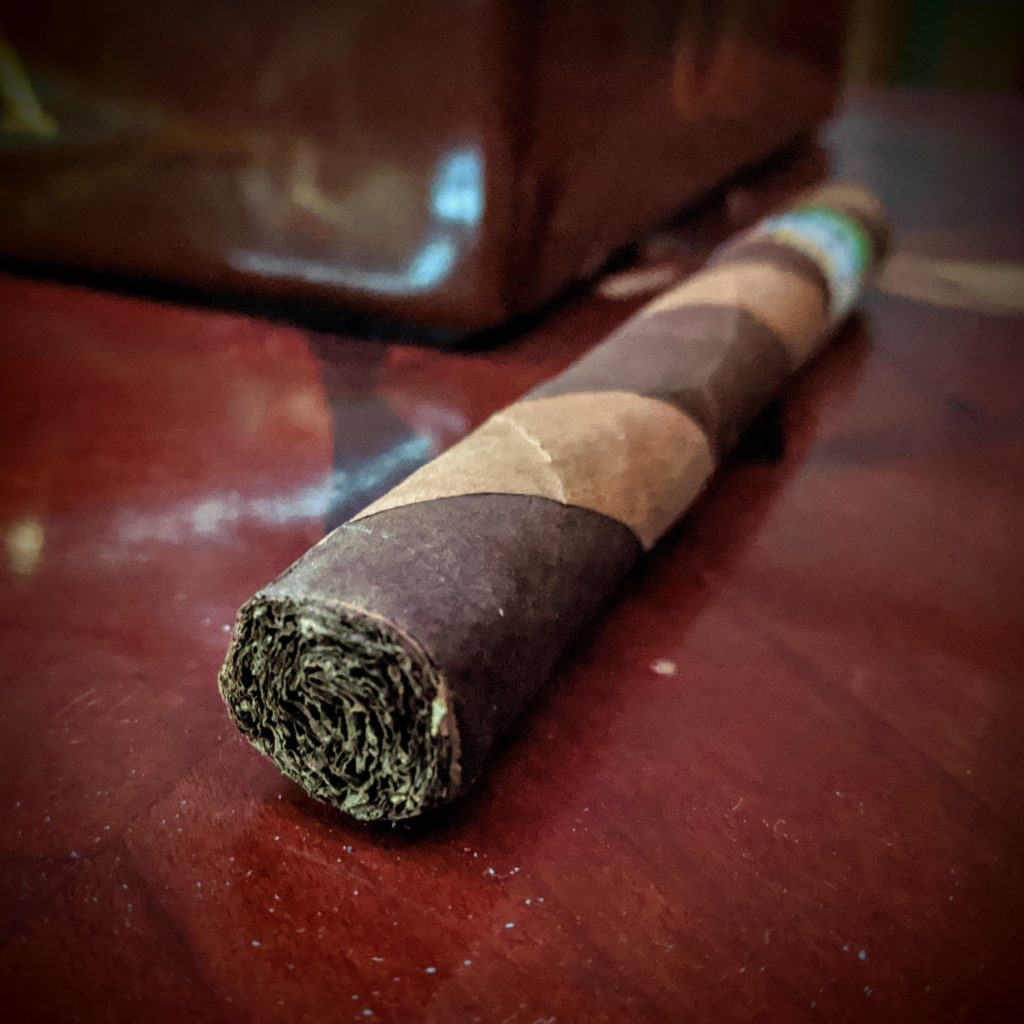 AROMA
Off the foot there is a tantalizing mix of aromas – lots of sweeter tones – graham cracker, light lemon and maybe a little vanilla and cherry.
COLD DRAW
My v-cutter slices through the cap with ease.  The initial flavors are very interesting and right away you get some sweetness from the sugar sealant used on the cap.  It is not a bad experience by any stretch but it is something you may not be prepared for if you aren't expecting a little blast of sugar off the bat.  The sugar dissipates from the palate quickly to yield the more natural flavors of the tobacco.  Flavors are on the lighter side with hay being the most notable.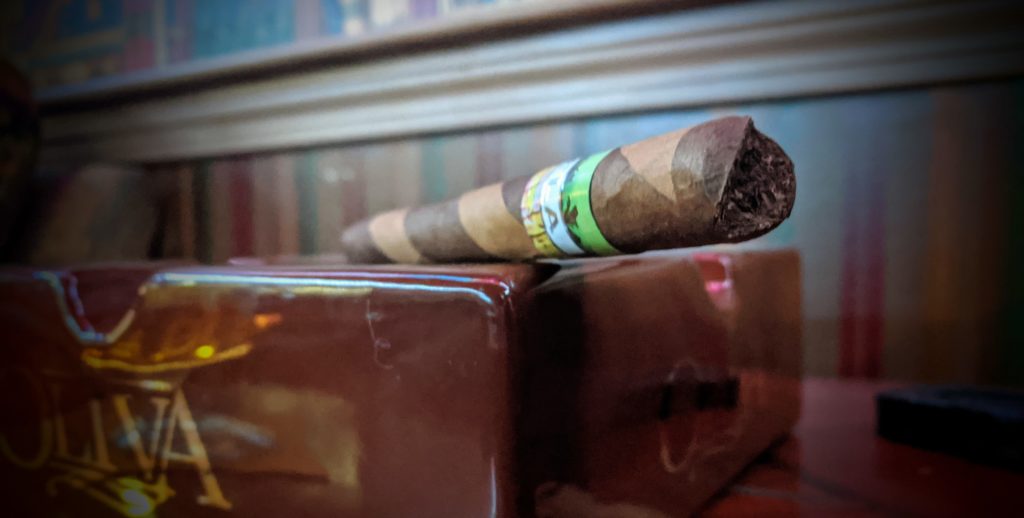 LIGHT & DRAW
Cut:  Colibri SV v-cut
Fire:  Alec Bradley "The Burner" Table Lighter
 The sugary sweeetness continues to influece the palate – being sure to hit the tongue prior to any other flavors.  The first few puffs yield a bit of dough/yeast with just a faint white pepper in the background.  Maybe it's that light pepper messing with my taste buds but I'm also feeling a very slight effervescence on the tongue with each puff.
The draw is nearly perfect – maybe a smidge on the tight side but overall I can't complain.  About a half inch into things and the burn is doing alright.  It's far from razor sharp but holding its own for now.  I'll need to reevaluate as things progress.  The first layers of ash hit all gradients of grey – from chalk white to pitch black – a mosaic ash for sure.
SMOKE
Initially the smoke output was quite voluminous however as the cigar burns down the smoke output while resting wanes.  Each puff certainly churns out a nice dose of fairly neutral smelling smoke but returns to almost no smoke once it's out of my hand.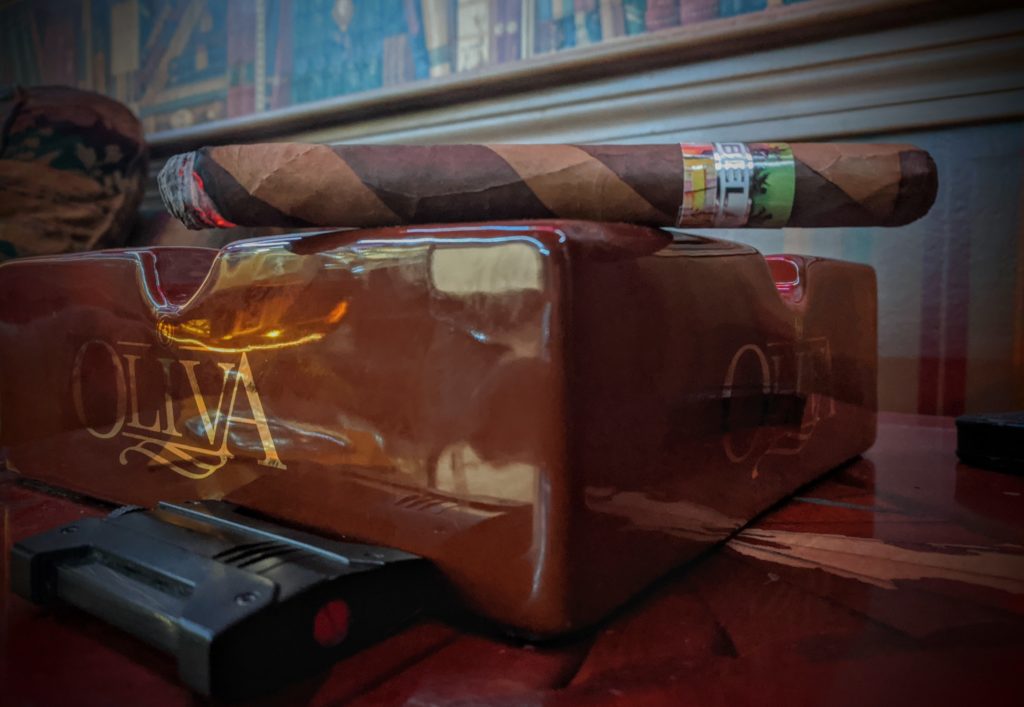 FIRST THIRD
>> pepper, cream, sweet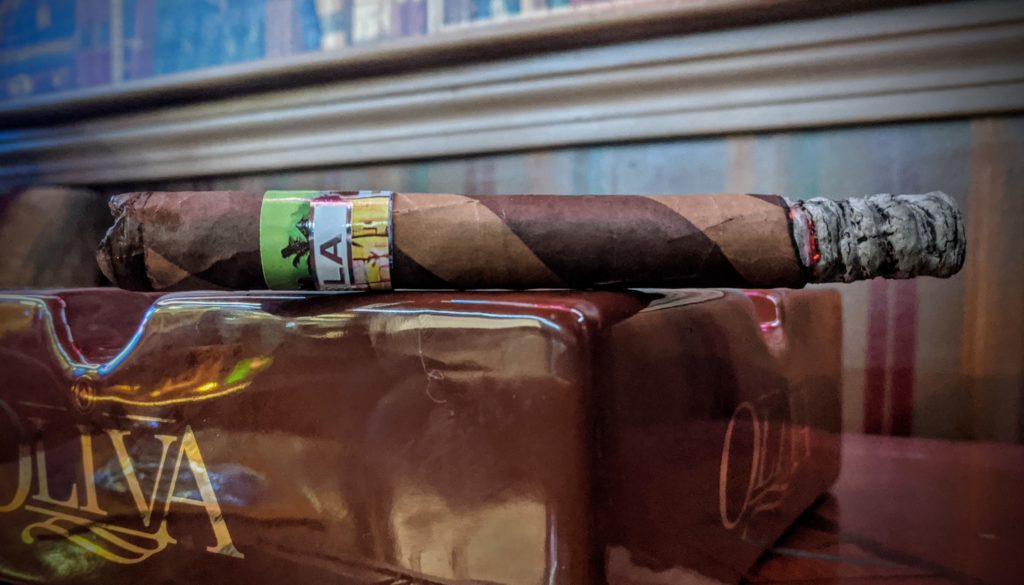 The first third brings a quick shift to the palate.  Sugar from the cap is still ever-present however the pepper is dialing itself up quite quickly.  It went from a softer white pepper to a much more aggressive black pepper.  There's a subtle creaminess as well – nothing super overt but just a nice dose of cream to soften the peppery blast.  I feel like there's some sweeter tones in the mix but it's very hard to distinguish them from the sugar sealant.  Towards the end of the first third the pepper has settled down again and really eased back into the passenger seat – much closer to the initial white pepper from the onset.
No doubt – the Time Traveler is off to a very nice and complex start.
The draw has loosened slightly resulting in an absolutely magnificent pull – could not be better.  Take my initial comments about the burn line and toss 'em out the window.  The burn line has evened out masterfully – perfectly even and certainly not a concern.
SECOND THIRD
>> white pepper, banana salt-water taffy, mushroom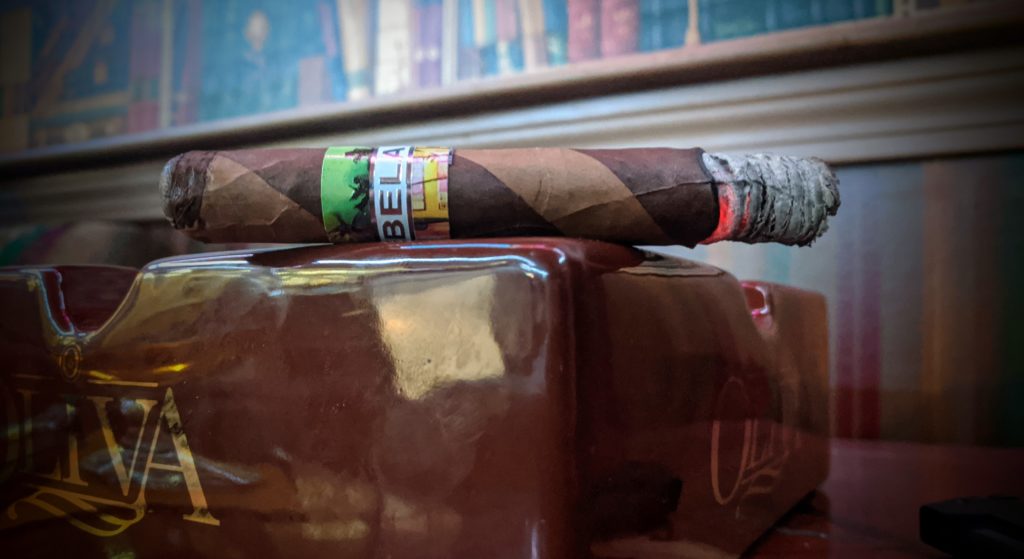 As I work through the middle third things continue to be very interesting.  While the pepper is still hanging out, as I noted above, it's much more palatable in this white peppery muted version.  The creaminess has continued to build in a really fascinating manner – working itself into a sweeter, taffy-like nature.  Call me crazy but I am getting some very distinct banana taffy at moments.  There's also some great meaty char working nicely on the palate.  I'm getting the feeling each third can be defined as how it starts – transitioning from the previous third – and how it closes.  For the middle third, the ends with some very distinct mushroom and damp forest-like tones.  And maybe a little cinnamon … the flavors just keep going.
Isabela harps on the idea that there are eight distinct flavor transitions in the Time-Traveler.  Admittedly, I was very skeptical of that level of complexity in any cigar – it just felt like this cigar didn't have the length to really pull this off.  You would think maybe a churchill or longer vitola may have a shot at claiming something so lofty but I have to say – this cigar packs an amazing complexity in a relatively small frame.  At some point, I'll go full Katman and re-review this cigar in 3/4″ segments rather than my much less aggressive thirds.
No additional comments regarding the draw or burn – each is behaving as you'd expect from a cigar rolled by those old Cuban ex-pats.  Inexplicably the cigar did go out just past the halfway point.  I've been puffing pretty consistently on this stogie so it's a little bit of a shock to need to relight.
FINAL THIRD
>> pepper, char, dark chocolate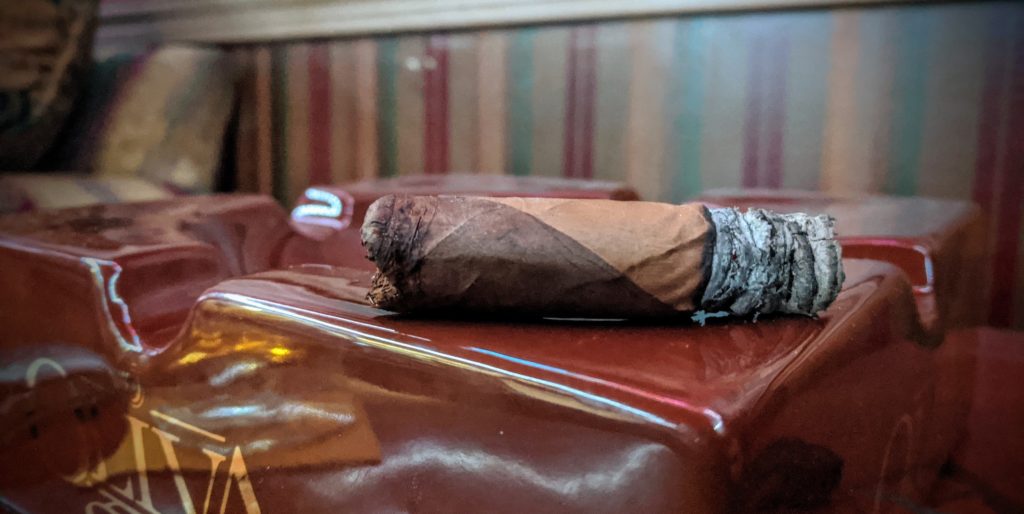 Whoosh – the black pepper is back with authority – definitely the first flavor on the palate.  The sweetness of the cap and taffy have drifted away and supplanted with more savory tones.  Char-grilled meat hitting hard and pairing nicely with the pepper.  Additional flavors coming to play are briny seawater and maybe a little coffee and dark chocolate.  
Worth noting that the body is really getting complex as these flavors all build on the palate and the cigar's strength is noticeable as the final third kicks in.
FLAVOR PROGRESSION
Boy, how do I even start to get into the progression of flavors found in the Time-Traveler?  It's certainly a journey – a wide array of flavors, some dominant, others very subtle and faint.  Pepper seems to come and go as it pleases but with the exception of the first third pairs superbly with the other flavors.  I didn't necessarily count the transitions but eight doesn't feel like a stretch – again, a very impressive feat for any cigar.  If you're looking to track them all down it feels like pepper may be the best identifier or signaler of transition. Pepper's entry and departure seems to signal moments in this blend.  
One final note – the dosage of sweetness from the cap and pepper presence varied some from cigar to cigar.  The first two I smoked fit this review perfectly whereas the last was a bit more muted on the pepper as well as the cap's sugar sweetness.  I didn't deduct any points for this variance but felt it was worth noting.
BURN EXPERIENCE
The initial light up produced a meandering burn line but, wow, did Time-Traveler find its way with ease.  It's definitely not a surprise given the depth of experience from the fellas rolling Isabela's cigars.  For the most part, it performed perfectly only marred by one relight somewhere in the mid-section.
RATING BREAKDOWN
0.80 / 0.80 … Craft & Aesthetic
0.42 / 0.50 … Pre-Light Characteristics
0.42 / 0.50 … Lighting Process
6.98 / 7.70 … Smoking Experience
0.42 / 0.50 … Personal Enjoyment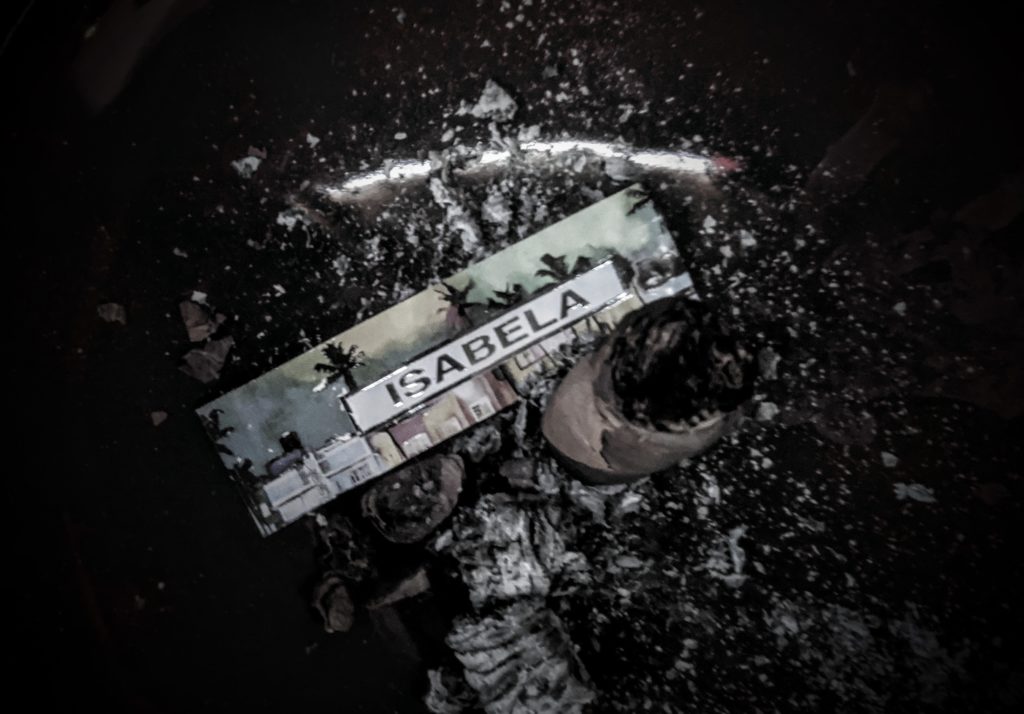 TIME TRAVELING TO THE TOP.
Isabela heralds the Time-Traveler as an homage to the deep seeded ties between Cuban heritage and cigar production in the Nineties.  While most people would never mistake this a Habanos product, you can definitely get that there is something deeper here than your average cigar.  The constant flavor progression produces an exceptionally complex and interesting experience that really deserves the time and attention of the smoker.  The flavors are near endless – after smoking through three of these I was still finding new flavors and nuances with each experience.
The Time-Traveler performed nearly flawlessly – on par with stalwarts like Davidoff or Padron.  For a fraction of the price you know that once fire hits this cigar's foot you can rest comfortably.  Time-Traveler packs in the flavors, burns almost perfectly and, all-in-all, is just a phenomenal experience!  If you see a box, I strongly suggest you grab it and get familiar with the brand!
SIMPLY STOGIES RATING:  9.0 / 10.0
I love reading other reviewers' thoughts on the cigars I'm smoking and reviewing – it helps to show that no one review is perfect and there's always different opinions and tastes out there.  Here's how my review stacks up with some of the best in the biz.
Surprisingly there were a couple others to have reviewed the Time-Traveler almost as soon as it came out.  I gave it a 9.0 and between the two others it averaged a whooping 9.7.  Katman gave it a perfect 100 of 100 – not a huge surprise as his palate seems to perfectly tuned to Isabela's entire portfolio.  I thoroughly enjoyed the Time-Traveler but would have a hard time giving it a perfect score.  While the flavors were superb – I think they can be superb-ier.  I certainly couldn't fault the craft or smoking experience much but I think the flavors could be curated a bit more.  For example, Warped's original release Black Honey hit some similar notes but honed in on them.  At times Time-Traveler almost feels like it's throwing as many flavor profiles as possible at you – not bad, but not as refined as it could be.  Urban Fishing Pole (who I'd never heard of until just now) and I seemed more closely aligned in terms of rating.
CIGAR REVIEWS BY PHIL 'KATMAN' KOHN
URBAN FISHING POLE CIGARS
CIGAR REVIEWS BY PHIL 'KATMAN' KOHN
URBAN FISHING POLE CIGARS