Longtime readers know that this time of year, like many pipe smokers, I'll dig through my cellar to find the smokiest blend I haven't yet reviewed, smoke it all winter, and drop a review once the snow starts melting. Ashton Artisan's blend is a highly regarded heavy Latakia English blend. It gets spoken in the same conversation as smokefests like GL Pease Quiet Nights, Dan Ironsides, C&D Engine #99, H&H Cerberus, and Captain Earle's Ten Russians. Those are about the smokiest blends I can name, so let's see if it deserves the reputation given to it.
BULK or TIN:   Tin
SIZE:   50g
ORIGIN:   Denmark
BLENDING HOUSE/PRODUCER:   Ashton, blended by Kohlhase & Kopp
BLENDING COMPONENTS:   Latakia, Oriental, Cavendish, Virginia, Perique

STRENGTH:   3/7
SOURCE:   tobaccopipes.com
WHERE:   
The snow covered hills of Pennsylvania
WHEN:   
December 2021-March 2022
DRINKS:   
Water
WEATHER:   
Mitten weather
WHAT'S ON:   
The crack of snow and ice beneath my boots
RELEASE TYPE  Available
SPECIAL RELEASE   N
AGED WHEN SMOKED   Factory Fresh
AVAILABILITY BREAKDOWN
o  Tin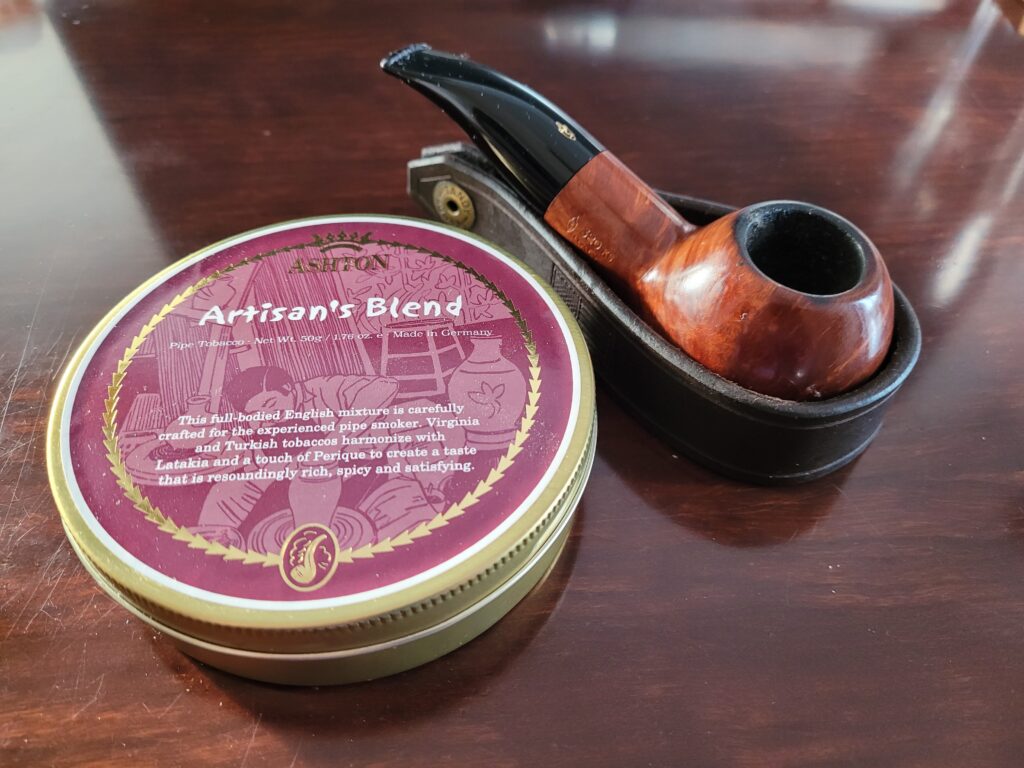 RESEARCH & BACKGROUND INFO
Ashton Cigars got into the pipe making business in 1983
Ashton partnered with McClelland to create legendary line of tobaccos including Brindle Flake, Pebblecut, and Oldchurch during the 90s
Ashton replaced this line with blends produced by K&K during the 00s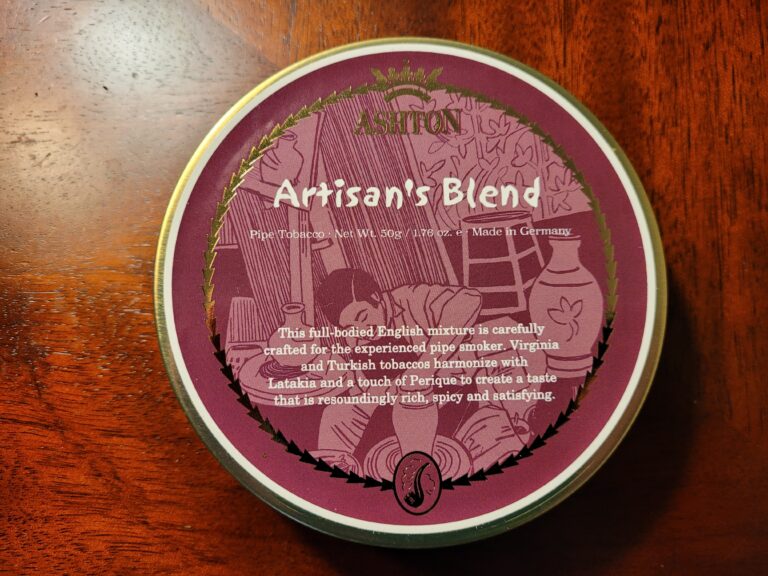 The Ashton tins have a unique style. The golden crown, familiar to cigar smokers, sits atop, with a flared ring creating a frame. In the body of the tin we find a clay artisan toiling at their trade in gray on maroon contrast. It's a striking, elegant presentation.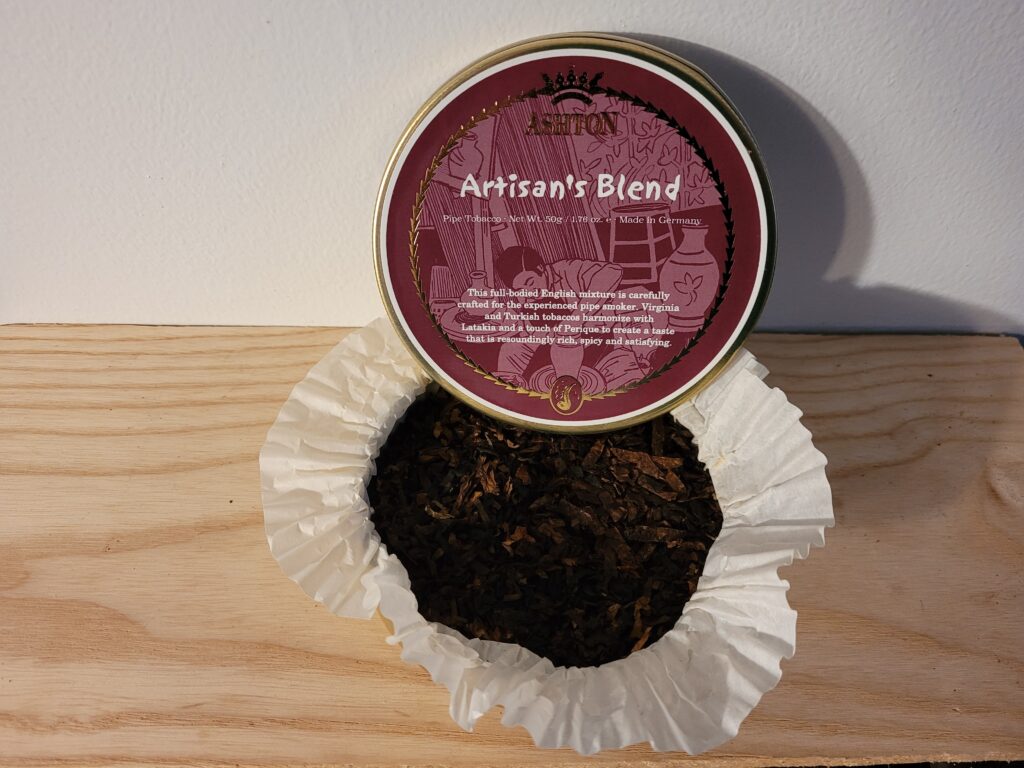 LOOK & FEEL OF THE LEAF
There is a variety of leaf in here, deep blacks, almost white tawny strands, roans, and chocolate browns, all a fairly short, thinnish ribbon. It's quite moist to the touch, which may spell some need to dry this out.
TIN AROMA
Smoky. Smoky. And Smoky. It's a warm campfire smoke, with a bit of a barbecued meat in there, sweet graham crackers, and sea salt.
LIGHT & DRAW
Packing Style:  Artisan's is such an easy going mixture I like to just cram a big pinch in the pipe.
Fire:  Cosmic Taco Bic
Even moist from the tin Artisan's takes the flame well and burns with ease. 
SMOKE & ROOM NOTE
With both some Cavendish and Latakia in there you'll note the smoke is a bit creamier than average.
The smoke, is uh, smoky. Very campfire with just a sweet edge to it.
FIRST BOWL
>> Savinelli 121, Straight from the tin upon opening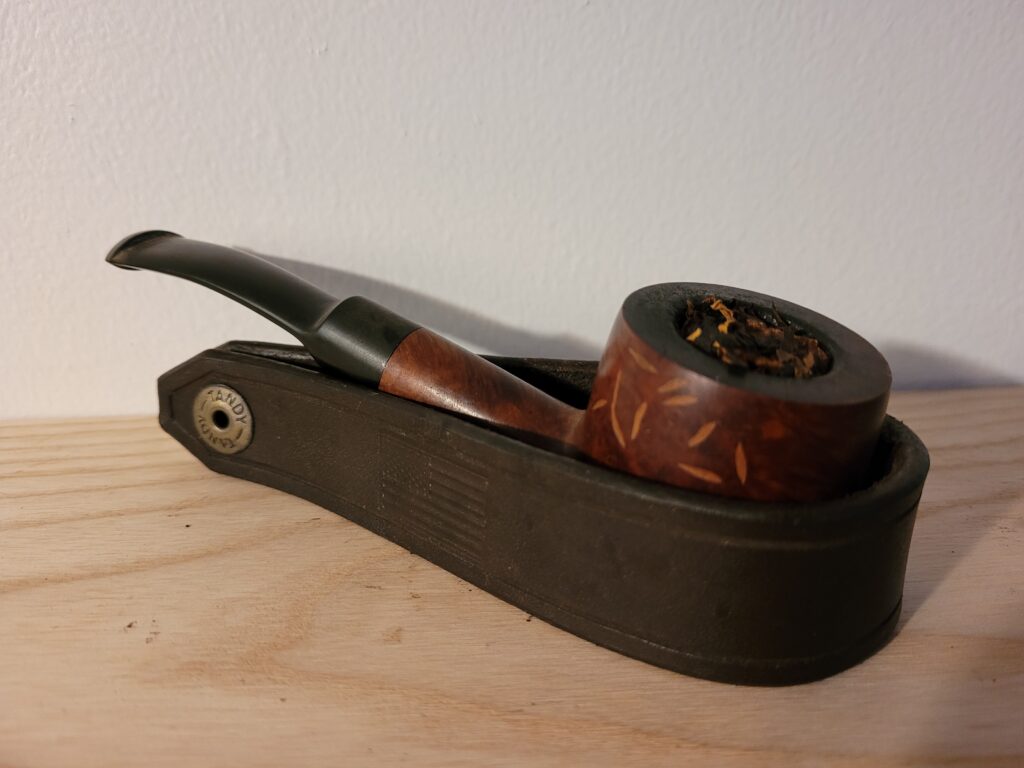 Lavender, oak, and smoke. Earthy. There's a floral sweetness set against campfire smokiness, vinegar, salt, and an herbal dark chocolate. Light pepper and some red raspberry jam. Hay, wheat bread, sugar, vinegar, herbs, earth, and smoke. Cocoa, earth, and herbs. Oregano, red wine vinegar, smoke, earth, dark chocolate, herbal, light lemon. The mild pepper returns with a hint of bright red fruit, like  candied cranberries or strawberry-rhubarb jam. Musty. Towards the end of this it grows oakier, smokier, but the vinegar, herbs, sugar, and smoke never falter.
As promised, this was a big smoky English. However there was a tendency towards bitterness that surprised me and it gave me a tiny bit of tongue bite.
SECOND BOWL
>> Savinelli 121, 3 hour dry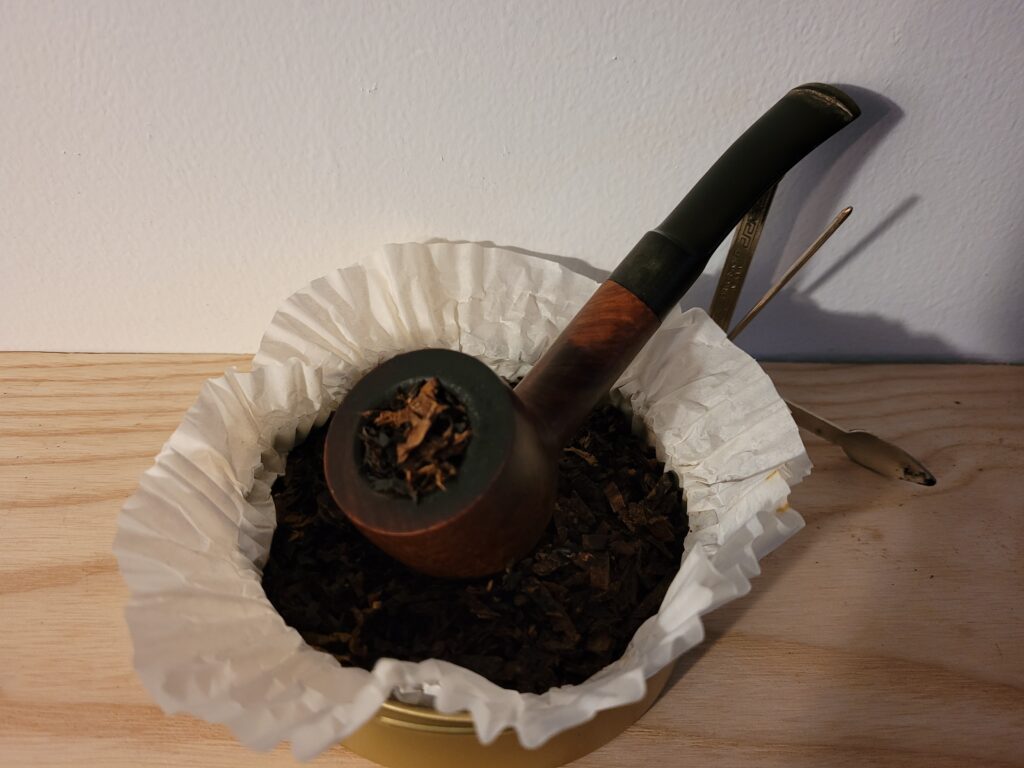 Musty, buttery tea. Quite mellow. Well this is a surprise. A smack of sweetness with some red wine vinegar. Light salt, butter, with a growing lemon sharpness. Peppered cream gravy. A sharp vinegar arrival fading into buttery incense, salt, a just an edge of sweetness. Peppery cigar. Earth, leather, and lavender arrive. Here comes the smoke as well. This immediately becomes a leather bomb. Leather, lavender, salt, some pepper, vinegar, with a light bready sweetness. Once it hits this it stays at this flavor plateau for a good while. A little past the halfway point  the smoke grows oily, and a gasoline-pink starburst joins in. Shifts back to the mellow lavender, lemon, butter, tea profile from earlier. Grows both sweeter and sharper. Incense and salt, with a creosote smokiness binding it all together. Pepper and lavender both grow. It all fades to a buttery musty, lavender, and black tea.
This was so much different. The herbs and bitter dark chocolate are gone, replaced with a Virginia forward butter-tea-lemon combo. The smoke, while it took a bit to show up, was even more pronounced. Sadly I still got that little tongue nip.
THIRD BOWL
>> Savinelli 121, Packed and then dried 90 minutes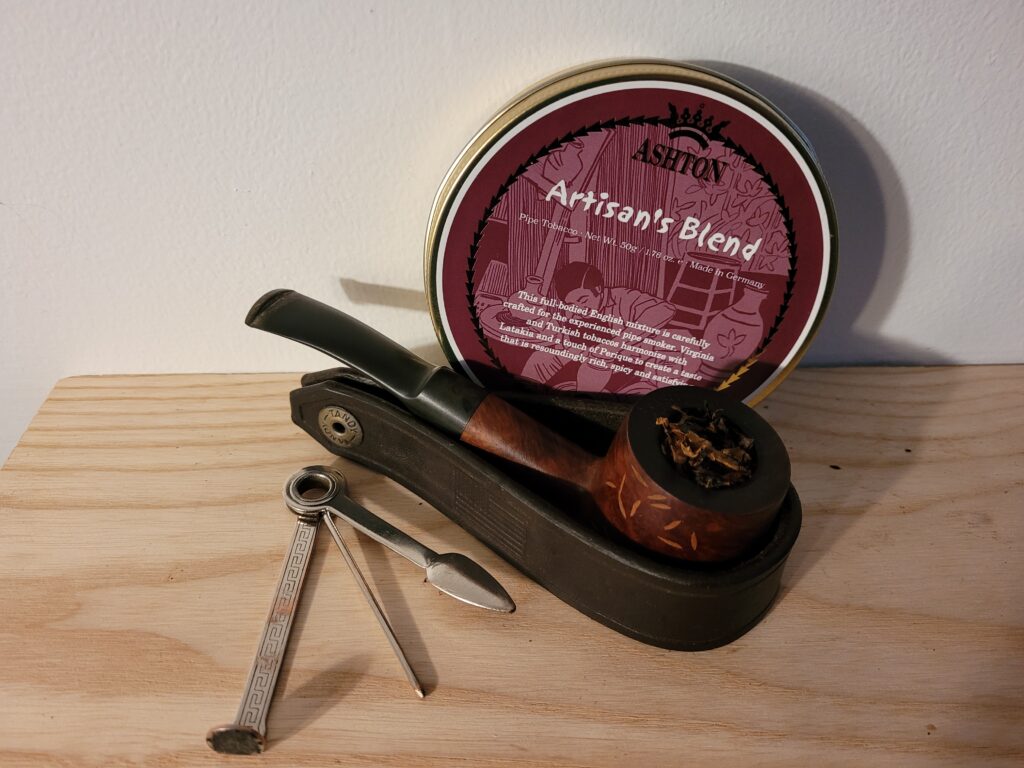 Sugar, must, and lavender. The smoke doesn't dilly dally here but comes out swinging. Heavy smoke, salty, vinegar, with a rich earth and leather base. Sweet, sour, and salty with oregano, leather and pepper. This is quite spicy. And consistent. Eventually a slight orange comes in. Did I mention how smoky this is? Creosote really. Sugar and lavender. Tingly pepper everywhere. Intense vinegar. Garlic and onions. Incense. Salt. Overwhelming. Some balancing oak and corny sweetness giving it a bourbon flavor. Cayenne. Vinegar, lavender, sugar, smoke, and pepper. Smoky, smoky, smoky. Oregano, sage. peat. A green smokiness. Peat smoke. Pine needless. Barbecue smoke, soy sauce, umami and salt. Garlicky. Oak. It's still sweet and sharp, but tamed, darker, and smokier. The pepper ramps up hard. Still sweet, sour, salty, and smoky, with a touch of leather, pepper, pepper, pepper.
This was an even bigger, brasher bowl. The smoke came right out front and never let go. The sweetness, salt, and vinegar was tuned up. Most of all the perique pepper went wild, amping up the spice all the way through the bowl. But I still couldn't elude the nip.
FLAVOR PROGRESSION
There is a consistency to this blend despite the large variety of flavors, though in every bowl the blend did grow more peppery and much smokier both through the bowl and the drier the leaf gets.
BURN EXPERIENCE
Artisan's burns quite well, even wet right from the freshly opened tin. I did consistently get a bit of bite every bowl, but that doesn't seem to be a common complaint so that may be a personal body chemistry issue.
SIMILAR BLENDS
Well, this certainly does ascend the mount of the smokier blends out there, like Captain Earle's 10 Russians, H&H Ten to Midnight, and Peter Stokkebye's Proper English, and Esoterica Penzance. With that strong pepper it's even more like Peterson Nightcap, GL Pease Quiet Nights, and H&H Cerberus.
RATING BREAKDOWN
0.50 / 0.50 … Craft & Aesthetic
0.45 / 0.50 … Tin Aroma
0.50 / 0.50 … Lighting Process
6.50 / 8.00 … Smoking Experience
0.45 / 0.50 … Personal Enjoyment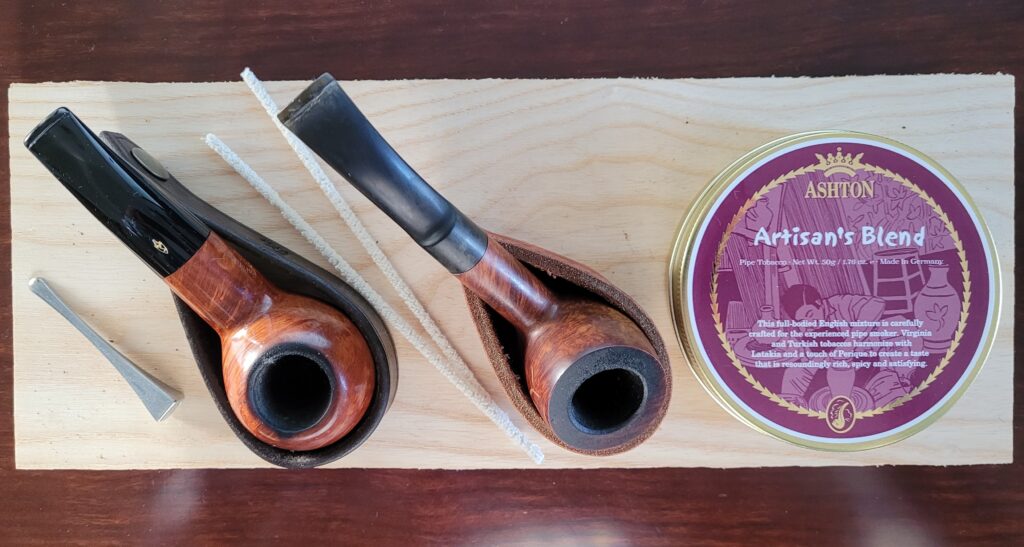 ART INDEED.
From the moment you open an tin of Ashton's Artisan's Blend you know you are going to be in for a deeply smoky experience. This warming blend is perfect for the long dark and the bitter cold. It certainly ranks up there with the heaviest Latakia blends out there among Penzance, Star of the East Flake, and Ten Russians. But there is more than just smoke here. It's quite sweet all the way through, with a pleasing sour tang for balance, and complex notes of citrus fruits, garlic, onions, sage, and oregano. The pepper is there but unlike other periqued heavy English like Nightcap and Quite Nights, it never overwhelms the bowl, and it doesn't drive the nicotine into deep end of the pool. I hope with another year that little bite will fade, and I'll be enjoying Artisan's Blend for many winters yet to come.
SIMPLY STOGIES RATING:  8.4/ 10.0