Tinkering with your pipe tobacco is something that occurs naturally for pipe smokers. You begin with thinking that two of your tobaccos might taste better together than apart. You build or buy a press to turn your ribbon into cake. Maybe you start burping your  jars of Virginia when you hear it speeds up the fermentation process. Then maybe you have a bizarre idea, like my friend. He wanted to force age some high quality Virginia. So he took two tins of the well regarded Astley's 44 Dark Flake, kept one in his basement cellar at constant temperature, and placed the other on his truck dash at the onset of spring. It stayed there spring and summer, with cycles of hot days and cool nights. The hope was that this would 'Force Age' the natural development of the Virginia.
In this review I do something a bit different, comparing the tin kept inside as expected by the manufacturer versus the one force aged, seeing how the Astley's 44 is itself, and if the experiment worked.
WHERE:   
A humble backyard in flyover country USA
WHEN:   
September 2021-March 2022
DRINKS:   
water
WEATHER:   
The last flicker of summer through the first glimmer of spring
WHAT'S ON:   
The neighborhood Cat 'Sergeant Chubbs' on the prowl
RELEASE TYPE  available
AGE WHEN SMOKED  3-10 months
SPECIAL RELEASE  N
AVAILABILITY BREAKDOWN
o  Tin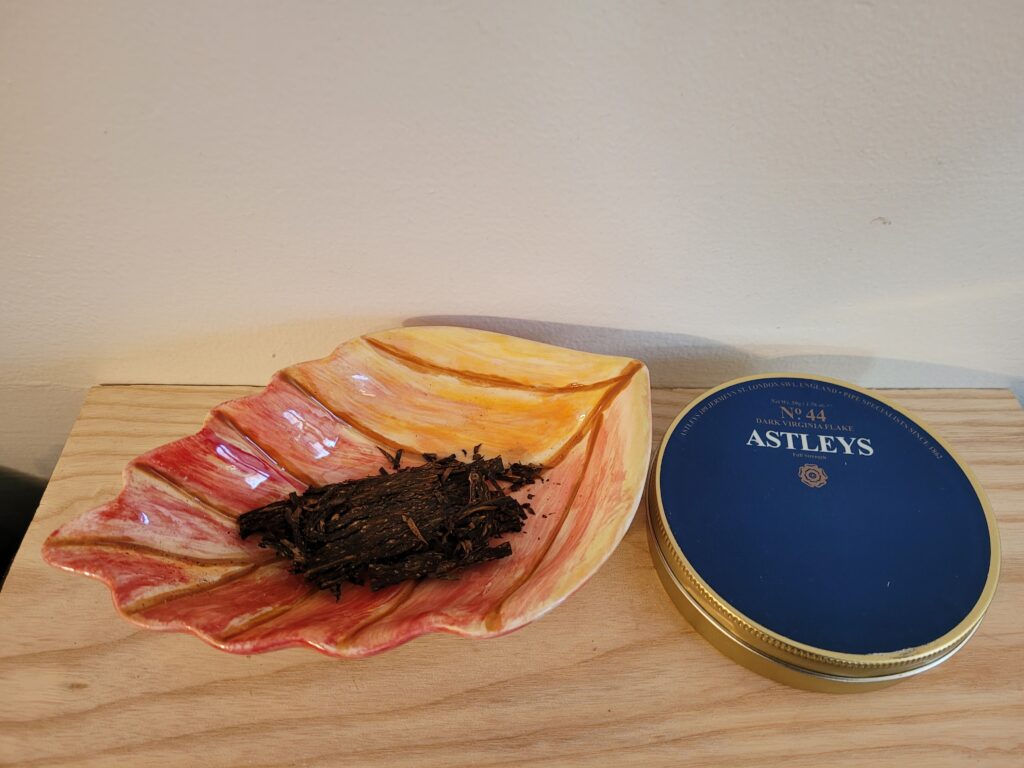 RESEARCH & BACKGROUND INFO
Astley's was founded in 1862 as a London based tobacconist
Astley's was the tobacconist for lords and even royalty
Astley's tobacco blends were made in the UK until they contracted production out to K&K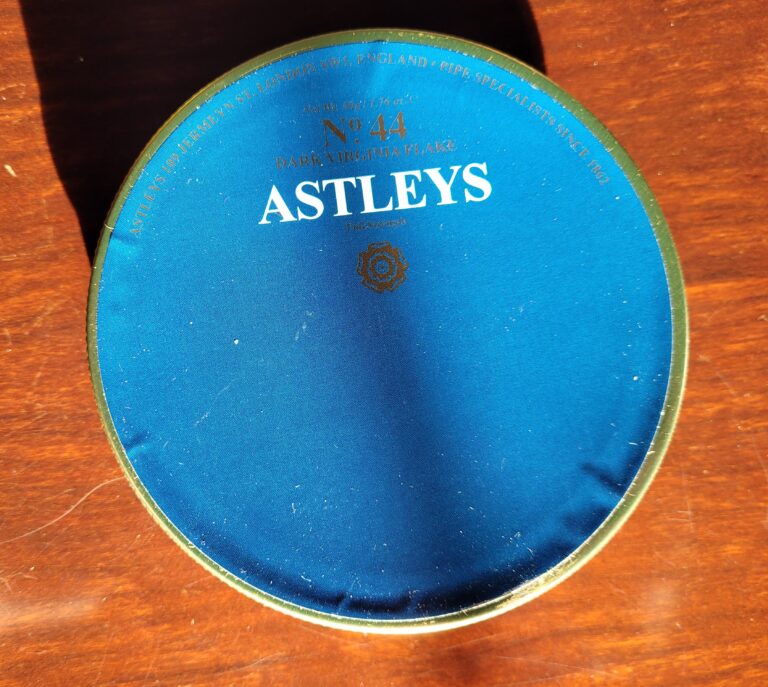 Astley's tin style is certainly on the minimalistic side. It's a pleasing royal blue – or according to my wife Smurf blue. There's a tiny golden stamp as ornament but this tin seems confident about what inside that it does not attempt to gild the lily.
LOOK & FEEL OF THE LEAF
From the tin the flakes are a bit moist and pliable. You can see the tin condition leaf on the left is rather lightly colored for a 'Dark Flake', more tawny than anything. The Force Aged leaf, on the right, is actually dark, most of it a deep chocolatey brown with some genuine black leaf in there. The flakes are in the standard K&K style, roughly 1″ x 3″ (25 mm x 75 mm) but a little thicker than I'm used to, but still thin enough to easily break and ball up.
TIN AROMA
The as tinned leaf has a fresh aroma that is bready, orange zest, hay, plummy, with some dark cocoa, raisin, and amaretto notes. 
The Forced Aged leaf also smells darker, predominantly dried fruit raisins, figs, and prunes, with some seawater and chocolate.
LIGHT & DRAW
Packing Style:  These euro-style flakes work great with a quick crumble and roll into a loose ball, aka, the cannonball.
Fire:  My trusty cosmic taco bic


SMOKE & ROOM NOTE
Like many straight Virginias, the best you can get from Astley's 44 is a thin smoke. The room note is also somewhat insubstantial, often unnoticeable, if you go searching for it resolves into a pleasant toast.
FIRST BOWL
>> As Tinned Brigham 47, a few minutes of dry time.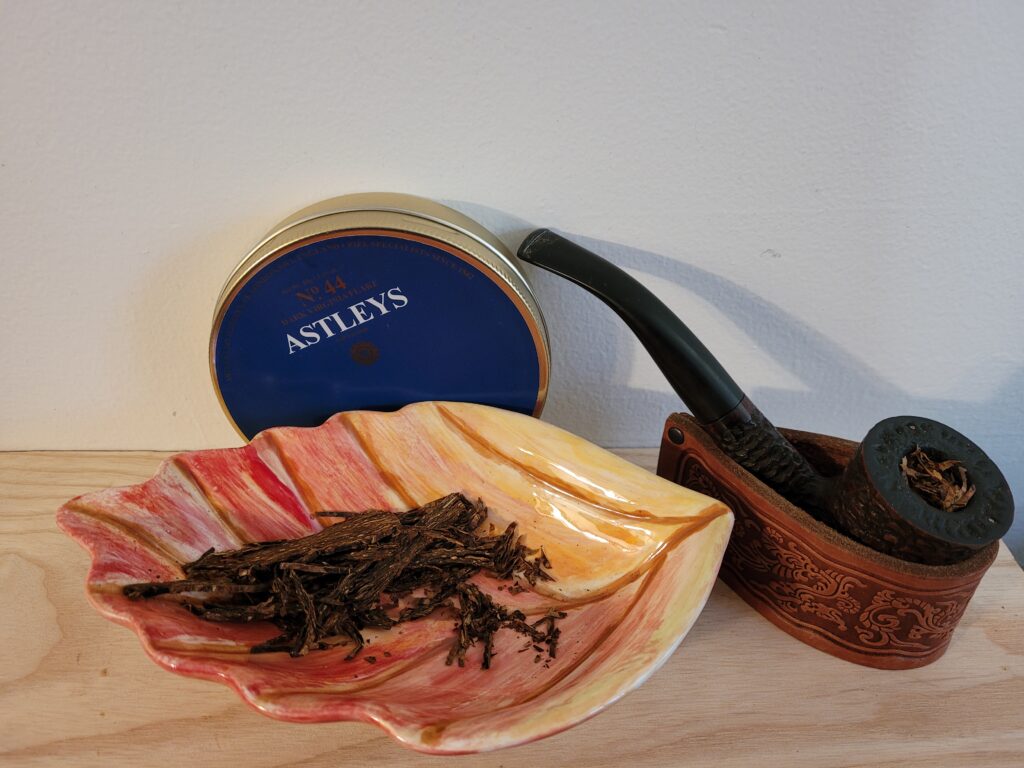 Bready, sweet, malty, and salt. Very rich. Wood smoke. A light plumminess comes through. Sour cream and black pepper. Worcestershire sauce and incense. Apple cider vinegar and white vinegar over malt, salt, and sour cream. This is a umami bomb. Cola. Toasty and hay. The smoke is surprisingly oily which I don't often find in a Virginia. There's a touch of hickory smoke. Vinegar for days and salt in every puff. It's not sweet but it's not not sweet? Soy sauce, cola, and cumin, strawberry, and watercress. More black pepper comes through as well as a growing strawberry. The sweetness arrives. Lemon oil replaces the straight vinegar. Oak and cedar. Hickory wood and some woodsy bitterness. Finishes with white sugar, white vinegar, black pepper, watercress, and strawberry.
It's amazing what single component pipe tobaccos can taste like. At times these felt like Virginia-Oriental blend, at times I suspected there was perique or dark fired in there. And this is for fairly young leaf. Let's see what the Force Aged stuff tastes like in the same pipe.
SECOND BOWL
>> Force Aged Brigham 47, a few minutes of dry time.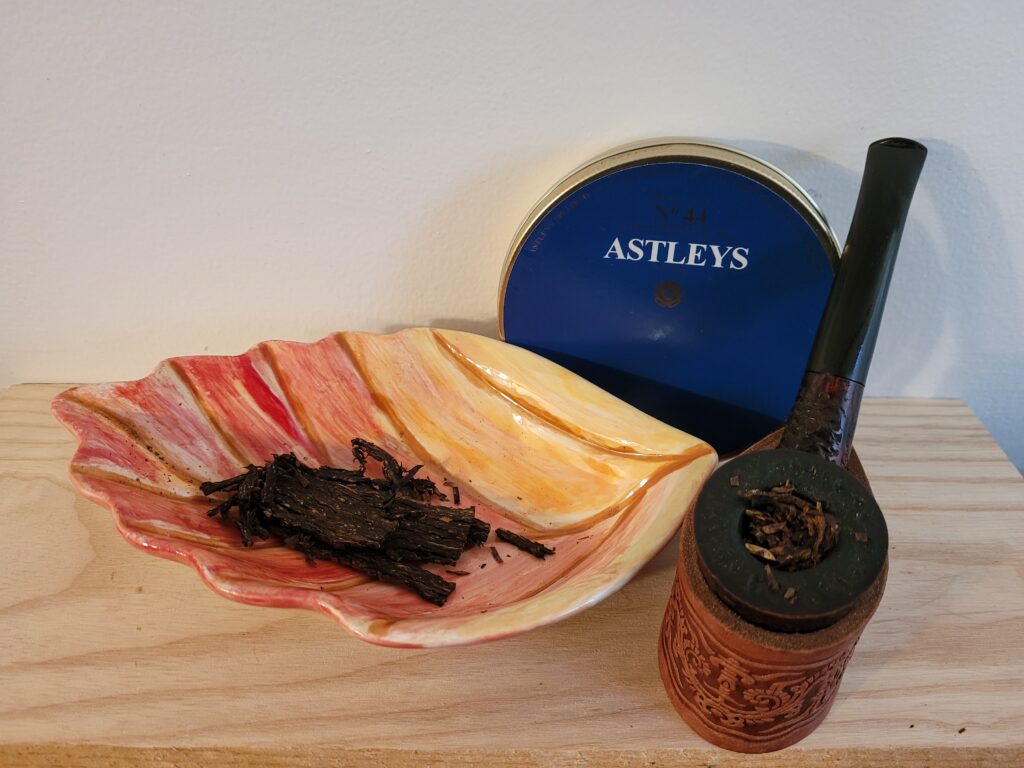 Toast. Light vinegar, a touch of sweetness, light Worcestershire sauce. A mild wood char and a hint of orange. It's growing quite vinegary and quite sweet. Again the smoke is palpably oily. There's black pepper in the finish. Musty with a light lemon oil. It is very, very sour, sweet, and salty, with strong fruity under tones. It's full of incense and fermented flavors. Strawberry, orange, vinegar still sweet and salty. It settles here for a big chunk of the bowl. A bit past the halfway mark the incense ramps up, with more Worcestershire sauce. Flashes of fruit leather, Heinz 57, and honey expands the palate. Aged balsamic vinegar and spinach. Heavy cream. Those blips of Heinz 57 grow more frequent. Red wine and red wine vinegar. The wood char returns, now stronger. Cedar, cream, toast. Sugary fruits, most lemon and strawberry. Strong vinegar and Worcestershire. Toast, tea, salt, vinegar, and raspberry jam. The black pepper returns with more must. Towards the tail of this the sweetness falls off a cliff. Vinegar, tea, ppper, must, and raspberry jam.
This is amazingly different. All the core elements are the same, strong vinegar notes, salt, umami, fruit, pepper. What is most changed is the sweetness which only came in the Tinned condition bowl in the last third. This makes the whole experience much more pleasant and drives the fruity flavors home. Additionally there's loads more complexity. Incense, honey, wine, and Heinz 57, those really add something to the mix.
These bowls were both good, but lets try each once more again.
THIRD BOWL
>> Tin condition, Peterson Full Bent, Full rubbed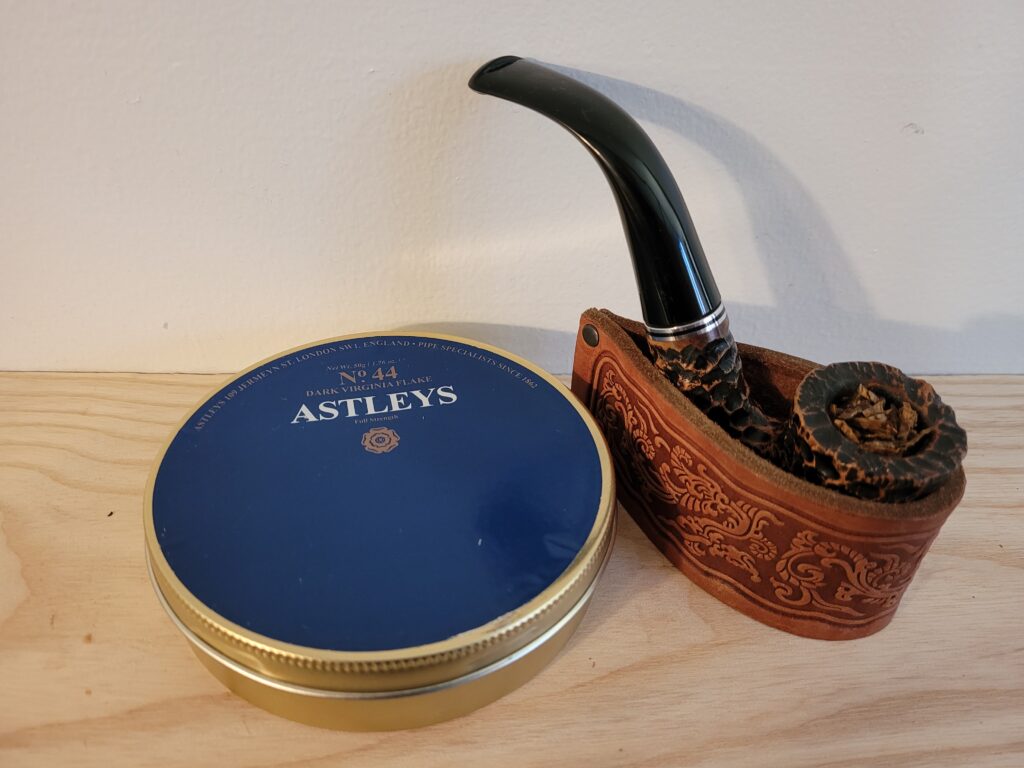 Hay, malt, and salt. Red fruit. Oily smoke. Wood char. Oak with a tinge of orange. Almost sweet. Hay and vinegar. Grows sweeter and more sour on top of the heavy salt. Sweet, sour, and salty, hay, and orange peel. Some pepper comes in. Butter and tea. Worcestershire sauce, malt, blue or blackberries. So much malt with tea and butter underneath. Umami blast. Salty as the sea. Vinegar and orange waves through the Worcestershire sauce and malt wall. It's quite consistent. In the second half more wood char and oak. The sweetness, sour, and salt tone down a touch. There's more butter, tea, and slight woody bitterness. Strawberries. Jammy but not very sweet. Settles in there for a good bit. In the final quarter it grows brighter and sweeter, vinegar, orange, oak, strawberry, and a very strong black tea. It's a fruit basket.
Shredding the tobacco finer let ever more of the fruit come through, but there was still a paucity of sweetness till the final quarter.
FOURTH BOWL
>> Force Aged, Homemade, Full rubbed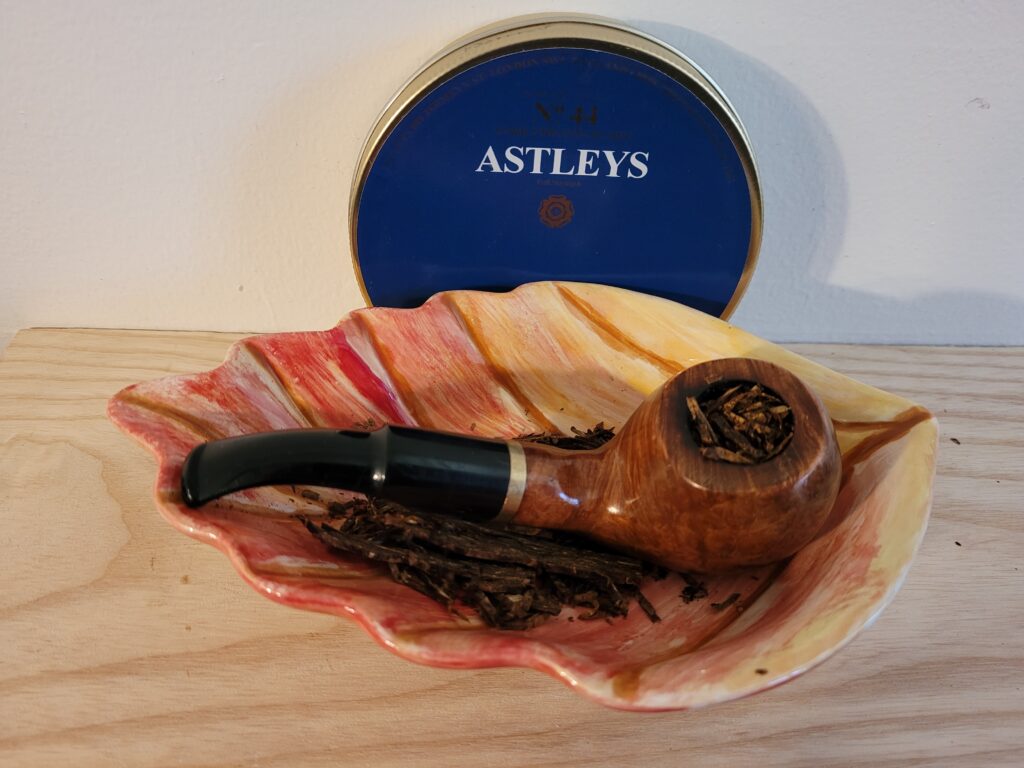 Hay, very salty, light and mellow. Toast. Light pepper and some dried fruits. Hickory smoke. It's a rich tasting smoke, bold but gentle if that makes any sense. Oily. Cola and salt. Wheat bread. The pepper builds. Faintly sweet and lots of hay, but it tends more savory. A strong wallop of vinegar jumps out. Grows woodsy about halfway through. Strawberry and spinach. Grows sweeter. Lemon oil. The hay and toast hangs on strong. Spiced rum notes towards the finish.
As is typical, Virginia just tastes better in my Brigham than any of my bowls. This had the same elements of fruit and hay, with more savory richness than sweetness. For those who prefer a more mellow experience from what can be an overwhelmingly complex smoke.
FLAVOR PROGRESSION
Both states of Astley's 44 begins the same way with hay or toast. Vinegar, salt, and pepper come through the middle. As the bowl burns or as the age is forced, what you get is more sweetness, and more fruit. 
BURN EXPERIENCE
Despite the moisture of the leaf straight from the tin, it burns perfectly without burn time. However I've found just a 5-15 minute dry time helps open up the flavor.
SIMILAR BLENDS
As tinned, it's reminiscent of Comoy's Cask No 4, Union Square, C&D Opening Night, and Wessex Gold Slice. The Forced Aged is more like other dark Virginias like Wessex Campaign Dark Flake and some of the McClelland Matured Virginias, and Rattray's Marlin Flake. It's also quite akin to similarly fruity-hay F&T Vintage Flake
RATING BREAKDOWN
0.45 / 0.50 … Craft & Aesthetic
0.45 / 0.50 … Tin Aroma
0.45 / 0.50 … Lighting Process
7.50 / 8.00 … Smoking Experience
0.45 / 0.50 … Personal Enjoyment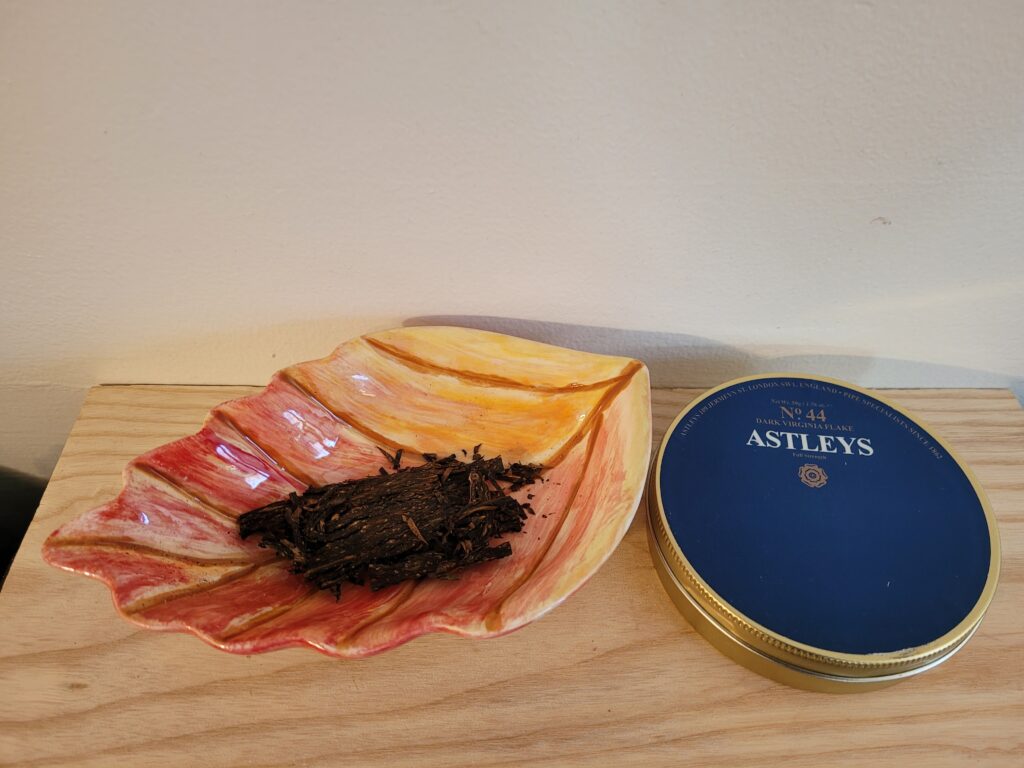 TINKER AWAY.
While the as tinned Astley's 44 was quite delicious, it was not quite a dark flake. But with a bit of ingenuity this was transformed with just a bit of time and next to no effort to a tasty, dark flake. I don't know how applicable this technique is to other Virginias, but it is certainly an idea worth exploring. If the forced aged leaf is any reflection on how Astley's 44 develops with time, it has the potential to grow from an excellent Virginia to an legendary one.  
SIMPLY STOGIES RATING:  9.3/ 10.0