Winter comes every year, and every year cigar aficionados and enthusiasts take shelter in their local lounges. This year, that plan is proving more difficult with the global pandemic still raging throughout the world. While escaping the cold or downright freezing temperatures, in some areas of the Northern Hemisphere via the warmth and shelter of a local cigar lounge, can be a weekly or monthly visit (please check with your local lounges for hours and safety guidelines). But that may not be practical right now. With many people working from home…again, the opportunities to smoke outweigh the opportunities to safely visit a cigar lounge. Even when it is warm out, we sometimes find ourselves with not enough time to smoke a robusto. What's a smoker to do?
The answer is easy: Smoke shorter cigars. The more difficult part of the equation is what to smoke? There are a lot of options out there from an H. Upmann Half Corona to Cohiba cigarillos or from a Nub Cameroon to Davidoff Nicaragua Primeros. There is literally something for every palate. I have listed ten of my favorites and look forward to hearing what you like to have when you're enjoying a shorter smoke.
10. Mi Querida Gordita by Dunbarton Tobacco and Trust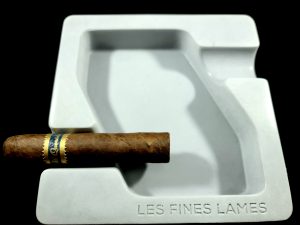 The Mi Querida Gordita is a 4″ x 48 (short robusto) that does not skimp on flavor. This short smoke packs a full-bodied punch. A toothy Connecticut Broadleaf Maduro wrapper sits atop Nicaraguan binder and filler. You'll find notes of chocolate, earth, coffee, citris, and pepper. This is the perfect after-dinner cigar on a cold winter's night.
9. Romeo y Julieta (Cuban) Coronitas en Cedro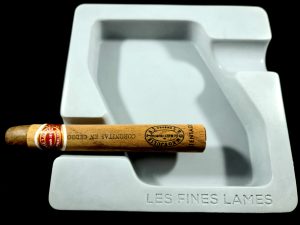 The Romeo y Julieta Coronitas en Cedro gives you the typical Romeo y Julieta flavor profile in a 5-⅛" x 40 package. Notes of cherry, citris, white pepper, nuts, and bread. A perfect mild-to-medium cigar to get you started on a chilly morning.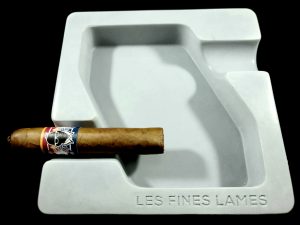 A relative newcomer to the cigar industry, Xhaxhi Bobi is a boutique cigar brand rolled in the Kelner Boutique Factory in the Dominican Republic. The Xhaxhi Bobi Baba Jan is a 4″ x 43 medium-full cigar that will leave you wanting more. Tasting notes of caramel, cedar, baking spices, and pepper will tickle your palate and make a perfect way to close out those short winter days.
7. Partagas Shorts (Cuban)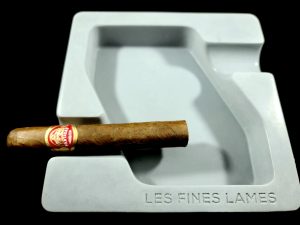 The Partagas Shorts, also known as "party shorts," are a staple in my humidor. The 4-⅜" x 42 Cuban is a 30 to 40 minute smoke that has a great medium profile. It has enough spice to keep you interested without being overwhelming, and that unique Cuban "twang." The perfect cigar for a sweltering hot day or those frigid midwest winter afternoons.
6. Xhaxhi Bobi Mi Hermano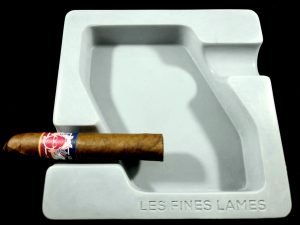 The Xhaxhi Bobi Mi Hermano is the medium counterpart of the Baba Jan. While it may be the same vitola (4" x 43) as the Baba Jan it has a completely different profile. Tasting notes of wood, earth, cream, and a hint of leather make the Mi Hermano my favorite of the two — and a great way to spend 30 minutes in the cold.
5. Fonseca (Cuban) Delicias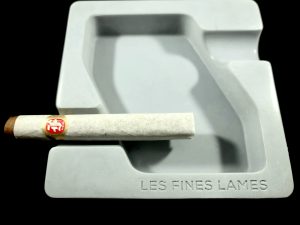 For the price, you almost can't top the Fonseca Delicias. The Delicias is a 4-⅞" x 40 petite corona that is definitely the mild-to-medium side, but do not let that fool you. With notes of cedar, hay, coffee, and a hint of spice, it is a perfect pairing for a cup of coffee on a cold winter morning.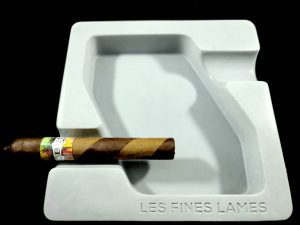 The Isabela Fire-Cracker has to be the most boutique and the best looking short cigar on this list. Barber pole wrappers are absolutely stunning, and to see one expertly applied to a 4″ x 42 cigar is almost breathtaking. It starts with a sweetened tip that adds a layer of complexity. You'll be treated with floral notes, pepper, cream, chocolate, and spices that will have you forgetting how short this cigar is.
3. Cohiba (Cuban) Medio Siglo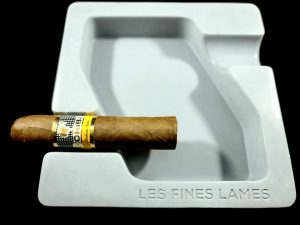 The Medio Siglo was Habanos S.A.'s first petite robusto. The 4″ x 52 cigar is the largest and most expensive cigar on this list but has to be mentioned. Why? Because it is damn good. Creamy smoke with that classic Cohiba profile of flavors: nuts, coffee, spice, and a hint of sweetness. These are great to celebrate the holidays with.
2. Surrogates by L'Atelier Cracker Crumbs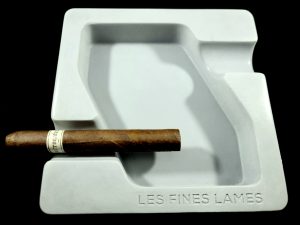 Surrogates Cracker Crumbs is a full-bodied powerhouse that is absolutely delicious. Cracker Crumbs are a 4½" x 38 petite corona that uses the same blend as the Surrogates Animal Crackers. The Cracker Crumbs do not have the complexity of some of the other cigars on this list, but what it lacks in complexity it makes up for with bold and consistent flavors. This is not a cigar for the newer cigar enthusiasts. Notes of cedar, chocolate, spice, and pepper will have you thinking you are smoking a larger vitola. Hands down, Cracker Crumbs is the best short cigar on the market for cigar aficionados who want the full cigar experience but not a lot of time.
1.  Arturo Fuente Hemingway Short Story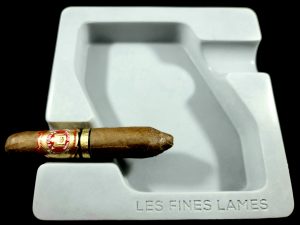 The Arturo Fuente Hemingway Short Story holds a very special place for me. I had started my cigar journey in the summer and wanted it to continue through the harsh midwestern winters. The Short Story allowed me to do so. Packed with flavor, this 4″ x 48 perfecto is a smooth and medium body smoke. Notes of earth, dried fruit, leather, and pepper make this a delightful smoking experience anytime of year. The Arturo Fuente Hemingway Short Story is almost the perfect cigar. It is mild enough for the newly initiated in the cigar hobby, and complex enough to keep the attention of experienced cigar aficionados. The quality and construction of the cigar is extremely consistent, so that you always know what you will be smoking.