VITOLA:   Toro
SIZE:   6″ x 52
ORIGIN:   Nicaragua
FACTORY:   STG Esteli
WRAPPER:   Ecuadorian Sumatra
BINDER:   Nicaraguan
FILLER:   Brazilian Braganca, Columbian, Dominican
STRENGTH:   Medium
SOURCE:   
Trade w/ Fellow BOTL
WHERE:   
Three Season Porch at Home
WHEN:   
October 12, 2016 @ 3 PM
DRINKS:   
Good ol' Diet Coke
WEATHER:   
Perfect day – mid-70s, no precip
WHAT'S ON:   
WGR550 – Buffalo Sports Radio
RELEASE TYPE  Semi-Regular Production
ORIGINALLY RELEASE DATE  October 2016
TOTAL PRODUCTION
Typical Box Size:     Boxes of 18
Production Totals:  2,000 boxes; 36,000 cigars (original production)
VITOLA BREAKDOWN
o  Anaconda – 6″ x 52 (later release)
o  Basin – 6″ x 52
o  Fuma en Corda – 6″ x 58 (later release)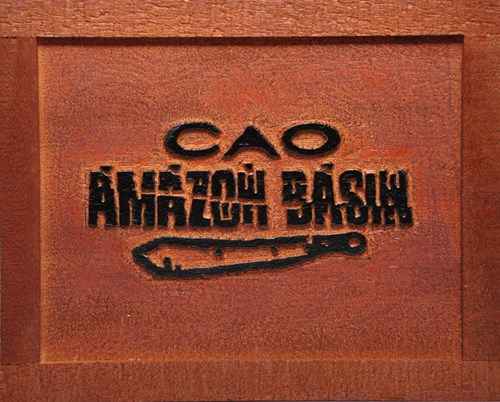 RESEARCH & BACKGROUND INFO
The Brazilian Braganca filler comprises about 40% of the filler. It's grown in the Amazon Rain Forest and harvested every three years. To my knowledge, this blend was one of the firsts to utilize it.
Really interesting process for it's harvest: Once harvested, the leaves are rolled by hand into tubes and ferment for 6 months in the forest. Then, it takes about 6 weeks to transport them to the factory – for transport the leaves are hand-carried to a river where they're placed in canoes and floated to the mainland – then to Nicaragua.
A new release of Basins is slated for late 2016/early 2017.
After the unbridled success of the Basins, CAO rolled up a couple additions to the Amazon line:  the Fuma en Corda and Anaconda.  Each features a unique rolled tobacco leaf 'band' with tweaks to the blend for both.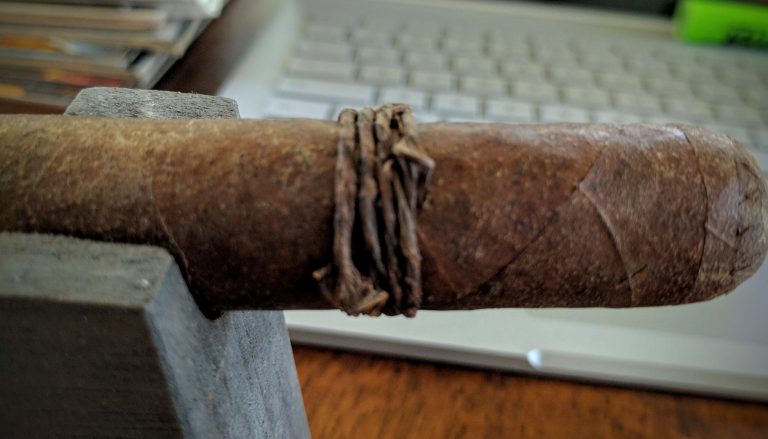 This is arguably the most recognizable, unique band around.  I love the completely different direction they took.  CAO knew this was a one-of-a-kind smoke and they banded it as such.  Instead of a traditional paper band, the cigar is wrapped four times in a bit of rolled tobacco leaf.  Very, very cool.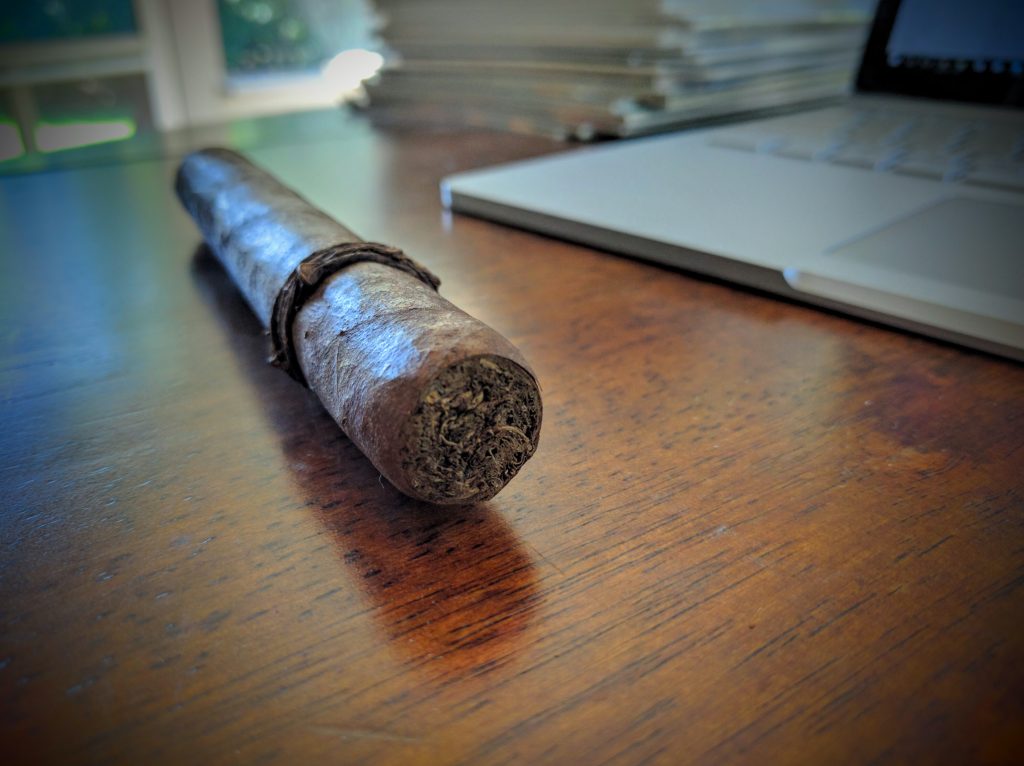 CONSTRUCTION
If you've never seen one of these – and I doubt you haven't – they are quite unique and striking to look at.  The wrapper is very dark and smooth however the seams are surprisingly noticeable and barely raised.  The cap is fairly well constructed but looks a little sloppy – I'm sure it will hold up, but there doesn't seem to be the same level of craft in it you see in other cigars at this price point (at least the inflated aftermarket price point).  Foot is beautiful, but unremarkable.  And, of course, there's the band – more on that just above!
Quite firm with very little give.  Weight and size is perfect.  Light squeezing up and down doesn't reveal any soft spots or clearly poorly constructed areas.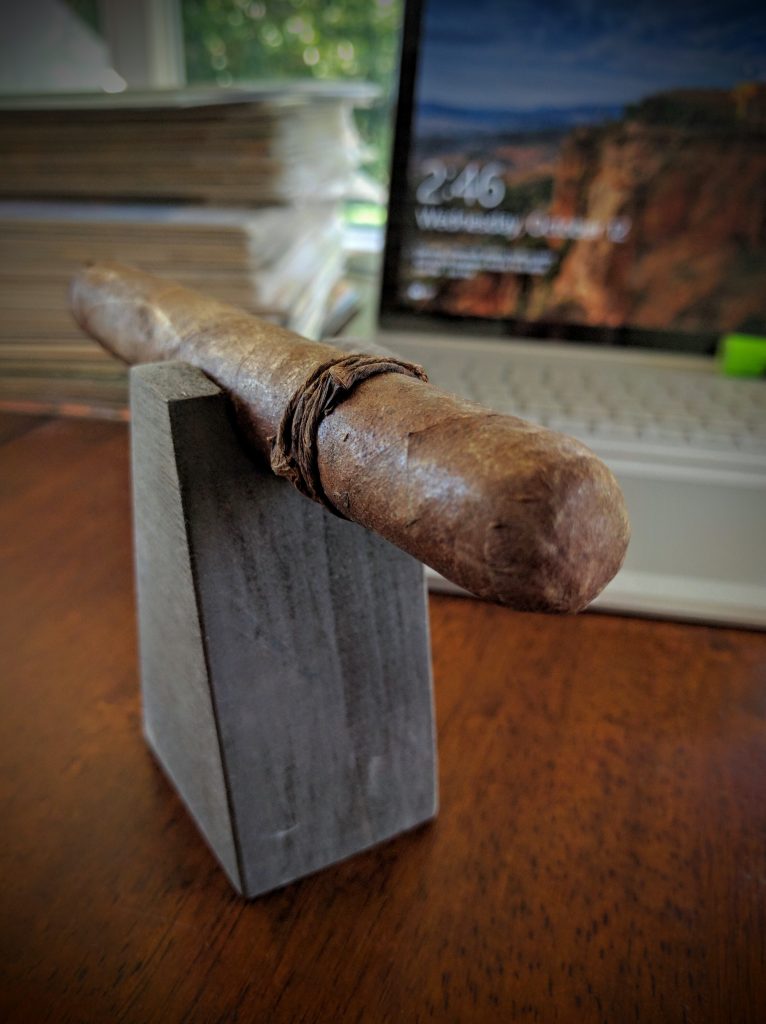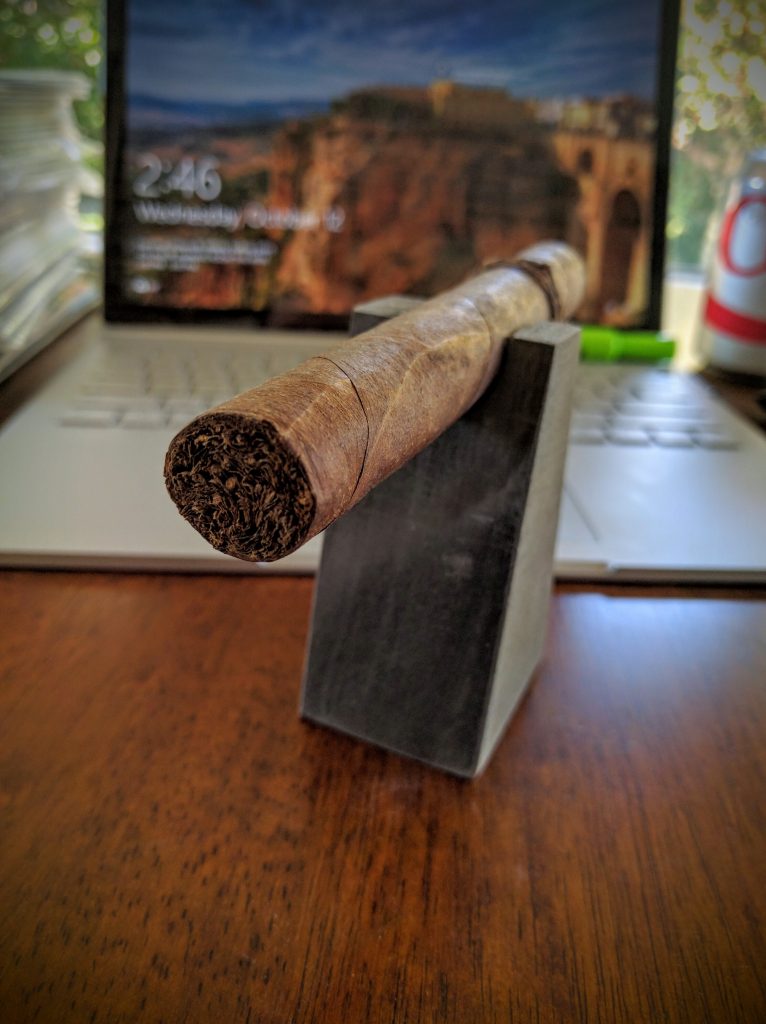 AROMA
Unlit, the cigar smells quite light surprisingly.  Also leathery – like the inside of a luxury vehicle.  Definite an organic dirt type smell – like the middle of a forest.
COLD DRAW
Cap clipped off nicely – there was some wrapper unraveling however.  Cold draw brings a lot of air through the cigar with some light tobacco and dusty lumber notes.  Slight raisin nuances as well more on the lips than the nose.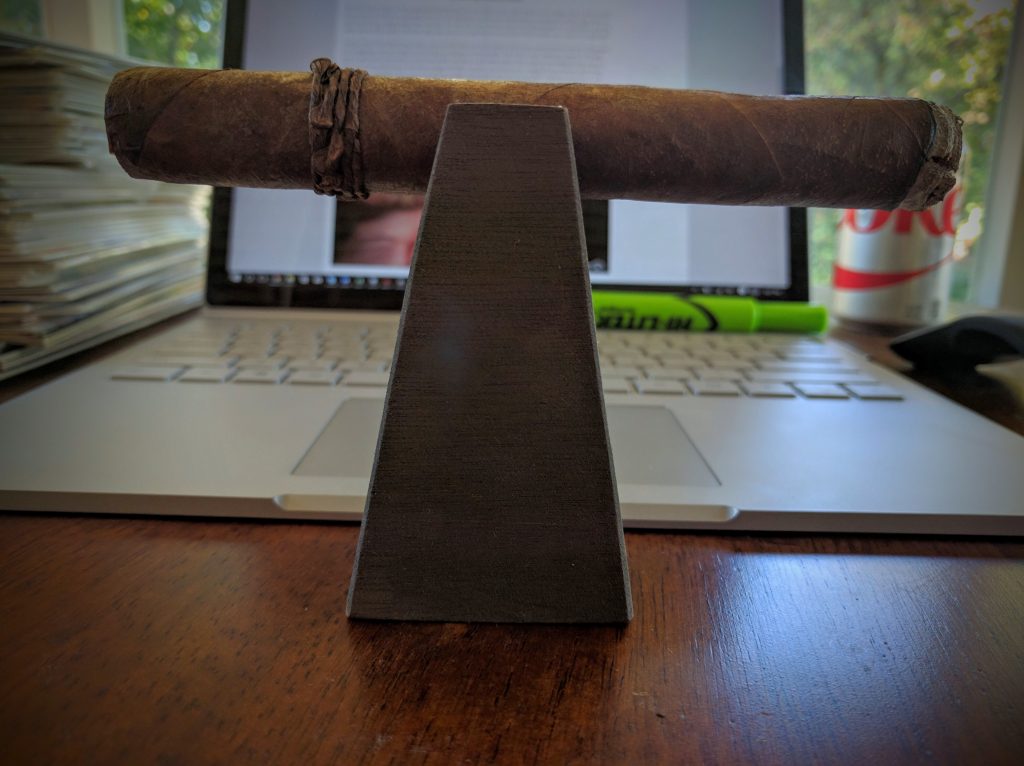 LIGHT & DRAW
The Basin lit up splendidly.  White ash and smoke immediately present.  Initial flavor is slightly sweet with some raisin notes with leather and maybe a little nutty/woody.  Right off the bat the burn line is wavy but well within the realm of acceptability.  Very smooth with some creaminess starting to tie it all together – also notes of chocolate or cocoa.
SMOKE
Pure and white – decent amount of smoke production, leaning on the high side.  Even put down, it continues to puff away and produce quite a bit of smoke!
FIRST THIRD
>> Cocoa, Cedar, Spice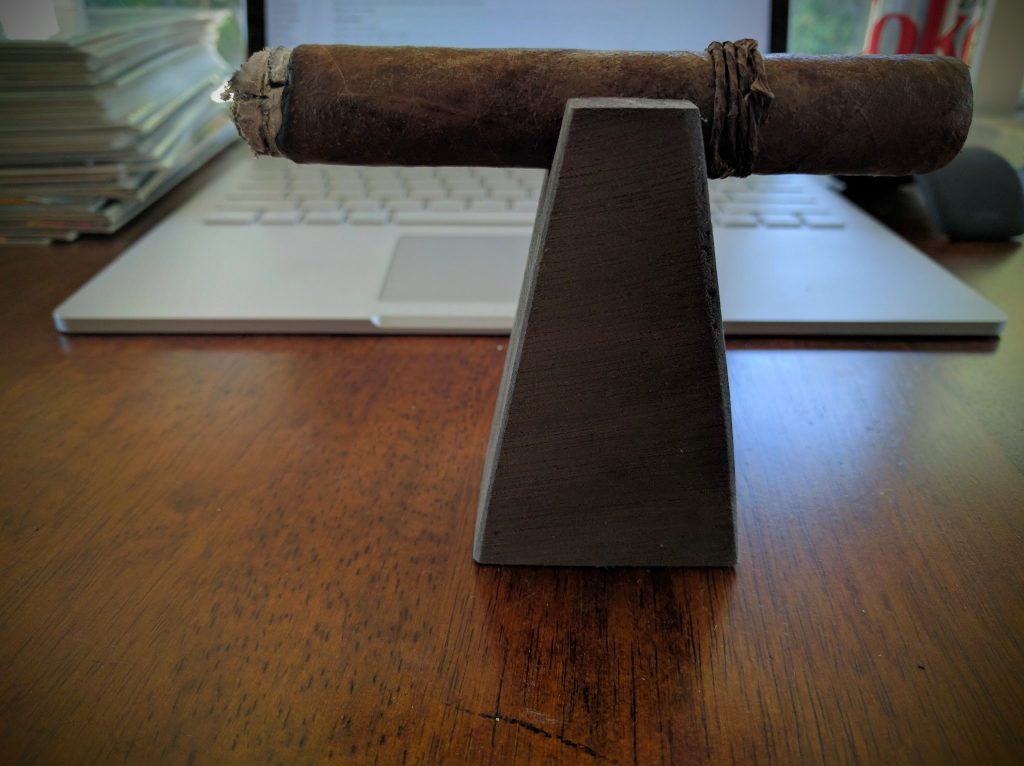 Very smooth with some creaminess starting to tie it all together – also notes of chocolate or cocoa.  Half way into the first third and spicy, cedar, nut notes are readily present.  All in all, very light so far – not a lot of 'smack you in the face' flavor profiles.  Ash dropped about an 3/4″ in.
SECOND THIRD
>> Cedar, Pepper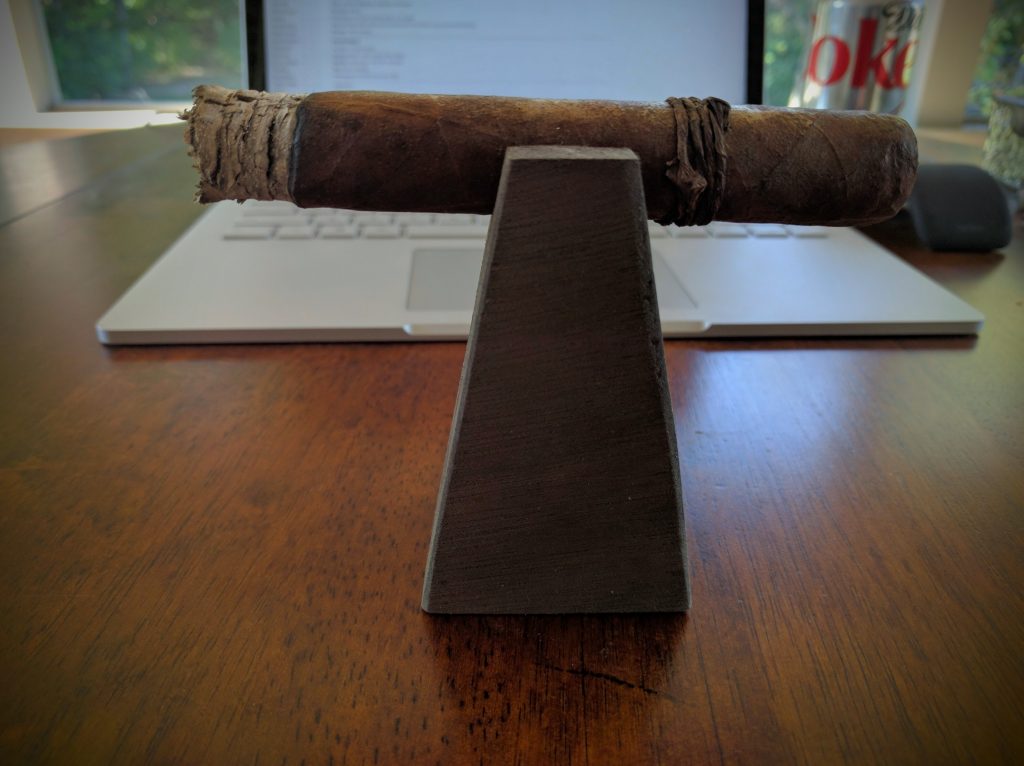 Into the second third and the flavor profile has not changed drastically.  There is a little more sweetness to compliment the cedar, woody notes.  The burn line has evened out nicely.  The retrohale is very smooth and reinforces the cedar, spiciness of the cigar.  Lost the ash most of the way through this third and holy pepper!  Very prevalent pepper now – we'll see if it continues.
FINAL THIRD
>> Meat, Earth, Nut, Raisin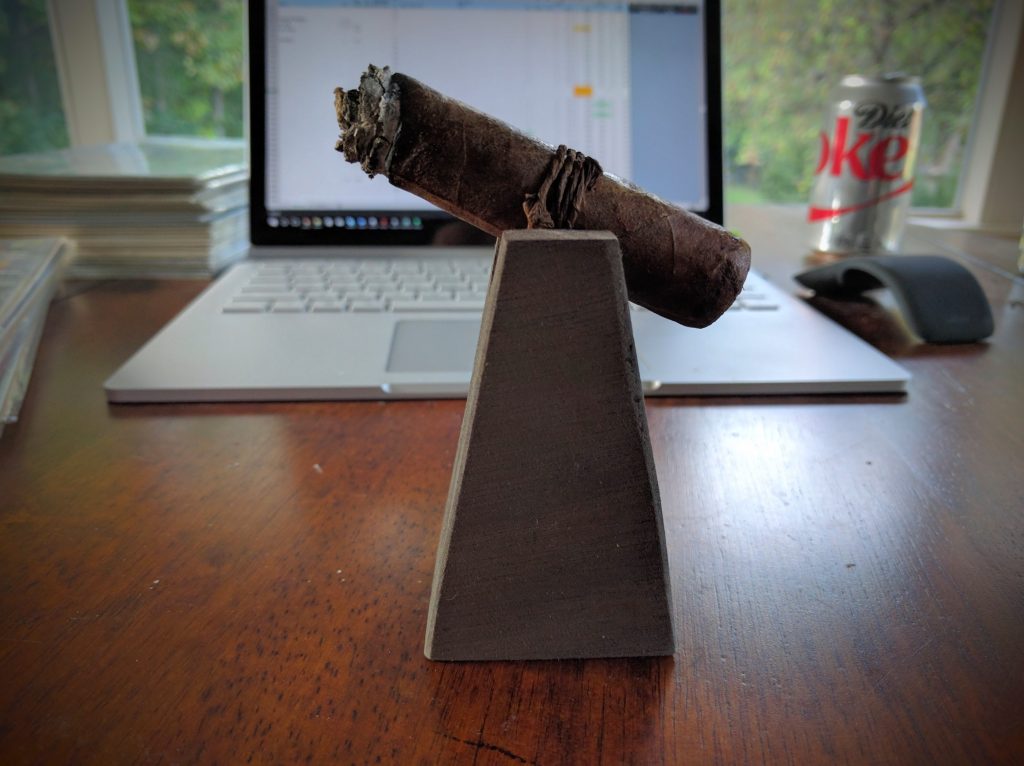 Went out going into final third.  Quick relight is painless and I'm back up and running.  Pepper is still present but tamed by more leather and woody notes.  Strength is continuing to stay on the lighter side of medium. The cigar is quite toothy still and tastes very full-bodied.  I'm starting to wonder how to de-band the cigar and if I need to?  Feverishly pouring through over reviews to see if there's a solution!  Per Halfwheel's recommendation I ended up just flaking it off – not sure if that's proper or not – but whatever.  Final third of this stick had enough issues staying lit that I eventually abandoned it.
RATING BREAKDOWN
0.63 / 0.80 … Craft & Aesthetic
0.50 / 0.50 … Pre-Light Characteristics
0.50 / 0.50 … Lighting Process
6.47 / 7.70 … Smoking Experience
0.33 / 0.50 … Personal Enjoyment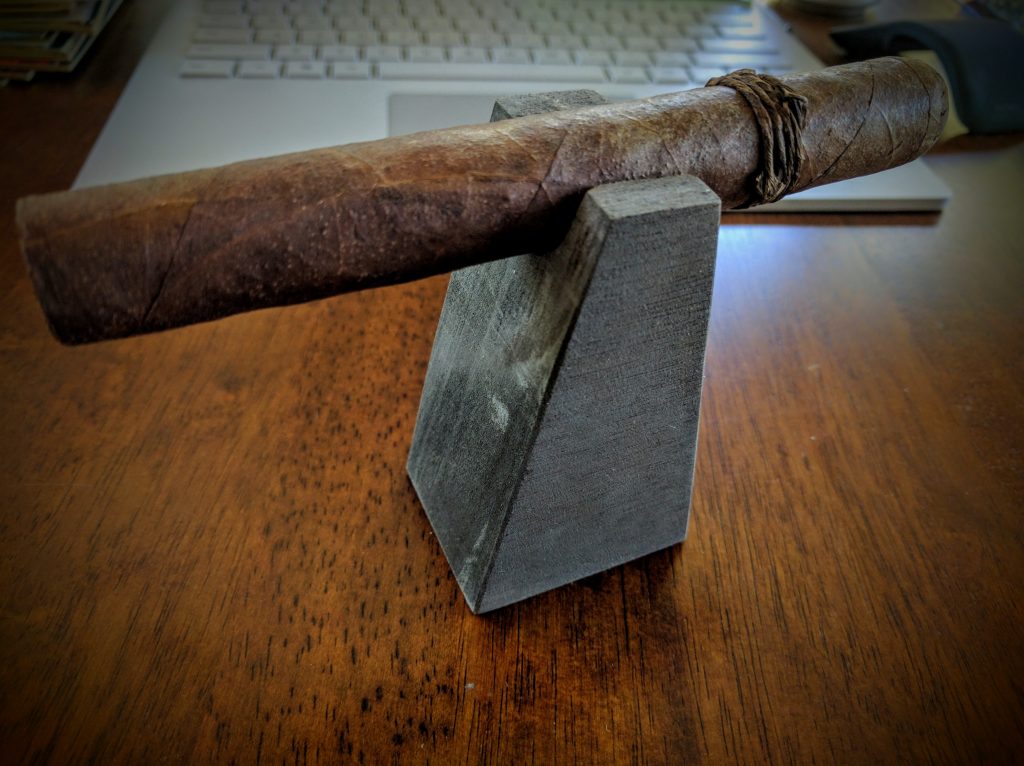 GOOD, BUT HYPED TOO HARD.
I will be very curious to see how this cigar holds up to the newer releases and how the originals smoke over time.  The smoke was enjoyable but left a little to be desired based on other reviews and recommendations I've heard and read.  Next time I smoke one, I'll pair it with something less sweet – I wonder if the drink's sweetness altered my palate a little bit throughout the smoke.
Overall, an excellent smoke to be sure and got me to thinking – I do wish as a brand CAO could reinvent themselves a little bit more, as they did with the Amazon line.  They knew they had a rare hit on their hands and went all in on it.  It would be really interesting to see them create a line from Basins that featured rarer tobaccos from around the world and places you may not expect – not just the Amazon jungle.   
SIMPLY STOGIES RATING:  8.4 / 10.0