Picture this: I love food. I love cigars. I love gin. You know what I don't like? Exercise. Of any kind. However, I have friends that are more active in that way than I am and I acquiesced to their request to go hiking while on vacation in Arizona. The location we hiked (I attempted to hike) was called Camelback. Apparently, this is a premier hiking location near Phoenix. However, I have decided to rename this location to Oh-Hell-No Mountain. I ascended about a mile and looked further up the trail, I saw what can only be described as full-on regret. I stopped my friends, told them that the summit was not in my future, and that I would come back when they were done in order to pick them up.
Now the fun started. I immediately googled "cigar bar near me" and there just happened to be one right down the road from the mouth of the trail! Score! Churchill's has three locations in Echo Valley, all with smoking loungers and humidor lockers. Churchill's is an authorized Davidoff dealer and has a large selection of Arturo Fuente, Padron, Tatuaje, Ashton, Drew Estate, Oliva, My Father and a lot of other favorites.
I lucked out because the location I patronized, the "Phoenix" location, also included Winston's Cigar Bar which offered craft cocktails, craft beers, wines by the glass, and a large selection of bourbons, single-malt scotches, and rums. Mmmmm beer. Gross hiking.
ADDRESS:   5041 N. 44th Street, Phoenix, AZ 85018
PHONE #:   (602)-840-9080
HOURS:   Monday & Wednesday: 10am-10pm
                  Tuesday, Thursday & Saturday: 10am-11pm
                  Sunday: 11am-9pm
BOOZE AVAILABLE:   Y – Full Bar
DRINKS AVAILABLE:   Y
FOOD AVAILABLE:   N 
SMOKING LOUNGE:   Y
WALK-IN HUMIDOR:   Y
SPONSORED LOUNGE:    Casa de Montecristo
OUTDOOR SMOKING AREA:   N
MEMBERSHIPS AVAILABLE:   Y – Humidor Lockers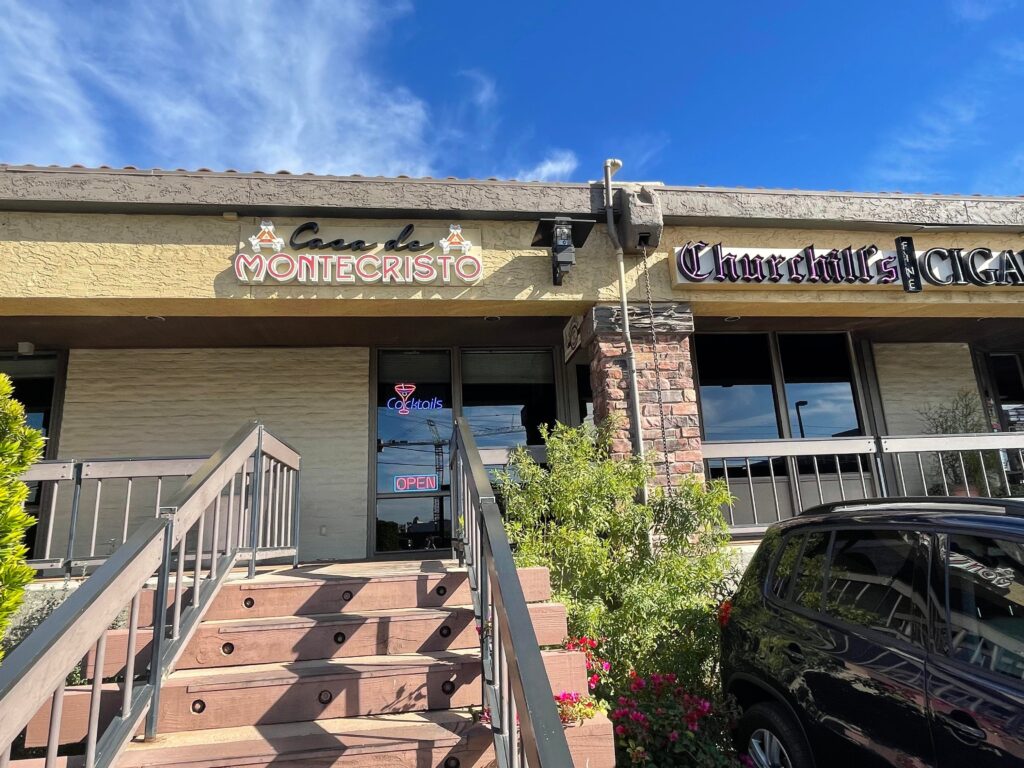 Easy to locate and right within a shopping area, Churchill's was a piece of cake to locate. There is ample signage and both handicap accessibility as well as the stairs pictured above. Parking was a bit hectic with none available right out front of the shop, but I found a space behind the building.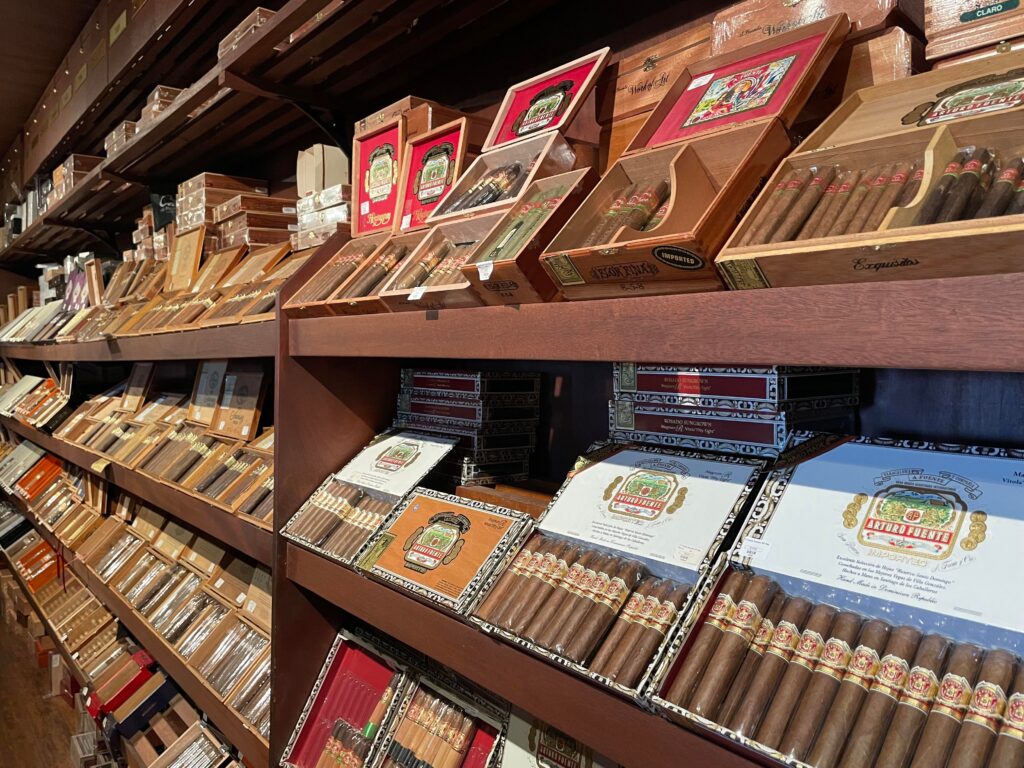 SELECTION/HUMIDOR SIZE

As you can see, the walk-in humidor was great. There were tons of selections, many variants of different brands, and everything was spaced out for the shopper to easily peruse. All the brands were stacked together and back stock was virtually invisible. The space itself was certainly large enough for multiple cigar aficionados to access at one time. 
They carry all the staples as well as some more rare selections including Black Label Trading Co., and this cream soda cigar that I can't remember the name of. How fun!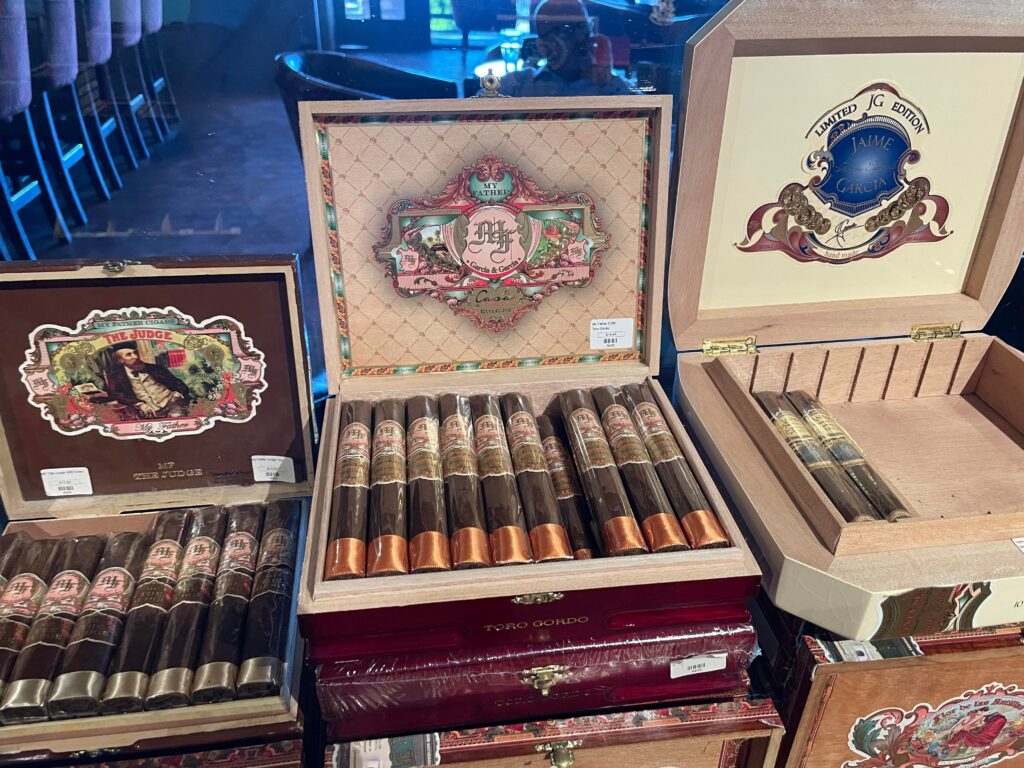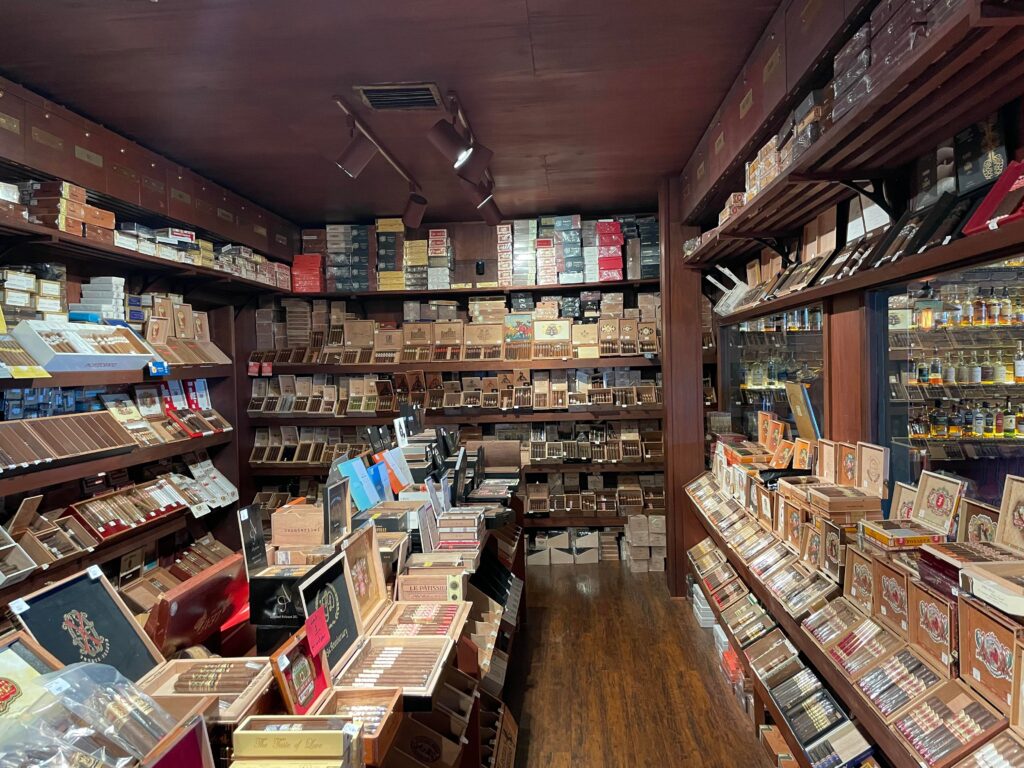 HUMIDOR MAINTENANCE

The humidor was well-maintained and very clean. There was little dust buildup and no cobwebs to be seen. Why do spiders love smoke shops so much? I don't know. Anyway, there was zero clutter on the floors/shelves, and everything was very easy to access and inspect. The humidification was set to a balmy 70 with no visible misters. The cigars showed no mold and each cigar purchased had been tended to carefully. The Oliva 135th that I bought to smoke that day burned beautifully.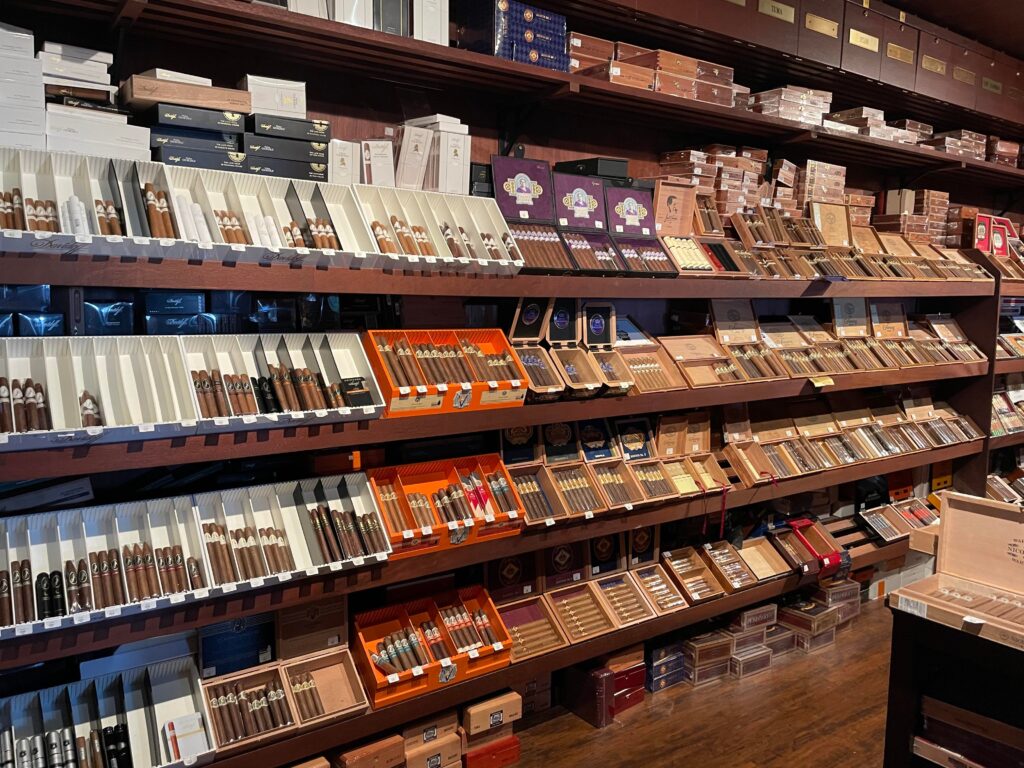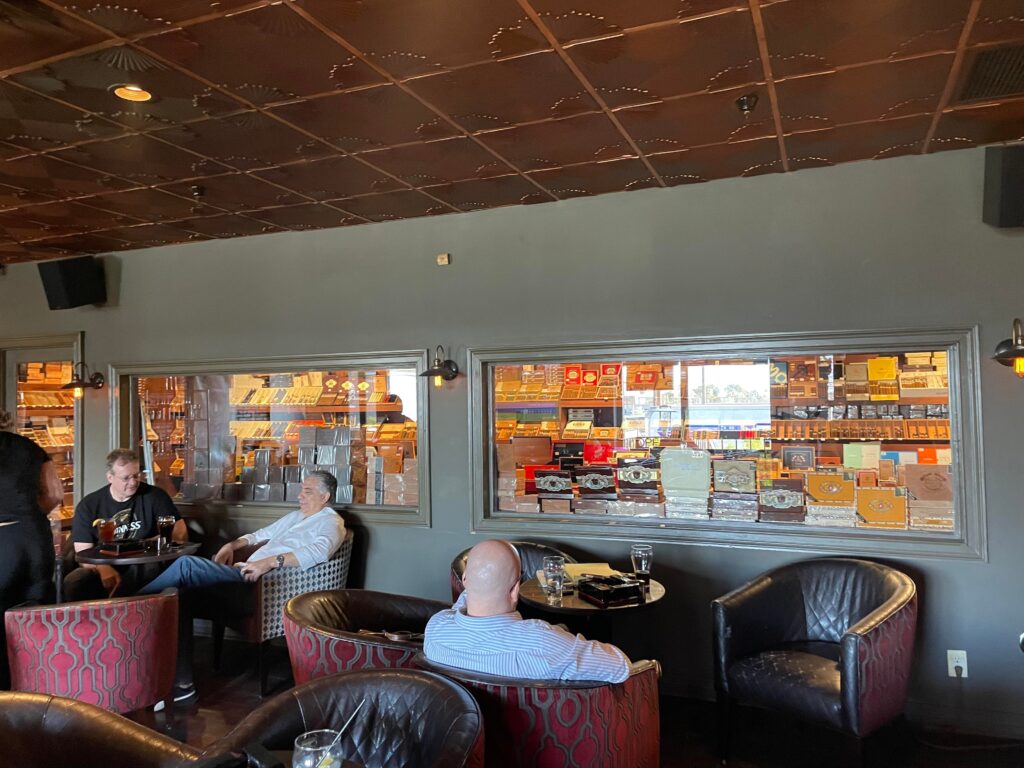 CUSTOMER SERVICE/STAFF KNOWLEDGE

Even though I received a few questioning glances when I first entered the shop, I was greeted immediately by the manager and he proffered a drink menu. I ordered a beer and walked into the humidor to make my selections. I was not asked if there was anything they could help me find and I was left alone in the humidor to check it out. While I like the assumption that I know what I'm doing, what if I didn't? The staff should have at least attempted to assist me instead of ignoring me.
The beer was cold and delicious and I sat down to enjoy a couple Oliva 135s. The manager spoke with me briefly and was mildly condescending when discussing my cigars of choice. I get it, I'm a small, unassuming, and quiet female showing up to your shop in the middle of the day in hiking clothes. I often get underestimated and this was really no different a situation. When he "educated" me about the 135s being the same blend as the Serie V (effing duh) I silently told him to eat sh*t and continued with my smoking session in peace.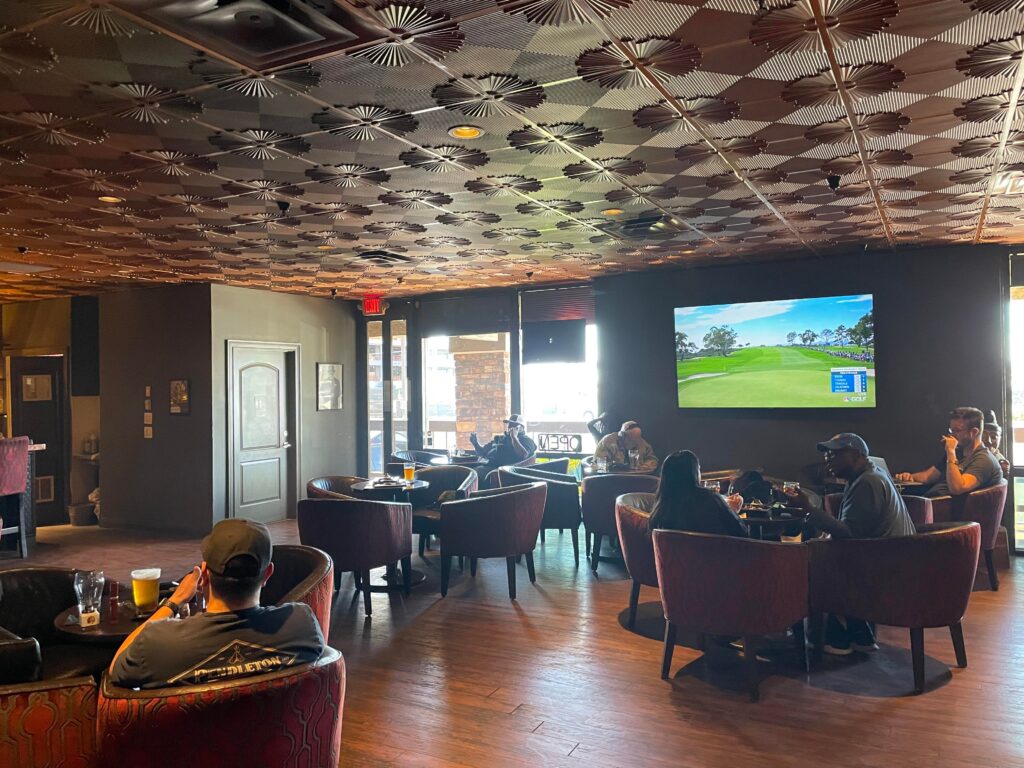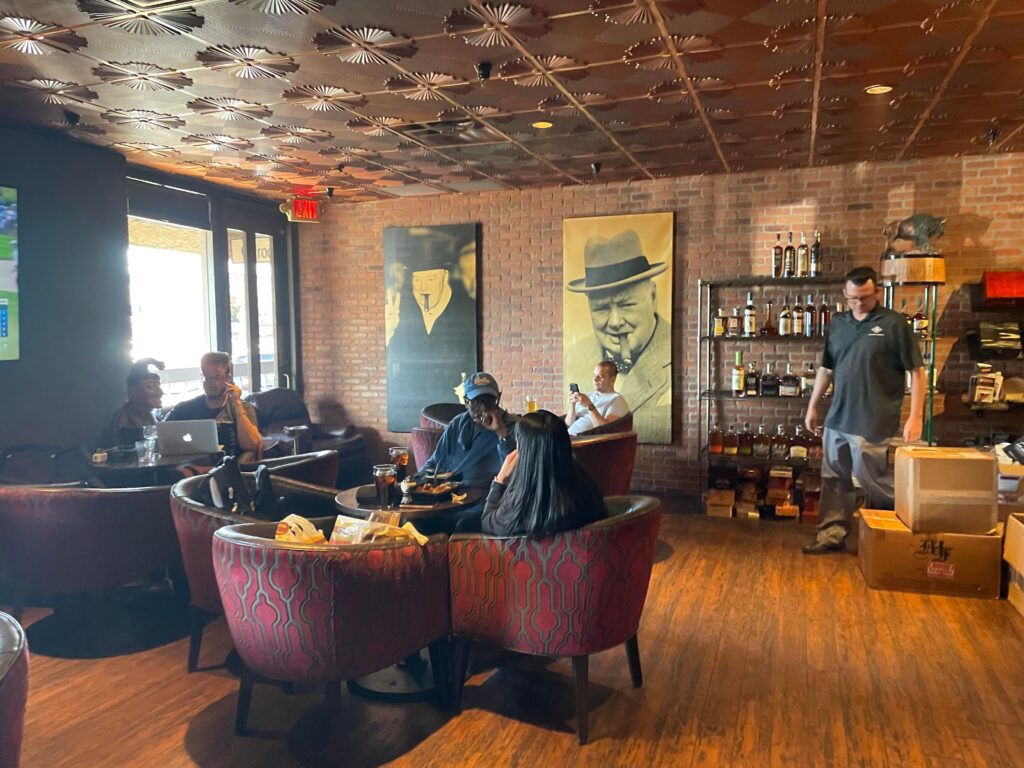 LOUNGE SIZE

The size of the lounge was adequate for everyone patronizing the joint and there was ample space between tables and chairs that you could have an intimate conversation or talk amongst tables if you wanted.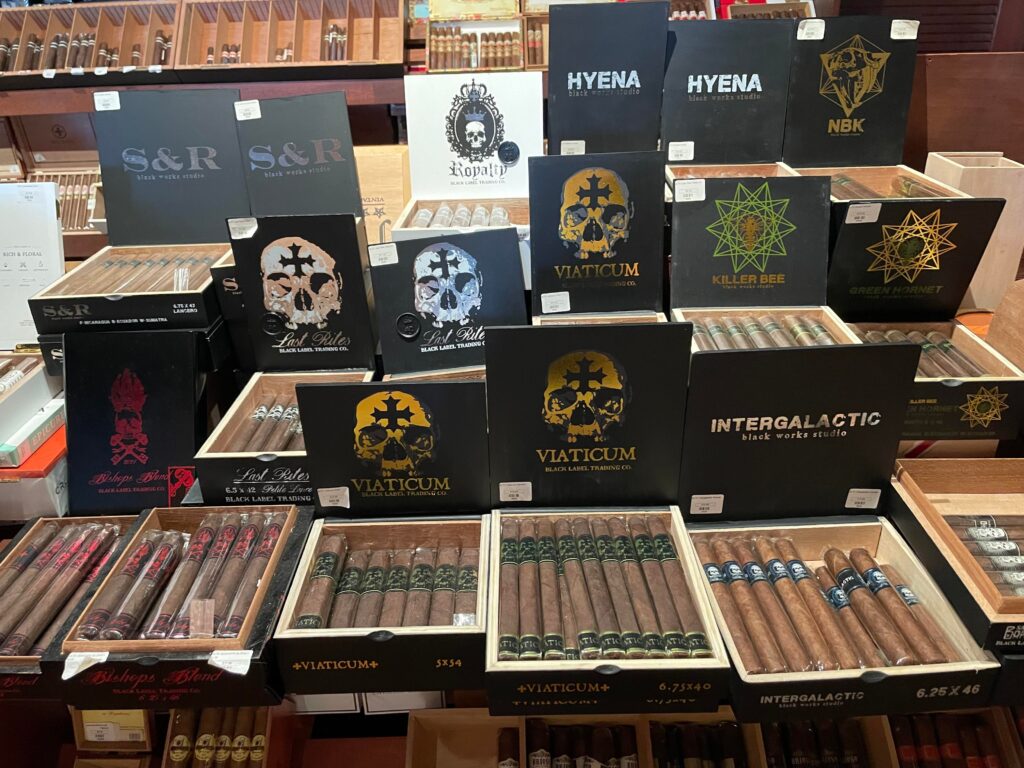 AMBIANCE
At first entering a new lounge in a new city, I was a little intimidated but I warmed up to the space rather quickly once I started talking with some of the regulars. The guys and staff clearly knew each other well and would welcome each person into the shop as they entered. I did get a couple of looks when I showed up, but that's typical of a small, young, girl coming into unknown cigar territory. I politely requested a beer after being waited on almost immediately, and went into the humidor to make my selections. 
For a little while in the beginning, I was still a bit uncomfortable because the space was so much quieter than David's Fine Tobaccos in Des Moines, where I usually haunt, with TVs blaring, guys joking around, and customers asking questions. I noticed that there was no music playing and the television was turned off – a silent cigar shop is so weird to me. Also, the space was very dark in lighting and dark window draping, so much so that I felt like I was at a nightclub instead of a welcoming cigar lounge/bar. I would suggest adding a few high top tables for people to work/sit at. I would also suggest drawing back the curtains so that the warm Arizona sunshine could peek through. 
HUMIDOR EXPERIENCE
The humidor was well maintained, well stocked, and well serviced. Once I spoke with the younger male tobacconist, I felt much more at ease as he was friendly, helpful, and very knowledgeable. I appreciated his presence and would not have had such a good experience at this lounge if it were not for him just existing. 
LOUNGE EXPERIENCE
I had a fabulous time talking with the locals. Be sure to strike up a conversation when you go – they're friendly and generous! They also know their cigars. We chatted about Arizona, cigars, places I should go, and disclosed our favorite sticks. The chairs need revamping and so does the rest of the furniture. 
RATING BREAKDOWN
2.50 / 3.00 … Customer Service/Staff Knowledge
3.00 / 3.00 … Selection/Humidor Size/Humidor Maintenance
2.50 / 3.50 … Ambiance
0.50 / 0.50 … Lounge Size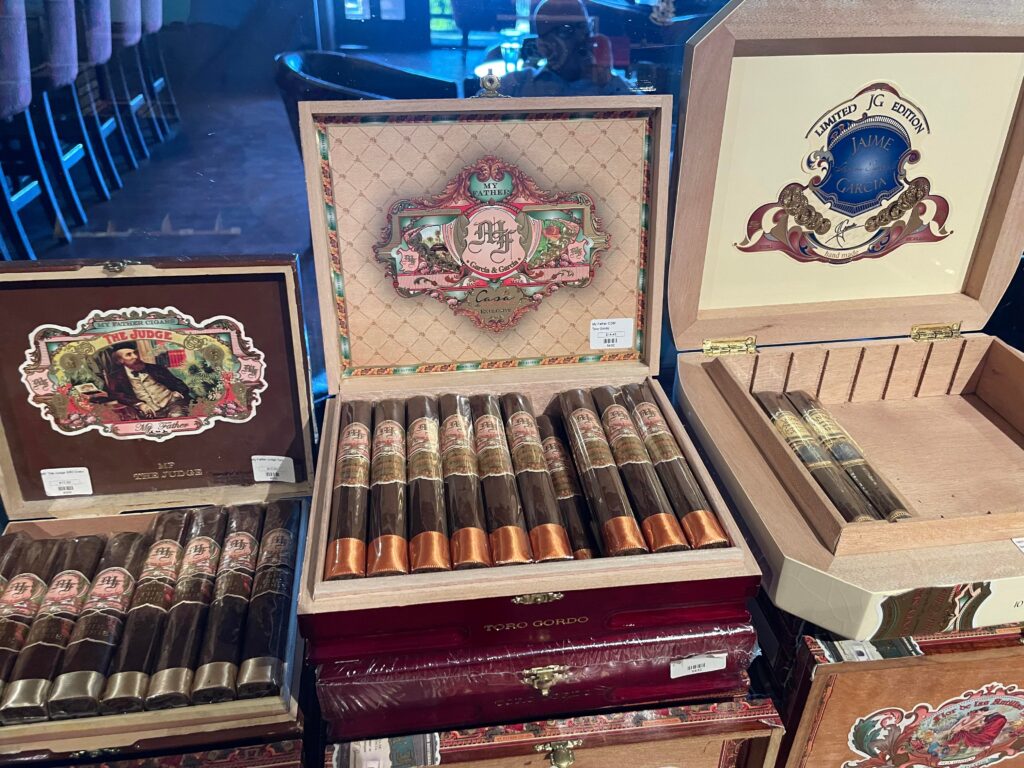 Churchill's Is Great When You're A Fat Kid!
This lounge was my safe-haven from physical exercise. Thank you! The locals were awesome to chat with-even offering me a free smoke of my favorite Padron! The drinks were cold and readily available, the humidor had a variety of selections, and the younger tobacconist knew his stuff and was able to more than adequately answer my questions. My only nicks in points for this place was the manager's aura and the updates that needed to be made to furniture, lighting, sound, etc. 
SIMPLY STOGIES RATING:  8.5 / 10.0