I have said before that the Midwest seems to be largely overlooked by the cigar industry. There are a few exceptions, like Up Down Cigar in Chicago or Safari Cigars in Omaha, NE. There are a few in St. Louis that seems to get some love, too. But by-in-large, most cigar shops throughout the Midwest are small shops that are known only to those local cigar smokers. Cigar smokers from around the Midwest have heard of The Outlaw Cigar Company in Kansas. It was with this thought in mind that I stopped at their Overland Park location on my way back from the PCA 2021 Trade Show.
The Outlaw Cigar Company's cigar events are the stuff of legends. Their humidor is the stuff that is whispered about in the darkened corners of your local lounge. There was a lot to live up to. Would their Overland Park location be able to live up to the lofty expectations set by the Midwest Cigar community at-large? Or would it turn out to just be really good marketing?
ADDRESS:   13700 Metcalf Ave, Overland Park, KS
PHONE #:   (913) 814-9000
HOURS:   Monday – Wednesday 10AM-10PM
                  Thursday – Saturday 10AM-11PM
                  Sunday 10AM-7PM
BOOZE AVAILABLE:   N
DRINKS AVAILABLE:   Water, Cofee, Soda
FOOD AVAILABLE:   N
SMOKING LOUNGE:   Y
WALK-IN HUMIDOR:   Y 
SPONSORED LOUNGE:   N
OUTDOOR SMOKING AREA:   Y 
MEMBERSHIPS AVAILABLE:   Y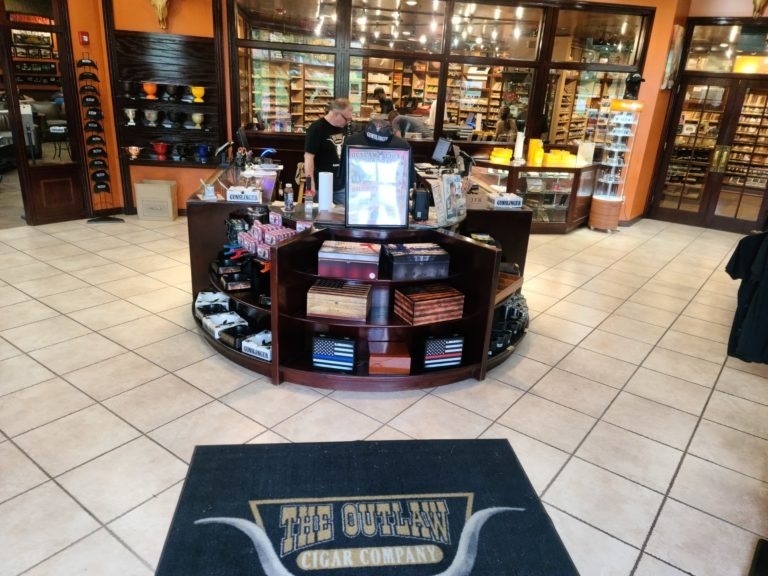 The Outlaw Cigar Company in Overland Park, Kansas isn't too far off the beaten path. Which makes it pretty convenient for those of us traveling from out of town to get to from the interstate.  They are located in a retail area of Overland Park, so you can drop the wife off to shop while you hit the lounge for a relaxing cigar. The building is a stand-alone building with a very large parking lot to accommodate those epic cigar events I've heard so much about, while also supplying ample parking.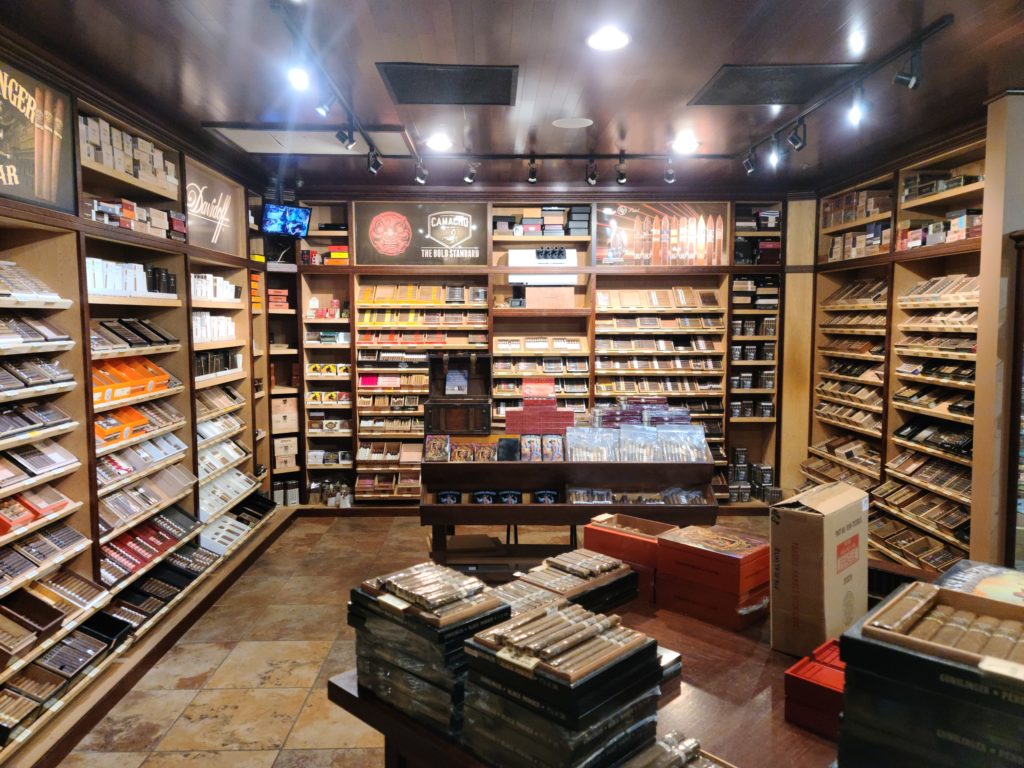 SELECTION/HUMIDOR SIZE
Where do I even begin? Let's start with size: 1500sq/ft. This is, the largest walk-in humidor that I've been in outside the state of Florida. The Outlaw Cigar Company, Overland Park, can not be matched in terms of size. Period. But having a large humidor and having a varied selection are two, very different, things. When I first walked into their humidor, I honestly felt a bit overwhelmed. After making my way around the humidor once, I felt like I had died and gone to cigar heaven. They. literally, have something for every taste, every palate, everybody. Including their company exclusive Gunslinger line. Boutique or mainstream, Outlaw Cigar Company has it all.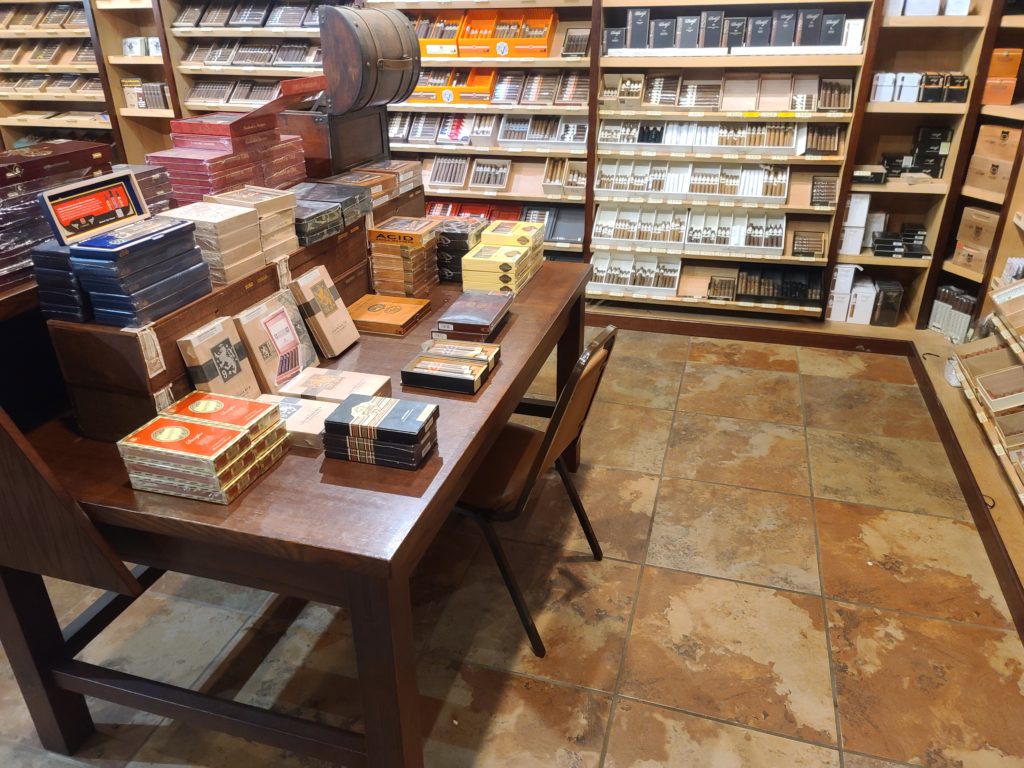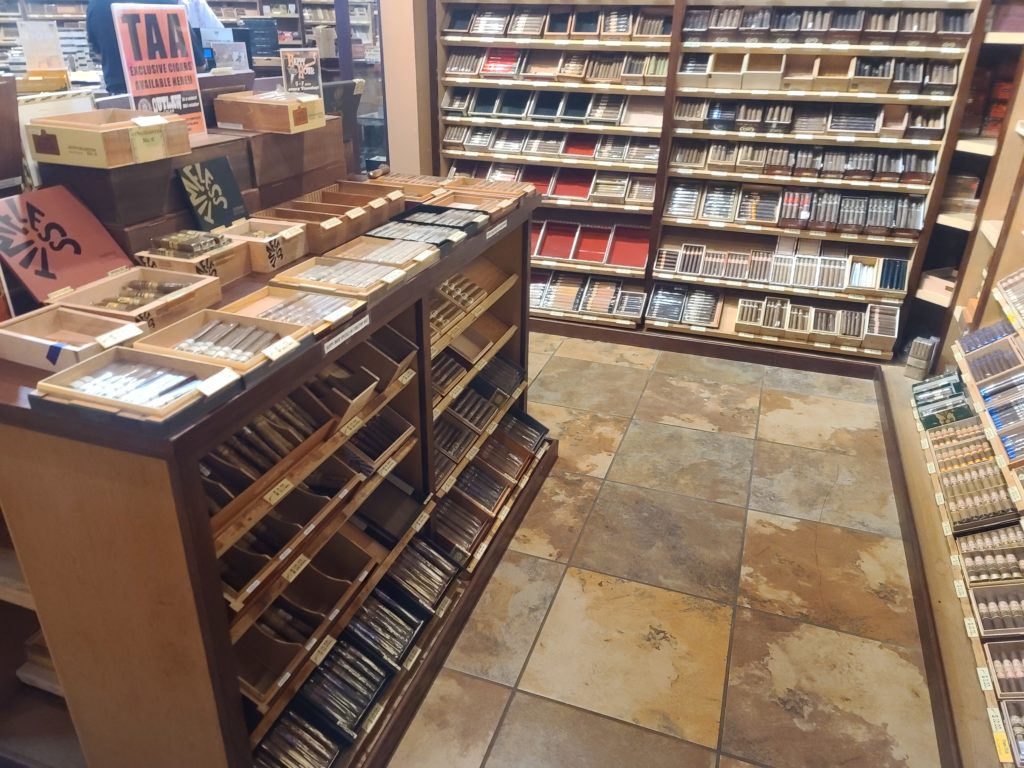 HUMIDOR MAINTENANCE
I'm sure that we have all seen some impressive looking walk-in humidors, but what makes this even more impressive is how neat and organized this was. There was no inventory on the ground and no clutter anywhere. The floors were mopped, there was no dust on any of the cigars (no mold, either), and there were no empty boxes to be found. Some boxes may have had only a few left in them, but there was no unused or empty facing to be found. What also struck me about this walk-in humidor was how well lit it was; making it almost effortless to find what you were looking for.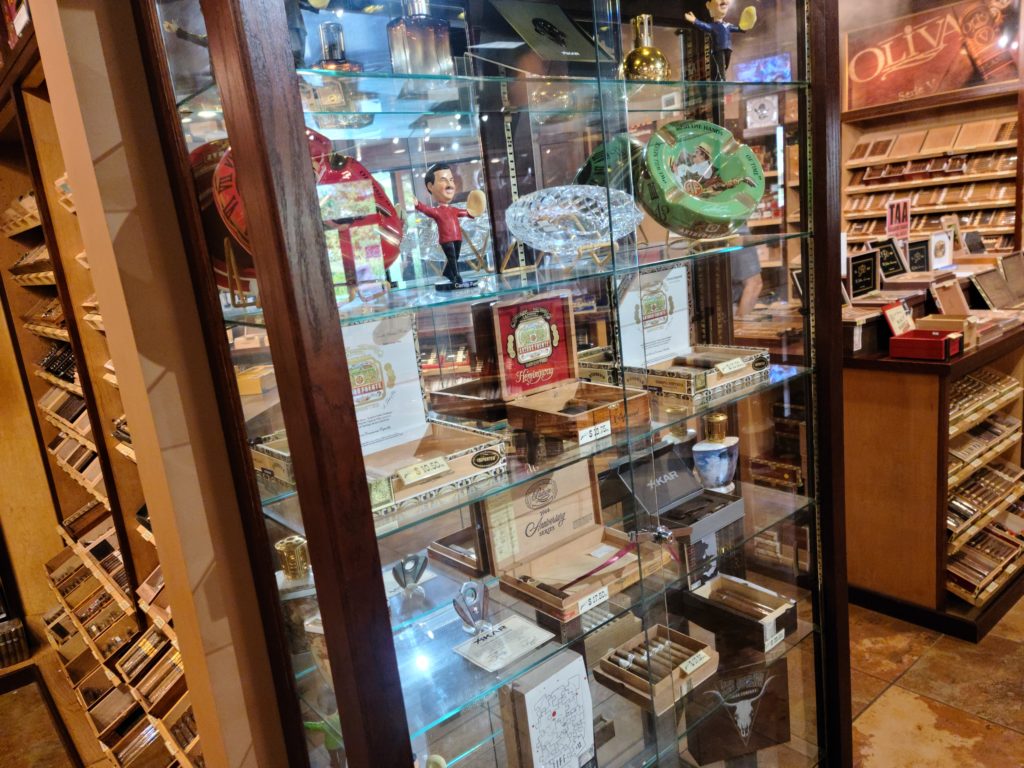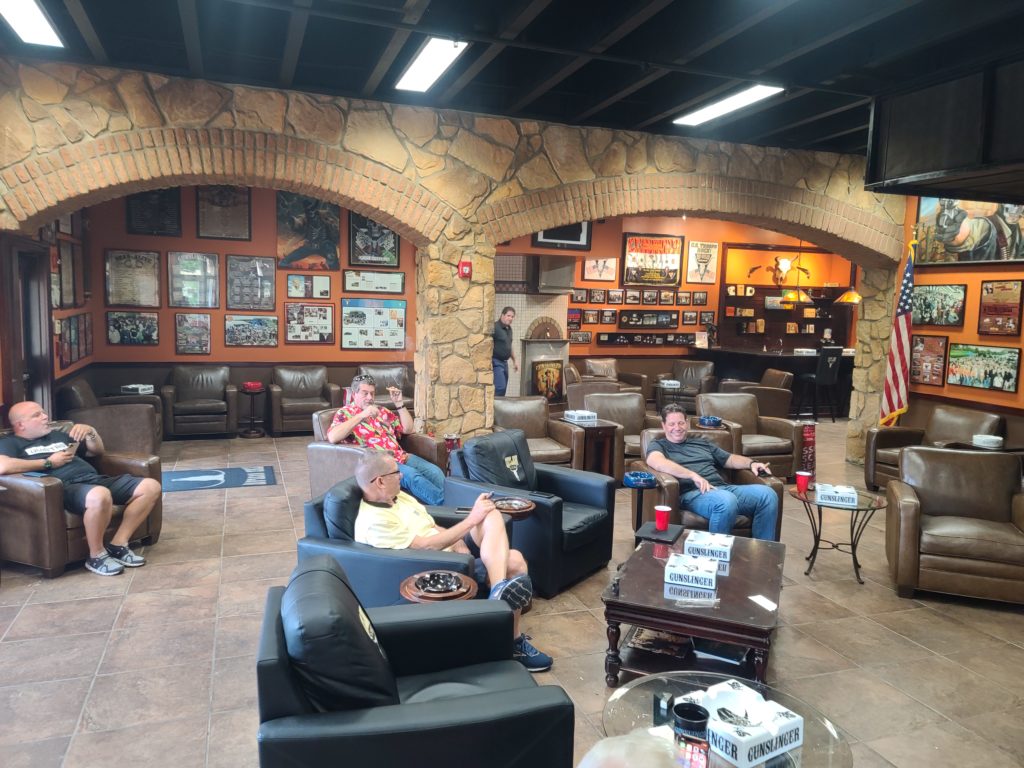 CUSTOMER SERVICE/STAFF KNOWLEDGE
First, let me talk about the customer service aspect. Here is where I always stress that I have a background in retail management and customer service; so, I am always extremely critical when it comes to this side of the business. When I first walked in to The Outlaw Cigar Company I was not greeted. Instead, I went to the counter and waited to be greeted. Normally I would just go make my selection, smoke a cigar, and try to get an unbiased experience. However, I was six hours away from home after being gone for almost two weeks. I wanted to do the review and get home before midnight. I decided to be direct. When I was finally greeted (on a very slow Saturday afternoon) I started to explain who I was and what I was wanting to do. Before I could finish I was asked "Is there a question in my future?" Not the greatest start to my interaction. Honestly, I almost walked out. I decided to go through with explaining who I was and what I wanted to do (which is the review that you're now reading). After that, the "associate" was more than helpful and willing to go out of his way to make sure that I had a great experience. The question becomes who else gets that kind of experience when walking into the shop for the first time?
To be blunt, the staff knows their stuff when it comes to cigars. They know what questions to ask to the customer to make sure that they have a great cigar experience. They are familiar with manufacturers, wrappers, and the industry as a whole. It's everything a customer would want from their B&M.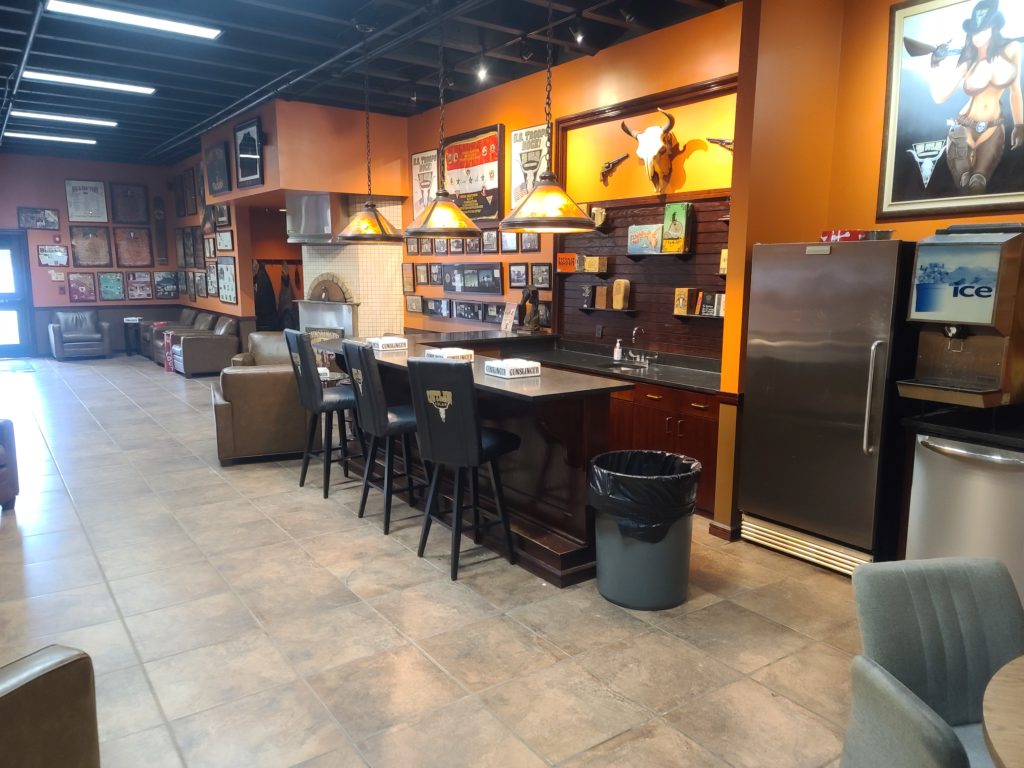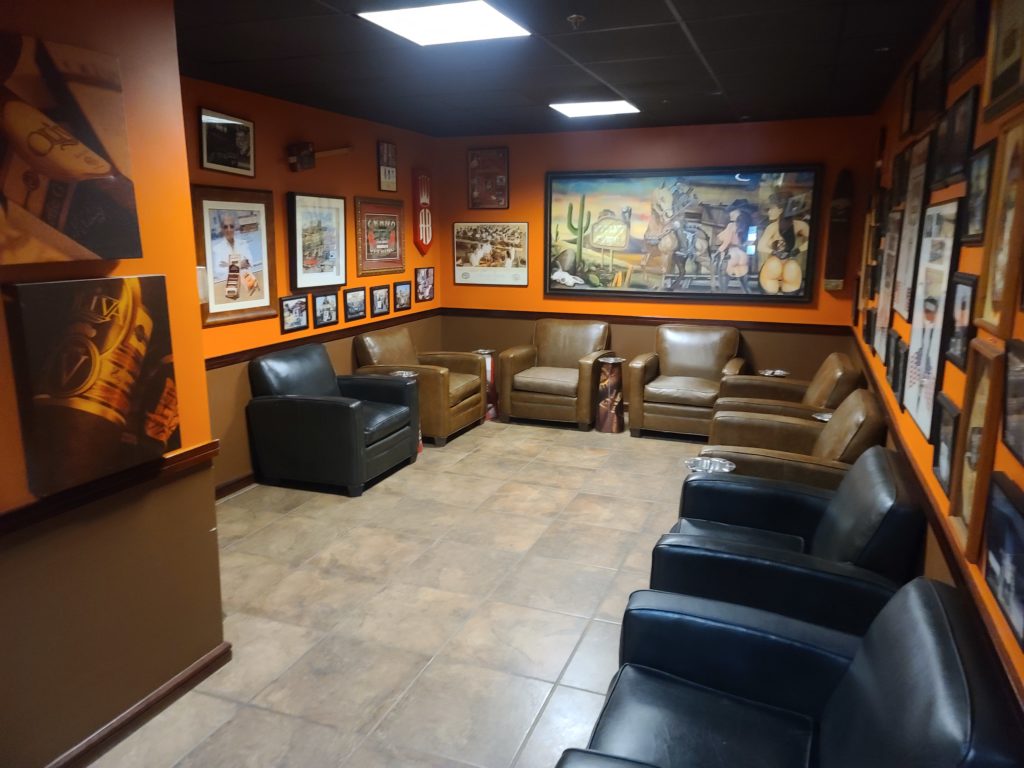 LOUNGE SIZE
If the walk-in humidor didn't impress you, the size of the lounge will. It is the largest cigar lounge that I've personally been in. There is more than enough seating to accommodate several large parties, and more than enough intimate areas to serve smaller parties. The Outlaw Cigar Company in Overland Park has a "game room," a kitchen area complete with vending machines, a game room with 3 televisions and a poker table, another room without any televisions, and a large area with a very large "commons" area with three televisions, communal seating, and areas for small gatherings. It is huge. The pictures do not do it justice. Again, The Outlaw Cigar Company has something for everyone.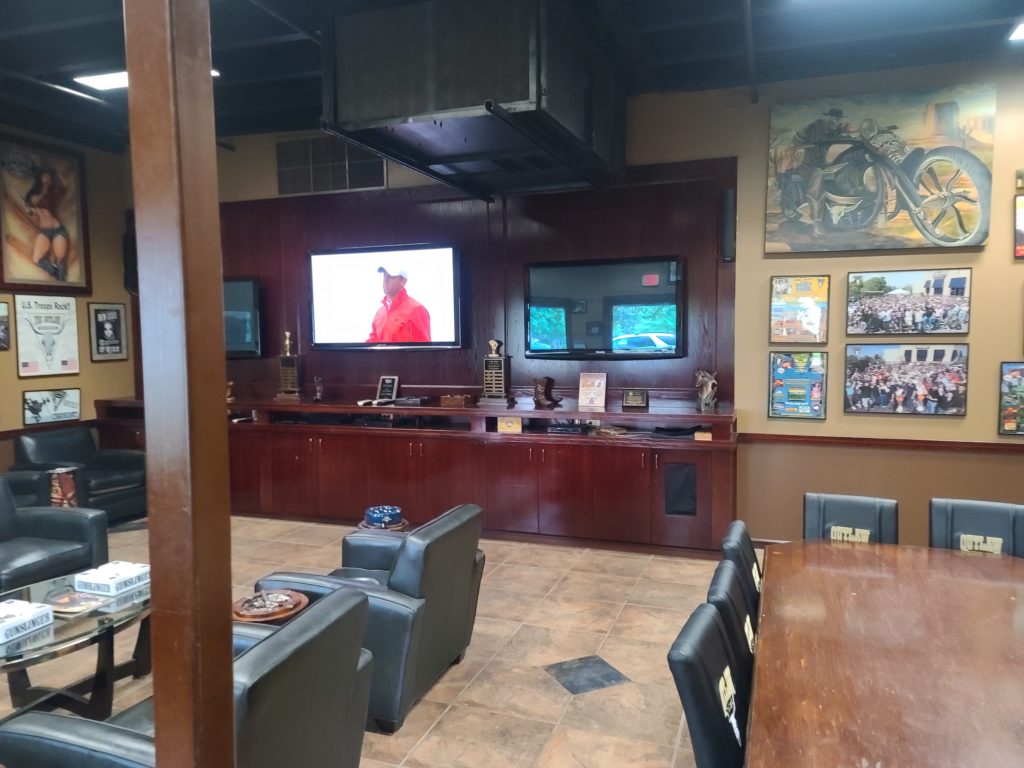 AMBIANCE
Whoever decorated The Outlaw Cigar Company in Overland Park did a fantastic job. It was a "western" feel to it, without being over-the-top. It also has a bit of a biker vibe to it, but without alienating those of us who aren't bikers. The walls are adorned with pictures from events, cigar themed art, western themed art, biker themed art, and patriotic and veteran themed memorabilia. The furniture all matches, the walls are painted, and every area has enough natural light to make the space feel vibrant. 
A lot of cigar lounges try to be all things to all people, but the ones that do very well are the ones that try pick a vibe and stick with it. The Outlaw Cigar Company is the exception to that rule. They are large enough to accommodate a diverse crowds and different vibes. Want to have a bachelor party? This is the place. Want to watch the game with your friends? This is the place. Want to spend a quiet evening with a friend or two? This is the place. Want to have a quiet cigar and keep to yourself? This is the place. 
HUMIDOR EXPERIENCE
To put it succinctly, The Outlaw Cigar Company's humidor experience can not be matched outside of Florida. Monte's comes very close, but can't quite match the selection. The humidor is large enough to put a POS right in the middle of it, which makes "hovering" sales people obsolete. It's also convenient  if you have a question or just can't find what you're looking for; not because they don't have it, but because there's just too much to look at!
LOUNGE EXPERIENCE
The lounge experience was absolutely fantastic, except for how was not greeted and how I was initially treated. There are four distinct areas to the lounge that you can choose from. Again, they have something for everyone. Sports are always on the televisions, and there are enough televisions to have every game on at once. If you're a sports fan, you'll be in heaven. They have a room without televisions if you want to chat with your friends or even hold meetings for your club or with your clients. They have you covered in almost every situation.
RATING BREAKDOWN
2.00 / 3.00 … Customer Service/Staff Knowledge
3.00 / 3.00 … Selection/Humidor Size/Humidor Maintenance
3.25 / 3.50 … Ambiance
0.50 / 0.50 … Lounge Size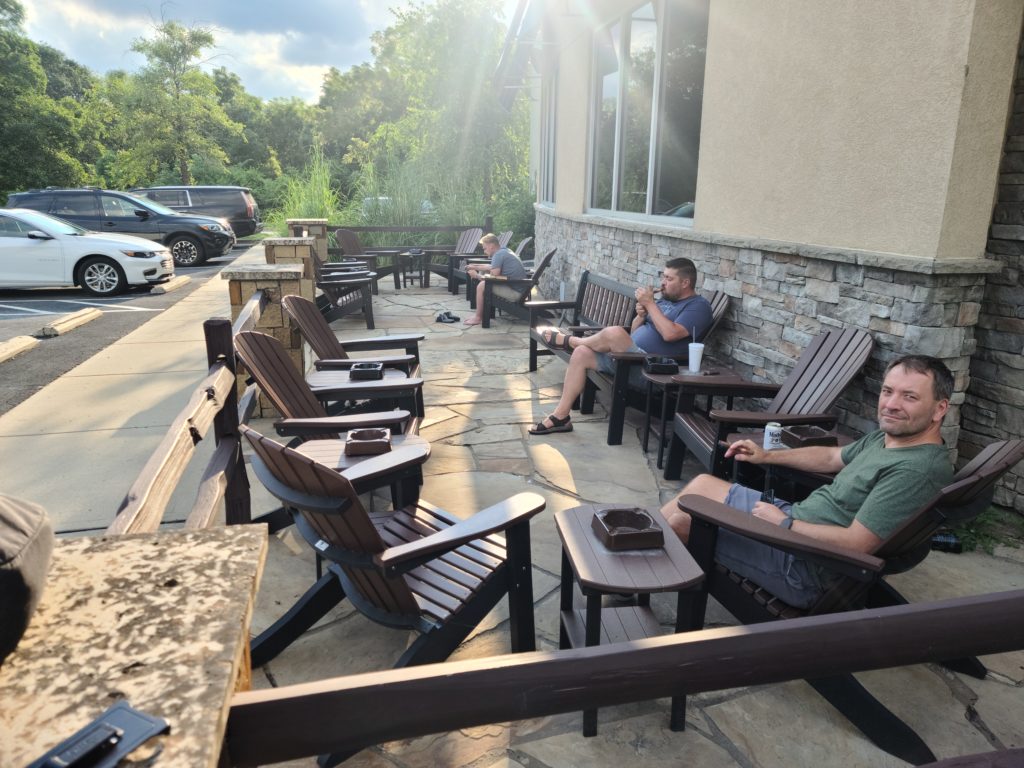 THE CAVEAT IS CUSTOMER SERVICE.
I get it. You're dealing with the public all day long. It can be rough. Maybe they had a difficult customer before I came in? Maybe he thought the guy in a guayabera and fedora was a new cigar manufacturer trying to open an account? Maybe I was tired and took too long getting to my question and am being overly sensitive? Whatever the case, the customer service that I initially encountered was off-putting. Now to their credit, they went above and beyond to make sure that my cigar experience there was great. But I'm a nobody. Also, I didn't see anyone else have that same experience. Everyone else was greeted and treated with respect from the start. Regardless, The Outlaw Cigar Company in Overland Park, Kansas is a "bucket list" destination if you're a cigar smoker. While the events may have been put on hold due to the global pandemic, they are the stuff of legends. Should you find yourself in the Kansas City area, this is a must stop. The selection, the size, and the ambiance is on point. Maybe just go into the humidor and make your selection before troubling the staff with a question?
SIMPLY STOGIES RATING:  8.75 / 10.0