It is hard to believe that it's been three years and almost seventy podcasts ago when I sat down and chatted with one of the owners of Up Down Cigars in Chicago, Illinois, Phil Ledbetter. It's even harder to imagine that it took me that long to get to Up Down Cigars…but it did. If you're unfamiliar with Up Down Cigars, you shouldn't be. Let me catch you up. The shop first opened in 1963 by a woman named Diana Silvius. Diana was a beloved figure in both her local community and the tobacco community. She was voted in as the first woman president of the RTDA (Retail Tobacco-Dealer of America which is now known as the PCA). Diana crashed through glass ceilings and made friends doing it for nearly fifty years.
One of those friends was Phil Ledbetter. Phil and his business partner purchased Up Down and have done their best to continue Diana's impressive legacy. Up Down should be on every cigar aficionado's and enthusiast's list of "must visit" shops just for the history alone. They've also had to face their fair share of challenges, including the global COVID-19 pandemic. That's good news for those who live out of state and want to support Up Down Cigars! You can call their 800 number and they'll ship your order. You can read Diana's impressive story here. 
ADDRESS:   1550 N Wells St, Chicago, IL 60610
PHONE #:   (800) 587-3696
HOURS:   Monday-Thursday: 12pm-8pm; Friday-Saturday: 12pm-9pm; Sunday: 12pm-6pm
BOOZE AVAILABLE:   N
DRINKS AVAILABLE:   Coffee
FOOD AVAILABLE:   N
SMOKING LOUNGE:   Y
WALK-IN HUMIDOR:   N
SPONSORED LOUNGE:    N
OUTDOOR SMOKING AREA:   Y
MEMBERSHIPS AVAILABLE:   N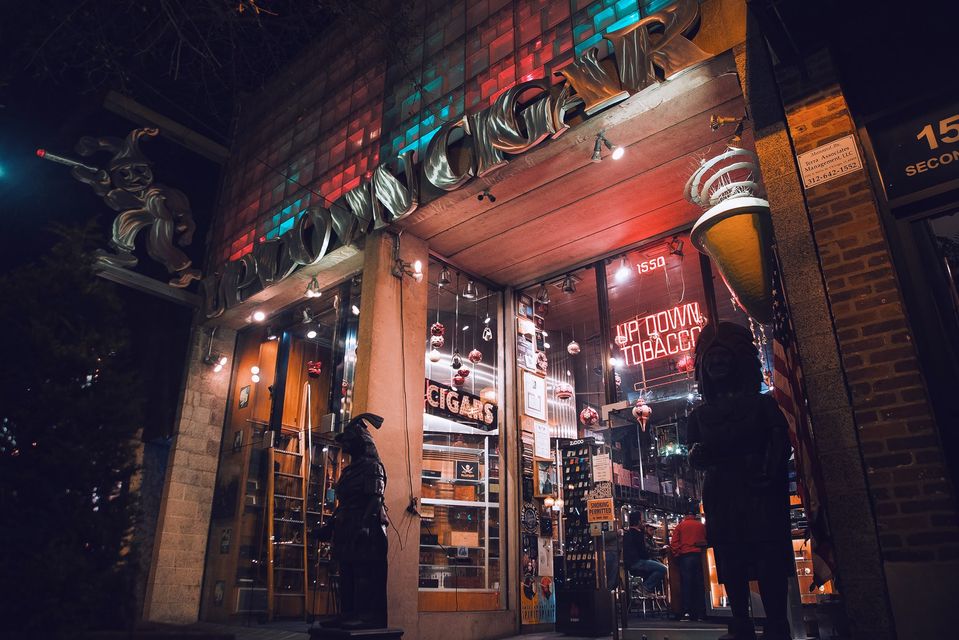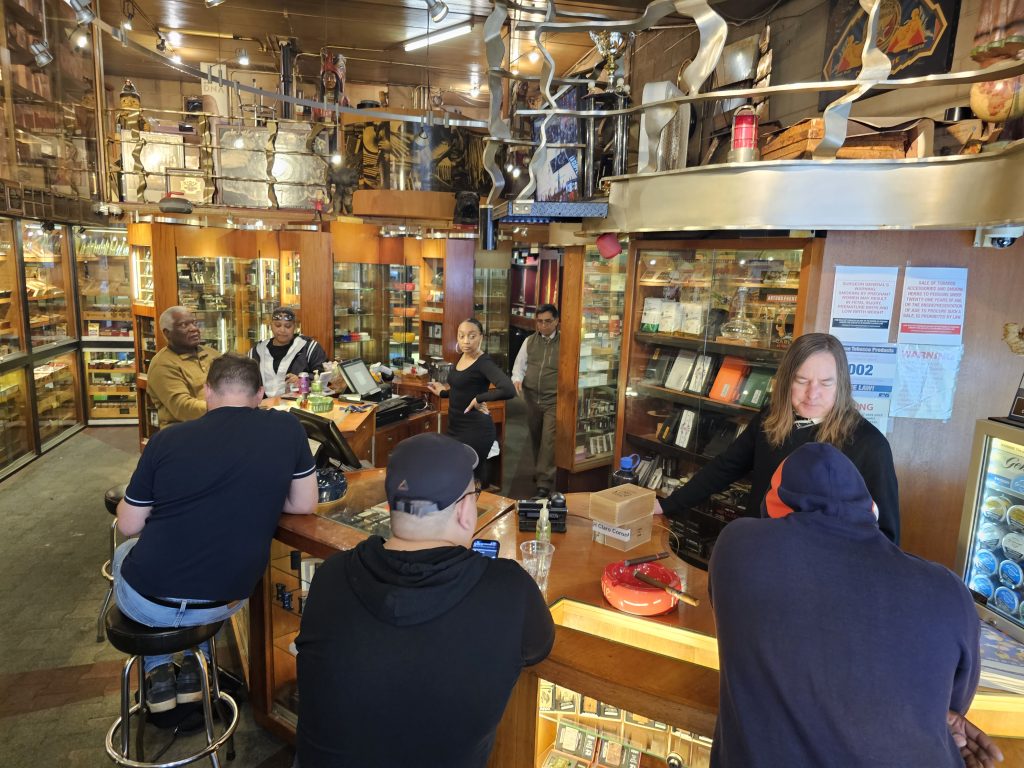 Up Down Cigar is located in the Old Town neighborhood in Chicago. If you're not native to Chicago, it's a 15 to 30 minute drive to almost anywhere in the city…even when only a mile a way. Street parking can be challenging on good days in Chicago. If visiting, I would recommend taking an Uber or Lyft instead of hoping for a parking spot close to the store. While being located in the heart of a historic district in America's 3rd most populated city has its challenges, it also has its perks. The location is beautiful. It was designed by architect Howard Alan in 1975 and has become an institution in the Old Town area. Up Down Cigar still holds that unique and eclectic charm that Diana Silvius was known for.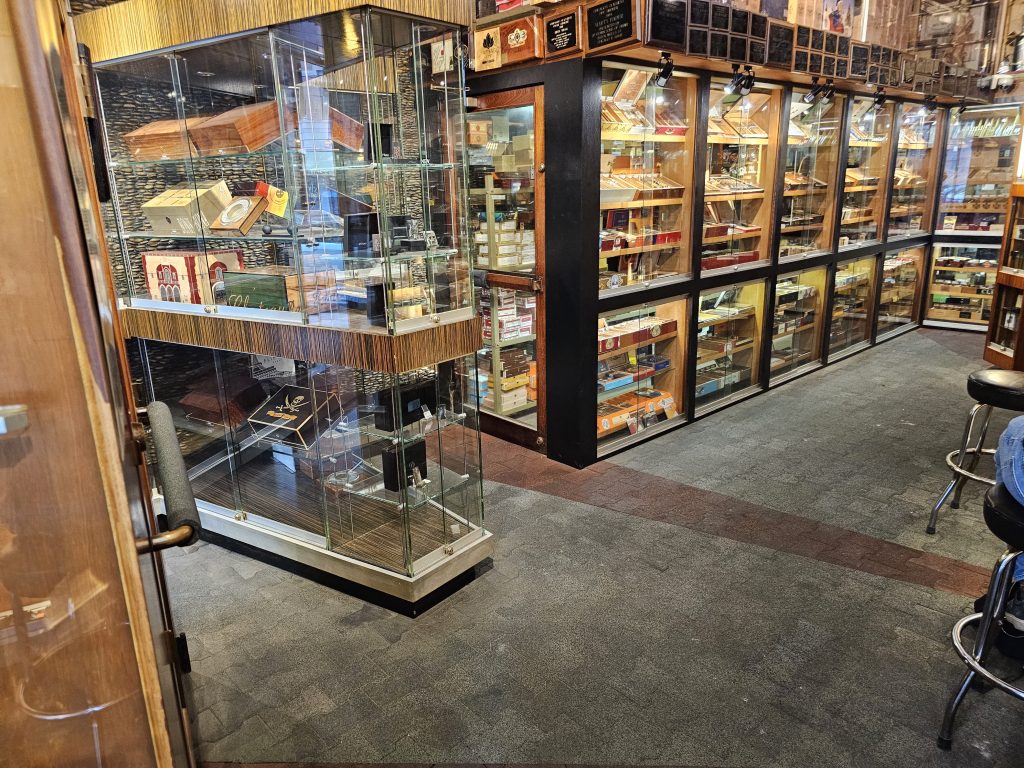 SELECTION/HUMIDOR SIZE

The humidor at Up Down Cigar is as unique in that it is both walk-in and cabinet style. Only the staff are allowed in the walk-in portion, but the cabinet is one long cabinet with dividers every 4ft. Every part of the humidor and display cases look to be built for the specific space. The Davidoff display (as seen below) flows seamlessly into the next case, which is at an angle. The use of space is remarkable, but I'll save that for later in the review. 
The selection at Up Down Cigar is very good. It's certainly not the largest humidor or selection I've seen, but it has something for everyone. It also has both old familiar brands, as well as new players in the industry and boutiqe. Davidoff, Tatuaje, Arturo Fuente, Joya de Nicaragua, LH Cigars, and Stolen Throne are just a few of the examples of what brands you'll find in their humidor.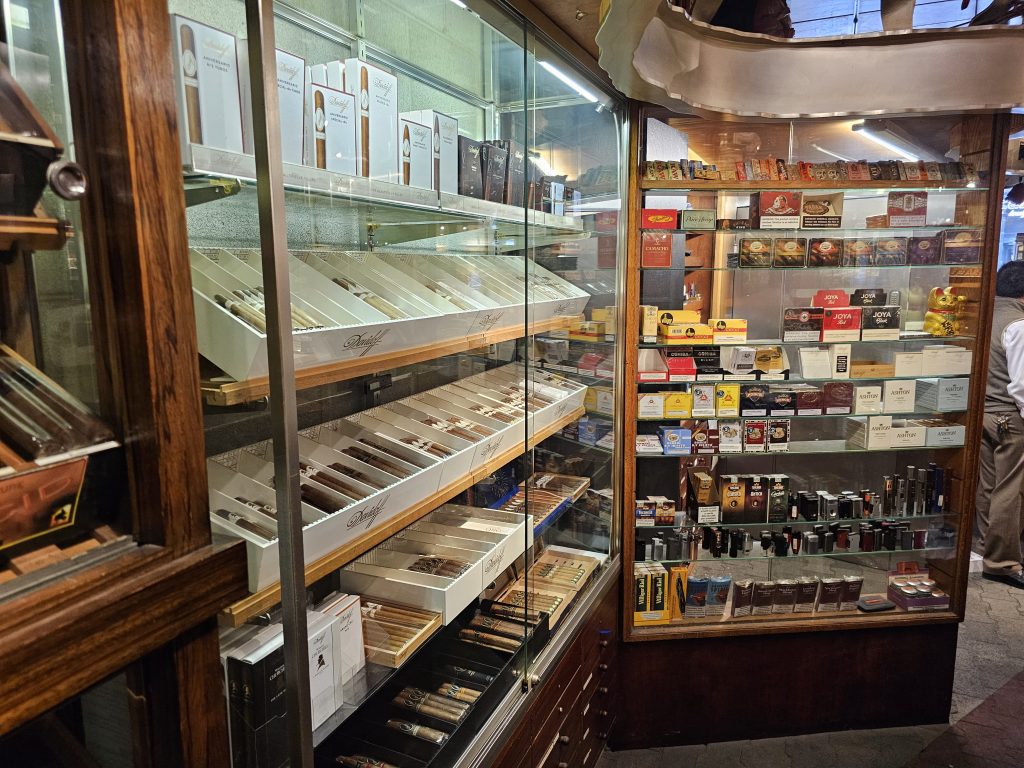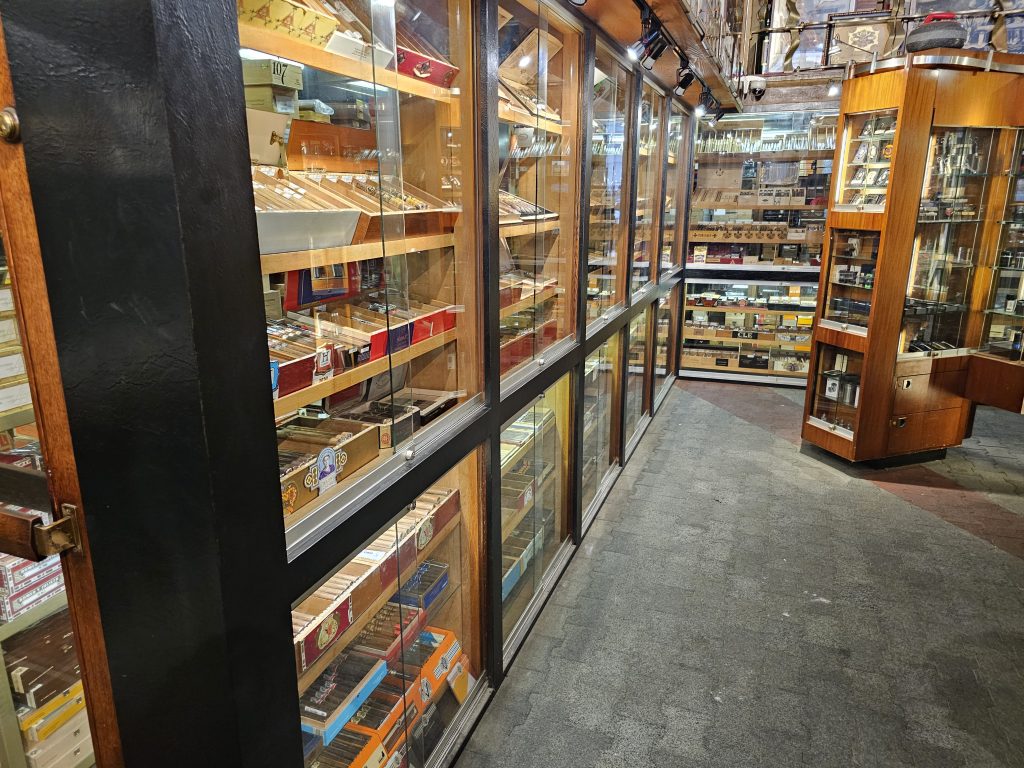 HUMIDOR MAINTENANCE

The humidor at Up Down Cigar is well maintained. I looked through each cabinet and found no dust on the cigars or boxes, and no mold on any of the cigars. The glass on the front of each cabinet was spotless. I smoked five cigars at Up Down, over the course of two days, and had no issues. Each one burned even and were not overly or under humidified.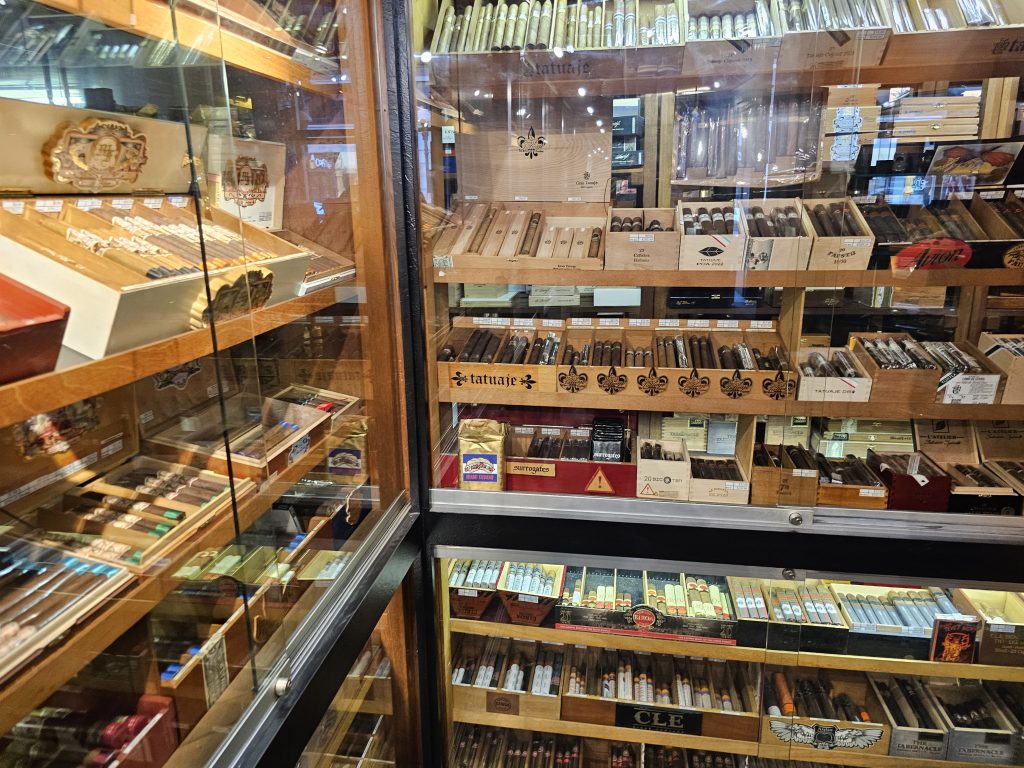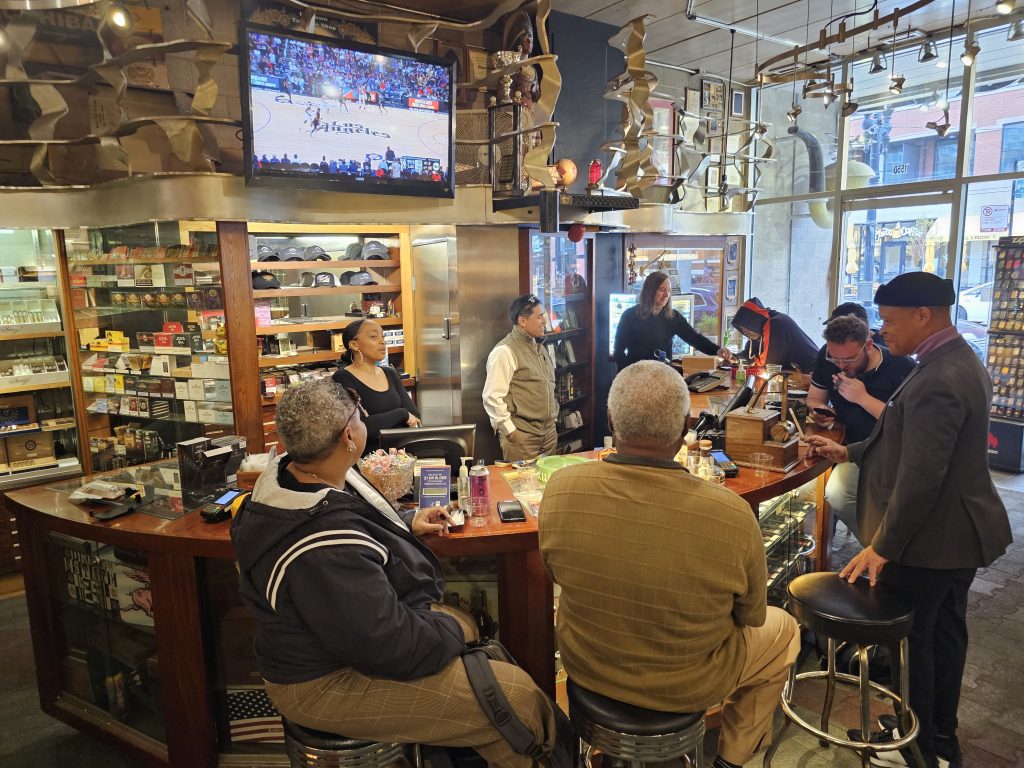 CUSTOMER SERVICE/STAFF KNOWLEDGE

I sometimes think that big cities get a bad rap for being unfriendly. Chicago is still located in the Midwest, and "Midwest nice" is still a thing. And that "thing" is on display at Up Down Cigar. I was greeted each time I walked into the store. I want to note here that the first time I walked in was a Friday evening and they were busy. They still went out of their way to say hello to me and ask if I needed any help. I know shops in much smaller cities that don't do that.
Not only is the staff friendly, but they know their stuff. I had a great conversation with Kita about some of the new Tatuaje and what her favorites were, and what we liked and what we didn't. She was familiar with the new releases and offered her suggestions. In short, the staff is well trained, customer focused, and extremely knowledgeable.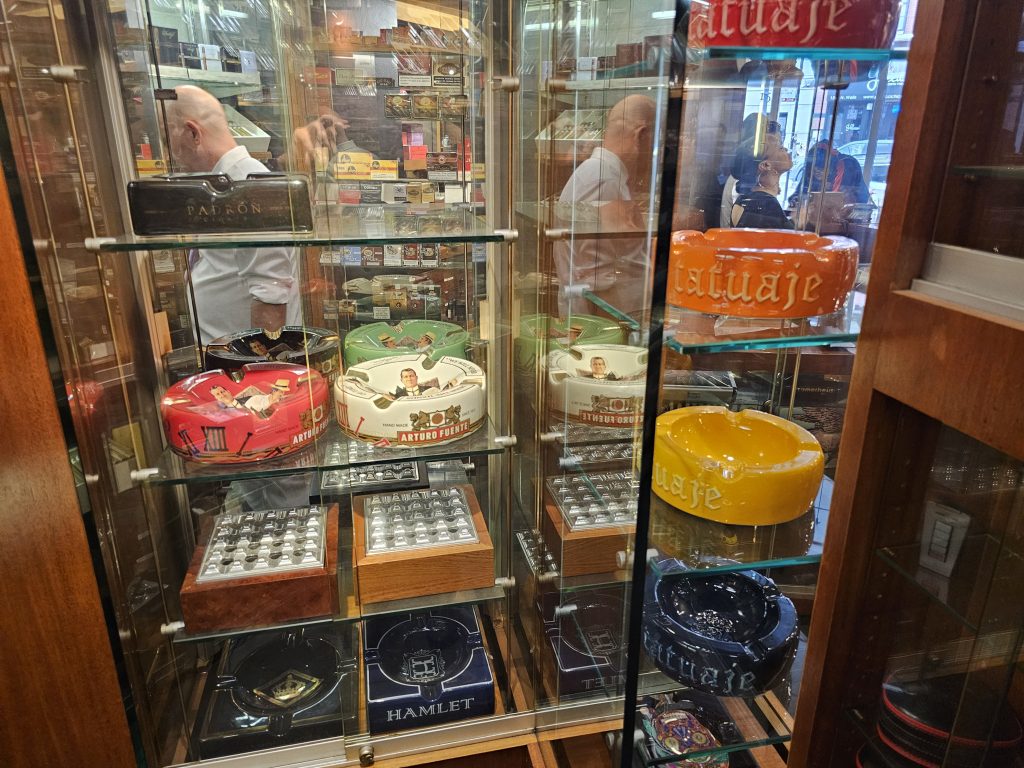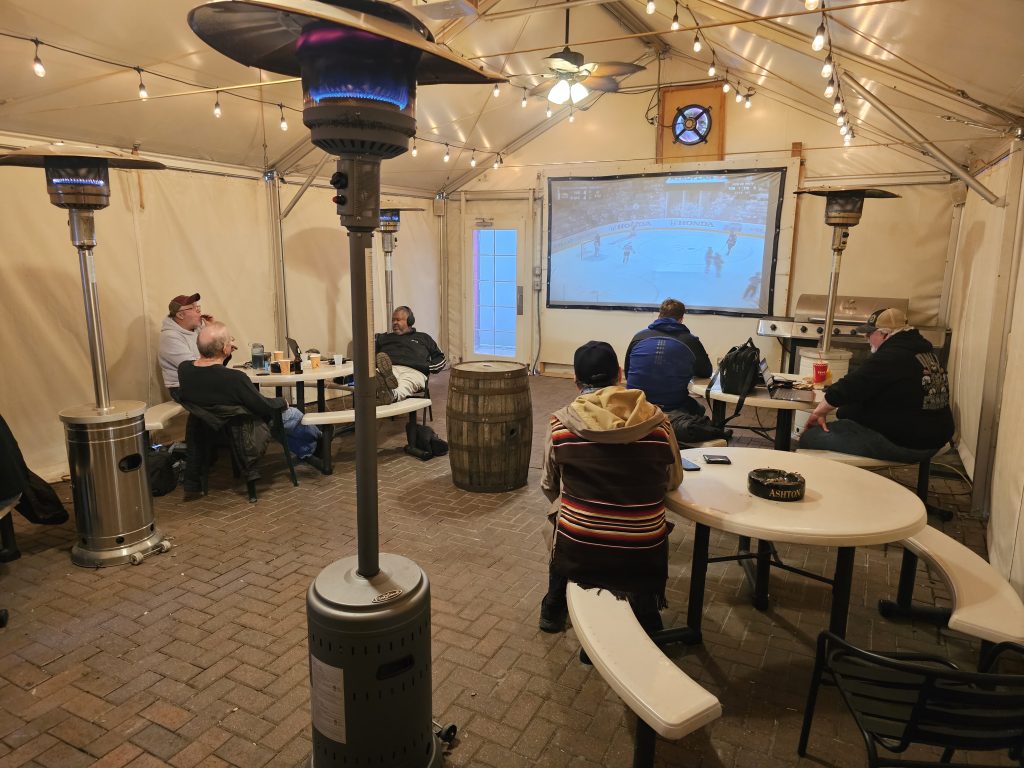 LOUNGE SIZE

If there was one area where Up Down Cigar was going to lose some points, it's size. Taking into account that they're in the third most populous city in the US, you would expect a bigger smoking area. However, the name is "Up Down" for a reason. It's always been space challenged, especially in the historic Old Town neighborhood. The cabinets and display cases seem to be custom built to maximize space, but that still only allows for a handful of folks to smoke inside the shop. Phil and company have put up a tent, complete with projection TV and large space heaters, behind the building to accommodate those who wish to purchase and smoke there at the lounge. It's a great place to get to know some of the locals and regulars. 
AMBIANCE
Unique, eclectic, old school with a modern flare. You can't help but feel the history when you're inside Up Down Cigar, but nothing looks old or worn. Everything is well-kept and clean. Again, the use of the space they have with the amount of inventory they have is amazing. There is no way I could adequately describe the ambiance at Up Down Cigar. It must be experienced. 
HUMIDOR EXPERIENCE
Up Down Cigar's humidor is well-stocked and well-maintained. Is it the largest selection I've seen? No. Is it a great selection? Yes. Beyond that, the staff knowledge and friendliness is on par with some of the best I've experienced. They make you feel like family and not just another customer. I've said this before and I'll say it again: customer service is king. And Up Down Cigar delivers on that premise.
LOUNGE EXPERIENCE
When I'm complaining about the size of a lounge, you know it's a great lounge. While I'd love to have oversized, comfy chairs to sink into and enjoy a cigar at Up Down Cigar, having that kind of space would just take away from the experience that Diana perfected and that Phil and company work so hard at preserving. A unique experience that you can not find anywhere else. The sense of duty to the history of Up Down Cigar and that Phil and his team have there is palpable. 
RATING BREAKDOWN
2.90 / 3.00 … Customer Service/Staff Knowledge
2.50 / 3.00 … Selection/Humidor Size/Humidor Maintenance
3.50 / 3.50 … Ambiance
0.25 / 0.50 … Lounge Size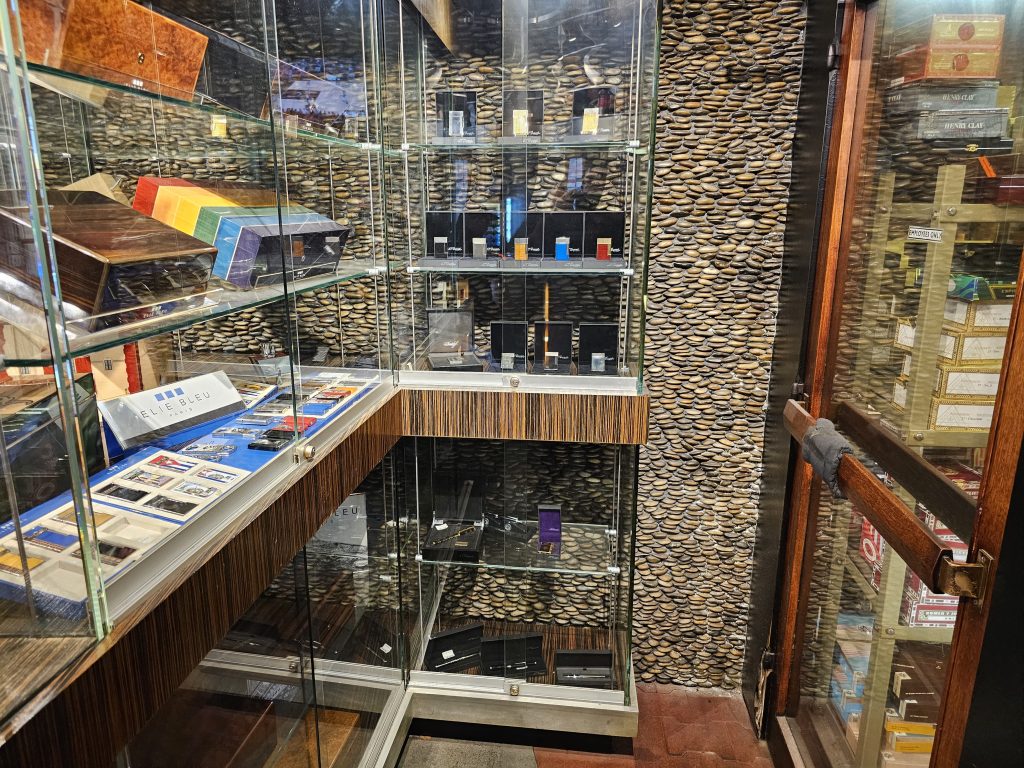 THE LEGACY OF DIANA SILVIUS!
Diana Silivius' legacy is in good hands. The shop is neat, clean, and full of history. It's unique size does present some challenges, but those are overcome by the unique design of the fixtures and use of space. The humidor is well stocked with old favorites and new faces, and the staff knows their stuff and can easily help even the newest of cigar enthusiasts find something they'll enjoy. The outdoor lounge/tent is large enough to hold events and allow those who want to smoke at Up Down Cigar the opportunity to do so. This should be on every cigar smoker's bucket list of places to visit. Smoke in history and experience the lounge that is uniquely Up Down Cigar.
SIMPLY STOGIES RATING:  9.15 / 10.0