The salomon vitola is one of my favorite in the entire cigar industry. Producers such as Cuaba and La Flor Dominicana are well-known for their salomones. The Oliva Melanio Figurado has been one of my favorite in this category, though of course it's not quite the same shape as the AJ Fernandez Enclave, which features a mild taper from the foot to the head. While salomones tend to be a bit larger, upwards of 7 or more inches, this version by AJ Fernandez is a bit more compact. It's generally considered one of the most difficult vitolas to produce. I was drawn to it because of its appealing price and excellent overall look. The sheen of the cigar is evident while the Old World-style band design gives it a weathered Cuban look. Here, the Camaroon binder tends to dominate the middle of the cigar's flavor blend, and toward the end, it results into something that just didn't do it for me. Here now, the AJ Fernandez Enclave Salomon review.
VITOLA:   Salomon
SIZE:   6.5″ x 52
ORIGIN:   Nicaragua
FACTORY:   Tabacalera Fernandez
WRAPPER:   Ecuadorian Habano Rosado
BINDER:   Camaroon
FILLER:   Nicaraguan AFJ Piloto Cubano and AJF Select 
STRENGTH:   Medium – Full

SOURCE:   CigarPage
WHERE:   
The mancave aka my garage
WHEN:   
September 27, 2020
DRINKS:   
Passionfruit-flavored seltzer water
WEATHER:   
Calm 66 degrees, basically perfect SoCal fall evening
WHAT'S ON:   
Sunday Night Football
RELEASE TYPE  Regular Production
ORIGINALLY RELEASE DATE  2015
TOTAL PRODUCTION
Typical Box Size:     20
Production Totals: Unknown
VITOLA BREAKDOWN
o  Figurado/Salomon (6.5″ x 52)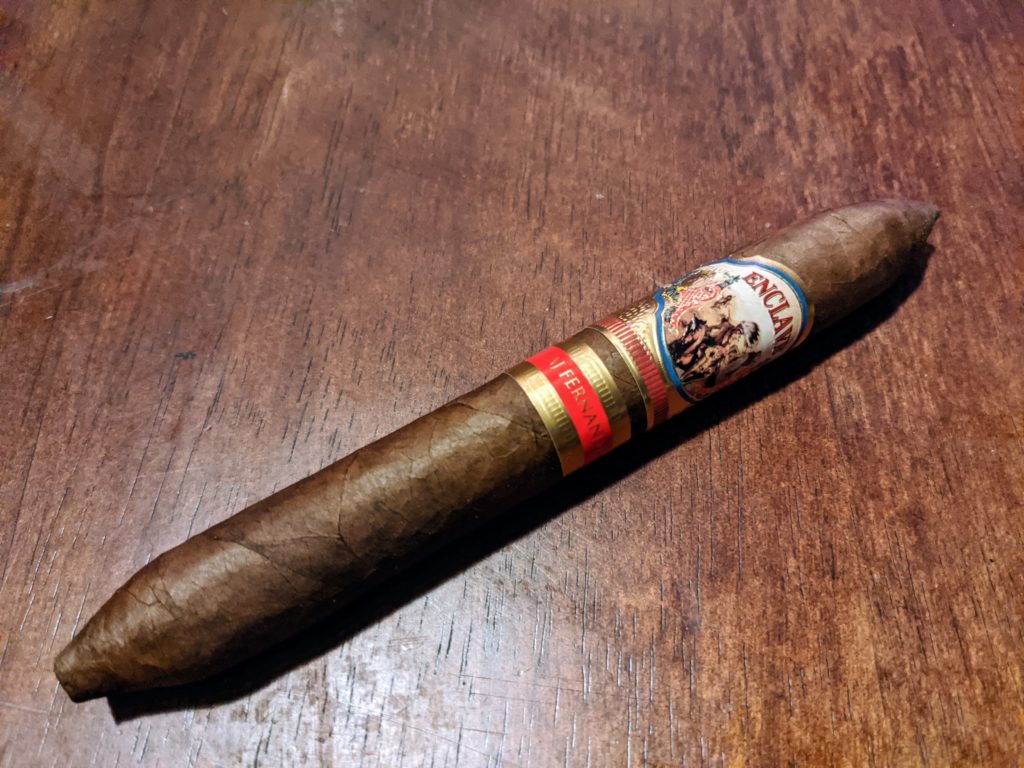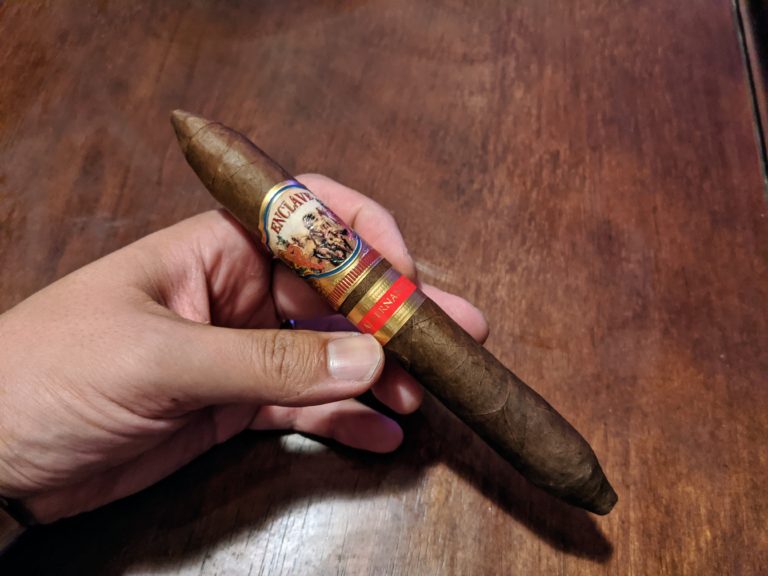 The gold accented label has a classic look to it, with a Native American warrior mounted on a horse to give it a nostalgic, Old World personality. Big all capped Enclave hangs overhead that doesn't really correspond with the warrior illustration. To me, it's a weak brand name. The color scheme is really pleasing on the main band with the textured gold and rich sky blue that makes this feel extremely regal. However, gold-and-bright red AJ Fernandez band sort of ruins the look for me, giving it a cheaper feel. It's a shame because this is a fairly affordable, almost budget-priced cigar that feels that way because of that contrast red. 
CONSTRUCTION
For a non-Cuban, this AJ Fernandez is about par. Very solid, no soft spots, nice slightly oily Ecuadorian Habano wrapper with no visible veins. It feels pretty luxurious in the hand, and for a cigar that's typically one of the most difficult to roll, AJF did a great job with construction. Some of the other figurados on the market tend to have a denser middle section, a thicker part about a quarter of the way through that really build up the first third. However, this Enclave feels more slender throughout, without a dramatic build up in that first third. 
AROMA
Lots of earth and cedar wood that doesn't have a ton of character, but also doesn't offend.
COLD DRAW
Tasting a weird musky cedar thing, sort of like wet earth. Not the most pleasant, honestly. Reminds me almost like an undeveloped Cuban. 
LIGHT & DRAW
Cut:  Straight cut with a sharp Xikar Xi1 cutter
Fire:  Using a crappy gold-plated butane lighter I got on the street in Thailand. Single flame, and there's an elephant on the case. 
Lighting was really quick and easy, a credit to the tapered point of the salomon. I always like how you get this burst of flavor from the start because of the nipple on salomones. This feels like a boss cigar because of how quickly it takes to light it. Just give it a touch of flame it starts going. 
SMOKE
Strong smoke output for the first few puffs, which sort of tapered off into something almost hollow. The burn line started getting very uneven so it required a quick touch up. Since then, the smoke is good. Not too dense or overwhelming, just about right for a relaxed evening smoke. 
FIRST THIRD
>> Cedar, white pepper, oolong tea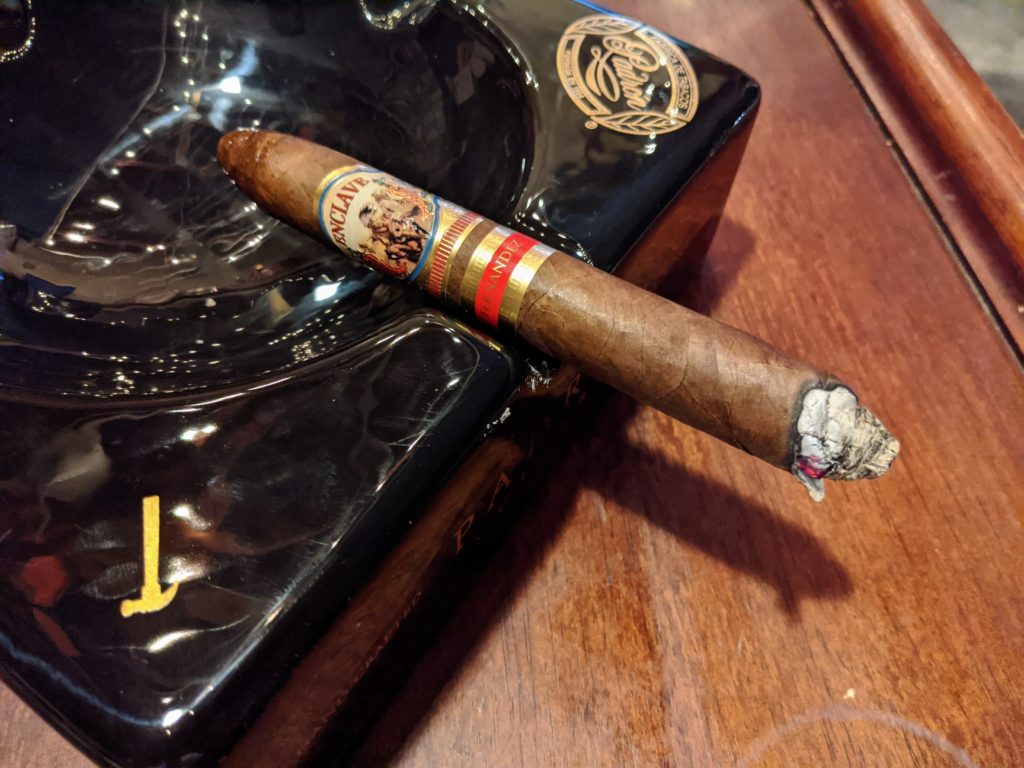 The first third was a bit of a rollercoaster. The foot felt dense, almost intense with smoke and cedar flavor, followed by white pepper spice and notes of a well-cured oolong tea. This definitely feels like an homage to Cuba, and the strength is a solid medium, giving this cigar wide appeal. About an inch in, the cigar just went right out, requiring a full relight. The impression I got from the first third was one of development — flavors weren't cohesive or compelling but felt like they were building into something better into the meat of the cigar. The ash holds together really well, with a ghost off-white hue and an almost reptilian scale tightness. 
SECOND THIRD
>> Coffee, more Cedar, earthy, prickly black pepper spice, richness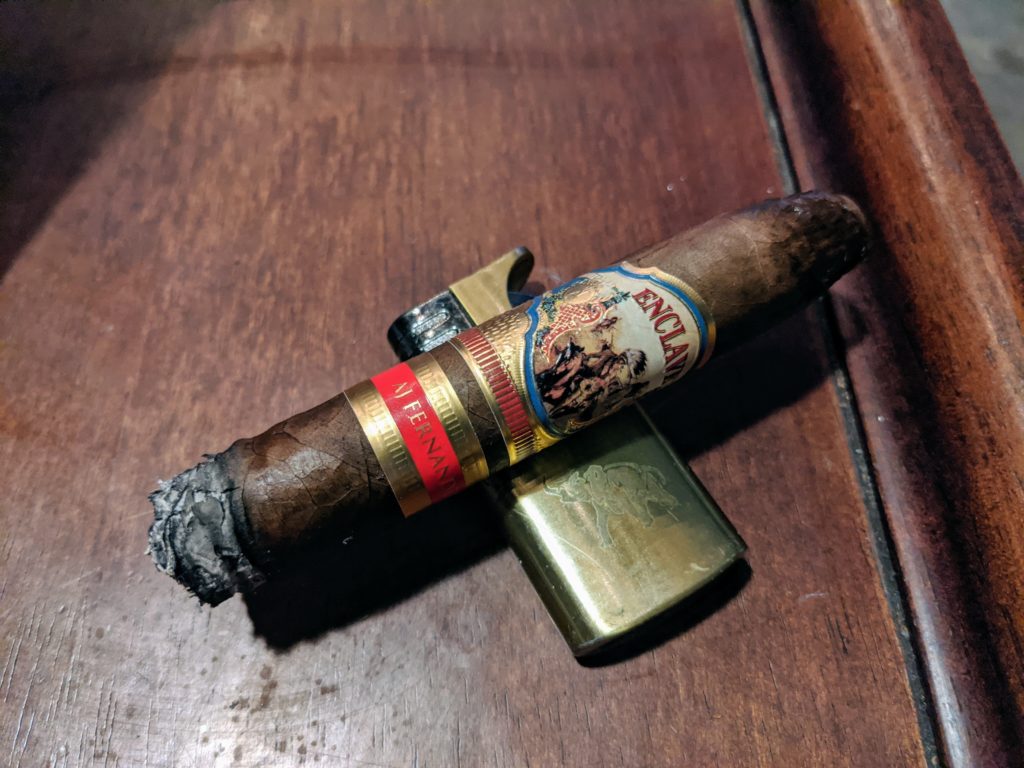 Toward the end of the first third and into the second, the cigar gets more elegant. The smoke generated has a sweet richness that doesn't overwhelm the palate, though flavors are sort of more of the same. I'm trying to pick up some more in the flavor department, maybe a touch of nuttiness on the finish, but it's faint. Instead, a nice coffee-like richness takes over the mid palate which I enjoy for the most part. The retrohale starts turning up some bitter chocolate and prickly black pepper. I'm starting to taste a lot more of the Camaroon binder at this point, which I know can be a bit of a marmite element, but since it's just the binder it's not overwhelming. But the earthiness of Camaroon isn't your cup of tea, you will probably want to avoid this cigar. Though I had to touch up the cigar again because it went out, the burn line is dead straight, which I find impressive.
The flavors at this point start to get a little too heavy. Dark coffee, almost espresso. Black pepper and earthy wood. Basically more of the same. I'm hoping the tide turns a bit into the final third. Strength has ramped up to medium-full.
FINAL THIRD
>> Wet earth, oily dark roast coffee, Brazil nuts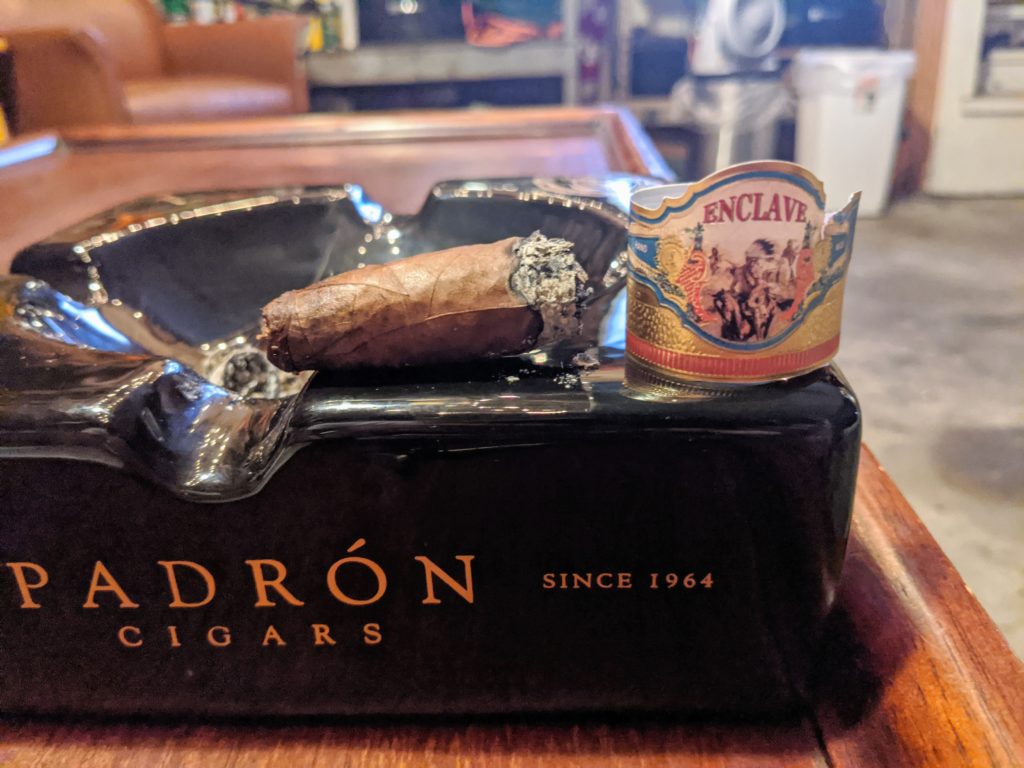 The transition from the second to the final third isn't really refined or pleasant to me. Everything from before has coalesced to a dense, earthy, oily flavor that feels a bit like a let down. It's like the worst characteristics of the binder has taken over any of the finesse and pleasant spices of the habano wrapper. If I could find a silver lining here, it's that a smoker that likes these flavors will likely enjoy this. 
FLAVOR PROGRESSION
The Enclave Salomon started with a blast of cedar and spice developing into richer, darker notes. It progressed to something earthy, dense, and a bit muddled. The progression was a disappointment to me, though the first half was fairly good. 
BURN EXPERIENCE
Excellent except for two quick touch ups that required relightining. The burn line was dead straight for almost the entire cigar save the first inch. 
RATING BREAKDOWN
0.60 / 0.80 … Craft & Aesthetic
0.30 / 0.50 … Pre-Light Characteristics
0.5 / 0.50 … Lighting Process
6.00 / 7.70 … Smoking Experience
0.2 / 0.50 … Personal Enjoyment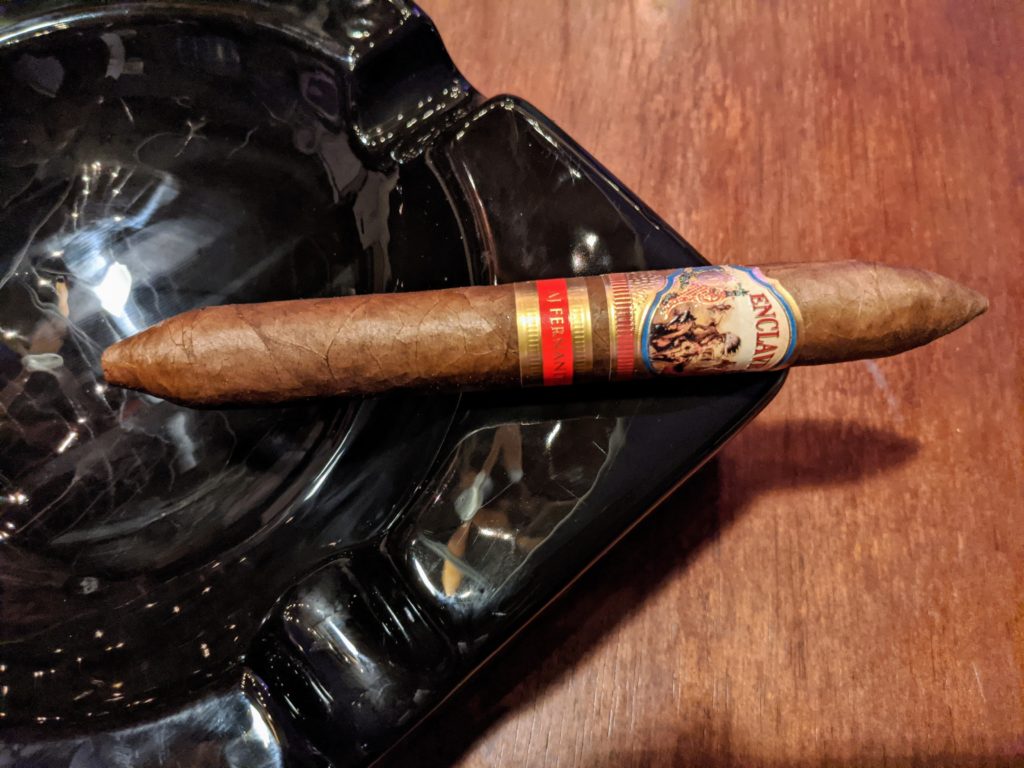 Enclave by AJ Fernandez Salomon Gets a C
SIMPLY STOGIES RATING: 7.60 / 10.0