Passion. This word describes the very best the cigar industry has to offer. Passion for the leaf. Passion for family. Passion for country. Casa 1910 is no different. A newcomer to the industry, Casa 1910 is passionate about more than just making cigars, they are passionate about making Mexican cigars. That passion is evident in their Cavalry Edition released in 2022. The As de Oro is named after one of Emiliano Zapata's horses. Zapata was a prominent figure in the Mexican Revolution and the progenitor of Zapatismo.As for the cigar, the Cavalry Edition As de Oro features an Ecuadorian Habano wrapper over a Mexican San Andrés binder and Nicaraguan fillers from the Ometepe (Viso), Jalapa (Viso, Seco), and Estelí (Ligero) regions.
VITOLA:   Toro Extra
SIZE:   6″ x 54
ORIGIN:   Nicaragua
FACTORY:   Undisclosed
WRAPPER:   Ecuadorian Habano
BINDER:   Mexican San Andrés
FILLER:   Nicaraguan
STRENGTH:   Medium – Full
SOURCE:   
Neptune Cigars
WHERE:   
The home lounge/studio
WHEN:   
Jan. 20 @10:00am
DRINKS:   
Ice Mountain Bottled Water
WEATHER:   
70°
HOW MANY CIGARS SMOKED:   
3
RELEASE TYPE  Regular Release
ORIGINALLY RELEASE DATE  September 2022
TOTAL PRODUCTION
Typical Box Size:     Boxes of 10
Production Totals:  unknown
VITOLA BREAKDOWN
o  Toro Extra  (6″ x 54)
o  Toro (Torpedo)  (6″ x 54)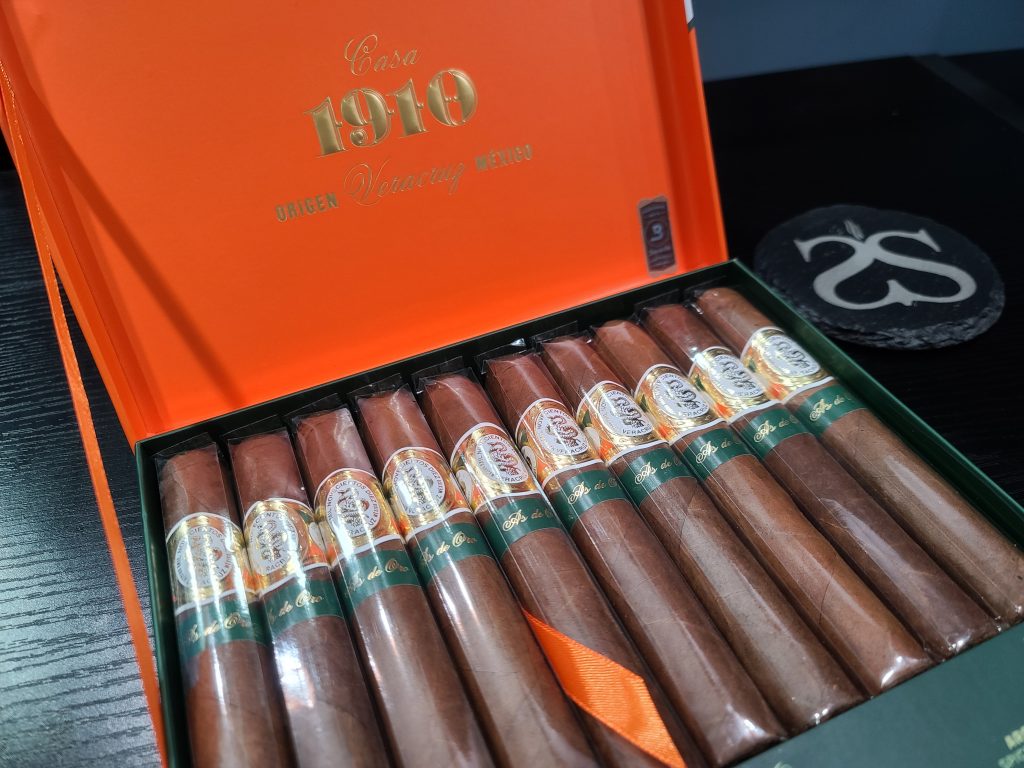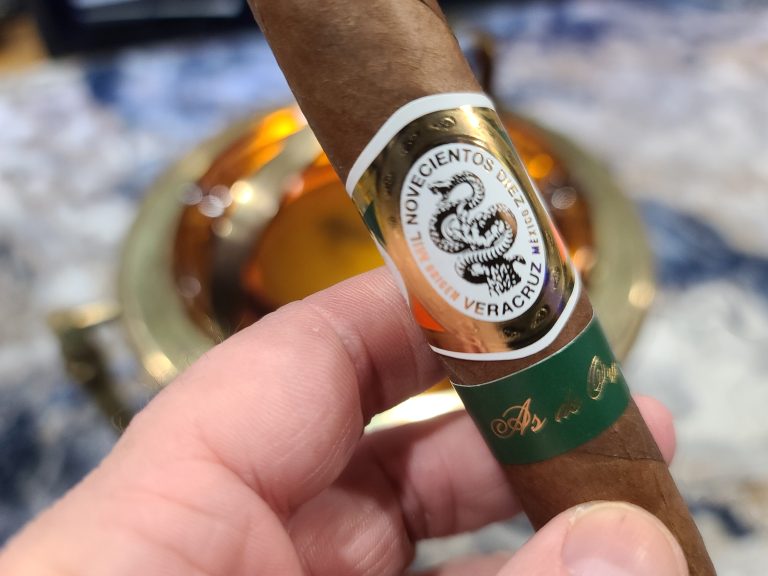 The band, and the box for that matter, are eye-catching and will certainly stand out in any humidor. White, green, orange, and gold all adorn the band. The sides of the band feature the "19" and "10." The secondary band is green with gold accents. What's interesting is the "origen Veracruz Mexico" on the band. I'm assuming that is referring to the origin of the company, but it could be something else as the factory it is rolled in is undisclosed.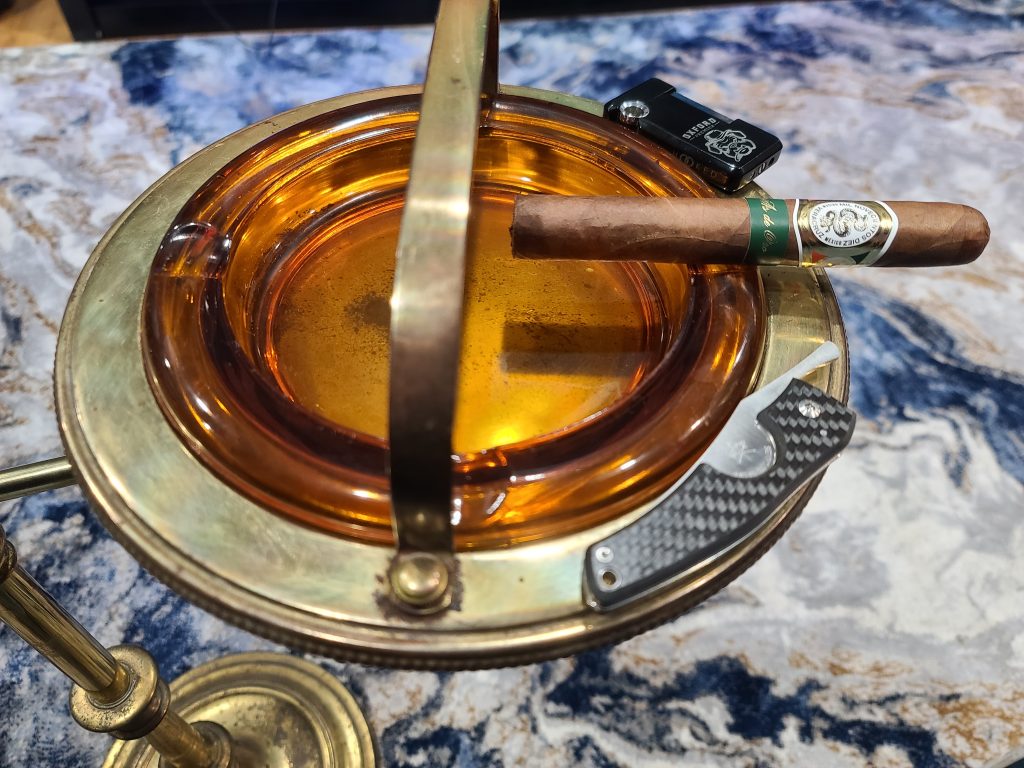 CONSTRUCTION

The Ecuadorian Habano wrapper is a gorgeous shade of milk chocolate brown and has a slight oily sheen to it. I find tiny pockets of oil along the wrapper. It has some tooth to it, giving the wrapper a bit of a rough texture. Veins add to the character of the As de Oro. There are no hard or soft spots.
AROMA

The wrapper is straight barnyard and it is intoxicating. It reminds me of some of the best cigars I've had. When I pick up this particular aroma from a cigar, I get very excited. The foot gives off floral and fruity notes with just a hint of freshly mowed lawn and maybe a hint of baking spices. There's also a bread/yeast component that I don't always immediately notice.
COLD DRAW

The cold draw brings notes of baking spices, cocoa powder, raisins, and just touch of grass. Another pull of the cold draw and there is definitely a bread/yeast element to it. The draw itself is almost perfect, with just the right amount of resistance.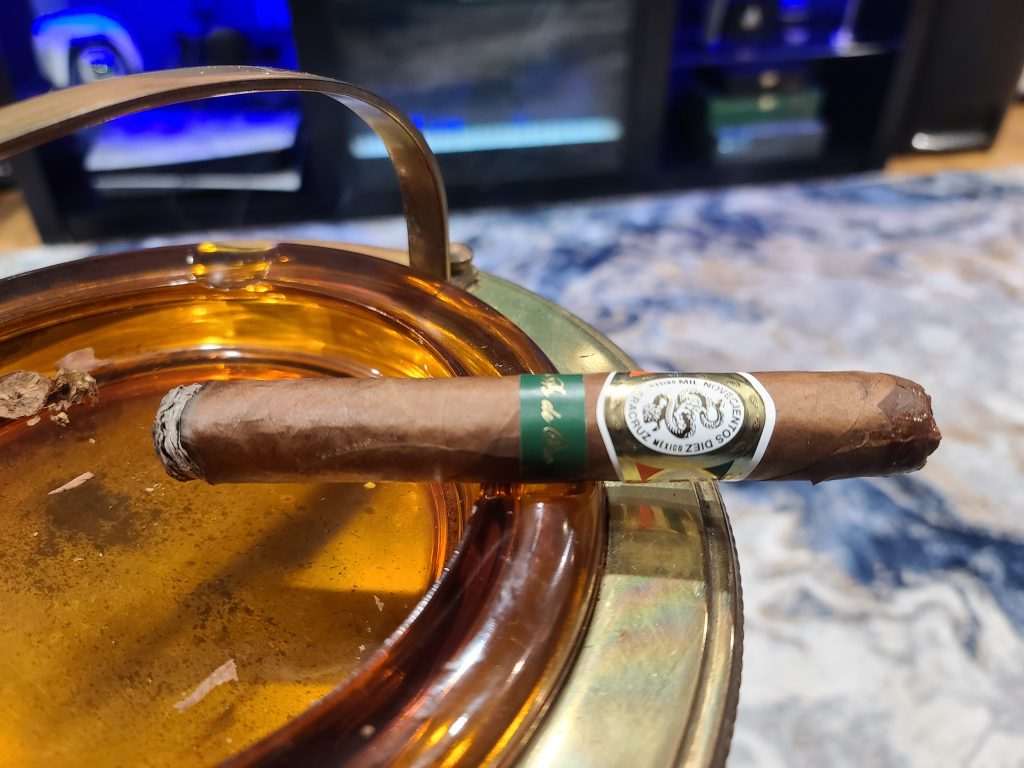 SMOKE

With each draw a satisfying amount of smoke is produced. It's a creamy smoke that coats the palate. A good amount of smoke comes off the As de Oro while at rest, too.
FIRST THIRD
>> Cream, Orange, Nuts, Red Pepper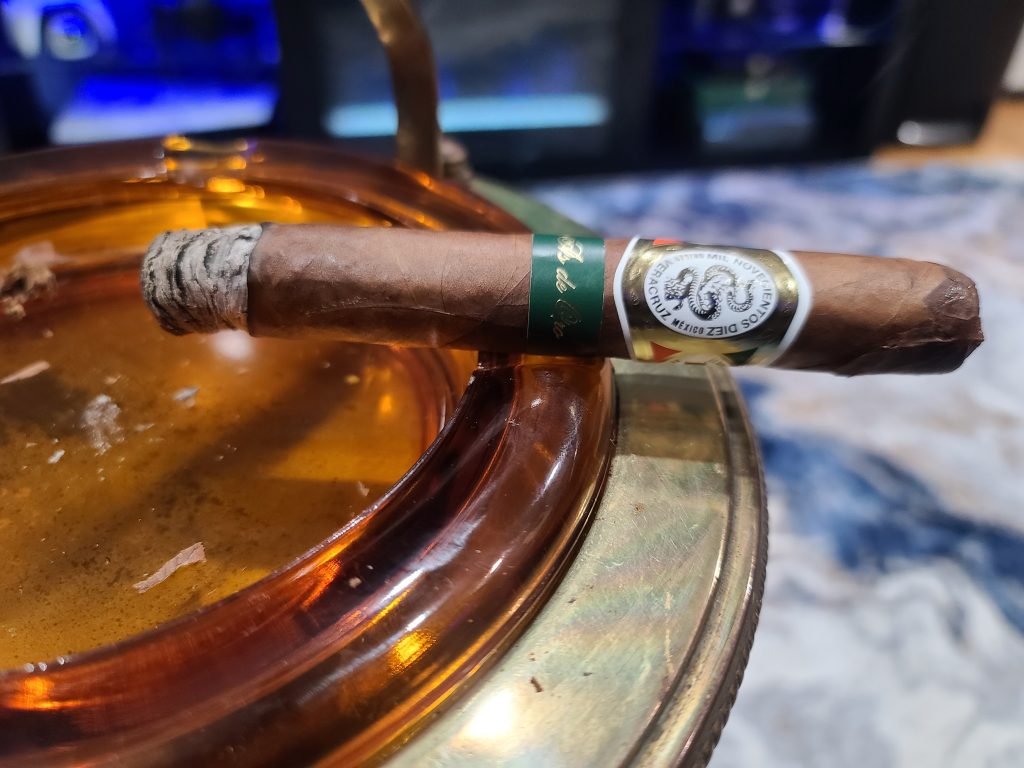 The retrohale is still peppery, but more red pepper than black pepper. Notes of sour cream, nuts, and a bit of leather all come through. Salted cashews and baking spices round out the initial notes. The As de Oro is a smooth smoking experience so far. The burn line is straight, but not even. The ash is a dark grey with black streaks. It is holding strong and is compact. Gorgeous. There is a nice zing citrus starting to cut through and adding depth. Notes of bread and baking spices linger on my palate, while pepper and spice lightly claw at the back of my throat. The flavors really start to mellow out and come together about an inch in. Orange, cream, and nuts come together with a hint of Cedar. A mix of white and red pepper on the retrohale. The As de Oro is, so far nuanced and complex. The ash begins to bend, so I deposit it in one chunk to the ashtray.
SECOND THIRD
>>Chocolate, Earth, Nuts, Cayenne Pepper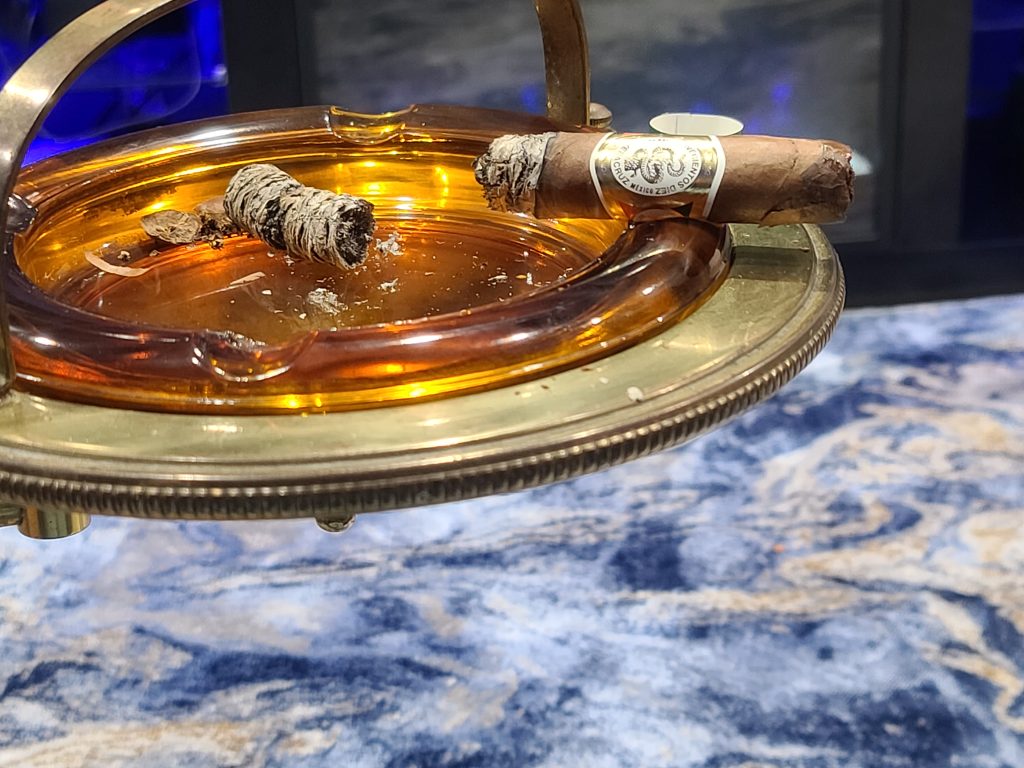 The middle third begins with a shift to something more complex. Notes of chocolate, wood, and a heavy dose of baking spices start things off. The retrohale is light…which is something I've rarely experienced. It's a bit odd. There's a burnt meatiness on the finish, accompanied by cayenne pepper. White pepper coming through on the retrohale. The burn line is a bit wavy, but nothing concerning. The ash is still beautiful and compact. There is still a beefy/mushroom note with red pepper, leather, and nuts. There's a floral note lurking in the background. I am, thus far, impressed with the complex and nuanced flavors coming from the As de Oro. Citrus candy and chocolate cake notes come through. It tastes better than it sounds. The As de Oro is burning slow and producing some outstanding flavors while doing so. 
FINAL THIRD
>>Burnt Coffee, Earth, Salted Caramel, Black Pepper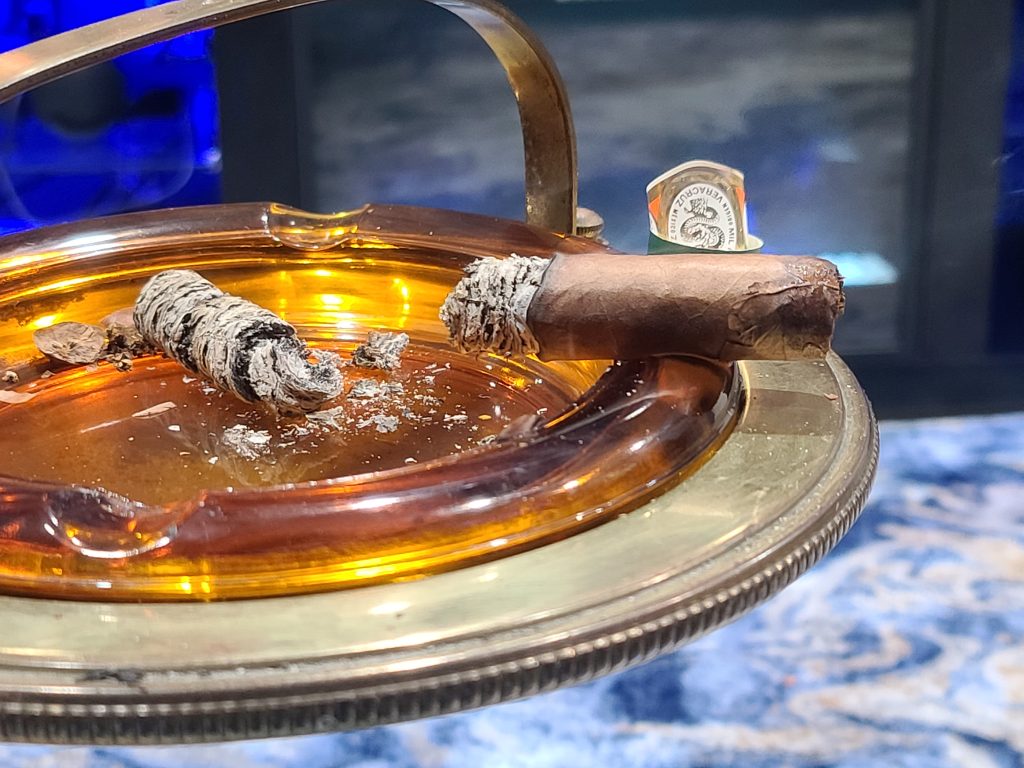 Burnt coffee, dark chocolate, and honey roasted peanuts begin the final third. Rich notes of earth and baking spices mix with black and pepper. The final third is leather, earth, spice, and everything nice. It's a complex earth bomb that doesn't lack for flavor. Creamy and earthy. Black pepper on the retrohale. The sourness returns and mingles with the earthiness. The burn line is uneven and wavy but the ash is still compact. The flavors ramp up to campfire, burnt coffee, and a salted caramel. The musty earth note intertwines through all of it. It is a dark and rich profile that is a huge departure from what came before; though, it's not out of place. It fits perfectly, as it's a slow morphing of flavors. 
FLAVOR PROGRESSION
I love a cigar that starts at one profile and ends in another. The Cavalry Edition As de Oro starts as a medium profile and ramps up to a full profile by the end. Each third is distinct and full of flavor and nuance.  Sweet and savory is accompanied by salt and pepper. Musty notes of earth are juxtaposed against citrus and floral notes. They flow and entangle themselves with one another, making for a complex and nuanced smoking experience.
BURN EXPERIENCE
Have I mentioned that this is my least favorite part of reviewing? Why? It seems that, lately, a lot of cigars have "construction" issues. The Cavalry Edition As de Oro is, sadly, no different. Each cigar smoked for this review had wrapper issues. The first cigar saw the wrapper crack near the head when I cut the cigar. The second cigar I smoked saw the wrapper begin unwrapping less than a third into the cigar. The final cigar smoked just fine with no issues at all.  These issues were more of an annoyance than anything else. The burn was always consistent, despite the wrapper issues. 
RATING BREAKDOWN
0.78 / 0.80 … Craft & Aesthetic
0.50 / 0.50 … Pre-Light Characteristics
0.38 / 0.50 … Lighting Process
6.80 / 7.70 … Smoking Experience
0.47 / 0.50 … Personal Enjoyment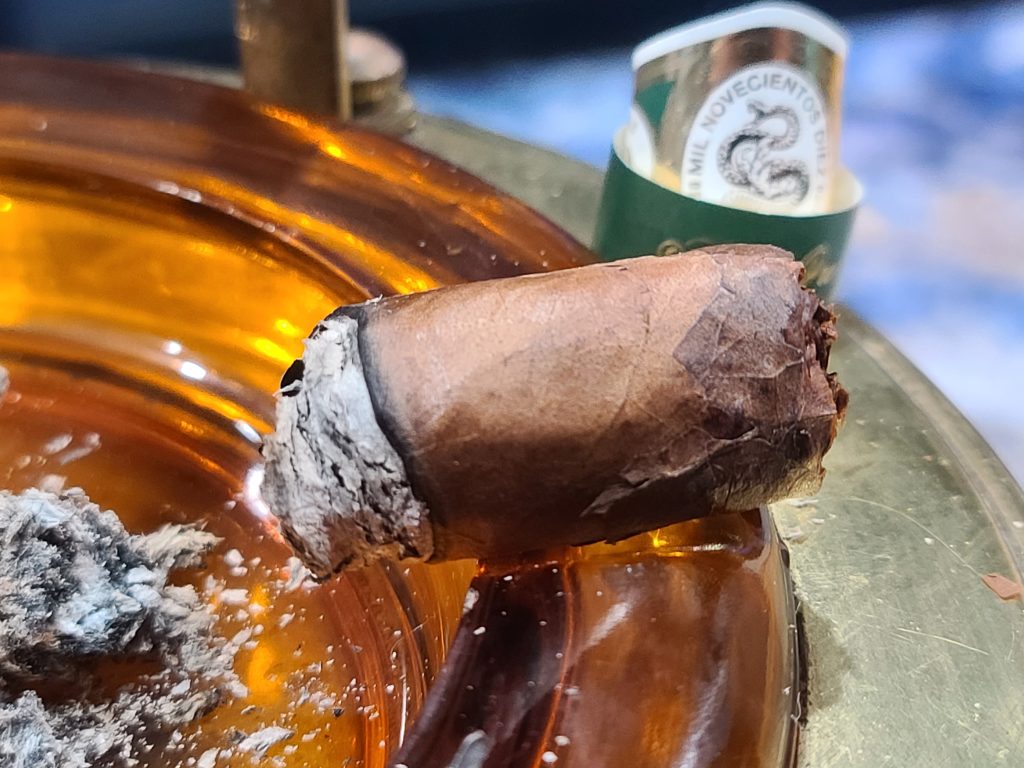 MÁS, POR FAVOR!
For a cigar company that debuted in 2021, I have to admit that I'm genuinely impressed with this release. Are there issues? Sure. But the issues aren't anything that should stop anyone from 1) picking up a box or 2) enjoying each cigar in the box. The wrapper is a tad on the fragile side but the Cavalry Edition As de Oro is a slow burning cigar that has some wonderful flavor transitions. The complexities and nuances found in this cigar make it a must try. Casa 1910 is a company that needs to be on your watch list.
SIMPLY STOGIES RATING:  8.93 / 10.0