Sometimes, you just have go along with the joke. That was the case for Jeremy Besecker of Deep South Cigars. When someone at the lounge dared him  to make a very large cigar and call it a "BBC," Jeremy went along with the joke. Thus was born, the 770 BBC. A 7″x70 cigar that sports "Nicaraguan and Dominica priming and binder," and a Mexican San Andres wrapper. What started out as a dare, has turned into a regular production cigar for the fledgling boutique brand. 
The folks at Deep South Cigars reached out to me via Instagram and asked if I would review their new release, the 770 BBC. Typically, I try not to smoke cigars that have ring gauges over 56; however, I do like a good joke and agreed. I headed to Casa Cigar Club and purchased the 770 BBC. When it arrived, I thought for sure it was a five pack. It wasn't. It was only as big as a five pack. These cigars are huge and live up to the "BBC" moniker. 
VITOLA:   BBC
SIZE:   7″ x 70
ORIGIN:   Dominican Republic
FACTORY:   MJ Frias Factory in Tamboril
WRAPPER:   Mexican San Adres
BINDER:   Sumatra
FILLER:   Dominican
STRENGTH:   Full
SOURCE:   
Deep South Cigars
WHERE:   
My deck
WHEN:   
May 25 @1:00pm
DRINKS:   
Ice Mountain bottled water
WEATHER:   
76° and 68% RH
WHAT'S ON:   
Lawn mowers throughout the neighborhood
RELEASE TYPE  Regular Production
ORIGINALLY RELEASE DATE  April, 2021
TOTAL PRODUCTION
Typical Box Size:     Bundles of 4
Production Totals:  2500 for the initial run, but they are regular production going forward.
VITOLA BREAKDOWN
o  BBC  (7″ x 70)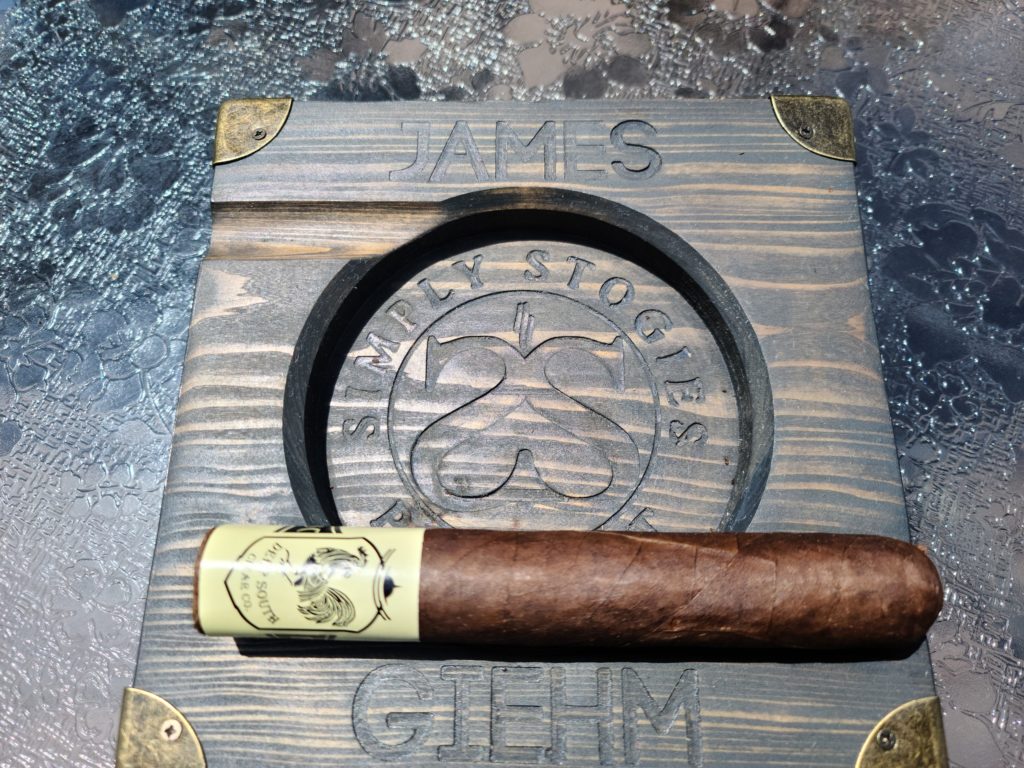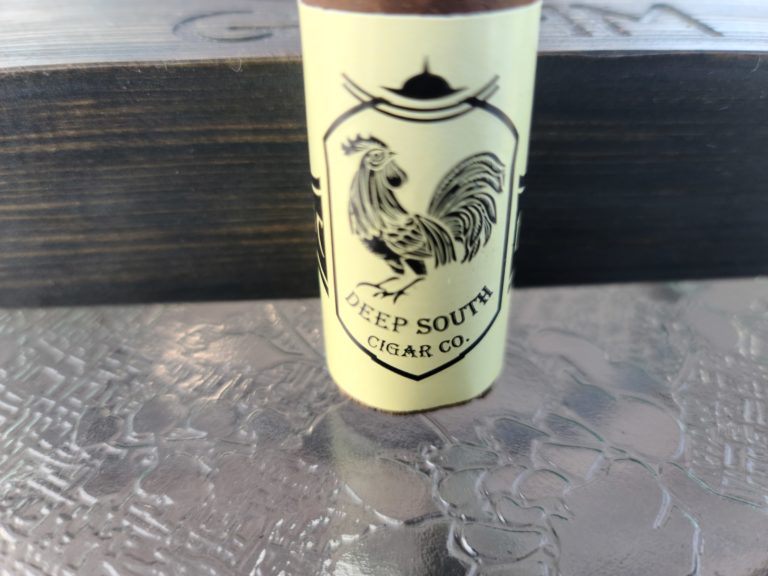 The band is simple, straight forward and immediately lets you in on the joke. The background color is almost a very pale yellow with black accents. The band immediately lets you in on the joke. A rooster is front and center, standing over the name Deep South Cigar Co. The Rooster is flanked on each side by the initials "BBC."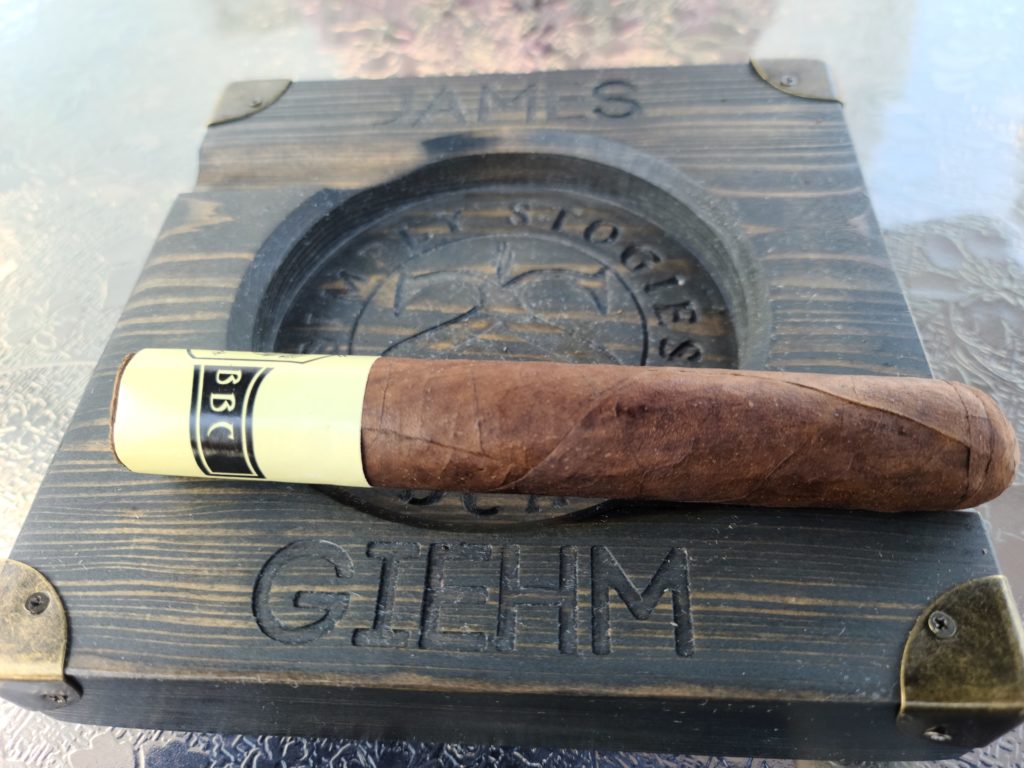 CONSTRUCTION
The construction of this monstrous cigar appears to be spot on. There are no soft or hard spots throughout the length of the 770 BBC. The Mexican San Andreas Wrapper is toothy and rough to the touch. Puns not withstanding, this is a dark, thick, and veiny cigar. There is but one visible seam, though it seems to get lost in the veins of this cigar.
AROMA
The scent of hay is unmistakeable. It reminds me of a barnyard; but there is a chocolate note that comes through, with just a hint of cedar.
COLD DRAW
I feel a bit silly as I pull this behemoth to my lips. It is unweildy, to say the least. My silliness is rewarded with notes of chocolate, cedar, and baking spice from the cold draw. The draw itself is more open than I would have thought, given it's size.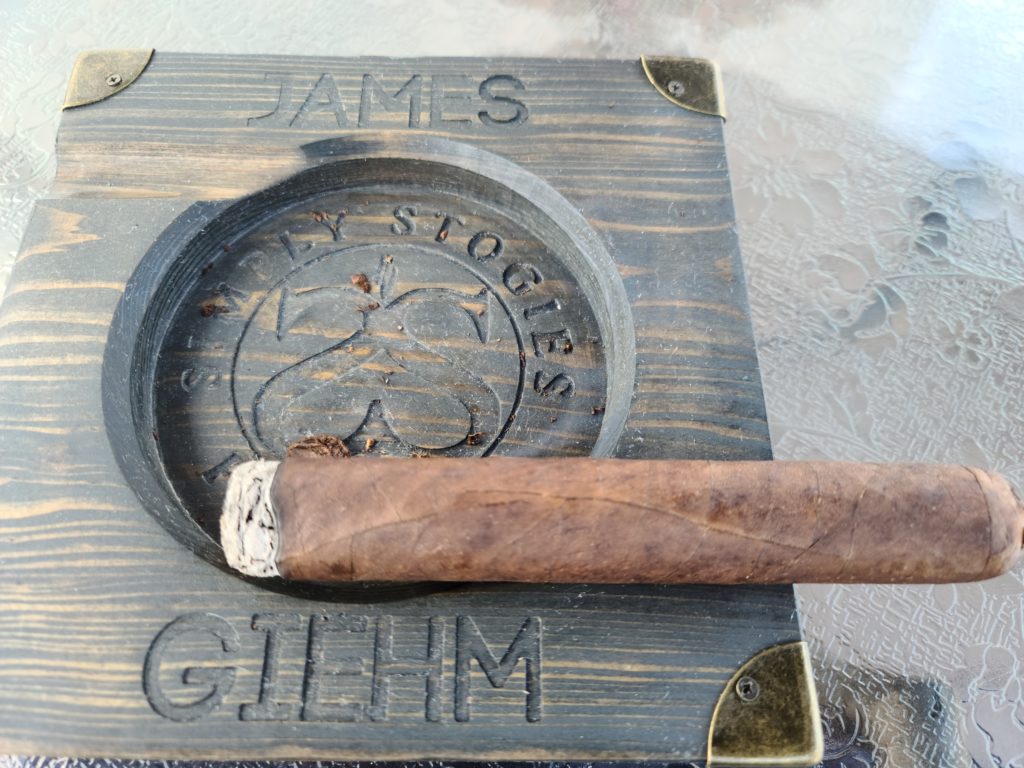 LIGHT & DRAW
Cut:  Habano Cigar Lounge Branded Guillotine Cutter
Fire:  Xikar Tactical 1
I had no issues with either toasting or lighting the 770 BBC, beyond having to toast the foot a little longer than usual. I was pleasantly surprised that the draw had the perfect amount of resistance. In my experience, the larger ring gauge cigars seem to have more of an open draw. The 770 BBC smoked like a cigar half its size.
SMOKE
There was a good amount of smoke output, but not nearly as much as I had anticipated. However, there was more than enough to coat my palate. The smoke started out a bit dry but got creamier throughout the smoking experience. 
FIRST THIRD
>> Milk Chocolate, Roasted Nuts, Avocado Oil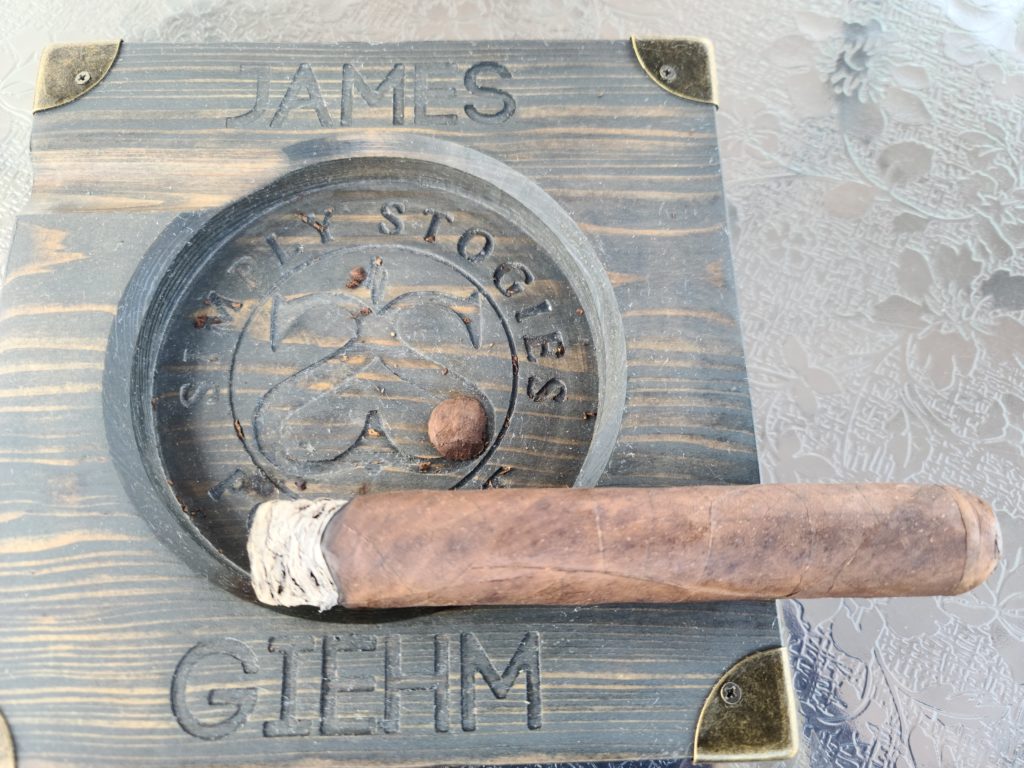 Milk chocolate from the start! Baking spices and slightly roasted nuts accompany the sweet chocolate note. There might be a hint of cedar there, too. Wow. What a way to start off. This is good. The smoke is plentiful, but a bit dry. However, there is a richness to the flavors of the 770 BBC; an umami flavor that gives it depth. A creamy note of avocado oil comes through, almost like butter. The burn line is a tad wavy, but nothing concerning. Black pepper rules the retrohale. I am shocked at how smooth the 770 BBC is. There is a sweetness that lingers on my palate. The cedar morphs into an almost campfire note. Spice begins to tingle the back of my throat. The cigar barely fits in the ashtray. Hell, it barely fits in my mouth. The ash is white and grey with streaks of black. It is compact and looks like a stack of quarters. The burn line has straightened out nicely. The ash held for over an inch before it fell and exploded on my phone and all over my shirt.
SECOND THIRD
>> Coffee, Baking Spices, Charred Wood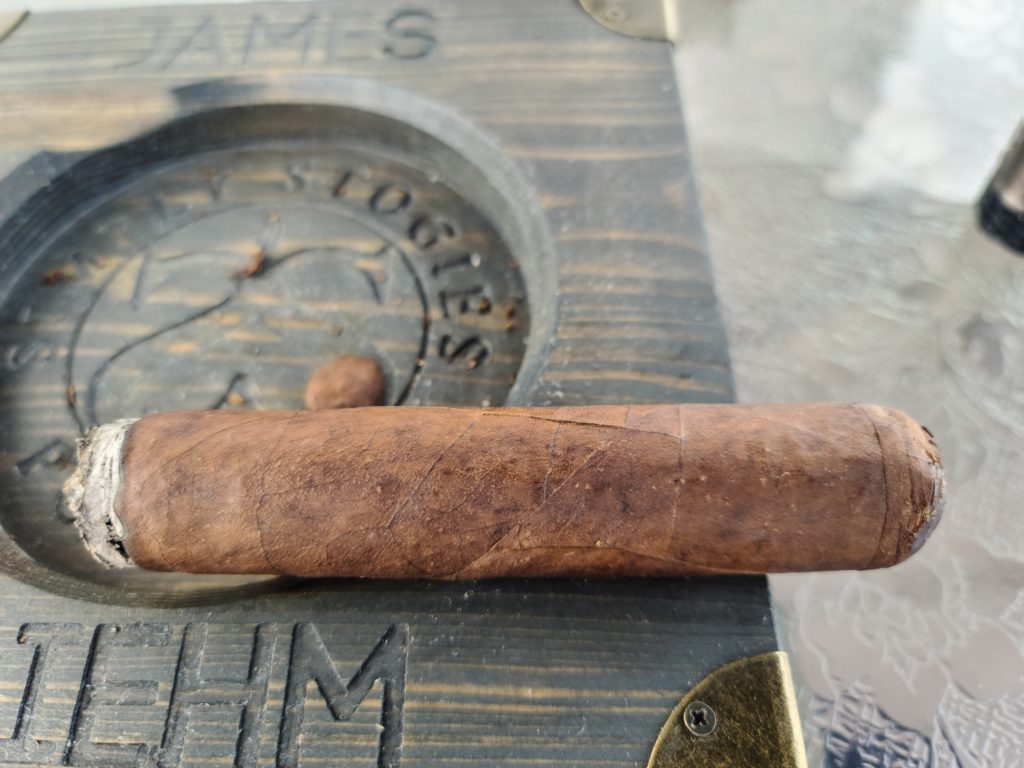 The milk chocolate has disappeared into a deep coffee note, with just a hint of bitterness. Baking spices rule the retrohale to begin this second third. The sweetness from the first third comes and goes, weaving in and out of slightly charred wood. The smoke remains more dry but not overly so. Red pepper starts to tap dance, ever do gently, on my tongue. The burn line has become more wavy, but still nothing to be concerned about. The avocado oil note has been overpowered by the charred wood, and there is a sharpness that I can't quite put my finger on. As I write this, the avocado oil makes a return and the coffee note becomes full blown espresso. The sweetness is all but gone. Roasted nuts still remain. For as large of a ring gauge as the 770 BBC is, it is complex and nuanced.
FINAL THIRD
>> Espresso, Licorice, Pepper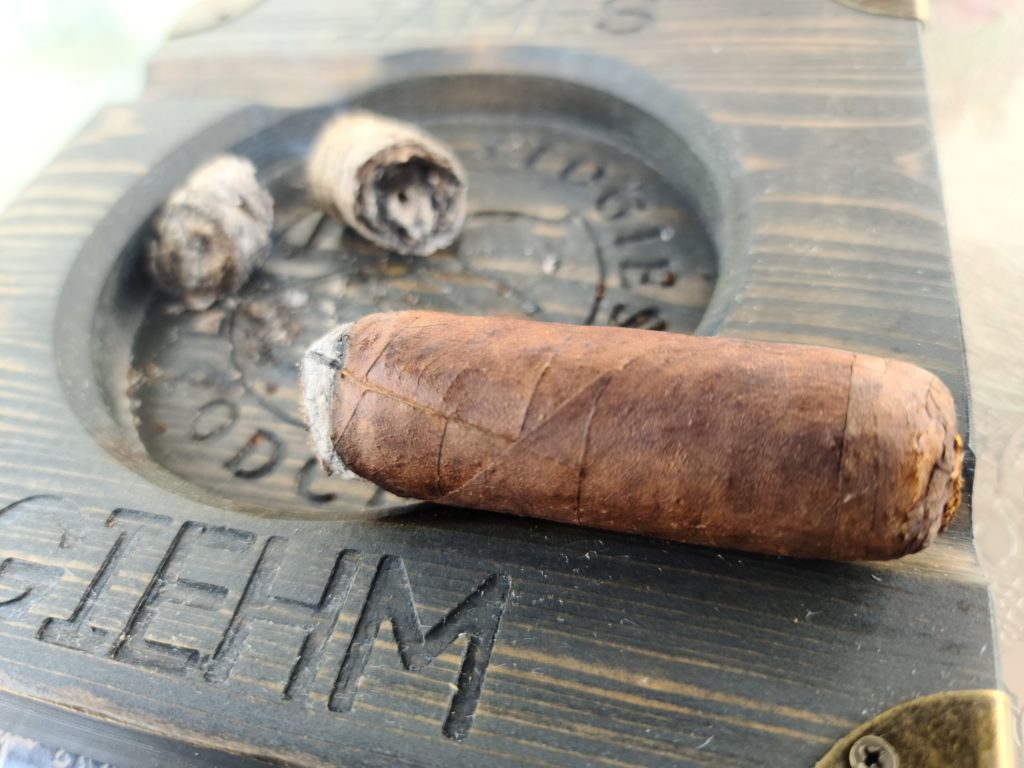 Baking spices come to the front in a way I've never experienced before. Cinnamon and nutmeg mingle with a nice licorice note. The retrohale is smooth. The espresso is replaced by dark chocolate. The umami note has remained consistent throughout. The burn line continues to be less than straight. The smoke has turned creamy and and thick, coating my palate nicely. Pepper and campfire assault my palate as the 770 BBC ramps up in flavor. Espresso and dark chocolate are the dominant flavors. Burnt toast makes an appearance. The 770 BBC continues to ramp up. The pepper has come back and has some bite to it. 
FLAVOR PROGRESSION
For a big cigar, the 770 BBC is surprisingly complex and nuanced. The BBC 770 starts off medium with great notes of milk chocolate and nuts and builds to a full flavored experience with notes of baking spices and dark chocolate. Just to note: Nicotine was NOT a problem with the 770 BBC…which, to be honest, was surprising. The issue, for me, is the sheer size of the cigar. Even with the great progression of flavors and nuanced experience, each third lasts forever.
BURN EXPERIENCE
The 770 BBC never burned razor sharp; it also never required a touch-up or re-light. The burn experience was one of mild annoyance and not anything that actually ruined the experience. Again, give the size of this behemoth of a cigar, it is kind of surprising that it burned as well as it did. 
RATING BREAKDOWN
0.75 / 0.80 … Craft & Aesthetic
0.40 / 0.50 … Pre-Light Characteristics
0.45 / 0.50 … Lighting Process
6.90 / 7.70 … Smoking Experience
0.40 / 0.50 … Personal Enjoyment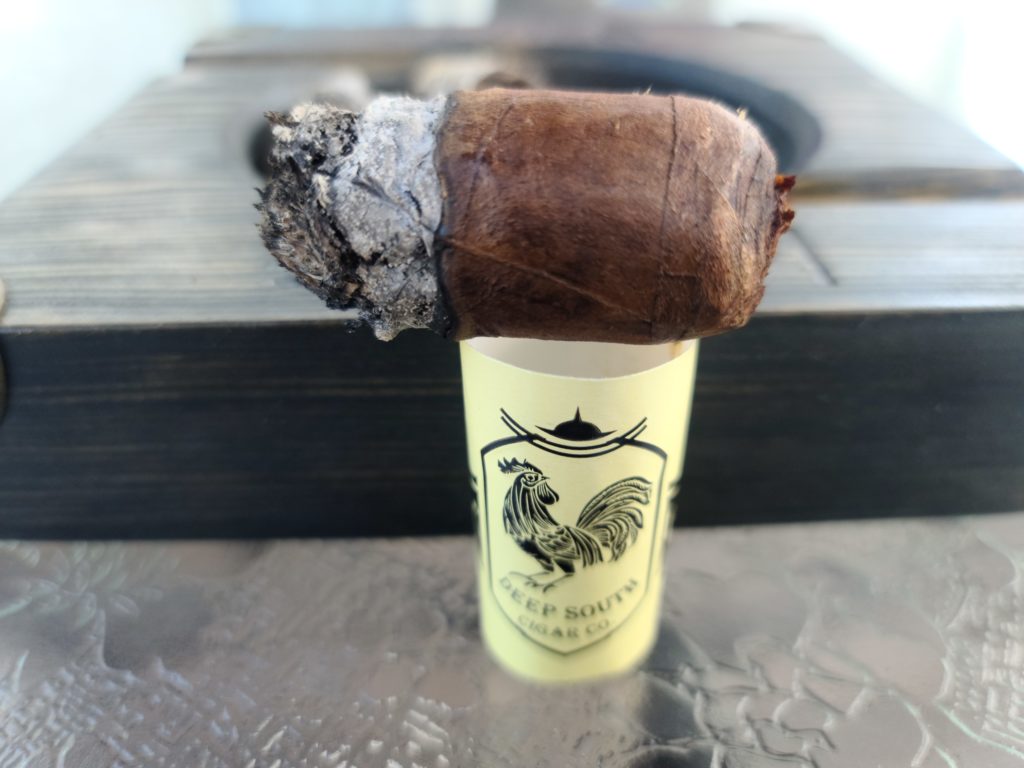 SIZE DOES MATTER.
Deep South Cigar Co. has something here…and it's big. Literally. Is bigger always better? I guess that depends on who you ask. What started off as a joke amongst friends, turned into a very solid cigar experience. Is the 770 BBC for everyone? No. But if you're into puns and setting your friends up for some friendly jokes, all while giving them a fantastic cigar experience, then the 770 BBC is for you. It starts off with a medium profile and ramps up to a full flavored experience that you won't soon forget. 
SIMPLY STOGIES RATING:  8.9 / 10.0