I smoke a lot of Drew Estate cigars. A lot. Typically, I'll smoke through a box of Drew Estate Undercrown Maduros each week. I throw in some other cigars throughout the week for good measure, but Drew Estate is my go-to brand when it comes to cigars. I was excited to smoke their new 20 Acre Farm as my first review for Simply Stogies and hope you enjoy my reviews going forward.
The 20 Acre Farm from Drew Estate is a collaboration with Jeff Borysiewicz's FSG farms. For those of you who may not know, Jeff is the owner of Corona Cigar Company in Florida. Jeff purchased a farm just outside of Orlando, in order to resurrect Florida's rich tobacco history. Jeff's FSG tobacco is mixed with Nicaraguan tobacco in the filler. 
VITOLA:   Robusto
SIZE:   5-1/4″ x 54
ORIGIN:   Nicaragua
FACTORY:   La Gran Fabrica Drew Estate
WRAPPER:   Ecuadorian Connecticut Shade
BINDER:   Honduran Habano
FILLER:   Nicaragua  and Florida Sun Grown
STRENGTH:   Medium
SOURCE:   
Halfwheel
WHERE:   
Cabin on the Mississippi River
WHEN:   
January 20, 2022
DRINKS:   
None
WEATHER:   
A comfortable 68 in the cabin
WHAT'S ON:   
Frank Sinatra on shuffle
RELEASE TYPE  Regular Production
ORIGINALLY RELEASE DATE  December, 2021
TOTAL PRODUCTION
Typical Box Size:     Boxes of 20
Production Totals:  Unknown
VITOLA BREAKDOWN
o  Robusto  (5-1/4″ x 54)
o  Toro  (6″ x 52)
o  Gordito  (6″ x 60)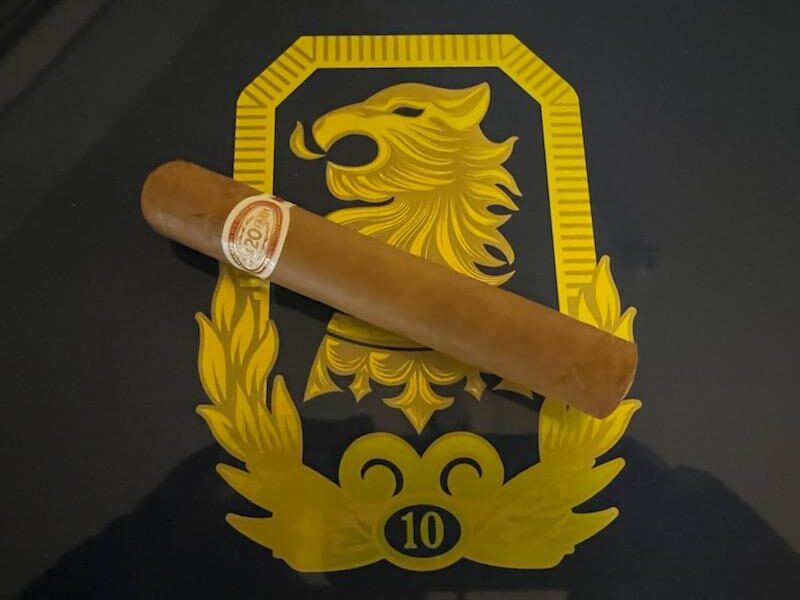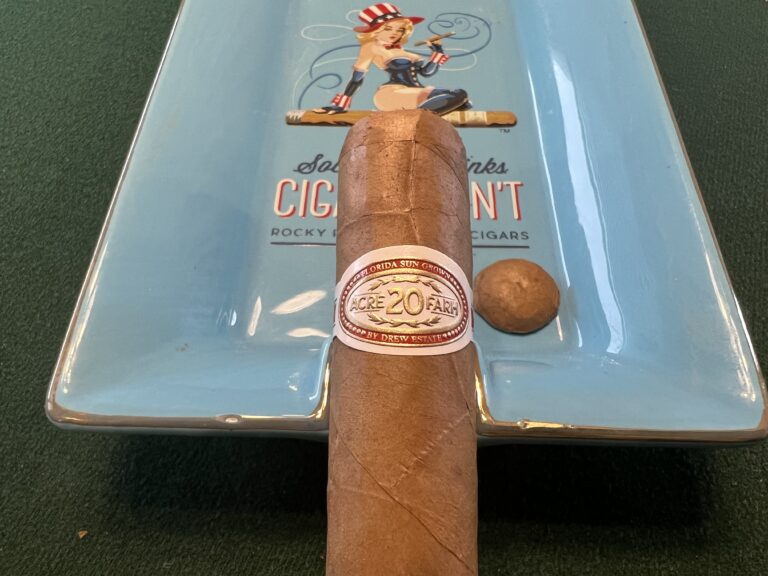 The 20 Acre farm is sporting a brilliant and simple band. It is smaller than most other Drew Estate bands, and much more retro in its simplicity than the previous Florida Sun Grown cigar bands. The fully embossed tricolor is, in my opinion, is a very classic and straightforward design that draws the eye to it just enough to add to the look of the cigar while not being gaudy or taking away from the overall aesthetic. The cigar is wrapped from band to foot in a cedar sleeve and is finished off with a red ribbon on the foot. Some may think that this adds to the look of the cigar, while others may say it can be used to hide imperfections in the wrapper. To each, their own opinion.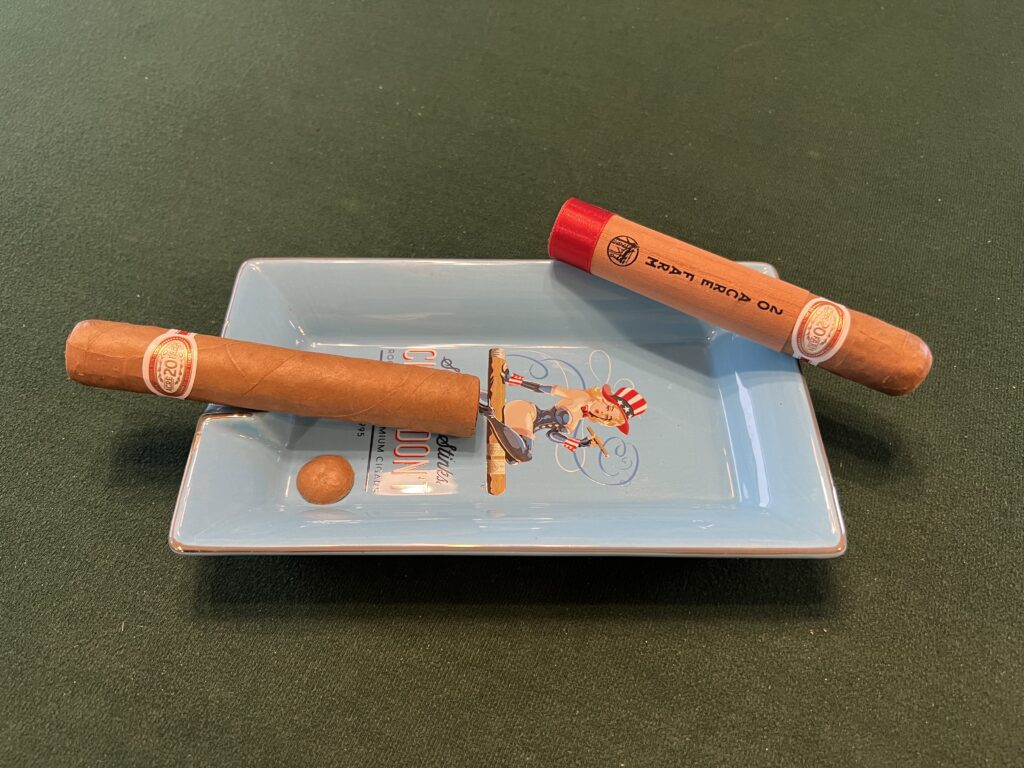 CONSTRUCTION
The cigar appears to be double capped and well-constructed. The Ecuadorian Shade wrapper is a beautiful light creamy brown with delicate veins running throughout. This wrapper is extremely fine, showcasing the ability of the torcedors in the Drew Estate factory. It takes skill and knowledge, gained only through rolling thousands of cigars, to stretch and apply a wrapper as thin and delicate as these. Looking at the foot, you can see the different colors and individual leaves. There is one that is much darker than the rest, and I am looking forward to some flavor coming off of that one in particular.
AROMA
I can only pick up fresh hay and barnyard from the foot while the wrapper smells slightly of cedar, most likely from the cedar sheath the cigar comes in.
COLD DRAW
The draw is super easy; almost too easy of a cold draw, giving me pause to worry if it will burn hot and fast.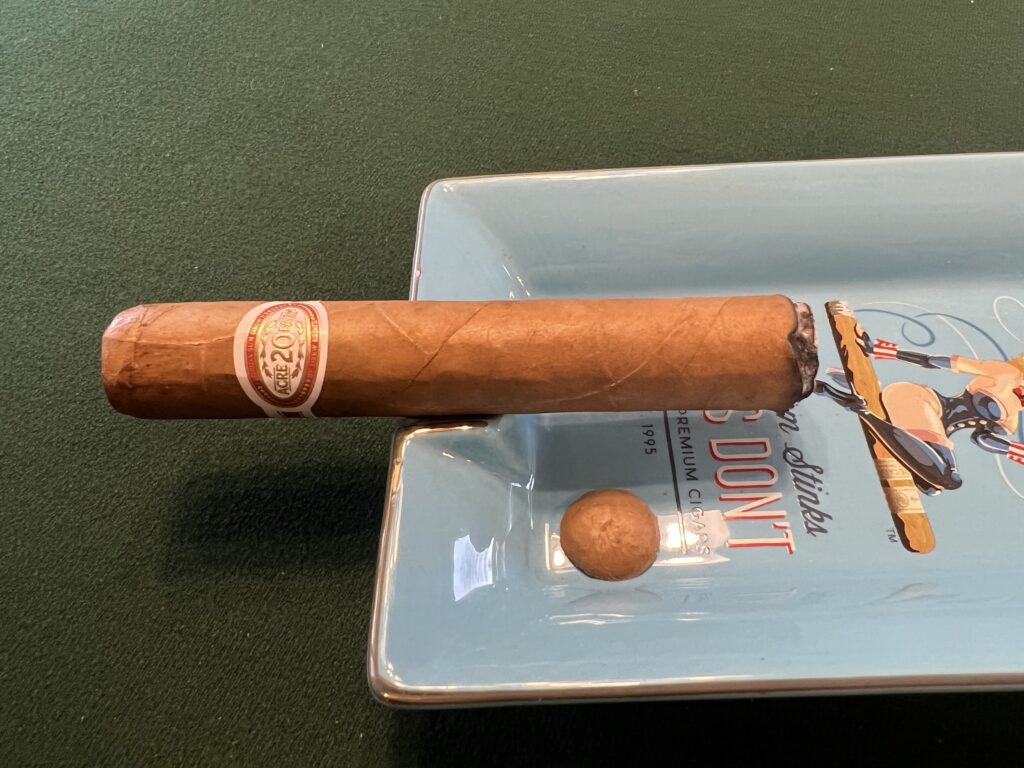 LIGHT & DRAW

The 20 Acre Farm toasted well and lit without much effort.
SMOKE
The smoke output was plentiful right off the bat. During this review, all three cigars I smoked started with some degree of unevenness in the burn line, which soon auto-corrected. My cold draw fear of a hot and fast burn was proved to be unfounded as soon as I lighted up.
FIRST THIRD
>> Barnyard, Citrus, White Pepper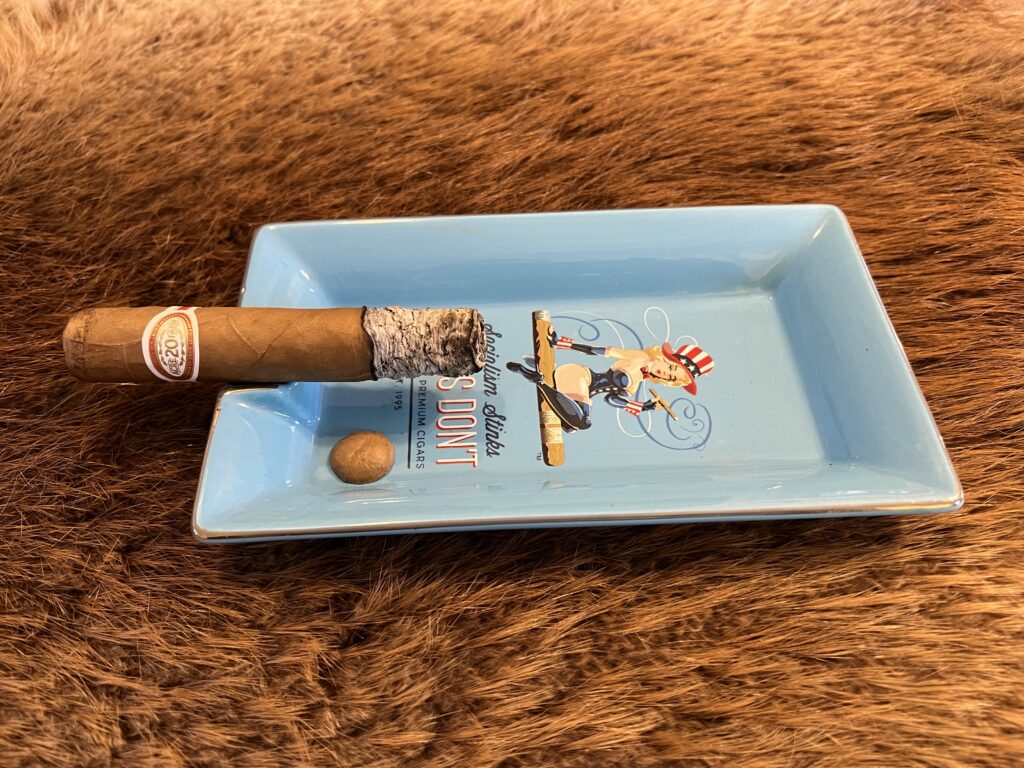 Barnyard, citrus tanginess, and a hint of white pepper are prevalent after the first quarter inch. I always discount the first quarter inch of a cigar. I believe the process of lighting overheats the tobacco and can alter the flavor. The burn line is sharp; if a bit uneven, the micro-thin wrapper is holding together well.
SECOND THIRD
>> Citrus, Charred Wood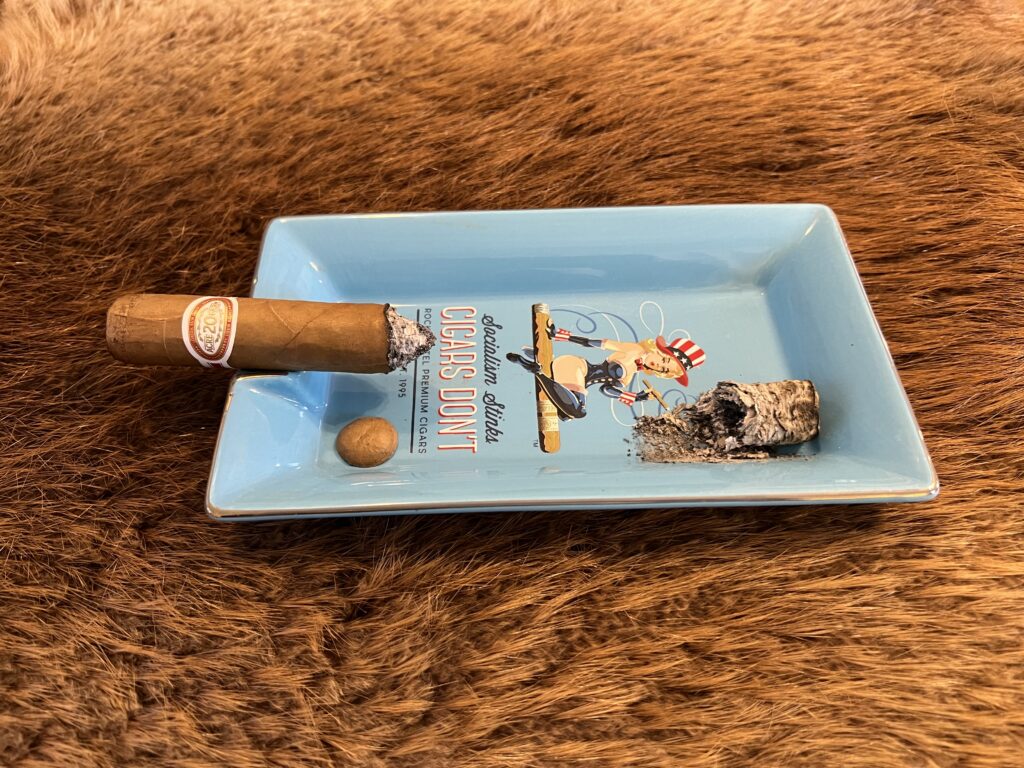 The tanginess of the citrus is still front and center, with almost a bitterness that can be felt on the tongue. This is not to be confused with under-aged tobacco, where you can get ammonia and a scratchy tongue. Charred wood and leather are starting to waft into the flavor profile. Do not be fooled by the lightness of the wrapper. I am experiencing a medium, if not on just the full side of medium, smoke here.
FINAL THIRD
>> Cedar, Caramel, White Pepper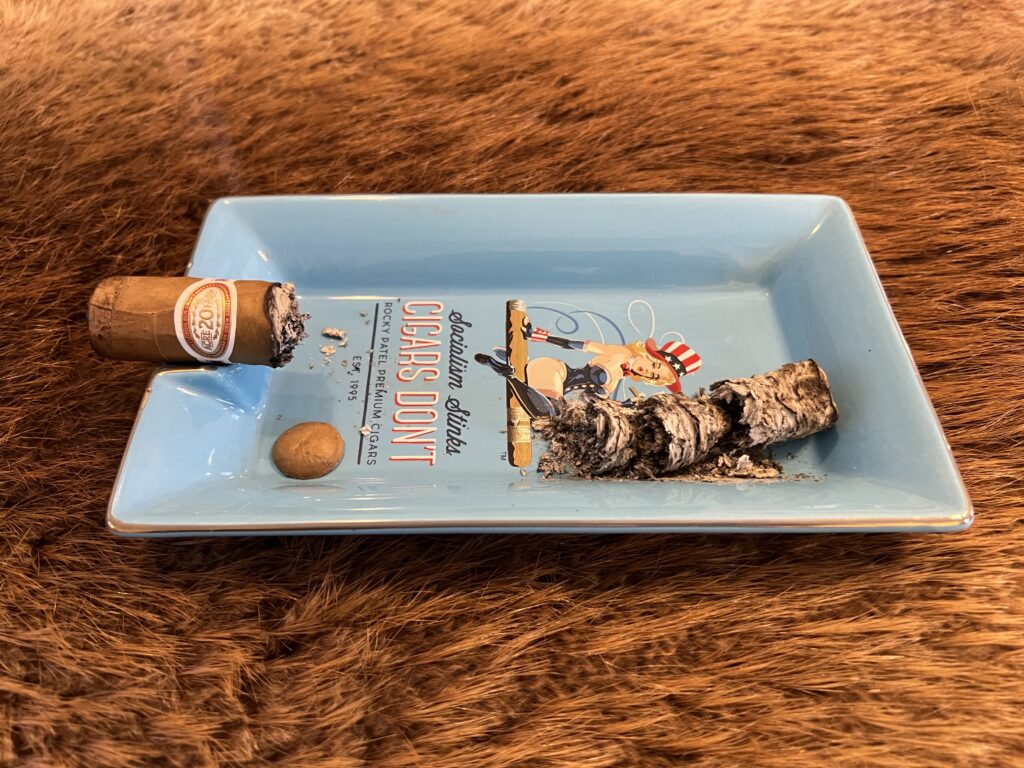 On the home stretch, the slight bitterness of the citrus has mellowed out. I believe the flavor profile has come into its own as we near the end. Charred wood with a hint of cedar is coming through with almost an indication of a fire cure, although there is no fire-cured tobacco in the blend. The white pepper still lingers on the retrohale, along with a hint of a toasted caramel that barely started to show itself in the last couple of draws of the second third. The barnyard is still present as almost an afterthought.
FLAVOR PROGRESSION
The 20 Acre Farm progresses beautifully throughout the smoking experience, from first light to the last draw. I thoroughly enjoy a cigar that tries to maintain continuity from head to foot. There are many words to describe a good cigar, consistent, well-constructed, nuanced, and that can all be said of this particular blend. I believe that Drew Estate, Jeff Borysiewicz, and Willie H. have put together a fine addition to the Drew Estate line.
BURN EXPERIENCE
I did experience some unevenness in the burn line of all three cigars I smoked for this review, which could be attributed to many things. The unevenness, including a few that ran a quarter of an inch down one side, always sorted itself out, leading me to believe it was the distribution of the Seco leaves in the filler. That said, the ultra-fine and thin wrapper held up perfectly throughout, and I never had to touch up or relight the cigar at any time.
RATING BREAKDOWN
0.65 / 0.80 … Craft & Aesthetic
0.40 / 0.50 … Pre-Light Characteristics
0.50 / 0.50 … Lighting Process
6.50 / 7.70 … Smoking Experience
0.40 / 0.50 … Personal Enjoyment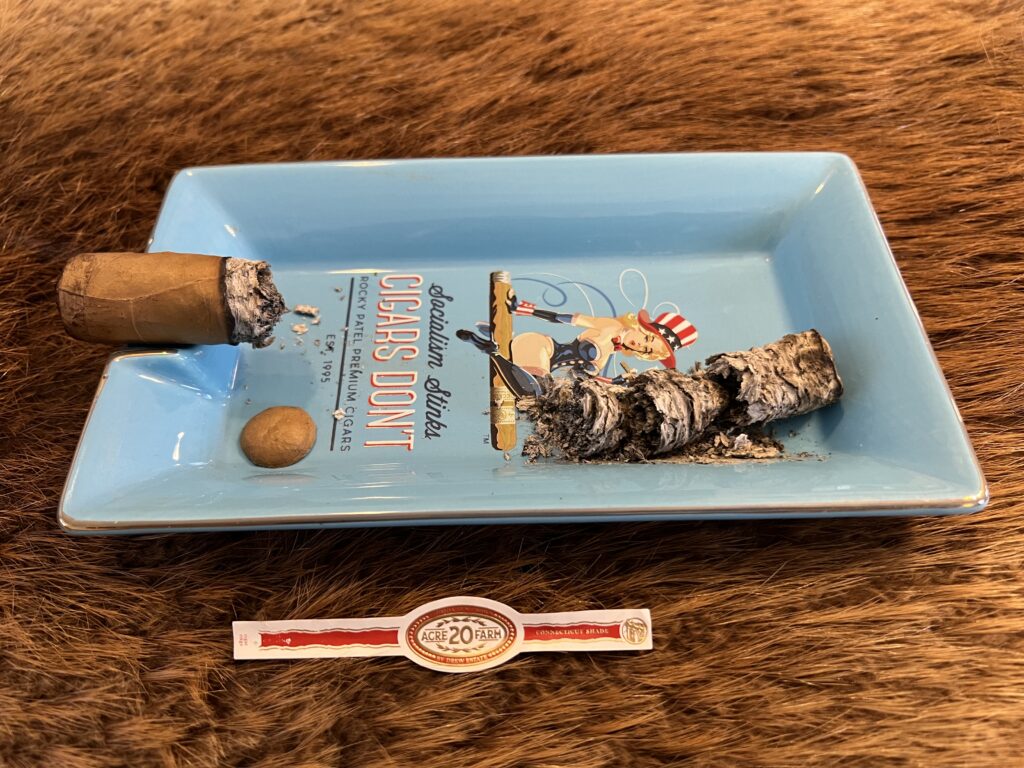 20 ACRE FARM GETS LOST IN A SEA OF THOUSANDS.
The second cigar in the lineup from Drew Estate using the unique tobacco from Corona Cigar Companies plot of 20 acres being grown in Florida. While I believe the cigar is well blended. I experienced construction issues in every one of the cigars I smoked, Resulting in an uneven burn line. The flavor profile remains constant throughout, lacking the changing complexities that most aficionados have come to expect from a premium cigar. If we are experiencing a true second cigar boom, I believe this tasty cigar will get lost in the sea of more complex and exciting cigars we have to choose from. Its only saving grace will be the most excellent marketing that Drew Estate is known for.
SIMPLY STOGIES RATING:  8.45 / 10.0