Earlier this year Drew Estate announced that the long-awaited Liga Privada H99 would be available at all Drew Estate Drew Diplomat Retail program events held between February 1 and May 12. My "local" lounge, located an hour and half from where I live, just happens to be one of those retailers. So when Habano Cigars Davenport held a Virtual Drew Estate event on May 5, I knew that I had to attend. I was able to snag four of the H99, as well as a ton of swag and a couple of other boxes of Drew Estate's finest.

The Liga Privada H99 uses a blend of Nicaraguan and Honduran fillers, with a Mexican San Andrés binder, and wrapped in a Corojo leaf grown in the Connecticut River Valley. Personally, I've never been a Liga Privada guy, despite their popularity. With the exception of the Liga Privada "Feral" Flying Pig, they just haven't been my favorites. They're usually full flavor and full strength cigars that appeal to those who like strong notes of pepper and spice. Lately, however, I've found myself enjoying cigars that I would have shied away from last year. So I had to see how the H99 would hit me.
VITOLA:   Toro
SIZE:   6″ x 52
ORIGIN:   Nicaragua
FACTORY:   La Gran Fabrica Drew Estate
WRAPPER:   Corojo Capa (Connecticut River Valley)
BINDER:   Mexican San Andreas negro
FILLER:   Nicaraguan and Honduran
STRENGTH:   Full
SOURCE:   
Halfwheel
RELEASE TYPE  Limited
ORIGINALLY RELEASE DATE  2018
TOTAL PRODUCTION
Typical Box Size:     Boxes of 24
Production Totals:  unknown
VITOLA BREAKDOWN
o  Toro  (6″ x 52)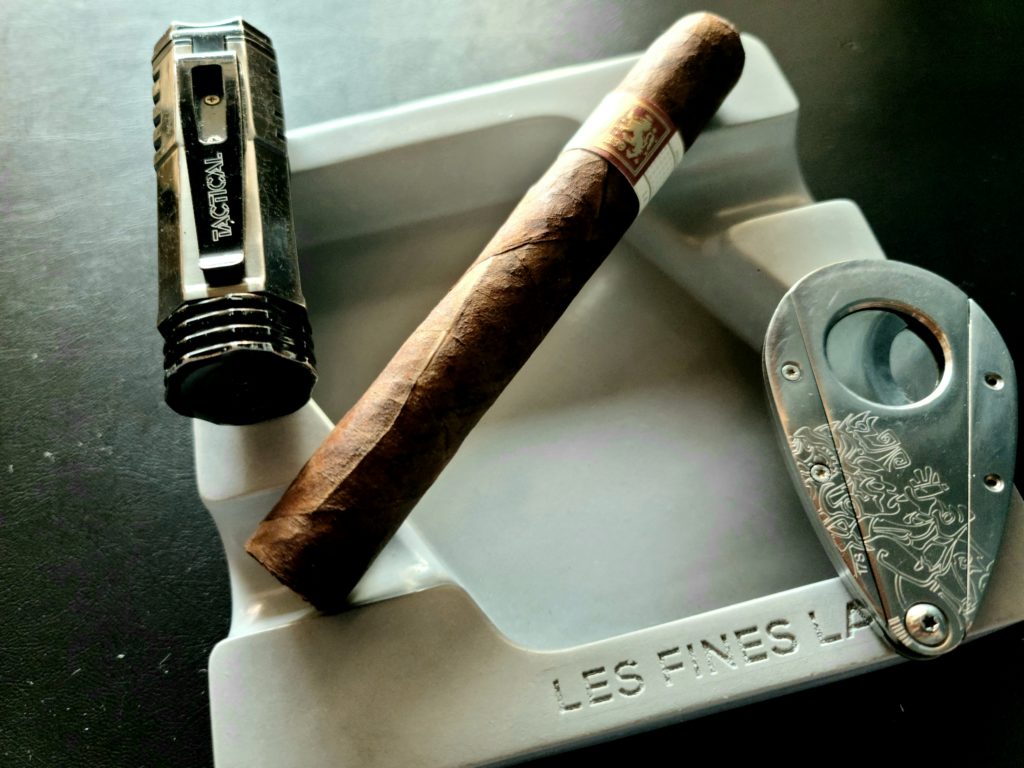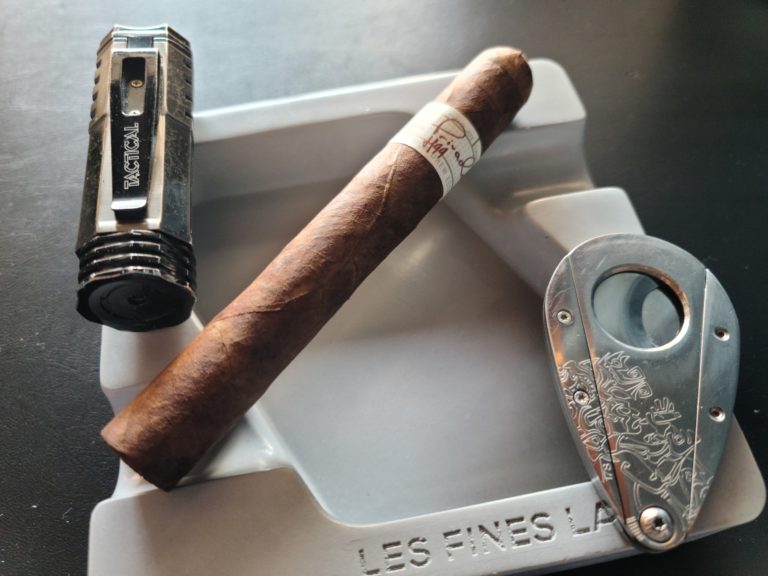 The H99 band is similar to the other bands in the Liga Privada series. It sports the typical "Liga Privada H99" in the same style as others from the line, as well as the brand logo on the back, except this time with a red background and H99 in the bottom corner. I have to admit that the Liga Privada bands are some of the sharpest in the industry. Cigar companies have a habit of drawing on their past for inspiration for their cigar bands. Liga Privada bucks this trend and has some of the most modern and sharp looking bands in the industry.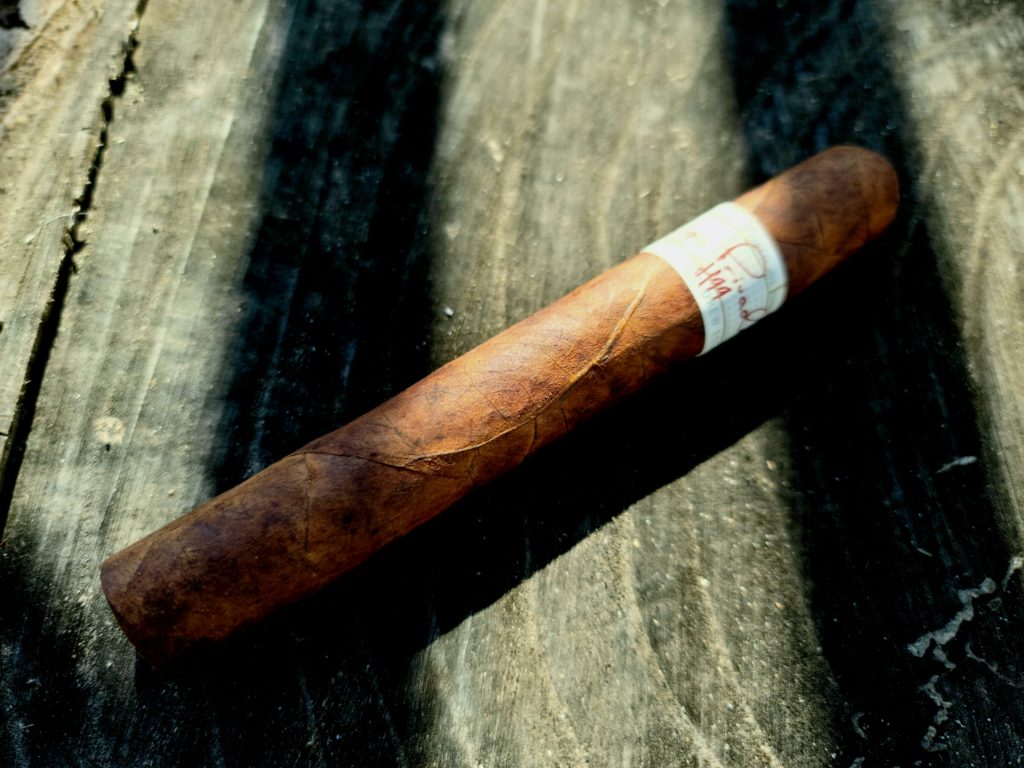 CONSTRUCTION
This cigar can only be described as "eye-catching." The Corojo Capa wrapper is mottled, oily and more red than brown.A departure from the rest of the Liga Privada line. It is beautifully constructed, smooth to the touch and has only a few visible veins. The more I look at it the more excited I am to light it up.
AROMA
One whiff of the cigar and I smell barnyard, tobacco, and cedar. It has been my experience that any cigar that has even a hint of that pungent barnyard-like smell will be amazing. At this point, I'm afraid that this cigar will fall far from my expectations based on how it looks, feels, and smells. Rarely does a cigar get me this excited to smoke.
COLD DRAW
The cold draw reveals notes of barnyard and cedar. The sweet tobacco that I picked up from the smell is nowhere to be found. Should I temper my expectations?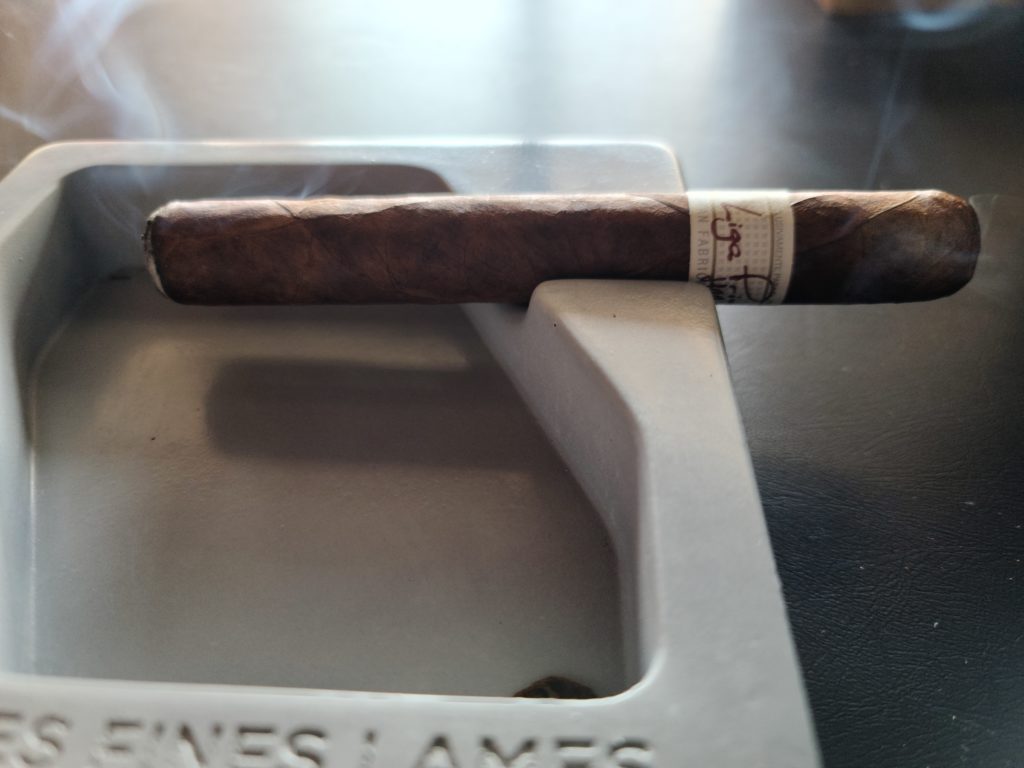 LIGHT & DRAW
Cut:  Xikar Xi3
Fire:  Xikar Tactical 1
The toast and light was easy and immediately produced a straight and even burn.
SMOKE
I was interested to see how the smoke production would compare to other Liga Privadas in the line. Ligas are notorious for their generous smoke output, and the H99 was not that far off. While it wasn't nearly the smoke producer of other Ligas I've tried, the H99 produced a great amount of smoke. The smoke was creamy, plentiful, and very satisfying.
FIRST THIRD
>> Dark Chocolate, Earth, Red Pepper, Wood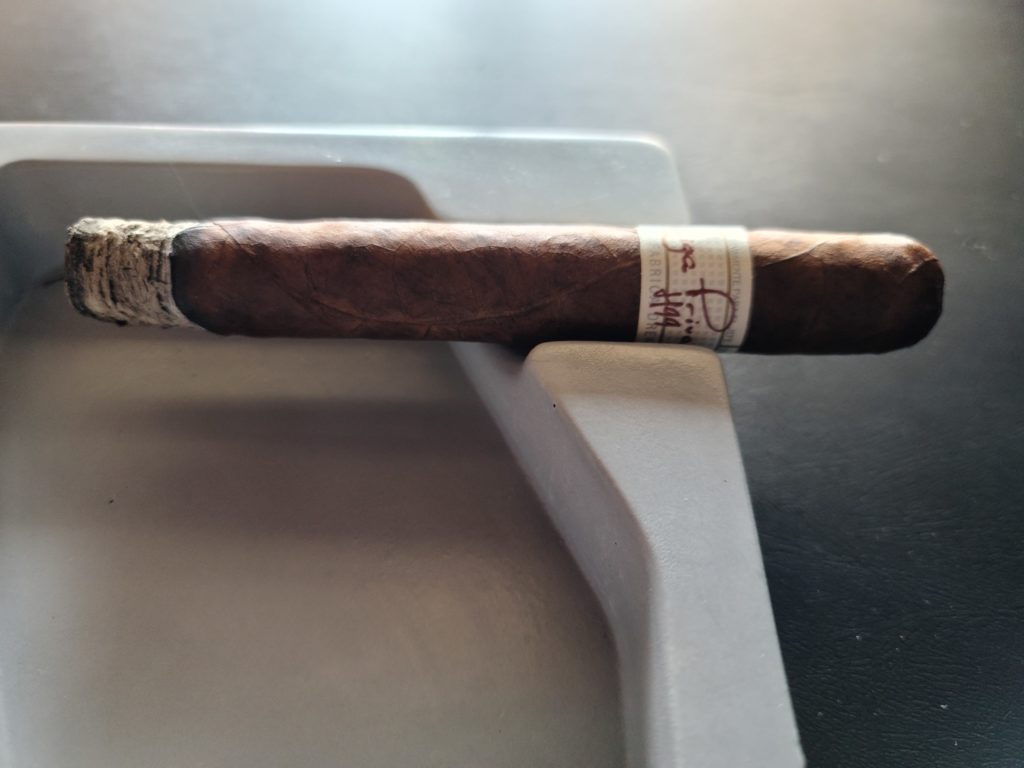 The first few puffs are all red pepper, but once that subsides there is a dark chocolate richness and depth that I haven't experienced with other Ligas. It's more nuanced. Spicy pepper on the retro. These first few puffs are amazing. The smoke output is great but it doesn't compare to other Ligas. This makes me very happy. The smoke is creamy and satisfying. The burn line isn't razor sharp but it's sharp enough. Spicy, woody, and earthy is the best way to describe it. The subtle sweetness of tobacco is enhanced by the Peru Capili Dark Roast. This isn't what I was expecting. I like this cigar. A lot. The H99 is a slow burn so far. There is a vegetable note that accompanies this rich, earthy, umami flavor. The spice tickles my throat.  The ash is compact and grey, with streaks of black through it. The sweetness fades into the background and I'm left trying to find the words for what I'm tasting. Even the pepper on the retrohale is gone. It's a savory and pleasant taste but my vocabulary is failing me at this moment. It has gone from a powerhouse of flavor to a subtle and nuanced experience rather quickly. I suddenly realize it's an herbal note that I'm tasting. The sweetness has returned with just a touch of spice. I am savoring this experience. This is a beautiful cigar thus far, despite the wonky burn.
SECOND THIRD
>> Hay, Tobacco, White Pepper, Milk Chocolate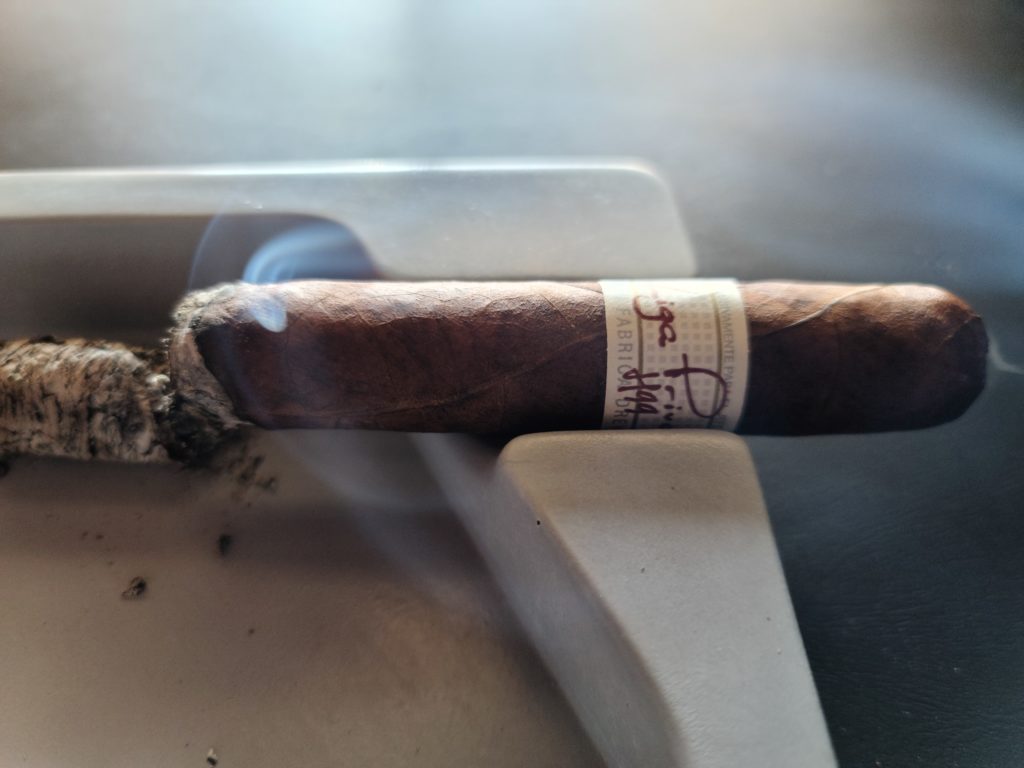 The spice starts to creep back in. Meaty. This cigar is meaty. The ash is holding strong and looks like a stack of dimes. The construction is a conundrum. It looks well-constructed, but it refuses to burn straight.  Maybe it's me? Perhaps I'm smoking this too slowly?  I'll have to smoke more of these to test that hypothesis. I'm not complaining. The sweetness from the tobacco marches front and center. The pepper is a white pepper and softer than in the first third. The creaminess of the smoke is gone, but it is still plentiful. I gently tap the ash, no longer willing to press my luck. It struggles to fall, keeping most of its shape as it lands in the ashtray. A grassy note starts to come through, like a freshly mowed yard. The first touch-up is needed as the burn fails on one side. Again, I am prone to think it's my fault as I am taking my time to enjoy this cigar. There is a nice charred wood that comes and goes with a hint of cedar on the back end. Baking spices appear on the retrohale. Milk chocolate makes its first appearance. The richness and complexity of this cigar has not let up. The ash falls as I sit the cigar back in the ashtray. Again, there is very little flaking.
FINAL THIRD
>> Charred Wood, Red Pepper, Baking Spices, Sweet Bread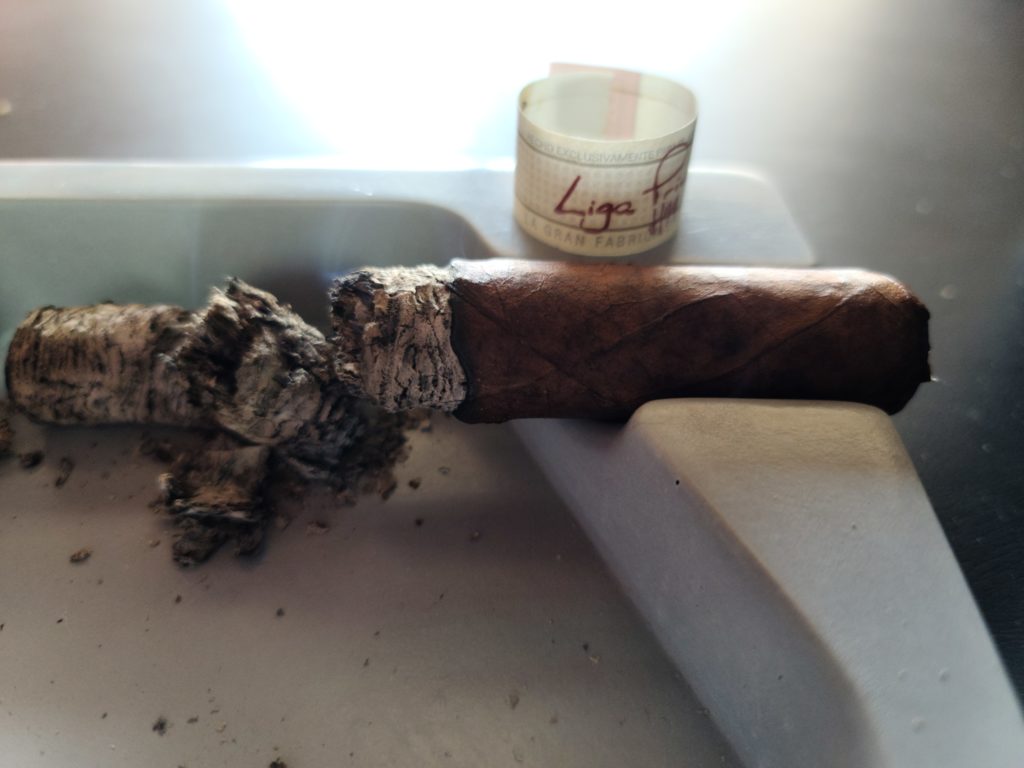 There is another void of flavor at the beginning of the final third, like someone suddenly shut off my taste buds. The sweetness that lingered on my palate throughout the middle third is gone. Pepper has returned to the retrohale. The burn continues to be less than straight and requires yet another touch up. I use the Peru Capili Dark Roast as a palate cleanser. The sweetness from the tobacco shines through. This final third is starting off like a whisper of sweet nothings in my ear. Gently kissing me with pepper, semi-sweet chocolate, and espresso. Wood is the dominant flavor, but it is pleasant. Pepper begins to ramp up on the retrohale. This final third is meaty, but not like the first third. Red pepper is now the dominant note with hints of umami and herbs. Charred wood returns. It's the greatest hits being replayed in turn, like listening to an album immediately after the first play-through. The ash has been consistent throughout. Baking spices and sweet bread…almost like a cinnamon roll baked with just a bit of orange zest. The citrus note is brightening this final third. 
Coffee was a great pairing for this cigar, but whiskey or even water would compliment the H99 just fine. What started as a whisper has turned into an orchestra of flavors. Each chord building on the last. Spicy, meaty, and pepper notes return with force as the tempo increases. The ash becomes a bit more flakey than the previous thirds. The burn is all over the place. The spice lashes out at my throat reminding me that it's there. As I tap the ash into the ashtray, I have to fully re-light the H99. At least the burn line is fixed. I don't want the cigar to end. It has been an absolutely fantastic flavor progression. The burn line, while annoying, could not ruin that. The burn issue finally becomes too much and the cigar goes out.
FLAVOR PROGRESSION
I have zero complaints about the flavor progression. What struck me about the flavors was how well-balanced they are, especially given how complex and nuanced the H99 is. I have read many reviews where the cigar is compared with a steak, and the H99 is the first cigar where I can make that comparison. The H99 crescendos with each movement from the first third to its last. It is masterfully blended to give the smoker an experience they won't soon forget.
BURN EXPERIENCE

No cigar is perfect and the burn is where the H99 loses some of its shine. Both cigars I smoked had the same burn issues and required multiple touch-ups and one full relight. Disappointing, to say the least. However, these cigars only spent (a maximum) of four days in my humidor before smoking for this review. Typically, I try to give each cigar I review a minimum of thirty days rest before reviewing. The hype around this cigar necessitated an early review and I will take that into account in my scoring.
RATING BREAKDOWN
0.80 / 0.80 … Craft & Aesthetic
0.49 / 0.50 … Pre-Light Characteristics
0.50 / 0.50 … Lighting Process
6.80 / 7.70 … Smoking Experience
0.50 / 0.50 … Personal Enjoyment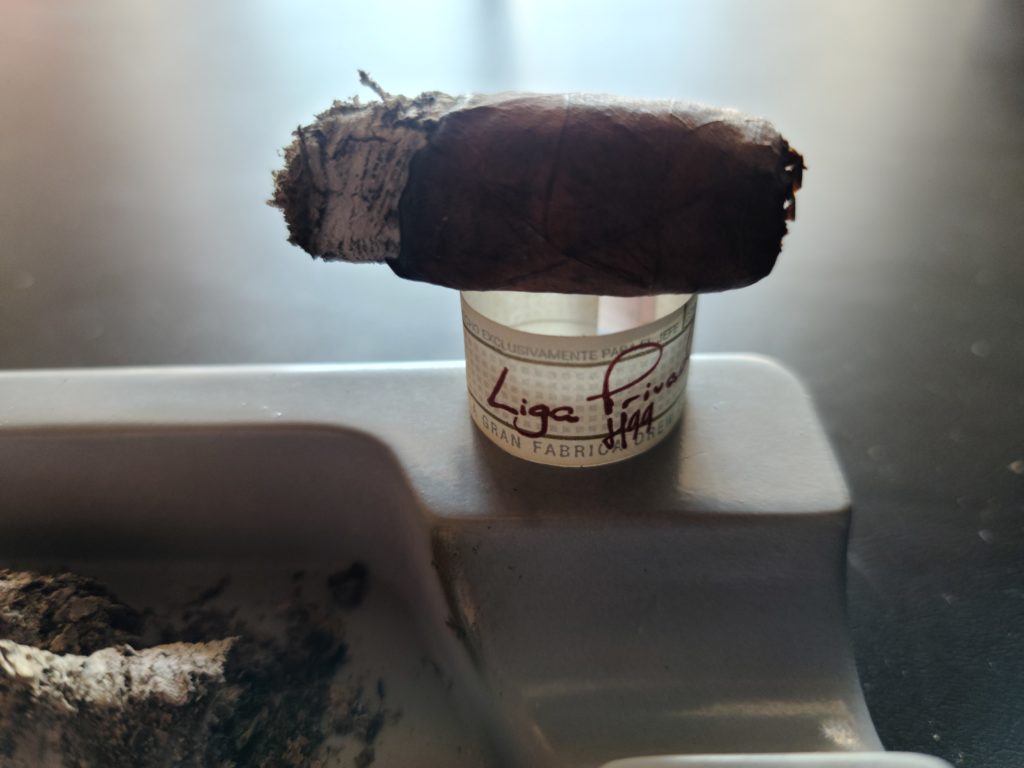 THIS IS A LIGA PRIVADA I CAN GET BEHIND.
This is, by far, my favorite Liga Privada that I've tried. Its rich, meaty, umami notes, coupled with the pepper, wood, and lingering sweetness make this a must try Liga Privada. Had it not been for the re-light, the H99 is an easy 9.4 even with the burn issues. I was lucky enough to pick up four at Habano Cigar Lounge Davenport and the H99 is on my shortlist of "must have" boxes. If you can find the H99, I suggest that you pick up as many as you can.
SIMPLY STOGIES RATING:  9.09 / 10.0