The man behind the resurgence of the Nat Sherman brand landed on his feet. After Altria Group Inc. closed down the Nat Sherman brand, Michael Herklots and business partner Brendon Scott purchased the Nat Sherman portfolio from Altria and started their own cigar brand, Ferio Tego. Ferio Tego is Latin for I strike I defend. The literal translation is Ferio, meaning "slay," and Tego, meaning "to cover." The Latin is actually on the bottom of the Herklots family coat of arms. A fitting name for the company that saved the Nat Sherman portfolio from extinction.
At the 2021 PCA Trade Show, Ferio Tego didn't have any product to hand out. Instead, they offered a lounge area for weary attendees to sit and relax, smoke a cigar, and chat with Michael Herklots. It was one of the booths that Tim and I just didn't get a chance to get to, and I'm still kicking myself for not making it over. Besides saving the Nat Sherman blends, Herklots is an advocate for the cigar industry, and one that I find myself agreeing with more often than not.
The Elegancia is one of Ferio Tegos first two limited releases. The Elegancia sports an Eccuadorian Connecticut Shade wrapper over a Dominican binder and Dominican and Nicaraguan fillers. An MSRP of $21.00 is rather steep but the question is, "Is it worth the price?"
VITOLA:   Toro
SIZE:   6″ x 50
ORIGIN:   Dominican Republic
FACTORY:   Tabacos de Exportación
WRAPPER:   Ecuadorian Connecticut Shade
BINDER:   Dominican Republic
FILLER:   Dominican Republic and Nicaraguan
STRENGTH:   Full
SOURCE:   
Ferio Tego
RELEASE TYPE  Limited
ORIGINALLY RELEASE DATE  October 2021
TOTAL PRODUCTION
Typical Box Size:     Boxes of 10
Production Totals:  Undisclosed
VITOLA BREAKDOWN
o  Toro  (6″ x 50)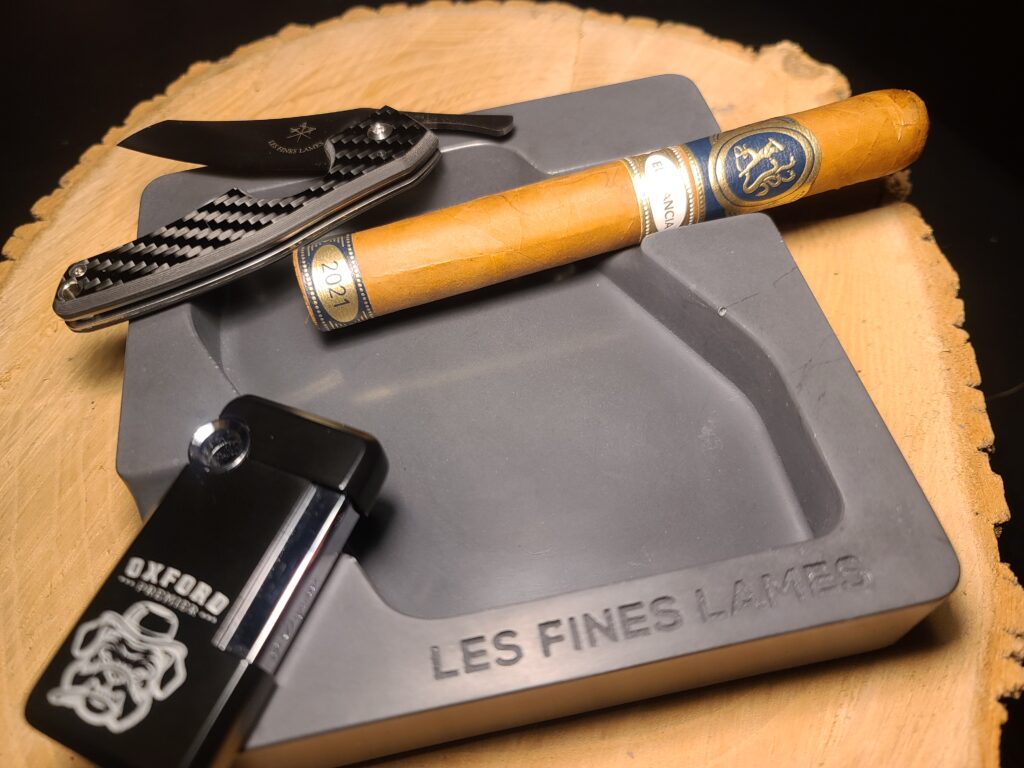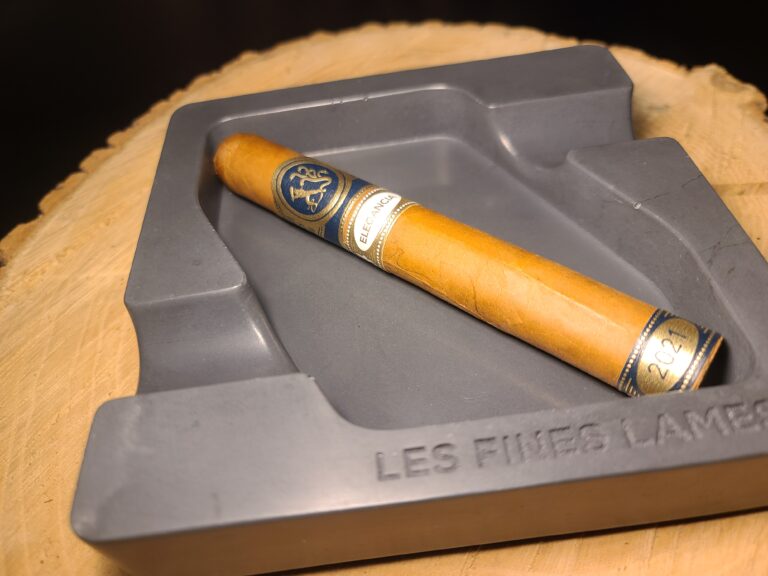 The Elegancia is triple banded, with two bands by the cap and another by the foot. A beautiful dark blue with gold accents on two of the bands. The middle band is gold with white accents. The Ferio Tego logo adorns the main band. A nod to the Herklots family coat of arms, it features Hercules battling the hydra. The bands are elegant and subdued. They are eye-catching without being gaudy.  
The box of the Elegancia is a proper travel humidor. I wasn't impressed with other boxes that claimed to be travel humidors (I'm looking at you Davidoff's Winston Churchill LE 2019). What's more, the box is a smart box. Put your smartphone up to it and the box uses NFC technology to take you to the Ferio Tego website. That said, I couldn't get it to work with my Android, but I'm going to assume that it's user error. Great concept and my failure to not get it to work will not affect the score.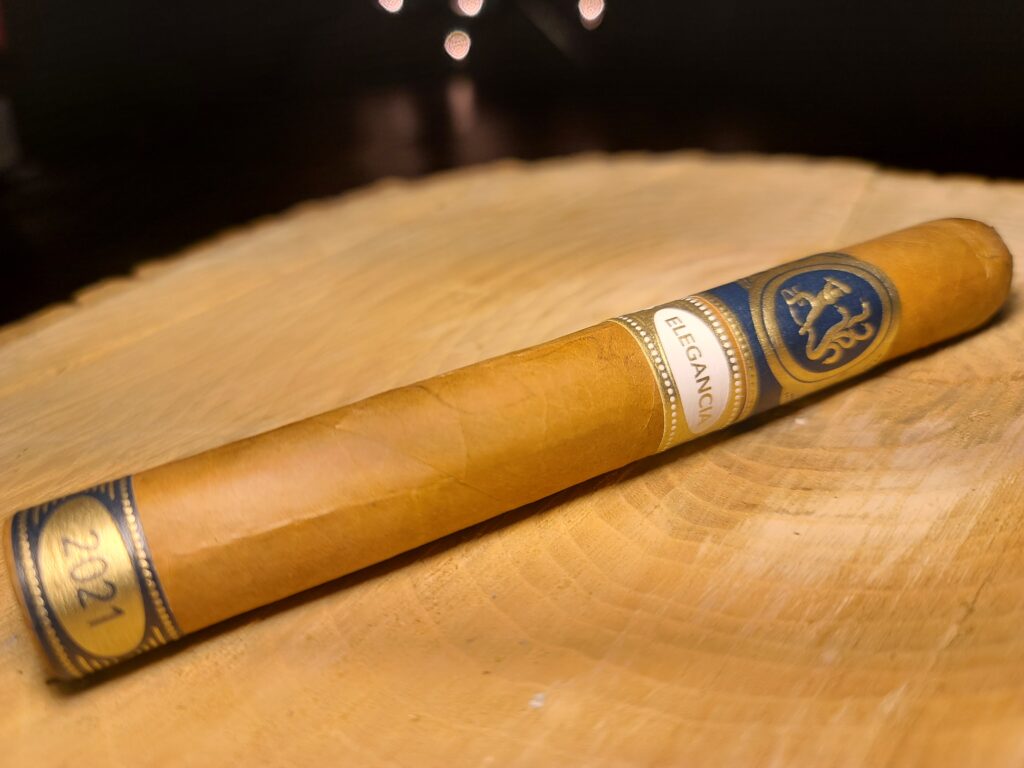 CONSTRUCTION
The Ecuadorian Connecticut shade wrapper is smooth to the touch, despite the many veins running through the cigar. The cigar seems to be well-built, as there are no hard spots or obvious defects. The Elegancia springs back after lightly pinching it with my fingers. 
AROMA
The slightest hints of coffee and barnyard are coming off the wrapper. Coming from the foot, there is a floral scent that reminds me of a warm spring day and walking through a field of wildflowers. I am excited to dive into the Elegancia.
COLD DRAW
The cold draw smacks me in the face with a floral and fruity one-two punch. It's pleasant but unexpected. I could make comparisons to children's breakfast cereals, but the notes are not that heavy handed. They are subtle and nuanced. The draw itself is a bit tight, but I resist cutting more off the cap.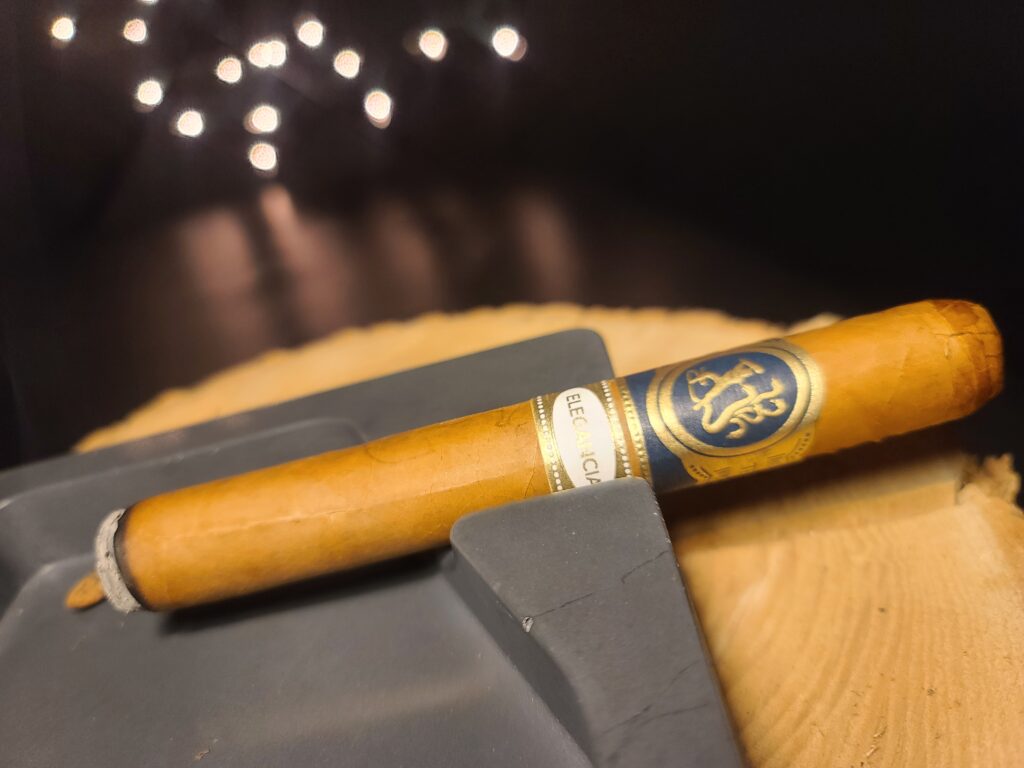 LIGHT & DRAW
Cut:  Les Fines Lames LE PETIT cigar knife
Fire:  ST Dupont Hooked
The initial light is effortless; the Elegancia lights up easily. Notes of roasted nuts, espesso, raisins, and baking spices are easily picked out. A bit surprising is there is no harshness from the light. Instead, dark, rich flavors begin the Elegancia. The rich sweetness of raisins holds everything up. The retrohale is white pepper. Earth and chocolate linger on my palate.
SMOKE
The smoke is light and airy. It's a little on the dry side, but it becomes thick and creamy with each draw.
FIRST THIRD
>> Fruit, Earth, White Pepper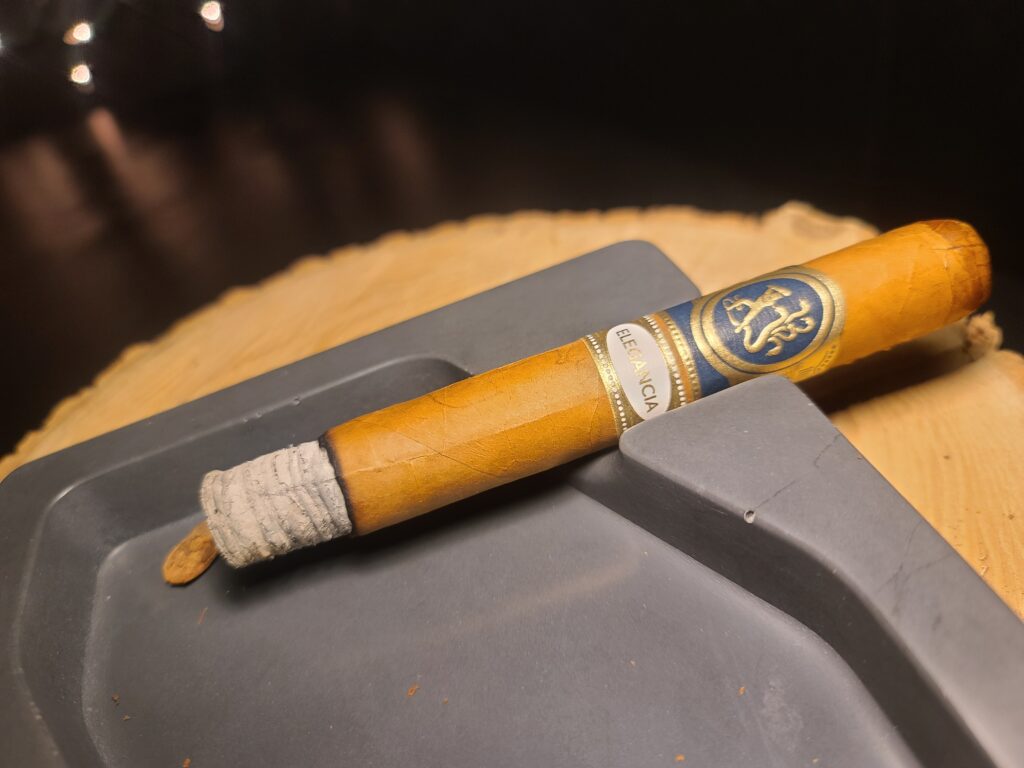 There is a fruity sweetness that lingers on the finish. But there is this earthy, musty flavor that dominates and overwhelms everything else. It isn't quite mushroom, as there is a bitterness to it. It somewhat reminds me of wet, burning wood. The bitterness fades after the first 1/2 inch and you're left with a creamy, funky, fruitiness that sometimes works and sometimes doesn't. The retrohale is white pepper. I wish it had more "oomph." The fruit and funk just isn't coming together for me. The burn is razor sharp. The ash is grey and black, compact, and gorgeous. The Elegancia is on the mild side of medium. The sweet, fruity note starts to shine almost an inch in. This blend is really starting to come together. The earthy note now lingers on my palate, while the smoke creamy and plentiful; a stark difference from the light. A note of avocado oil overwhelms the funky earthiness, and adds some missing depth to the first third. It's taken almost an inch of the Elegancia to get here, but it was worth the wait. The burn line is solid after I tap the ash into the tray. It holds its form as it falls. I am impressed with almost every aspect of the Elegancia.
SECOND THIRD
>> Sweet Cream, Cherries, Salted Butter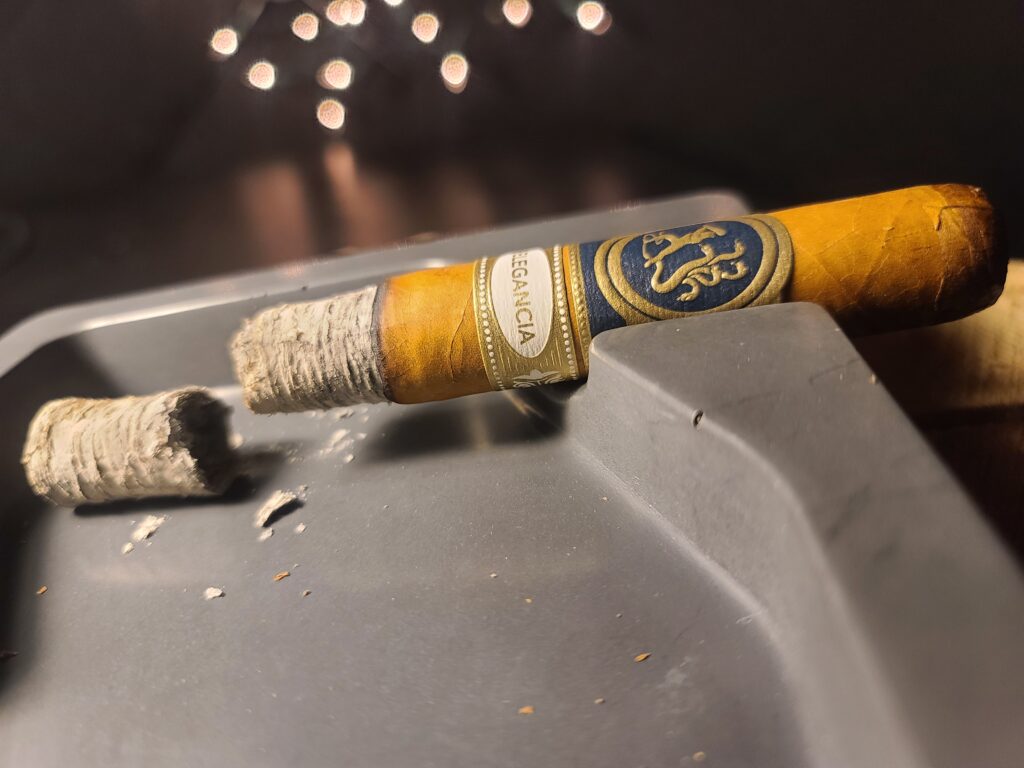 Sweet cream, fruit, and earth begin the middle third. Baking spices on the retrohale. The Elegancia is very buttery now. Salted nuts now linger on the finish with just a hint of cherries. There is a subtle coffee note that rounds out this middle third so far. The burn line is razor sharp and the ash is just ever-so-flakey. Construction, thus far, has been on point. Firmly, medium bodied but full-flavored. A subtle note of cedar begins to replace the fruit notes. Avocado oil reigns supreme as the sweet cream becomes more rich and complex. The Elegancia takes you on a journey and demands your attention while doing so. A rich note of coffee begins to emerge, adding even more depth and character. Black pepper has arrived to the party. I don't want this ride to stop!
FINAL THIRD
>> Coffee, Charred Wood, Black Pepper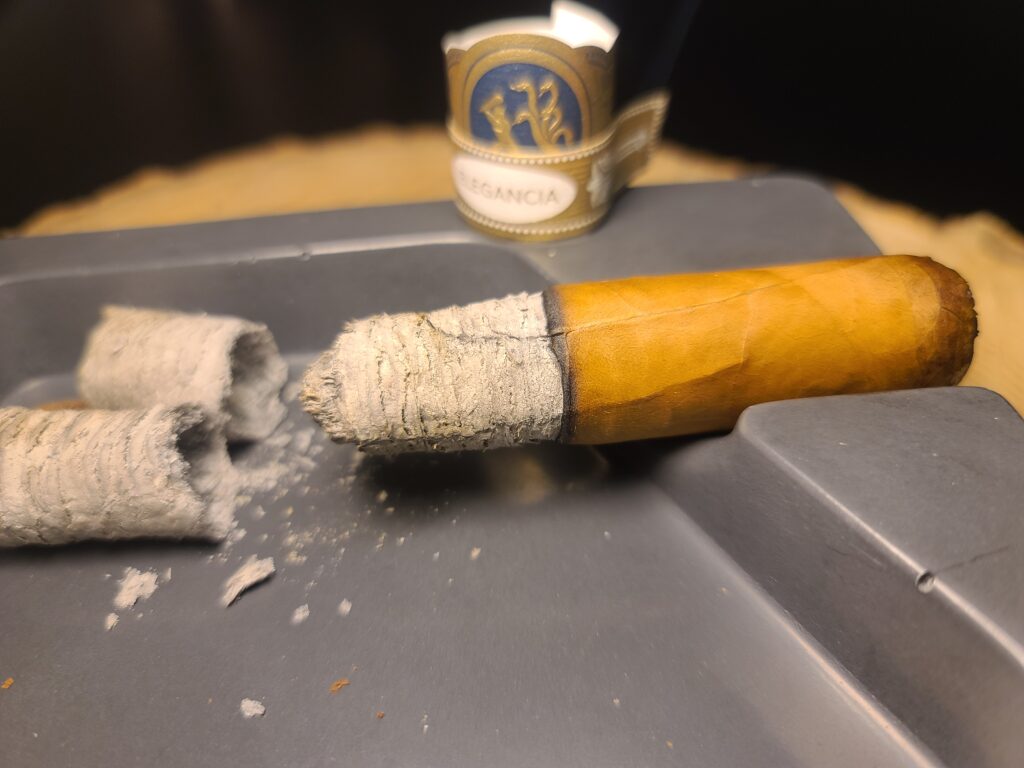 There is a faint citrus or floral note that starts to breakthrough. Big notes of coffee, charred wood, baking spices, and black pepper jump out from this final third. Salted butter, cream, and fruit begin to shine through, adding brightness to the bold flavors of the final third. I want to make clear that these all flow together nicely. No one note working against the other. The burn line is slightly wavy and the ash continues to be spectacular. The fruity and floral notes from the cold draw are fully realized in this final third. A sharp note of citrus cuts through the rich chocolate and coffee notes. The charred wood begins to dominate. As a side note, I have been working to get these bands off, intact, for a while now but with no luck. So, I gently unwrap them. Cherries, coffee, nuts, wood, pepper, spice…I am mesmerized. Espresso, cedar, and caramel come to the front. A savory note of…something, melts into the background. Leather, earth, and espresso finish out the Elegancia's journey.
FLAVOR PROGRESSION
What started as slightly off-putting and kind of a mess, quickly turned in to one of the best flavor profiles I've had. The flavors build on top of one another, morphing from one to another. Fruity, salty, sweet, savory, creamy…the Elegancia delivers it all. Complex flavor profiles are held up by subtle and nuanced flavor notes. The Elegancia delivers a rich and full-flavored experience.
BURN EXPERIENCE
This has been one of those near perfect burns that are whispered about in cigar lounges everywhere. Both cigars that were smoked for this review burned as flawlessly as any I have ever smoked. There was some slight waviness towards the end of the final third, but that's just nit-picking.
RATING BREAKDOWN
0.80 / 0.80 … Craft & Aesthetic
0.50 / 0.50 … Pre-Light Characteristics
0.50 / 0.50 … Lighting Process
7.30 / 7.70 … Smoking Experience
0.48 / 0.50 … Personal Enjoyment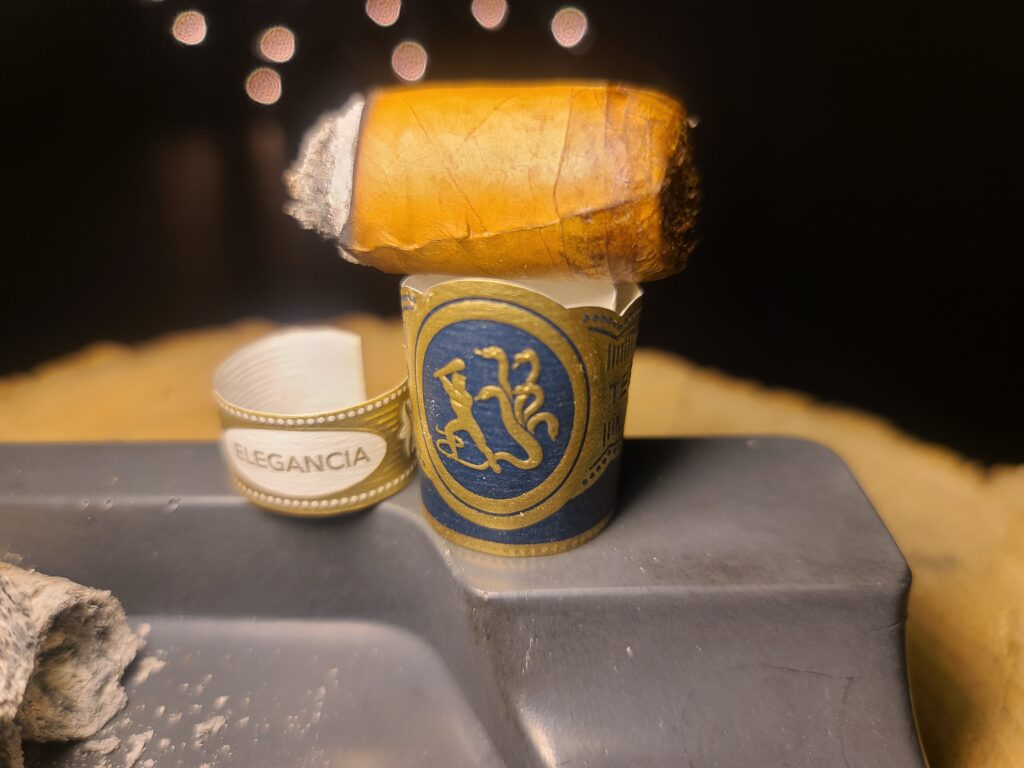 THE ELEGANCIA SLAYS.
I'm going to be honest, I don't read other's reviews, but I have a few close cigar smoking friends whose opinions I respect. One of those friends was not very kind to the Elegancia. So, I went into this with some trepidation. I wanted Ferio Tego to hit a home run…and boy did they. The Elegancia delivered on every metric I use to grade a cigar: burn, flavor profile, transitions, overall presentation. My lone critique of the Elegancia is the first inch of the cigar. It just didn't come together for me. The flavors kept working against one another and didn't come together right away. But when they did, boy did they! The Elegancia is one of my favorite cigars I've smoked in the last two years. Kudos to the Ferio Tego team for putting together a wonderful cigar.
SIMPLY STOGIES RATING:  9.58 / 10.0