A few years ago, Ezra Zion purchased Nomad Cigar Co. Since then, they have released some of the best boutique cigars on the market. Going through our other cigar reviews of Ezra Zion, you can see that Mike Breig (our former Content Director and resident cigar reviewer) loved a lot of their blends. So I was excited to see what the FREAKSHOW held in store for me.
If you know me, you know how much of a geek I am. The Freakshow spoke to my inner geek with its unique branding made to look (almost) exactly like the Joker from DC Comics. While the marketing may make some roll their eyes, it immediately caught my attention and made for a perfect opportunity to try a Nomad by Ezra Zion cigar. The Freakshow was intended to be a regular production cigar, but they ended up with only enough tobacco for a micro-batch release of 380 cigars. 
VITOLA:   Corona Gorda
SIZE:   6-1/2″ x 46
ORIGIN:   Nicaragua
FACTORY:   Undisclosed
WRAPPER:   Corojo 99
BINDER:   Undisclosed
FILLER:   Undisclosed
STRENGTH:   Medium+ – Full
SOURCE:   
Nomad Cigars
RELEASE TYPE  Limited Release
ORIGINALLY RELEASE DATE  November 13, 2020
TOTAL PRODUCTION
Typical Box Size:     Packs of 5
Production Totals:  380 total cigars
VITOLA BREAKDOWN
o  Corona Gorda  (6-1/2″ x 46)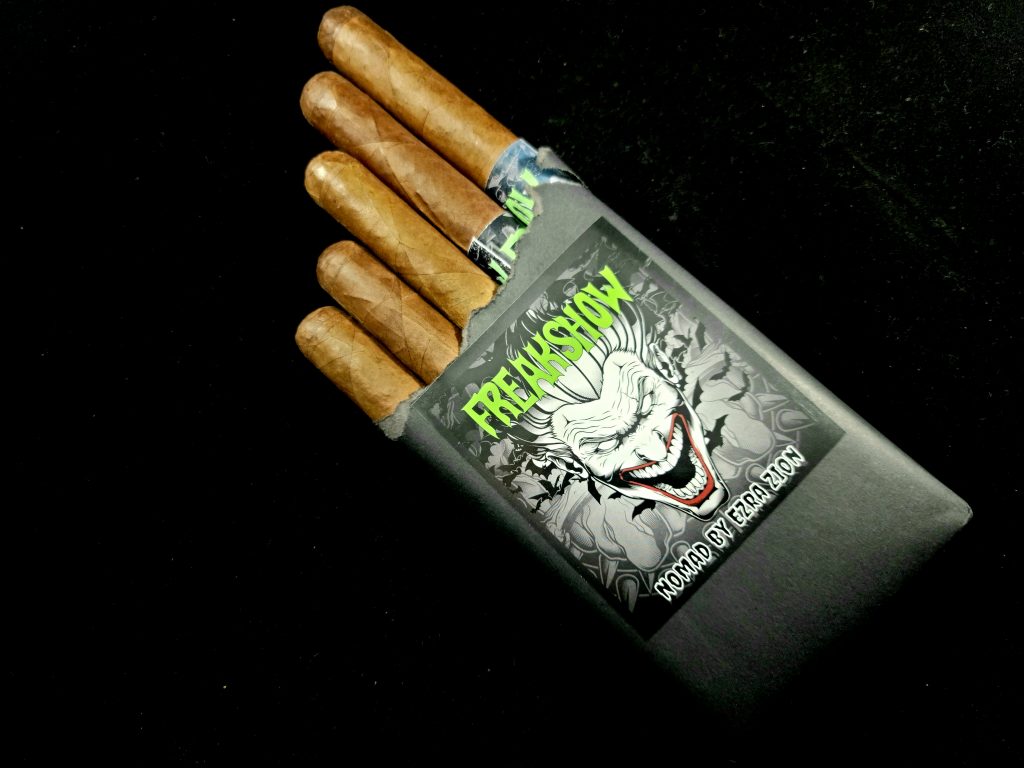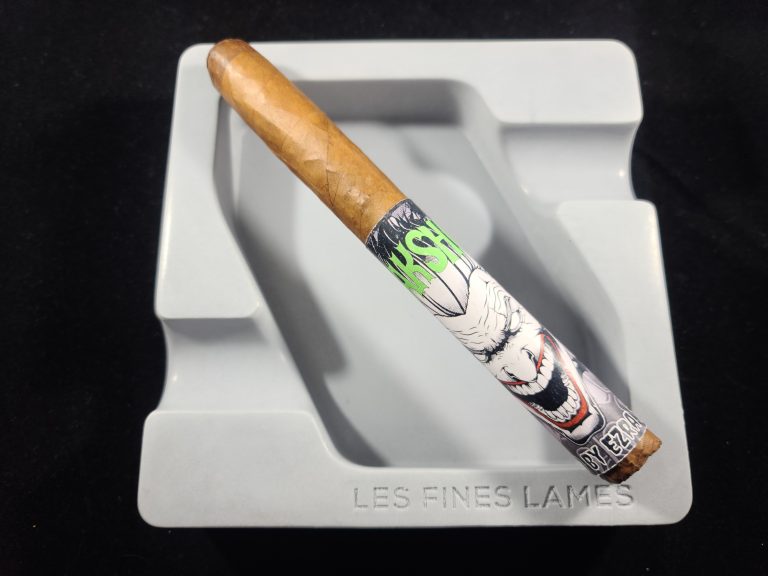 The band covers about half of the cigar. It sports the same image/logo that is found on the sticker on the five pack. Honestly, I really want that sticker. Again, my inner geek loves this. The band features a Joker-esque clown with grey and black hair. The signature green hair that is typically found on the head of the "Clown Prince of Crime," instead is used as the color in the name "FREAKSHOW." There is just enough difference to maybe not get sued…maybe.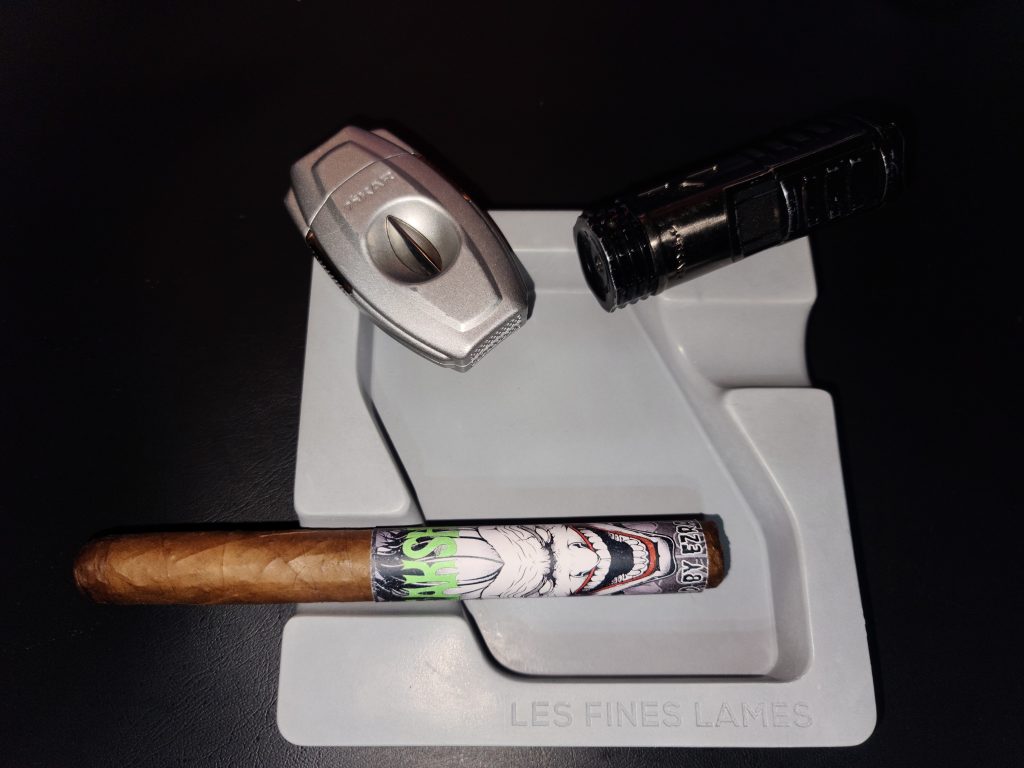 CONSTRUCTION
The wrapper is a  beautiful shade of medium brown. It has an oily sheen, veiny and a visible seam. While it is gorgeous, I'm concerned that the wrapper may be too delicate.
AROMA
The aromas coming from the Freakshow have notes of cedar and dried tobacco. Nothing that makes me perk up or become overly excited for this cigar.
COLD DRAW
The cold draw is a bit tough with the closed foot, but I pick up dry grass and a bit of sweetness. I'm glad I used v-cutter as the draw seemed open, even with the closed foot.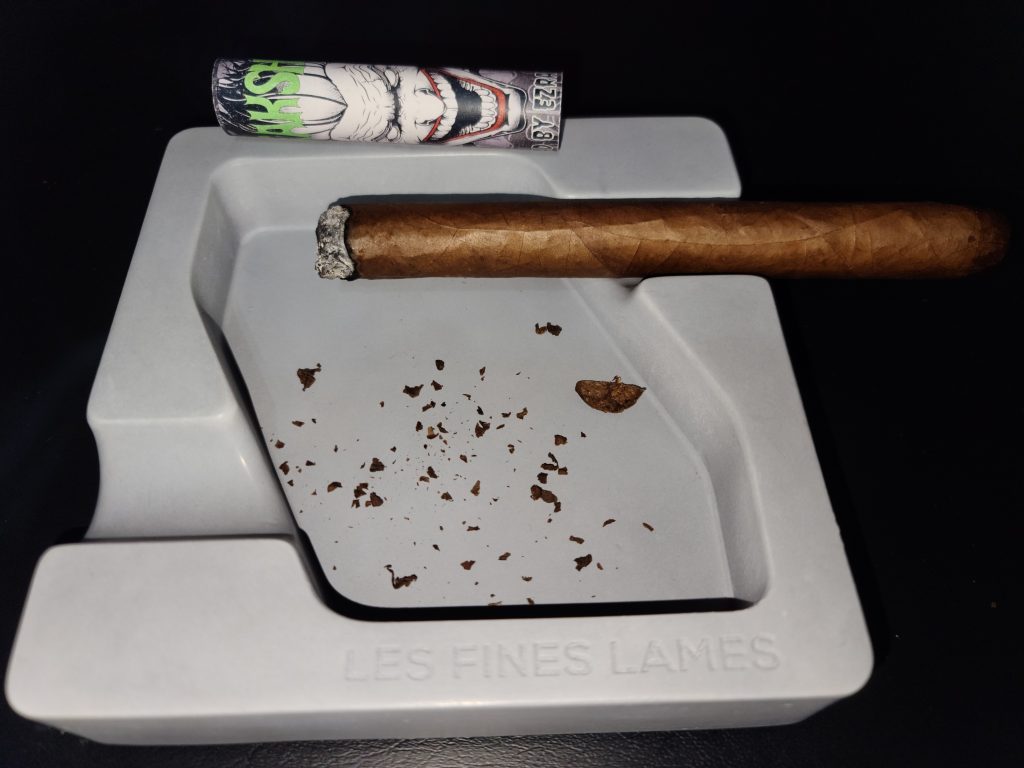 LIGHT & DRAW
Cut:  Xikar V-Cutter
Fire:  Xikar Tactical 1
The light was effortless, which was a bit surprising as I find toasting a closed foot much harder than toasting a regular foot. 
SMOKE
This was my first hint that this cigar might be something special. The smoke was very creamy. It coated my palate in a very satisfying way and continued to do so throughout the experience. 
FIRST THIRD
>> Nuts, Sweet Bread, Red Pepper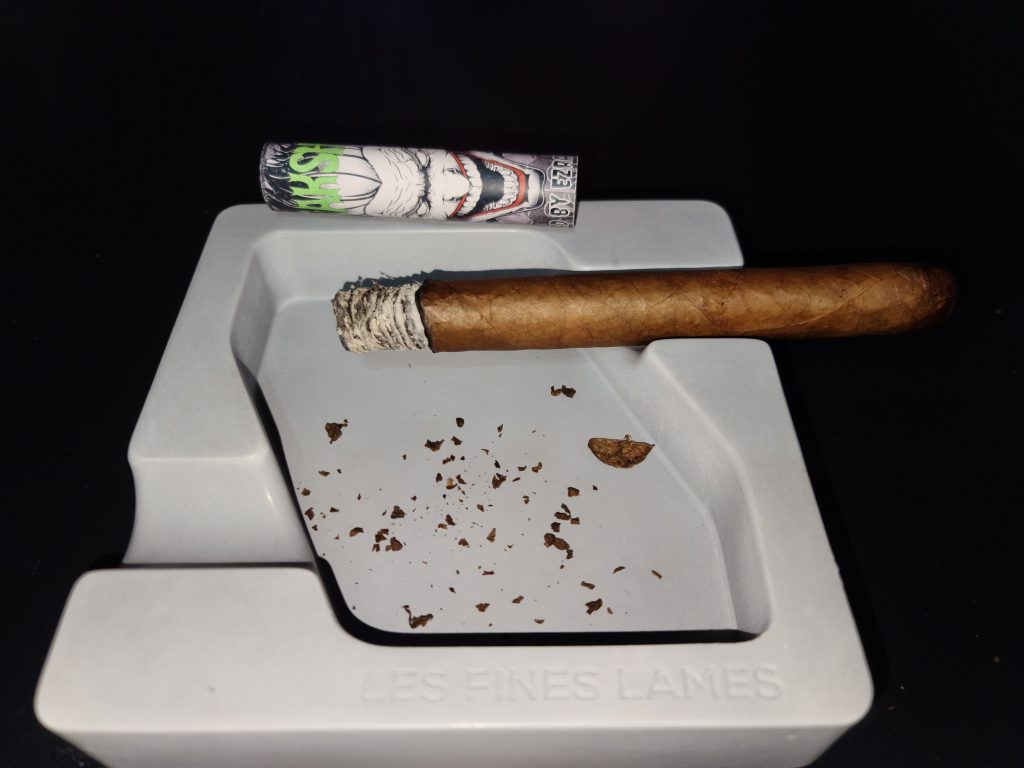 The Freakshow is very mild to start, surprising for a closed foot. Nuts and bread to start. Red pepper on the retrohale. It's very pepper forward on the retrohale, but a normal draw and puff is extremely mild. Not sure I've encountered something like this before. A salty note begins to come through. The burn line started less than straight, but has self-corrected. The flavors in the Freakshow are, so far very mild. Tobacco, grass, nuts, sweetbread are all there but immediately get lost during a retrohale, drowned out by the pepper, only to reappear a few moments later. The smoke is amazing, as it coats my palate and is very satisfying. The pepper starts to calm down on the retrohale, allowing the flavors to really shine. I am really liking the Freakshow. A salted butter note comes and goes. My lone complaint in the first third is the burn line. But I've seen much worse. The ash is gray with black streaks, tightly compacted and holding an inch in. I gently tap it into the tray. There is some flaking, but nothing concerning. There is an almost zesty citrus note that I keep thinking I taste. Maybe it's a floral note? Toasted almonds become more prominent as the pepper and grass begin to fade. The retrohale becomes black pepper, complimenting the salty component.
SECOND THIRD
>>Milk Chocolate, Earth, Baking Spices, Herbal Tea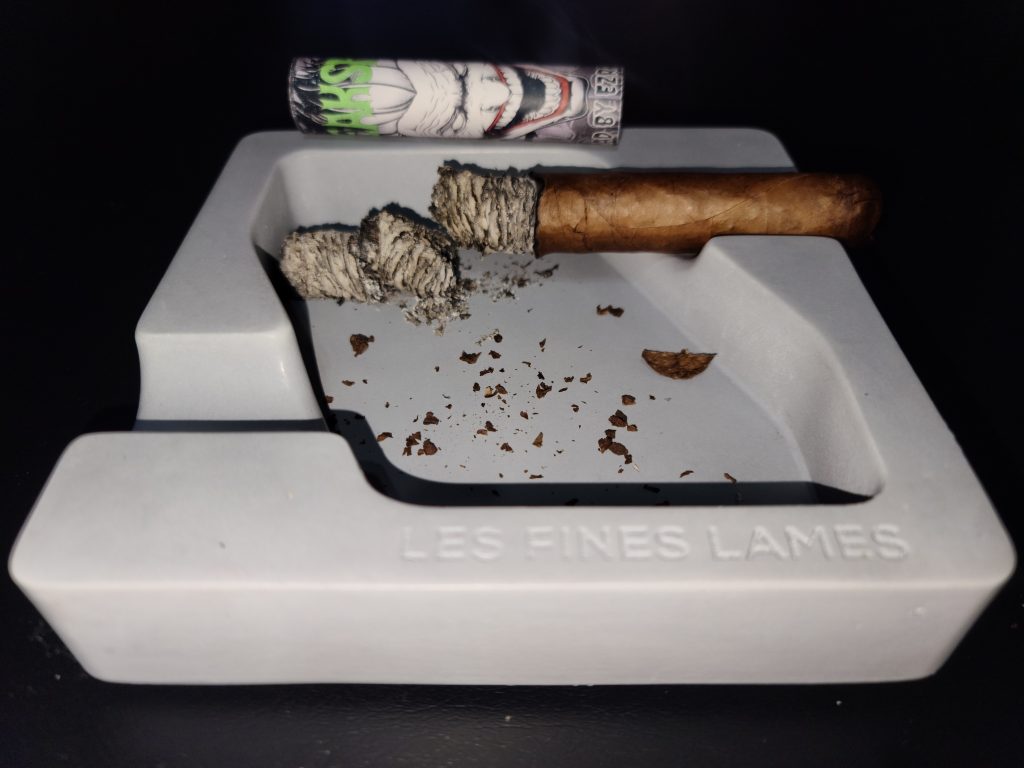 Milk chocolate starts to come through. The roasted almond begins to give way to a more charred wood component. The retrohale is now firmly baking spices: nutmeg and cinnamon. The burn line has straightened up very nicely, but the wrapper looks as it might be lifting away from the seam. The retrohale continues to be the star. It really brings the flavors out. An earth/vegetable note begins to pop up. The salted butter continues to weave in and out as the milk chocolate begins to turn into notes of espresso and dark chocolate. There is still a hint of sweetness from somewhere and I only detect it when I don't retrohale. The wrapper never lifted from the seam and caused no issues. There is a definite herbal/floral note…almost like a strong tea. Spice starts to ramp up. Is that cayenne pepper? What is this witchcraft? And just like that, it's gone. Back to the strong herbal tea that has dominated since the middle of this third. Hot damn this is good. The ash isn't overly flakey and holds on until I decide to let it drop.
FINAL THIRD
>> Salted butter, Coffee, Orange Zest, Baking Spices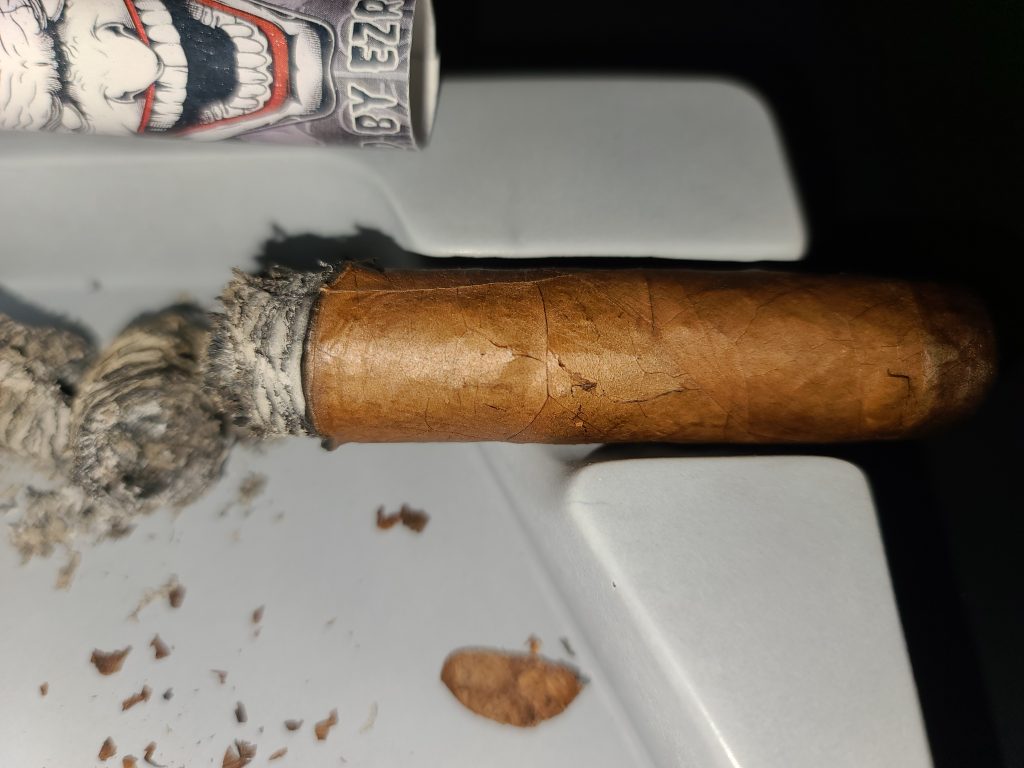 The final third starts with the herbal tea becoming almost a vegetable note: a little bitter, a tiny bit of burnt caramel, and baking spices. There is still a creamy, salted butter note that seems to be the connecting flavor through the entirety of the cigar. The wrapper has developed a crack, but this what Iowa winters do to cigars. I will smoke another in a lounge to see how it holds up. Coffee. A great coffee at that. This cigar is smooth, even as the spice and pepper have tickled my throat in each third. Leather makes an appearance as what was a mild cigar has turned into a medium to full flavored cigar. Orange zest cuts the bitterness nicely. The ash has gotten noticeably darker in this final third.  I can hear the wrapper cracking even more as the heat finds its way closer to, what was, the small crack. I have to be extremely careful. As the wrapper begins its inevitable unraveling, there is a spike in flavor strength. It is definintely full now. The orange zest still cuts through and the aftertaste that lingers is nothing short of amazing. I curse Old Man Winter under my breath. As it burned past the cracking, the wrapper held strong. It ends with notes from both the second and final thirds and nice sweetness that has me looking forward to smoking this again.
*While the wrapper is delicate, the one smoked in the temperature controlled cigar lounge did not crack. No points will be deducted. I hate winter.
FLAVOR PROGRESSION
Wow! I was blown away by all of the flavors that I picked up in this cigar. Honestly, the first third started with so much pepper that my expectations quickly lowered. As I continued to smoke the FREAKSHOW I found that it was surpassing my initial expectations. The transitions and flavor profile were on point throughout. 
BURN EXPERIENCE
No relights, no touch-ups, no issues. The draw was a bit open and the burn line started to waver, but it corrected itself and never proved to be an issue. On the second Freakshow I used a straight cut and had no issue with the burn or the draw. 
RATING BREAKDOWN
0.75 / 0.80 … Craft & Aesthetic
0.43 / 0.50 … Pre-Light Characteristics
0.50 / 0.50 … Lighting Process
7.00 / 7.70 … Smoking Experience
0.48 / 0.50 … Personal Enjoyment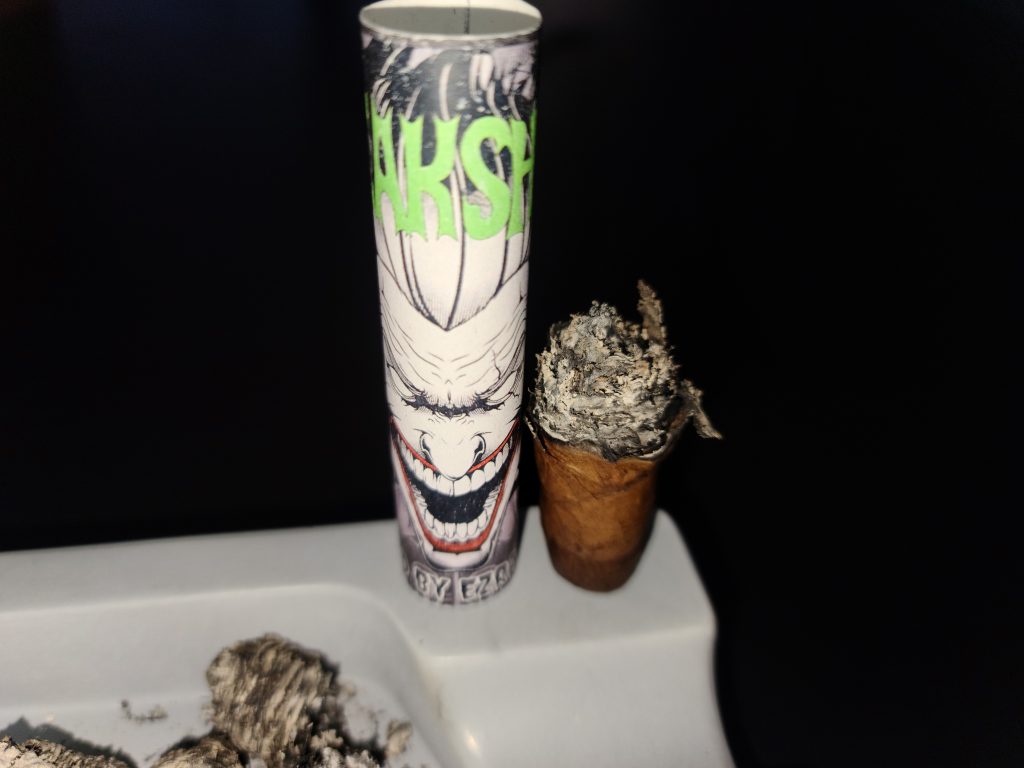 THE FREAKSHOW IS NO JOKE.
I absolutely fell in love with this cigar. From the first puff to the last, the FREAKSHOW delivers. It is a flavor bomb. I can see why they went with the marketing direction that they did. If Gotham's Clown Prince of Crime ever put out a cigar, it would blow up in your face. However, if he made a cigar for himself to enjoy, it would be the FREAKSHOW. I am kicking myself for only picking up one five pack. If you missed this release, then the joke is on you. 
SIMPLY STOGIES RATING:  9.16 / 10.0