My name is Giannis Koutsoupias, and I'm the newest contributor here at Simply Stogies. I am an entrepreneur and whiskey drinker. I also have a love of bespoke cigars.  For my first review, I have chosen the HVC 10th Anniversary. Being a big fan of HVC, I was excited to smoke this new cigar, which was introduced at the PCA Trade Show 2021.
The HVC 10th Anniversary was made to celebrate HVC's 10th anniversary, so this cigar is already special. What makes it unique is this is the first time that Reinier Lorenzo has used Corojo 2012 in a blend. The HVC 10th Anniversary is a Nicaraguan Puro with a beautiful Corojo '99 wrapper grown in the Jalapa Valley.
VITOLA:   Toro Extra
SIZE:   6 – 1/2″ x 50
ORIGIN:   Nicaragua
FACTORY:  Tabacos Valle de Jalapa (Aganorsa Cigar Factory)
WRAPPER:   Nicaraguan Corojo '99 (Jalapa)
BINDER:   Nicaraguan
FILLER:   Nicaraguan  Corojo 2012, Corojo '99, Corojo '98 
STRENGTH:   Medium to Medium Plus
SOURCE: 
Personal Selection at The Vintage Charlotte
WHERE:   
The Vintage Whiskey & Cigar Bar, Charlotte, NC
WHEN:   
10/13/2021 at 5:00pm
DRINKS:   
Butter Pecan Milk Shake & Pellegrino
WEATHER:   
Sunny & Cool Afternoon
WHAT'S ON:   
Straight Up: Kentucky Bourbon
RELEASE TYPE  Anniversary Limited Release
ORIGINALLY RELEASE DATE  PCA 2021
TOTAL PRODUCTION
Typical Box Size:     Boxes of 10
Production Totals:  2000
VITOLA BREAKDOWN
o  Toro Extra  (6-1/1″ x 50)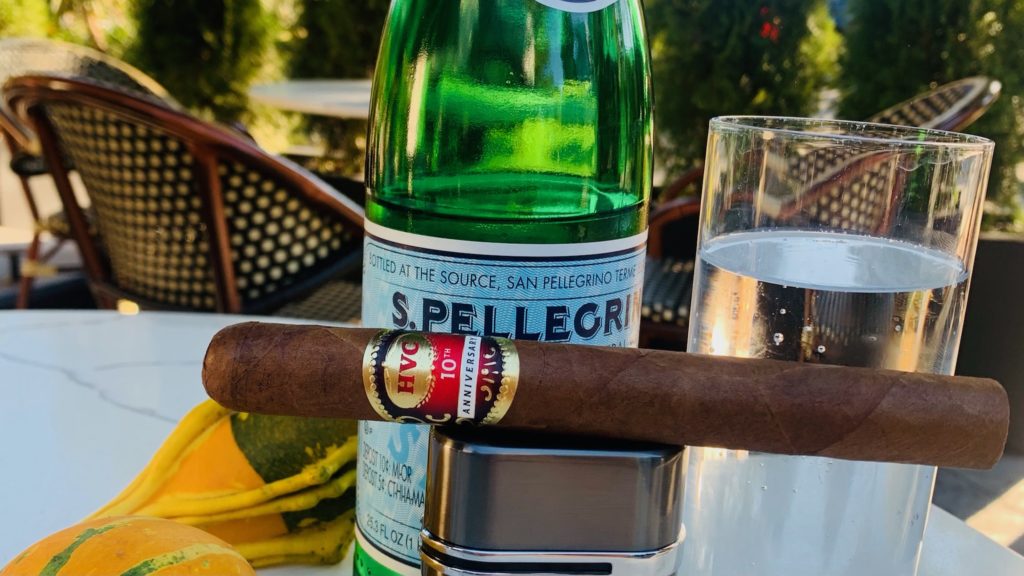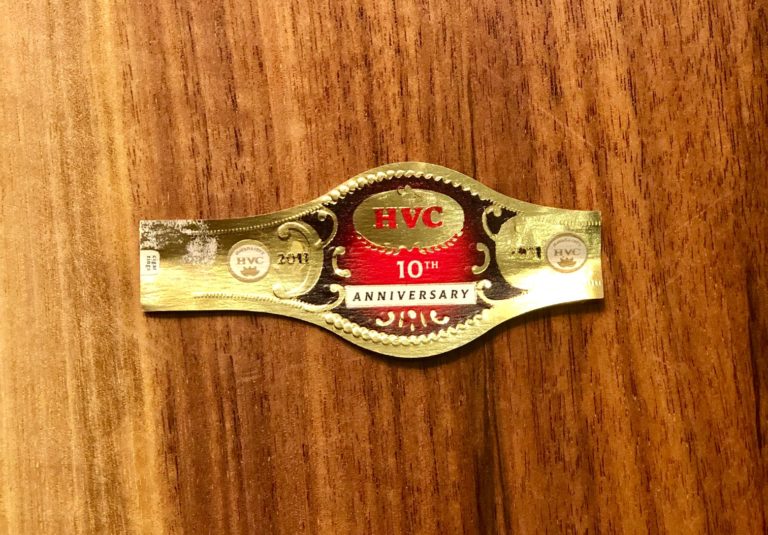 Looking at the band it is easy to tell that the HVC 10th Anniversary is a celebratory cigar. Gold foil surrounds the HVC Logo. The band displays the years 2011 on left & 2021 on the right, denoting the 10 years HVC has been in business. It is a classic yet elegant band fitting of the 10th Anniversary of HVC.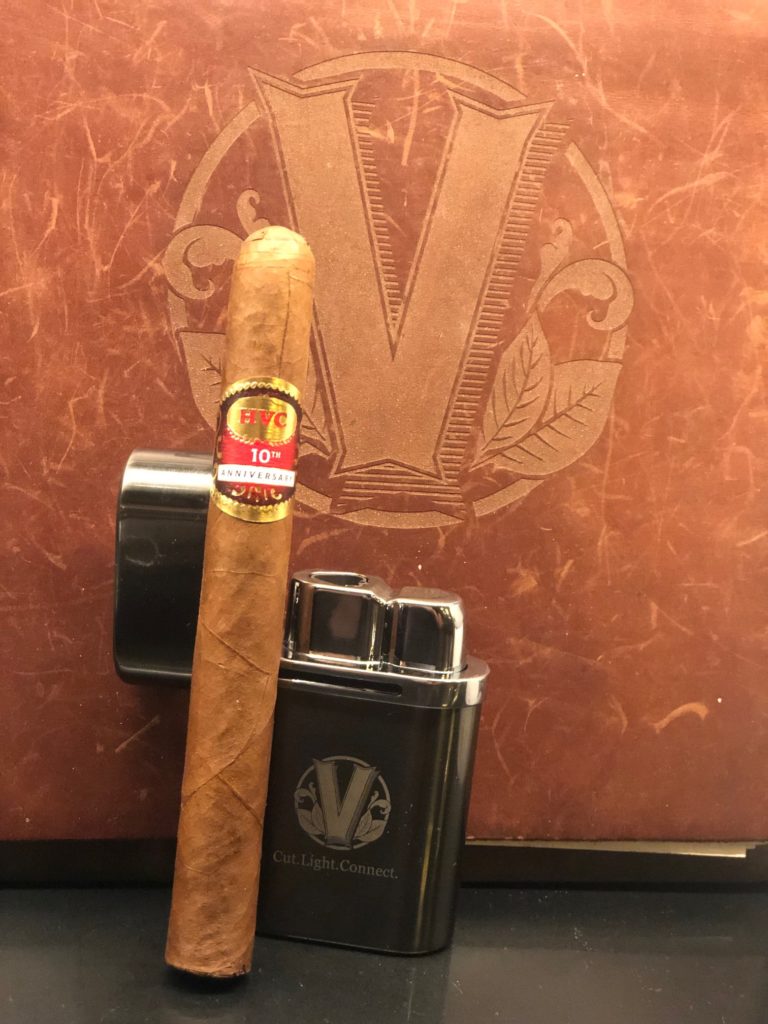 CONSTRUCTION
The Corojo '99 Wrapper is velvety smooth to the touch. A toffee brown, oily and just a very pretty, yet elegant, wrapper. I will point out that the wrapper was stuck to the inside of the cigar band on both cigars I smoked for this review. 
The toro extra size presents is a very sophisticated an sleek way to present the cigar. Personally, I enjoy cigars around a 50 ring gauge, so the 6-1/2 x 50 really makes the HVC 10th Anniversary a lustrous smoke. 
AROMA
The wrapper alone has a nutty, almost cashew, smell to it, while the foot of the cigar has a bouquet of coffee, cream, and nutmeg sweetness. 
COLD DRAW
The cold draw reveals more cashew, along with notes of cow tale/vanilla, caramel, oak, and leather toffee taste.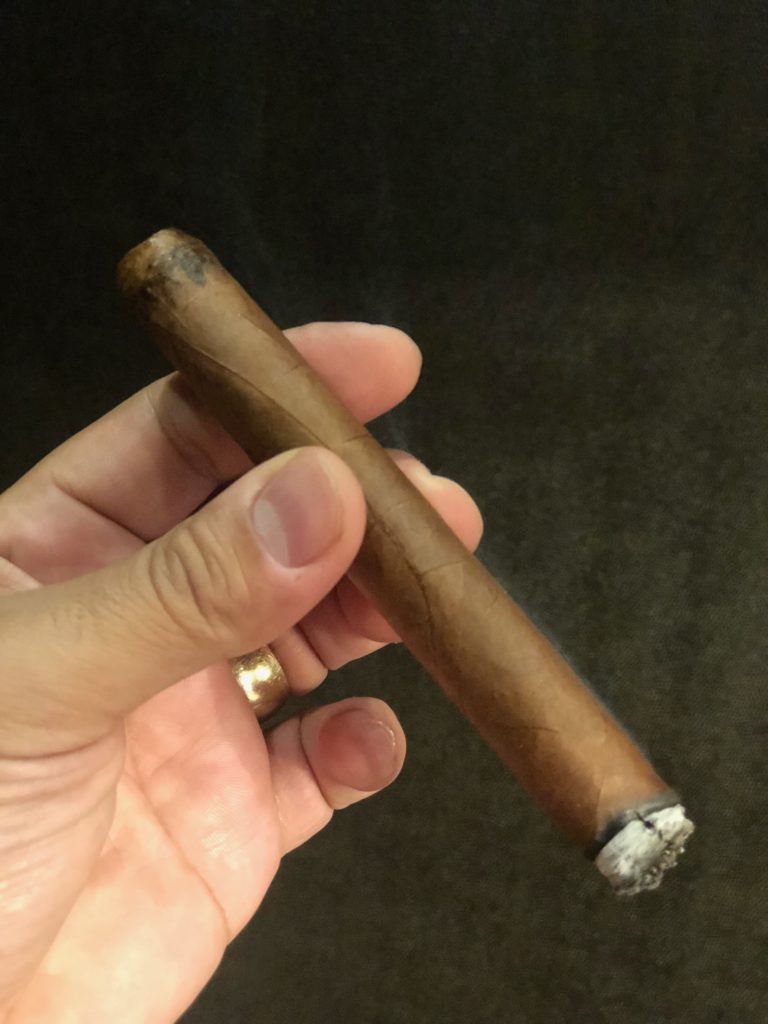 LIGHT & DRAW
Cut:  Straight Cut
Fire:  Butane Lighter
I am hit with a blast of white pepper from the initial light. When that subdues, I detect chili flake with subtle notes of cedar. The cigar lights easily and burns quite nicely. 
The cigar draws very well; smooth, with just a small tug. This draw allows me to enjoy the myriad of flavors coming from the initial draw.
SMOKE
As I pull on the cigar there is a very pleasant aroma of cedar, earth, and a nuttiness that comes through. The smoke production is pleasant and seems to be a lot of initially, but not enough to burn hot. The ash is gray and somewhat flakey. 
FIRST THIRD
>> White Pepper, Cashew, Oak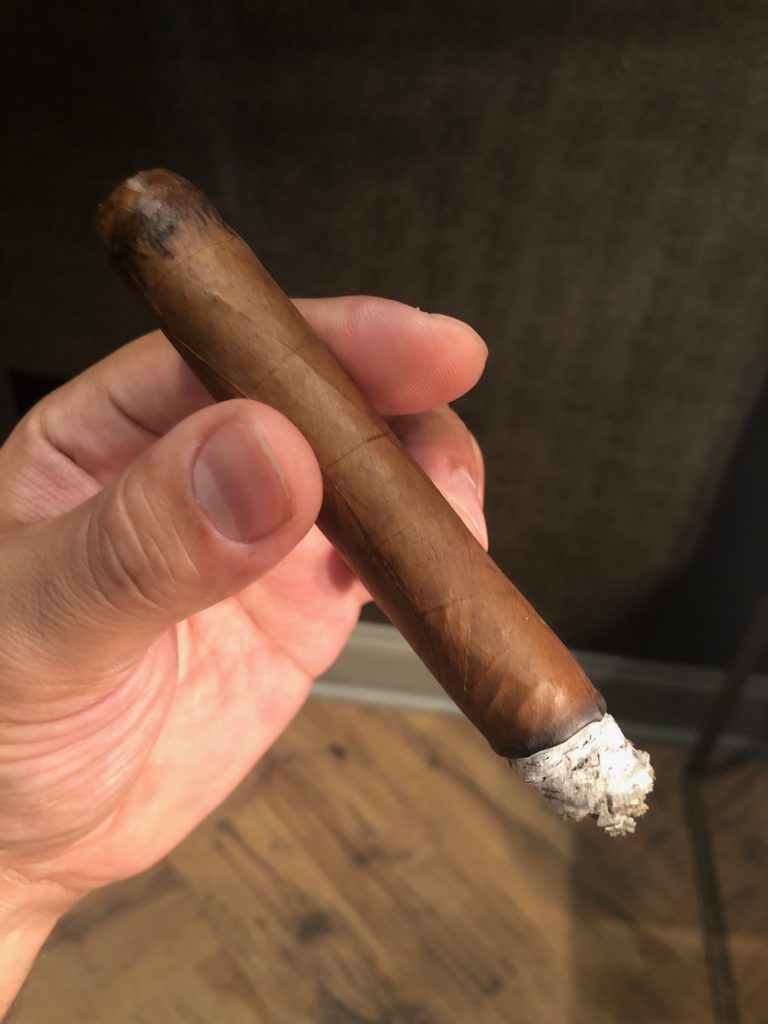 Initially in the first third, you get blasts of white pepper. As you get through the cigar that fades away, but in comes the cow tales, and cashew notes. As you draw you get a nice warm pull of nutmeg, and upon the cool down a smooth buttery oak. I was able to achieve about a 2″ ash before I rolled it off. Literally dropping like small stacks of dimes. 
SECOND THIRD
>> Cedar, Leather, Toffee
Coming into the second third, another stack of dimes dropped off. I am getting oat, cedar, and notes of leather. The pepper is not all gone, but the smooth silkiness of the cashew and toffee notes is carrying to me a place when I first fell in love with cigars. HVC here has done a amazing job created a well balanced yet complex cigar.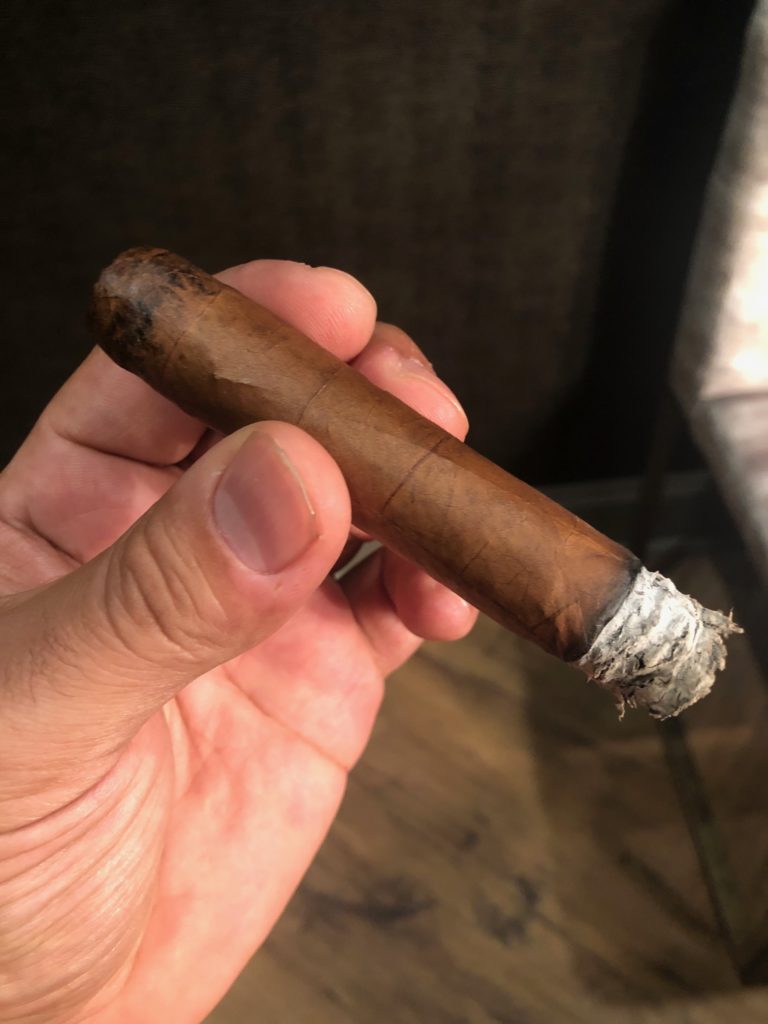 FINAL THIRD
>> Baking Spices, Chili Flake, Black Pepper
Now for the final third, what can I say? This is a well constructed flavorful, and balanced cigar. Reinier has done an excellent job of blending this cigar to satisfy even the most discerning connoisseur. My only negative critique at this point is where the wrapper chipped when I removed the cigar band is starting to flake off. But that is not affecting the flavor or the burn. As I am getting through the last third, the spice and nutmeg are back. This time is it a little more pepper, a slight chili flake, and a dash of black pepper. 
FLAVOR PROGRESSION
From this first third to the last, the cigar was complex yet balanced. I enjoyed the transitions from white pepper to cedar, earthy with notes of cashew, and light finished of black pepper. 
BURN EXPERIENCE
The burn was solid. Other than the slight turn on the flakey wrapper where the band was caught it burned very well. 
RATING BREAKDOWN
0.77 / 0.80 … Craft & Aesthetic
0.49 / 0.50 … Pre-Light Characteristics
0.50 / 0.50 … Lighting Process
7.50 / 7.70 … Smoking Experience
0.49 / 0.50 … Personal Enjoyment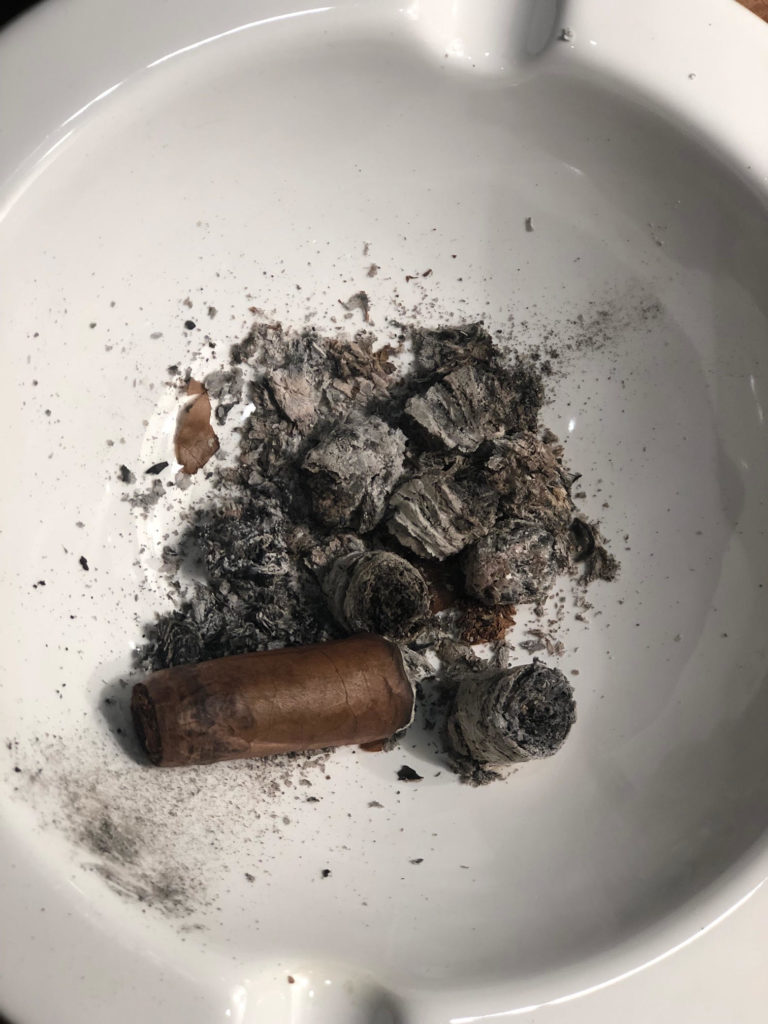 SOMETHING CATCHY.
This cigar smoked like a stack of dimes, one drop after the other. It was simply put a great stogie. A heck of a way to celebrate your 10th Anniversary in my opinion.  
SIMPLY STOGIES RATING:  9.75 / 10.0