J. London is a brand that I was first introduced to during the PCA 2021 Trade Show. I was able to chat with the man behind the J. London brand, Jonathan Fiant. I can remember being impressed with the Gold Series ; so much so, that it ended up being one of our brands to look forward to after last year's trade show. It's taken me over a year to finally get to reviewing this cigar. I have many conversations with my friend, editor, and co-host of Cigars & Coffee (Tim) about the J. London Gold Series. It's still one of his favorite cigars. I was curious to see if  my memory of the Gold Series was accurate, and how one of last year's stand-outs would hold up after a year?
VITOLA:   Toro
SIZE:   6″ x 54
ORIGIN:   Dominican Republic
FACTORY:   Tabacalera William Ventura
WRAPPER:   Aged Ecuadorian Connecticut
BINDER:   Aged Ecuadorian Connecticut
FILLER:   Dominican Republic
STRENGTH:   Mild-Medium
SOURCE:   
Oxford Cigar Company
WHERE:   
On my deck
WHEN:   
July 19 @9:30am
DRINKS:   
Janus Coffee Roasters Phuck Cancer & Ice Mountain bottled water
WEATHER:   
73° & 65% humidity
HOW MANY CIGARS SMOKED:   
4
RELEASE TYPE  Regular Production
ORIGINALLY RELEASE DATE  2017
TOTAL PRODUCTION
Typical Box Size:     Boxes of 12
Production Totals:  Unknown
VITOLA BREAKDOWN
o  Toro (6″ x 54)
o  Robusto (5 x 50)
o  Lancero (7 1/2 x 40)
o  Lonsdale (6 1/2 x 42)
o  The "A" (9 x 45)
o  Belicoso Finos (5 x 52)
o  Box Press Robusto (5 1/2 x 52)
o  Fat Robusto (5 x 56)
o  Queen's Guard (4 1/8 x 38)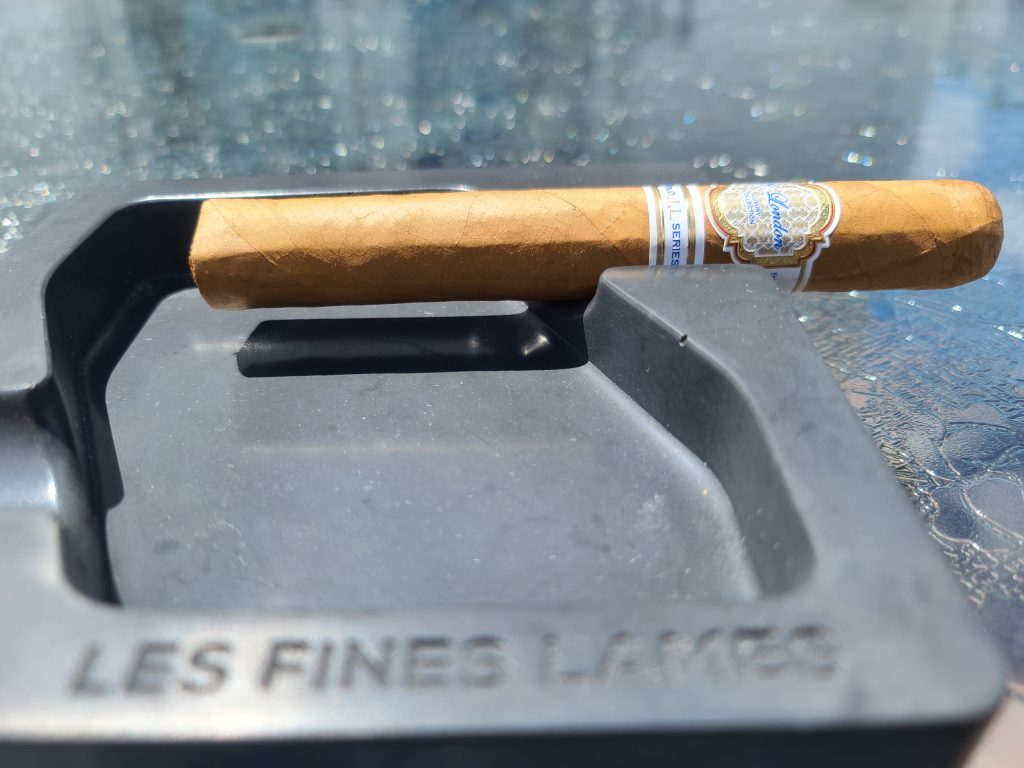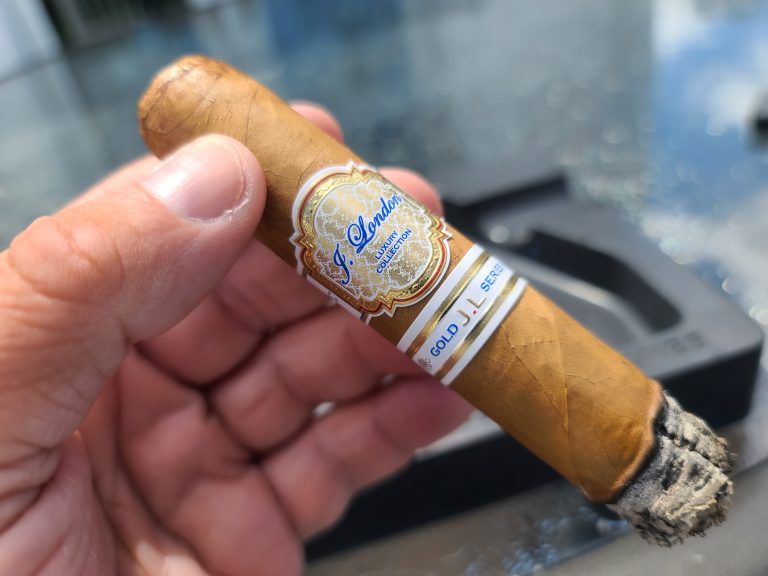 The Gold Series is double banded and could be be described as opulent. Gold with white trim and blue text, set the tone for the smoking experience to come. Honestly, that's what cigar band should do. They should set the stage and give us expectations for what we're about to smoke. The J. London Gold Series bands do just that. There is an intricate design in the middle of the main band that reminds me of filigree found in high end jewelry.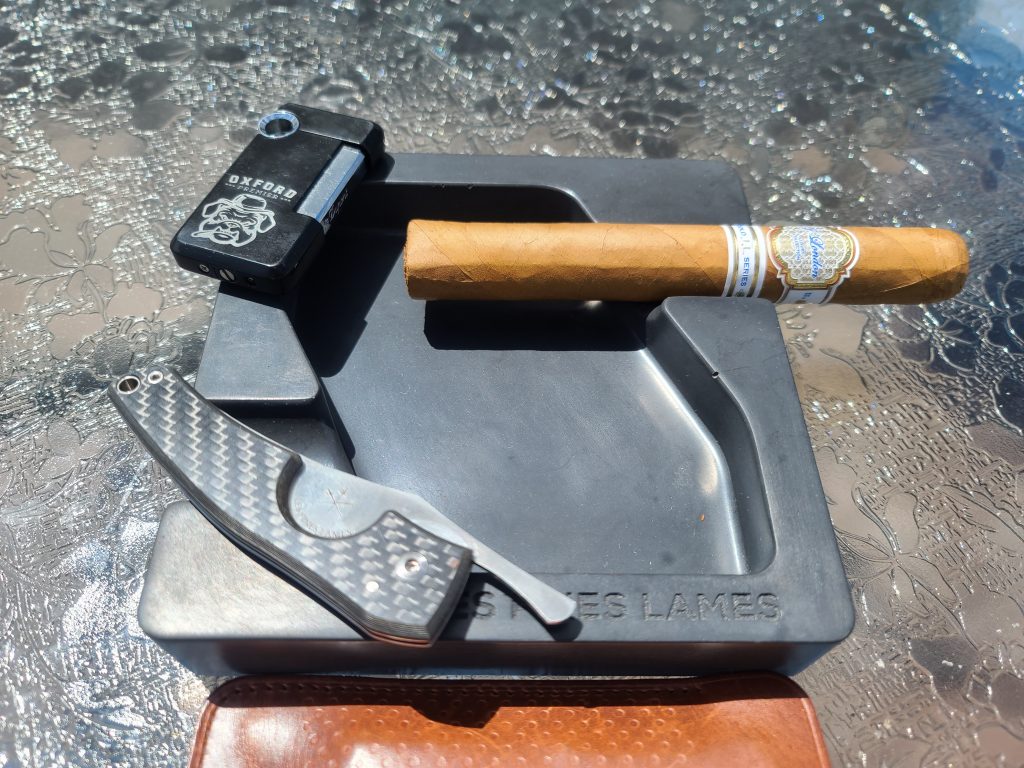 CONSTRUCTION

The J London Gold Series Toro has a few visible veins and one visible seam throughout. The wrapper is a bit rough to the touch and has one noticeable watermark. The cap appears to be expertly applied on all of the cigars smoked for this review. One of the cigars I smoked for this review did feel hard to the touch; not dry, just very hard. It had no give, while the other three gave just a bit when pinched.
AROMA

The Ecuadorian Connecticut Shade wrapper has notes of barnyard, tobacco, and hints of vanilla and wood. The foot exudes a mustiness, with a rich raisin note and more of the barnyard.
COLD DRAW

The cold draw gives up sweet tobacco with a bit of a sour note, and is accompanied by an almost mocha-like undertone. The draw is near perfect in each of the cigars smoked for this review.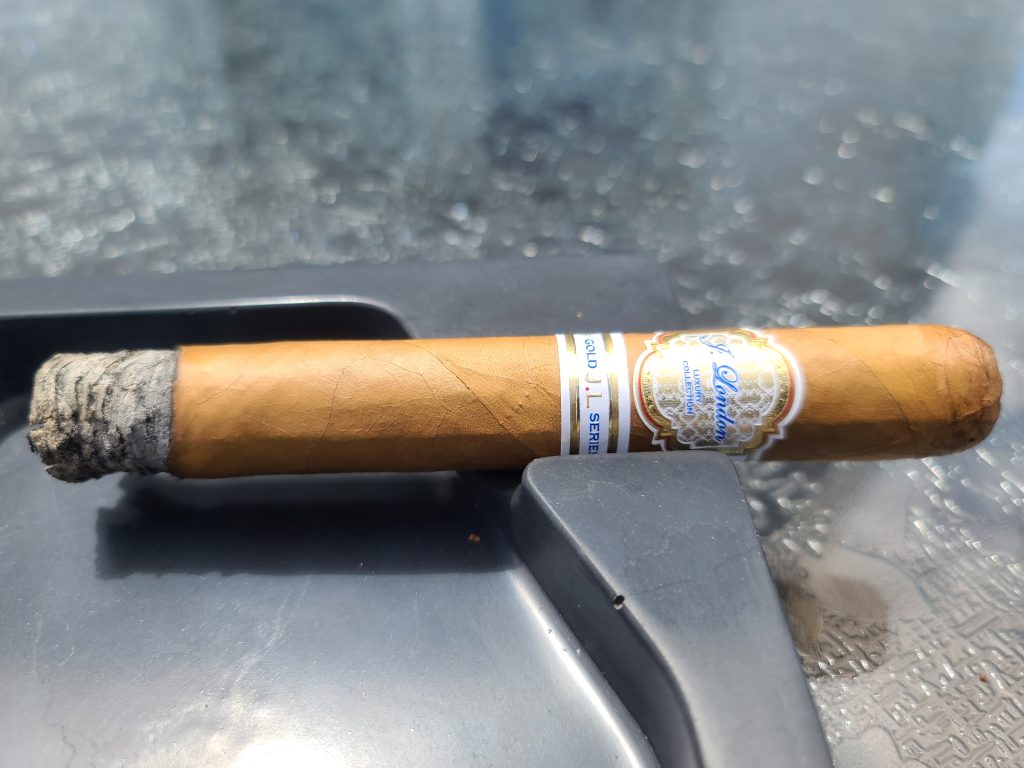 LIGHT & DRAW
Cut: Les Fines Lames LE PETITE cigar knife
Fire: ST Dupont Hooked
The first few puffs reveal notes of avocado oil, caramel, wood, coffee, and blasts of pepper on the retrohale. A sweetness lingers on the finish that helps mellow out the pepper. Salty, sweet, and savory to begin. There is this an unctuous, creamy quality to start with. The first cigar smoked for the review goes out after just a few puffs. I relight, but it goes out yet again after a few puffs. I relight yet again. This cigar will prove to be the only one out of the four that has issues.
SMOKE

The smoke output on the final three smoked for this review is more than satisfying, but not enough to be obnoxious. The first cigar I smoked had almost no smoke output. More curious was the ash. The ash was almost all black and flaked off in big chunks. It was the damnedest thing.
FIRST THIRD
>> Caramel, Lemon Zest, Black Pepper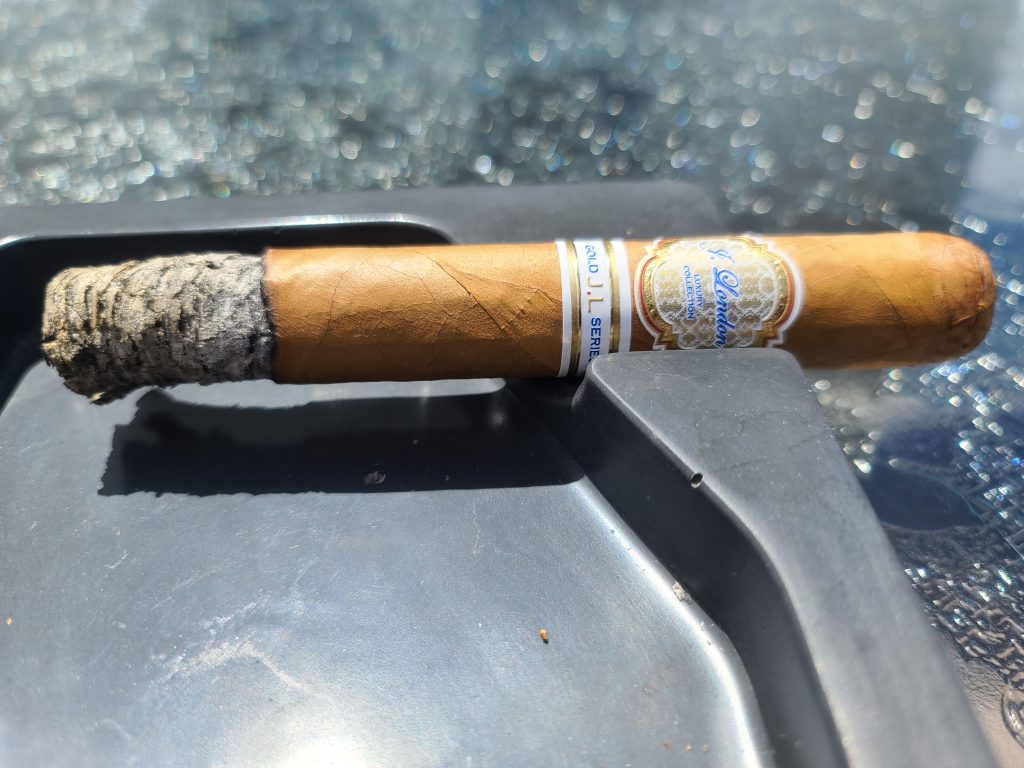 The J. London Gold Series Toro begins with salted nuts that are juxtaposed against the subtle sweetness of caramel. An almost charred cedar lurks underneath, held up by the richness of mushroom. Black pepper rules the retrohale. The burn line is razor sharp. The ash is compact and a gorgeous grey with black streaks running through it. A note of citrus cuts the richness of the Gold Series. A musty earthiness and wood dominate my palate. A hint of lemon zest keeps things interesting. I find myself wishing for more from this first third, but there just isn't more there. The saltiness returns, if only for a moment, and amplifies the sweet and nutty notes.
*The first cigar had to be relit multiple times for each third. The flavors were there but the construction was abysmal, the smoke output was minimal, and the burn line was uneven. This holds true for each third.
SECOND THIRD
>> Baking Spices, Mocha, White Pepper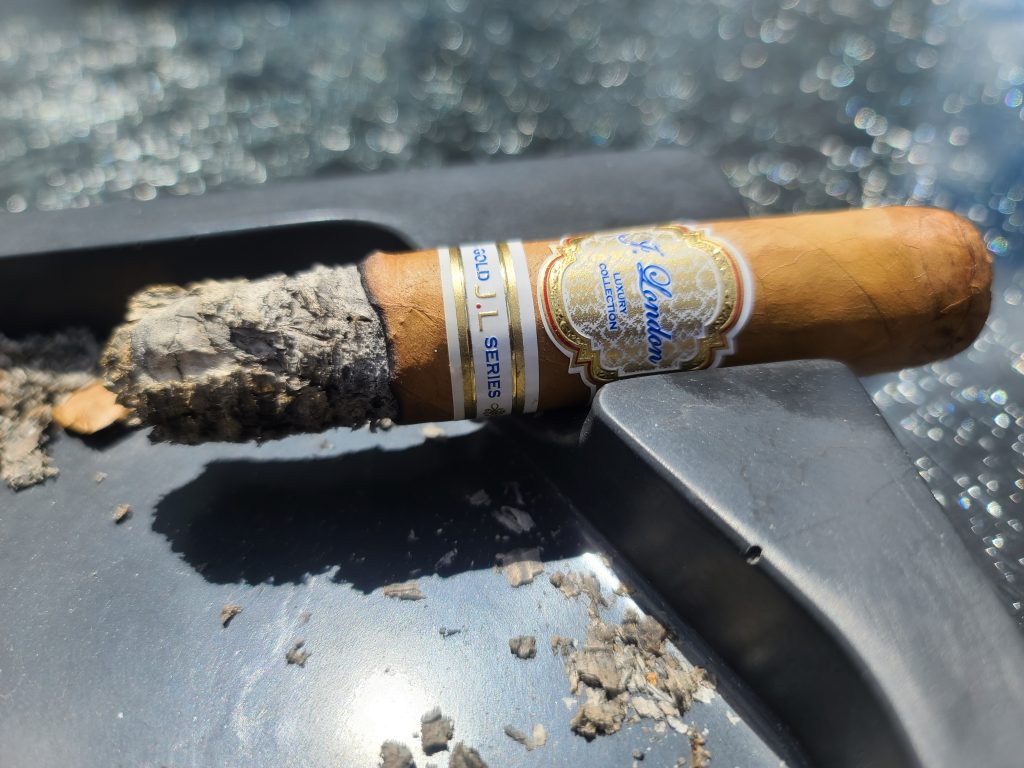 The second third begins with a delicate floral note, notes of baking spices, a hint of vanilla, and a wonderful note of mocha. Quite the change from notes of mushroom and wood in the first third. The ash had been holding on brilliantly…until now. It fell from around 10in high and into the ashtray, where it lost all cohesion and shattered into a thousand flakes. No matter. At least it landed in the tray. White pepper on the retrohale accentuates the spiciness found in this middle third. Oddly enough, it works with the mocha note, too. The cedar note makes its way back into the flavor profile, and somewhat overpowers the mocha. It reminds me more of chocolate mousse now, as the coffee note is almost completely wiped out by the cedar. It's delicious. The ash, disappointingly, becomes a bit flakey as the burn line remains even. The J. London Gold Series is still creamy and a note of avocado oil comes back in to remind you of that.
FINAL THIRD
>> Fruit, Chocolate, Black Pepper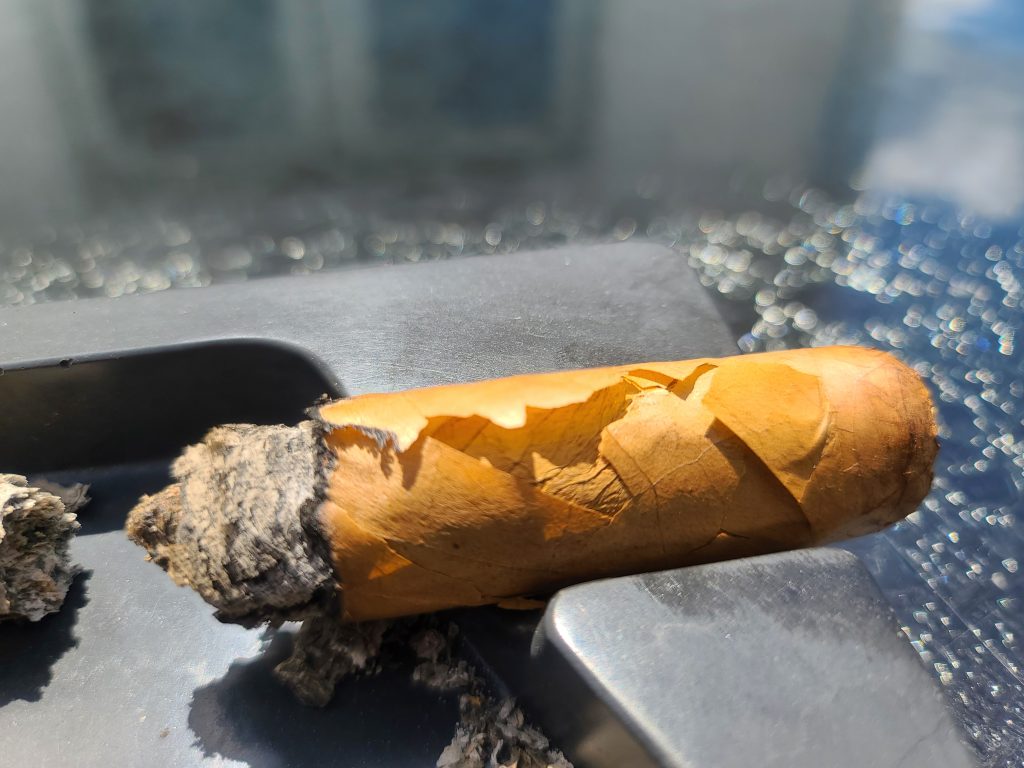 A sweet fruit note begins the final third of the J. London Gold Series. Notes of sweet cream, baking spices, and wood follow. Black pepper returns to the retrohale. The fruit note reminds me of golden raisins and maybe a splash of vanilla. The ash is straight up flakey and the wrapper has started to unravel a bit near the top. As I take off the main band it's apparent that there was too much glue used, and it takes a chunk of the wrapper with it. This, coupled with the first J. London Gold Series Toro I smoked, does not leave me confident in their construction. Charred wood, butter, and leather now dominate this final third. There is a red pepper-esque spiciness that is tingling my tongue. It's quite good. Chocolate returns to add some depth to the final third. 
FLAVOR PROGRESSION
The J. London Gold Series Toro has everything you want, in terms of flavors: sweet, savory, salty, bitter. Rich notes of chocolate and coffee against notes of salted nuts, butter, cream, and fruit. The middle third stands out as the star of the show. It is more complex and nuanced than the first and final thirds. While nothing seemed out of place and every flavor flowed into the next, the first and final thirds did seem to be a bit pedestrian when compared to the middle third.
BURN EXPERIENCE
This is where the J. London Gold Series Toro really loses the plot. Taking the first cigar out of the equation, each of the cigars smoked for this review became flakey after the first third. The burn line would vacillate between razor sharp to wonky to uneven and back to razor sharp. While it did not really affect the smoking experience, it was mildly annoying. The more concerning aspect was the inability of the ash to hold its shape.
RATING BREAKDOWN
0.50 / 0.80 … Craft & Aesthetic
0.45 / 0.50 … Pre-Light Characteristics
0.40 / 0.50 … Lighting Process
6.30 / 7.70 … Smoking Experience
0.30 / 0.50 … Personal Enjoyment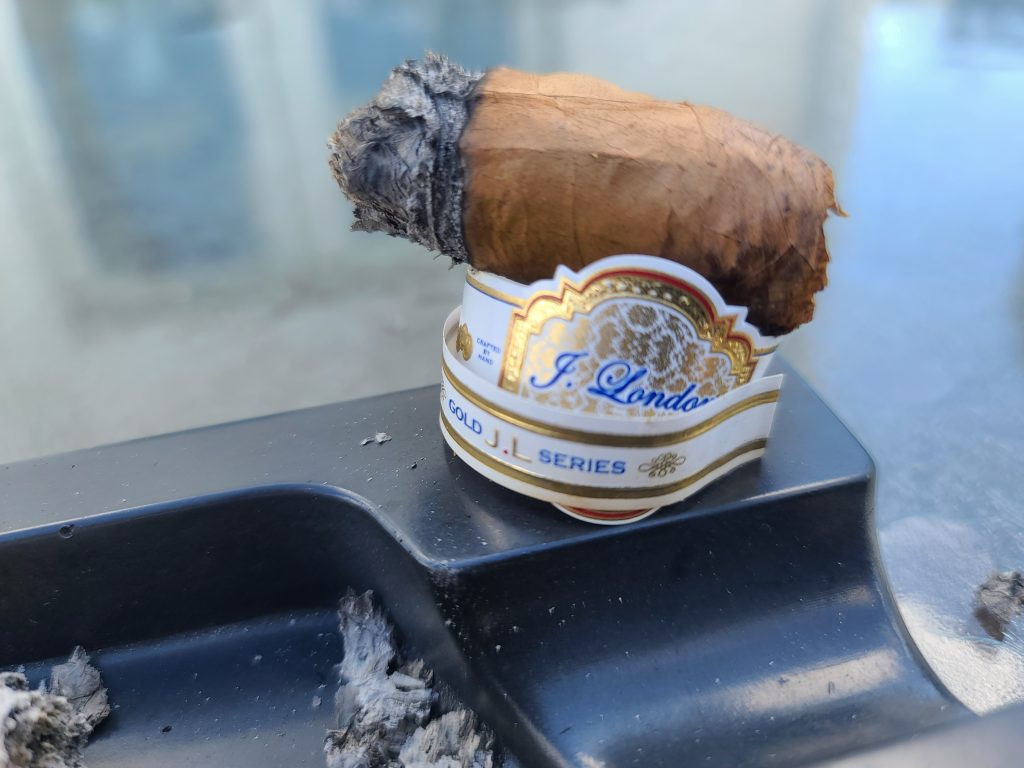 PLAY IT WHERE IT LIES.
I sometimes hate doing reviews; especially when I have issues with a cigar I love. Make no mistake, I do love the J. London Gold Series. The flavor profile hits my palate just right. Unfortunately, some cigars dud. It happens. What's worse is when I get a dud during a review. This is the case with the J. London Gold Series Toro. The first one I smoked was, without hyperbole, the most poorly constructed cigar I've ever smoked. I got through it, but it was nothing but a pile of black, flaked ash. I had to relight that cigar no fewer than 12 times. That's going to have an effect on the score. If I take that out, it's an 8.8 all day long. But I have to be fair across the board. Should you try a J. London Gold Series? Yes. Absolutely. It's a medium bodied smoke that pairs extremely well with coffee and makes a perfect morning smoke. The flavors of chocolate, fruit, citrus, nuts, caramel, wood, leather, and pepper are exquisite. Just be aware that the Ecuadorian Connecticut Shade wrapper is on the delicate side.
SIMPLY STOGIES RATING:  7.95 / 10.0