This is a new column where I'll be reviewing less expensive smokes. I love a high-end cigar as much as the next person, and I'll smoke an Opus, Casdagli or Atabey on special occasions, but I smoke one or sometimes even more cigars every day. I need good, lower priced daily rotation sticks so I don't end up broke and divorced. And finding a deal on an expensive box is great, but for this column I'm focusing on cigars that are readily available for about $6 each or less.
The ratings will be scaled to account for value, so don't try to compare these rating to the other staffers give. If I give a $4 cigar 9 out of 10, that doesn't make it as "good" in the traditional sense as a $15 cigar that James gave a 9.0. It means that as $4 cigars go, I think it's excellent.
For my first review I'm smoking the Joya de Nicaragua Silver Ultra. This is a solid, well-blended cigar at a great price. A few years ago I was smoking a lot of Joya Antanos, but there was a point where the tang those have started to taste artificial to me and the experience was ruined. When they released the Joya Red, it had the same effect and I didn't enjoy it, and for a while I didn't touch any Joya de Nicaragua products. But last year at a Drew Estate event I was given a few Silvers and fell back in love with the brand. Later, when the cigar shop manager needed to clear out a shelf of swag and offered a Hands of Time ashtray and a Carlito bobblehead with any box purchase, I ran, not walked, to the humidor to grab a box of these.
VITOLA:   Ultra
SIZE:   6-1/4 x 46
ORIGIN:   Nicaragua
FACTORY:   Fabrica de Tabacos Joya de Nicaragua S.A.
WRAPPER:   Ecuadorian Oscuro
BINDER:   Mexican San Andres
FILLER:   Nicaraguan
STRENGTH:   Medium – Medium Full
SOURCE:   
Tobacco Haven
WHERE:   
Tobacco Haven Lounge
WHEN:   
November, 1, 2020
DRINKS:   
Cold Water
WEATHER:   
N/A
WHAT'S ON:   
Loud New Englanders and cop shows
RELEASE TYPE  regular production
ORIGINALLY RELEASE DATE  [August 18, 2018]
TOTAL PRODUCTION
Typical Box Size:     Boxes of 20
Production Totals:  N/A
VITOLA BREAKDOWN
o  Box Pressed Corona Extra  (6-1/4″ x 46)
o  Toro  (6″ x 52)
o  Corona  (5-1/4″ x 42)
o  Robusto  (5″ x 50)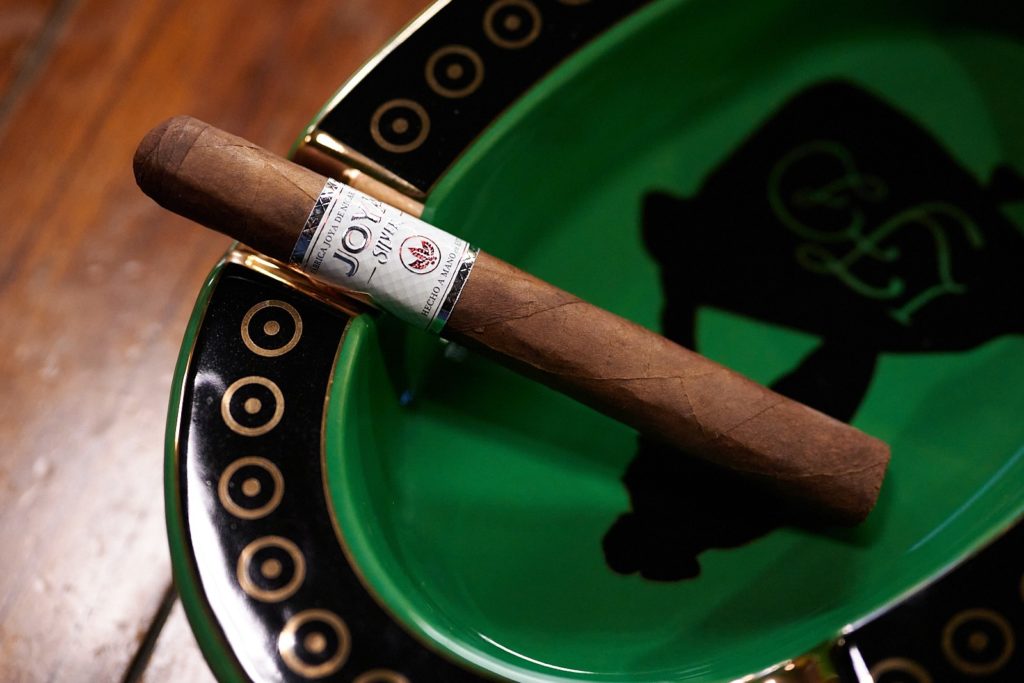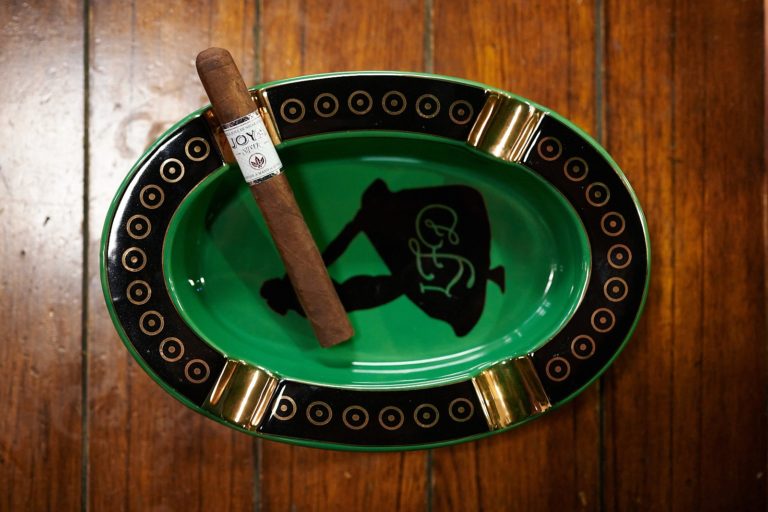 The white and silver band on dark wrapper makes an impression.
CONSTRUCTION
Mottled dark brown wrapper, oily, medium veins, fine grained tooth. Box pressed, average pack at the foot. One of the three cigars was slightly bumpy with an inconsistent width. Wrapper scent is mild, with cinnamon spice, cocoa, sweet tea, earthy.
AROMA
Wrapper scent is mild, with cinnamon spice, cocoa, sweet tea, earthy.
COLD DRAW
Cold draw is a bit tight with a good classic tobacco flavor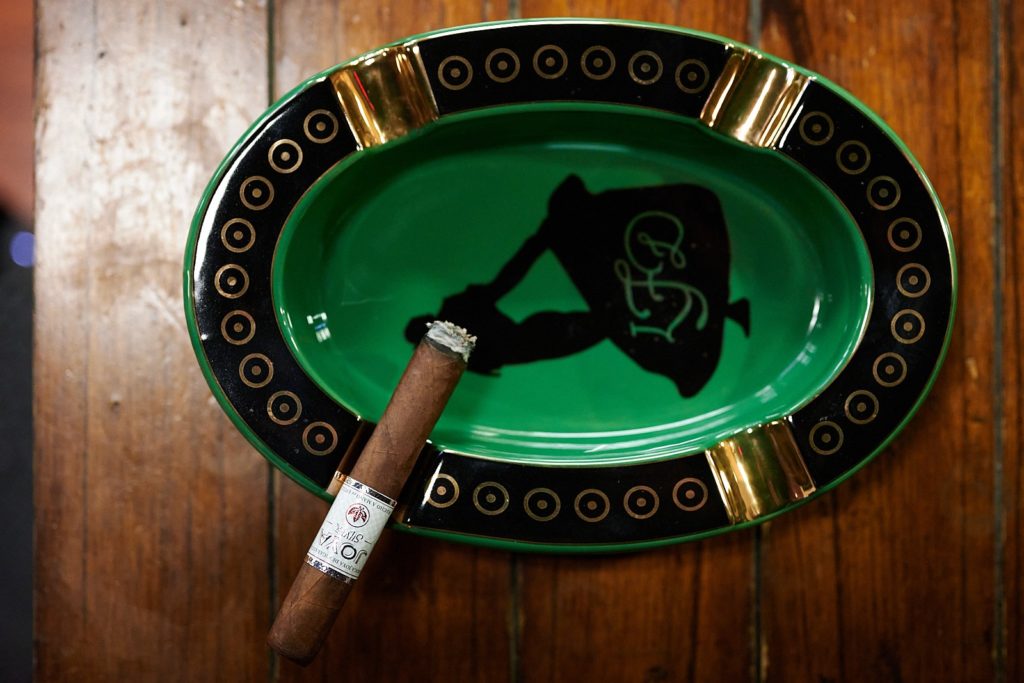 LIGHT & DRAW
Cut: Straight cut with Lotus serrated guillotine
Fire: Toast and light with 2-flame torch.
FIRST THIRD
>> Unsweetened Chocolate, Earth, Spice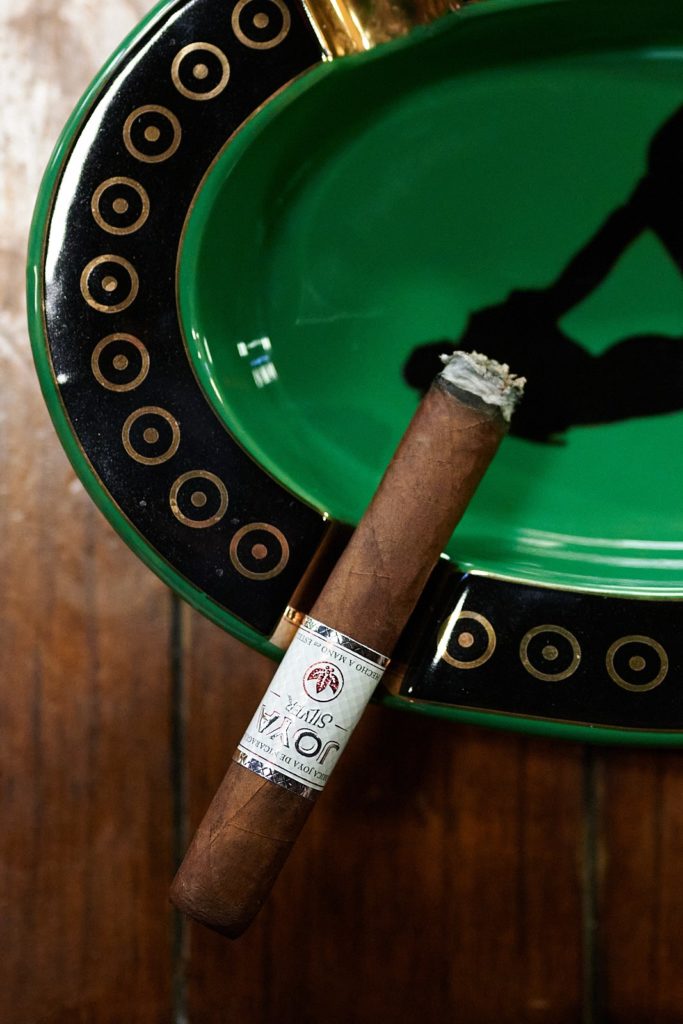 An initial pepper hit gives way to flavors of unsweetened baking chocolate, earth and a tangy, peppery spice on the retrohale. There's some body here – past medium. Nose tickling on the retrohale. Sweetness builds slowly, and baking spices on the cinnamon-nutmeg spectrum.
SECOND THIRD
>> Chocolate, Baking Spices, Wood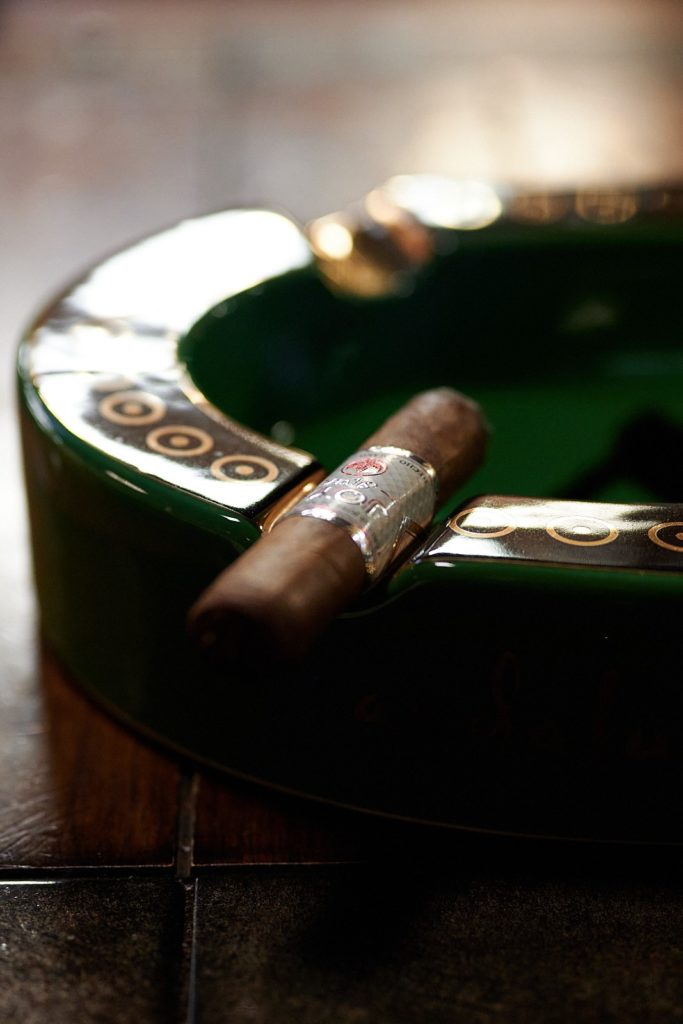 The flavor is predominantly classic Nicaraguan maduro. Semi-sweet chocolate, baking spices with cinnamon and allspice notes, earthy undertones and a bit of cedar. Those flavors are present throughout. The highlight notes are where things change up. There are pleasant tangy notes that come and go. Grapefruit, plum, cardamom, lemon peel, pine, sweet tea and sour apple Jolly Ranchers. The pepper on the retrohale has calmed down to a mild white pepper.
FINAL THIRD
>> Baking Spice, Dark Chocolate, Red Pepper Flake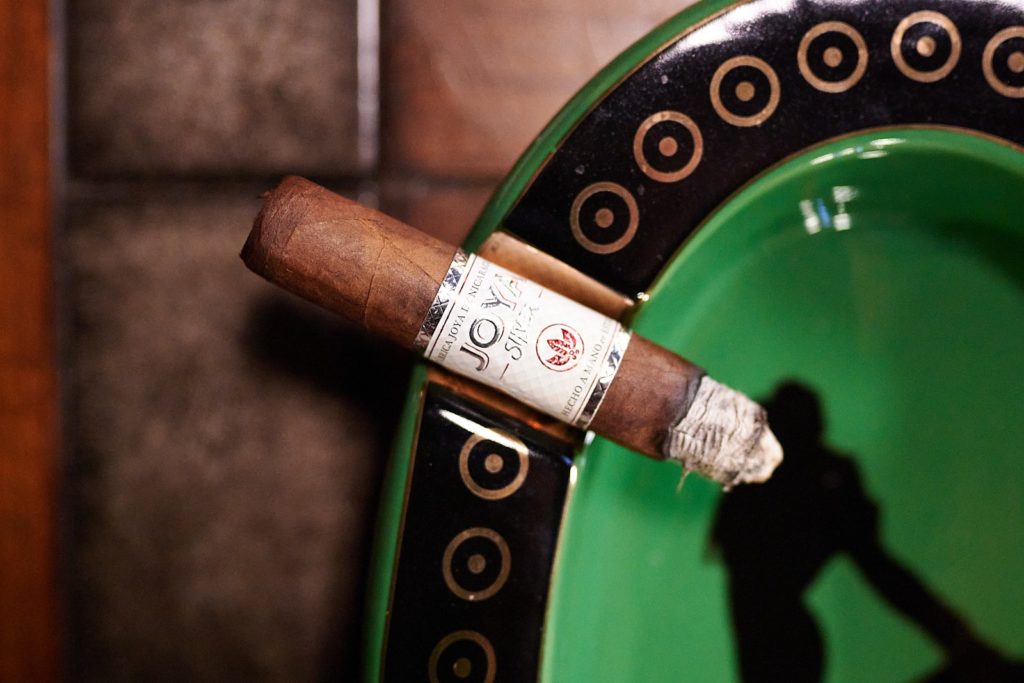 Base profile remains consistent. Ash is not flaking – there's nothing on my black shirt. Medium sweetness, ratrohale is TANGY. Reminiscent of the Antano tang but less so and not unpleasant. More of that (green) cardamom, allspice, red pepper flake, bougie super dark chocolate, fresh thyme, dark roast coffee beans, dates, black currants.
FLAVOR PROGRESSION
It was a consistent flavor of Nicaraguan Maduro. The chocolate, baking spices, and pepper are always there. There are more subtle variations in the highlights.
BURN EXPERIENCE
Two of the three samples has a good medium draw and burned well without a need for relights or touchup. The other one – the one with less consistent build – had an initially tight draw that let up in the middle after burning through a tight spot, and needed a few touch up lights to keep the burn even.
RATING BREAKDOWN
0.60 / 0.80 … Craft & Aesthetic
0.40 / 0.50 … Pre-Light Characteristics
0.40 / 0.50 … Lighting Process
5.60 / 7.70 … Smoking Experience
0.40 / 0.50 … Personal Enjoyment
1.20 / 1.20 … Budget Multiplier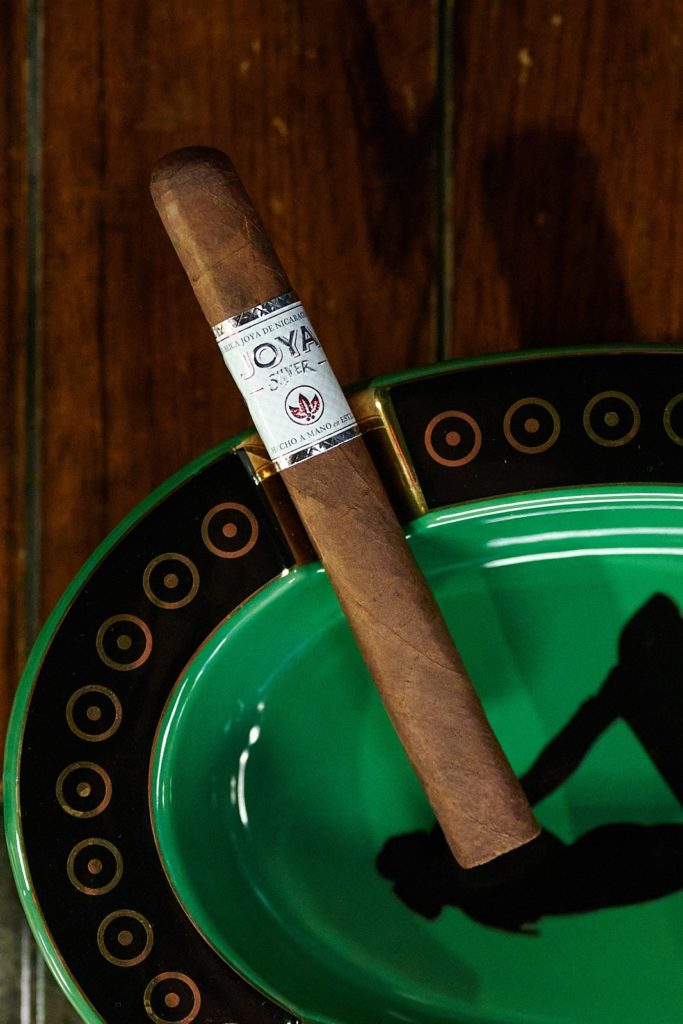 Joya Gets A Gold Star for Silver
This is a cigar I'd compare to one of those red wine blends that are designed for mass market appeal. It's perfectly positioned for the American market. I don't mean that in a bad way. Joya has been around for a long time, they know what they're doing, and they know how to make a flavorful cigar It brings bold and sometimes complex flavors, with a lot of nuance on top of a traditional Nicaraguan maduro backdrop. If the build quality were a bit more consistent it could pass as a $10 stick. But the inconsistencies were a minor annoyance, and if that's what it takes to keep the price low I welcome a few lumps. It's earned a spot in my regular rotation. There are sources that sell these for $30 a fiver, so it's easy to give it a try.
SIMPLY STOGIES RATING:  8.88 / 10.0