For those not in the know, the story of how Micallef cigars began is quite interesting. The story goes that Al Micallef was at his local cigar lounge for a cigar rolling event featuring the Gomez Sanchez family. Upon leaving the event, Al came upon a van that was broke down on the side of the road. He stopped to help. It was the Gomez Sanchez's van. He enjoyed their cigars and at the event and offered to go into business with them. The van was fixed and the rest, as they say, is history. Micallef has come a long way in the last few years, and the Reata Corona Extra is proof of that.
According to Micallef's website, the Reata is named after Al Micallef's restaurant in the Ft. Worth, TX. In early February of this year, Micallef announced they were expanding the Reata line from two sizes, to four. They added the Corona Extra (6″ x 46) and the Toro (6″ x 52) to the existing Torpedo (6″ x 52) and Churchill (7″ x 48). Rolled in their factory in Esteli, Nicaragua, the Reata features a Mexican San Andrés wrapper, an Ecuadorian binder, and Nicaraguan filler.
VITOLA:   Corona Extra
SIZE:   6″ x 46
ORIGIN:   Nicaragua
FACTORY:   Micallef Cigars S.A.
WRAPPER:   San Andrés Sumatra
BINDER:   Ecuadorian
FILLER:   Nicaraguan
STRENGTH:   Mild to Medium
SOURCE:   
Micallef Cigars
WHERE:   
My deck.
WHEN:   
June 18 @2:45pm
DRINKS:   
Ice Mountain bottled water
WEATHER:   
81° & 79% humidity
HOW MANY CIGARS SMOKED:   
3
RELEASE TYPE  Regular Production
ORIGINALLY RELEASE DATE  February, 2022
TOTAL PRODUCTION
Typical Box Size:     Boxes of 25
Production Totals:  Unknown
VITOLA BREAKDOWN
o  Corona Extra  (6″ x 46)
o  Toro  (6″ x 52)
o  Torpedo  (6″ x 52)
o  Churchill (7″ x 48)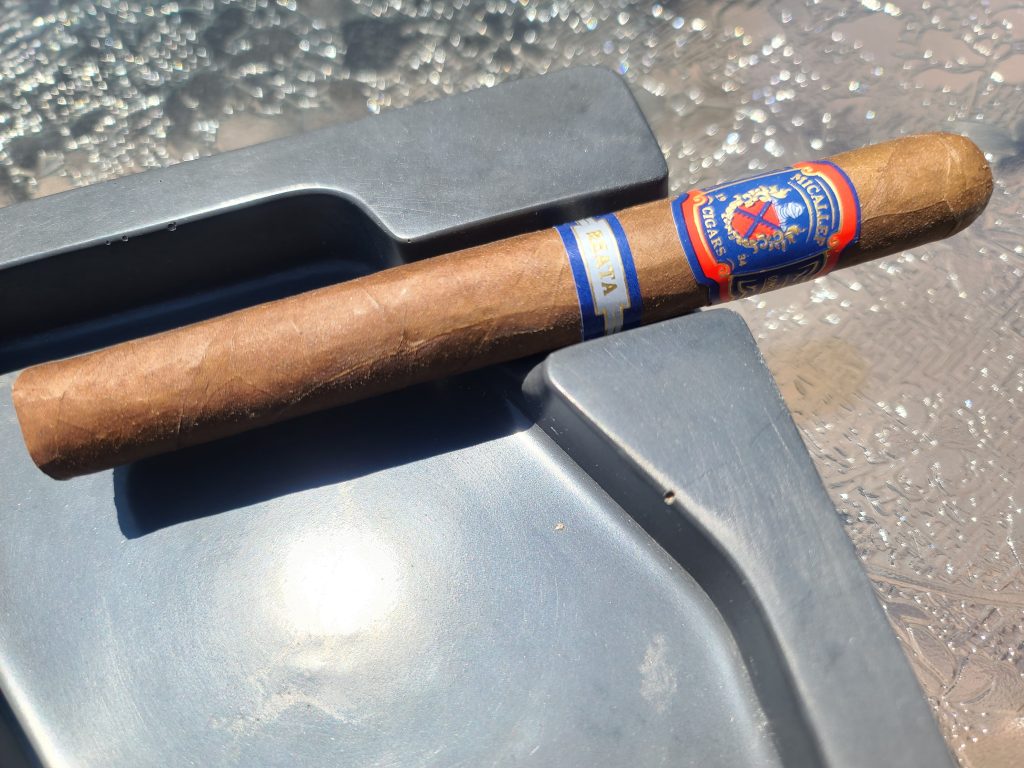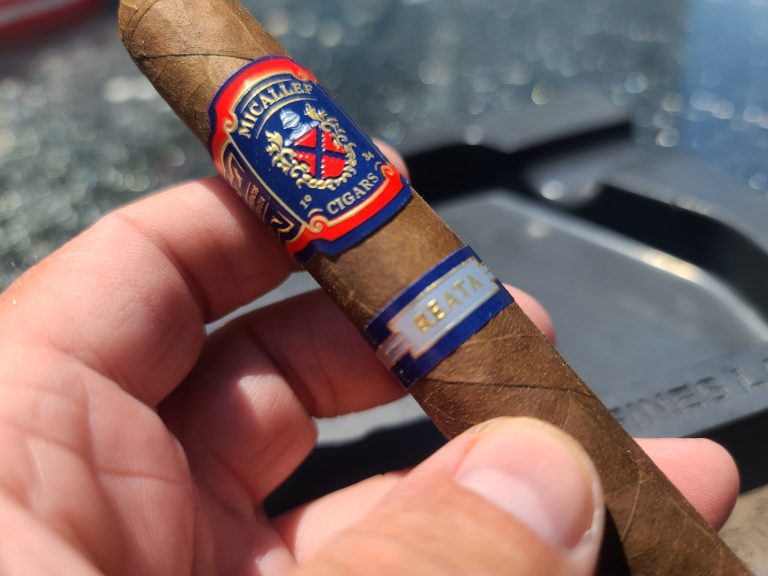 The Reata is double banded, and the bands are gorgeous. Dark blue flanked by red or silver with gold accents. Micallef has changed their bands a few times since I've learned of the company. They still display the coat of arms which serves as their logo, as well as displaying "Micallef Cigars" above and below the logo. What's more, the sides proudly display, who made the cigars and where they made them, "Fabrica de Tabacos Estili, Nicaragua" and "Handmade by Gomez Sanchez Family."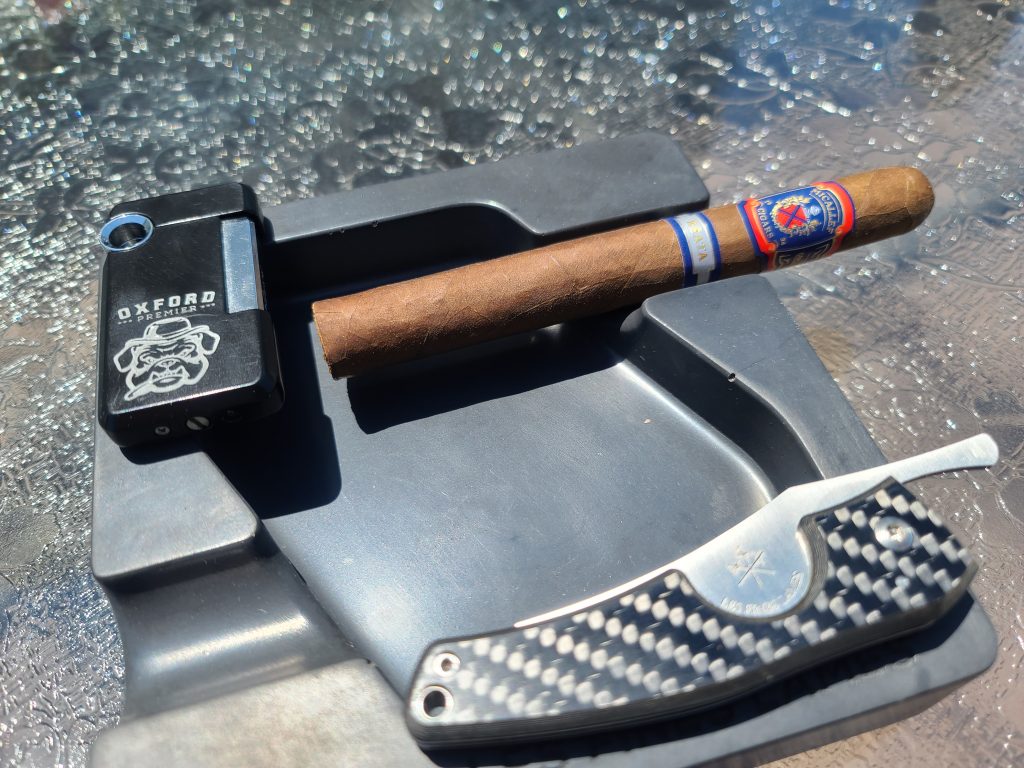 CONSTRUCTION

The wrapper is rough to the touch and toothy. It is a gorgeous shade of milk chocolate. There are a few bumps, and even fewer veins, that run through the Reata's chocolatey. The cap appears to be an expertly applied triple cap. The Reata is simply a gorgeous cigar.
AROMA

The wrapper gives off notes of cedar and barnyard that intermingle and morph into an intoxicating scent that has me chomping at the bit to light it. The foot continues the barnyard and cedar, but adds notes of freshly mowed grass with just a hint of a floral scent.
COLD DRAW

The draw is a bit on the tight side. There is an unexpected sweetness that is hard to describe: almost floral, almost honey, almost chocolate, and with just a touch of nuttiness. It's delicious.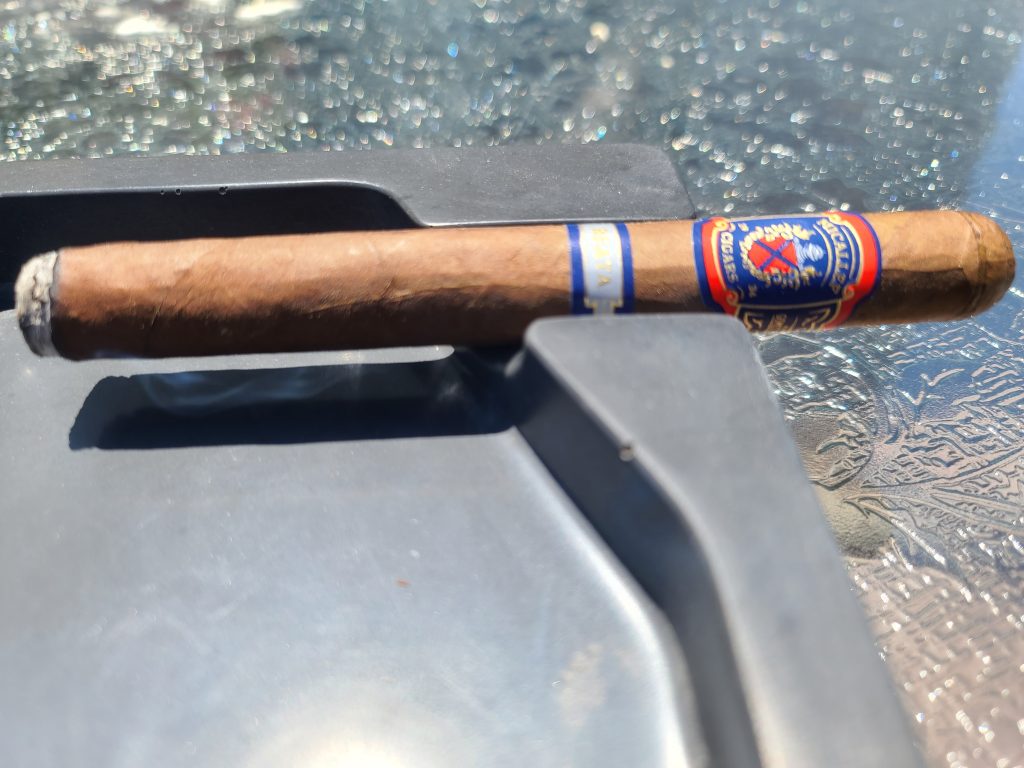 LIGHT & DRAW
Cut: Les Fines Lames LE PETITE cigar knife
Fire: ST Dupont Hooked
 l light the Reata Corona Extra and am immediately hit with sweet, spicy, nutty and not at all overpowering. Black pepper stings the nostrils on the retrohale. Nuts and honey linger on my palate. The draw is still a bit tight, but I don't think it will cause any problems.
SMOKE

Thick and creamy smoke billows out of the Reata, even at rest.
FIRST THIRD
>> Caramel, Coffee, Baking Spices, Black Pepper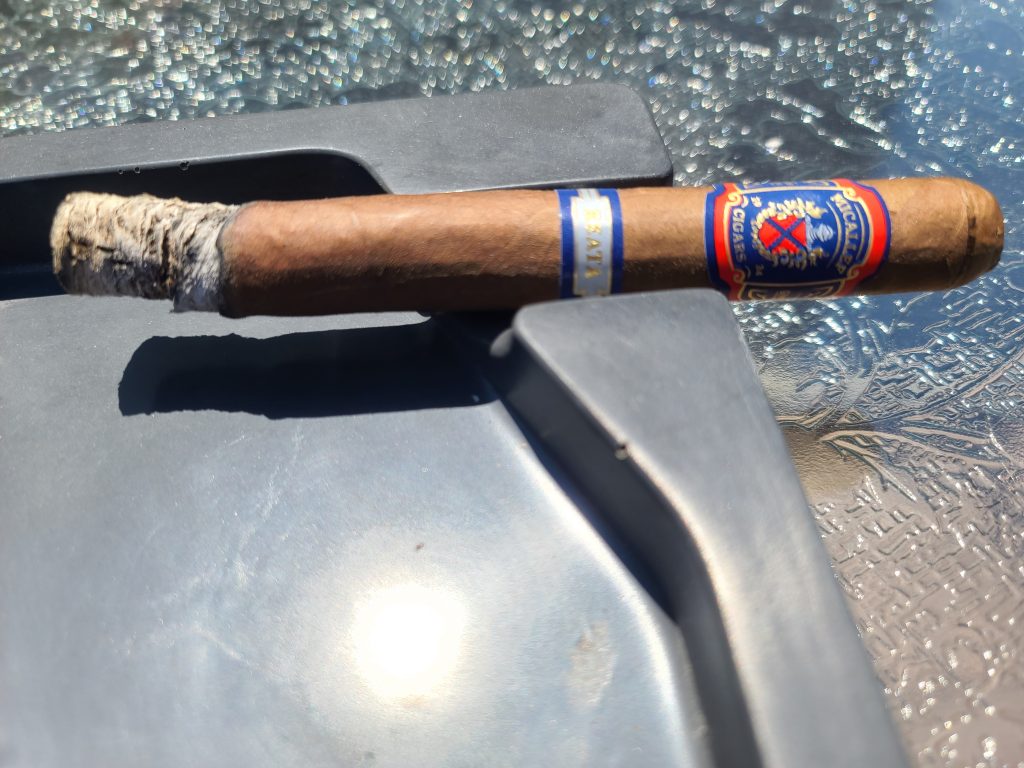 Caramel, baking spices, nuts, and chocolate all meld together into a wonderfully sweet and spicy treat. The retrohale has calmed down to a dull stinging of my nostrils with the note of black pepper, that just plays with sweetness of the Reata. Chocolatey sweetness is front and center. A buttery note of caramel and nuts linger on the palate. The ash is white with streaks of black running through it, and compact with no flaking. The burn line is wonky, but doesn't require a touchup. White pepper rules the retrohale. Now notes of coffee and cream join the party, followed by notes of cedar, nutmeg, butter, and a herbaceousness. A bit of lemon zest livens things up. The caramel comes and goes, playing tag with the coffee note. The sweet and spicy work well together in this first third.
SECOND THIRD
>> Wood, Toffee, Spiced Bread, White Pepper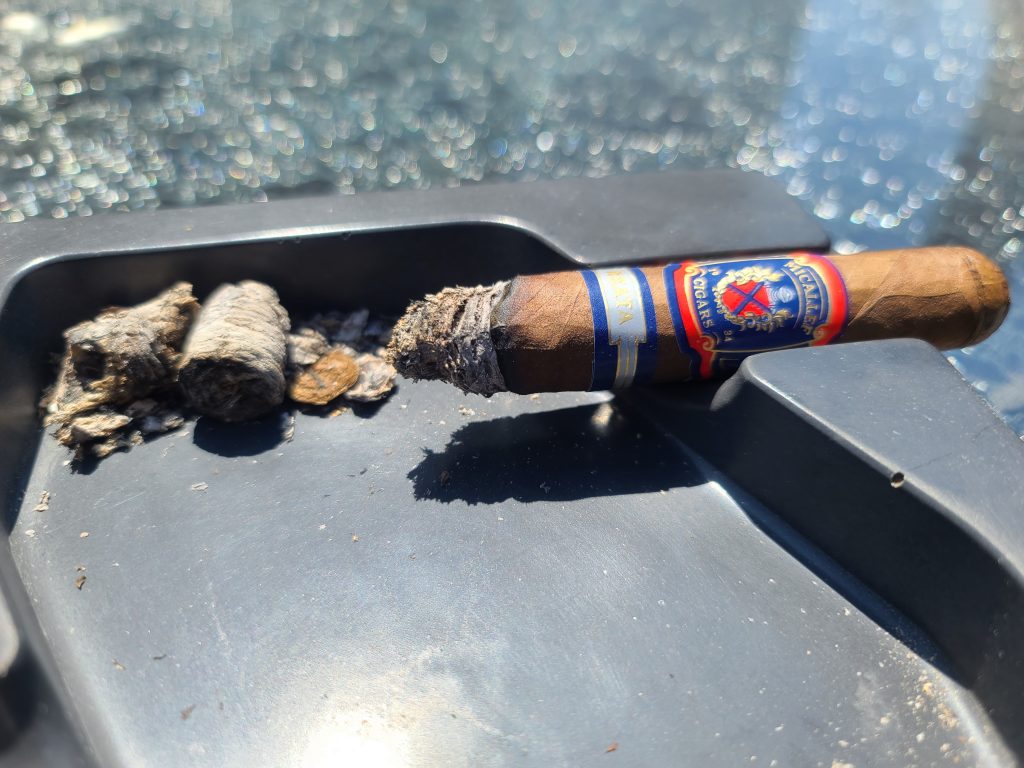 The middle third of the Reata begins with a dominant note wood, accompanied by notes of toffee, nuts, and spice. A floral note lingers on my palate. It is brilliant. The middle third starts off more savory than sweet. Spiced bread has joined the chat. The burn, for its part, has evened out. The ash is still compact and holding strong. The smoke is still creamy and unctuous. White pepper on the retrohale. Red pepper begins to claw at the back of my throat. Avocado oil brings its buttery smoothness to the party. Honey finds its way back to my palate.
FINAL THIRD
>> Charred Wood, Sweet Cream, Coffee, Black Pepper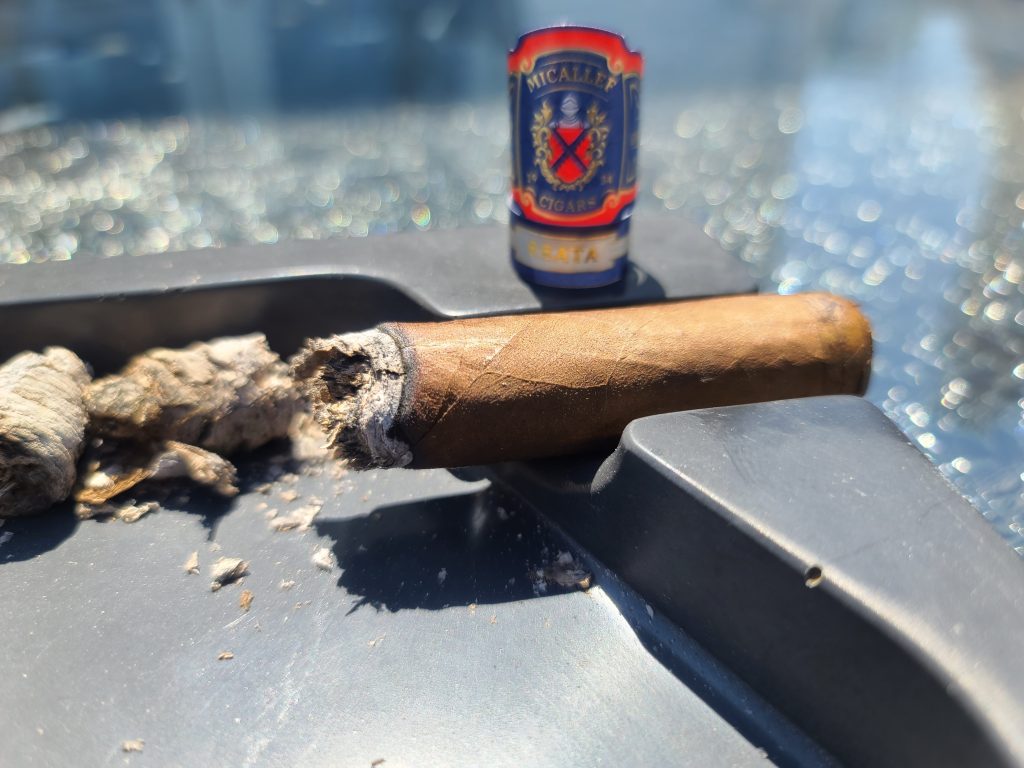 Black pepper returns to the retrohale. Notes of charred wood, salted nuts, earth, and leather begin the final third. There is a nice sweetness that holds everything up; it's more of the honey and chocolate. It's a masterful juxtaposition to the rich, earthy notes that begin this final third. Wood and butter is not a combo that I ever thought I'd enjoy, but here we are. Baking spices join the pepper on the retrohale. The burn is now razor sharp and the ash has been consistently great. Zero flakes. I mean none at all. The bread note has returned, as has a touch of sweet cream. These flavors all come together to help prop up the charred wood and earth that are holding this final third of the Reata together. Rich notes of dark chocolate, leather, wood, and toffee finish out the Reata.
FLAVOR PROGRESSION
The Micallef Reata Corona Extra has everything I'm looking for in terms of flavor progression: Well-defined thirds, smooth transitions, and no out of place flavors. All the flavors of the Reata work together to create a sweet and savory profile. The juxtaposition makes for a cigar experience that will delight both aficionados and enthusiasts. No flavors dominate the others, which makes it a great cigar for the most novice of cigar smokers.
BURN EXPERIENCE
Here's where I must, once again, point out that reviewers love to find things wrong with whatever cigar we happen to be reviewing. Why? I don't know. Maybe it's because we want to feel important? But when the only thing we can find wrong is a slightly wonky burn experience, you know you've found a very good cigar. The Reata Corona Extra needed no touchups or relights. It never became uneven and burned fairly well, other than at the beginning.
RATING BREAKDOWN
0.76 / 0.80 … Craft & Aesthetic
0.49 / 0.50 … Pre-Light Characteristics
0.50 / 0.50 … Lighting Process
6.90 / 7.70 … Smoking Experience
0.47 / 0.50 … Personal Enjoyment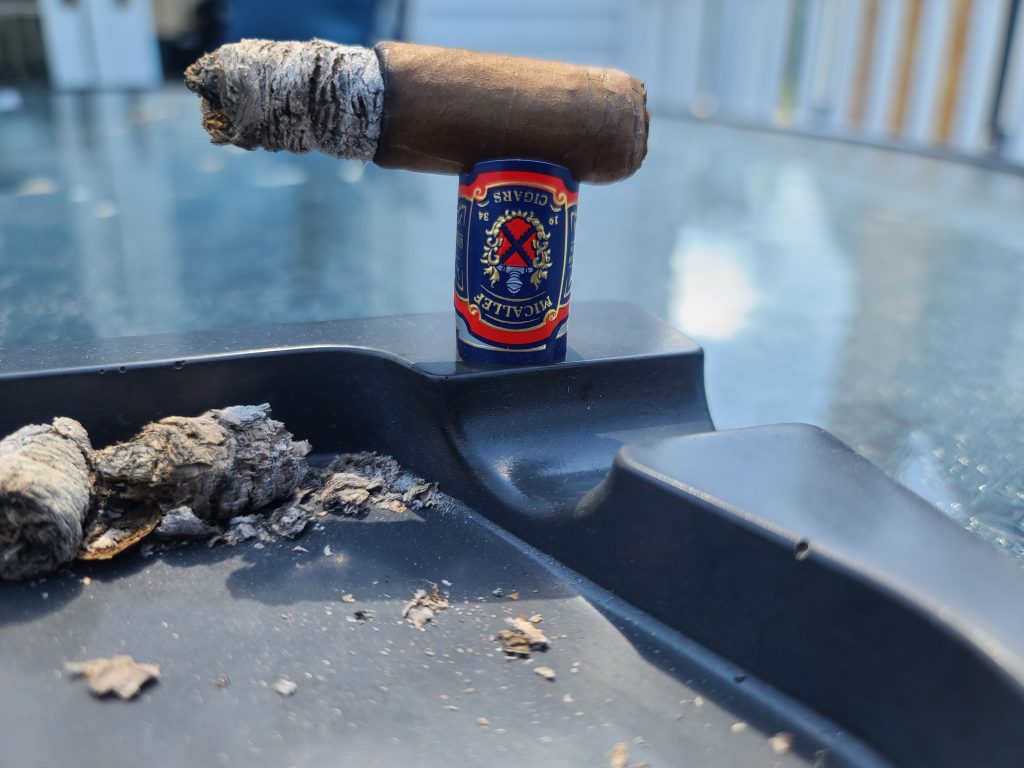 SWEET, SAVORY, & SUBLIME.
The Reata Corona Extra kind of surprised me, to be honest. The Reata was full of complex tasting notes and nuanced flavors that kept me interested from light to nub. While this isn't something new in mild to medium cigars, it's not always executed at a high level; the Reata is. It would pair well with a coffee first thing in the morning, or with a bourbon or rum in the evening. The Reata is a hit.
In my opinion, Micallef is one of the cigar manufacturers that just doesn't get enough love in the industry. Probably because they're hyper-focused on their B&M family, rather than on the large online retailers. There's something to be said for that. In a world where cigar manufacturers are focused on profits and their bottom line, Micallef is also focused on supporting those who support them: B&Ms. 
SIMPLY STOGIES RATING:  9.12 / 10.0