Dissident Cigars was not a brand that was ever on my radar. It wasn't a brand that I saw in a lot of shops. From everything that I had heard, Dissident did not have the best relationship with retailers…until December of 2021 when Josh and Cynn Coburn announced that they had purchased Dissident Cigars. I was familiar with Cynn and Josh because they were entrepreneurs and "influencers" who were from my home state. The Coburns have been grinding for Dissident ever since.
During the PCA 2022 Trade Show, Dissident Cigars debuted their first limited edition since Josh and Cynn bought the company: the Molotov. I have been looking forward to reviewing this cigar since I got my hands on them in November. The cigar even made some folks Top 25 of 2022, which further piqued my interest. The Molotov features Cynn Coburn on the band and box artwork and has an Ecuadorian Rojiso wrapper that is draped over an Ecuadorian binder and Nicaraguan and Dominican fillers.
VITOLA:   Robusto
SIZE:   5″ x 50
ORIGIN:   Nicaragua
FACTORY:   Fabrica Oveja Negra
WRAPPER:   Ecuadorian Rojiso
BINDER:   Ecuadorian
FILLER:   Nicaraguan & Dominican
STRENGTH:   Medium+ – Full
SOURCE:   
Dissident
WHERE:   
Home Lounge/Studio
WHEN:   
Jan 15
DRINKS:   
Spring Mountain bottled water
WEATHER:   
70°
HOW MANY CIGARS SMOKED:   
3
RELEASE TYPE  Limited Edition
ORIGINALLY RELEASE DATE  July 2022
TOTAL PRODUCTION
Typical Box Size:     Boxes of 20
Production Totals:  10,000 total cigars
VITOLA BREAKDOWN
o  Robusto  (5″ x 50)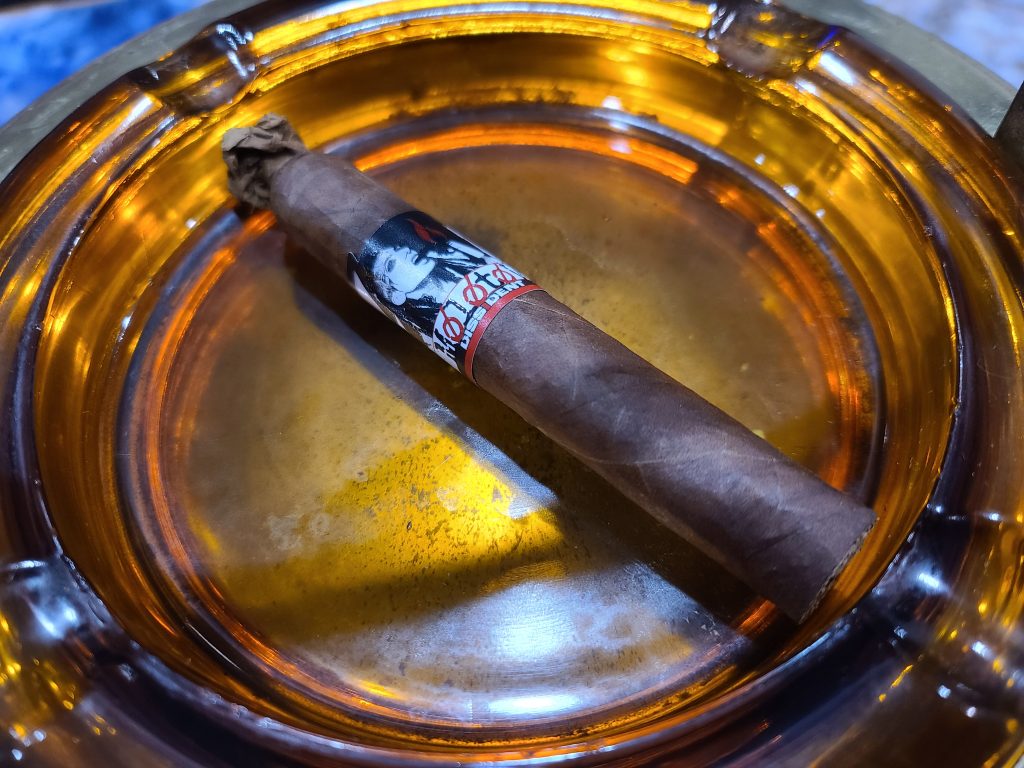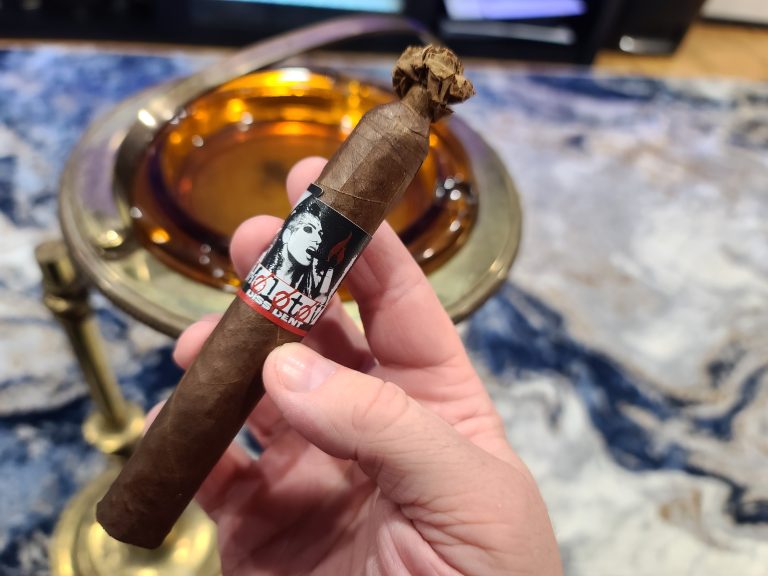 The band is in eye catching black, white, and red. Cynn Coburn's face next to the Dissident lightning bolt logo highlights the Molotov. The band itself is a bit larger than a normal band. The artwork definitely fits with Dissident's overall theme and aesthetic.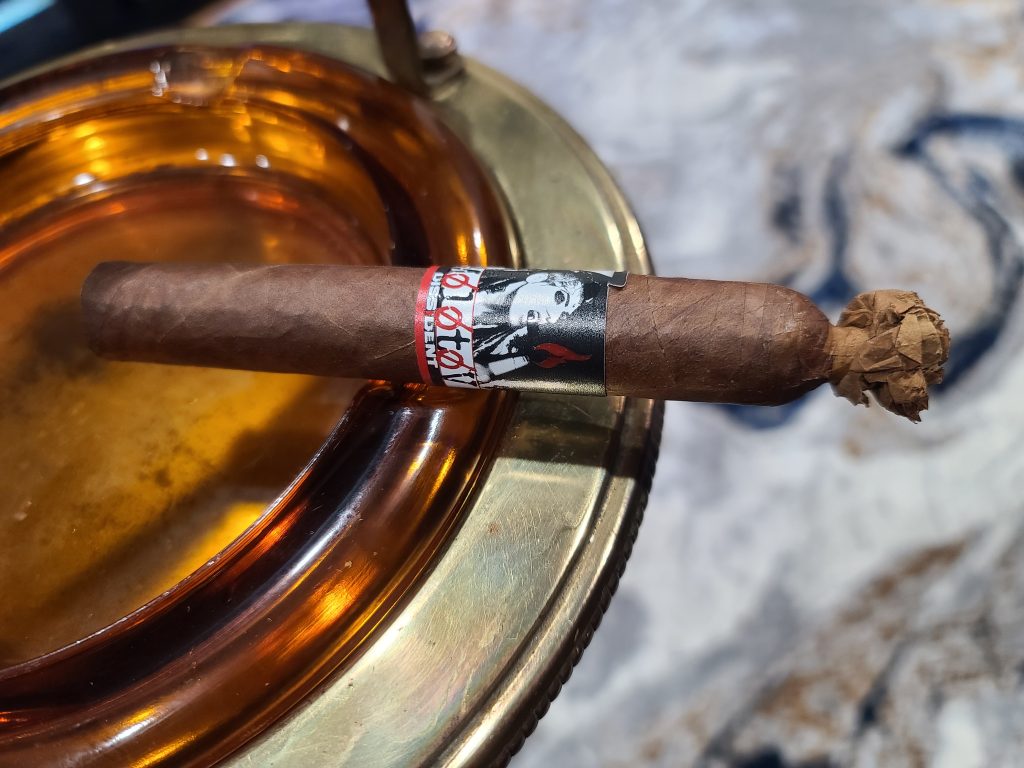 CONSTRUCTION

Wild. Just wild. The head of the Molotov features a flared cap. Tobacco has been bunched up to resemble a lit Molotov cocktail. It's as ingenious and clever as it is striking and beautiful. Cigar rolling is an art, and this embodies that. The Ecuadorian Rojiso wrapper has just a bit of tooth to it, but is mostly smooth to the touch. There are few visible veins and a seam that can be followed around the cigar. 
AROMA

The wrapper gives off notes of barnyard and tobacco, with a hint of cedar. The foot, on the other hand, is more floral, light, with a note that reminds me of freshly cut grass. There is an almost musty fruitiness that comes and goes, too.
COLD DRAW

Barnyard hits my palate immediately on the cold draw. A light sweetness also begins to emerge. Just a note of sweet tobacco. The draw is a bit on the tight side, but it shouldn't pose a problem.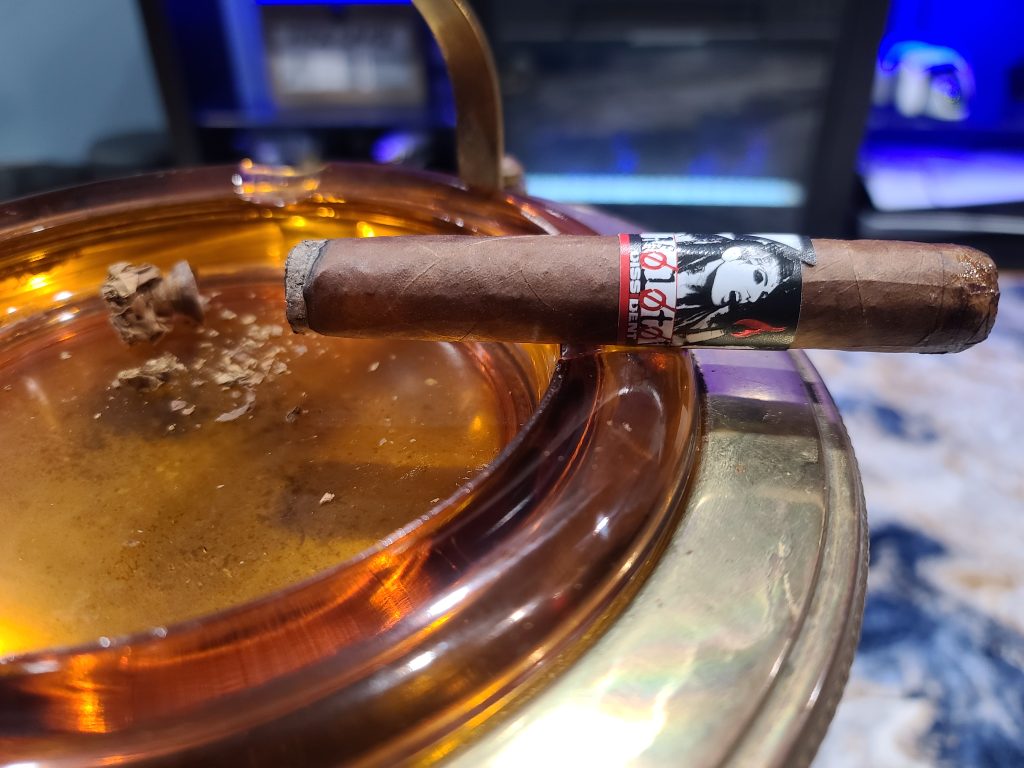 LIGHT & DRAW
Cut: Les Fines Lames LE PETITE cigar knife
Fire: ST Dupont Hooked
Wood, caramel, and earthiness all come front and center on the initial light. Black pepper lights up the retrohale. There is a bit of spice that lingers on my palate. Butter and salted nuts round out the initial light.
SMOKE

The Molotov provides ample amounts of creamy smoke. Even at rest the Molotov's smoke is satisfying.
FIRST THIRD
>> Earth, Baking Spices, Cayenne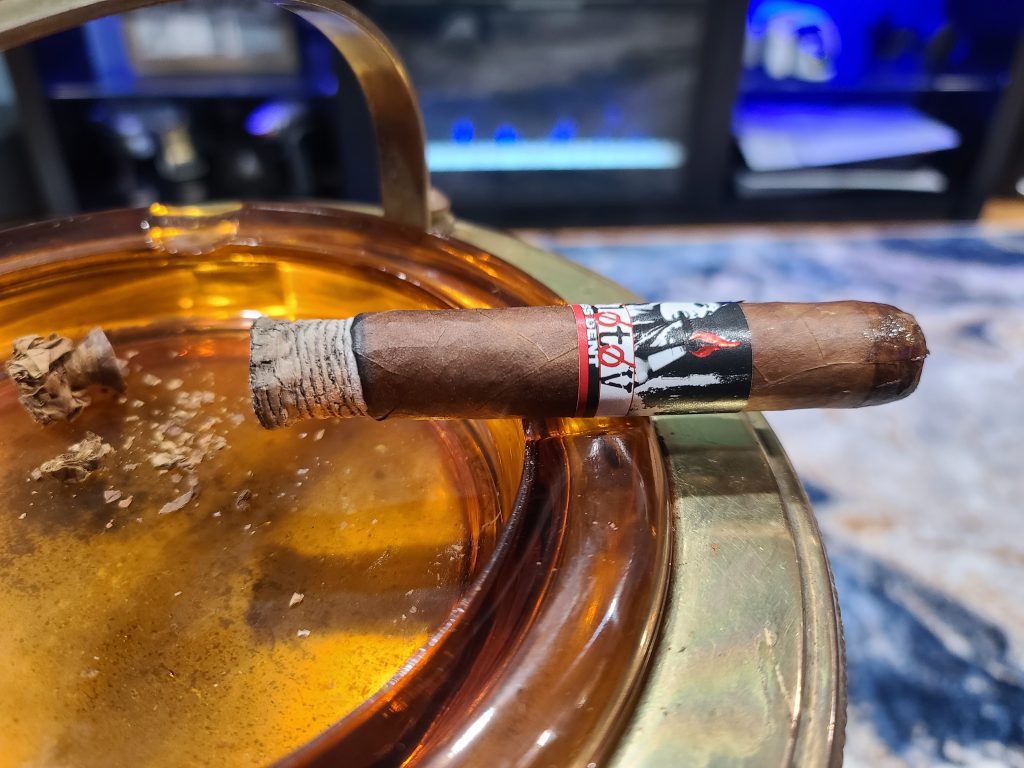 A musty earth note leads the charge after the initial light calms down. Notes of wood and anise brighten up the profile. Black pepper rules the retrohale. A creamy note of avocado oil rounds everything out. Salted nuts and cayenne pepper linger on the palate. The first third of the Molotov is overly earthy. If it were a Scotch I'd say it's peaty, but I'm not sure that's it. The musty/earthy notes seem to mute everything else. Even the baking spices that I pick up seem to be held back by the overwhelming earthiness and spiciness. The burn line is razor sharp. The ash has a few flakes pulling away from the rest, but the ash is mostly compact…until it hits the ashtray. There it loses all cohesion and seems to melt away into a slim pile of loose ash. (This was a recurring theme across all samples smoked. Some were worse than others.) A note of chocolate and nuts intermingles with the pepper and wood, making for a nice mix of savory and sweet. The musty earth gives way to a floral note.
SECOND THIRD
>> Butter, Spice, White Pepper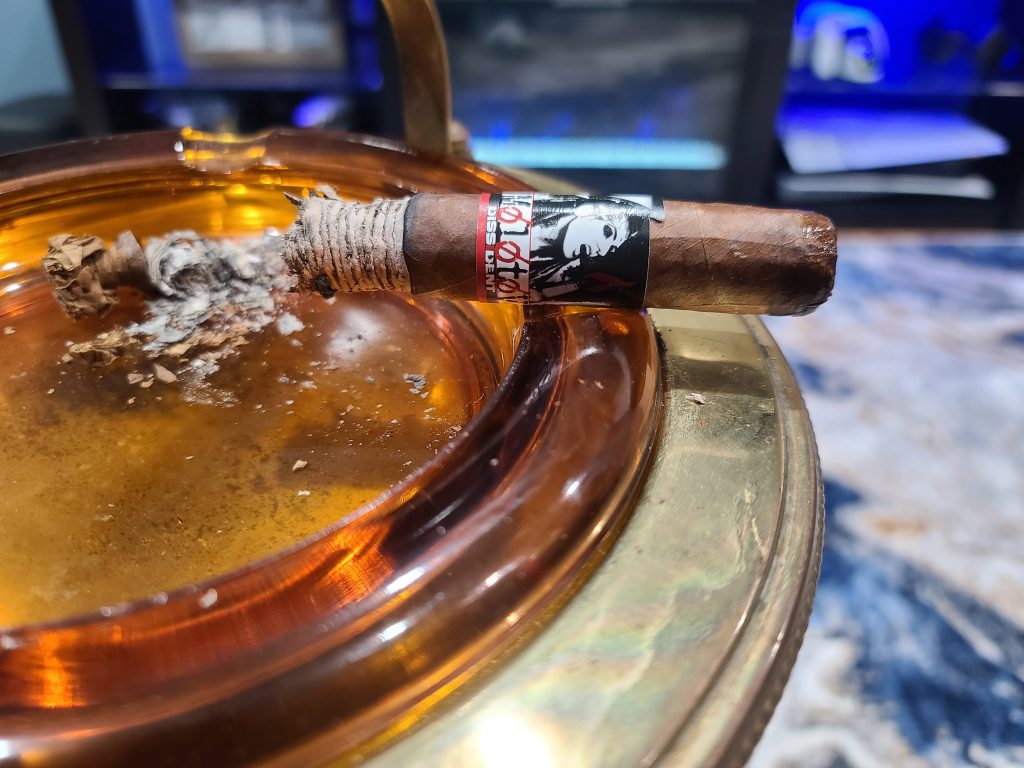 The middle third is smooth, creamy, and spicy. Notes of butter, nuts, and cayenne pepper all meld together. White pepper on the retrohale. Pepper and spice begin to claw at my throat. I'm not sure how much I enjoy that sensation. It is not a pleasant sensation and feels like the blend might be a bit out of balance in this third. A wood note lingers on my palate. The smoke begins to feel a bit more dry than before. The burn line is still razor sharp and the ash is flared and flakey where it broke off, but the rest looks like a stack of dimes. The end of the ash continues to flake. The floral note is back and stronger than before. It's intense and clashes with the wood note. As the Molotov sits on my palate, it all comes together: nuts, cream, wood, butter, spice, and white pepper. Only the floral note seems out of place.
FINAL THIRD
>> Chocolate, Campfire, Black Pepper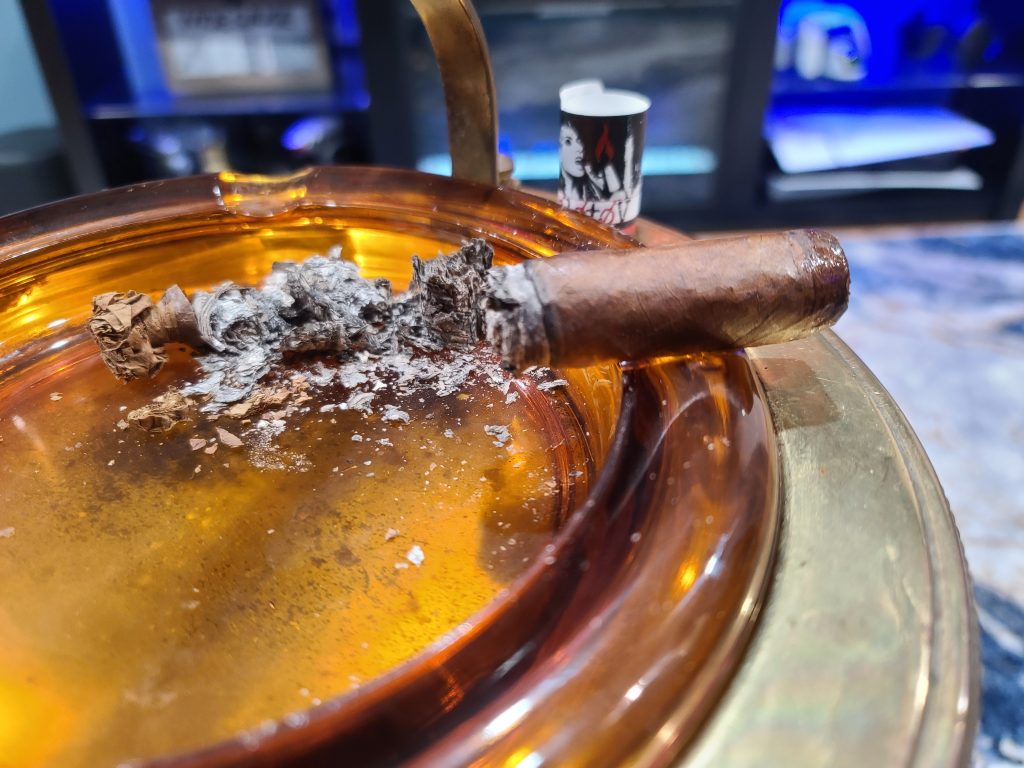 The final third begins with more of the same: butter cream, pepper, and spice. It's coming together much than the middle third. The ash is a bit flakier than before, but the burn is still razor sharp Chocolate comes back through with just a hint of coffee. This final third is amazing. Campfire, chocolate, coffee, a touch of baking spices, leather, and pepper. The spicy cayenne pepper is gone, as is the floral note
FLAVOR PROGRESSION
The flavor progression, for me, was a little out of balance. The first third was overly earthy and spicy. The middle third was also out of balance with spice and pepper clawing at my throat, and a floral note that didn't seem to gel with the others. The final thirds is where the Molotov really showed some brilliance and character. Nuance was lost on the first third, whereas the other two thirds were more complex and vibrant.
BURN EXPERIENCE
The ash! The ash is what bothered me the most with the Molotov. While it looked like a stack of nickels at rest, each sample had varying degrees of flake. Most of the time there seemed to be as much ash on my desk or shirts as there was in the ashtray. While that is a gross over exaggeration, you get the point. The Molotov was very flakey. Rather disappointing. The burn line was always razor sharp, and no touch-ups or relights were needed. It burned as flawlessly as it could. If it wasn't for the ash…
RATING BREAKDOWN
0.70 / 0.80 … Craft & Aesthetic
0.48 / 0.50 … Pre-Light Characteristics
0.50 / 0.50 … Lighting Process
6.65 / 7.70 … Smoking Experience
0.35 / 0.50 … Personal Enjoyment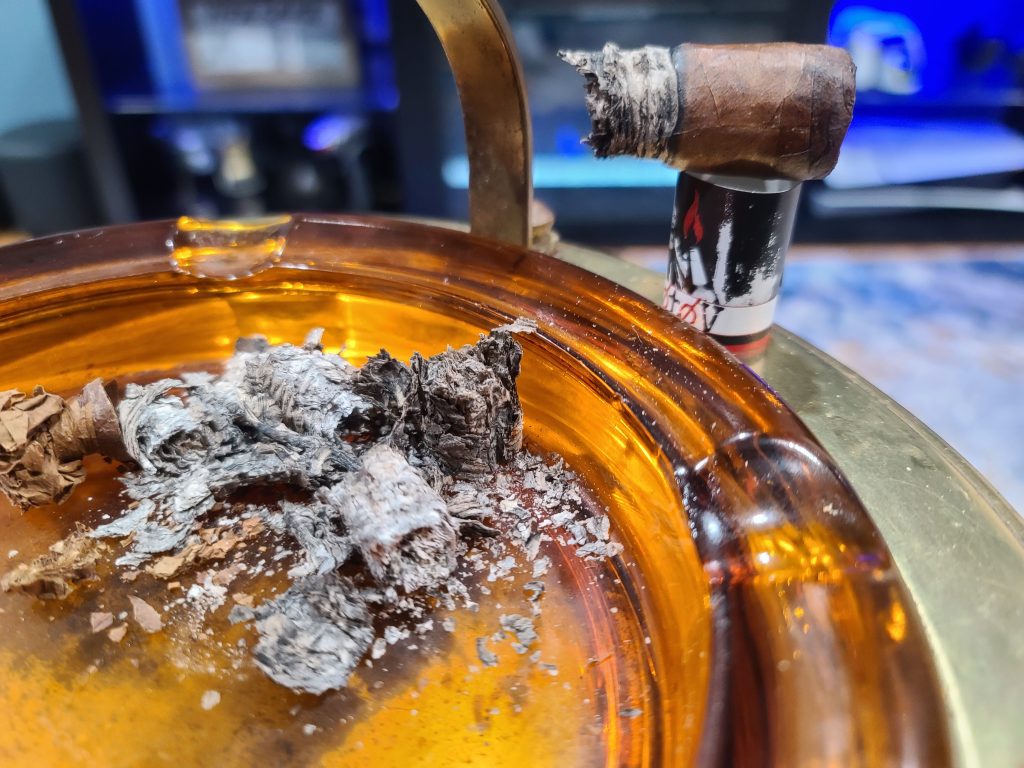 MOLOTOV SHOWS FLASHES OF GREATNESS FOR DISSIDENT.
The Molotov is the first LE release for Josh and Cynn Coburn. To be honest, I do like the cigar. For their freshman release, the Molotov shows that the future looks pretty bright. Yes, the Molotov is a bit unbalanced in some areas but the overall flavor profile hits my palate just right.  The final third is absolutely amazing. It's everything that I look for in a cigar: complex, nuanced, and tasty! The flakey ash is more of a nuisance than an actual issue. It is easily dismissed by most cigar smokers anyway. The Coburns seem like the perfect fit for Dissident Cigars, and the Molotov is the perfect cigar to herald their arrival as brand owners.
SIMPLY STOGIES RATING:  8.68 / 10.0