The Muestra de Saka Unstolen Valor was not interesting to look at, but it did come with an interesting back story. "Valor" means "great courage in the face of danger, especially in battle." Upon first sight and smell, it may have required a small amount of valor in order to try this stick – but it was well worth the leap. 
Originally, Saka wanted to name this cigar "Stolen Valor" like those individuals who falsely represent that they are war heroes. However, he wanted to give full credit to the actual maker of this string, Raul Disla, who is the production manager at Nicaragua American Cigars S.A. in Esteli. That factory also produces some of Saka's other lines, including Mi Querida, Todo Las Dias, Umbagog, Frog Juice, and Red Meat Lovers. Saka challenged Disla to create some blends on his own, with zero direction or guidance from anyone. The cigars were only to be personally satisfying and made without consideration of the costs or opinions of others. 
VITOLA:   Toro
SIZE:   6″ x 52
ORIGIN:   Nicaragua
FACTORY:   Nicaraguan American Cigars, S.A.
WRAPPER:   Ecuadorian Habano 2000 Sungrown
BINDER:   Nicaragua
FILLER:   Dominican, Nicaragua, U.S.
STRENGTH:   High Medium – Full
SOURCE:   Dunbarton Cigar Co. 
WHERE:   David's Fine Tobaccos
WHEN:   February 2, 2022
DRINKS:   Black Coffee
WEATHER:   Very Cold and Windy
WHAT'S ON:   Something About Golf or Whatever
RELEASE TYPE  Regular Production
ORIGINAL RELEASE DATE  May 2020
TOTAL PRODUCTION
Typical Box Size:     Boxes of 7
Production Totals:  Unknown
VITOLA BREAKDOWN
o  Toro  (6×52)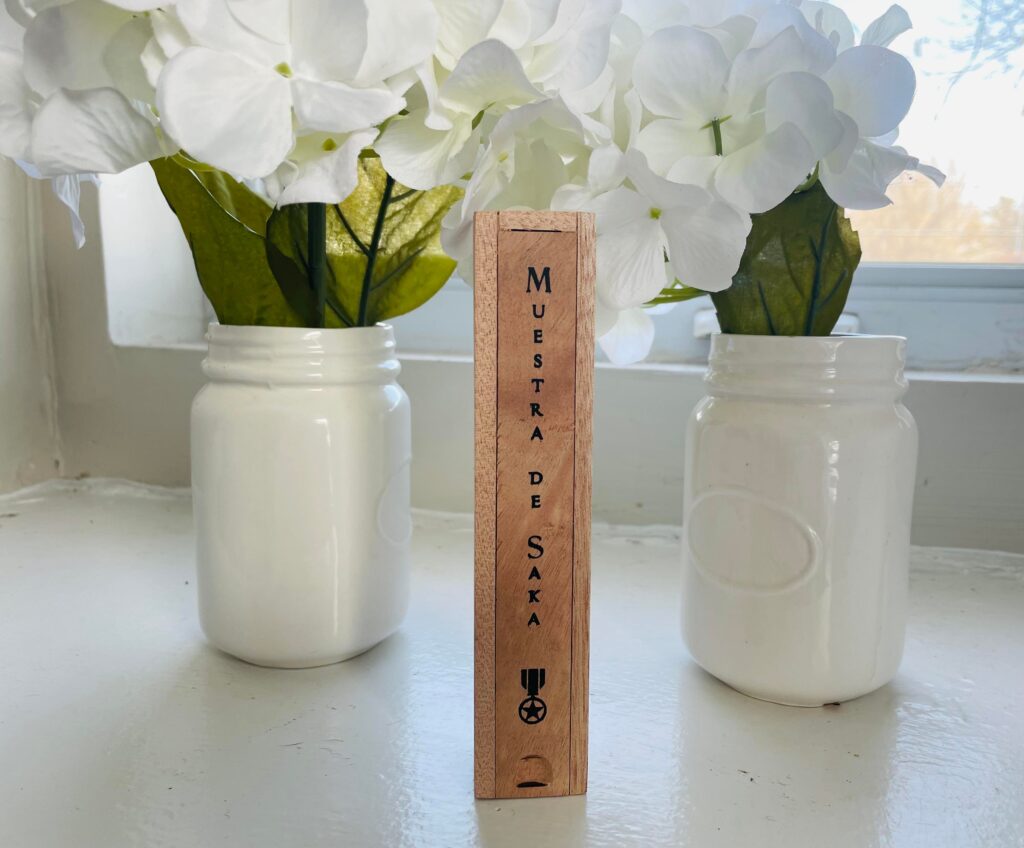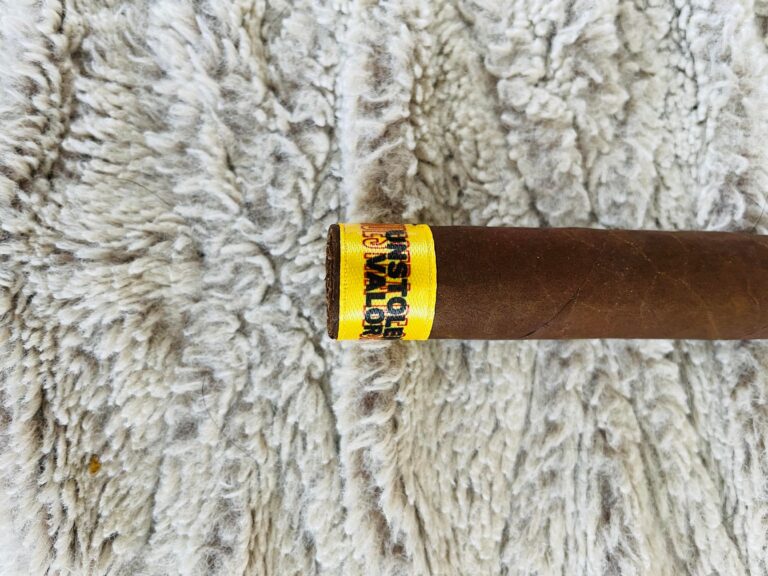 Ugh, I dislike this packaging so much. So very much. The band is a single ribbon at the foot in a gross-toned yellow color with "MUESTRA DE SAKA" in this random reddish orange color and "UNSTOLEN VALOR" stamped directly over the brand script in black. Why you would make a band so difficult to read and not just make a secondary band for the brand name, I don't know. C'mon Steve. Really?
The coffin is a raw cedar wood that looks like it could give me a sliver if I touched it the wrong way. "MUESTRA DE SAKA" lines the top of the slider while "UNSTOLEN VALOR" is stamped on the side – both in black lettering. The box is also difficult to slide, and I have tiny little-person fingers. The only redeeming quality is a little Medal of Honor stamped below the brand name on the top. Zero for creativity. Zero for attractiveness. 10 for saving pennies in production costs.
CONSTRUCTION

The cigar was constructed well with a triple-capped top and a well-packed foot. The stick was smooth to the touch and there was little vein visible. There was a slight squish, which I enjoy greatly. There was no flaking whatsoever at any point of the smoke. The oiliness of the sungrown wrapper was pleasurable and I was excited to give it a try as I generally like the Muestra de Saka line. 

AROMA

Pepper, pepper, pepper. This is one spicy stick to the nose on the first couple of sniffs. I also detected an underlying creaminess which tempered the spice and resulted in an even, pleasing scent.
COLD DRAW

The cold draw went straight to the noggin' with spice and cream. While the flavor scent and cold taste were not particularly diverse at that point, I could tell that there was more that the cigar wanted to tell me. Let's light this baby up.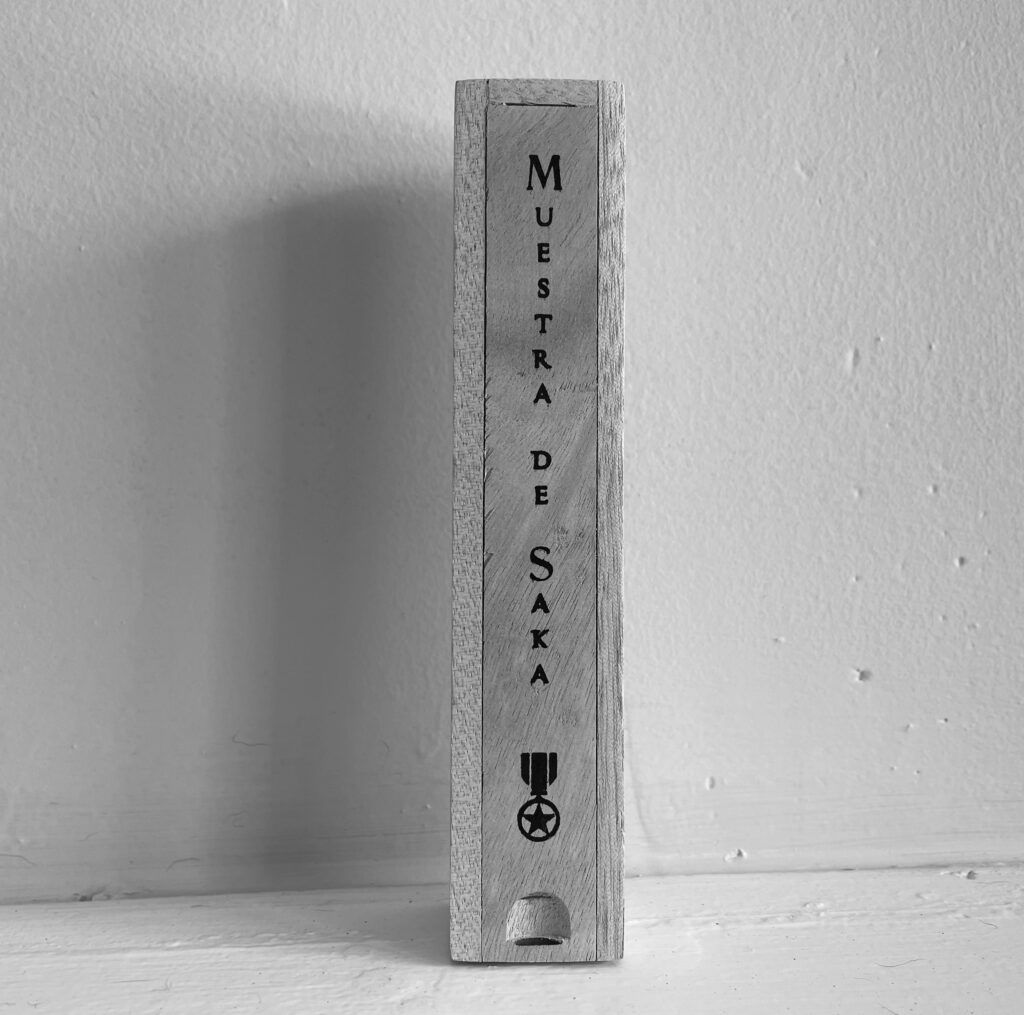 LIGHT & DRAW
Cut:  Lotus v-Cut in a crown configuration
Fire:  Xikar table lighter
The lighting process was a quick-burn and a fine ring of ember grew from the foot up into the body. Because it was so well constructed, the burn is consistent and meaty. 
As for draw, I had no issues with a good full pull from the cut cap and I enjoyed a creamy, peppery mouth-feel. 
SMOKE

The smoke from this stick is more subdued but still satisfying, growing more intensely throughout the smoke session.
FIRST THIRD
>> Green peppercorn, Leather, Cream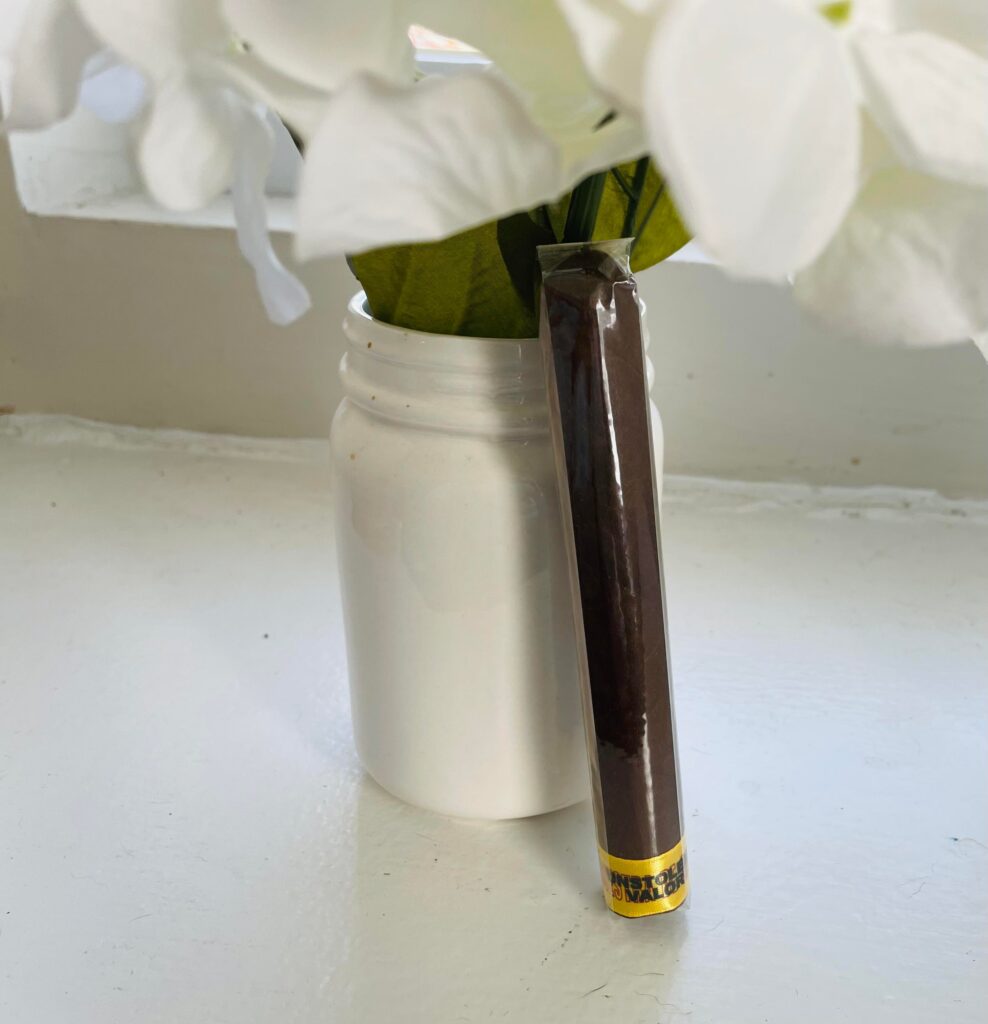 The cigar began with the subtle aromatic tastes of green peppercorn that tinged my tongue and traveled to the back of my throat with a fresh tang. The peppercorn was certainly predominant, but did not overwhelm my palate as many spicy cigars tend to do. There was nice balance to the flavoring with undercurrents of leather and cream as foundational notes below the zing and pep. I love a good spicy stick and this is definitely not one for the amateur smoker.
SECOND THIRD
>> Pepper, Leather, Cream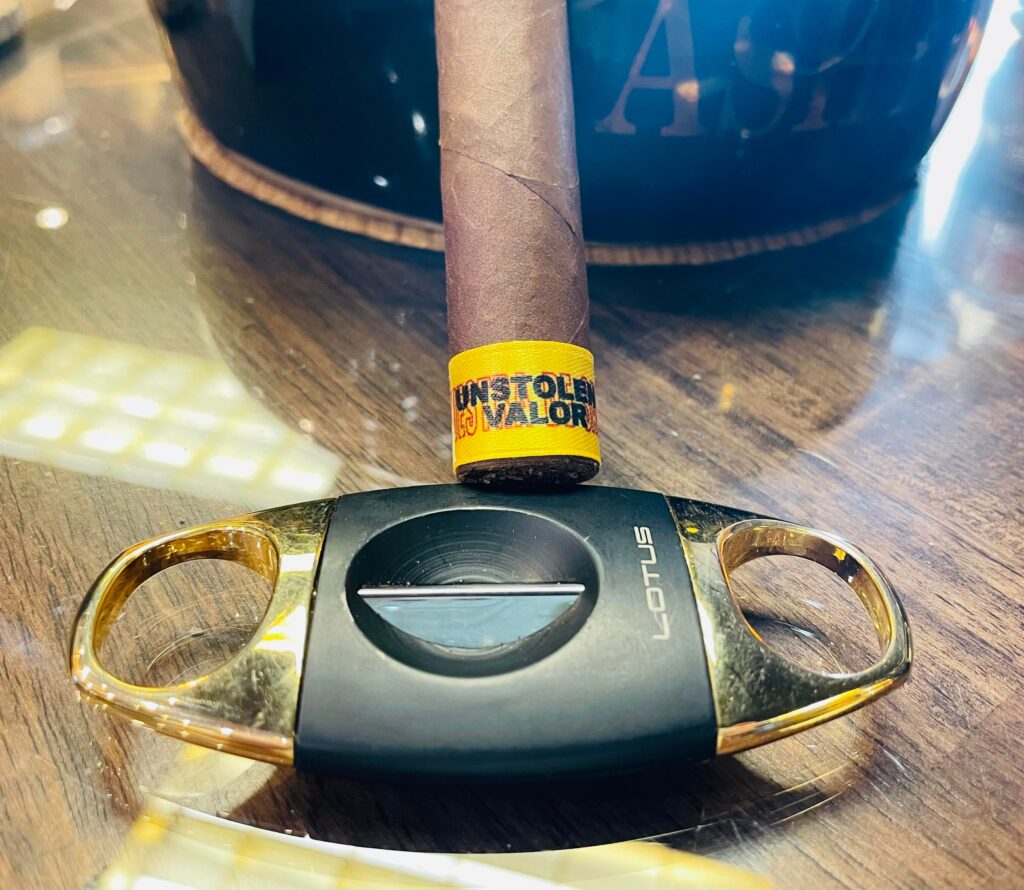 Moving into the second third, I detected a meaty, umami-ness of flavor. The pepper sweetened into a more palatable bite than the first third. The undertones were hearty leather and soda cream that was pleasant and relaxing while I chilled at the shop off the clock.
FINAL THIRD
>> White pepper, Leather, Cream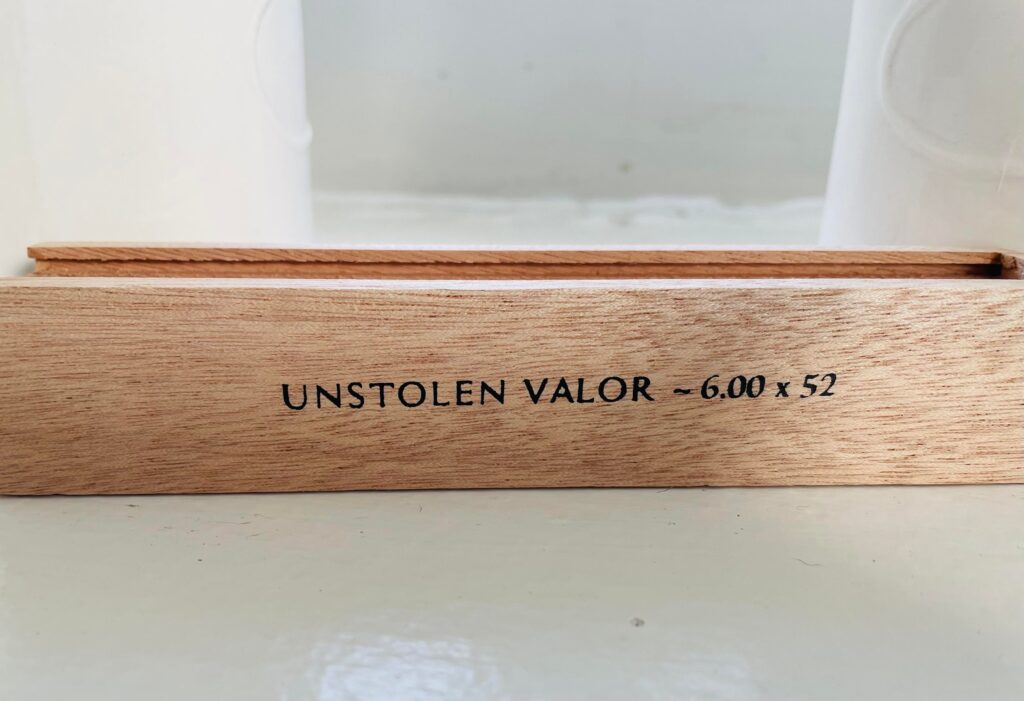 Rounding out consistently into the final third, I encountered racy white pepper that at first was too much, but melllowed toward the nub. There was heat, sharpness, and kick but not so much so that I spit it out. The transitions between the thirds, now that I was at the end, was subtle, precise, and one that would go unnoticed by the novice smoker. This stick is not for the faint of heart. 
FLAVOR PROGRESSION
The flavor progression is not a typical in-your-face change between thirds and flavors. There is a well-built base of leather and cream that is topped by different nuances of peppercorn that transitions slowly, smoothly, and expertly.
BURN EXPERIENCE
The burn was consistent throughout the experience and did not need any touch-ups. A fiery ring of red ember emanated from the foot into the body in a dependable manner. 
RATING BREAKDOWN
0.50 / 0.80 … Craft & Aesthetic
0.25 / 0.50 … Pre-Light Characteristics
0.50 / 0.50 … Lighting Process
7.50 / 7.70 … Smoking Experience
0.25 / 0.50 … Personal Enjoyment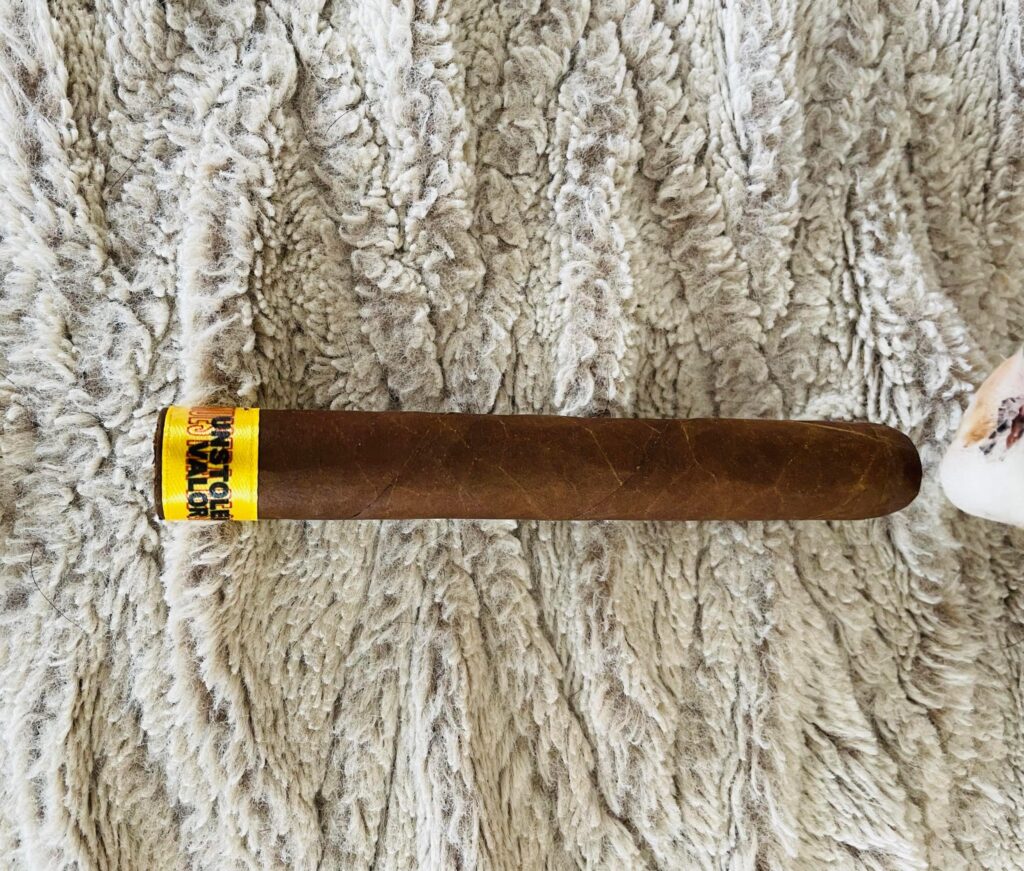 EVEN MY SPHYNX LIKES THE UNSTOLEN VALOR.
Yes, that little nose at the top of the picture above is my sphynx cat Thea. She just couldn't resist the spicy aroma of this stick. 
While she's an ugly little thing, much like the Unstolen Valor, we still enjoy her immensely. The band is hideous and the box is boring/potentially sliver-inducing, but the stick itself was enjoyable. Full of robust flavors and a smooth progression through the notes, the Unstolen Valor was worthy of giving a try.
SIMPLY STOGIES RATING:  9.0 / 10.0