I was excited when I learned that My Father Cigars had purchased the Fonseca brand from the Quesada family. I love My Father Cigars. In my opinion, they are some of the most solid and dependable cigars in the industry. It is always interesting to see what others' takes on existing brands are. Palates and preferences vary from blender to blender and from smoker to smoker. Where would the Garcia family take Fonseca?
To be honest, the only Fonseca I had smoked before these Cosacos were the Cuban brand. I like them well enough, and they are very affordable as far as Cuban cigars go. The Cuban brand has been around for over a 100 years and is known for being wrapped in tissue paper. My Father Cigars honors that heritage by wrapping the Cosacos in tissue paper.
VITOLA:   Cosacos
SIZE:   5-3/8″ x 42
ORIGIN:   Nicaragua
FACTORY:   Garcia Family Industrial Park factory
WRAPPER:   Nicaraguan Corojo
BINDER:   Nicaragua
FILLER:   Nicaragua
STRENGTH:   Medium – Medium Full
WHERE:   
My garage
WHEN:   
December 5, 2020
DRINKS:   
Death Wish Valhalla Java Odinforce Blend coffee
WEATHER:   
27°
79% Humidity
WHAT'S ON:   
My space heater on full blast.
RELEASE TYPE  Regular Production
ORIGINALLY RELEASE DATE  August 28, 2020
TOTAL PRODUCTION
Typical Box Size:     Boxes of 20
Production Totals:  Unknown
VITOLA BREAKDOWN
o  Cosacos (5-3/8″ x 42)
o  Belicosos  (5-1/2″ x 54)
o  Petite Corona  (4-1/4″ x 40)
o  Robusto  (5-1/4″ x 52)
o  Toro Gordo  (6″ x 55)
o  Cedros  (6-1/4″ x 52)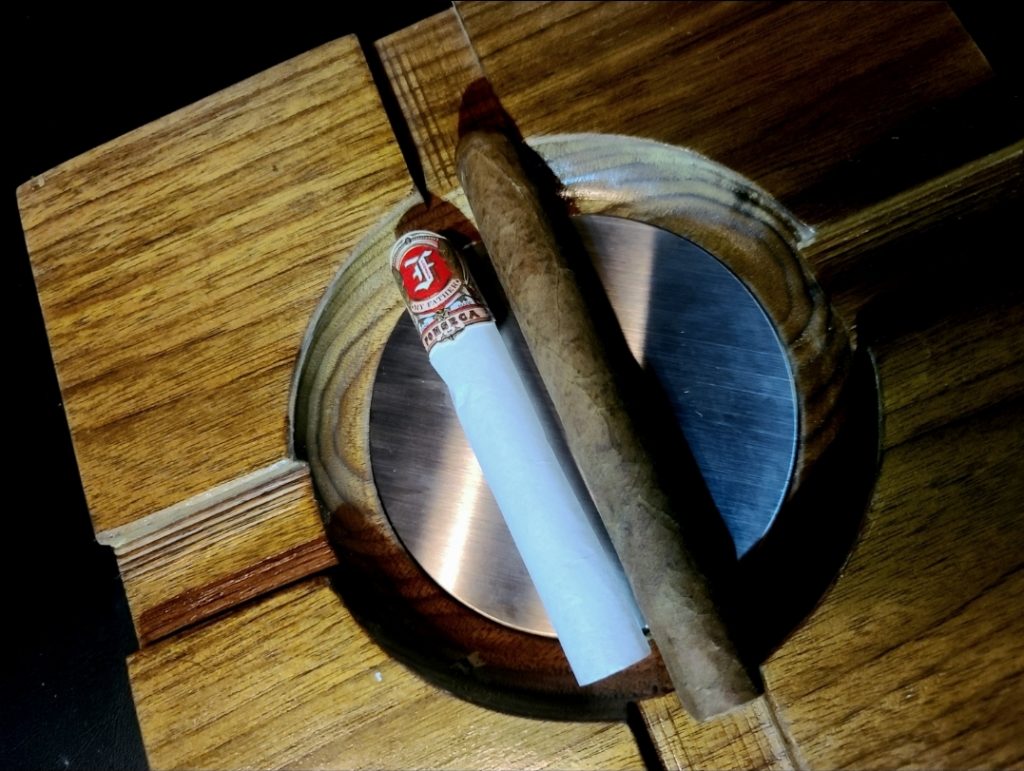 RESEARCH & BACKGROUND INFO
The Cosacos is the only Fonseca from My Father Cigars that comes wrapped in tissue paper (like their Cuban counterpart).
The Cedros comes with a cedar sleeve.
The change from Quesada family to My Father Cigars meant in a change in blend. The My Father Fonseca is a Nicaraguan Puro.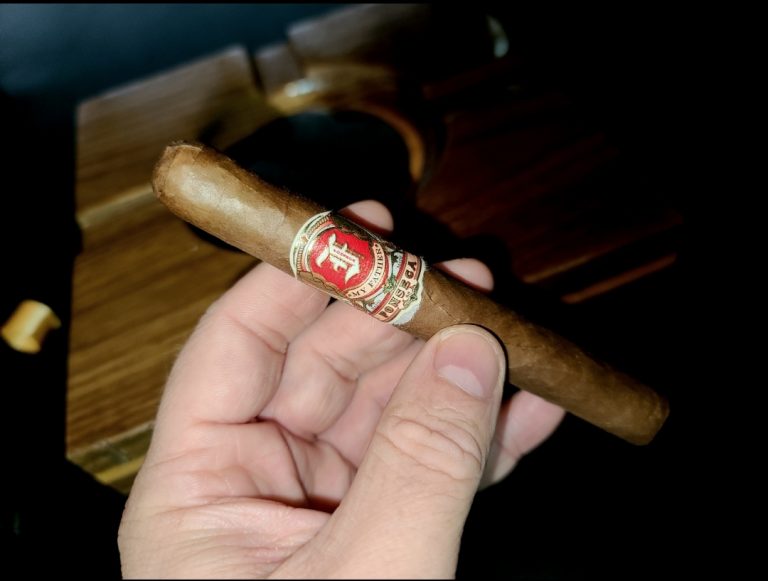 The band design is very well thought out and pays homage to both the original Cuban Fonseca brand and the My Father brand. The large white "F" with the word "Fonseca" written inside of it, on top of a red background is straight from the Cuban Fonseca brand. The rest of the band looks very much like other My Father bands. The familiar ornate designs and fonts immediately tell you that this is a My Father brand Fonseca.
CONSTRUCTION
The wrapper is a gorgeous brown that does not seem overly dark or overly light, but right in the middle. It is smooth to the touch and not toothy at all. There is one visible vein but nothing jumps out as being an issue. This Cosacos looks very inviting.
AROMA
It has been my experience that any cigar that smells of "barnyard" is probably going to end up being a pretty great cigar. When I smelled barnyard, cedar, and tobacco coming from the Cosacos I have to admit that my excitement level for this cigar jumped.
COLD DRAW
Hints of hay/grass, sweet tobacco, and chocolate.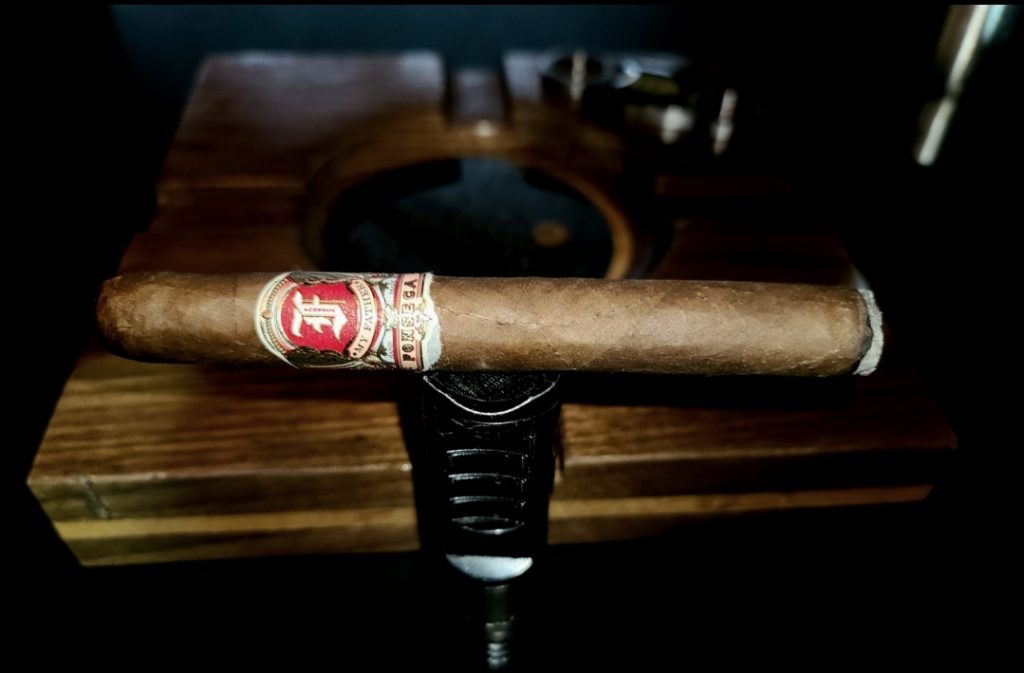 LIGHT & DRAW
Cut:  Straight Cut.
Fire:  Xikar Tactical 1
I had no issues with lighting either cigar I smoked for this review. Both cuts produced no issue and lighting each one was effortless. The draw, on the other hand, was where there seemed to be an issue. The first Cosacos had a very open draw. It was like sucking through one of those overly-wide novelty straws; almost no resistance. The second Cosacos was tight. Very tight. I almost went to grab my PerfecDraw tool, but decided to see how it went. The inconsistency in draws were not the only construction issue I would face with the Cosacos.
SMOKE
The smoke is rich and creamy. The smoke production is just about the right amount for me. It produces enough to be satisfying but not too much to be off-putting. The smoke coats my mouth and feels very satisfying. 
FIRST THIRD
>> Pepper, Leather, Earth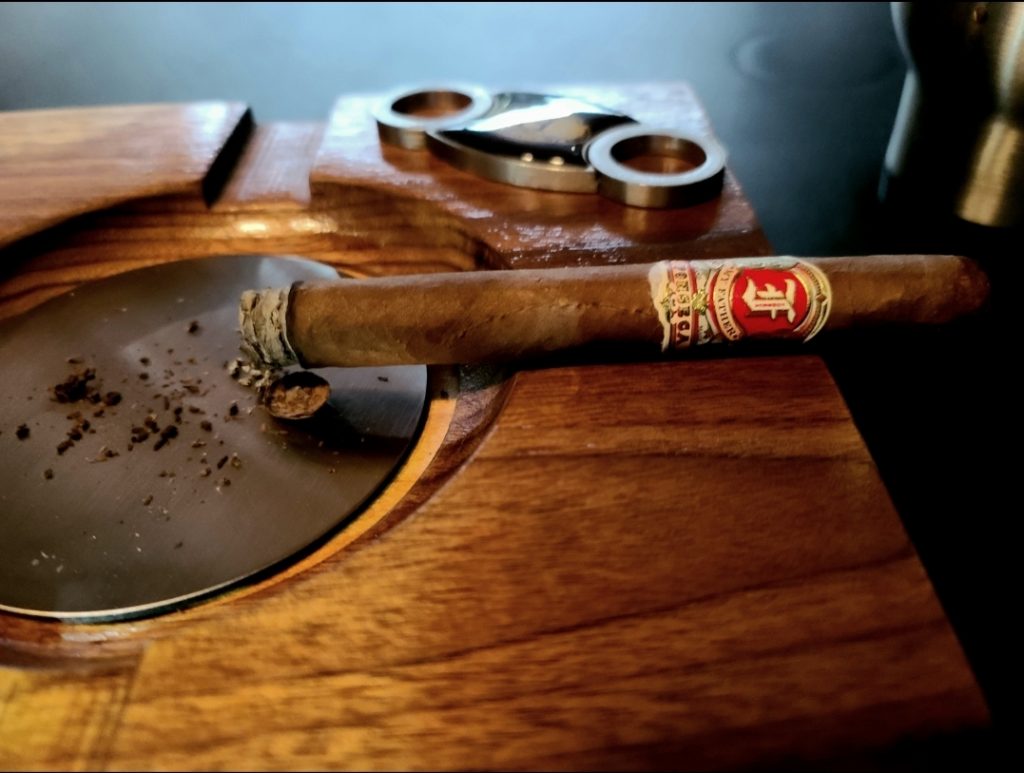 Whoa! What is this? This little beauty is starting out strong; at least stronger than I thought it would. There is an initial blast of pepper that seems to last almost a quarter of the way through the initial third. It is especially strong on the retrohale. There is an earth/mineral quality to it that comes in once the pepper dies down. A rich, beefy, almost umami quality to it. The star is definitely the pepper.
The ash is delicate. It looks like a stack of dimes but it is so very fragile. The slightest bump sends flakes flying everywhere. It holds on for nothing, letting go at every opportunity. Oddly enough, the second Cosacos, with the significantly tighter draw, has the ash holding on for dear life. It is not the least bit flaky and holds on well into the second theird. 
SECOND THIRD
>> Salted Nuts, Baking Spices, Campfire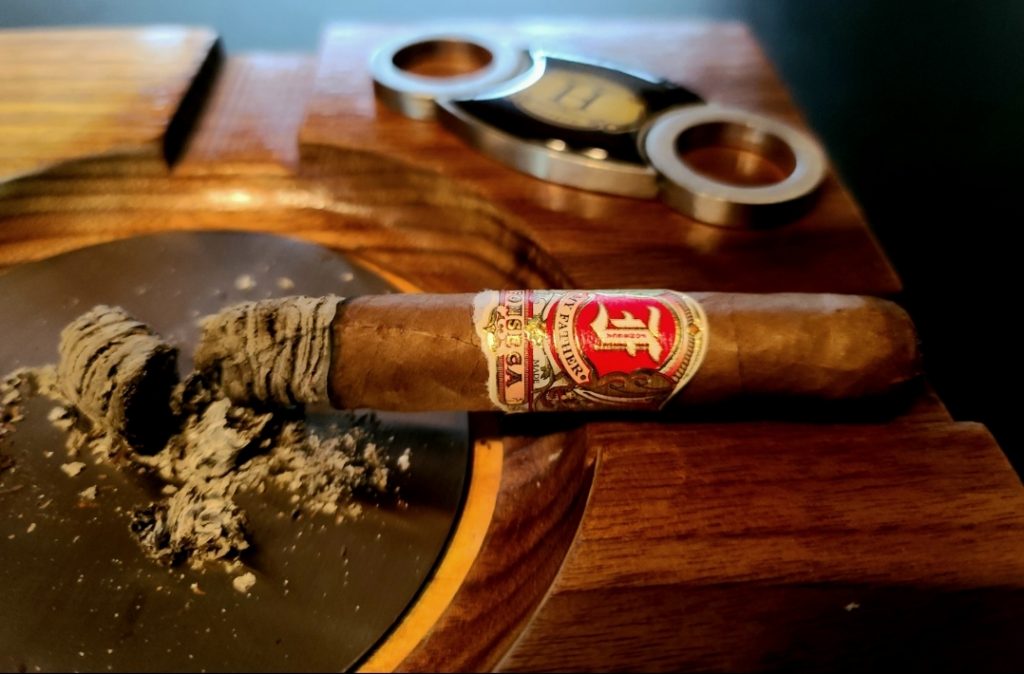 The second third calms down considerably. Again, not something that I was expecting given how the first third popped. Salted nuts is how the second third starts. I wish there was some caramel or that chocolate from the cold draw coming through, but only baking spices start to come through. The flavors seem muted in comparison to the first third. Very muted. Is this bland? Campfire and charred wood begin to shine through as the middle third progresses. 
The burn line is razor sharp, at least it was on the Cosacos with the open draw. The burn line was wavy on the tighter draw. The dichotomy between these two is perplexing. The ash continues to be very flaky on the first one. Wearing black was a bad choice; my shirt is covered in ash.  
FINAL THIRD
>> Charred Wood, Pepper, Espresso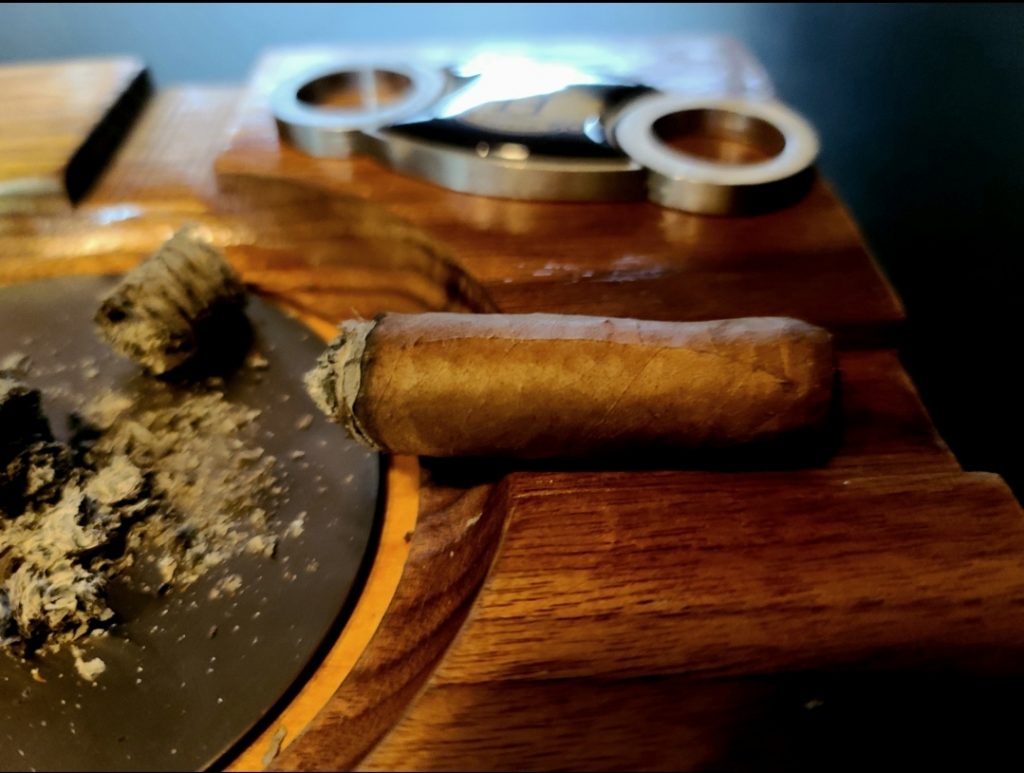 The final third sees the charred wood note carry over. That is a bit disappointing. I prefer to taste some distinction between thirds. A bitter espresso note follows an almost green pepper on the retrohale. Is this final third boring or is it just not surprising or wowing me? Regardless, it is still enjoyable and not muted like the middle third. 
The burn line for both Cosacos was pretty razor sharp, but the ash…THE ASH…that was where the difference was. One was flaky and fragile, while the other was sturdy and tight. Unfortunately, the draw on both was less than optimal.
FLAVOR PROGRESSION
I am not sure what I was expecting, but it was not what I got. A flavor explosion in the first that was extremely good, followed by the next two thirds being muted and a let down in comparison. With little to no transition between the second and final third the flavor progression just was not there for me. The star of this cigar is the first third and that is always a recipe for a let down in any cigar. It sets you up for disappointment in what follows.
BURN EXPERIENCE
The burn on both Cosacos smoked for this review were similar. The burn line was sharp and neither needed a touch-up or re-light. However, the draw experience, coupled with the difference in ash was more than disappointing from a My Father cigar. The difference in construction is where this one will lose points. 
RATING BREAKDOWN
0.70 / 0.80 … Craft & Aesthetic
0.45 / 0.50 … Pre-Light Characteristics
0.45 / 0.50 … Lighting Process
6.30 / 7.70 … Smoking Experience
0.40 / 0.50 … Personal Enjoyment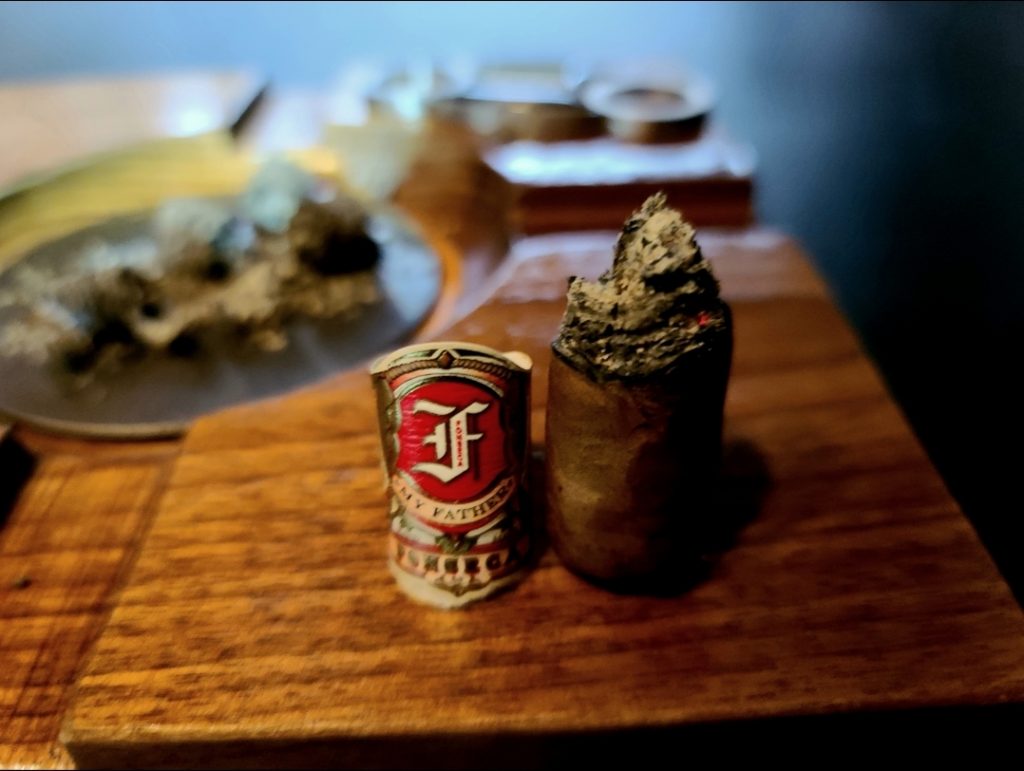 MY FATHER FONSECA COSACOS IS A MISS.
At $7.75 a cigar, the My Father Fonseca Cosacos is not what I would consider a "budget" cigar. For the price, it misses the mark when it comes to flavor progression and construction. To be honest, the latter is a bit shocking to me considering that My Father is usually a solid brand; but, as with any handmade product, your mileage may vary. What was more concerning was that last two-thirds of the cigar were a disappointment compared to the first. Perhaps with some rest the first third will calm down and allow the rest of the cigar to shine and not taste so muted. Only time will tell.
SIMPLY STOGIES RATING:  8.3 / 10.0