Warped Cigars rarely goes full-bodied, but their new Nicotina – based on a Cuban Nicotina from 1880 – goes balls to the wall and presents a fully flavored, robust cigar to its more medium and mild arsenal. Created with all Aganorsa Leaf tobacco, the Nicotina takes a nod from the older Cuban style with a slightly box-pressed stick with a gentle sheen to the wrapper. Let's Dig In!
VITOLA:   Belicoso
SIZE:   5.5″ x 52
ORIGIN:   Nicaragua
FACTORY:   Aganorsa Leaf
WRAPPER:   Corojo '99
BINDER:   Criollo '98 
FILLER:   Blend of Corojo '99 and Criollo '98
STRENGTH:   Medium-Full Bodied
SOURCE:   Warped Cigars
WHERE:   My friend Dave's apartment, Iowa Cigar, Home
WHEN:   June 3, 2022 @ 7:25 pm
DRINKS:   Cayman Jack Margarita
WEATHER:   Sunny and warm
HOW MANY CIGARS SMOKED:   3
RELEASE TYPE  Regular Production
ORIGINAL RELEASE DATE  January, 2022
TOTAL PRODUCTION
Typical Box Size:     Boxes of 25
Production Totals:  Not Released
VITOLA BREAKDOWN
o  Belicoso (5.5″ x 52)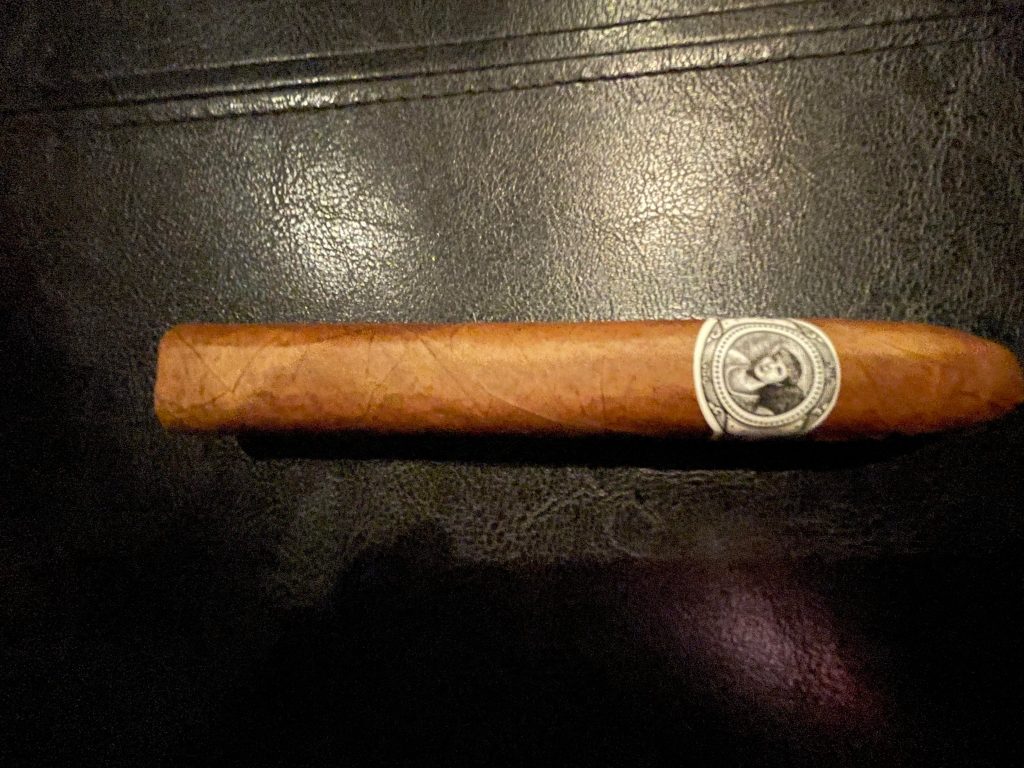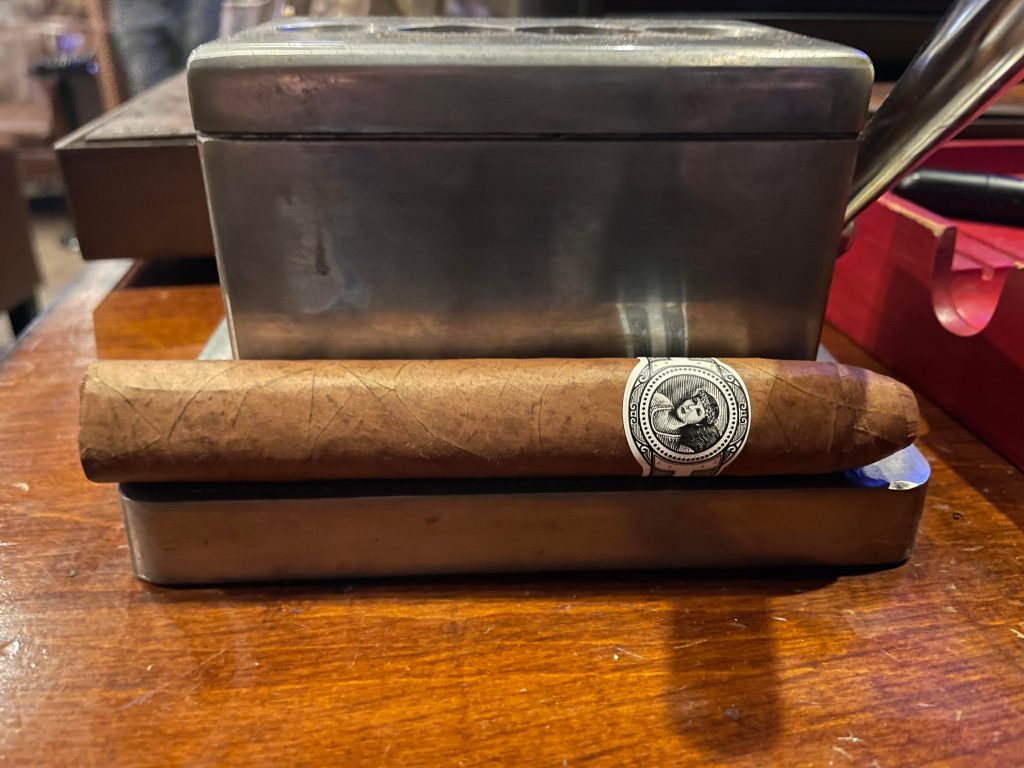 The band is simple, black and white but clean-looking and well crafted. The center of the band is circular with a flower crowned women in the center in "etched" style typeface. She is garlanded with dots and motifs as the band becomes more slender towards the ends and "NICOTINA" is written in a gold, raised type. I like the band for its simplicity and ease of reading (some of those bands out there can get a little crazy in design). I clearly know what I am smoking and that it is an homage to the female spirit.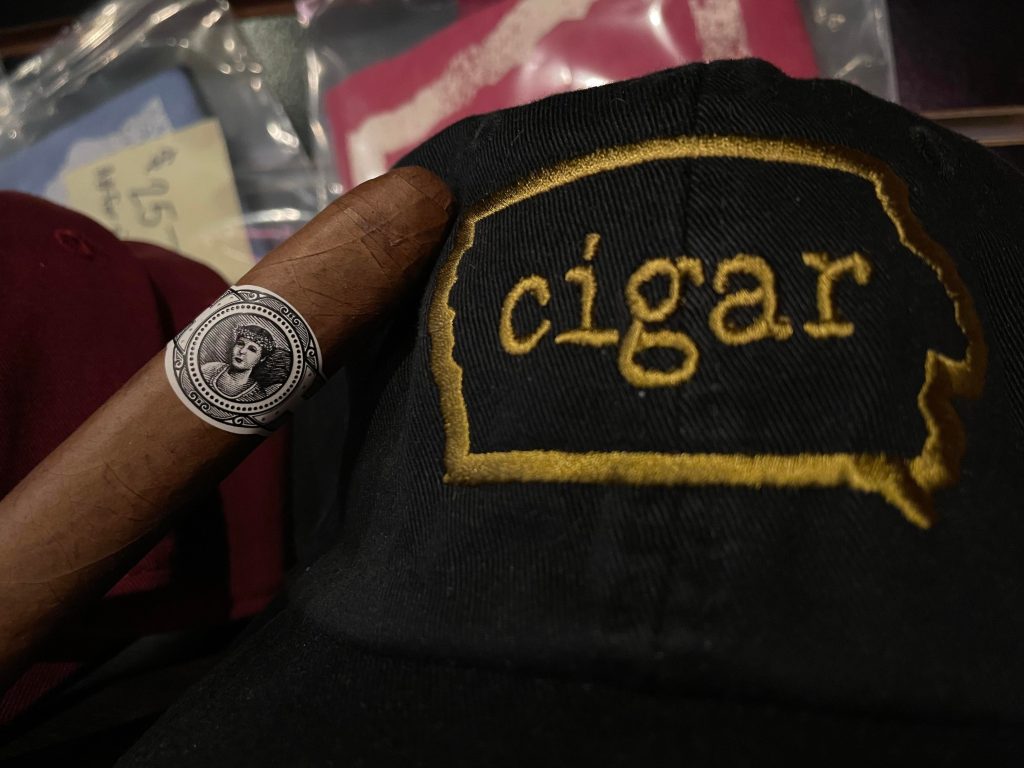 CONSTRUCTION

The stick is smooth with a slight squish to the squeeze. There is vein throughout the body but these are not prominently raised to a point where the smoking experience would be necessarily affected. There is a triple cap top with am open foot that was easy  to slice and light. Much easier to light and with sustainable flame than say, the Padilla Finest Hour Connecticut (if you haven't read that article, it is worth it to join the LE Club just to read it.) 
AROMA

The aroma is filled with black tobacco and mild cedar. I love the scent, its almost like a men's musk cologne but not sweet and sickly. It is musky and very pleasant to the noise. The aroma is threaded thoroughly from cap to foot and the foot adds a small note of black licorice which I very much enjoy. Mmm!
COLD DRAW

The cold draw is anything but lackluster. The rich tobacco and licorice notes are abundantly clear and the cap is tasty with the same notes.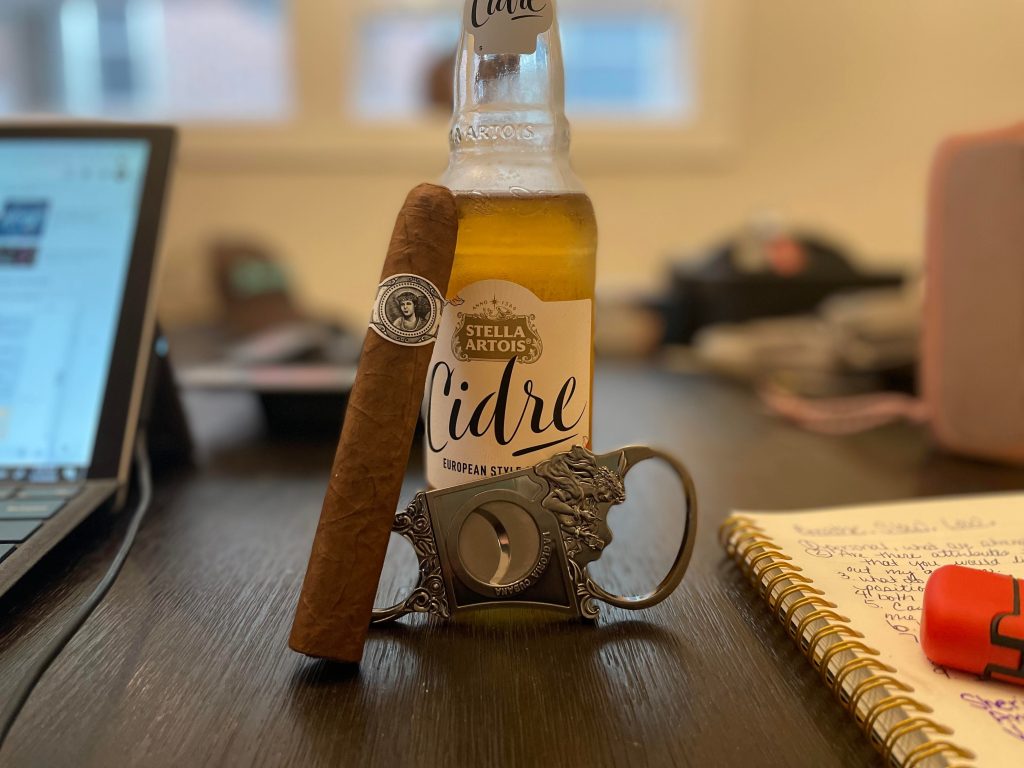 LIGHT & DRAW
Cut:  Glorida de Cubana
Fire:  Alec Bradley Triple Flame
The slice on the cut was pleasing and easy to accomplish. There was zero flaking with a full open cut at near the second seam of the triple cap. I could also see this cigar being a good candidate for a v-cut or a crown-cut as the head of the cap is sloped but more flatly and not to such a point as say, a torpedo or other figurado. 
The draw is simple and to the point – this is a straight forward cigar that makes no apologies for a medium-bold flavor.
SMOKE

This is not a "smokestack" of a cigar. It is billowy at first puff but quickly dissipates into the air. For example, at rest in the ashtray, the smoke does not last long and you will need to tend to the stick in order to keep it light for longer periods in between inhales. 
FIRST THIRD
>> Black Tobacco, Black Licorice, Mild Cedar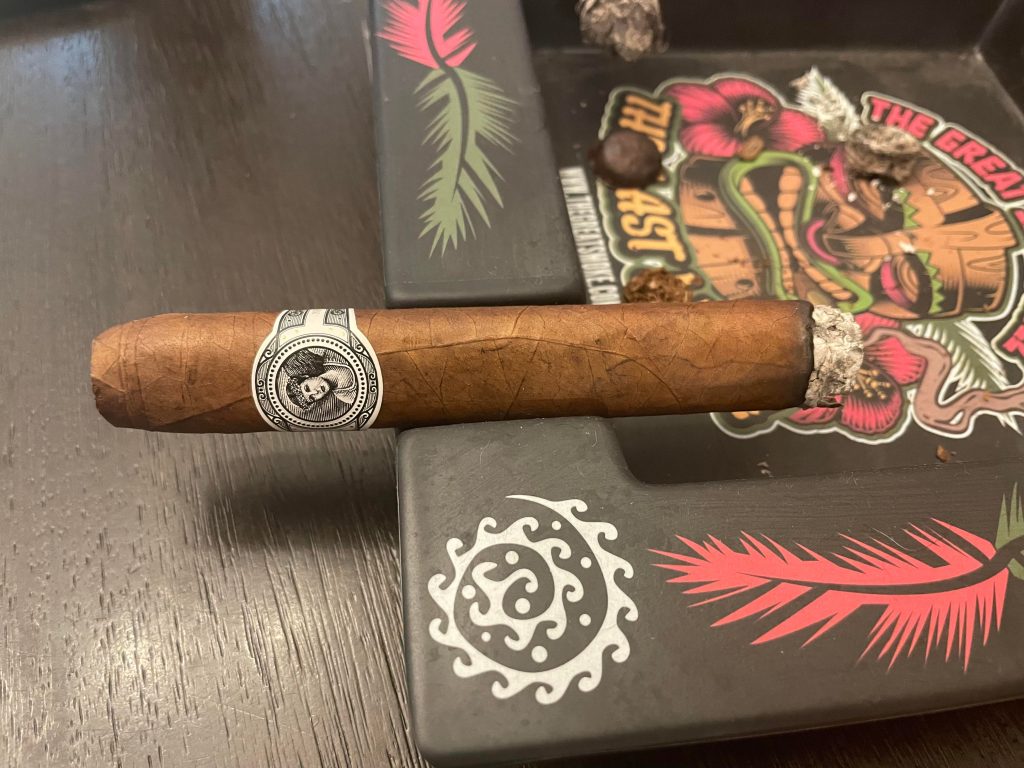 The first few puffs were delightful. I tasted that same rich, black, wet, fresh tobacco that I smelled upon first impression. I also detected yummy black licorice topped with some notes of mild cedar. Again, this cigar must be tended to or it will extinguish. I write as I smoke for the most relevant and accurate review so I need to rest my cigar for decent lengths of time. I found myself stopping to either inhale or re-light more than I usually do. Now, I know there are many fans of this cigar so I will say this once and be done – the aftertaste was unpleasant. Since I was resting the cigar here and there I had a chance to truly experience the after taste instead of just infusing my taste buds with the flavors over and over. I personally did not appreciate the stale taste on my tongue left by the combination of notes after setting the cigar down. OK. I'M DONE BASHING YOUR FAVORITE, OK? Moving on….
SECOND THIRD
>> Black Tobacco, Dark Woodsy, Rich Spice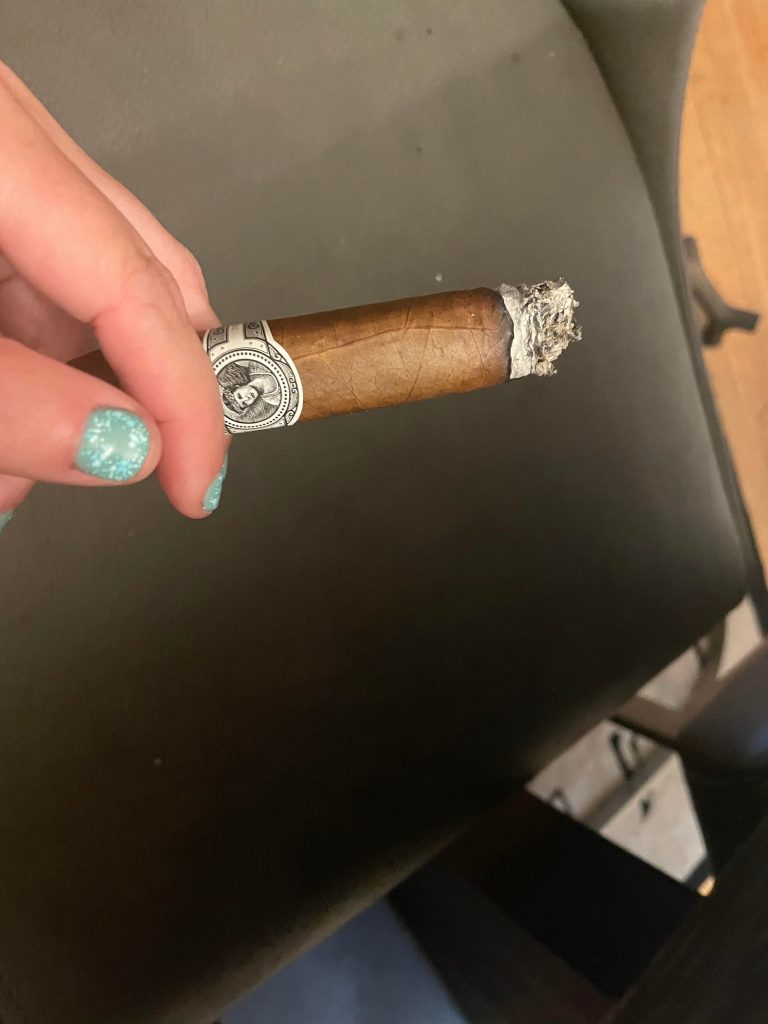 Into the second third, a thick, well-insulated ash formed and the flavor progressed from mild to more bold. The black tobacco taste remained consistent throughout the first and second third as the main note to enjoy, but it became crowned with a dark wood (like a teak?) tang that was satisfying. A just-a-touch-of mild peppery black spice provided some smoking entertainment in this third so that I could let the smoke hit just at the back of my throat and through a retrohale. 
The construction of the cigar was well-maintained into the second third and continued to be beautiful. I did not notice any cracking, sogginess, hot spots, or irregular burn ring whatsoever. As expected, the veins did not interfere with the enjoyment of the smoke or ruin the body construction while burning. 
FINAL THIRD
>> Peanut, Tobacco, Spice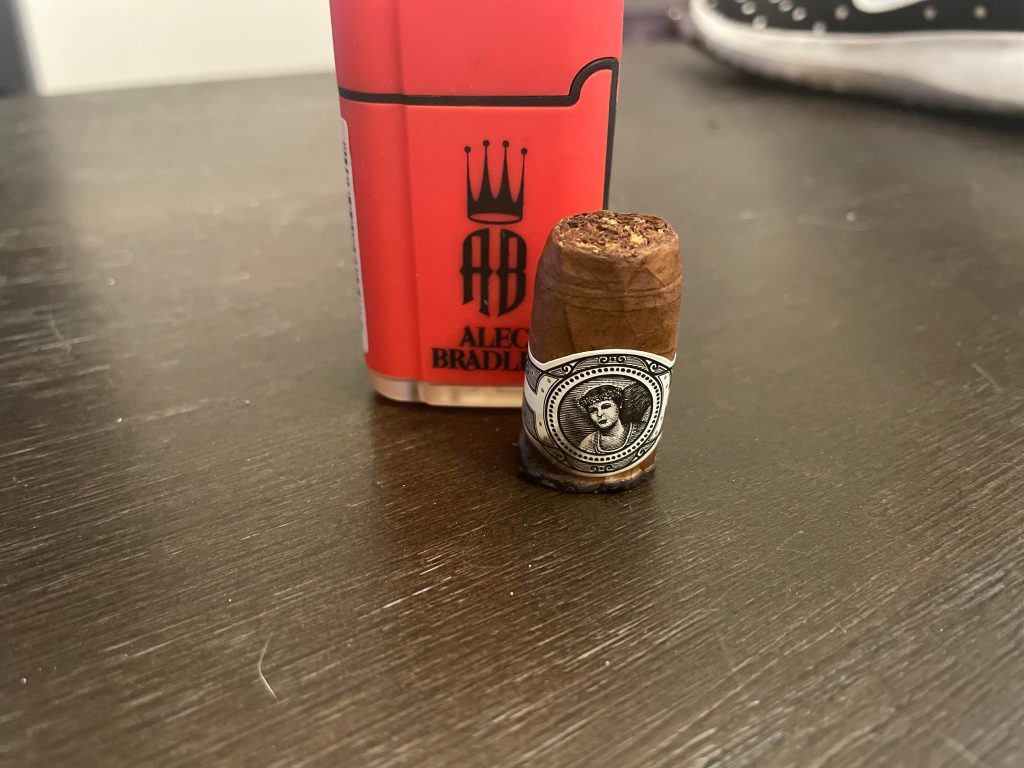 The final third rounded out with something I did not, at first, readily identify – peanut! Yum, dude. The first, second, and final third flavors were well-matched and paired. Though there were not twenty flavors present (mayonaise, anyone?) but the progression was entirely smooth and consistent. 
Fun fact, there is a Mexican-Argentinian gangster movie about a hacker that provides the Russians with the wrong computer disk and he must escape their wrath. Yes, I said "disk" because the movie is from the '90s. It won a bunch of awards so check it out. Perhaps while smoking a Warped Cigars Nicotina?
FLAVOR PROGRESSION
The flavor progression was not an in-your-face experience. Rather, the transition of flavors maintained a baseline of dark tobacco and the higher, lighter notes shifted from licorice, wood, and peanut with just a very tippy top note of pepper. Thoroughly enjoyable though perhaps mildly dull. 
BURN EXPERIENCE
The burn was consistent throughout the smoke session but, as noted above, you MUST tend to this cigar or it will extinguish sooner than you would think. 
RATING BREAKDOWN
0.60 / 0.80 … Craft & Aesthetic
0.40 / 0.50 … Pre-Light Characteristics
0.50 / 0.50 … Lighting Process
6.70 / 7.70 … Smoking Experience
0.40 / 0.50 … Personal Enjoyment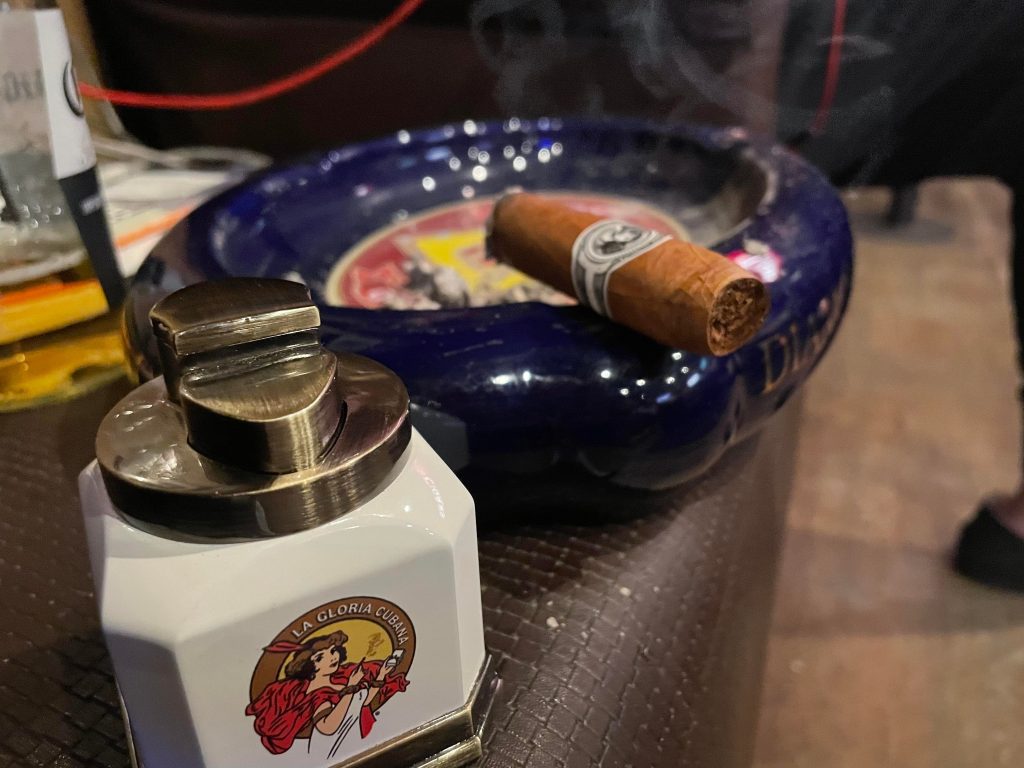 Cigars, Hackers, AND Russian spies? Check out Warped Cigars Nicotina tonight with a movie!
Ok, maybe the cigar and the movie have nothing to do with each other, but why not? Sit down some evening with the Nicotina cigar and watch Nicotina, the movie. The stick emits subtle smoke so don't worry about upsetting the family. The flavors are medium-bold and enjoyable so grab one and hunker down with some popcorn. Bon Appetit! 
SIMPLY STOGIES RATING:  8.6 / 10.0