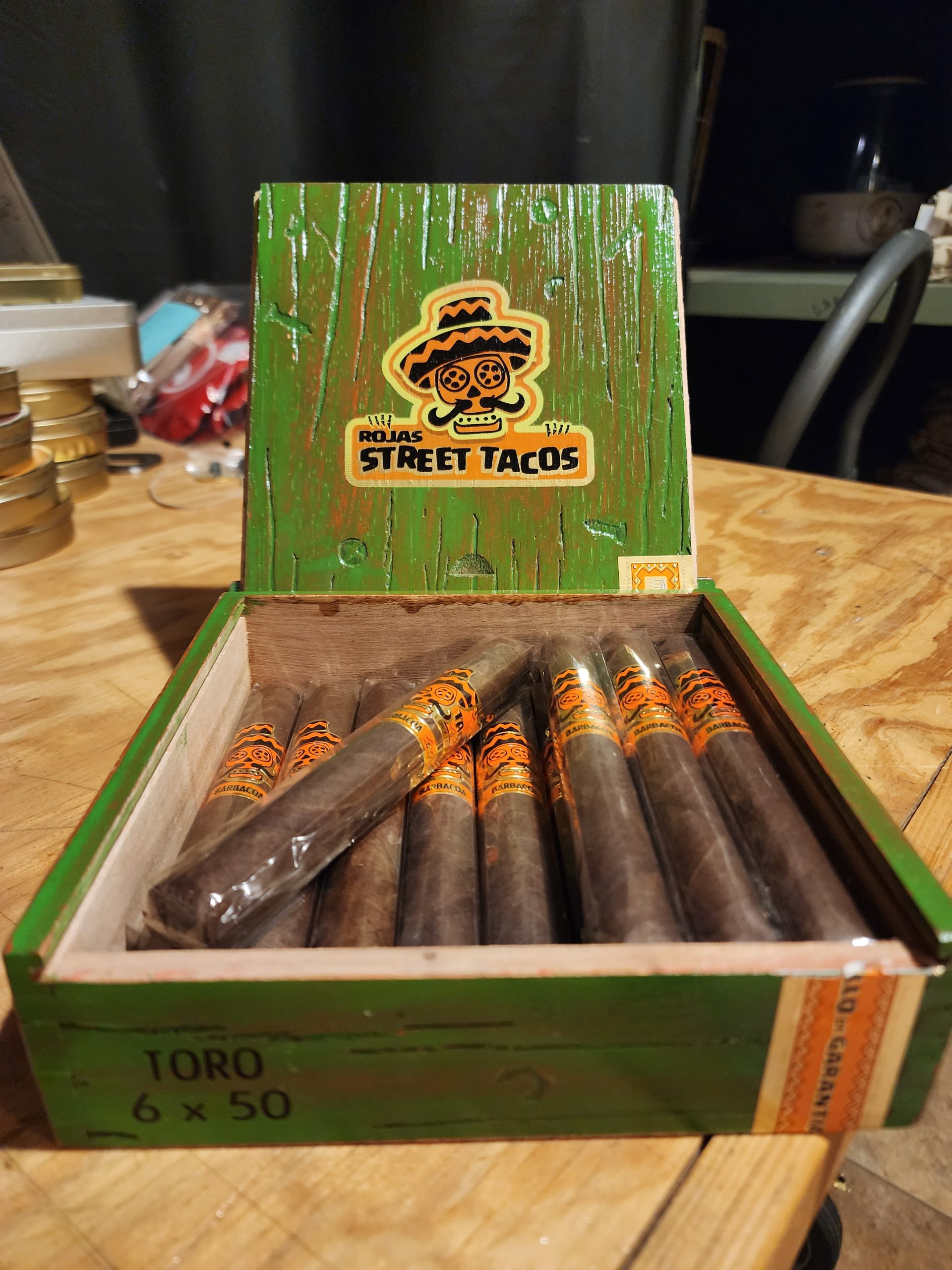 Master blender Noel Rojas has worked behind the scenes for much of his career in the cigar industry, from working on Cuban tobacco farms and studying blending and production techniques to collaborating with various boutique companies to produce highly rated cigars. Rojas Cigars, however, is Noel's solo venture, having released their first cigars in late 2019. Hand-rolled at the Tabacalera Flor de San Luis S.A. in Estelí, Nicaragua, the Street Tacos Barbacoa cigar debuted in 2021 and is inspired by traditional Hispanic cuisine. The Barbacoa version redefines Taco Tuesday with an Ecuadorian Sumatra wrapper around fillers and binder from Nicaragua's Somoto region, all boasting a full-bodied smoke.
VITOLA:   Toro
SIZE:   6″ x 50
ORIGIN:   Nicaragua
FACTORY:   Tabacalera Flor de San Luis S.A.
WRAPPER:   Ecuadorian Sumatra
BINDER:   Nicaraguan
FILLER:   Nicaraguan
STRENGTH:   Medium
SOURCE:   
Low Country Pipe and Cigar
WHERE:   
Cigar Lounge
WHEN:   
Evening
DRINKS:   
Dr. Pepper Zero
WEATHER:   
Sunny and Cool
WHAT'S ON:   
Music
RELEASE TYPE  Regular Production
ORIGINALLY RELEASE DATE  March 2021
TOTAL PRODUCTION
Typical Box Size:     Boxes of 16
Production Totals:  Unknown
VITOLA BREAKDOWN
o  Robusto  (5″ x 50)
o  Short Corona  (5-1/2″ x 46)
o  Toro  (6″ x 50)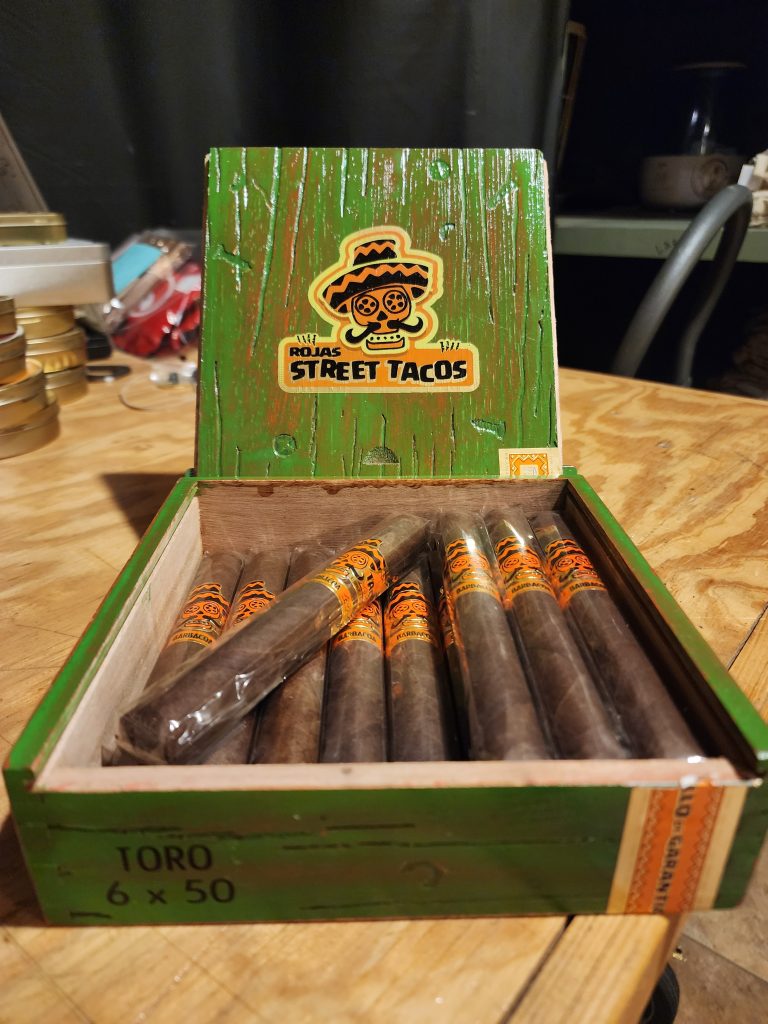 This cigar band is hard to miss when walking through the cigar humidor.  The bright orange band with the sugar skull wearing a sombrero and mustache.  The box that they come in is very bright with a lime green color.
CONSTRUCTION
This is a cigar that has a wonderful dark wrapper with noticeable veins.  It is a tightly packed with some give on the squeeze.  The triple seam cap is excellently applied.  The closed foot still allows for a great cold draw.  It is a beautiful colored stick.
AROMA
This cigar once unwrapped has a wonderful citrus and nutty notes.  
COLD DRAW
The cold draw is still possible with the semi-closed foot.  I used my Colibri SV cutters V-Cut side.  The cutter had no problem slicing through the tobacco.  The cold draw revealed notes of cedar with a hint of sweetness and a touch of pepper.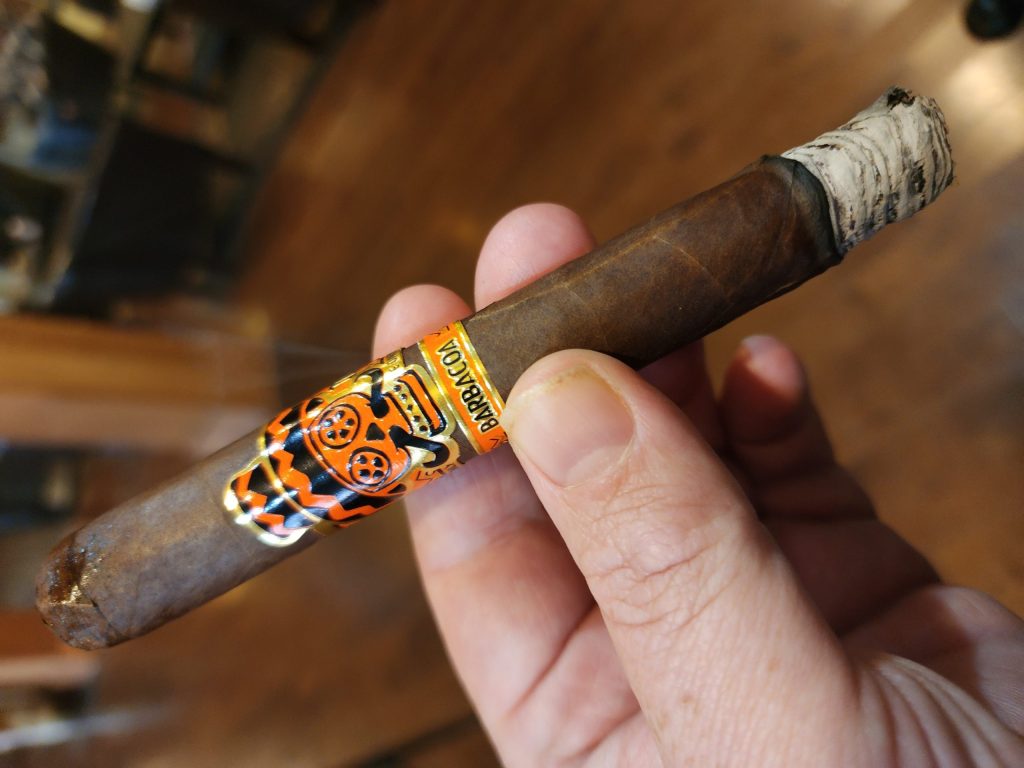 LIGHT & DRAW
Cut:  Colibri SV cutter
Fire:  Rojas Table Top Torch
After toasting the cigar, I take my first draw of the cigar and it lights off without any issues.  
SMOKE
The initial smoke out put is a very nice amount of smoke.  It has a very creamy pleasurable taste.
FIRST THIRD
>> White Pepper, Wood, Earthiness.
The pepper is still there during the first third, with some wood and leather mixed in very nicely.  This taco does not disappoint.  The spice stays through and also brings in some citrus taste.   
SECOND THIRD
>> Creamy, pepper, citrus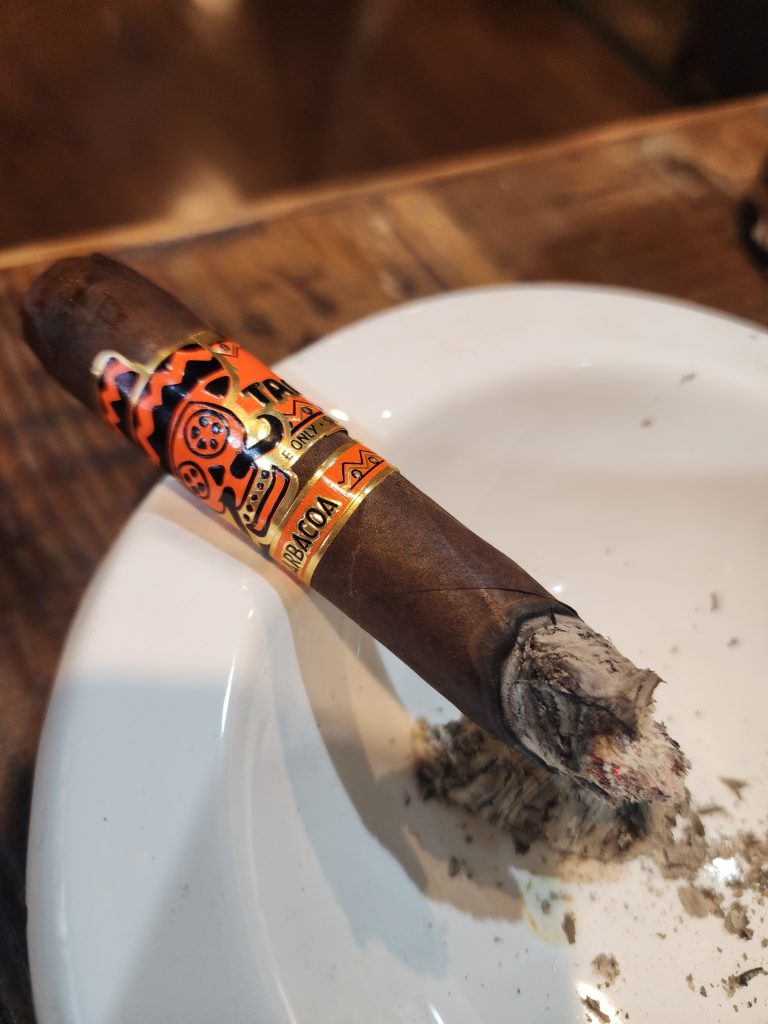 The second third continues the pepper show but not to the point of being unpleasant.  The creaminess keeps the pepper calm and the citrus makes it a little refreshing.  The stage has a nice meaty and oily like you find at the street booths in Mexico.
FINAL THIRD
>> Cedar, Pepper and Coffee.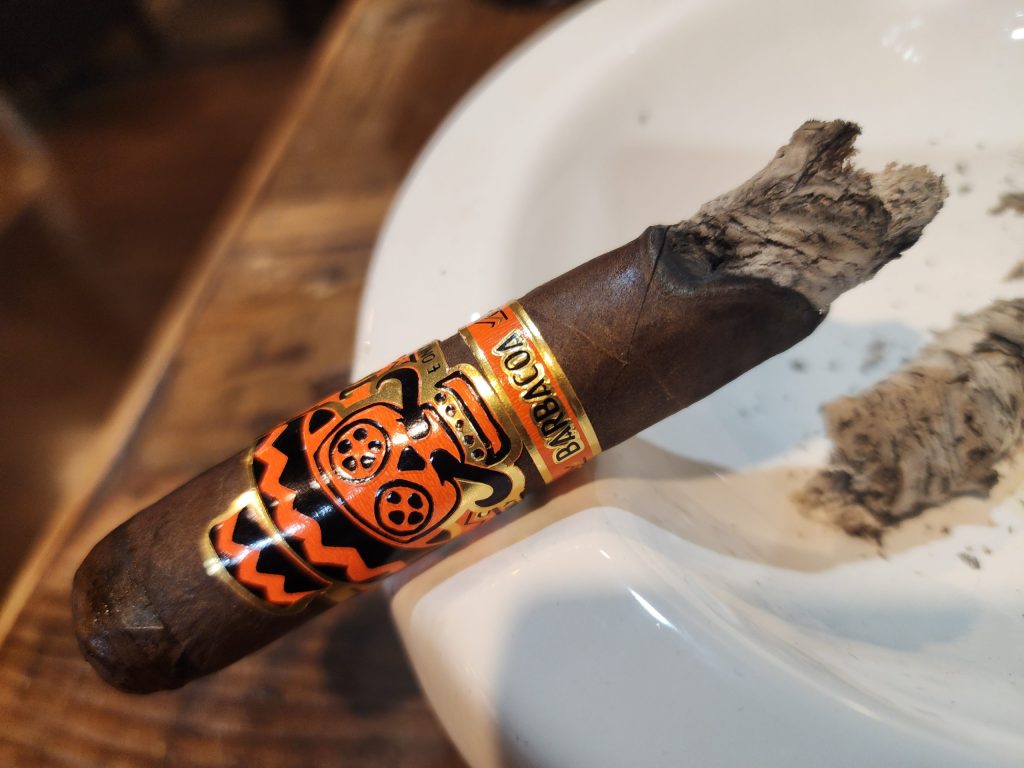 As I get to the primary band the pepper starts to calm down and the notes of cedar are there along with some slight hints of coffee.  The creaminess remains and the smoke is pleasant.  
FLAVOR PROGRESSION
The street taco is a medium to full body cigar that does not disappoint.  It is a spicy wonderful experience.  The pepper stays throughout the whole time but is intertwined with wood, citrus and coffee.
BURN EXPERIENCE
The street taco burned nicely through out.  It wasn't a straight burn but it never needed a touch up.  
RATING BREAKDOWN
0.65 / 0.80 … Craft & Aesthetic
0.45 / 0.50 … Pre-Light Characteristics
0.50 / 0.50 … Lighting Process
6.60 / 7.70 … Smoking Experience
0.45 / 0.50 … Personal Enjoyment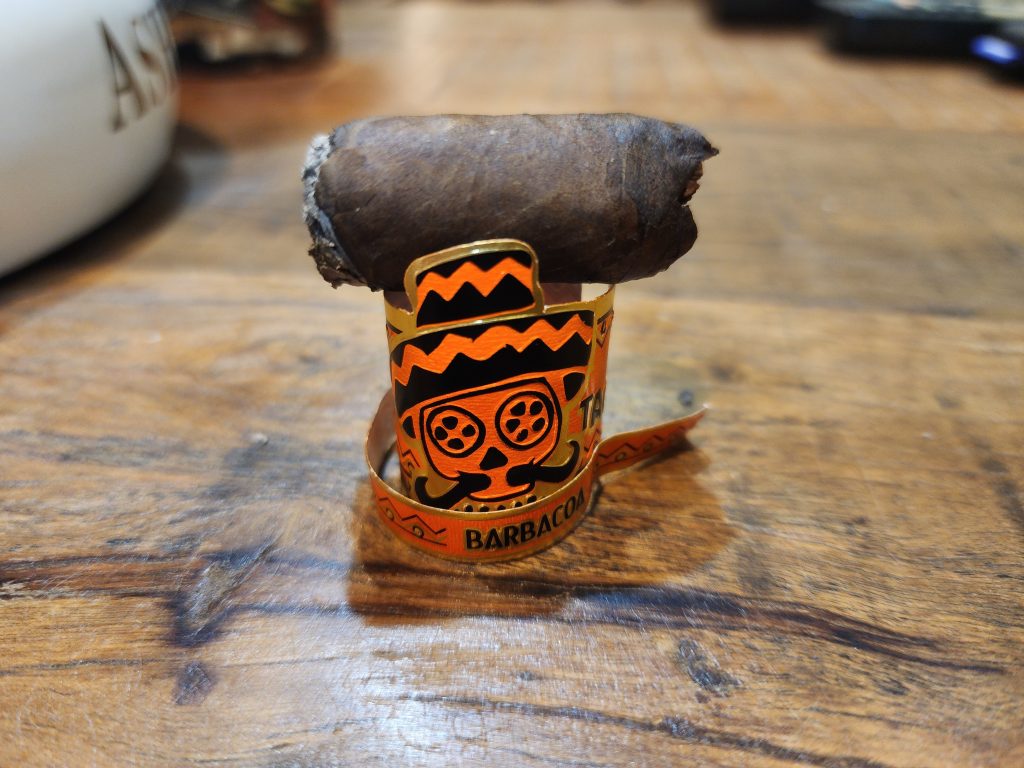 Get yourself a some street food.
With this being the first cigar in what is reported to be 3 cigar series, Noel Rojas comes out swinging.  This cigar is a great tribute to the people of Mexico and the Caribbean.  I believe for the price of this cigar it could be a great daily smoke.  Noel Rojas has hit this one out of the park.  I am very happy that this will be a regular production for them.  I look forward to the next cigar in the series. 
SIMPLY STOGIES RATING:  8.65 / 10.0