The Oath Taker from Stolen Throne was a very limited release that was exclusive to Cigar Federation. Lee Marsh once again teamed with Master Blender Noel Rojas to create a cigar experience that acts more like a piece of music that builds to an almost perfect crescendo, than it does just a complex cigar. The Oath Taker is a nuanced and complex experience that surprises the senses and demands that you pay attention to it. Unfortunately, a cigar experience is not only based on flavor. We must also take into account the construction of the cigar.
For this review I smoked two Oath Takers, one in a lounge and one in my driveway during a somewhat cold and breezy day. The burn issues I experienced on the first cigar —  in my driveway — I chalked up to the weather. Once I smoked the second one in a lounge, I realized it may be more than just the weather. Personally, I am not a fan of how Cigar Federation ships cigars, especially if you did not order a box. There has been ample room, in every order I have made from Cigar Federation, for the cigars to move freely in the box. This, in my opinion, might be the biggest issue with the Oath Taker.
VITOLA:   Toro
SIZE:   6″ x 52
ORIGIN:   Nicaragua
FACTORY:   Flor de San Luis (Esteli, Nicaragua) 
WRAPPER:   Ecuadorian Habano
BINDER:   Nicaraguan
FILLER:   Nicaraguan and Undisclosed
STRENGTH:   Medium body and Full Strength
SOURCE:   
Cigar Federation
WHERE:   
Habano Cigar Lounge (Davenport, Iowa
WHEN:   
October 26, 2020
DRINKS:   
Fuji Water
WEATHER:   
Room temp
WHAT'S ON:   
Monday Night Football
RELEASE TYPE  Limited 
ORIGINALLY RELEASE DATE  September 1, 2020
TOTAL PRODUCTION
Typical Box Size:     Bundles of 20
Production Totals:  1000 cigars produced
VITOLA BREAKDOWN
o  Toro (6″ x 52)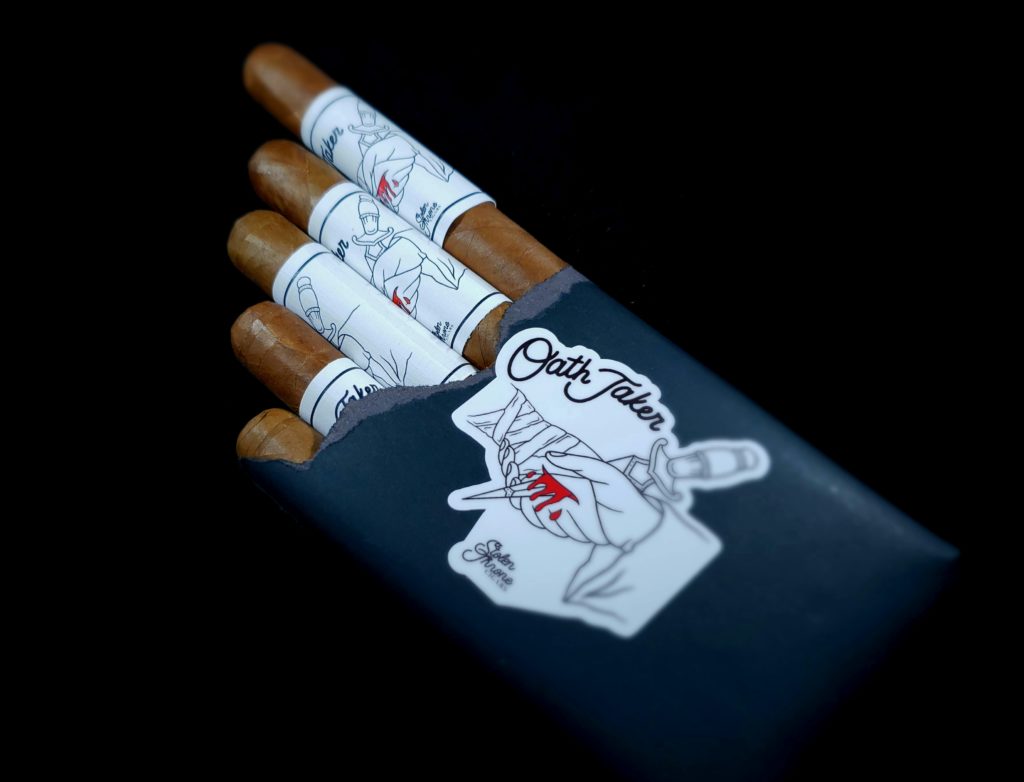 RESEARCH & BACKGROUND INFO
The Oath Taker was the second exclusive for Stolen Throne and made exclusively for Cigar Federation.
Lee describes the Oath Taker as being made with "a little of this and a little of that."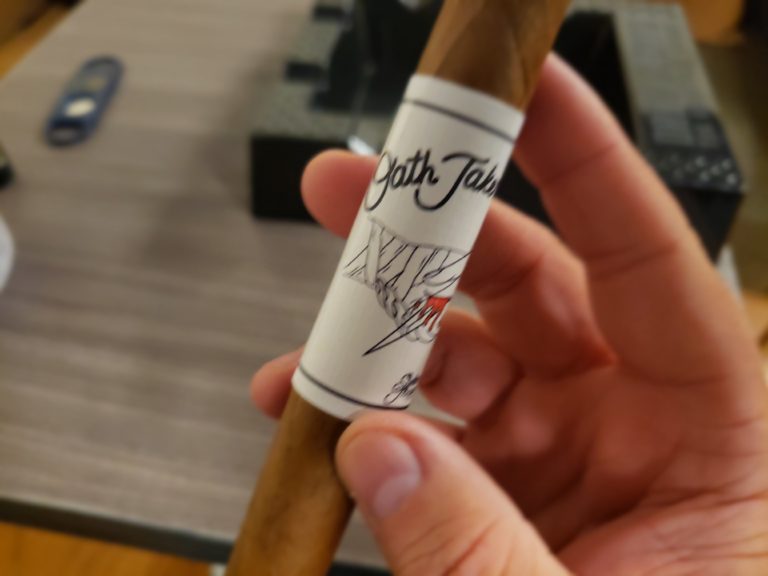 The band for the Oath Taker is yet another departure from other bands that the company has done. After speaking with Lee Marsh, he told me that every release from Stolen Throne is supposed to be different enough from previous releases that the smoker will not immediately say, "This is a Lee Marsh cigar." So, in that context, the different bands make a lot of sense. The band does take up a lot of real estate on the cigar; in fact, it may be the largest band on a cigar I've seen. The band prominently features the Oath Taker Logo, a bloody handshake with a knife through both hands. A striking illustration of the name.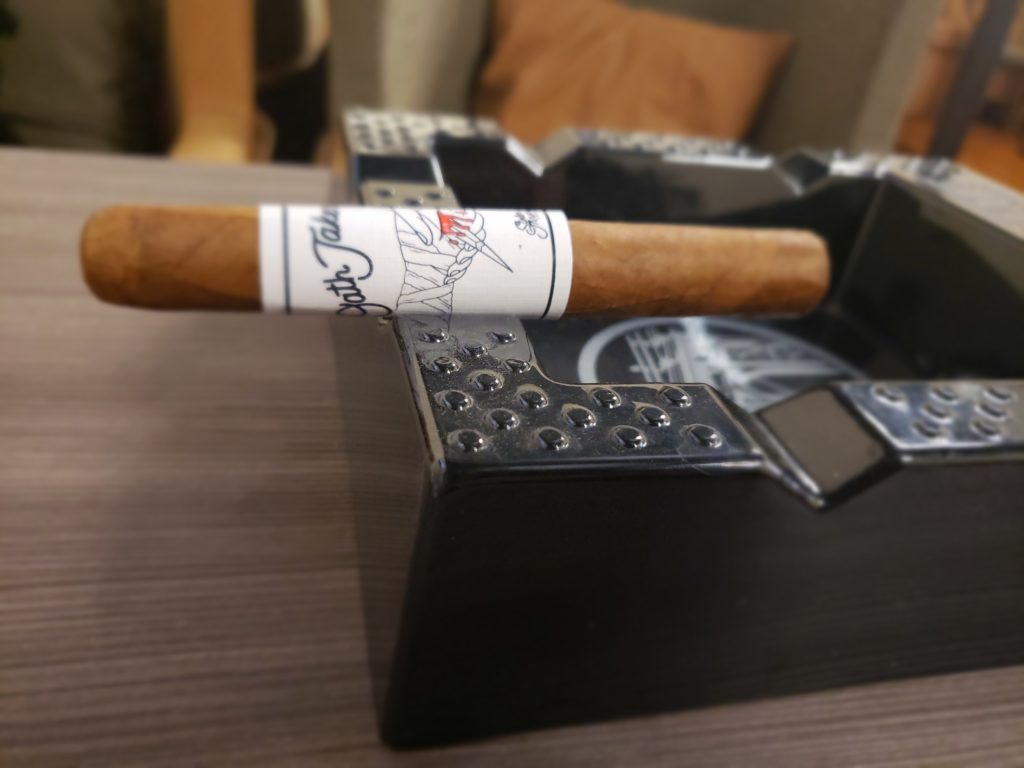 CONSTRUCTION
The Ecuadorian Habano wrapper is smooth and great shade of brown. It is inviting to look at. There are few seams but one very visible vein that will come into play later.
I am a sucker for a closed foot and the Oath Taker is no different. I am very excited to light this up. Though, the first Oath Taker I smoked was more half-closed than the second.
The head of the cigar looks expertly wrapped and nothing immediately jumps out to me as being a potential issue.
AROMA
Cedar is the first smell wafting from the unlit Oath Taker. With the closed foot, it is a bit difficult to determine any other aromas from the cigar besides tobacco.
COLD DRAW
The cold draw reveals a dominating chocolate note that immediately piques my interest.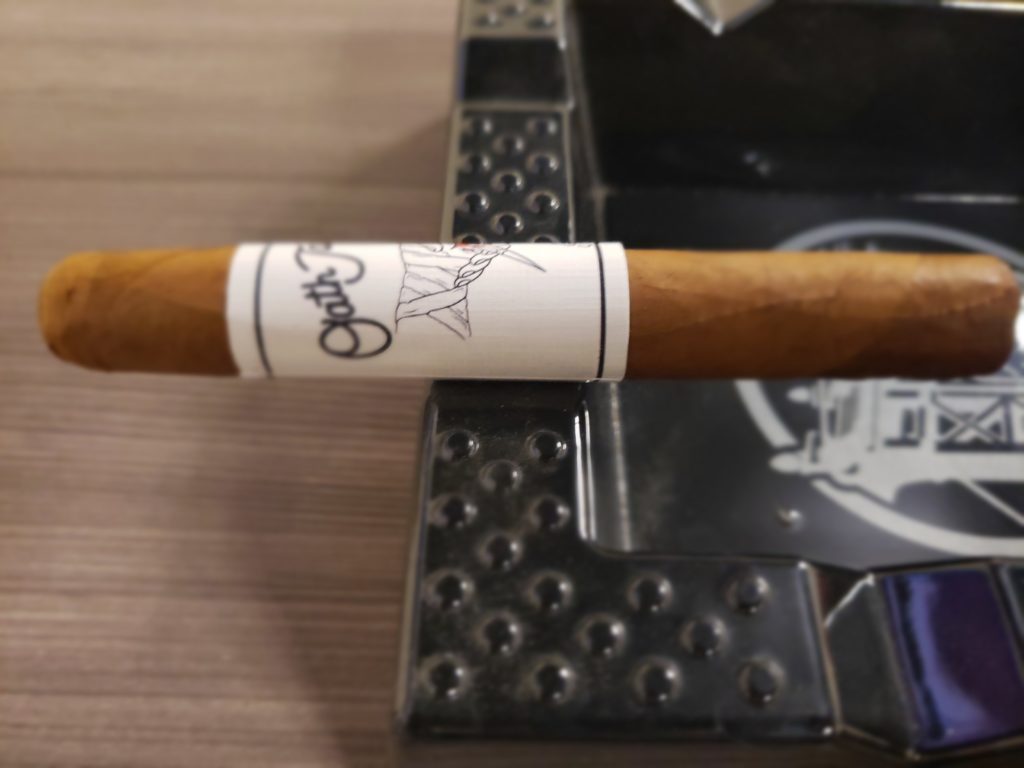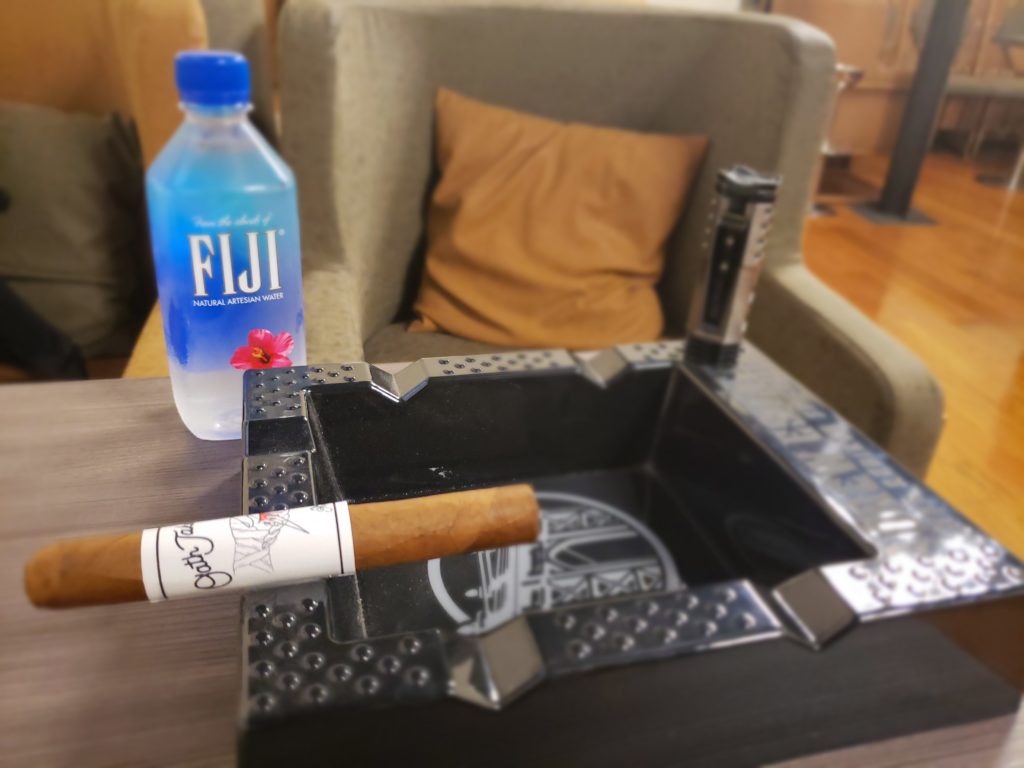 LIGHT & DRAW
Cut:  Straight Cut
Fire:  Xikar Tactical 1
The Oath Taker lights easily with no issues, but the burn issues become apparent. One side of the cigar just wants to burn slower. The draw is the perfect resistance. I immediately get a nice blast of pepper. OH! Is this going to be a pepper bomb?
SMOKE
The smoke escapes from the foot in white whisps. The smoke production is satisfying without producing copious amounts of smoke.
FIRST THIRD
>> Pepper, Cream, Earth, Nuts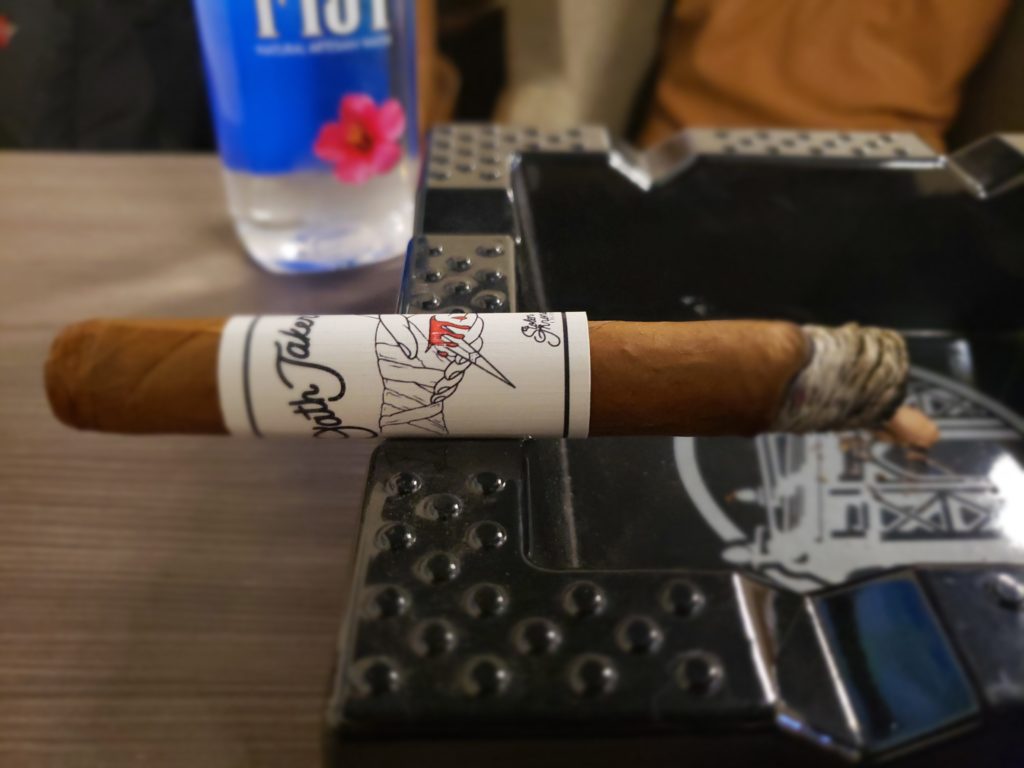 The first few puffs are very pepper-forward, but that's to be expected from the closed foot. There is a noticeable creamy and musty, almost mushroom note. Wow. I really like this already. While the opening was trumpeted by a blast of pepper, it subsided, and roasted almonds dominated the rest of the first third, while a bit of pepper still tickled my throat. The mushroom came and went in perfect harmony with the other notes. I was really digging the overall composition of the Oath Taker. While it lacked subtlety, it was clearly the beginning of a wonderful experience.
The ash was dark gray with black lines marching through it. Beautiful. Never flaky, and tightly compacted. It would have looked like a stack of nickels had it not been for the burn issue.
I am a sucker for a straight line burn. Unfortunately, the burn line on the Oath Taker is not close to straight. One side just did not want to burn,  but the ash was not the least bit flaky, which I find odd. Typically, burn issues can come from the storage environment, the smoking environment, construction issues, or shipping issues. Both Oath Takers I smoked had the same burn issue: one side did not want to burn.
SECOND THIRD
>> Dried Fruit, Baking Spices, Pepper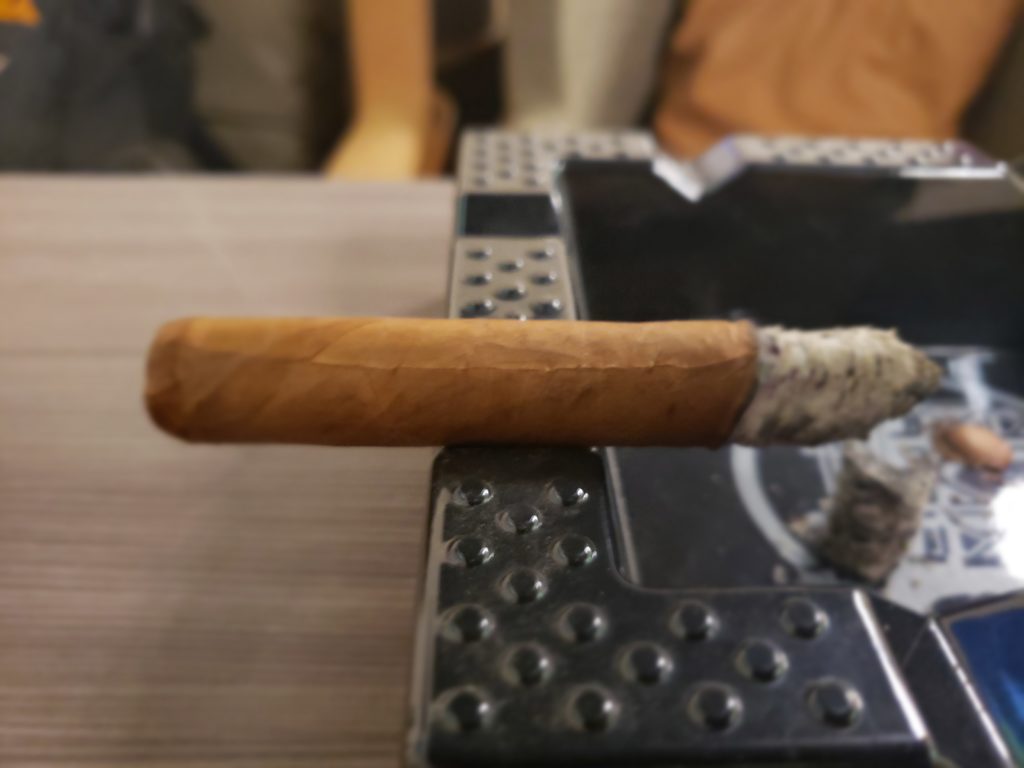 The second third begins with a sudden and very noticeable change in flavor. Where the nuttiness and earth was, suddenly a dried fruit note appeared. Honestly, this was the first time that I did not have to search for dried fruit. It smacked me in the mouth. Raisin, perhaps? Now cinnamon! Oh wow. I am impressed with the flavors. Not only is the Oath Taker delicious, but it makes sure that you know what you're tasting. Then those flavors come and go, composing beautiful music together. Harmonizing and teasing your palate. As I am dumbstruck at how good this is, I start to detect white pepper. It is subtle but it is there. Absolutely amazing.
The ash holds strong, which speaks to how well constructed the Oath Taker is. The burn line, though, is ugly. I refuse to touch it up as it is not interfering with the smoke, just annoying me to no end. 
FINAL THIRD
>> Espresso, Pepper, Dried Fruit, Baking Spices, Earth, Nuts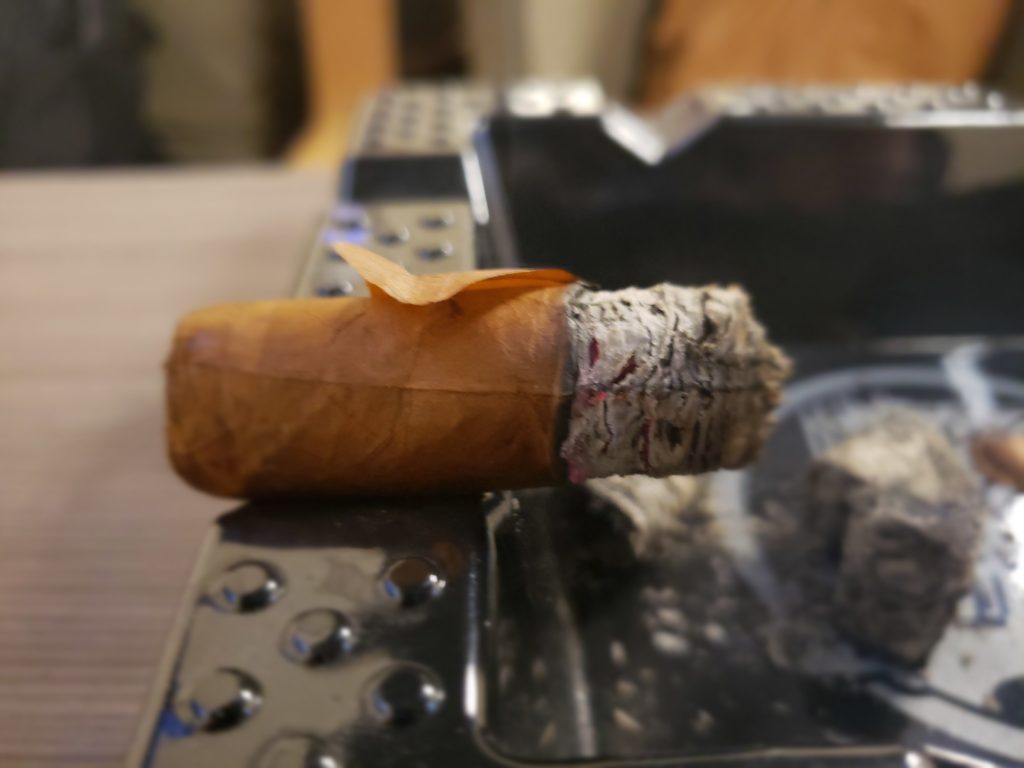 Once again, there is a sudden shift that heralds the arrival of the final third. Bitter espresso and pepper suddenly assail my senses and ensuring I pay attention to what is to come. A hint of cream sneaks in and begins to mellow out the blend. As I continue to smoke I am gobsmacked by what happens next. Notes of burning wood, baking spices, earth, dried fruit, pepper all begin to weave in and out. The crescendo builds. Every tasting note from the first two-thirds mingle in and out, coming and going in perfect harmony. Spicy! The crescendo of flavor reaches its zenith. Coffee, cream, a floral note, and campfire. My God, this is a masterpiece.
The Ecuadorian Habano wrapper began to unravel from the shoulder. Disappointing. Very disappointing. Based on the burn issues that plagued both cigars, how I store them (using Boveda two-way humidification packs and tracking the humidity and temperature using the Cigar Scanner App), and the smoking environment I am almost at a loss. Almost.
FLAVOR PROGRESSION
The flavor progression of the Oath Taker was nothing short of spectacular. It built on a solid first third, a distinct second third, and ended in a wonderful melody that brought all the elements from every third together, while still maintaining its identity. The Oath Taker is masterfully blended. It is put together like a composer writing his Magnum Opus. Absolutely beautiful.
BURN EXPERIENCE
This is where the Oath Taker disappoints. But is it the fault of the cigar? Look, any premium hand-made product is not going to always have a razor-sharp burn. I know this, and I feel that I score appropriately. I also have faith in how I store my cigars and how much rest I give them before smoking, and these both had plenty of rest. I can also assume, based on the solid construction of both the Crook of the Crown and the Call to Arms, that it is probably not a construction issue. So, what caused both of these to burn so badly and start unraveling in the case of the one smoked in the lounge? This reviewer is going to lay the blame squarely on the shoulders of whose exclusive this is, Cigar Federation. This five pack was the only thing I ordered from them, and it arrived in a box that was large enough to fit a bundle of 25. It had only a few air bags in it, which left plenty of room for these to be jostled, tossed around, and bang against the side of the box during their trip. This is not the first time that what I've ordered from Cigar Federation has arrived like this. It is a bit disheartening to have such a wonderful cigar experience be tainted because of poor shipping techniques.
RATING BREAKDOWN
0.78 / 0.80 … Craft & Aesthetic
0.50 / 0.50 … Pre-Light Characteristics
0.49 / 0.50 … Lighting Process
6.50 / 7.70 … Smoking Experience
0.50 / 0.50 … Personal Enjoyment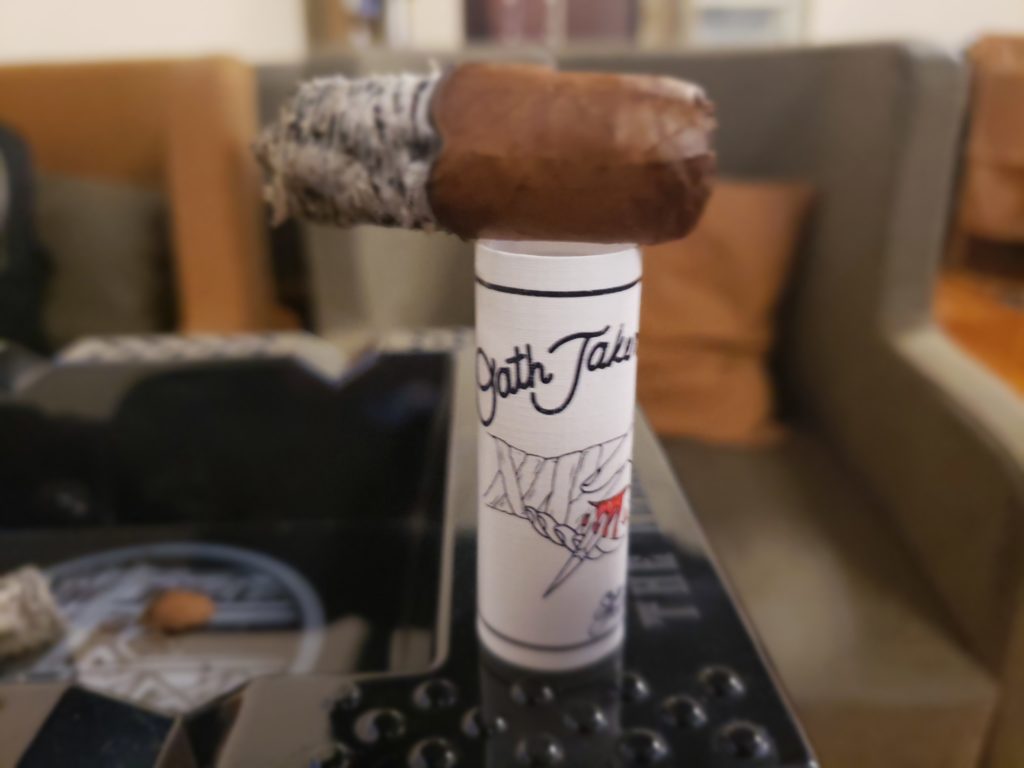 A MAGNUM OPUS TAINTED
Burn issues marred what could have been a great smoking experience. Honestly, I took a whole point off for the unraveling wrapper and one side that did not want to burn and the Oath Taker still scored an 8.77. That speaks to how wonderful the flavor progression was. The Oath Taker has a little bit for everyone: spice, pepper, nuance, subtlety, complexity, and even fruit and floral notes. It builds on the initial flavors and reaches a crescendo that deserves to be heard from the highest of mountain tops. Literally, the only bad thing was the burn issues that I lay solely at the feet of the seller/shipper, Cigar Federation. Still, if you can get your hands on the Oath Taker, it is worth it!
SIMPLY STOGIES RATING:  8.77 / 10.0