If you've read my review of the Freakshow from Nomad by Ezra Zion, then you know that Nomad releases can sometimes speak to my inner geek. In this instance, Sweep the Leg scratches that nostalgia itch that Hollywood has figured out we all have. Beyond that, myself and our former content director (Mike Breig) have enjoyed a lot of their blends, so it made sense for me to review this year's offering of Sweep the Leg.
This year's iteration comes in a 7 x 48 Churchill as opposed to last year's Toro size. The changes don't stop there, the 2021 version has different fillers and a different wrapper. A Corojo Rosado wrapper with eight years of age covers Nicaraguan, Indonesian, and Ecuadorian tobaccos. What's filler and binder? Well, Nomad by Ezra Zion doesn't really let us know. These small batch, ultra-boutique blends can be very good, but suffer from not having a consistent blend each year. While I understand why that can be difficult for small batch cigar manufacturers, it can wreak havoc on consumers who find a blend they like and want to smoke it year after year. 
VITOLA:   Churchill
SIZE:   7″ x 48
ORIGIN:   Nicaragua
FACTORY:   Undisclosed
WRAPPER:   8yr aged Corojo Rosado
BINDER:   Undisclosed
FILLER:   Nicaraguan, Indonesian, Ecuadorian
STRENGTH:   Medium/Full
SOURCE:   
Nomad by Ezra Zion
WHERE:   
In my garage.
WHEN:   
November 22, at 1pm
DRINKS:   
Ice Mountain bottled water.
WEATHER:   
34°/26° wind chill
35% Humidity
WHAT'S ON:   
The chattering of my teeth as I huddle against the heater.
RELEASE TYPE  Limited Annual Release
ORIGINALLY RELEASE DATE  September, 2021
TOTAL PRODUCTION
Typical Box Size:     Bundles of 5, 10, and 20
Production Totals:  375 Total
VITOLA BREAKDOWN
o  Churchill  (7″ x 48) COBRA KAI NEVER DIE! I'm not sure how Nomad by Ezra Zion gets away with some of their marketing. I'm not knocking it; in fact, more power to them for using a clever marketing strategy. However, the band and the sticker found on the packaging is a direct rip off of the Cobra Kai logo. The difference comes in the words on the logo. "Nomad" and "Cigs" are found on each side of the large cobra on the band. The name of the cigar "Sweep the Leg" is found in an Asian styled font at the bottom. Honestly, I have no complaints about the band. It's certainly nostalgic and eye-catching with the yellow, white, and red popping against a black background. CONSTRUCTION
The eight year aged Corojo Rosado wrapper is darker than I expected. It's lighter than milk chocolate but darker than caramel and rough to the touch. It's a toothy thing with an oily sheen that glistens ever so slightly in the light. Sweep the Leg sports a semi-closed foot with what looks to be glue to keep it closed. It's possible that the roller just had extra adhesive on their fingers when closing the foot, as this is only visible on one of the five in my bundle. 
AROMA
Notes of cedar and sweet tobacco can be found on the wrapper. I detect vanilla with just a touch of orange zest on foot. 
COLD DRAW
The cold draw is tight due to the closed foot. The flavors are so subtle that it's honestly hard to pick up much. Which is slightly disappointing because the aromas from the wrapper and foot were amazing. What I do pick up is just a hint of tobacco. LIGHT & DRAW
Cut:  Xikar Xi3
Fire:  ST Dupont Hooked
Upon my initial light the Sweep the Leg starts to burn wonky. I'll have to keep an eye on it to make sure it self-corrects. I am immediately met with notes of  nuts, toasted marshmallow, and graham cracker.. Black pepper on the retrohale immediately dominates the light.
SMOKE
Copious amounts of creamy, thick smoke billow forth from the Sweep the Leg. What an absolutely satisfying light.
FIRST THIRD
>> Earth, Molasses, Black Pepper Salted roasted nuts, graham cracker, and molasses immediately hit my palate. Black pepper continues on the retrohale, but now compliments the other flavors instead of drowning them out. There's a subtle fruitiness subtlety slithering in the background. The smoke is still creamy and thick. An earthy note begins to become the dominant flavor note. It's a musty, mushroom like flavor. The sweetness lingers on my palate, cutting through the damp, earthiness the Sweep the Leg is giving me. A faint note of fresh hay accompanies the pepper on the retrohale. The ash is compact and beautiful, with swirls of black and white. The burn line is a bit wavy, but nothing that is a cause for concern. This first third is as interesting as it is confusing. While I'm not sure these flavors work on paper, they are certainly working in practice. The sweetness has all but left the building, leaving a meaty and savory experience that dominates this first third. I deposit the ash in the tray easily, and it flakes just a bit. The flavors have stayed fairly constant in this beginning third.
SECOND THIRD
>> Milk Chocolate, Cayenne, Baking Spices The mushroom note transforms into a rich milk chocolate note that is followed by a spicy cayenne pepper on the finish. There's a subtle honey flavor in the background, but nothing that's really keeping me interested. Baking spices rule the retrohale. The barnyard/fresh hay note from the first third creeps back in. I'm not sure how well it goes with the chocolate note. There is an espresso note that begins to overtake the chocolate note. Though, espresso might be too kind of a descriptor. It's more of a burnt coffee note, complete with all the harshness and bite you'd expect from a burnt pot of coffee. Thankfully, that doesn't stick around. Cashews, coffee, and baking spices make this second third sing. The burn line is relatively straight and the ash is compact. You can't ask for much more than that. A nice cedar note begins to overpower the coffee note.
FINAL THIRD
>> Cedar, White Pepper, Baking Spices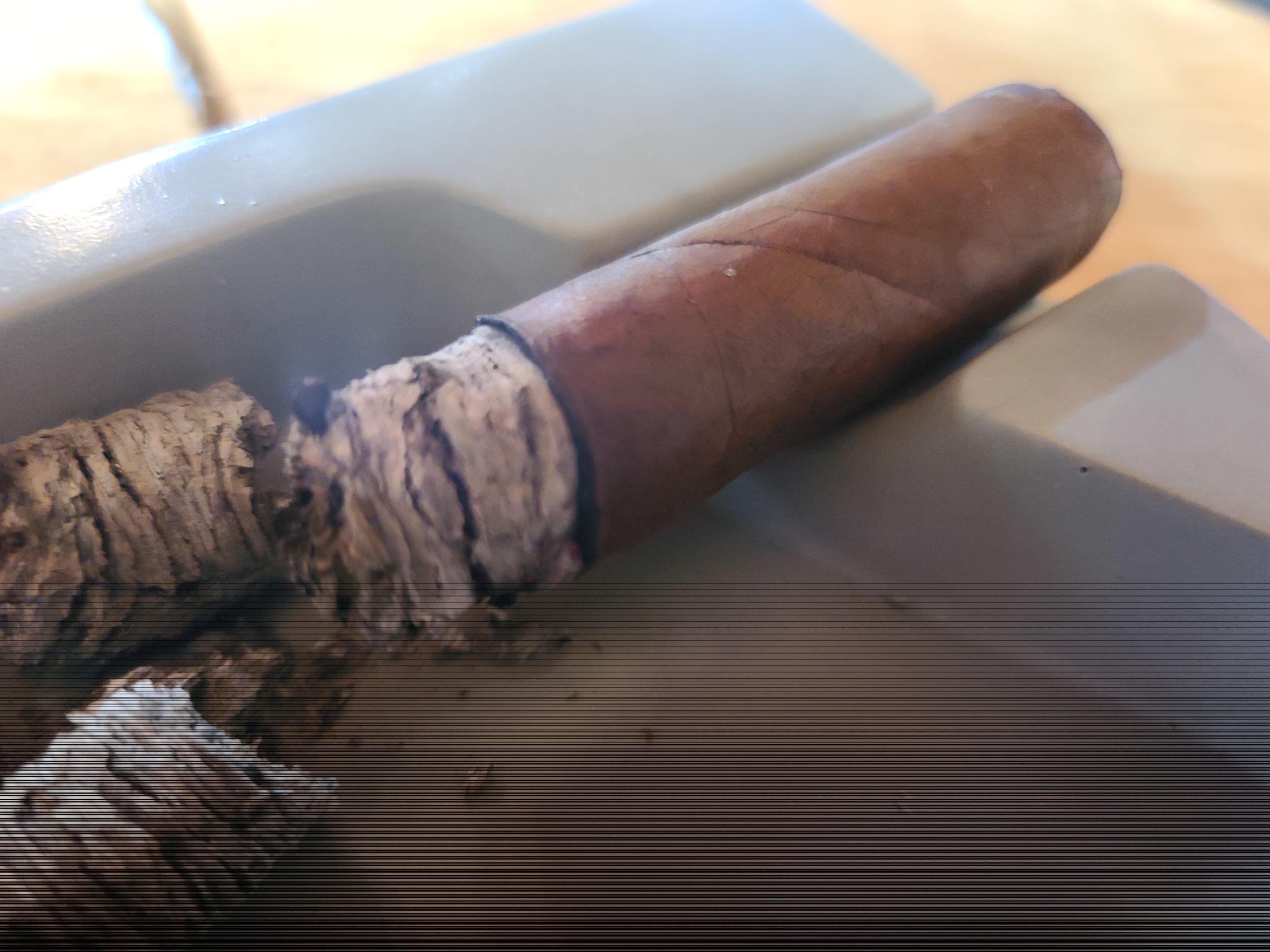 White pepper is now found on the retrohale. Cedar is the dominant flavor and is complimented with baking spices, cashews, and red pepper. If that sounds familiar, it's because it is. The only difference so far, is that the final third has no chocolate or coffee notes. Though, it's beginning to taste a lot like fruitcake, as there is a cherry note on the finish. The smoke is now dry but still coming from the cigar in copious amounts. The burn line remains straight-ish, and the ash is still fairly compact. There is a nice orange zest, that I first detected from the foot, shining through the richness of flavors in this last third. The Sweep the Leg ends with notes of espresso, wood, baking spices, and red pepper as it ramps up towards the very end.
FLAVOR PROGRESSION
The first third of the Sweep the Leg started out promising and was complimented by the complexity and nuance of the middle third, save for the few moments of harshness. The final third just lacked any sort of meaningful transition. While it was enjoyable, it was too much like the second third for my taste.
BURN EXPERIENCE
What started off suspect, turned into a very nice burn. Not always the straightest of burns, but the compact ash made up for any waviness of the burn line. And bonus points for self-correcting. No relights or touch-ups were needed in any of the cigars smoked for this review.
RATING BREAKDOWN
0.70 / 0.80 … Craft & Aesthetic
0.40 / 0.50 … Pre-Light Characteristics
0.43 / 0.50 … Lighting Process
6.70 / 7.70 … Smoking Experience
0.40 / 0.50 … Personal Enjoyment Better than Hollywood Nostalgia.
Sweep the Leg is a solid offering that capitalizes on its marketing schtick. The flavors may look weird on paper but in practice, they flow together like Mr. Miyagi's training regime (wax on, wax off). However, the final third was just too similar to the second third for me. It was a lot of the same notes and never really made a hard transition. It was still complex and nuanced with some great flavors. It just never went for that illegal sweep of the leg. Still, a solid offering from Nomad by Ezra Zion and definitely worth smoking it.
SIMPLY STOGIES RATING:  8.63 / 10.0