Kyle Gellis has become well known in the cigar world, namely through Warped Cigars. In 2018 Kyle created a side project called DROP. DROP is a cigar club for cigar enthusiasts who want access to Hyper Limited and exclusive blends from Kyle Gellis. These projects "serve as a tribute to Kyle's early days at El Titan De Bronze and TABSA in Esteli." Signing up for DROP is free, but your name gets placed on a waiting list to then be invited to purchase the cigars. Here is a link explaining the waiting list process for DROP. 
VITOLA:   Toro
SIZE:   6″ x 48
ORIGIN:   Miami
FACTORY:   El Titan de Bronze
WRAPPER:   Ecuadorian Habano 
BINDER:   Nicaraguan 
FILLER:   Nicaraguan and Dominican
STRENGTH:   Medium
SOURCE:   
DROP Club
WHERE:   
Back Patio
WHEN:   
October 9 @ 8:30 PM 
DRINKS:   
Oban 14 yr
WEATHER:   
A brisk 55°
WHAT'S ON:   
Album: The Ballad of Dood & Juanita by Sturgill Simpson
RELEASE TYPE   Limited Release
ORIGINALLY RELEASE DATE  2019
TOTAL PRODUCTION
Typical Box Size:     Boxes of 10
Production Totals:  Unknown
VITOLA BREAKDOWN
o  Toro  (6″ x 48)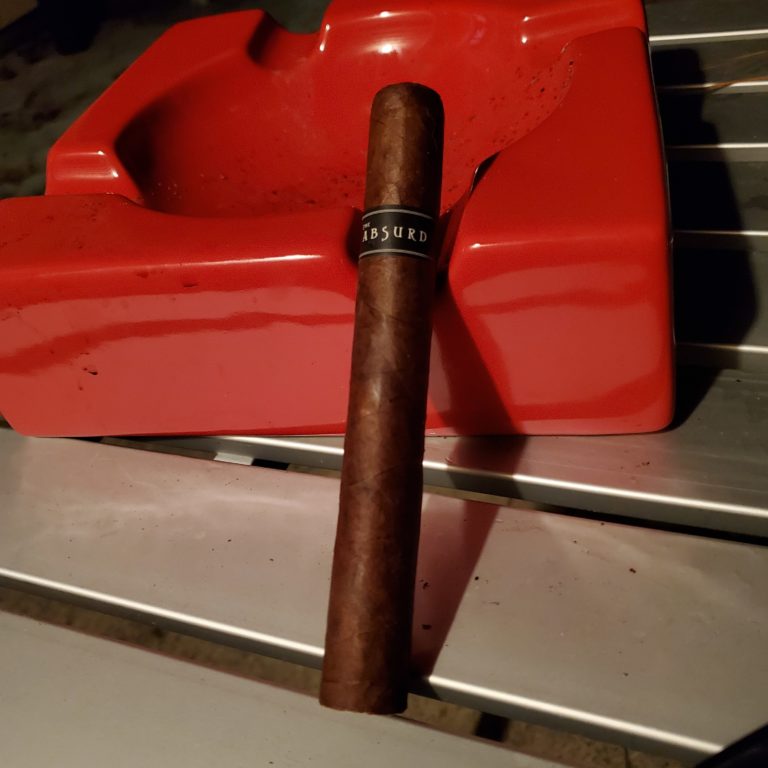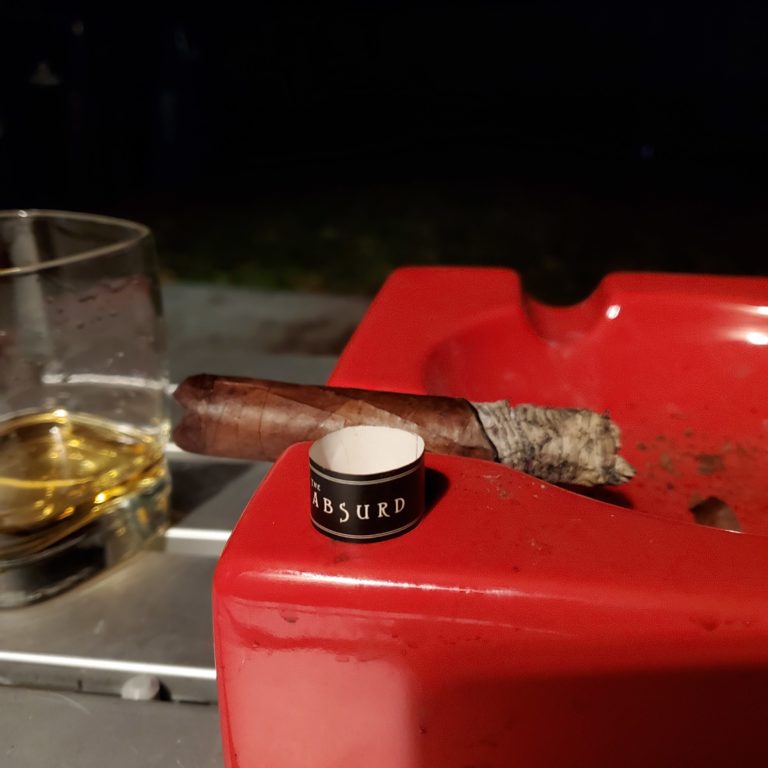 The band is absurdly simple. Grey lettering and accent bands pop against a black backdrop. The font reminds me of a Times New Roman font but with an element of tension, as the "s" is larger than the rest of the lettering. I am almost stressing the s sound into a hiss as I read the name "ABSURD" out loud. With a dark band and such a chocolatey smell, I am interested to see what is absurd about this cigar.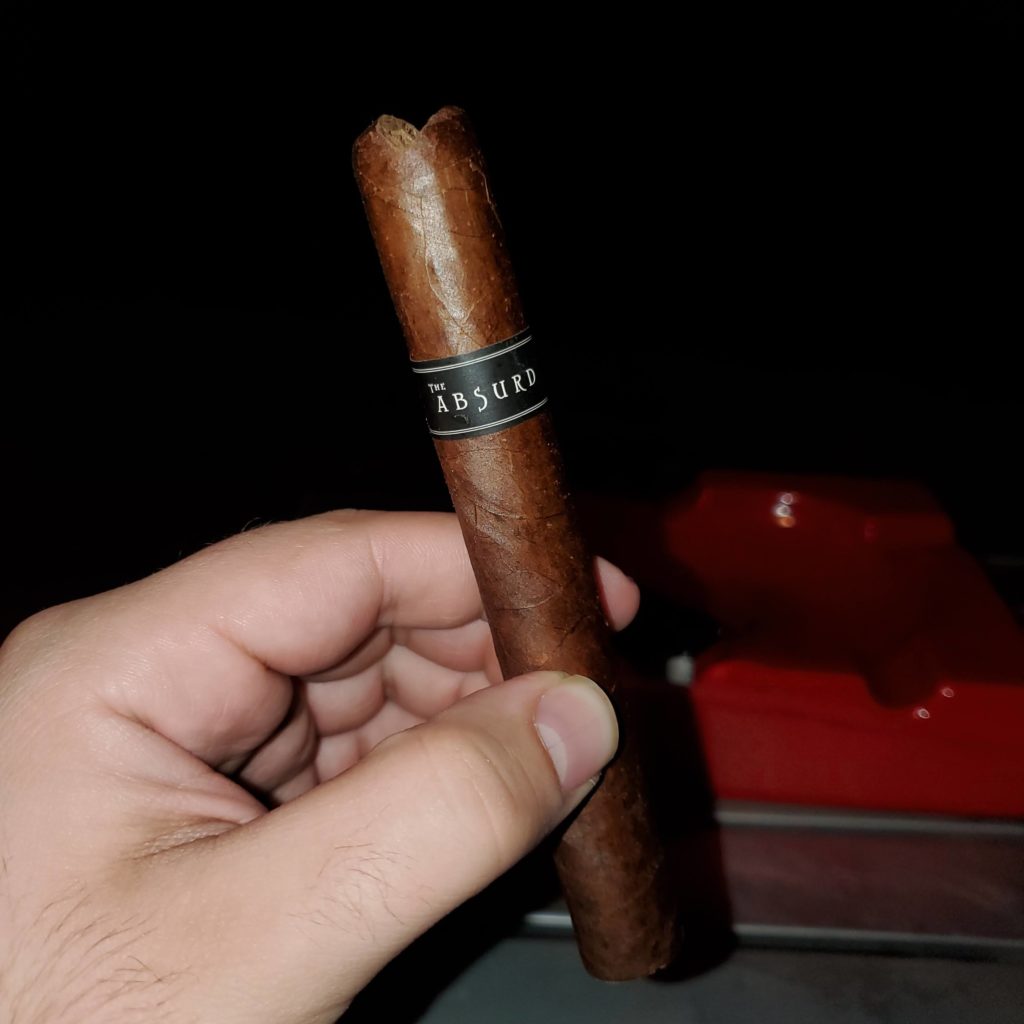 CONSTRUCTION
The wrapper is a beautiful and rich dark chocolate color, almost as if it was the winning cake in a baking competition. Veins dance underneath the rich wrapper. They smoothly roll like hills descending into the plans. The wrapper is oily, leaving me excited for the journey before me.
AROMA
The aroma matches the Ecuadorian Habano wrapper. Bit of dark chocolate hits my nostrils. There is also a sweet, nutty and tobacco smell. 
COLD DRAW
I breathe in and I have never experienced such a strong distinct bitter chocolate note. This bitterness is not bad at all, if you like eating a 98% cacao chocolate bar. I could bake a cake with the baker's chocolate taste. The draw itself is a little tight, a little surprising since I use a v-cut which usually provides a pretty open draw.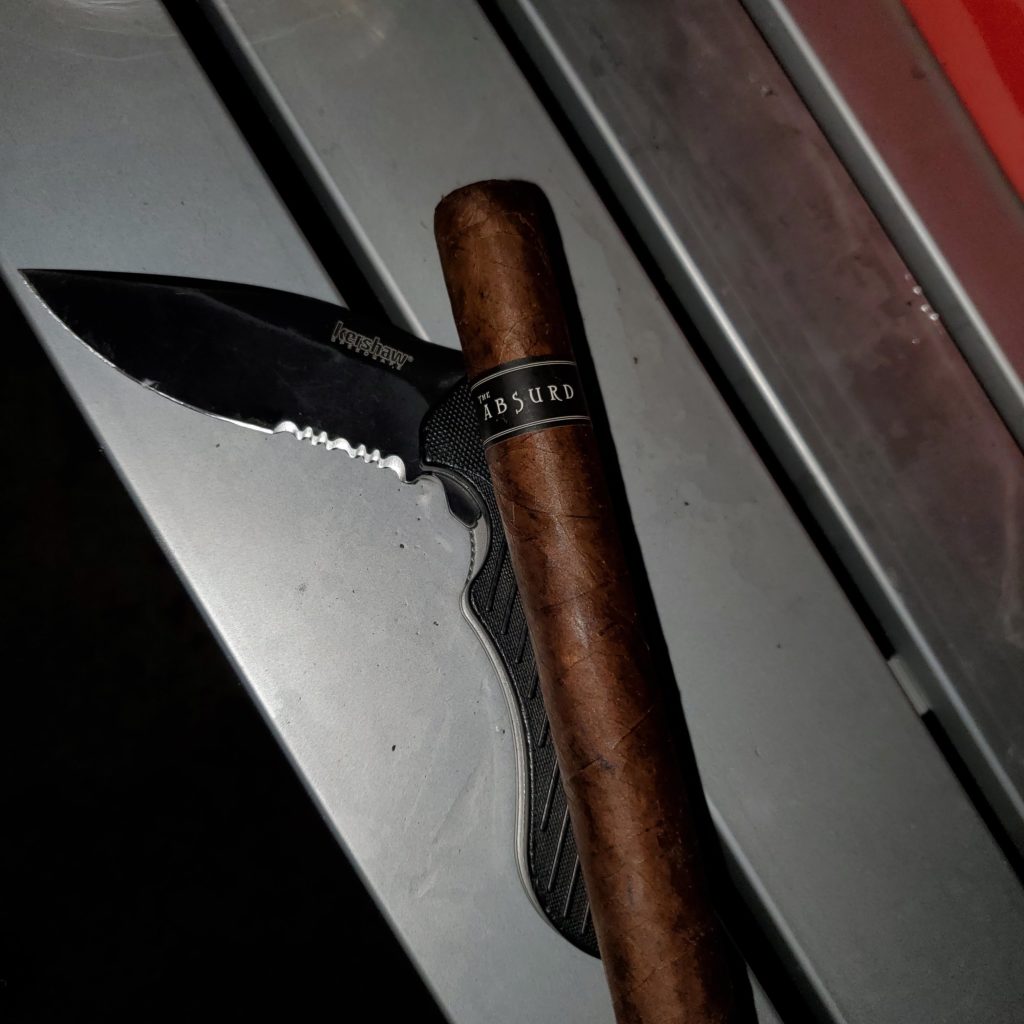 LIGHT & DRAW
Cut:  Colibri SV — V-Cut 
Fire:  Vertigo Hawk
The cigar lights up quickly and with very little effort. The burning wrapper begins to release nutty, chocolate notes into the air. The first tasting notes are of a slightly sweeter chocolate than what was hinted at on the cold draw. I would say more of a semi-sweet chocolate flavor. Following the chocolate, a spiciness came through to surprise me on the back end. The draw is still a little tight at first light.
SMOKE
The smoke is very velvety soft. I might even say as soft as red velvet. This is an unique and lovely mouth feel to the smoke which I am not accustomed to. The volume of the bellow is large and plentiful despite the relatively tough draw.
FIRST THIRD
>> Cedar, Leather, Pepper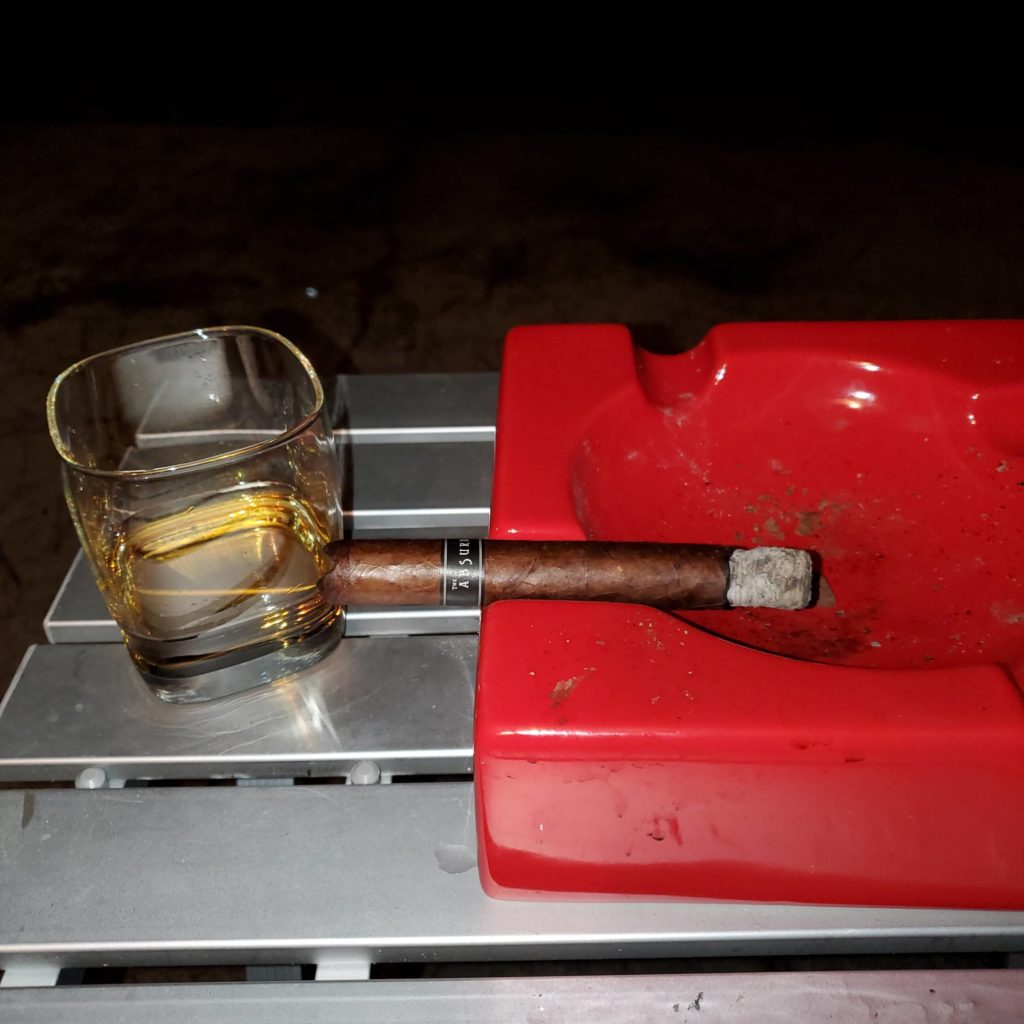 The spiciness has backed off into a milder pepper note, gently welcoming me to the first third. A wooden cedar note comes creeping through my palate next, which contrasts the sharpness of the pepper. A warm leather note finishes the breath off. I love this warm leather note that I'm picking up on the Absurd. I'm transported out of my uncomfortable outdoor chair, into a deep Lazy Boy recliner as a movie starts to play. Though, I am a little distracted by the burn. Both cigars I smoked did not have an even burn line and were pretty wavy. I do not touch up the cigar because I want to see if the cigar corrects itself. Along with the burn line, with one of the cigars I smoked, the draw opened up wide halfway through the first third. The other cigar maintained the same tight draw I observed on the first light.    
SECOND THIRD
>> Chocolate, Cinnamon, Nutty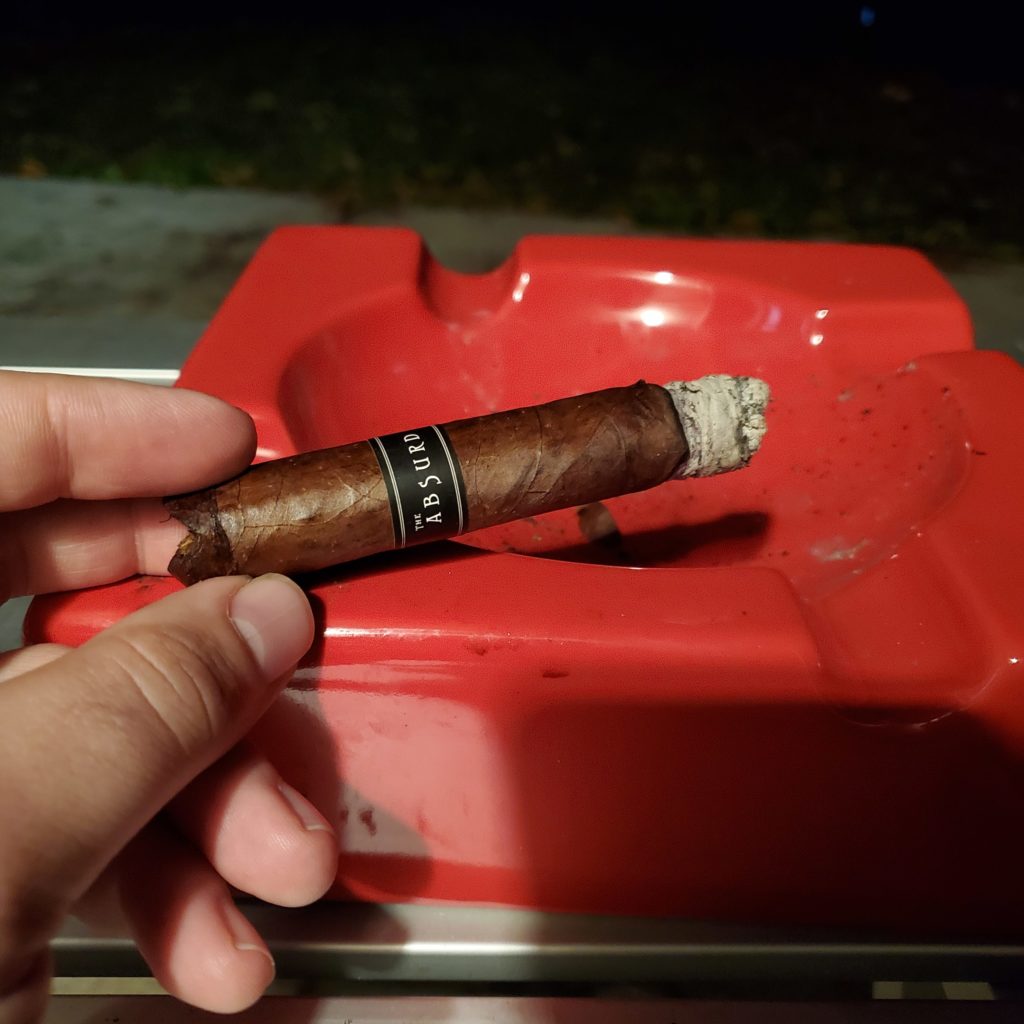 The leather and wood notes turn into chocolate and cinnamon notes that remind me of waking up to the smell of holidays in the house. Then a light sweetness comes wafting through my mouth. I detect a nutty note that's almost smoky and oily, like nuts toasting on a stove top. Perhaps I'm thinking too much about the upcoming holidays. Maybe it's just the cold. I can not believe how well this second third pairs with my Oban 14 (a Highland Scotch with floral, fruity, and peaty tasting notes). I notice, unfortunately, that my burn line has not corrected itself. This happened on both of the cigars that I smoked for this review. One Absurd started canoeing, and the other was still rather wavy. I had to touch up both cigars with surgical bursts from my tri-torch. I do love the beautiful ash The Absurd is creating. The beautiful lines of white and dark grey are exceptionally contrasting in the dark porch light.
FINAL THIRD
>> Baking Spice, Chocolate, White Pepper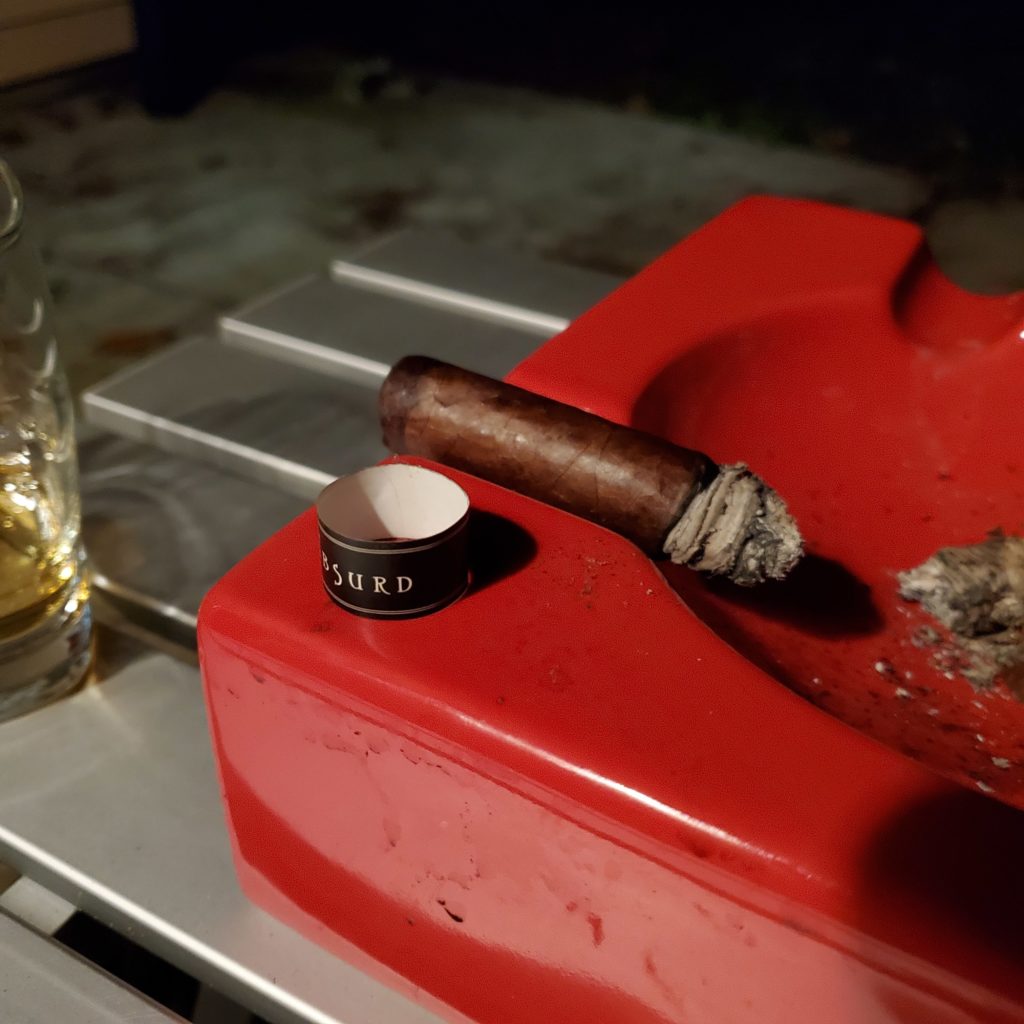 Light and delicate are how I would describe the hallmark notes of the final third. The baking spice is the first thing I taste, as the cigar evolves to the final third. The specific spice mixture is a combination of cinnamon, which is lingering and providing unity from the second third, and a light and delicate nutmeg note. The nutmeg provides excellent contrast to dark and rich notes which have been present throughout the cigar. A white pepper note also comes and peaks through the nutmeg in my palate. The pepper adds an extra dimension to the spice mixture. A faint light sweeter chocolate note appears towards the back of my mouth. The amount of chocolate in this cigar has become one of the key identifies in this enjoyable cigar. The burn line has corrected itself from the wild experience of the second third, but is still not sharp. 
FLAVOR PROGRESSION
The Abusrd absolutely demonstrates how to take the smoker through a well-crafted experience with a well-established identity. From the cold draw to the final third, chocolate and spices are celebrated as the intensity and strength glide from high to low, bitter to sweet, and strong to delicate. 
BURN EXPERIENCE
I mentioned how both cigars I smoked had issues in the maintaining an even and sharp burn line. The second third of the cigar required touching up with the lighter to correct a canoeing issue.  
RATING BREAKDOWN
0.75 / 0.80 … Craft & Aesthetic
0.44 / 0.50 … Pre-Light Characteristics
0.32 / 0.50 … Lighting Process
6.87 / 7.70 … Smoking Experience
0.42 / 0.50 … Personal Enjoyment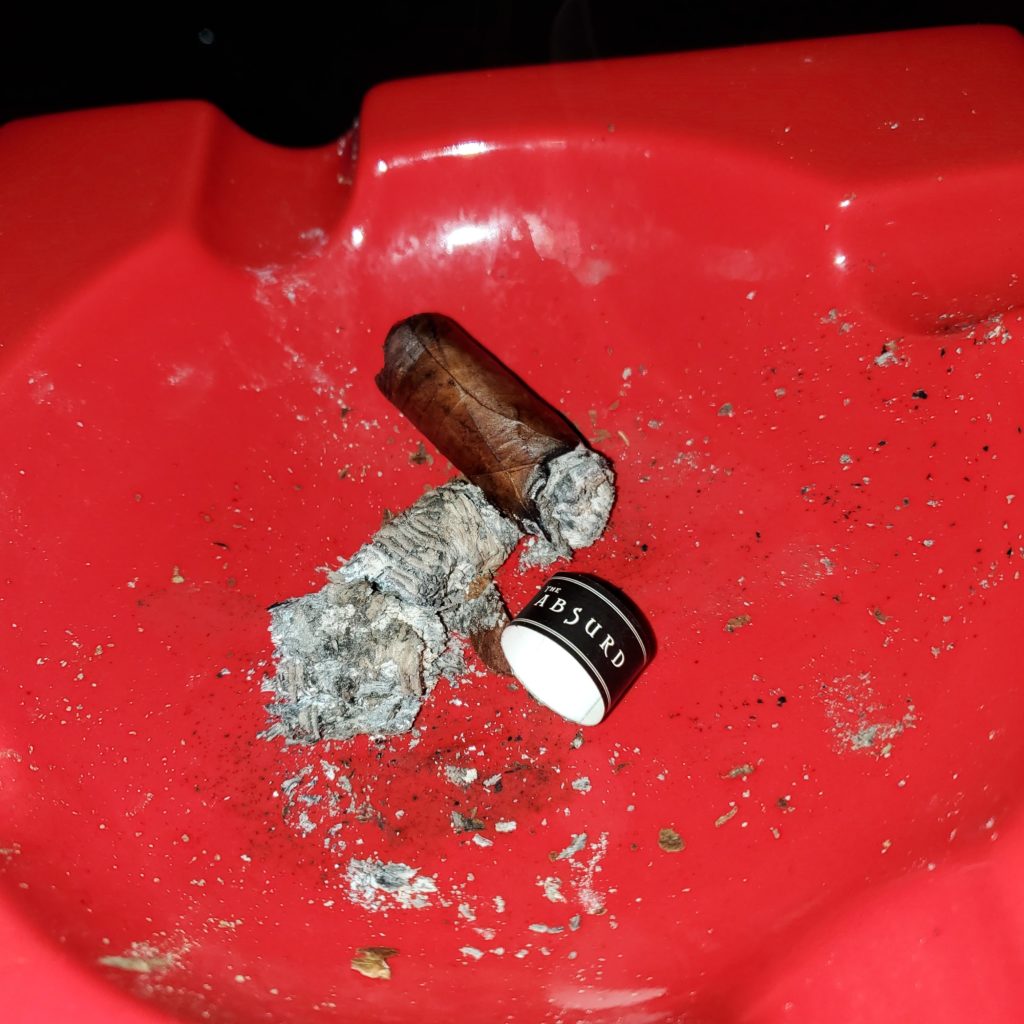 THIS CIGAR IS ABSURD-LUTELY A BAKER'S DELIGHT.
If you are able to get your hands on one of these limited releases from Kyle Gellis, I strongly encourage you to do so. The curation Kyle has developed in The Absurd is top notch and is my favorite cigar I've reviewed for Simply Stogies this year. I can confidently say this cigar is a top 5 from what I have smoked in 2021 as well, despite the burn issues. My mind is still reeling from the cold draw chocolate notes which then progress into into a pleasantly mild finish. Again, since this cigar was part of DROP, it was only released in limited quantities, but if you can get your hands on this cigar, it would be a great experience for the upcoming holidays.
SIMPLY STOGIES RATING:  8.80 / 10.0