House blends can be a weird area for cigar smokers. House blends are usually priced lower than "name brand" cigars, but are sold by B&Ms as "just as good as." The problem that I have with most house blends is that they are rarely as good as advertised. There are a few exceptions to the rule. Omaha Cigar Company sells their house blends almost exclusively, and for good reason; because they are very good. The B-52 and B-56 from Casa De Montecristo in Lakeside, Illinois are meant to be Cohiba Behike knock-offs. They're not as good as a Behike, but they are phenomenal cigars in their own right. And now we can the Jornal to the list.
The Jornal isn't Oxford Cigar Company's first foray into house blends, but it might be their most successful. The initial shipment sold out in days. Made in Nicaragua and wrapped in newspaper to promote aging, the Jornal retails at $6.50 a cigar. Nicaraguan binder and fillers are cloaked with a Nicaraguan Habano Escurio wrapper. I wasn't expecting much from the cigar, to be honest. With the price tag, my expectation was that it would be like many other house blends that I've had. Boy, was I wrong.
VITOLA:   Robusto
SIZE:   5″ x 50
ORIGIN:   Nicaragua
FACTORY:   Unknown
WRAPPER:   Nicaraguan Habano Escurio
BINDER:   Nicaraguan
FILLER:   Nicaraguan
STRENGTH:   Medium – Medium-full
SOURCE:   
Oxford Cigar Company
WHERE:   
Garage
WHEN:   
December 24, 2021 @1:00pm
DRINKS:   
Dirty Dozen Coffee Company Engine 10 Blend
WEATHER:   
36°
WHAT'S ON:   
The quiet of a Christmas Eve's afternoon
RELEASE TYPE  Regular Production
ORIGINALLY RELEASE DATE  December 2021
TOTAL PRODUCTION
Typical Box Size:     Bundles of 50
Production Totals:  Undisclosed
VITOLA BREAKDOWN
o  Robusto  (5″ x 50)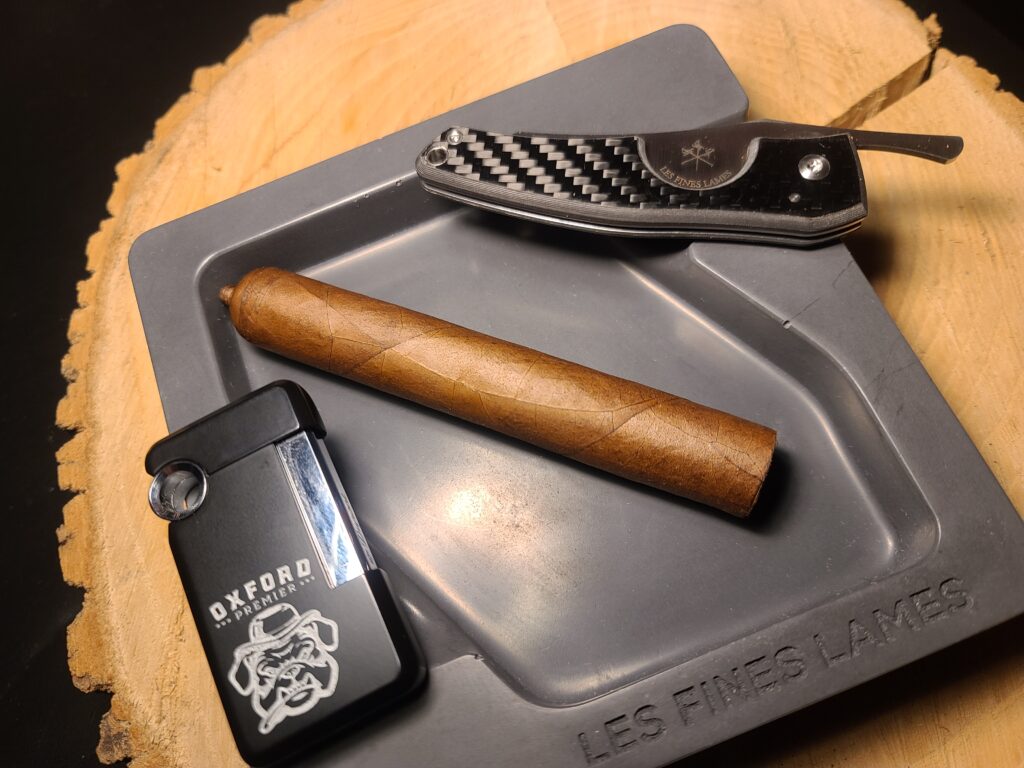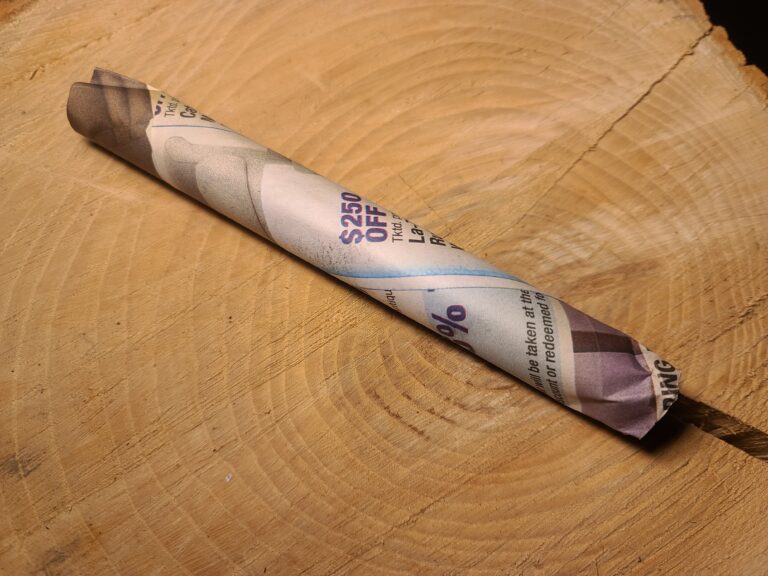 The Jornal has no band. While that is not unique in the cigar industry, the use of newspaper is. What is unique is that it comes wrapped in newspaper, rather than cellophane. Speaking with Lucas Da Silva, owner of Oxford Cigar Company, he told me that the newspaper is used to promote aging. I had never heard such a thing. If it works, it works. The newspaper is also how the Jornal got its name. The word "jornal" is Portuguese for "newspaper." A nod to Lucas's Brazilian heritage. 
If you look closely at the picture, you will notice that the newspaper is in English. When asked about this, Lucas explained that due to COVID-19, Nicaragua is importing newspapers from Panama. Sometimes it comes in English, and other times it comes in Spanish.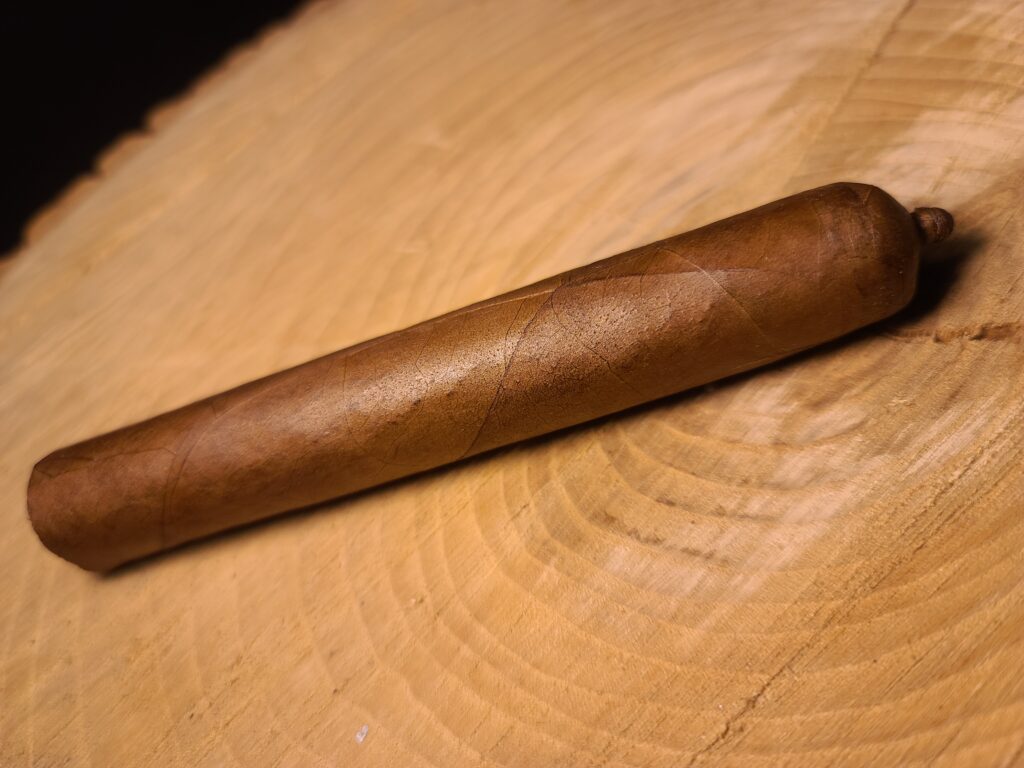 CONSTRUCTION
The wrapper is a beautiful shade of brown with a slight reddish hue. The Nicaraguan Habano Escurio wrapper is rough to the touch and has a bit of tooth to it. There are a few visible seams but it is stunning to look at it. The Jornal sports a triple capped pigtail that is expertly applied. 
AROMA
Cedar, barnyard, and just hint of newspaper are found on the wrapper. The foot gives off a nice barnyard but with a depth that is lacking on the wrapper. There is a fruity sweetness coming from the foot that is intoxicating.
COLD DRAW
The draw is almost perfect; not too tight and not too loose. Notes of nuts, coffee, and fruit are easily made out off the initial pull.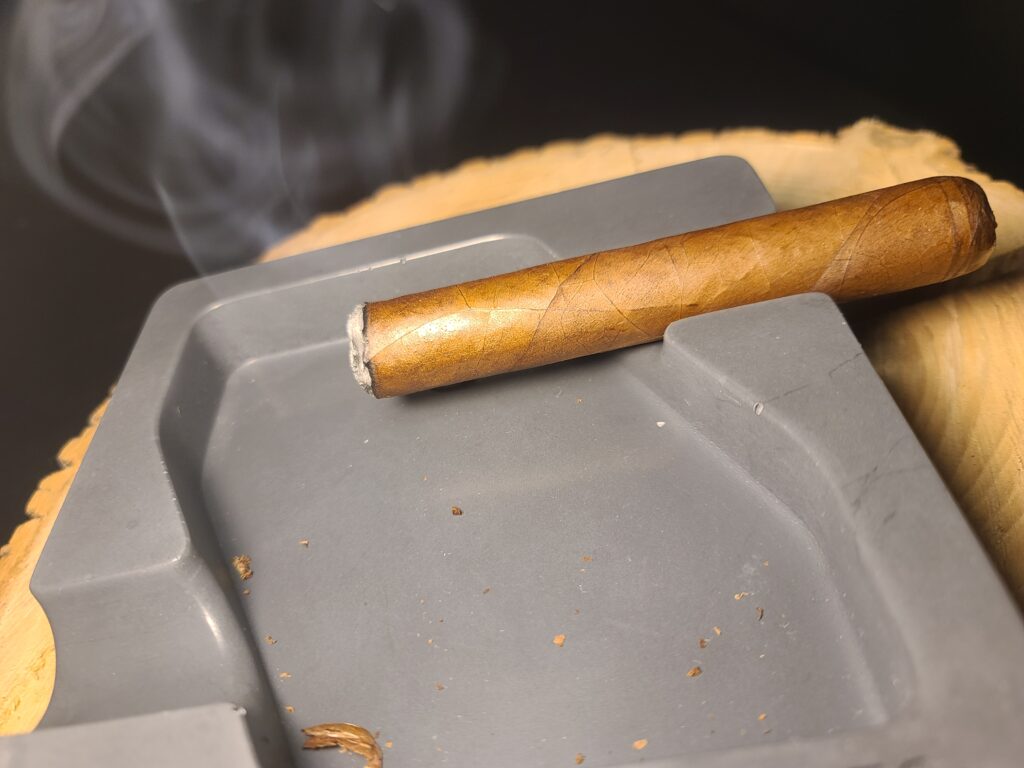 LIGHT & DRAW
Cut:  Les Fines Lames LE PETIT Carbon Cigar Knife
Fire:  ST Dupont Hooked
Pepper blasts from the retrohale. Nuts, chocolate, and coffee all explode from the initial light. Baking spices linger on the finish.
SMOKE
The smoke is creamy and satisfying. A good amount of smoke billows beautifully from the Jornal.
FIRST THIRD
>> Sweet Cream, Nuts, White Pepper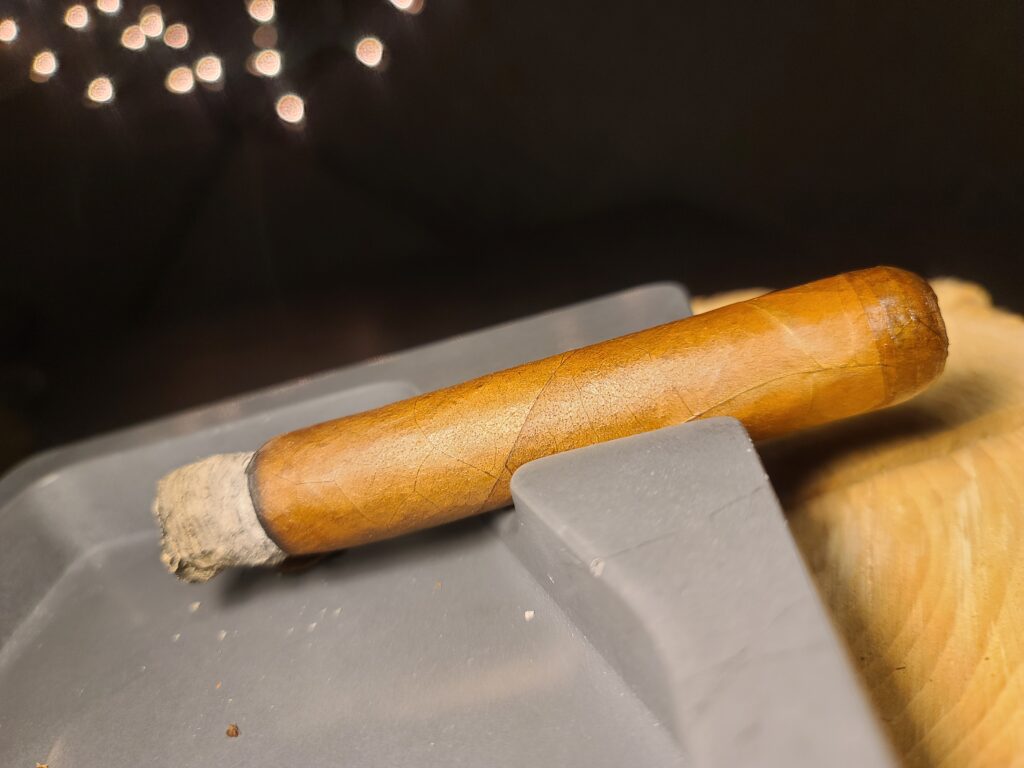 Creamy. Creamy. Creamy. Notes of nuts, cream, and baking spices are immediately noticeable. Fruity sweetness lingers on the finish. White pepper rules the retrohale of this first third. The Jornal is full flavored and medium bodied to start out. The ash is compact and has the appearance of stacked nickels. The burn line is just ever so wavy. There's that sweetness again. I'd call it banana-esque, but I know that's wrong. It adds a brightness to the profile that elevates the dominant, rich notes of earth and nuts. Salt has entered the chat. It's a nice addition as the fruitiness fades and the nuttiness dominates. I'm savoring the richness of the Jornal as the inchh long ash finally falls…into my lap.
SECOND THIRD
>> Chocolate, Leather, Black Pepper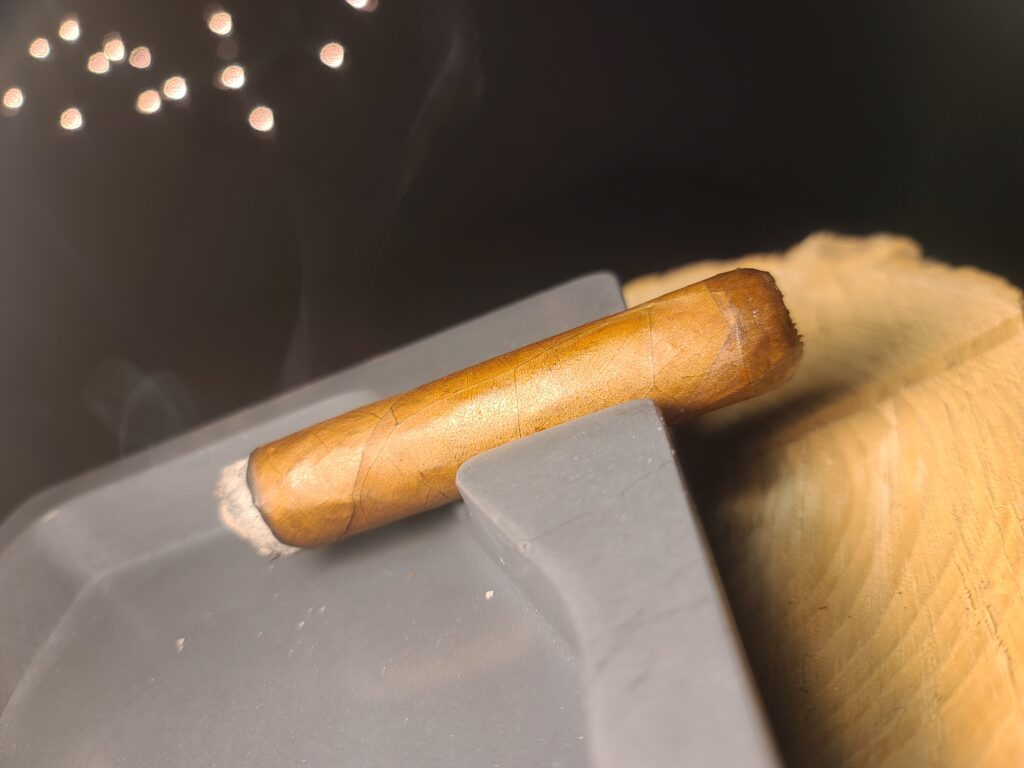 The Jornal is a coal powered locomotive when it comes to smoke output. With every draw my mouth is filled with copious amounts of creamy smoke. Milk chocolate, cashews, and leather begin the middle third. Black pepper compliments the richness of the Jornal. Caramel joins the party as a note of coffee emerges from the chocolate. The burn line is still wavy but the cigar is burning even, unaffected by the ash that fell due to my carelessness. Construction is on point as the ash is compact and beautiful. A subtle note of cedar begins to creep in at the end of the 2nd third.
FINAL THIRD
>> Coffee, Caramel, Red Pepper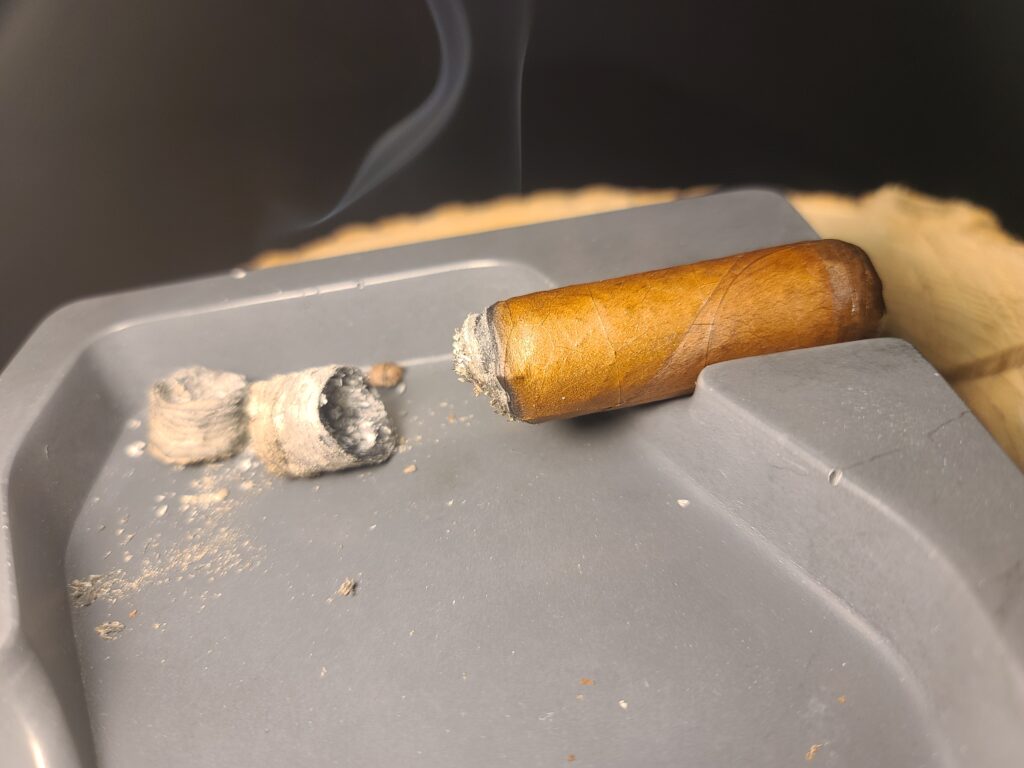 The final third of the Jornal begins with notes of cedar, baking spices, and caramel. The wood is dominant but is cut by the sweetness if the caramel. There is a rich coffee note that lingers on the finish with just a hint of baking spices. The smoke output continues to be no less than perfect. The ash is still compact and the burn line consistent. The coffee note begins to morph into an espresso note that overwhelms the sweetness of the caramel. Red pepper plays on the retrohale; it has just a bit of a vegetable like quality. An earthy/mineral begins to come through, along with a hint of campfire. The rich sweetness of the caramel plays with the bitterness of the charred wood and earth notes in a way that is almost intoxicating. I wish I brought out my nubber. I do not want to put this cigar down. Baking spices linger on the finish with the sweet caramel, as I finally lay the Jornal down.
FLAVOR PROGRESSION
What a journey! The Jornal starts with notes of nuts and cream and ends with earth and pepper. Each flavor note seemed to morph from the previous notes and nothing seemed out of place. The Jornal was smooth and creamy throughout the entire cigar. 
BURN EXPERIENCE
The burn line was always consistent, even though it wasn't razor sharp. No touch-ups or relights were needed. The smoke output was nothing less than spectacular.
RATING BREAKDOWN
0.78 / 0.80 … Craft & Aesthetic
0.48 / 0.50 … Pre-Light Characteristics
0.50 / 0.50 … Lighting Process
6.89 / 7.70 … Smoking Experience
0.48 / 0.50 … Personal Enjoyment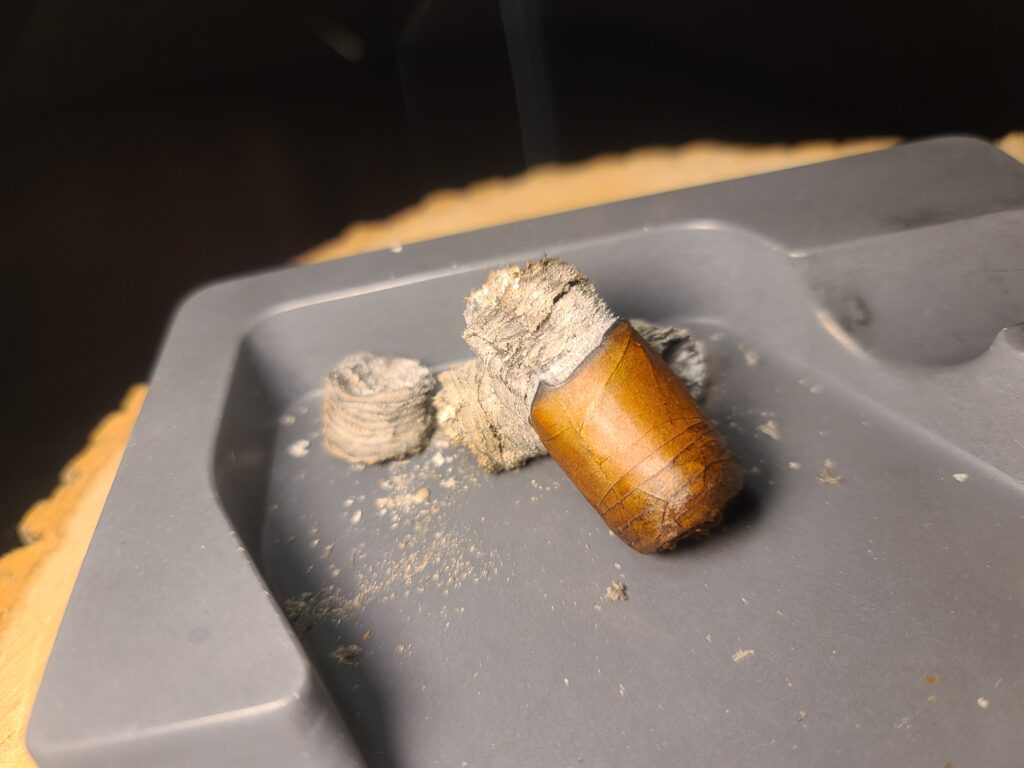 THE JORNAL IS A MUST READ.
There are very few times that I'm surprised by a house blend. In fact, I can think of only two other house blends that are in my regular rotation. Now it's three. The Jornal checks almost every box for me: depth of flavor, consistent burn, great smoke production, complex and nuanced tasting notes. The Jornal has all of that in spades! When you take into consideration the Jornal is a sub $7 cigar, it makes it a no-brainer to put the Jornal on your reading list. 
SIMPLY STOGIES RATING:  9.13 / 10.0