Vlada Stojanov, the man behind Bespoke Distribution, is a certified sommelier. For those who may not know what that it is, it's someone who has been trained to taste. That may be an oversimplification, but it's essentially correct. The testing to become a certified sommelier is intense. Vlada has parlayed that training into a successful career in the cigar industry. From distributor to blender and brand owner. 
Vlada is also one of my oldest friends in the cigar industry. In fact, I've known him longer than I've been doing the podcast. He was one of the "industry guys" in an online cigar club I was once a part of. So, when I found out that he was releasing his own cigar, I was very excited. In our interview with Vlada, he mentioned how excited he was to work with this new Honduran tobacco leaf. 
*THE SAMPLES SMOKED FOR THIS REVIEW WERE PROVIDED BY VLADA STOJANOV (I have bought a different size and the Premier Cru and will review those at a later date).
VITOLA:   Gordo
SIZE:   6″ x 60
ORIGIN:   Honduras
FACTORY:   Fábrica Centroamericana de Tabaco S.A.
WRAPPER:   Mexican San Andres
BINDER:   Nicaraguan
FILLER:   Honduran, Nicaraguan, Mexican
STRENGTH:   Medium 
SOURCE:   
Small Batch Cigar
WHERE:   
The Studio Lounge
WHEN:   
September 3 @10:00am
DRINKS:   
Bottled Water
WEATHER:   
70° & 70% humidity
HOW MANY CIGARS SMOKED:   
3
RELEASE TYPE  Limited
ORIGINALLY RELEASE DATE  March 2023
TOTAL PRODUCTION
Typical Box Size:     Boxes of 10
Production Totals:  Unknown
VITOLA BREAKDOWN
o  Gordo  (6″ x 60)
o  Robusto (5″ x 50)
o  Toro (6″ x 52)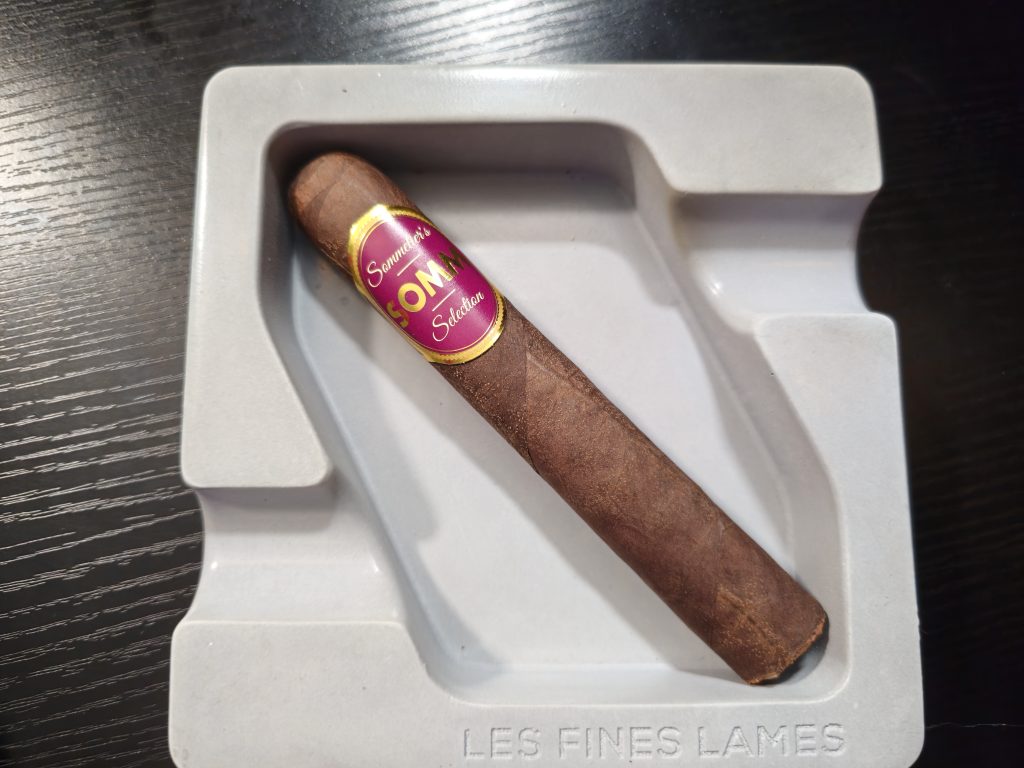 As stated before, Vlada is a certified sommelier, so it's no surprise that his first line would bare the name…or that the band and branding pay homage to his background. The band is a striking red wine color with gold accents. On the sides of the band are grape vines in the gold accent. Its very well done and has air of class and sophistication. It fits the sommelier motif perfectly.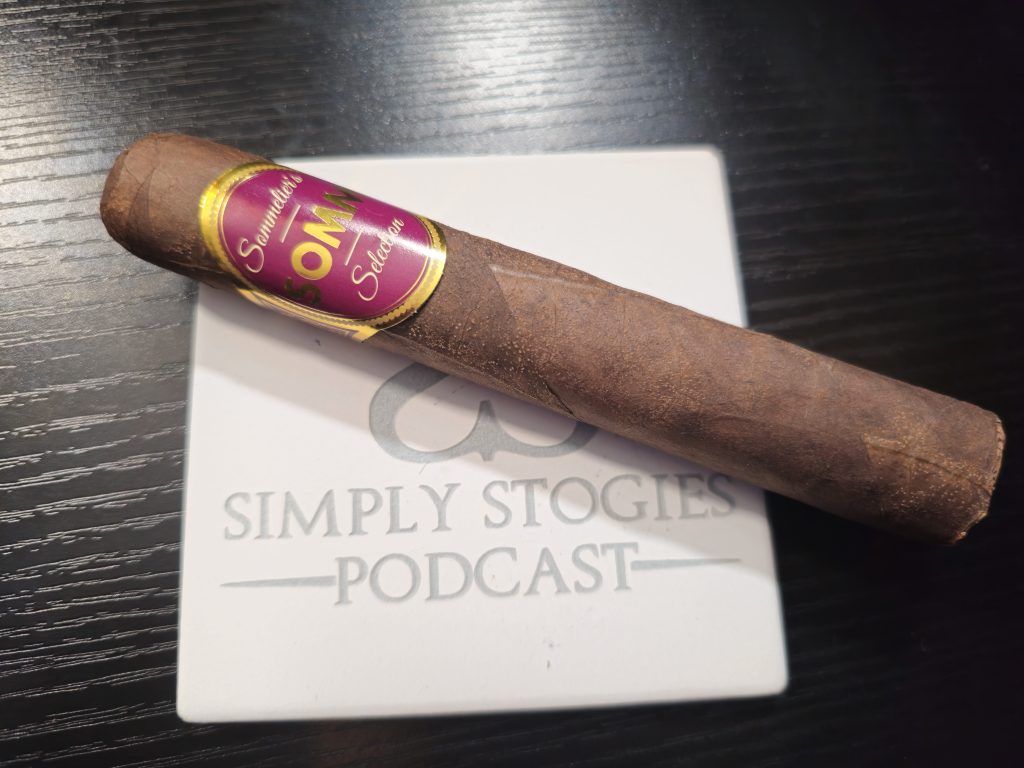 CONSTRUCTION

The Mexican San Andres wrapper is rough to the touch; like fine grit sandpaper. There is a slight oily sheen, but I wouldn't say that the wrapper is oily. Each sample had a few visible veins and one had a watermark, but nothing concerning. The BDX had a some give when gently pushed between my fingers. The cap appears to be expertly applied.
AROMA

The wrapper has a faint hint of chocolate, but not much else. The foot has a nice musty note, along with fig, bread, and sweet tobacco.
COLD DRAW

The draw on all three cigars felt like it was a bit on the open side, but should not pose any issues. There's a sharp fruit note that I immediately notice. Hints of nuts and bread follow behind.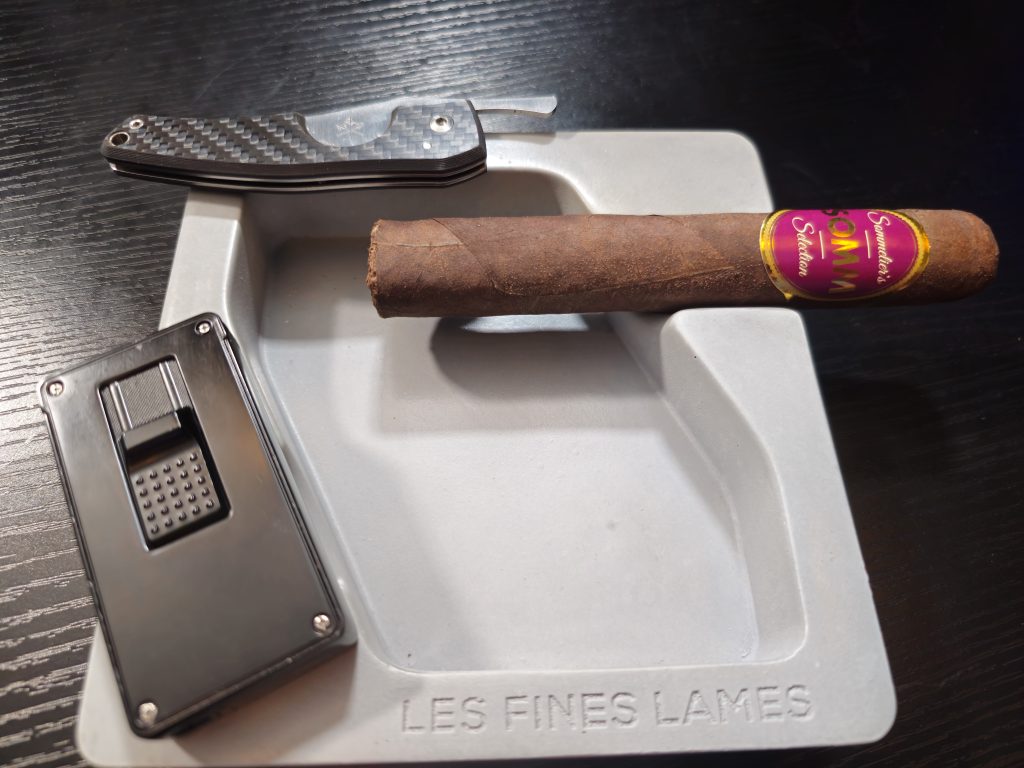 SMOKE

The smoke is thick and creamy. It coats my palate and has a very pleasant mouthfeel.
FIRST THIRD
>> Caramel, Baking Spices, Black Pepper
Caramel, baking spices, and bread lead the charge. There's a fruit note that lingers on my palate. Black pepper on the retrohale. The burn is less than razor sharp, but the ash is pretty compact. The creaminess of the smoke is adding an extra dimension to the Somm. A nice mushroom-esque funk joins the party. Everything smooths out from the initial light, save for a bit of cayenne pepper stinging the back of my throat. The fruit note becomes more prominent as the caramel and bread notes slip into the background. Avocado oil and a hint of wood show up. The sweetness really starts to amp up. 
SECOND THIRD
>> Fruit, Avocado Oil, White Pepper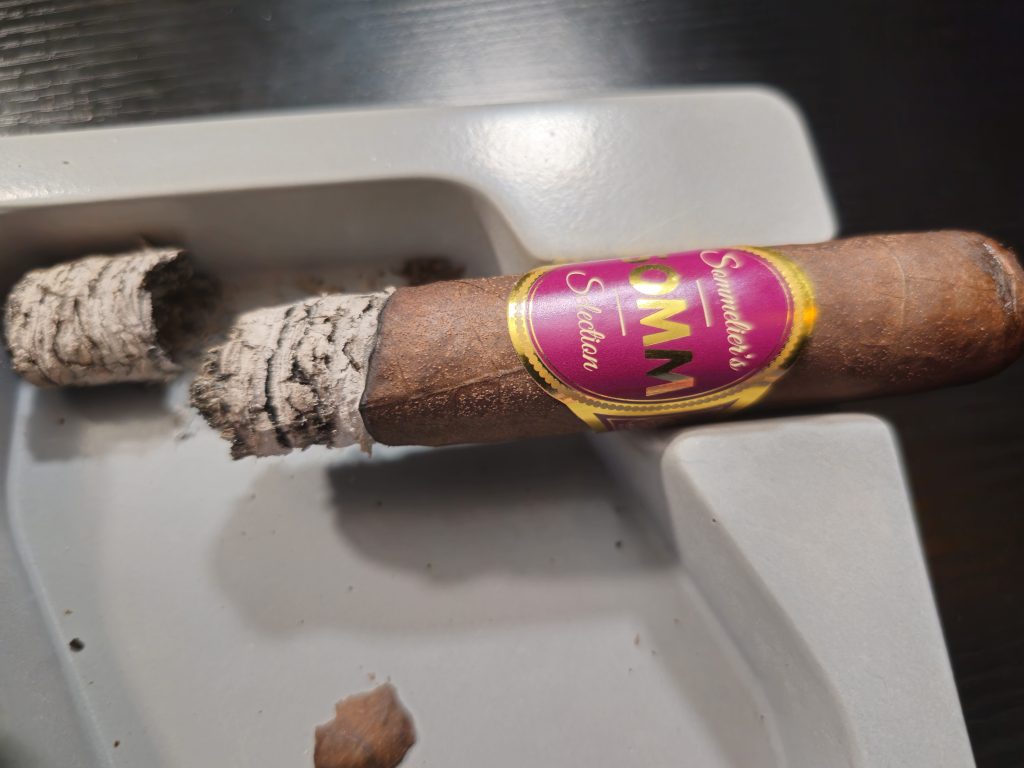 Avocado oil, wood, baking spices, and a fruity sweetness begin the middle third. White pepper on the retrohale. The cayenne pepper from the first third is all but gone. The sweetness that started building at the end of the first third has melted into the background, giving way to more bitter notes of wood and coffee. There is still an overall smoothness to the Somm BDX. The sweetness seems to fight with the bitterness. It isn't unpleasant, just unexpected. The burn remains steady and the ash compact. The caramel note makes a comeback, providing a touch of sweetness to balance out the bitter notes. The burn decides to wonky after I deposit the ash, but quickly evens up. Sweet cream adds its voice to the chorus. 
FINAL THIRD
>> Sweet Cream, Baking Spices, Black Pepper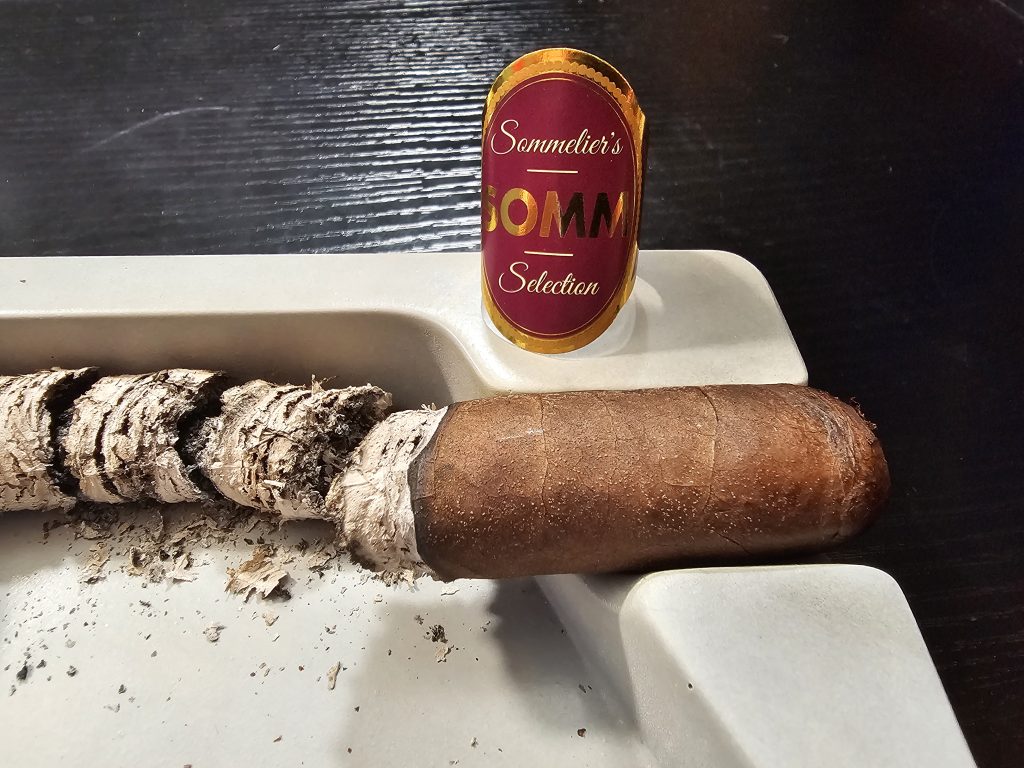 Sweet cream, charred wood, baking spices, and salted butter begin the final third. Dark chocolate adds some depth of flavor to the BDX. Black pepper on the retrohale. Baking spices begin to come back to the forefront. The burn line is very wonky, and while it has self-corrected throughout, this final third seems to be a challenge. The ash is still compact, though it does have several large flakes coming off of it. The BDX has an almost beefy quality to the final third that is balanced out by rich, creamy sweet notes. A hint of espresso and wood close out the final third. 
FLAVOR PROGRESSION
The flavors of the Somm BDX flow from sweet, to bitter, back to sweet, before finally landing on savory. It is a rich and creamy flavor experience that really only had one moment of me scratching my head. The middle third seemed to fight against itself for half of that third. The sweet notes didn't mesh well, in my opinion, with some of the overly bitter notes. Thankfully, that only lasted a few draws.
BURN EXPERIENCE
The Somm BDX's burn was frustrating beginning in the middle third. What started as a great burn devolved into a wonky, flake-riddled adventure. Each cigar required at least one touch up, while one needed more than three. In each cigar smoked for this review, it seemed to occur around the middle third.
RATING BREAKDOWN
0.75 / 0.80 … Craft & Aesthetic
0.50 / 0.50 … Pre-Light Characteristics
0.45 / 0.50 … Lighting Process
6.80 / 7.70 … Smoking Experience
0.40 / 0.50 … Personal Enjoyment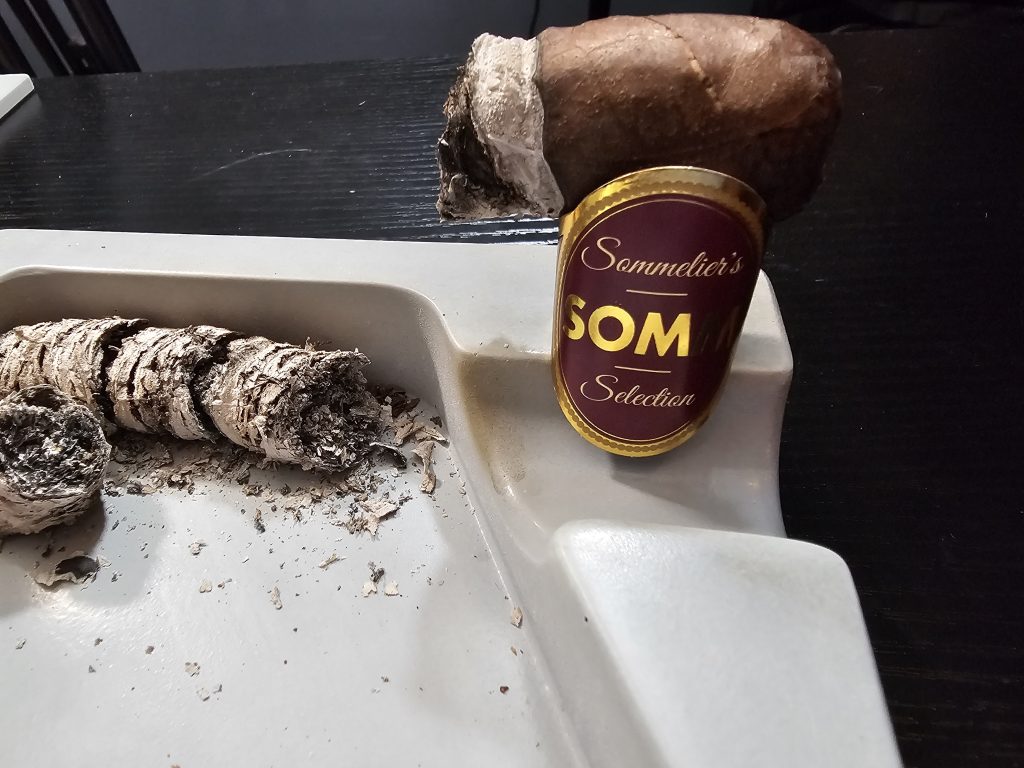 SMOKE LIKE A SOMMELIER.
The Somm BDX is a flavor bomb of complex and nuanced experiences. While your mileage my vary, this reviewer found the notes of caramel, avocado oil, chocolate, sweet cream, and baking spices to be intoxicating. Sure, the middle third had moments where bitter notes of wood and coffee fought with the much sweeter notes, but that did not last very long. My real lone complaint is how much each cigar began to flake off ash in the final two thirds, with it becoming maddening by the end. But let's be honest, if that's the only thing I'm complaining about, just don't wear black. Go try the Somm BDX Gordo! You won't regret it.
SIMPLY STOGIES RATING:  8.9 / 10.0