I don't watch baseball. And did not know this was a baseball-related cigar until after a bit of research. Truthfully, James gave me these in an Oxford Cigar company bag, and they went into the humidor for a bit without even being opened. When I finally opened it, I took one look and thought, Okay, a CLE looks kind of Fourth of July-ish. As is standard, I was part right, mostly wrong, the story of my life. Part correct because baseball is "America's Sport," or is that reaching too far? Mostly wrong because this is a "Limited" release from United Cigar Company, I used quotes there because this is just a CLE regular production cigar, the CLE Corojo 11/18 but with some fancy packaging and all dressed up for a day out at the ball field.
VITOLA:   Perfecto
SIZE:   6″ x 48/54/48
ORIGIN:   Honduras
FACTORY:   El Aladino
WRAPPER:   Honduran Corojo
BINDER:   Honduran
FILLER:   Honduran
STRENGTH:   Medium
SOURCE:   
Oxford Cigar Company
WHERE:   
Cabin on the river
WHEN:   
Early morning
DRINKS:   
Coffee
WEATHER:   
Cool and calm
HOW MANY CIGARS SMOKED:   
3
RELEASE TYPE  Regualr Production…in limited packaging
ORIGINALLY RELEASE DATE  April 2022
TOTAL PRODUCTION
Typical Box Size:     Boxes of 12
Production Totals:  Unknown
VITOLA BREAKDOWN
o  Perfecto  (6″ x 48/54/48)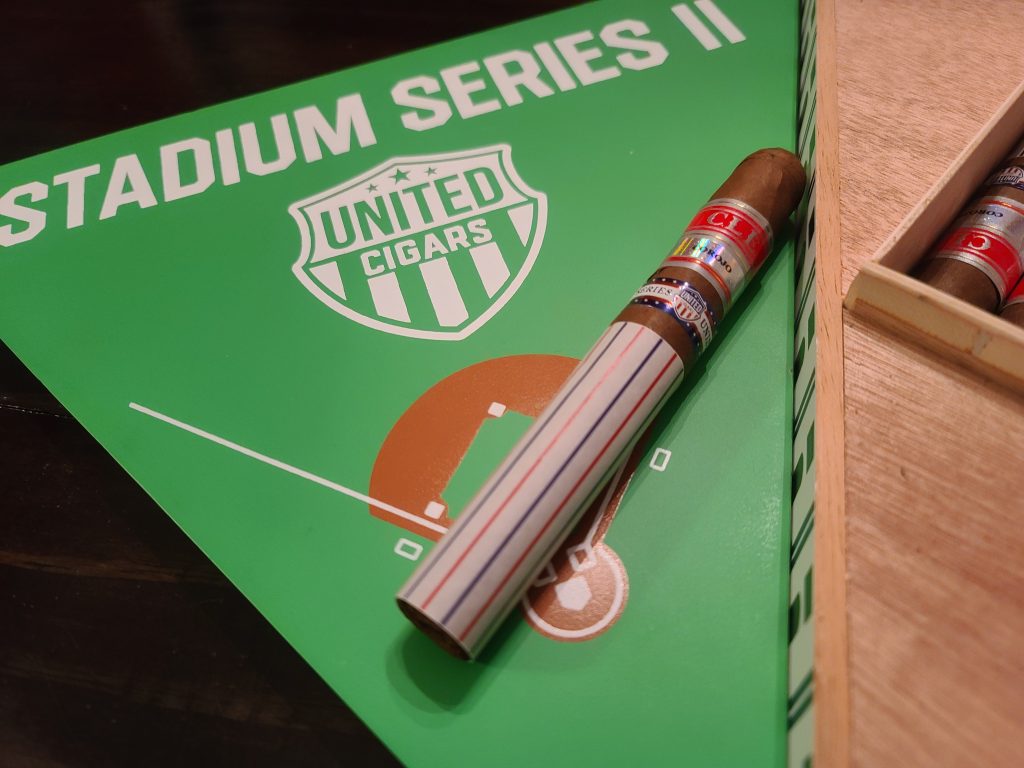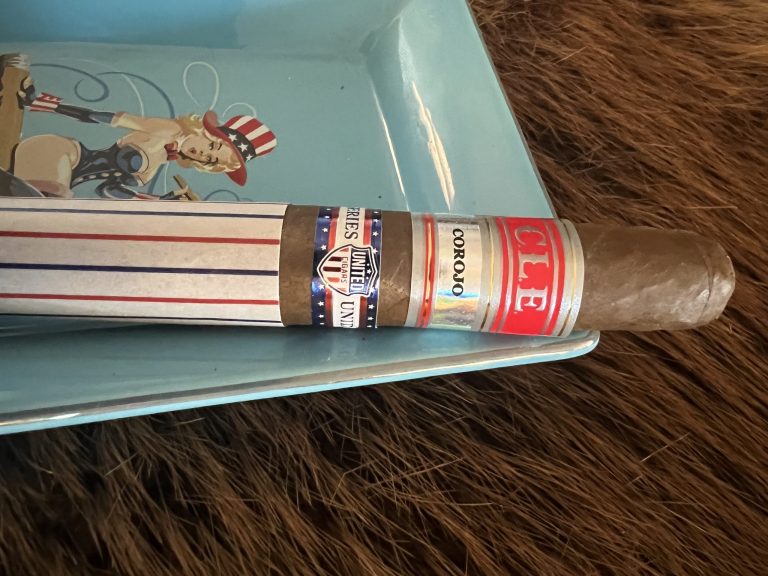 The CLE-United Stadium Series II comes fully dressed. From the Red and Metallic Silver CLE Corojo shirt to Red, White, and Blue striped Pants; let us not forget the United Cigars "Series Unidas" belt. The tissue pants are typical when it comes to CLE cigars.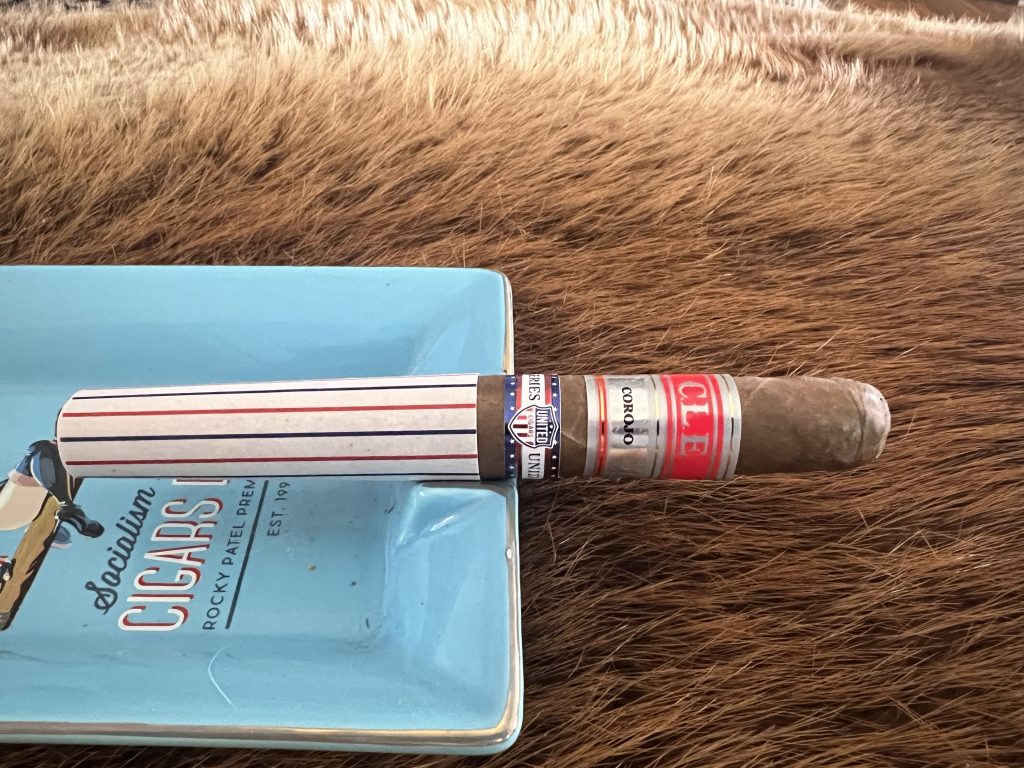 CONSTRUCTION

The cigars appear well built. I smoked three cigars for this review and found only one or two very small soft spots in them when testing for firmness and consistency in the rolling. Every handmade cigar will have one if you look hard enough for it.
AROMA

I found the pre-light aroma slightly earthy with a hint of cedar.
COLD DRAW

The cold draw was smooth and even with just the right amount of resistance.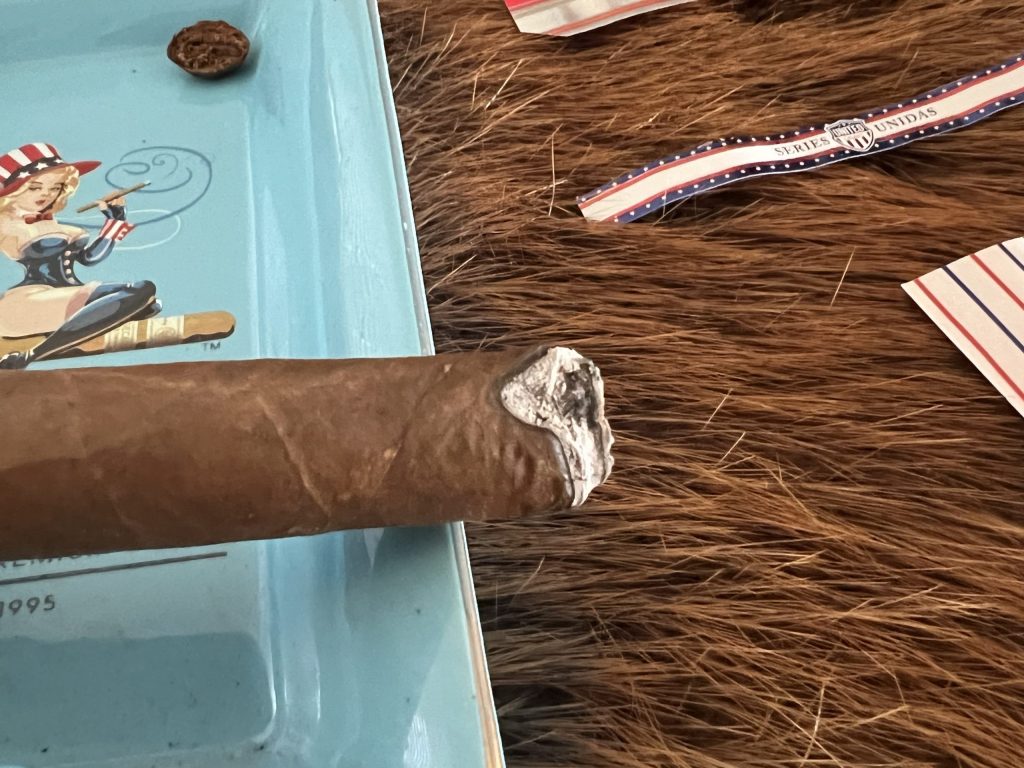 LIGHT & DRAW
Cut: Straight cut.
Fire: That same old twelve-dollar Vertigo.
The cigar toasted and lighted well, although all three were burning unevenly soon after. Not getting too much out of the cold draw, I was pleasantly surprised at the flavor profiles I found.. The initial tasting notes from the light were burnt cedar and hay/barnyard.
SMOKE

A decent amount of smoke is produced; not enough to fill a room, but enough to carry the smoke to the palate.
FIRST THIRD
>> Charred Wood, Oak, Barnyard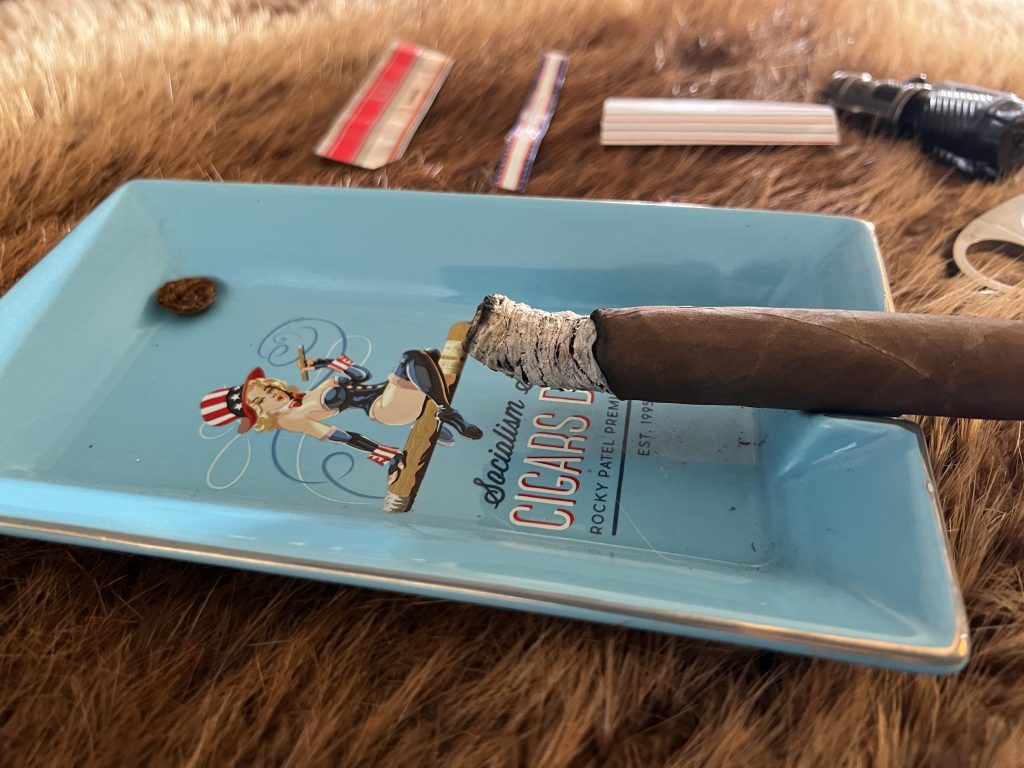 Right off the bat, I am experiencing charred wood and a hint of cedar with some barnyard. These flavors are all light and smooth. Nothing beating out the other or smacking you in the face. We start off with smooth charred  wood and a hint of cedar with some barnyard. Nothing too overbearing, and all mingling together quite nicely. One side of the cigar has a little runner during the first third, which self-corrects but gave the ash an almost Koufax-esque curve to one side. The ash did hold on quite nicely, but I rolled it off when entering the second third.
SECOND THIRD
>> Charred Oak, Leather, White Pepper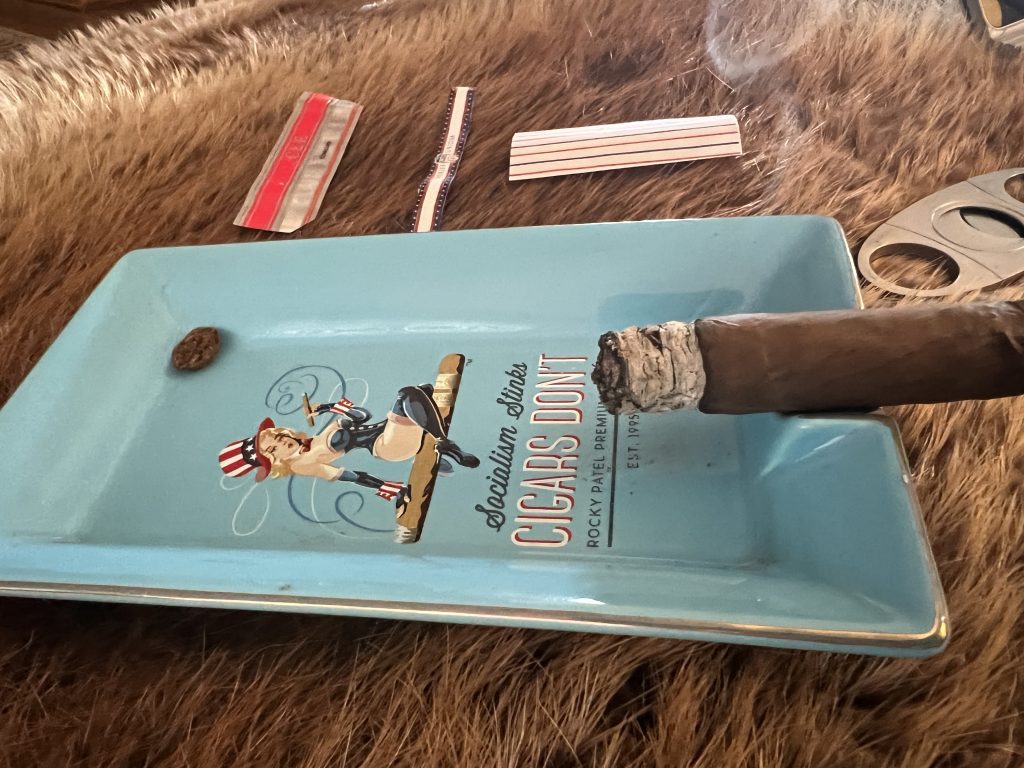 Entering the second third, I find that the cedar is slowly and seamlessly transforming into an aged leather. The mild white pepper is overtaking the toasted nuts, and the herbaceous note remained to fill any tiny gaps. Charred Oak is still lingering through the barnyard and is not entirely absent; it is sorted out to a smooth leather and white pepper flavors in the second third.
FINAL THIRD
>> Oak, White Pepper, Dark Roasted Coffee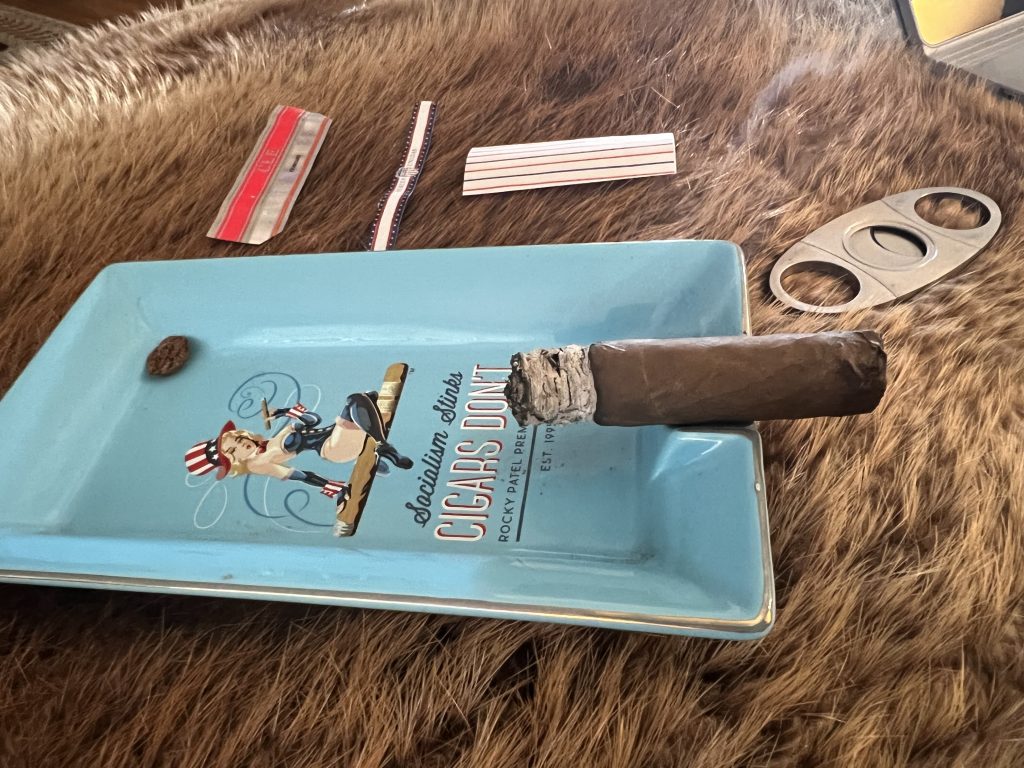 The final third finds us deep in the oak forest, with white pepper and some dark roasted coffee. The leather has faded away, leaving only the white pepper. Oddly, I found hints of cacao, once again not to be confused with regular chocolate, and the herbaceous note lingering in the background has finally come into its own as  does more than a hint of citrus. There is a smoothness to this last third that I find myself quite enjoying; almost the very lightest hint of sweetness is present.
FLAVOR PROGRESSION
The flavor progression was smooth and continuous. Each flavor transitioned easily into the next. The Oak is what really stood out to me, and what I felt made this a delightful experience.
BURN EXPERIENCE
All of the cigars smoked for this review, three, burned a little wonky during the initial third but corrected themselves in the second without requiring a relight or touchup. I wonder if this is possibly an effect of adding less tobacco during the rolling process on the ends to get the fat bellied vitola; though, I did not experience it in the final third of any cigars I smoked.
RATING BREAKDOWN
0.70 / 0.80 … Craft & Aesthetic
0.40 / 0.50 … Pre-Light Characteristics
0.45 / 0.50 … Lighting Process
6.70 / 7.70 … Smoking Experience
0.40 / 0.50 … Personal Enjoyment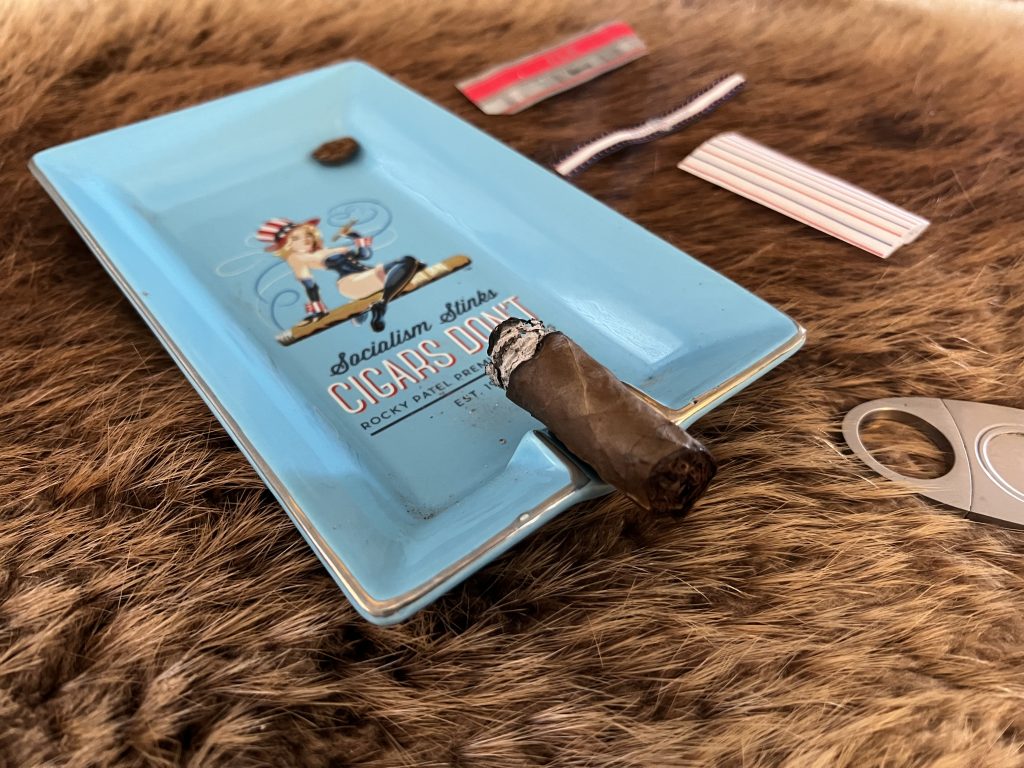 A BUNT ISN'T A BAD PLAY.
Even though I am not a huge baseball fan, I can't help that when it comes to this cigar, Mr. Christian Luis Eiroa may not have hit one out of the park, but let's be honest here, he bunted one in for a win. Taking the CLE Corojo 11/18 and dressing it up for baseball is a winner for United Cigars. Please don't take this as a putdown. Babe Ruth, the most famous ball players of all time, had 54 bunts to his credit.
How can you go wrong? If you are a baseball fan, what a great and reasonably priced Limited edition to the man-cave. This should be a winner for CLE as well as United Cigars. It will also make me look into some other Honduran cigar blends and possibly explore the CLE brand more than I have.
SIMPLY STOGIES RATING:  8.65 / 10.0