Last year in September, marked the first time that Warped released a cigar from the Dominican Republic and Tabacalera La Isla when they released the Chinchalle. A few months after that, in December, Warped released their second cigar rolled in the Dominican Republic and at Tabacalera La Isla, the Companion or Companion de Warped. The Companion comes in a Rothschild vitola and uses a Mexican San Andrés wrapper, with a Dominican Cotui binder, and Dominican and Nicaraguan fillers. 
VITOLA:   Rothschild
SIZE:   4-1/2″ x 48
ORIGIN:   Dominican Republic
FACTORY:   Tabacalera La Isla
WRAPPER:   Mexican San Andrés
BINDER:   Dominican Cotui
FILLER:   Dominican Republic and Nicaragua
STRENGTH:   Medium-full – Full
SOURCE:   
Oxford Cigar Company
WHERE:   
My deck
WHEN:   
June 6 @1:30pm
DRINKS:   
Ice Mountain bottled water
WEATHER:   
73° & 74% humidity
HOW MANY CIGARS SMOKED:   
3
RELEASE TYPE  Regular Production
ORIGINALLY RELEASE DATE  December 2021
TOTAL PRODUCTION
Typical Box Size:     Boxes of 25
Production Totals:  Unknown
VITOLA BREAKDOWN
o  Rothschild  4-1/2″ x 48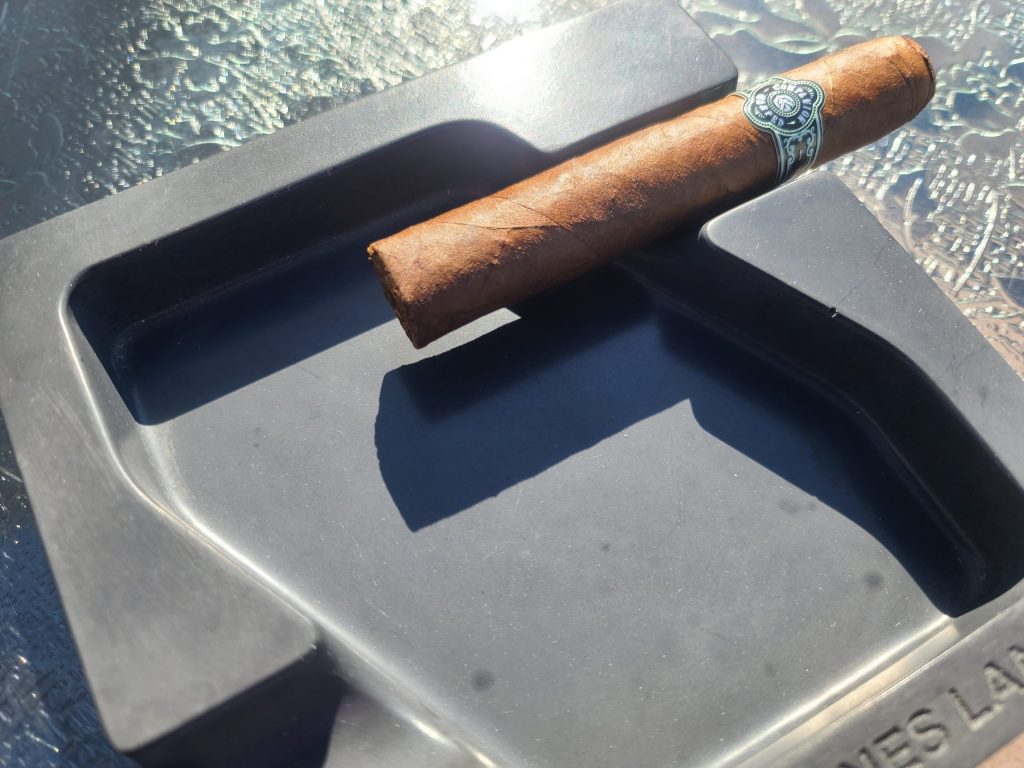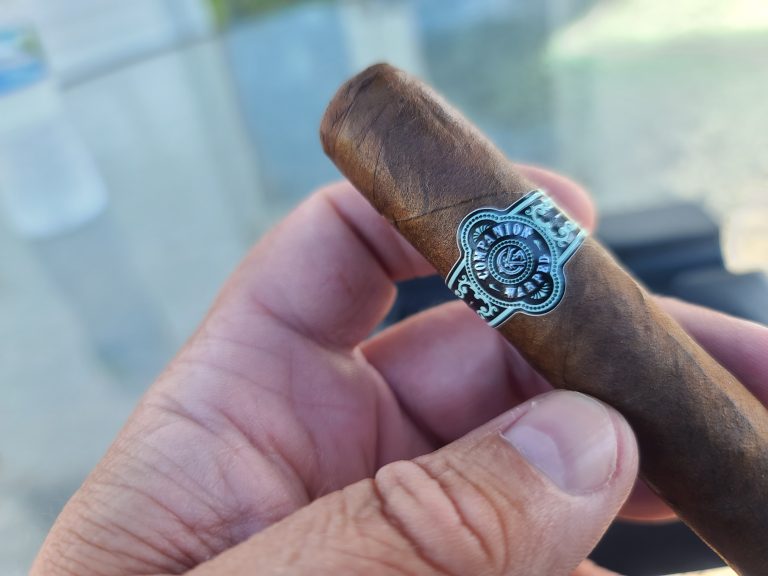 The band is sharp looking. Black with green accents pop, making sure it will stand out in a humidor. The design is intricate and and features the name of the cigar, Companion, and Warped's name prominently in the middle. It also has Kyle Gellis' logo in between them.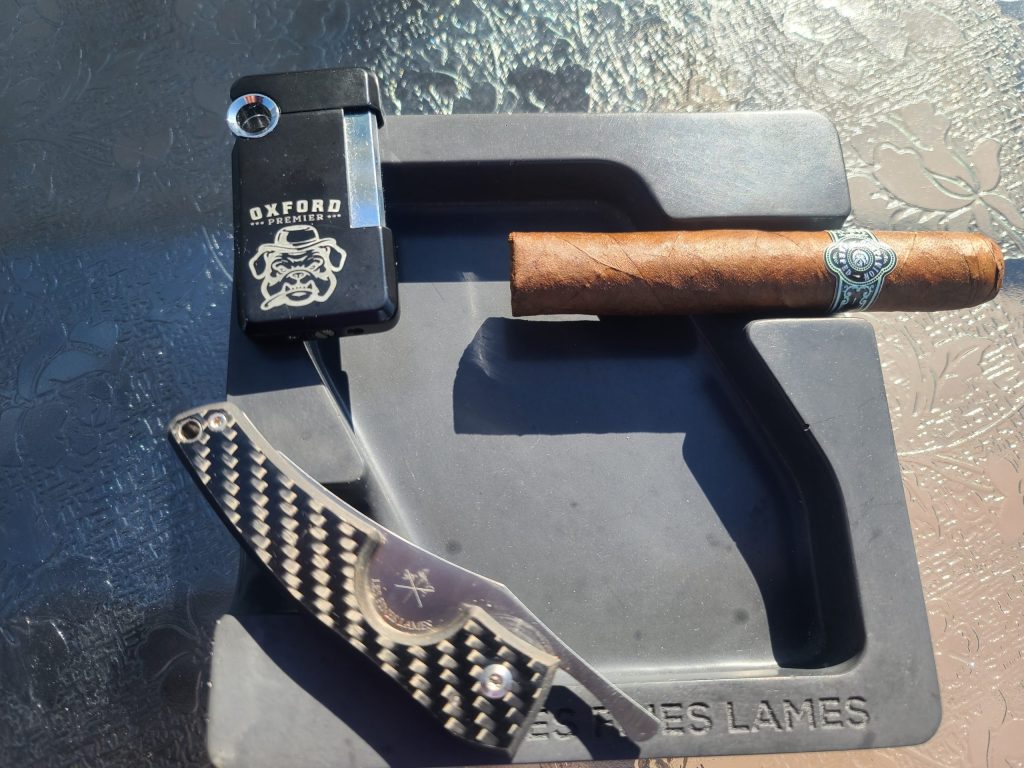 CONSTRUCTION

The Mexican San Andrés wrapper has some tooth to it, but is rather smooth to the touch. It does have some character, though not quite rustic, with bumps and veins throughout and rounded out with a visible seam through the cigar. The Companion is triple capped and looks to be expertly applied.
AROMA

Notes of Spanish Cedar and fresh hay are well defined off the wrapper. There might even be a hint of fruit, too. The foot has more of that rich fruit note mixed with a little bit of musty barnyard.
COLD DRAW

The cold draw is like a sophisticated fruity breakfast cereal. Notes of cereal, fruit, and tobacco all mix together with each draw. The cereal is like a wheat/barley flavor; that is accompanied by a cooked fig or raisin note with a splash of orange zest; and then sweet tobacco.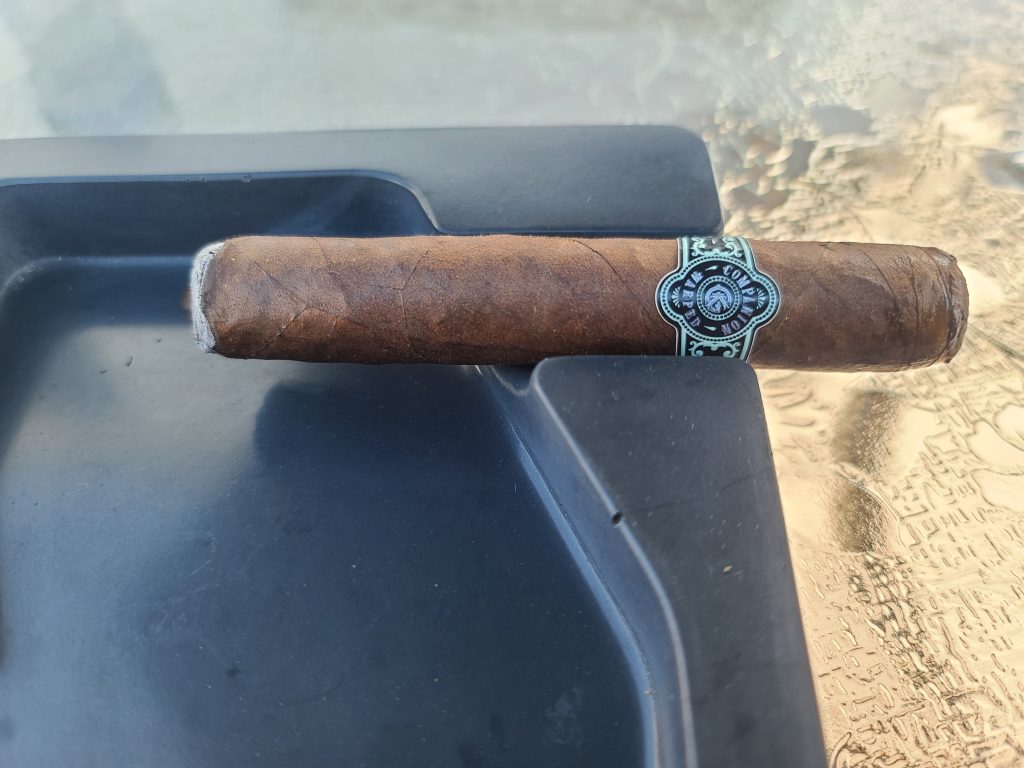 LIGHT & DRAW
Cut: Les Fines Lames LE PETITE cigar knife
Fire: ST Dupont Hooked
Black pepper on the retrohale. The flavors take a moment to form on my palate: wheat/barley, charred wood, baking spices, fruit, and citrus. I'm surprised by how balanced these flavors are, especially after the initial light.
SMOKE

The smoke is creamy and satisfying. A thin but steady stream pours out of the Companion at rest. With each draw the creamy smoke fills my mouth and nostrils with more than enough smoke.


FIRST THIRD
>> Coffee, Fruit, Baking Spices, Black Pepper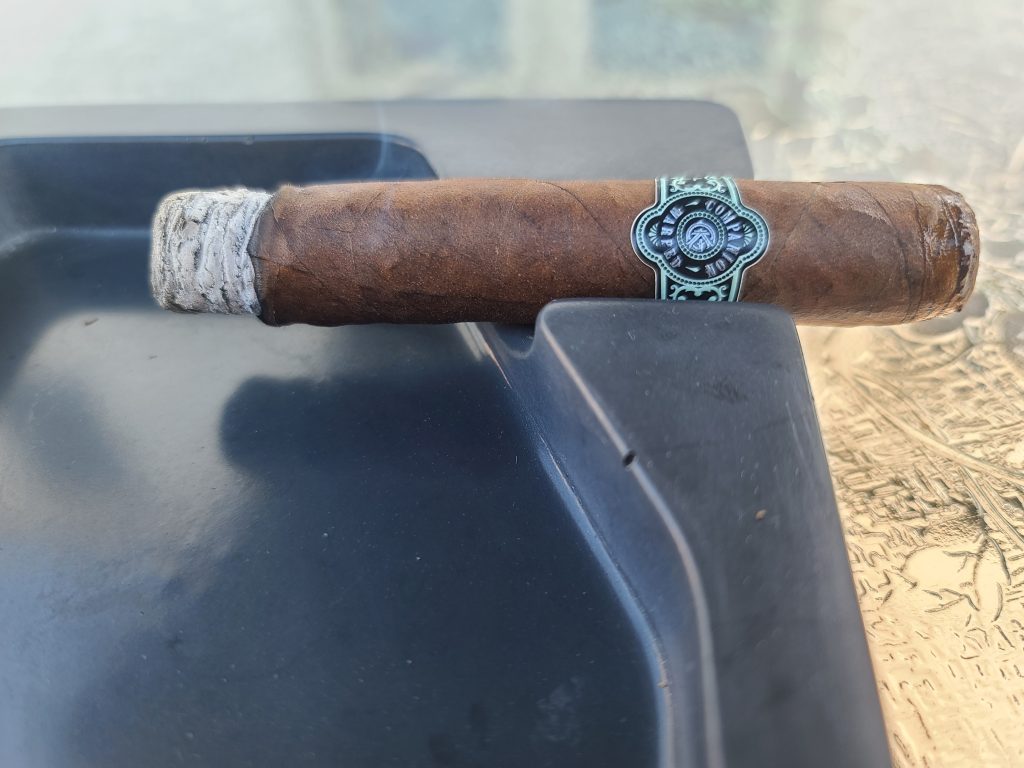 All of the flavors from the initial light are still present, except the charred wood: wheat/barley, baking spices, fruit, and citrus; but there are couple of new ones that are really making things interesting – caramel and a nice note of coffee. Butter lingers on my palate. The ash is almost white and very compact. The burn line isn't the straightest. Salted butter, coffee, and earth are dominating right now. Baking spices keep things interesting. The barley/wheat and fig flavors has morphed into a cinnamon raisin bread. Black pepper rules the retrohale.
SECOND THIRD
>> Nuts, Avocado Oil, Baking Spices, White Pepper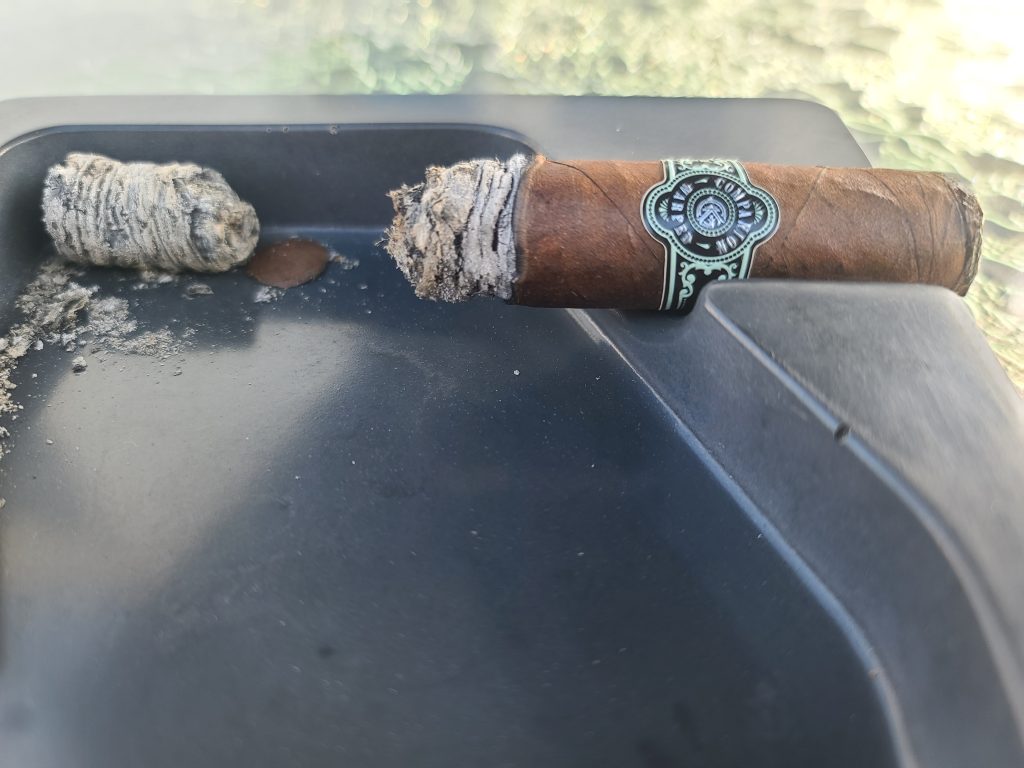 That cereal note has faded and what's left in its wake is an almost sweet nuttiness. Avocado oil and citrus are front and center, too. The baking spices and black pepper have calmed down significantly, but a bit of nutmeg and wood linger on my palate. White pepper on the retrohale now. There's a subtle floral note tracing through these flavors. The ash is still holding and is still brilliantly compact. The burn is straightening itself out, but is still uneven. I just got a blast of orange zest and it was amazing. The avocado oil and orange zest is a great combo. The baking spices are starting to come back and are playing well with the wood note. The ash finally falls in the tray, keeping its shape.
FINAL THIRD
>> Dark Chocolate, Charred Wood, Coffee, Baking Spices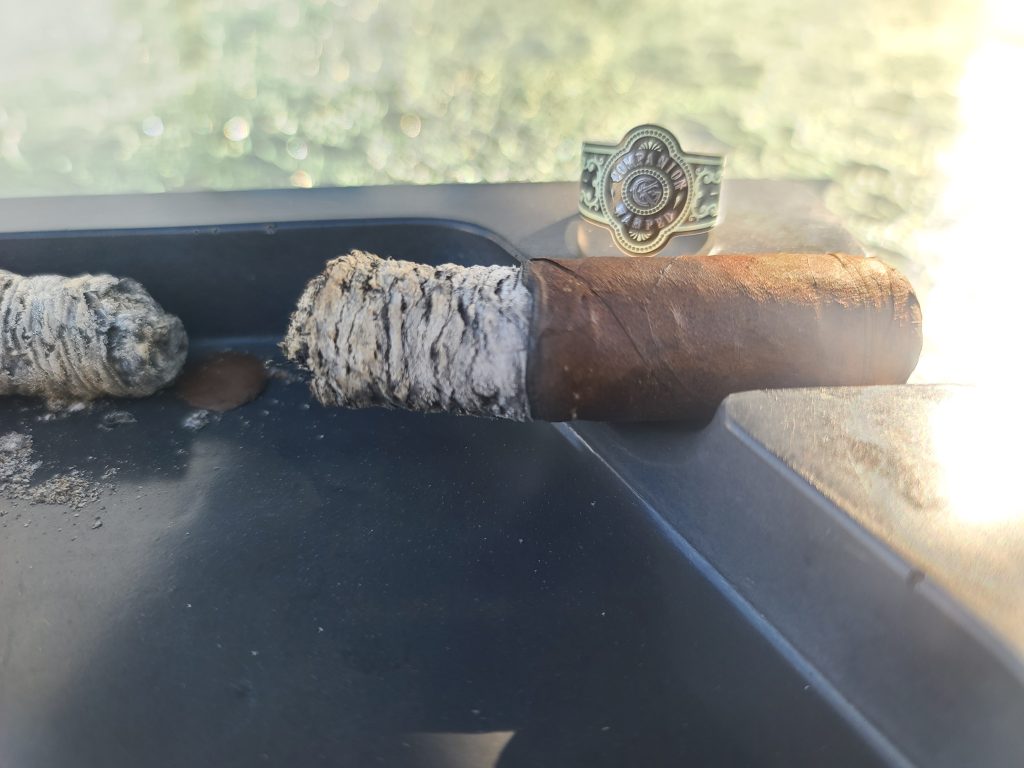 Dark chocolate, nuts, butter and baking spices start the final third. The smoke is more dry than creamy now. White pepper and baking spices on the retrohale. Charred wood returns as the citrus note holds on. A rich fruity note adds some much needed sweetness that lingers on my palate. The burn is still less than even, but much better than it was. The ash is consistent: white and compact; not a flake to be found. The charred wood is now a wonderful bread note that reminds me of a freshly baked pastry. The Companion is smooth. Cereal is back, as is the fruit and citrus. A hint of coffee and charred wood support the baking spices.
FLAVOR PROGRESSION
The flavors of the Companion from Warped Cigars are nothing short than amazing. Everything was well-balanced, beginning with the initial light. The rick, dark flavors were brightened up with notes of butter and citrus. There was a creaminess that ran through the Companion from start to finish. Each third of the cigar was marked with specific notes and changes from the previous third. Complexities and nuanced flavors were not buried beneath the richness of the Companion, but allowed to shine in each third.
BURN EXPERIENCE
If I had one complaint, it would be the burn. While the Companion never needed any touch-ups or relights, it never really burned even. Of course, that didn't affect the cigar experience other than just being a mild annoyance. But you know how we reviewers are – we need to complain to feel like we're doing something. In all fairness, the burn was not bad…not perfect, but not bad.
RATING BREAKDOWN
0.80 / 0.80 … Craft & Aesthetic
0.50 / 0.50 … Pre-Light Characteristics
0.50 / 0.50 … Lighting Process
7.00 / 7.70 … Smoking Experience
0.45/ 0.50 … Personal Enjoyment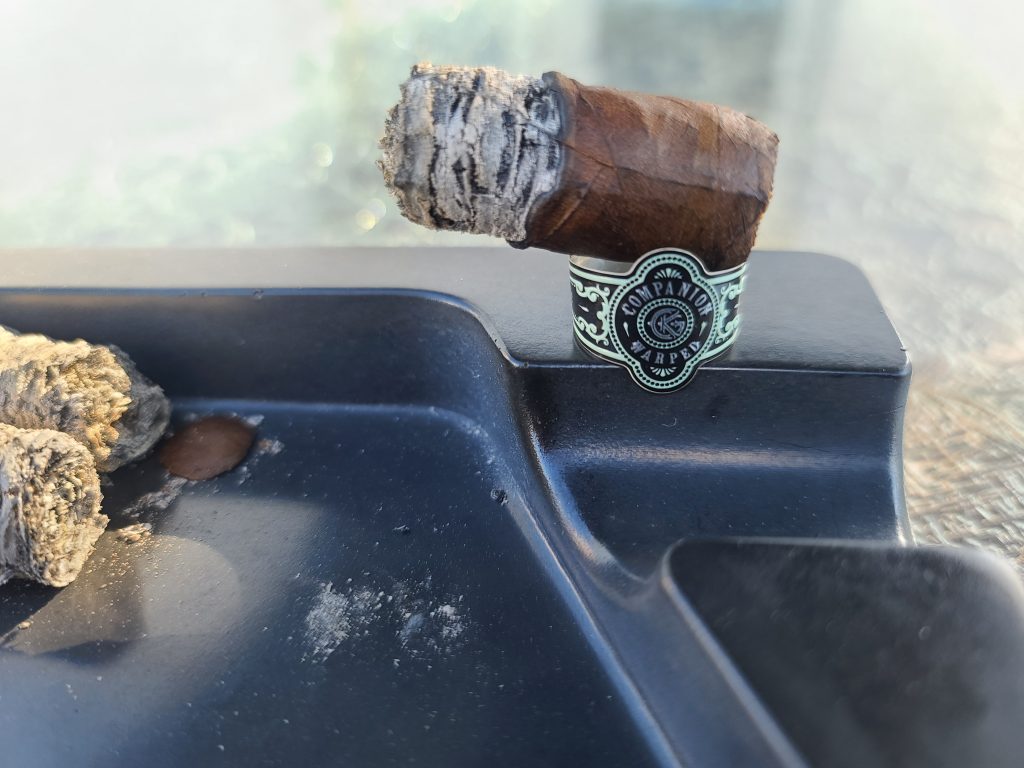 THE COMPANION MAKES FOR GREAT COMPANY.
I'm not a big fan of small vitolas. Sue me. I prefer a cigar in a toro or, at least, robusto size. I like to take my time and enjoy my peace and quiet. While the Companion is small, a rothschild vitola, it packs a lot into its small frame. The Companion achieves a balanced profile of rich and decadent flavors by allowing the subtle bright notes to shine. It's a smooth experience that should not be missed. Notes of cereal, coffee, wood, pepper, baking spices and chocolate are juxtaposed against notes of citrus, fruit, butter, and cream. The smoke output is on point, and helps to deliver a cigar experience that is one of the best I've had this year.
SIMPLY STOGIES RATING:  9.25 / 10.0