Warped Cigars is one of those brands that hits my palate just right, more often than not. In fact, the original La Hacienda is one of my favorite go-to cigars of all time. When I found out that they were releasing the La Hacienda First Growth, I knew that I'd have to review it. I purchased my box of First Growth when they were first released in September. 
The La Hacienda First Growth was delayed until September. During that time Warped changed the original size from 4-1/2″ x 48 to to the 4″ x 50. The original La Hacienda is a Nicaraguan puro, too and features a Corojo wrapper. The use of the Corojo '99 in the wrapper, binder, and filler set this apart from its original cousin. But, will it be as good?
VITOLA:   Petite Robusto
SIZE:   4″ x 50
ORIGIN:   Nicaragua
FACTORY:   Tabacos Valle de Jalapa S.A.
WRAPPER:   Nicaragua Corojo '99
BINDER:   Nicaragua Corojo '99 
FILLER:   Nicaragua Corojo '99
STRENGTH:   Medium-Full
SOURCE:   
Oxford Cigar Company
WHERE:   
Garage
WHEN:   
January 23 @1:00pm
DRINKS:   
Ice Mountain Bottled Water
WEATHER:   
15°/3° wind chill….65° in the garage
WHAT'S ON:   
The sound of my heater warming my soul
RELEASE TYPE  Regular Production
ORIGINALLY RELEASE DATE  September 2021
TOTAL PRODUCTION
Typical Box Size:     Boxes of 25
Production Totals:  Unknown
VITOLA BREAKDOWN
o  Petite Robusto  (4″ x 50)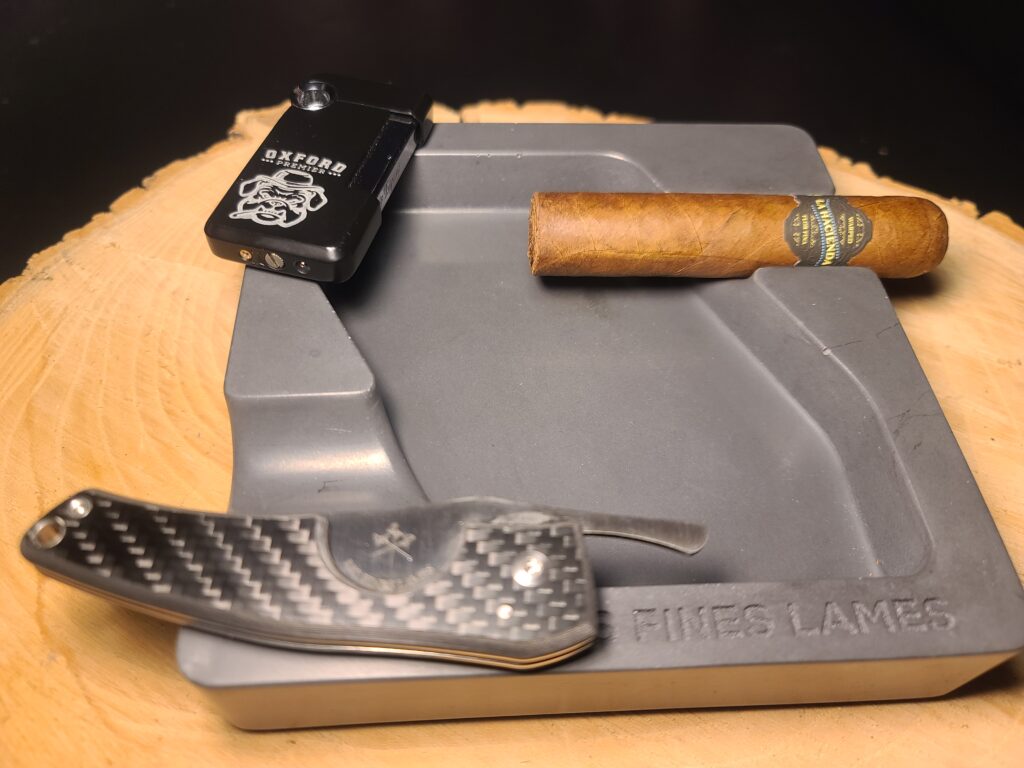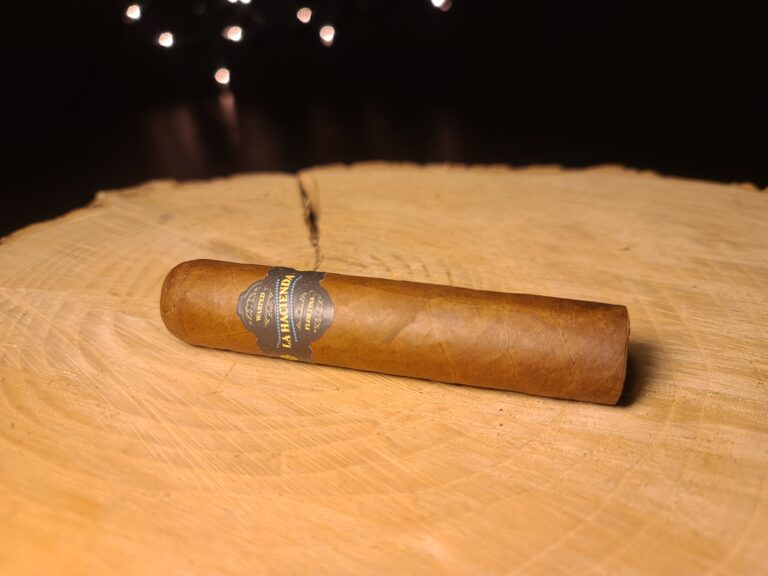 The band on the La Hacienda First Growth is very reminiscent of the band on the La Haciena. There is less gold on the First Growth's band but the design is almost identical. The black makes the wording and accent colors pop and looks modern and elegant. The name "First Growth" appears under "La Hacienda" where the original says "Flor Fina." I'll also point out that Kyle Gellis' "KG" logo is on the side of the band.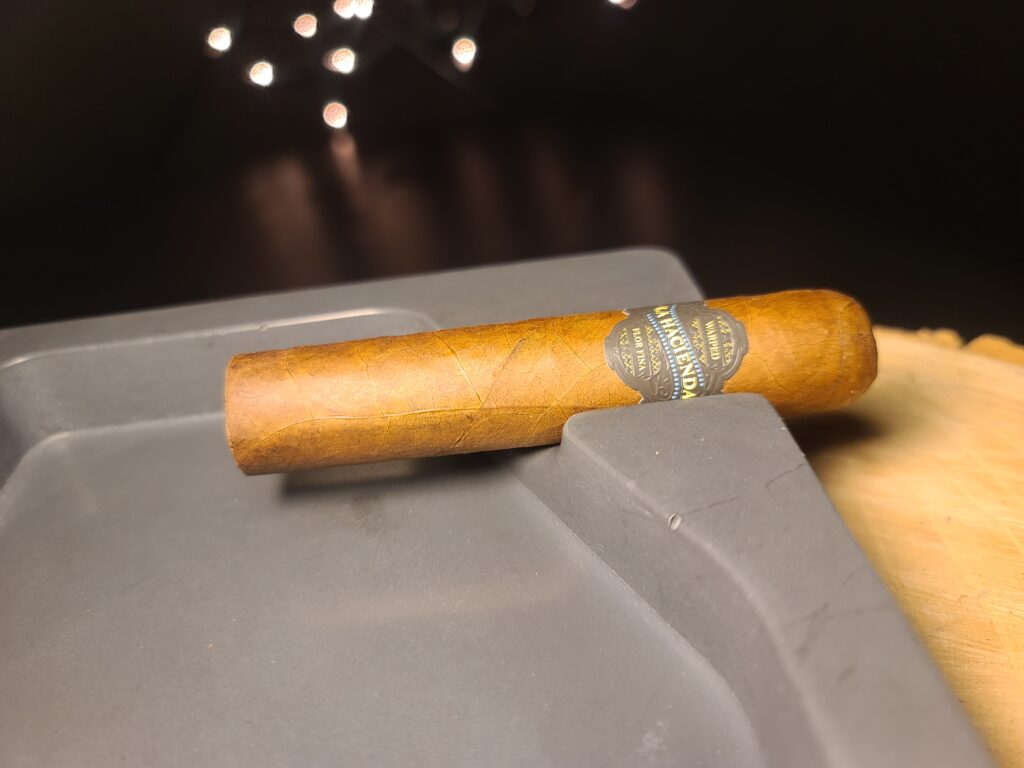 CONSTRUCTION
The Corojo '99 wrapper is velvety smooth to the touch, and the color of milk chocolate. Toothy and full of veins, the wrapper shows one seam. It's a beautiful looking cigar until you get to the cap. The cap looks to be applied somewhat haphazardly. It's off-center, but how does that affect anything? Most of us don't look at the cap before chopping it off and lighting up. However for review purposes, it does detract from an otherwise elegant looking aesthetic. 
AROMA
The milk chocolate wrapper smells of cedar and barnyard. I love that smell, as it usually indicates a great experience is ahead of me. The foot gives off heavy notes barnyard with just a hint of citrus.
COLD DRAW
The cold draw reveals notes of sweet tobacco, a touch of dark chocolate, and nuts. The draw is in that sweet spot of not being overly tight or too open.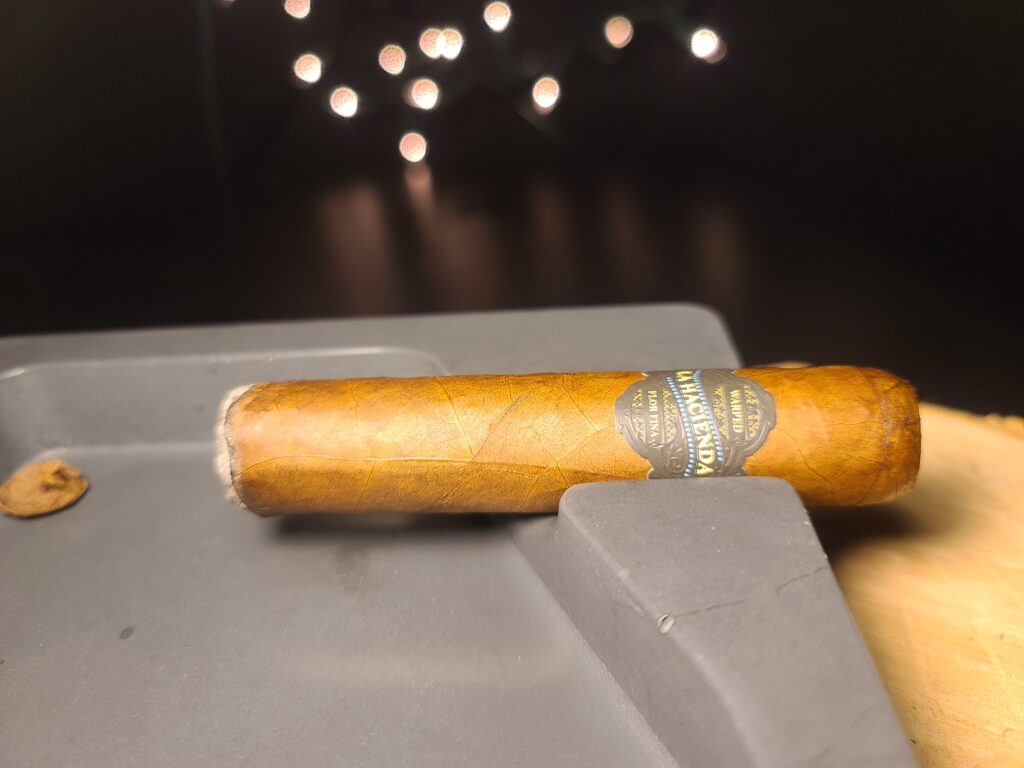 LIGHT & DRAW
Cut:  Les Fines Lames LE PETITE cigar knife
Fire:  ST Dupont Hooked

The initial light is anything but harsh. The notes are prominent but not altogether overpowering. Baking spices, black pepper, and salted nuts are easily discernable. There's a caramel note that is getting drowned out by the pepper and spice, but is brilliant when you catch it.
SMOKE
The smoke is thick and creamy, coating my palate and leaving a nice mouth feel.
FIRST THIRD
>> Baking Spices, Caramel, Black Pepper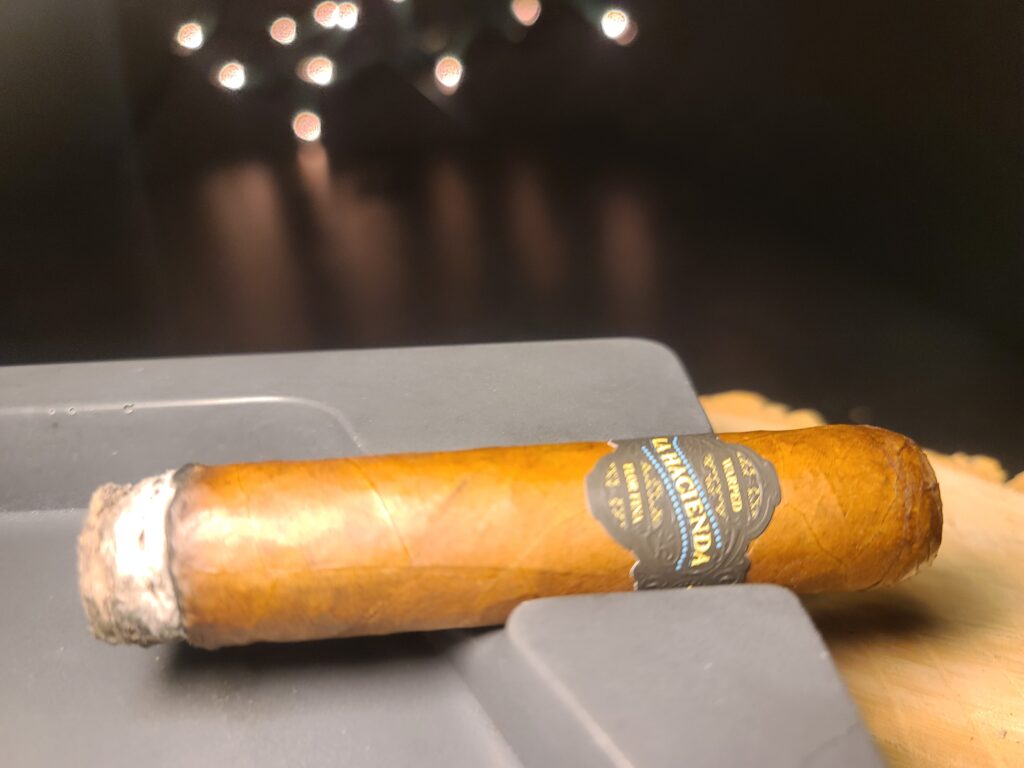 Once the initial light has calmed down the flavors really open up. Notes of cinnamon, nutmeg, caramel, and coffee swirl together. They meld together harmoniously. Black pepper rules the retrohale, but is not overwhelming;. Instead, it adds a depth and complexity that is sometimes lacking in smaller vitolas. Salted peanuts have joined the chat and linger on the finish. The burn is wavy but not too concerning. The ash is black and white and compact. A note of citrus begins to break through the coffee note, and disappears as quickly as it came.
SECOND THIRD
>> Earth, White Pepper, Citrus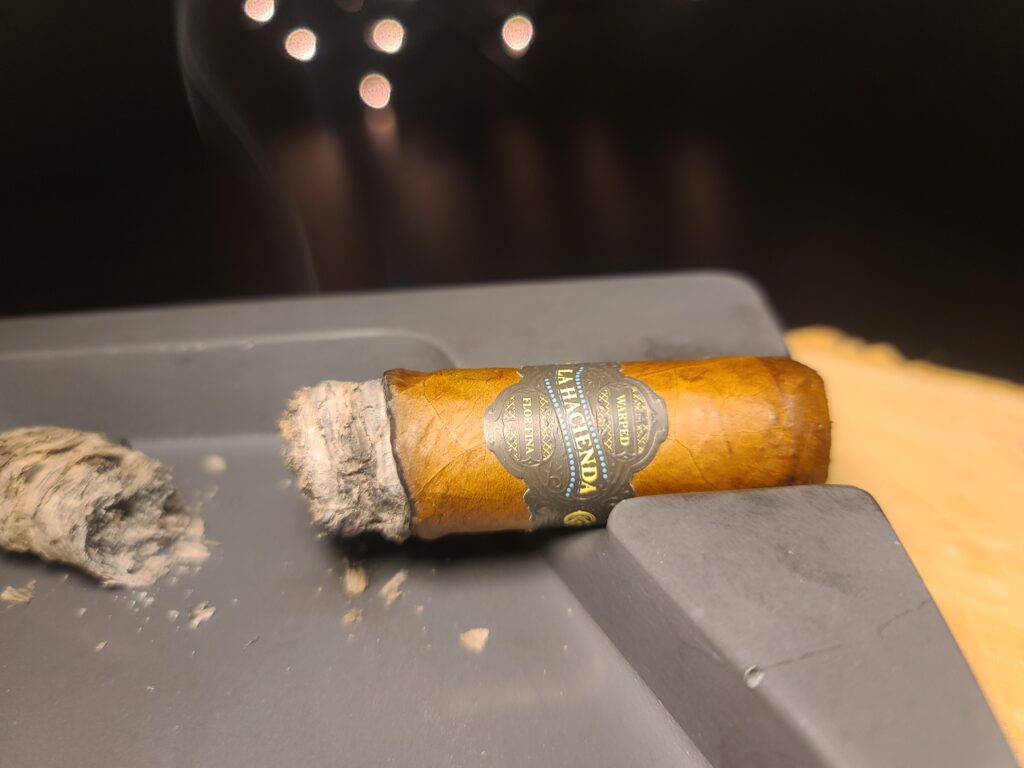 The second third of the First Growth begins with notes of dark chocolate, espresso, earth dominating. White pepper now appears on the retrohale. While the flavors are more rich in the second third, so far, they feel toned down from the blast of flavr in the first third. Salted nuts linger on my palate. There is a funk to the earth note that works well with the other flavors. A subtle sweetness begins to work its way in. The burn is a bit uneven, but more annoying than concerning. The ash is holding beautifully and resembles a stack of nickels. The smoke is still creamy and plentiful with each draw. Rich caramel morphs out of the espresso, cutting through the richness. Citrus once again joins the party, adding brightness to the experience.
FINAL THIRD
>> Caramel, Coffee, White Pepper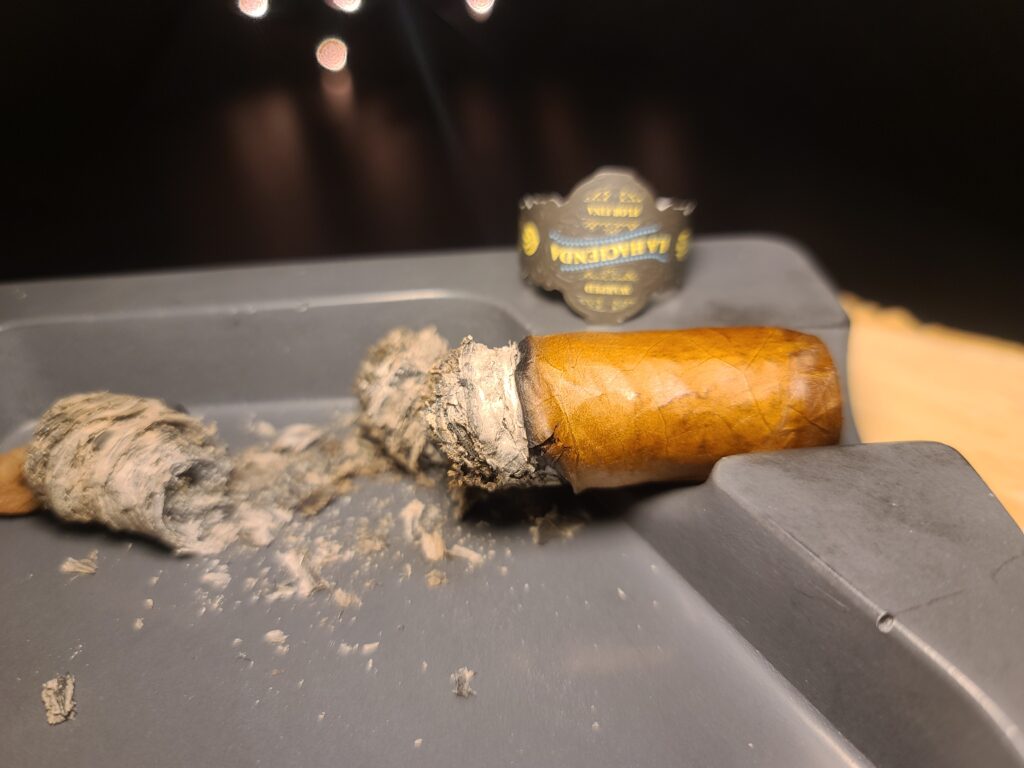 The First Growth's final third holds notes of citrus, salted caramel, coffee, and white pepper. The ash is a bit more flakey and breaks apart when it hits the ashtray. The burn line is less consistent, too. One side wants to burn just a bit faster than the other. Infuriating. Espresso and leather add a nice change of pace. A touch-up was needed on all three cigars smoked for this review, as the burn refused to correct itself on each. This final third has very consistent flavors from the second third. A hint of black pepper and milk chocolate. The ash continues to flake off into the ashtray. Avocado oil on the finish adds a nice dimension and change of pace, but not enough to separate itself from the middle third.
FLAVOR PROGRESSION
I've found that whenever I smoke a large (larger than a toro) or small (smaller than a robusto) vitola, typically the flavor profile is a bit monotonous. Unfortunately, the First Growth falls into this category. The flavors themselves were fantastic. It was a very enjoyable cigar. However, notes of caramel, citrus, and white pepper are the dominant flavors for the majority of the smoking experience. 
BURN EXPERIENCE
The burn was pretty good on all three cigars smoked for this review, until they each got to that final third. The First Growth just refused to burn evenly and each needed to be touched-up. If I was smoking the First Growth for just my own enjoyment, I wouldn't mind. However, it needs to be mentioned for the review. 
RATING BREAKDOWN
0.70 / 0.80 … Craft & Aesthetic
0.45 / 0.50 … Pre-Light Characteristics
0.50 / 0.50 … Lighting Process
6.70 / 7.70 … Smoking Experience
0.43 / 0.50 … Personal Enjoyment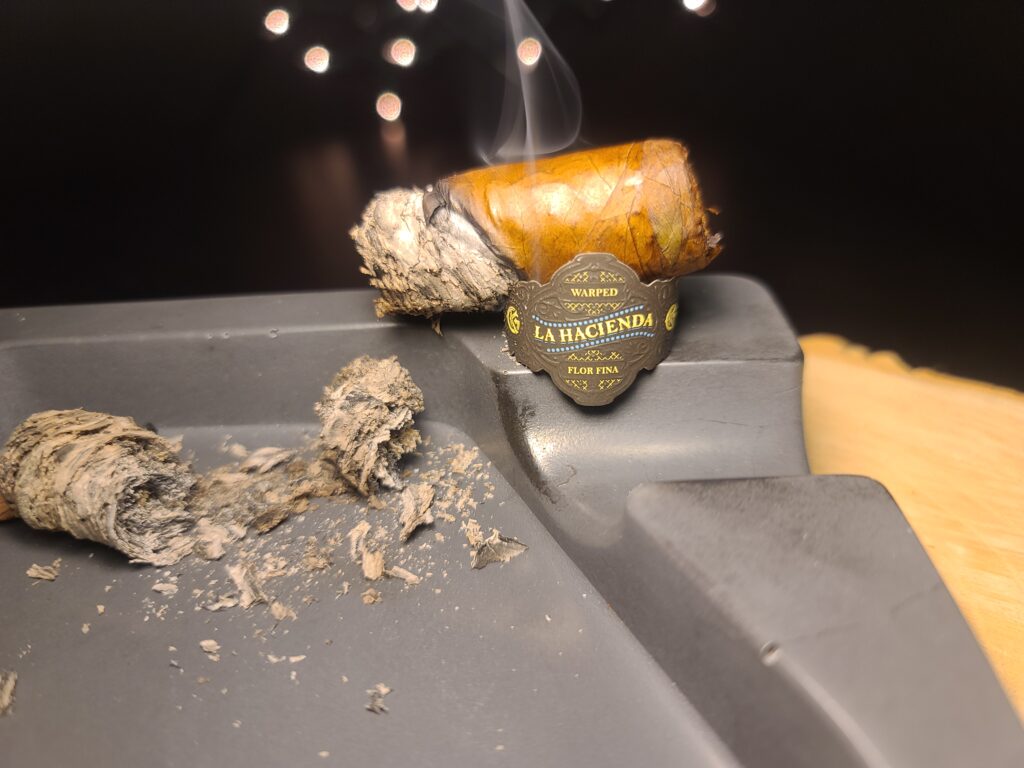 FIRST GROWTH WILL GROW ON YOU.
The problem with doing reviews is that sometimes cigars that you love just don't score as high as you would hope. Such is the nature of doing reviews. Honesty overall. That's why our personal enjoyment is only worth half a point. First Growth falls into this category. Personally, I could smoke these every day; however, I don't mind the occasional touch-up or consistent flavors. The First Growth delivers on flavors that are great and never fight with one another. The First Growth also falls victim to what a lot of other larger or smaller vitolas fall victim to…monotony. There might not be enough transitions for some enthusiasts or aficionados. The La Hacienda First Growth should be tried. For me, it's box worthy, even if the score says otherwise.
SIMPLY STOGIES RATING:  8.78 / 10.0