VITOLA:   Toro
SIZE:   6″ x 50
ORIGIN:   Nicaragua
FACTORY:   Tabacaleras Carreras S.A.
WRAPPER:   Mexican San Andres
BINDER:   Nicaraguan Habano (Jalapa & Cofradia)
FILLER:   Nicaraguan Habano (Condega, gk Rellono ligero, Jalapa & Confradia)
STRENGTH:   Mild
SOURCE:   
Small Batch Cigar's COTM
WHERE:   
Hotel Patio
WHEN:   
August 23, 2017 @ 9:30 PM
DRINKS:   
Devil's Backbone Vienna Lager
WEATHER:   
Perfect evening – 70 with no humidity
WHAT'S ON:   
New Orleans Jazz classics
RELEASE TYPE  Regular Production
ORIGINALLY RELEASE DATE  Fall 2015
TOTAL PRODUCTION
Typical Box Size:     Boxes of 25 (varies by vitola)
Production Totals:  On-going production
VITOLA BREAKDOWN
o  Robusto  (5″ x 50)
o  Toro  (6″ x 50)
o  Gordo  (6″ x 56)
o  Corona  (6″ x 42)
o  Lonsdale  (6-1/2″ x 44)
o  Petit Corona  (5-3/4″ x 40)
RESEARCH & BACKGROUND INFO
Dapper is a relatively new company on the cigar scene.  Owner Ian Reith began Dapper in 2013 and, according to their exceptionally minimalist website, they are "an artisanal cigar company" based out of Fresno, CA.
They currently utilize three different factories to roll their cigars – located in Esteli, Nicaragua and Santiago, Dominican Republic.
Dapper tends to find smaller Nicaraguan farmers and then ferments the tobacco in-house.
Cuban cigar master Gonzalo Puentes heads the tobacco procurement process.  Prior to Dapper, he worked with Perdomo and ASP Enterprises, a company which specializes in growing wrappers.  The Cubo Maduro is a favorite of Puentes' due to it's highly aromatic qualities which are commonly found in lower primings.
The Cubo Maduro is offered in six different vitolas:  Corona, Gordo, Lonsdale, Petit Corona, Robusto and Toro.
The Cubo line seems to be all about simplicity.  Small Batch Cigar's description cites that Dapper uses a "single leaf from one farm region in Jalapa, Condega and Esteli. The result [is] cigars with simple origins delivering subtle flavors and beautiful flavor profiles."
At it's conception, the Cubo was meant to be a box-press – thus the name "cubo" = "cube".   Reith eventually moved away from the box-press to distance himself from what he viewed as the gimmicky aspect of cigar production/marketing that he loathed.  His new goal was to "make brands and cigars that were both nostalgic in feel but fresh in presentation."
The name "dapper" came from one of Ian's buddies who, upon seeing some of the first Cubo bands and cigars, said 'That's a dapper looking cigar.'
Here's a great interview with Ian Rieth, founder of Dapper, from Small Batch Cigar's website.
Ian also recently did an AMA (Ask Me Anything) on Reddit's r/cigars – check it out here!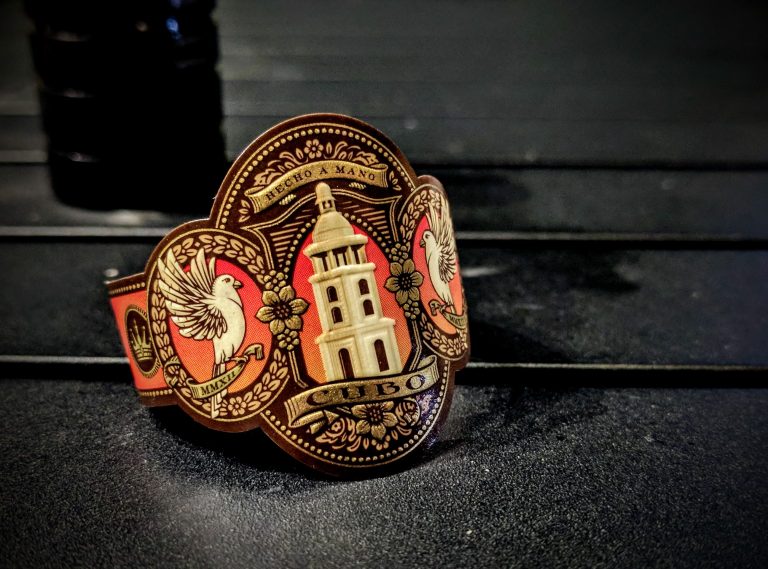 Dan Greta is the mastermind partnered with Reith who develops Dapper's bands, boxes, etc (just not the website!)  Dapper had a nice approach to designing their branding – something fresh and original that wasn't a knock-off of existing branding – but also still carried the nostalgia that oozes from the cigar industry.  Interestingly (and I don't know how much this may be an industry standard), Dapper tries to come up with a universal band size that works across all vitolas.  They also tend to use gold powder as opposed to foil – an expensive endeavor but honestly, it looks way better on the band.  The bands feel rich and luxorious as opposed to dressed up wrapping paper.  The concept is similar to the new Cuban Montecristo's crest on their bands.
As an architect, I couldn't love the design of the Cubo's band much more.  A centrally placed Spanish bell tower dominates the band and is flanked by white birds clasping ribbons with "MMXII" in their tallons.  True to Cubo's intent, the band feels classic already – but still fresh and new.  It's cool that as much attention goes into the side detailing of the band as the central area.  It brings a much more developed overall design than you see on other bands.  The Maduro line has a red, sunset-y background which differs from the sky blue of the Claro line.  The band is well adorned with various elements but doesn't feel cluttered.  Like an old Italian church, everything appears to have been placed with purpose in an architectural fashion – it's busy with out being messy like some bands tend to be.  I love when a cigar's band matches the theory behind a cigar and the Cubo's achieves that goal perfectly.
CONSTRUCTION
The Cubo uses a beautiful, dark oily maduro wrapper that is everything you hope for in a maduro-wrapped cigar.  The wrapper is a milk chocolate shade of brown and truly is blemish free.  The coloration is completely even to the point that the seams are hidden. The few minor veins to be found are relatively flat and fade into the background.
The cigar feels uniform with no soft or hard spots below the wrapper.  The triple cap is meticulously applied and symmetrical.  If it weren't for a slight color variance, you'd never be able to distinguish where it's low shoulder drops into the body.  I feel like the foot is exceptionally well packed.  All signs are pointing to a quality-crafted cigar that should be a great smoke!
AROMA
The wrapper and foot give off those classic sweet, raisin/port-like aromas as well as potentially a little cedar.
COLD DRAW
Off the cold draw, the aromas are reinforced on the palate – lots of sweeter raisin/port notes. The draw is nice and open.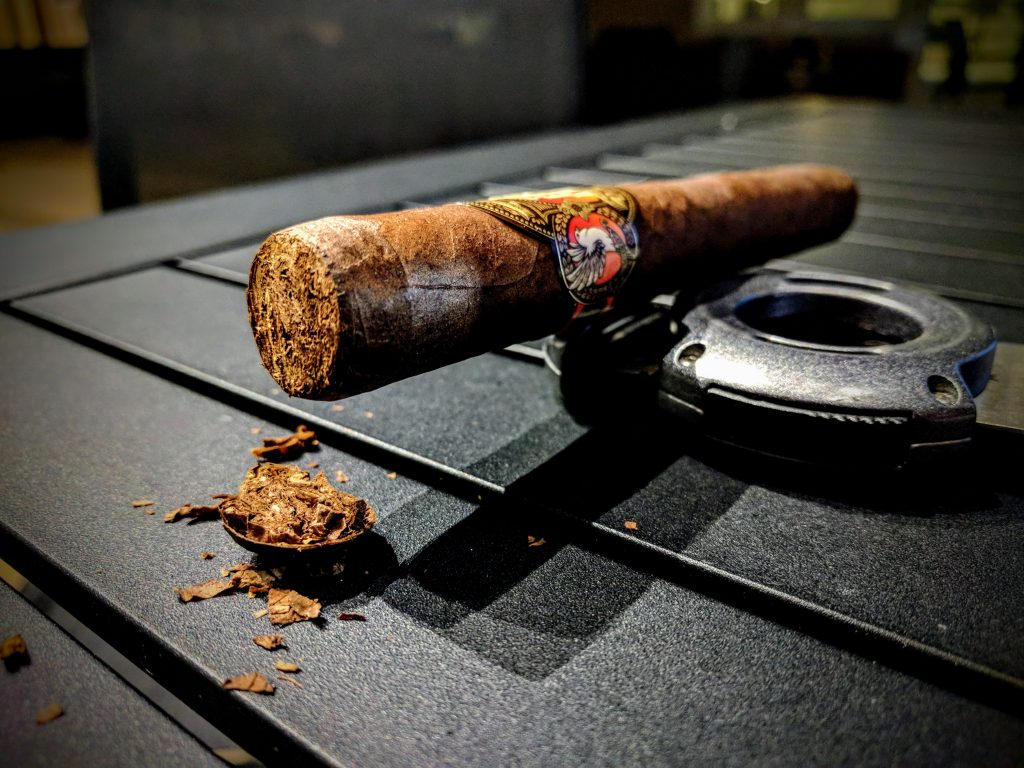 LIGHT & DRAW
Cut:  Xikar XO & Perfect Draw
Fire:  S.T. Dupont Defi Extreme
A quick toast and light and we're underway with minimal effort!  The draw proves to be just about perfect.  The initial flavors are very mellow and light – just a hint of fruit and a bit of chocolaty sweetness.
While slightly angled, the burn line is starting out very clean.  The first bit of ash is light grey or near-white.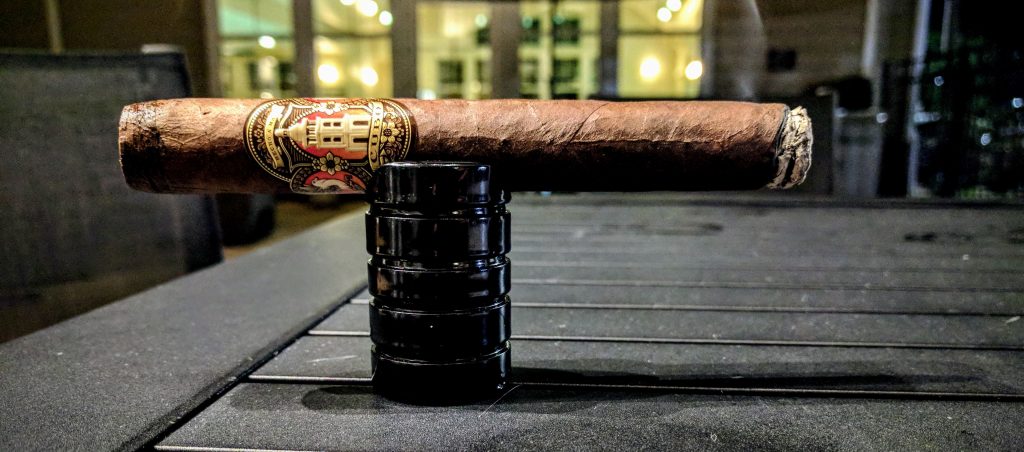 SMOKE
This thing is smoking like a chimney!  I had to double-check the band to make sure I hadn't reached for a Liga Privada!  There is copious amounts of white, pleasant smelling smoke pouring out of this cigar with each puff.
FIRST THIRD
>> raisin, chocolate, strong coffee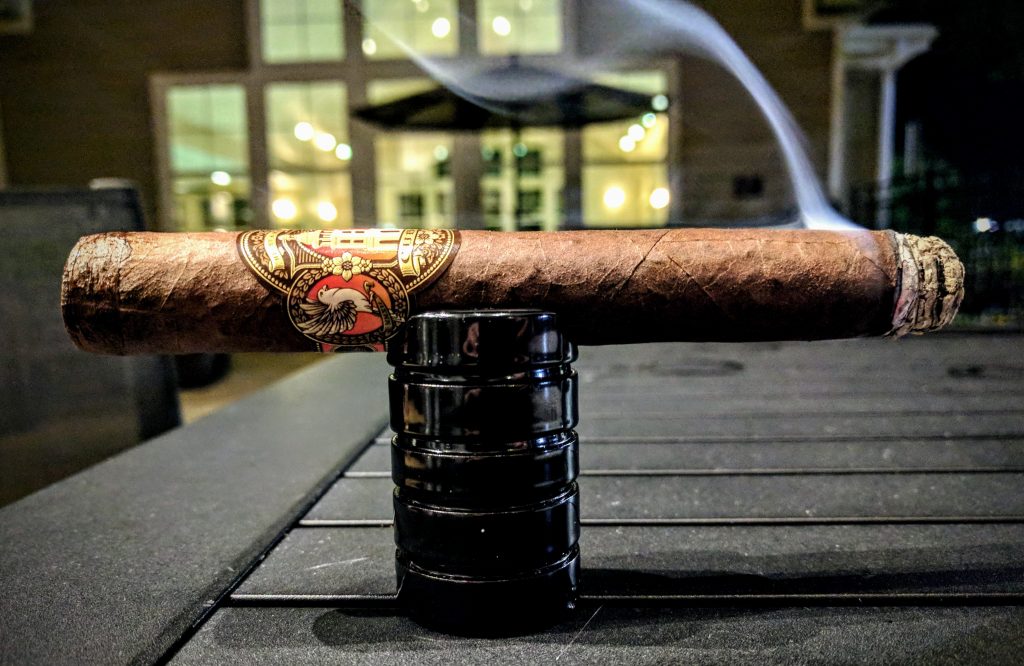 I think the idea of subtlety is dead-on for the Cubo Maduro.  Whereas some maduros tend to hit you over the head with overt raisin/chocolate, the flavors of the Cubo build in a progressive manner leaving more of a lingering raisin taste.  The flavors sit on the tongue and develop between puffs rather than jump out at each initial puff.  Raisin and chocolate are the primary flavors with just a bit of bitterness, either coffee or chocolate – take your pick.
The draw is pretty good – it has tightened up just a little but nothing to complain about.  The smoke output has definitely not let up – it's still looks like an active volcano – just steady streams of white smoke ever-present.
So far, the ash has built to about an inch and … well, crap.  It always tends to drop right as I'm going in for the picture.  Ash is chalky white and stacking pretty well.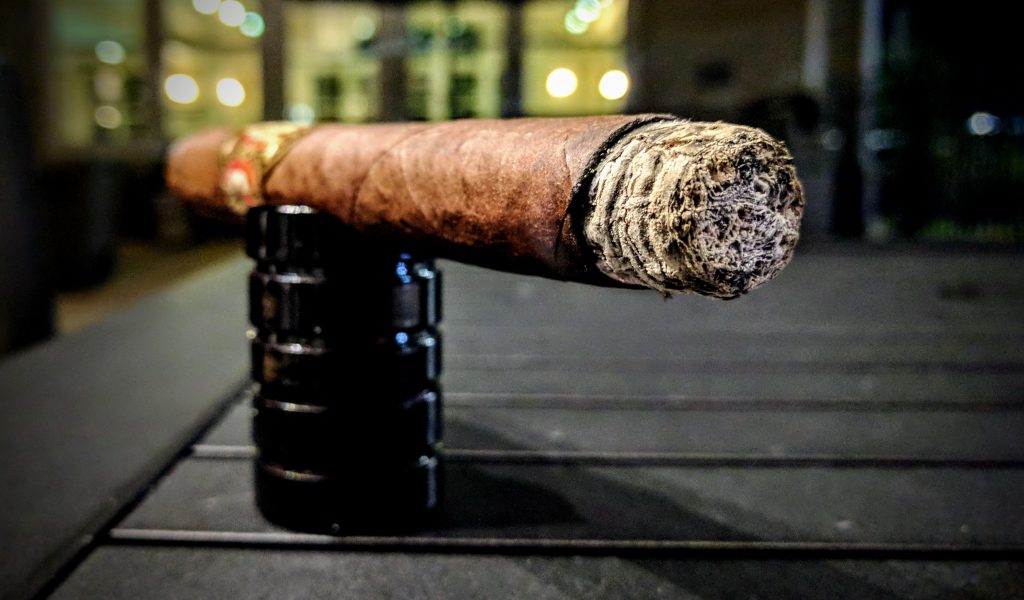 SECOND THIRD
>> dark chocolate, coffee cream, herbal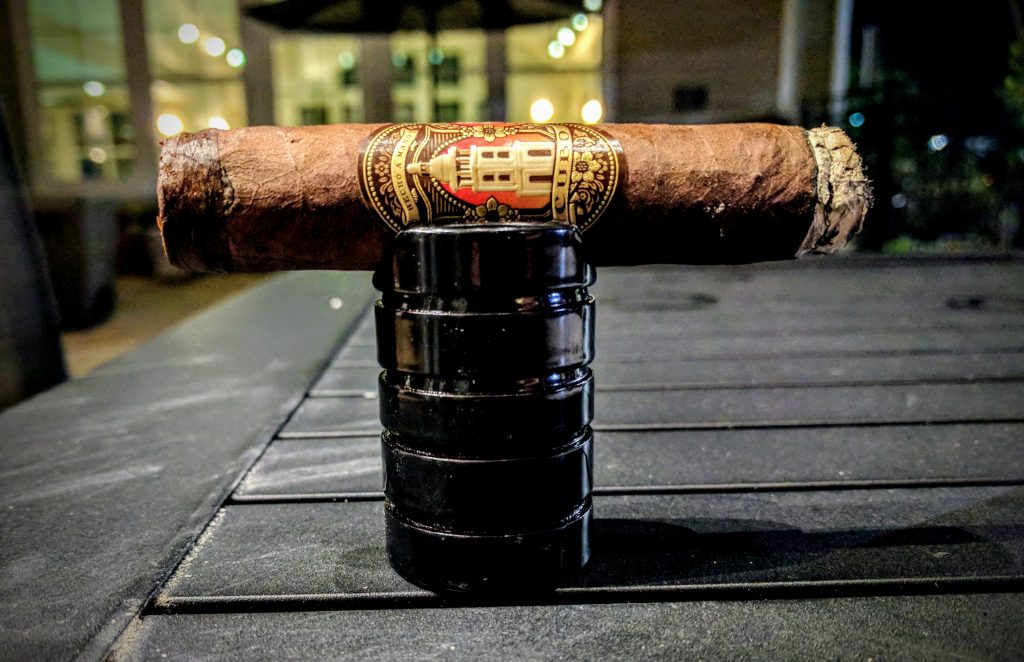 Not mentioned in the first third is the floral-nature of this cigar – there's a lot of floral, herbal qualities that I'm not as good at discerning.  While I can't nail down the exact herbs, there's is a fresh herb, cut grass nature to the flavors.  The retrohale really brings out the coffee flavor – it's like I just snorted ground coffee. (Mental note: Add 'patent snortable coffee' to list of things to do tomorrow)  Along with the coffee is some of the peppery bitterness that's a little less obvious on the palate.  The Cubo has settled in nicely with dark chocolate, coffee and cream – very mellow and easy to enjoy.
The draw opened back up a bit and is right at the perfect level and the ash continues to stack nicely.
FINAL THIRD
>> dark chocolate, vanilla cream, coffee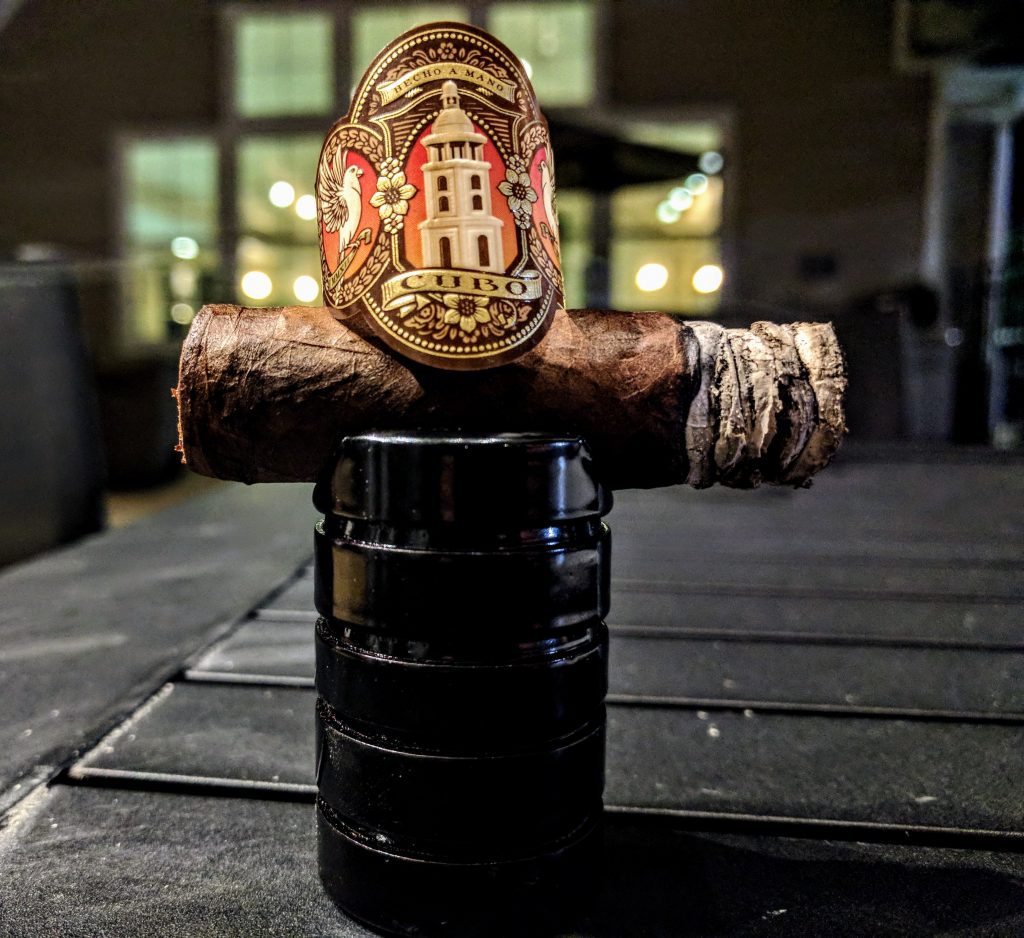 The final third is a continuation of the slightly bitter chocolate/coffee found previously but brings a little vanilla to the equation.  The cream is really serving well to make the combo just linger endlessly on the tongue.  The flavors of the Cubo Maduro really build throughout the experience to produce a very rich profile by the end.
Right at the final third mark – poof – the cigar went out.  A quick relight and the stogie is back in action – with enough smoke I'm pretty sure someone will be calling the fire department soon.  Spoke, or typed rather, too soon – after another 5 minutes, the cigar is out again.  Hopefully, this is just a rough patch and unique to this particular cigar.
As the cigar progressed, the ash fell in quicker intervals.  I really thought with the density of the roll, ash retention would be fantastic, but the ashes in my lap disagree.
FLAVOR PROGRESSION
While the flavors don't vary drastically – it's pretty much chocolate, minor raisin qualities, cream and a bit of coffee bean bitterness – they all meld and build throughout the experience.  At the onset, the subtle/light nature of the flavors had me a little nervous but as the cigar worked down to the nub, the flavors continued to rest on the palate and built beautifully upon each other.  I feel like this living up to the cigar's mantra – the tame initial profile won't turn off new smokers and the deep, rich flavors of the end will leave experienced smokers in love.
BURN EXPERIENCE
Dapper's Cubo Maduro smoked wonderfully for 99% of the experience – but – the intro into the final third brought a couple relights that were surprising. It was overall an enjoyable smoke that was maintenance-free with a razor sharp burn line that would make a $20 cigar jealous.
RATING BREAKDOWN
0.80 / 0.80 … Craft & Aesthetic
0.46 / 0.50 … Pre-Light Characteristics
0.50 / 0.50 … Lighting Process
6.78 / 7.70 … Smoking Experience
0.50 / 0.50 … Personal Enjoyment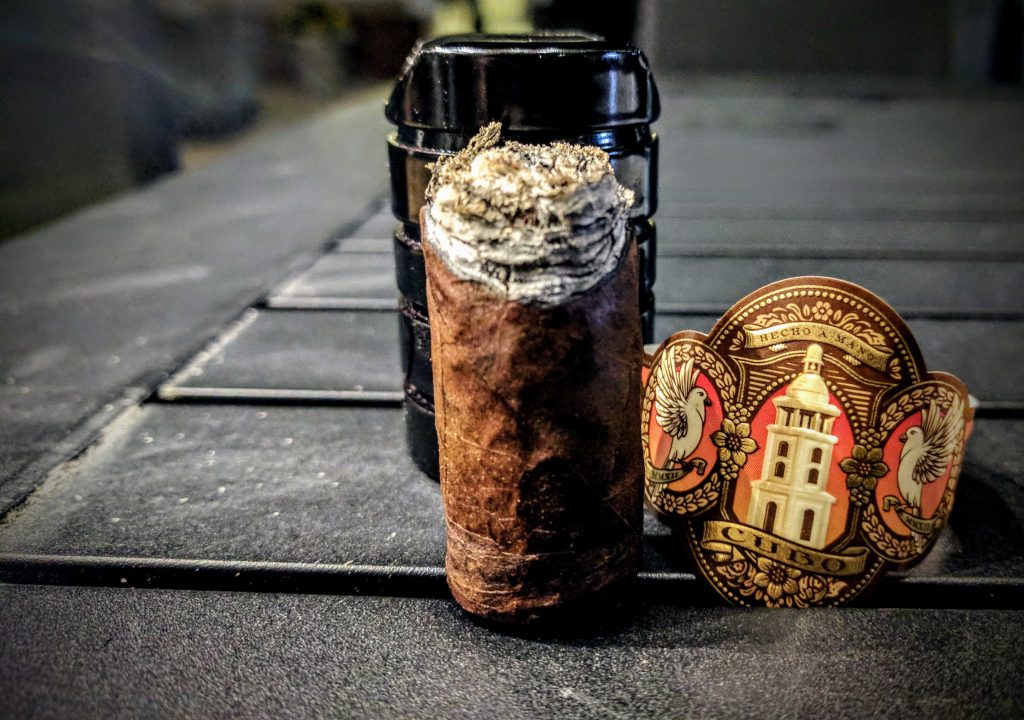 INSTANT CLASSIC MADURO.
Dapper's Cubo Maduro's intent was to 'appeal to cigar geeks but be approachable to people who haven't smoked before.'  To that extent, I think Dapper has an unbridled success on their hands.  The flavors are highly approachable – I mean, who doesn't like dark chocolate and coffee?  The creamy smoothness of the cigar is fantastic and really leaves you yearning for that next puff.  As son as anyone restocks, I'm certainly grabbing a box or two to have on hand.  This a a perfect cigar to go with morning coffee or a little bourbon in the evening.  Well done from the new kid on the block!
SIMPLY STOGIES RATING:  9.0 / 10.0