VITOLA:   Toro
SIZE:   6-1/4″ x 54
ORIGIN:   Dominican Republic
FACTORY:   Charles Fairmorn
WRAPPER:   Mexican San Andres
BINDER:   Indonesian Sumatra
FILLER:   Dominican Republic and Nicuaraguan
STRENGTH:   Medium – Full

SOURCE:   Received Sample from Epic Cigars
WHERE:   
My deck
WHEN:   
July 12, 2020
DRINKS:   
Iced Tea
WEATHER:   
Perfect warm Summer night – low 80's with 65% humidity
WHAT'S ON:   
Sounds of my neighborhood – dogs barking randomly, the occasional passing car, and the song of the cicada.
RELEASE TYPE  Limited Edition
ORIGINALLY RELEASE DATE  September, 2016
TOTAL PRODUCTION
Typical Box Size:     10
Production Totals:  250 Boxes
VITOLA BREAKDOWN
o  Gran Ola  (6-1/4″ x 54)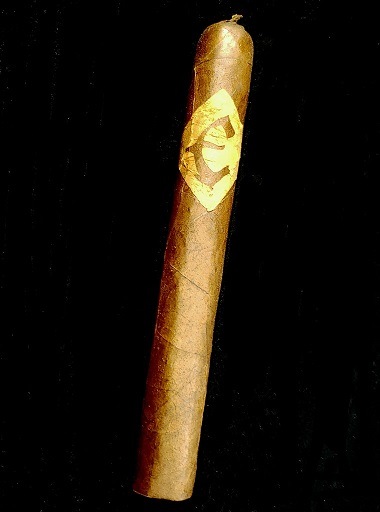 RESEARCH & BACKGROUND INFO
The Project E San Andres debuted at the 2016 IPCPR Annual Trade Show. 
This is the only cigar that comes to mind that you can smoke the band.
I met owner and founder of Epic Cigars, Dean Parsons, at the 2020 Nebraska Cigar Fest. 
Cigars for this review were provided by Epic.

The Project E San Andres Gran Ola has one of the most unique band designs I've come across in my cigar journey. The "band" is a piece of tobacco leaf that has been cut into a diamond shape, an "E" cut out of the middle, and is glued to the wrapper. While using tobacco leaf to put designs or an artistic flourish on a cigar is nothing new, using that idea to create a unique band is something new to me. It conveys the feeling that there was great care and attention put into the crafting of this cigar.
It appears to be expertly applied, as I only noticed a small amount of glue or adhesive located on the bottom left of the "E." I have seen cigars that cost more than twice this much have bands applied with enough adhesive on the wrapper to hold another band or two. This speaks to the care and attention this cigar receives in the factory.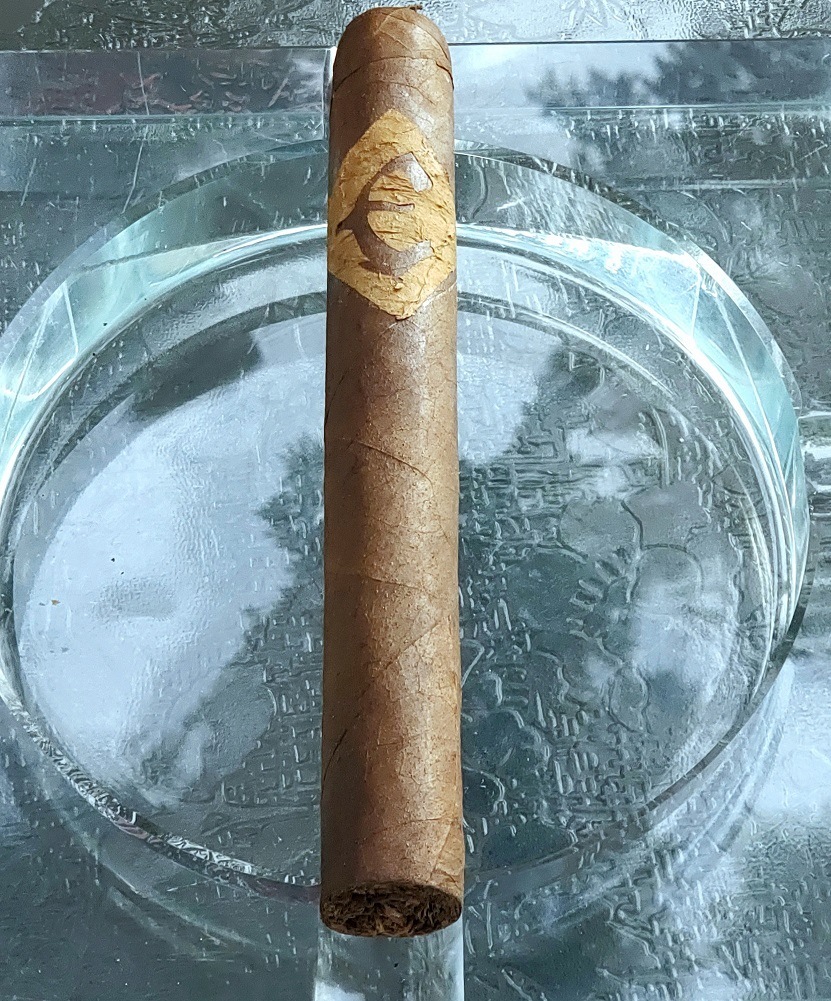 CONSTRUCTION
After the band, the first thing I notice is the pigtail on the cap. Just a simple twist at the end that adds character to an already unique looking cigar. The wrapper is toothy and rough to the touch. There is a nice oily sheen that the pictures do not do justice. There are a few visible veins but nothing concerning. 
I am a sucker for cigar art, and this cigar is art. Simple. Understated. No visible imperfections. I'm excited for what this cigar has in store for me.
AROMA
The familiar scents of cedar, hay, and tobacco are easily found at the foot of this cigar.
COLD DRAW
My first draw has a bit more resistance than I typically like, but it's not too difficult to draw. The cold draw reveals a sweet note that blends well with the chocolate and coffee notes. My excitement grows.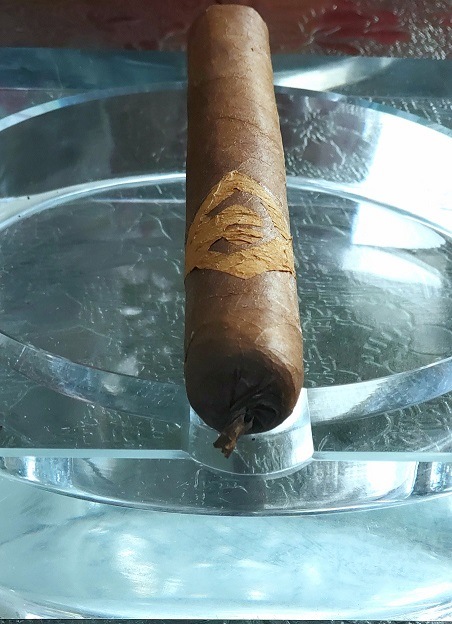 LIGHT & DRAW
Cut:  Xikar Xi3
Fire:  Xikar Tactical Single Flame
There are those who can twist the pigtail off and take enough of the cap to smoke…I am not one of those people. I choose a straight cut, as it is my preferred cut, but that means that I have to make two cuts to get past the pigtail. So be it.
The cigar lights flawlessly and, to my astonishment and delight, I am not met with mouthful of pepper.
SMOKE
There is not copious amounts of smoke, but why would there be from a work of art? This is a museum, not a smokehouse. That said, there is more than enough smoke, and it is a rich and creamy smoke. It coats the inside of my mouth, making sure that I can taste everything this cigar has to give.
FIRST THIRD
>> Baking Spices, Coffee, White Pepper

I have said, many times, that my palate is not refined. It does not take an aficionado to pick out these flavors though. While the sweetness I tasted in the cold draw is not immediately noticeable, I do get some very nice baking spice and a bit of coffee. I can easily pick out the cinnamon and nutmeg. The burn is sharp and the first third starts "stacking nickels." I am happy. I decide to retrohale and I get hit with some white pepper. Wonderful! The coffee starts coming through strong and that sweetness I was looking for finally makes an appearance. The ash is strong, but I decide to tap it off before I get to the second third.
SECOND THIRD
>> Coffee, Black Pepper, Earth, Citrus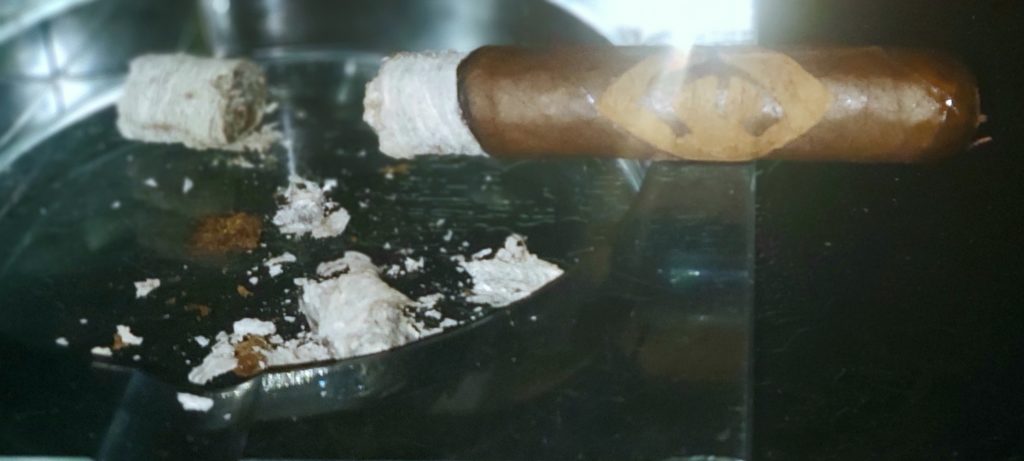 The baking spice has fallen off completely and is replaced by coffee as the dominant flavor. Somehow, this is pairing well with my iced tea. The smoke has a great mouthfeel to it, if that makes any sense. The ash is not as strong with this second third as it falls, thankfully, in my ashtray as I return my cigar to rest. Though, the ash pretty much kept its form when it landed. It suddenly dawns on me why this cigar pairs so well with my unsweetened iced tea, CITRUS! Very refreshing and cuts through the coffee note. As the middle third winds down, the pepper begins to ramp up. This is definitely a medium-full bodied cigar. 
FINAL THIRD
>> Black Pepper, Leather, Citrus, Espresso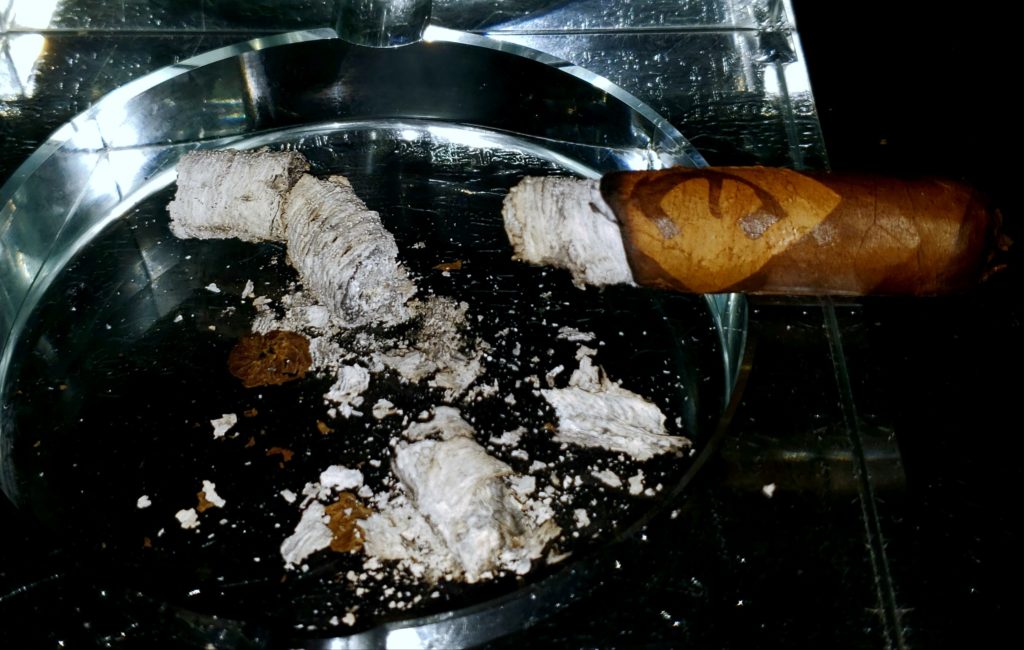 I switched to water for this last third and wow, what a difference your drink makes. The pepper that was ramping up at the end of the second third started to mellow out. Now, don't get me wrong, the pepper was still there, but it had lost its bite. The coffee note turned into a strong espresso. The kind of espresso that tastes like burnt coffee: bitter. That bitterness was being cut by a bit of citrus and some of the sweetness that stuck around. The ash is bit more flaky in the final third but is only noticeable when I ash the cigar. I start feeling the nicotine, which rarely happens anymore. I look at the time. I've been smoking this for over two hours. The Project E is a slow burning Toro. I set the cigar down, satisfied with the smoke.
FLAVOR PROGRESSION
The Epic Project E San Andres Gran Ola starts out with some very nice baking spice and coffee notes to earth, leather, and black pepper. It ramps up gradually, and there are hints of full strength throughout. It ramps up without going overboard.
BURN EXPERIENCE
The burn line was very consistent throughout the smoking experience. The Project E required no touch-ups or relights, had a straight enough burn, and the ash was not overly flaky. 
RATING BREAKDOWN
0.80 / 0.80 … Craft & Aesthetic
0.45 / 0.50 … Pre-Light Characteristics
0.50 / 0.50 … Lighting Process
6.90 / 7.70 … Smoking Experience
0.35 / 0.50 … Personal Enjoyment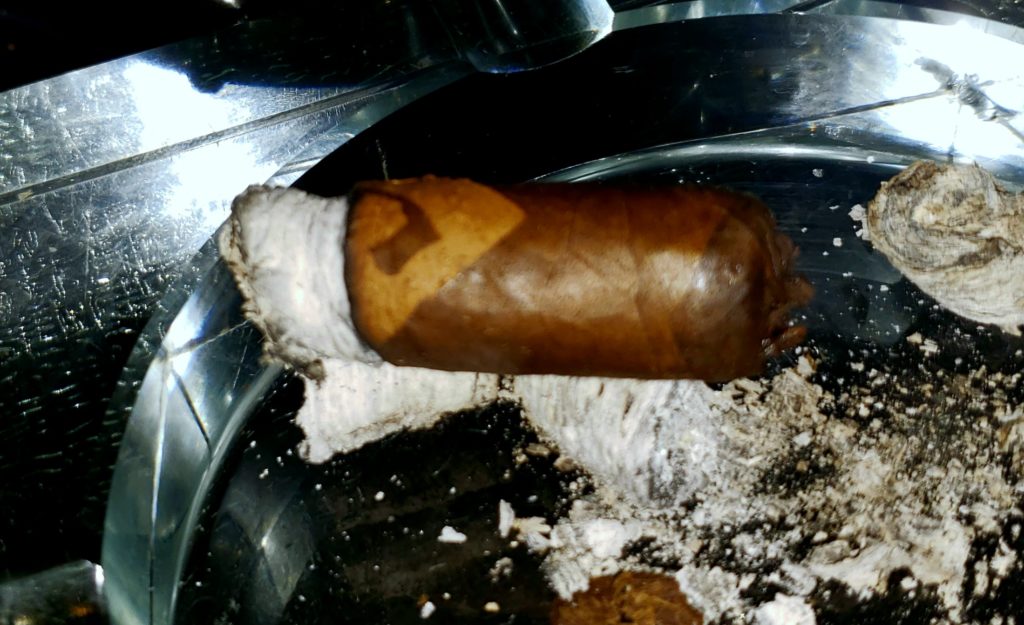 Epic Project E Gets an A.
The question I always have going into these reviews is, "Is it worth picking up?" The Epic Project E San Andres Gran Ola answers that question with a solid, "Yes." Pairing this cigar with Iced Tea may not have been the wisest pairing, as I feel it might have affected the final third when I switched to water; however, this cigar performed almost flawlessly from the start. Not to mention that each third of the Project E had well defined transitions that were extremely noticeable to even an untrained palate. What held this cigar back, in my opinion, is the overly bitter final third. 
SIMPLY STOGIES RATING:  9.00 / 10.0