VITOLA:   Robusto
SIZE:   5″ x 52
ORIGIN:   Nicaragua
FACTORY:   Undisclosed
WRAPPER:   Nicaraguan
BINDER:   Nicaraguan
FILLER:   Nicaraguan Corojo & Criollo
STRENGTH:   Mild
SOURCE:   
Secondary Market
WHERE:   
Three-Season Porch at Home
WHEN:   
July 10, 2017 at 10 PM
DRINKS:   
Sailor Jerry Rum on some rocks
WEATHER:   
Gorgeous summer night – low 70s, no precip
WHAT'S ON:   
Home Run Derby / Celebrity All-Star Softball Game
RELEASE TYPE  Limited Edition
ORIGINALLY RELEASE DATE  2015;  July 2016 (re-release date)
TOTAL PRODUCTION
Typical Box Size:     Packs of 5
Production Totals:  700 cigars in original release – unclear about subsequent releases
VITOLA BREAKDOWN
o  Robusto  (5″ x 52)
o  Bee's Knees XL (later release)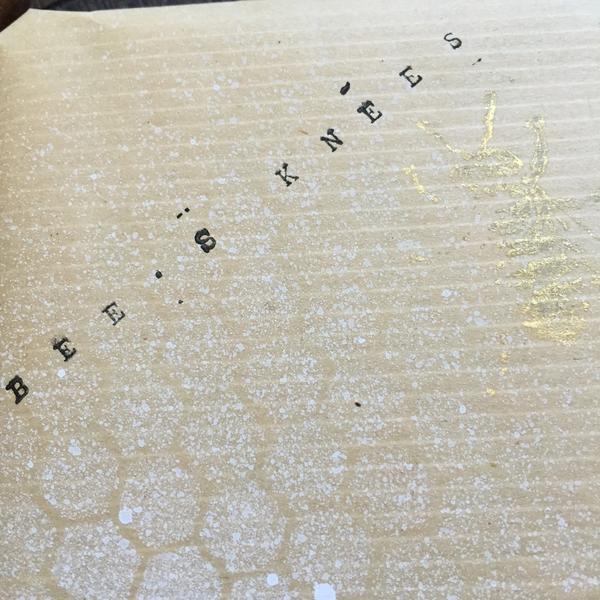 RESEARCH & BACKGROUND INFO
Ezra Zion's site calls this a Top 10 Cigar of 2015 but doesn't give a source.  The only list I could find was Katman's – and well, he's an EZ fan boy so take that with a grain of salt. This definitely had the potential for other lists but I wonder if the limited availability kept it off other lists.
Ezra Zion also promotes that the tobaccos used in the blend are very rare – but no mention as to what they are beyond corojo and criollo.
EZ says "We wanted a blend that would be perfect to smoke on the cool autumn evenings with a hot drink! THE cigar for the start of the holiday season."
Recommended pairing from them is brandy or hot cider – gotta say – that sounds about perfect to drink with this stogie.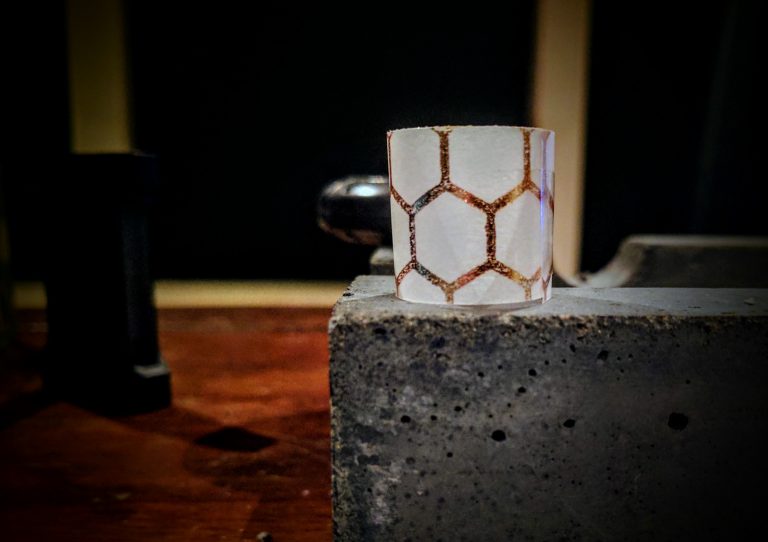 I love this band. The band on the second release looks a little different from the original release.  I believe in that the grey was more of a honeycomb yellow in the OR.  
The metallic sheen of the gold is a very high-end touch and really pops against the soft matte grey.  Like most Ezra Zion sticks, there's very little to identify the brand itself and in this instance, I'm ok with it.  I still maintain that a small, subtle "EZ" somewhere would be good.  The designer in me is driven to the brink of insanity by the fact that the pattern is not centered on the band.  Another reviewer mentioned that for a $11-12 stick, they used scotch tape to secure the band and I have to agree that it's a bit frugal considering.  A little hit of glue and boom – it would be much classier.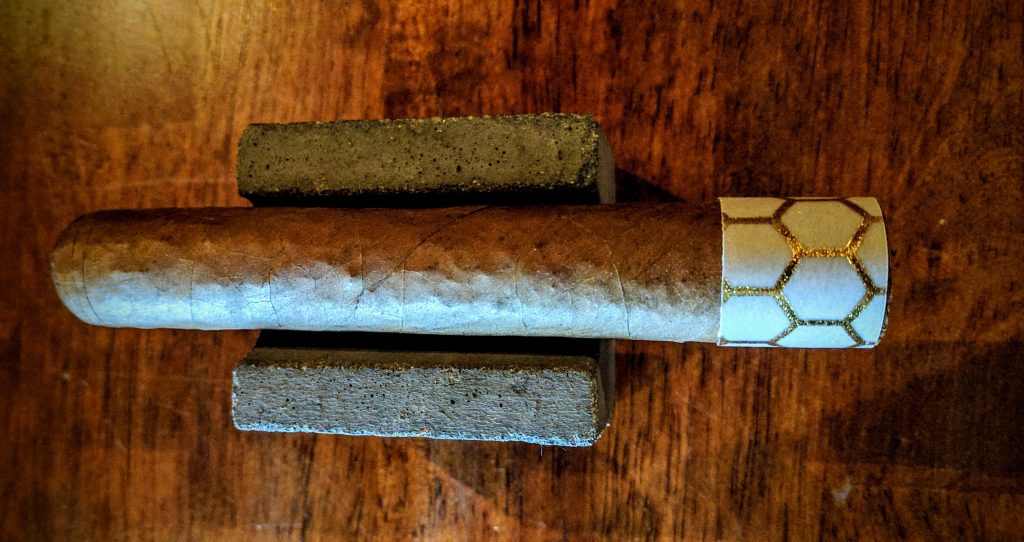 CONSTRUCTION
This Nico-puro is very nicely made. The wrapper is a beautiful oil-laden tan-ish, caramel color. There are some prominent veins found throughout the body and a few small hills or lumps that are nearly impossible to photograph in the current lighting. The seams are well done but every so often there are some areas that look like they crumbled. Maybe this particular stogie wasn't always stored properly? I'll never know.
Overall though, from outward appearances, a nicely made cigar that feels very light in the hand. The foot is clearly packed well and the triple cap is pretty much perfect. A light inspection didn't divulge any areas of concern beneath the wrapper – no hard/soft spots – just a well rolled cigar.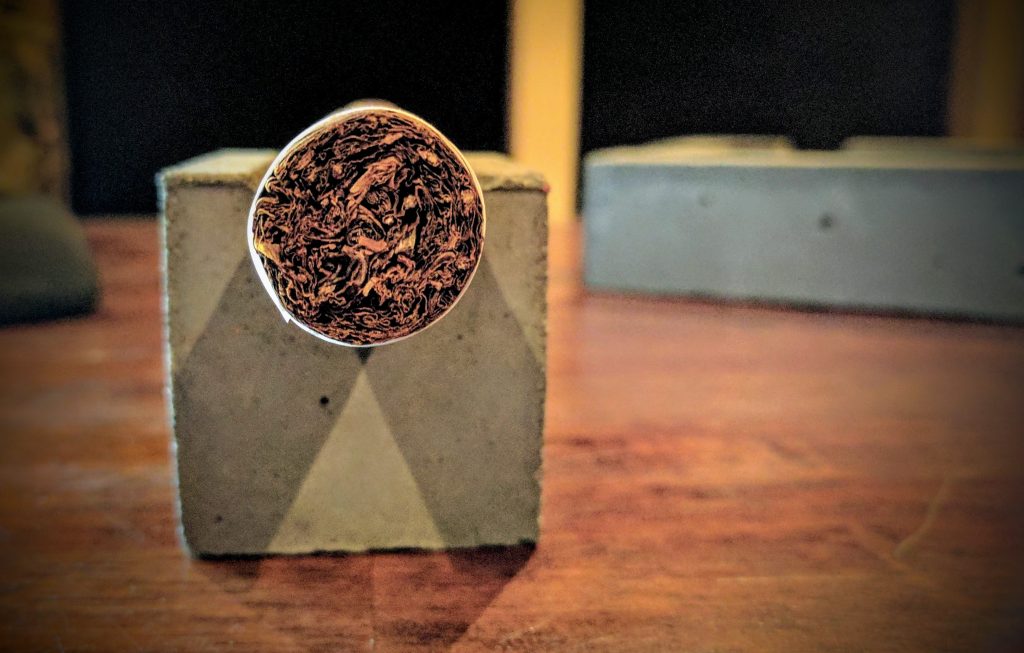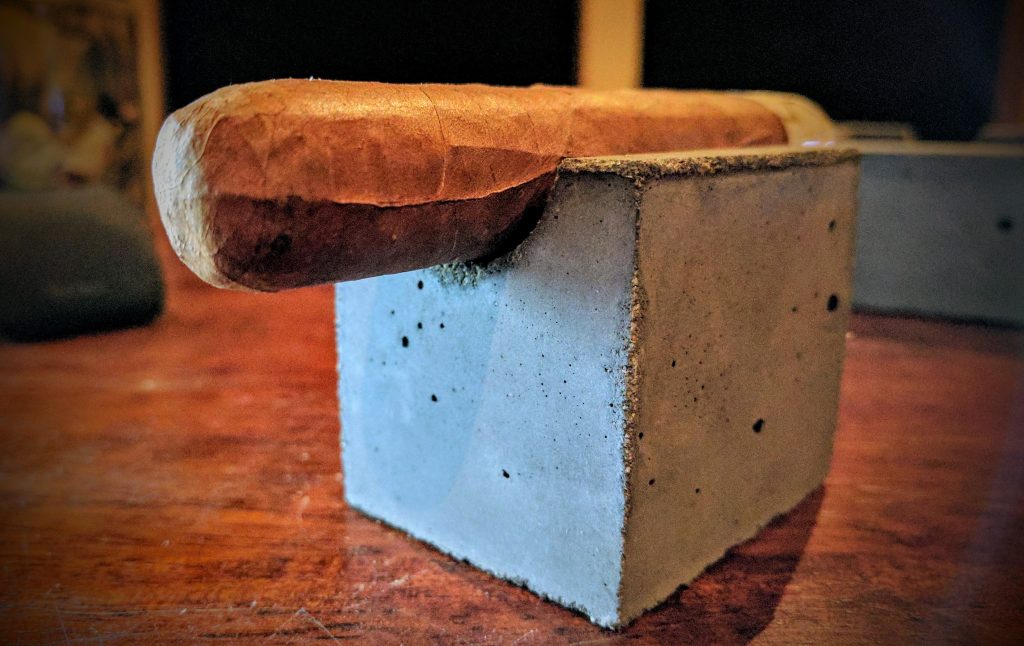 AROMA
Off the foot, there are definitely some sweeter fruits – this thing just smells like a summer night. There's also some lighter spice and floral notes.
COLD DRAW
The cold draw is perfectly open and leaves a lingering sweetness on the lips and tongue. The sweet fruit and floral notes continue. There's maybe a hint of honey and light, light chocolate.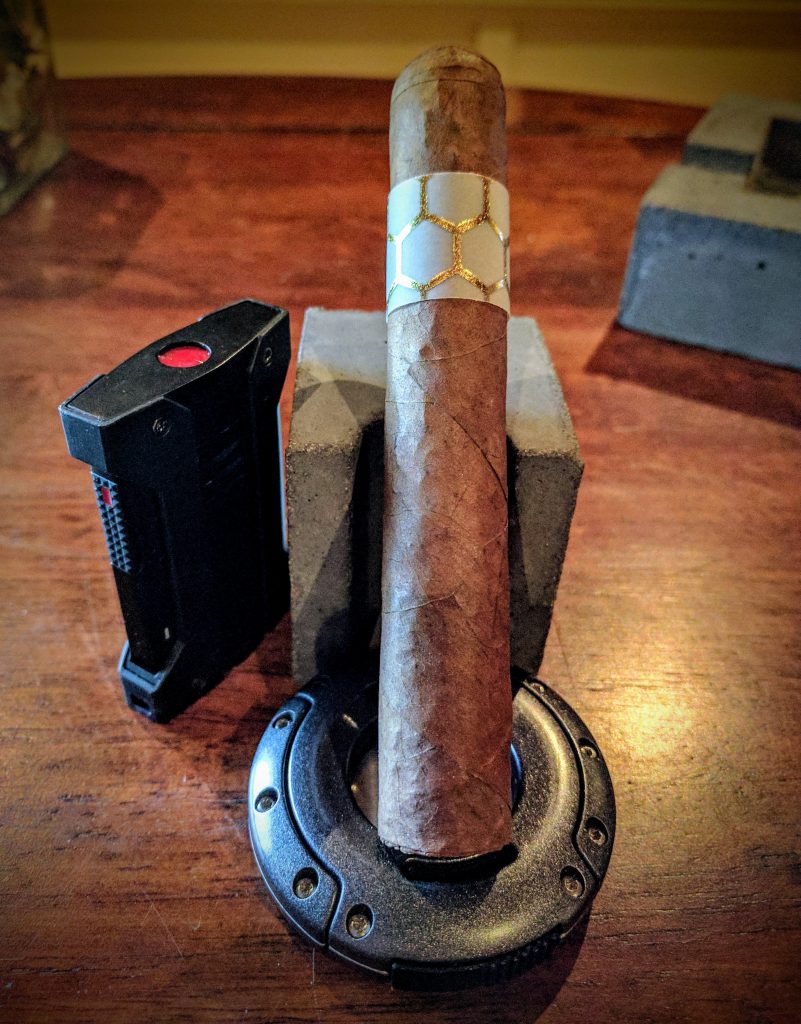 LIGHT & DRAW
Cut:  Xikar XO
Fire:  ST Dupont Defi Extreme
Remove the cap with no trouble and fired up the Bee's Knees!  The first few flavors are light cedar, light pepper, spices, cream, light chocolate.  The draw is fantastic – no issues there!  The burn is a little nuts to start out – hopefully it finds its groove and corrects.  Ash is a light grey and white that is starting to lump or stack every 1/4 inch or so.
SMOKE
Smoke output is great. While resting there is a steady stream of smoke and each puff brings plenty of billowing white/grey clouds.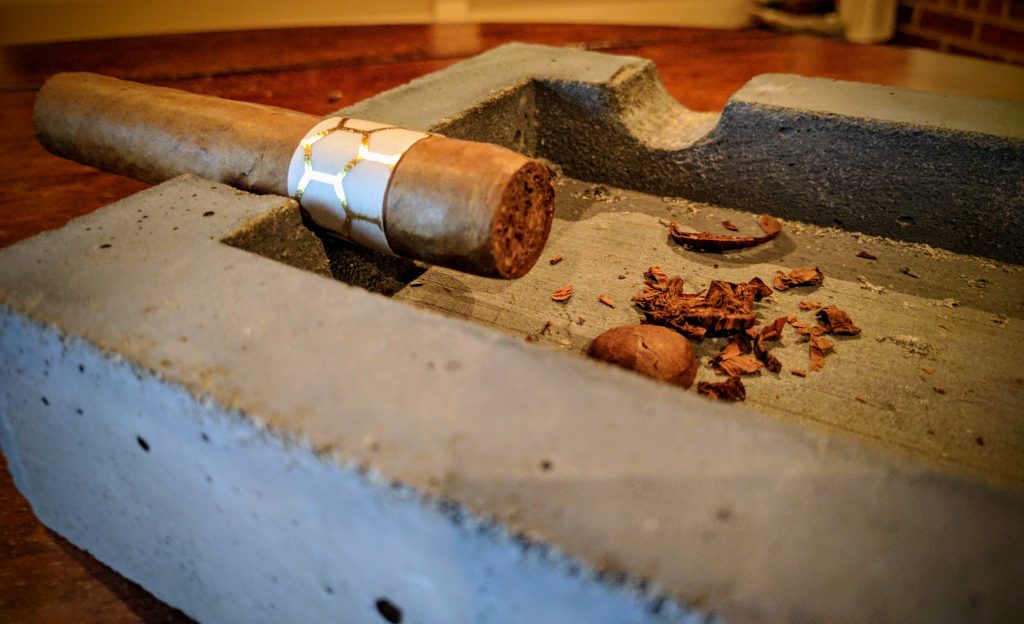 FIRST THIRD
>> cream, leather, honey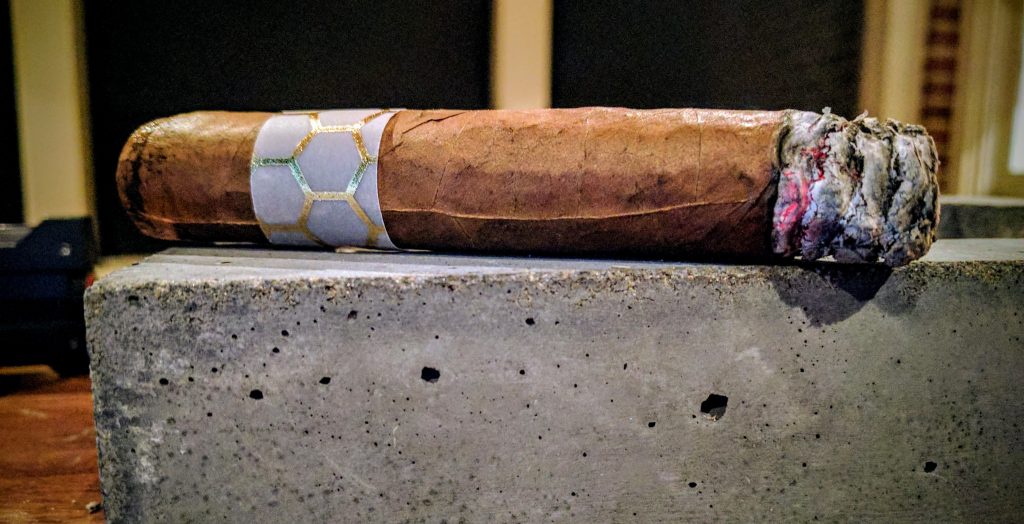 The flavors have started to align and there is a soft creaminess taking hold.  Folded into that cream is some leather, cedar and sweetness – dare I say, honey.  The pepper has vacated and the only spot it's still found is on the retrohale, which even there is fairly mild.  Let me come back to the honey – it's for sure not a spoonful of raw honey sweet – there are some savory, herb-like complexities with it.  Best comparison – mixing a little honey in with some hot herbal tea.
The draw continues to be right in the sweet spot.  Whatever problems the first half inch presented have been resolved and we're good to go – great, clean burn line.  Ash is stacking nicely – but I fear it's a matter of time before it finds my crotchal area.
SECOND THIRD
>> cream, butterscotch, leather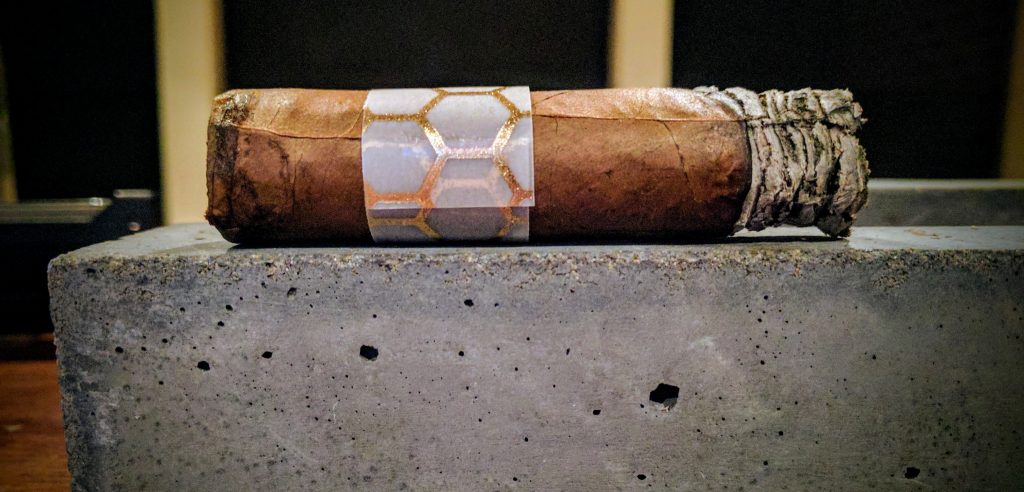 As the second third kicks in, there is still some of that lingering sweetness on the tongue from the first third.  The cream is still there and there's a caramel/butterscotch/Werther's taste that's the first to hit the tongue.  As it goes though, the sweetness is becoming more subdued and leather/wood is present.  There is a nuttiness to it as well – very light.  Retrohale is still bringing the pepper – but again it's light and pretty tolerable without cleaning out the tear ducts.
The burn is a little wavy, but really nothing to worry about. I'll manage through observation and see how it goes.  Ash fell about an inch and a half in – not on my lap (takes bow). It's starting to stack very well again, but I'll likely try to keep it down to a minimum without knocking to hard.
FINAL THIRD
>> wood, espresso, chocolate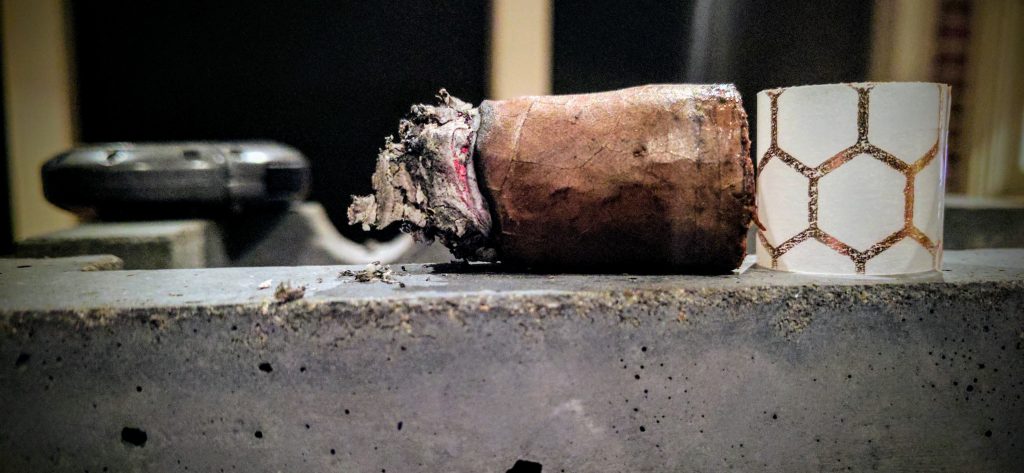 The final third brings some awesome complexity.  It's like all the flavors have remained to an extent and are being showcased in different puffs.  One time it's sweet molasses/honey/caramel.  The next it's rich leather, cedar and toasted nuts.  Long on the finish is some toasted marshmallow – freaking fantastic.  The cream is all still there but much lighter.  There's also some herb-like flavors towards the nub – defintely getting a little mint and those lighter, crisper herbs.  Several other reviewers got malty flavors.  Maybe my malt game isn't on point but I completely didn't taste that malt-like awesomeness.
The draw has been exemplary throughout – absolutely no complaints.  While the burn line has not exactly been razor sharp, there have been no real issues to amend and I'd say it's been great.  The ash builds well to about a half-inch to inch and plops.  Not an issue for me as I typically lay the stick down to type/write notes while smoking.  Laps be warned!
FLAVOR PROGRESSION
The complexity and flavors found in Ezra Zion's Bee's Knees were remarkable.  Every inch seemed to bring a new flavor or continue an existing one is a unique way.  Very interesting smoke!
BURN EXPERIENCE
Outside of some very minor burn inconsistencies, Bee's Knees impressed. It never warranted a touch-up or relight – it was an easy smoking experience for sure.
RATING BREAKDOWN
0.73 / 0.80 … Craft & Aesthetic
0.50 / 0.50 … Pre-Light Characteristics
0.33 / 0.50 … Lighting Process
6.93 / 7.70 … Smoking Experience
0.50 / 0.50 … Personal Enjoyment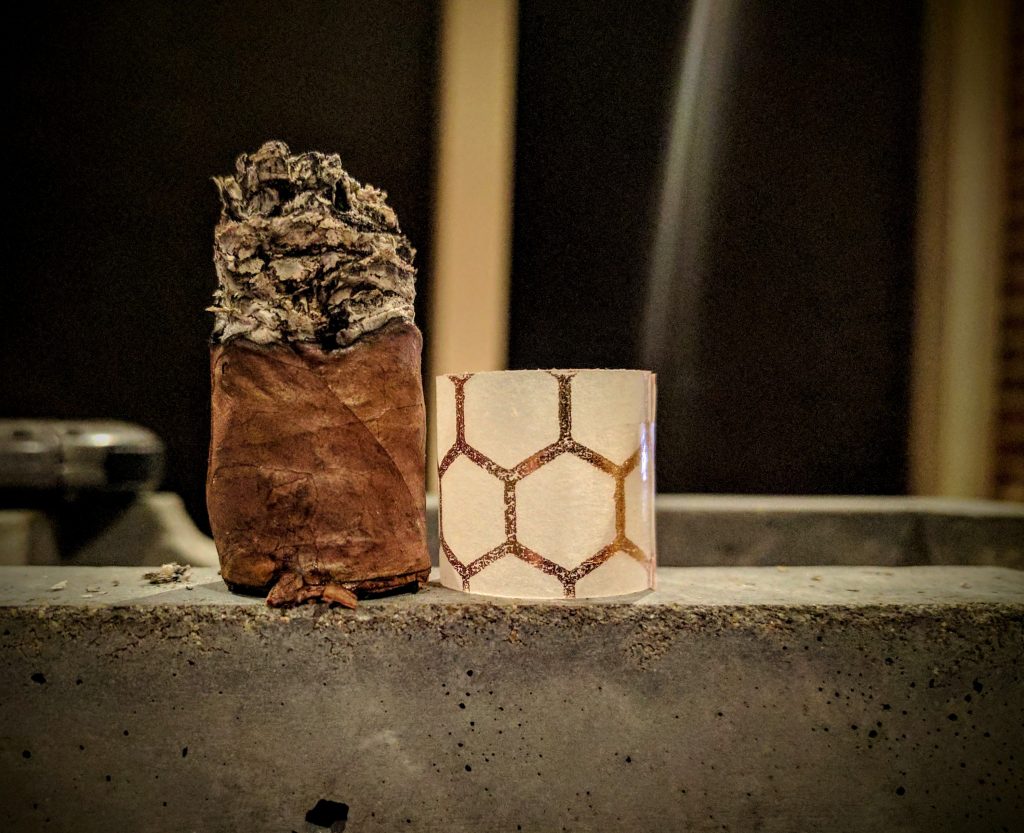 TRULY THE BEE'S KNEES.
The Bee's Knees had big shoes to fill.  I'd heard plenty of great comments about it and felt ready to be critical of it – as I tend to be with anything over-hyped … but … at the end of the day, I really enjoyed it and have zero complaints.  Outside of some very minor blemishes and burn issues, I really didn't find much to be critical of with the cigar.
Novice smoker can appreciate the mild easily identifiable forefront flavors; seasoned smokers will love the underlying complexities this cigar brings.
SIMPLY STOGIES RATING:  9.0 / 10.0