VITOLA:   Corona Gordo or skinny Toro (according to Kyle of E.Z.)
SIZE:   5-1/2″ x 48 (ish – official size unconfirmed)
ORIGIN:   Nicaragua
FACTORY:   Undisclosed
WRAPPER:   Vintage Nicaraguan Criollo
BINDER:   Undisclosed
FILLER:   Nicaraguan Jalapa & Ometepe
STRENGTH:   Medium
SOURCE:   
Ezra Zion website
WHERE:   
Three-Season Porch at Home
WHEN:   
June 19, 2017 at 10 PM
DRINKS:   
Freakshow Red Blend
WEATHER:   
Cool summer night – low 70s with no precip
WHAT'S ON:   
Spotify Blues & Roots playlist
RELEASE TYPE  Limited Edition
ORIGINALLY RELEASE DATE  June 2017
TOTAL PRODUCTION
Typical Box Size:     Packs of 5
Production Totals:  730 cigars total
RESEARCH & BACKGROUND INFO
Disclaimer:  There's not much info available outside of what Ezra Zion lists on their site – so forgive me if this is a bit regurgative from Ezra Zion's website.
These stogies rested for a year prior to release.
The filler tobacco is relatively rare.  Jalapa tobacco may be relatively easy to stumble across however the Ometepe is grown on an island in Lake Nicaragua that's home to two active volcanoes and is much more rare to see in a blend.
The word 'ometepe' derives from the Aztec for 'two peaks.'
The volcanic soil of Ometepe (and many other popular sites to grow) help to produce rich, sweet tobacco.  As such, these are prized locations that are highly sought out.  The conditions at Ometepe are world renowned for the excellent drainage and the fresh water lake which provides ideal morning humidity – helping to create soil so rich in nutrients that tobacco is permitted to grow nearly free of additional fertilizers.
Tobacco has long been grown in Ometepe – since about the 1950s.  However, that tobacco primarily went into cigarette production.  Only within the past 20-25 years has cigar tobacco been cultivated on the island.
I talked with Kyle Hoover over at Ezra Zion and he was cool enough to share a little more info:
The cigar's name, Green Army Men, is multi-faceted. Perhaps it's inspiration comes from his son's green army men that litter his house.  We've all played with 'em and there's a fun nostalgic quality to it bringing us back to a time when we were the 'heroes' of whatever story we could concoct.  They wanted the cigar to be as fun to experience as possible – what better way than bringing guys back to a nearly universally shared memory.
The other logic behind the name may come from the blending sessions.  Just two dudes, smoking rare, expensive tobacco – tweaking and blending, smoking and having fun.  Basically, playing with the adult version of army men in a sense
Ezra Zion does a great job of working each line of cigar's theme into a completely unique band.  My lone complaint with this approach is that to the outsider, it's nearly impossible to identify who produces the cigar or what it is.  The redeeming factor is that most of their stuff is so recognizable, it doesn't take long to figure it out. 
All that said, the Green Army Men band is extremely befitting of the line.  Everyone will recognize the five army men represented on the bands.  Whether you played with them as a kid (or still), these figures' shapes are iconic and easily recognizable.  I enjoy the simplicity of the silhouetted figure on thick, butcher-type paper.  I also appreciate Ezra Zion adding in small text, "Green Army Men" – not that these are in any danger of being mistaken for something else.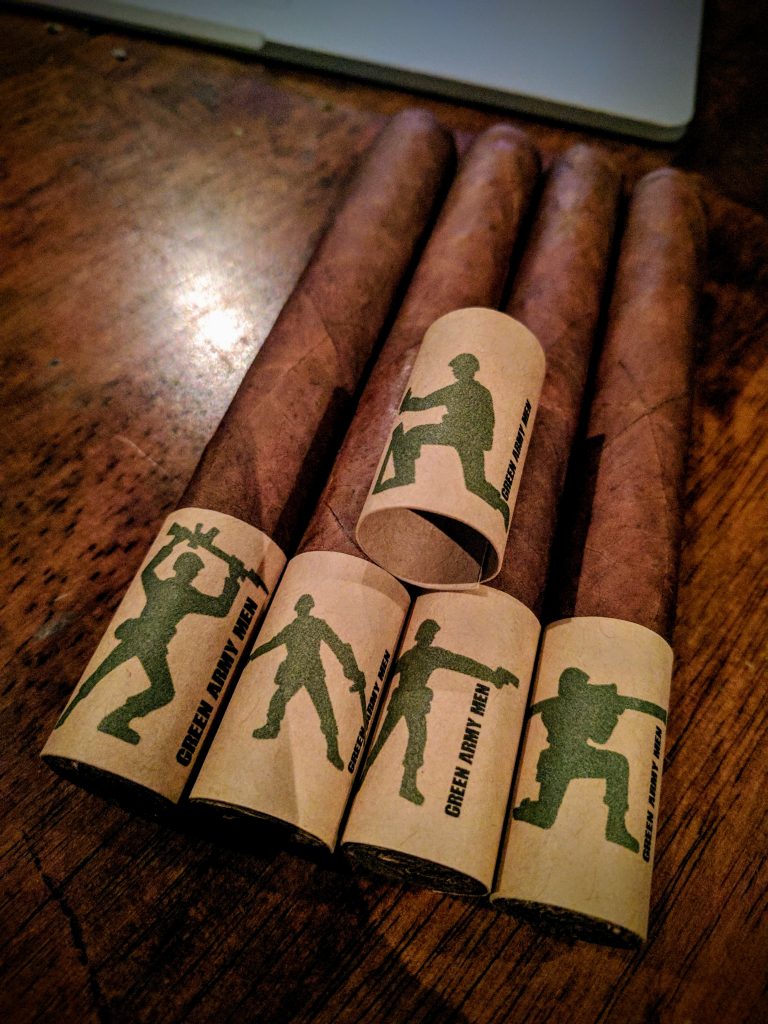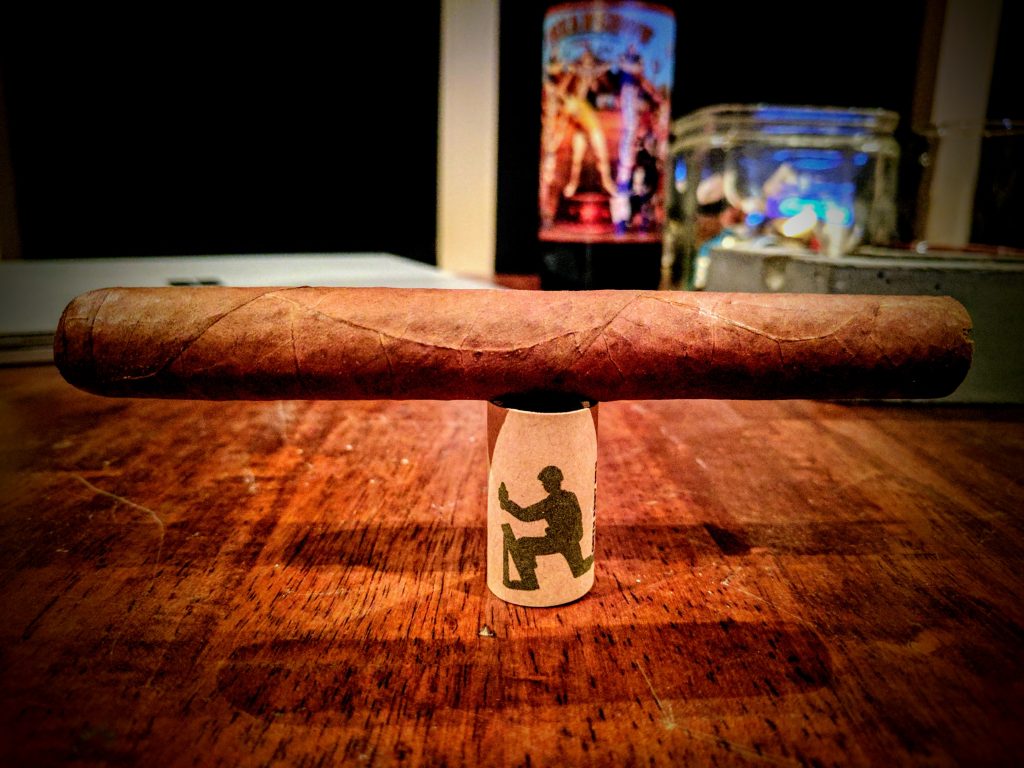 CONSTRUCTION
The wrapper is very smooth and despite the seams being fairly visible, they are not raised whatsoever.  The cap is a little lumpy but it blends into the body perfectly.  The foot is an interesting swirl of browns showcasing the filler nicely.
This is a very sturdy feeling stogie.  Light exam doesn't show any sign of soft spots or irregular construction.  The vitola feels nice in the hand – closest probably to a typical corona, which I find to be a pleasant size.
AROMA
A big whiff of the foot yields tobacco, lumber and some light raisin.  By far the tobacco is most prominent.
COLD DRAW
The cold draw has a bit of raisin to it.  It's also slightly sweet but hard to place anything specific.  There's a flat Coke sugariness to it but it's not a thick, syrupy sweetness – if that makes sense.  Maybe a better comparison is watered-down sweet tea.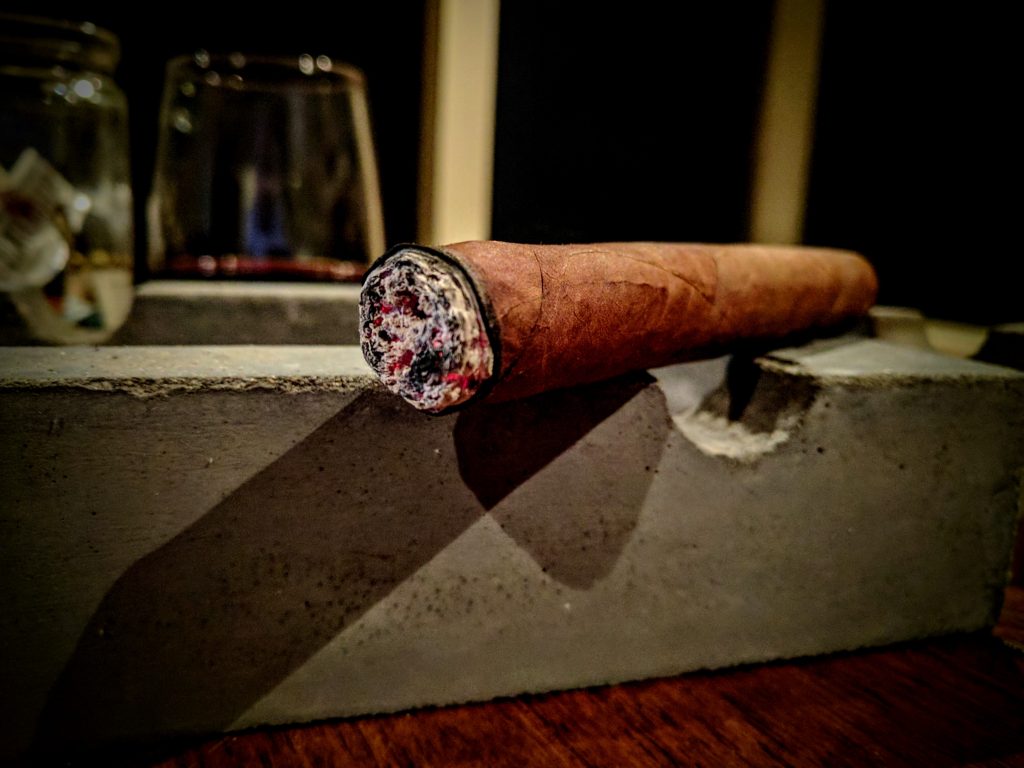 LIGHT & DRAW
Cut:  Xikar XO
Fire:  ST Dupont Extreme
I used my Xikar XO cutter to straight cut the cap and my ST Dupont single-torch to light her up.  Everything starts out very smooth with just a faint amount of spice or anise at the back of the throat.  Ezra Zion notes whipped cream – and I'll say that there is a dairy nature (cream or milk) to the first few puffs, but it's nowhere as sweet as whip cream.  It more reminds me more of a slightly undercooked meringue.
SMOKE
Smoke output is about average.  While puffing it's a satisfactory amount but while resting it essentially appears out.
FIRST THIRD
>> smooth, cream, vanilla, chocolate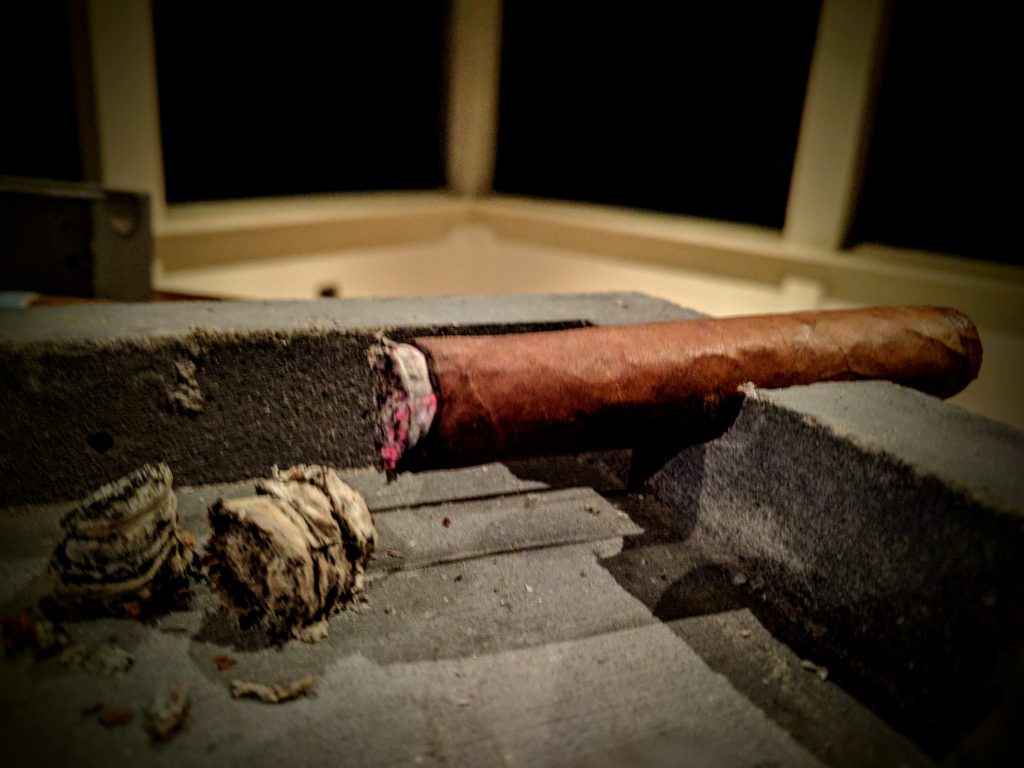 Everything has mellowed very nicely – not that it started harshly.  The tiny spiciness at the back of the throat has vanished and there's a creamy, vanilla quality that's wonderful.  There is a light bitterness to it – something akin to high percentage dark chocolate.  Chocolate is present but it's taking a backseat to everything else.  Retrohale is remarkably smooth and maybe brings out a bit of an almond or cashew butter quality.  Draw is essentially perfect.
SECOND THIRD
>> cream, vanilla, earth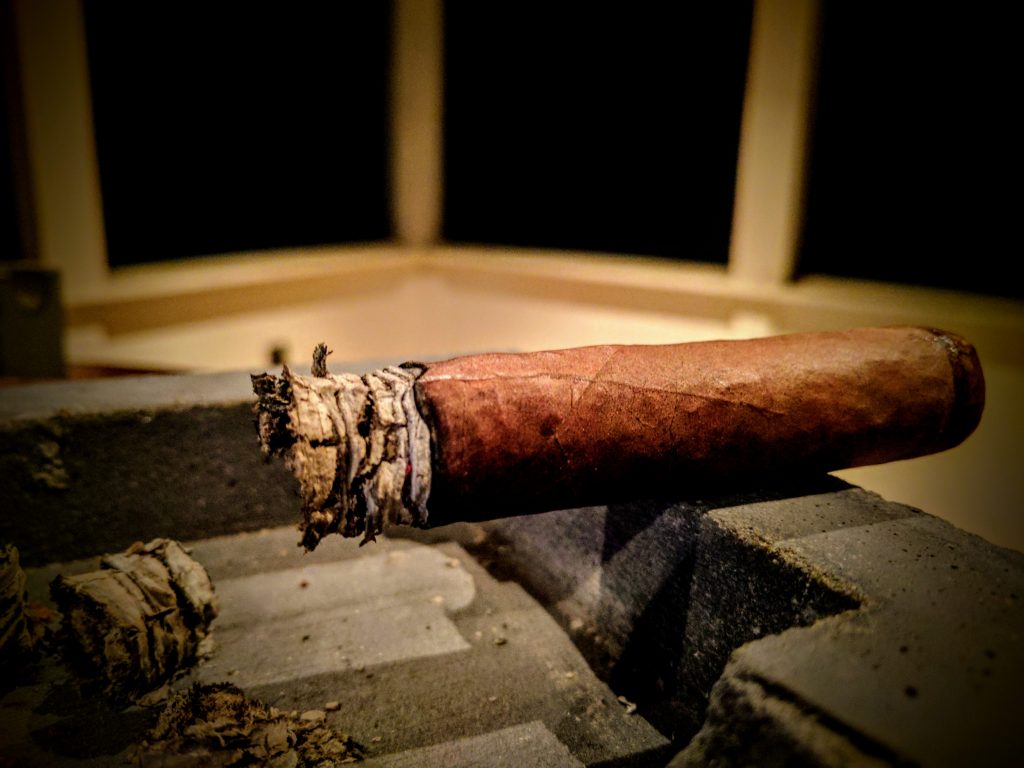 Despite regular smoking, my Green Army Men went out almost exactly halfway through the smoke.  Prior to relighting, flavors had continued to stay mellow – leaning heavily towards cream, vanilla and a bit of sweet earthiness.  The relight sadly brings back a bit of harshness – we'll see how the cigar shapes up as I burn through it.  I'd note that the relight may be less about the cigar's quality and more about my impatience at needing to smoke one as soon as they hit my mailbox!  I'll definitely let them rest and update at a later date!  The burn line so far has been impeccable with only some very minor deviations.
FINAL THIRD
>> earth, meaty, nut, whole wheat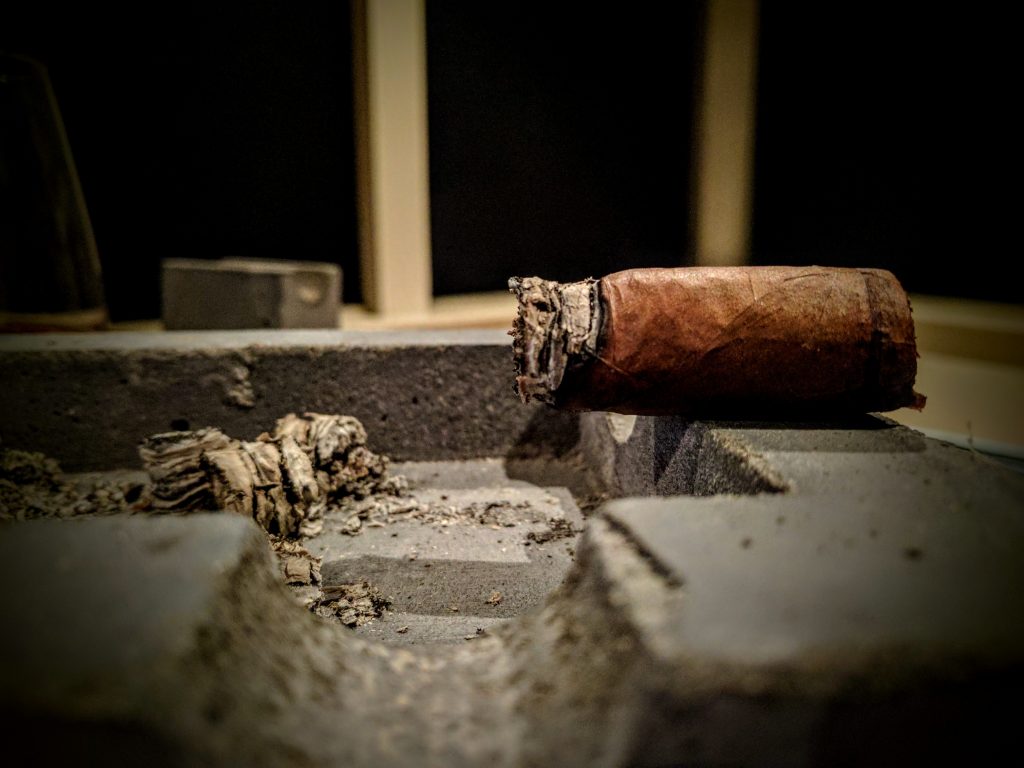 The final third seems to be leaving the sweet nature of the first two thirds behind and heading towards a more earthy, meat and nut flavor profile.  There's a whole wheat bread note that seems unmistakable to me.  The burn line continues to be flawless – razor sharp, to coin the cliché.  Draw and smoke production match – it's been consistently effortless to smoke with pure white plume clouds stemming from every puff.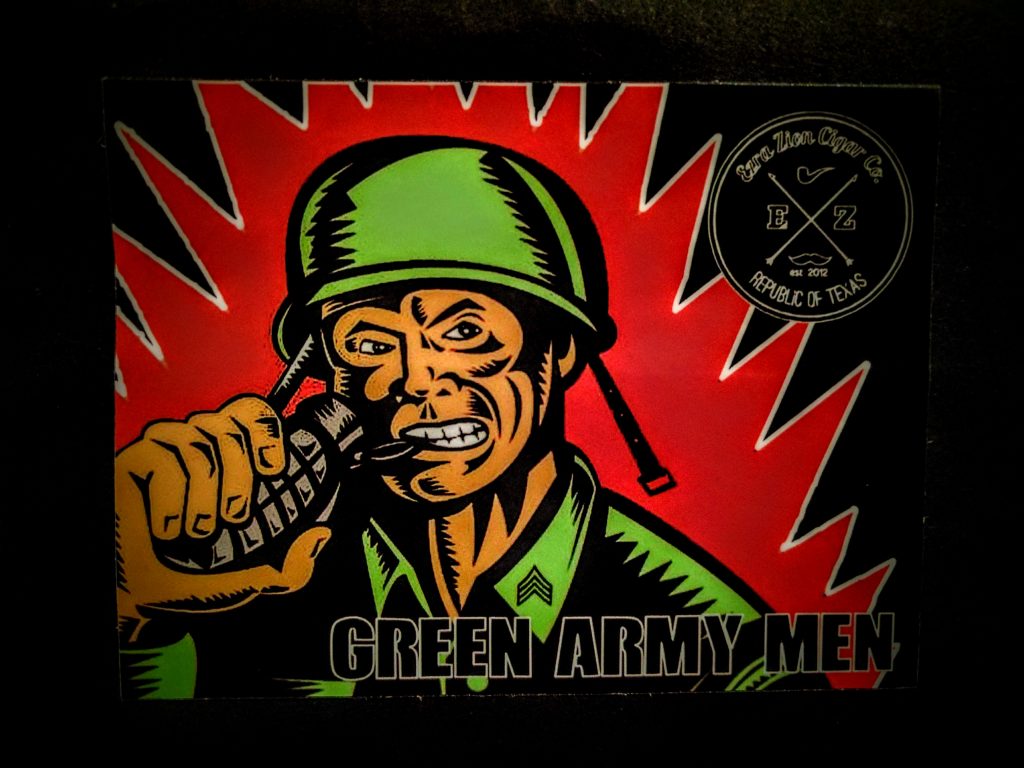 NEXT FOUR-STAR GENERAL.
I can already tell – Green Army Men is one of those smokes you wake up the next day thinking about.  I know I'll find myself reaching for one (or two) and sharing a few within the week.  The flavors progress seamlessly – starting mellow with some sweet cream and vanilla before moving elegantly to something more earthy with salted nuts and whole wheat grain. 
SIMPLY STOGIES RATING:  9.0 / 10.0