VITOLA:   Short Lancero
SIZE:   5″ x 44
ORIGIN:   Nicaragua
FACTORY:   Ezra Zion HQ (?)
WRAPPER:   Corojo 99
BINDER:   Undisclosed
FILLER:   Undisclosed
STRENGTH:   Medium
SOURCE:   
Trade w/ u/BigJohnAustin (back when r/cigars allowed fun)
WHERE:   
Three-Season Porch at Home
WHEN:   
June 30, 2017 at Midnight
DRINKS:   
Tap Water
WEATHER:   
Rainy summer night; mid-70s
WHAT'S ON:   
Listening to the rain
RELEASE TYPE  Limited Edition
ORIGINALLY RELEASE DATE  Unknown
TOTAL PRODUCTION
Typical Box Size:     Packs of 5
Production Totals:  945 cigars
VITOLA BREAKDOWN
o  Naughty Bits  (5″ x 44)
o  Naughty Bits 2.0
o  Naughty Bits BLUE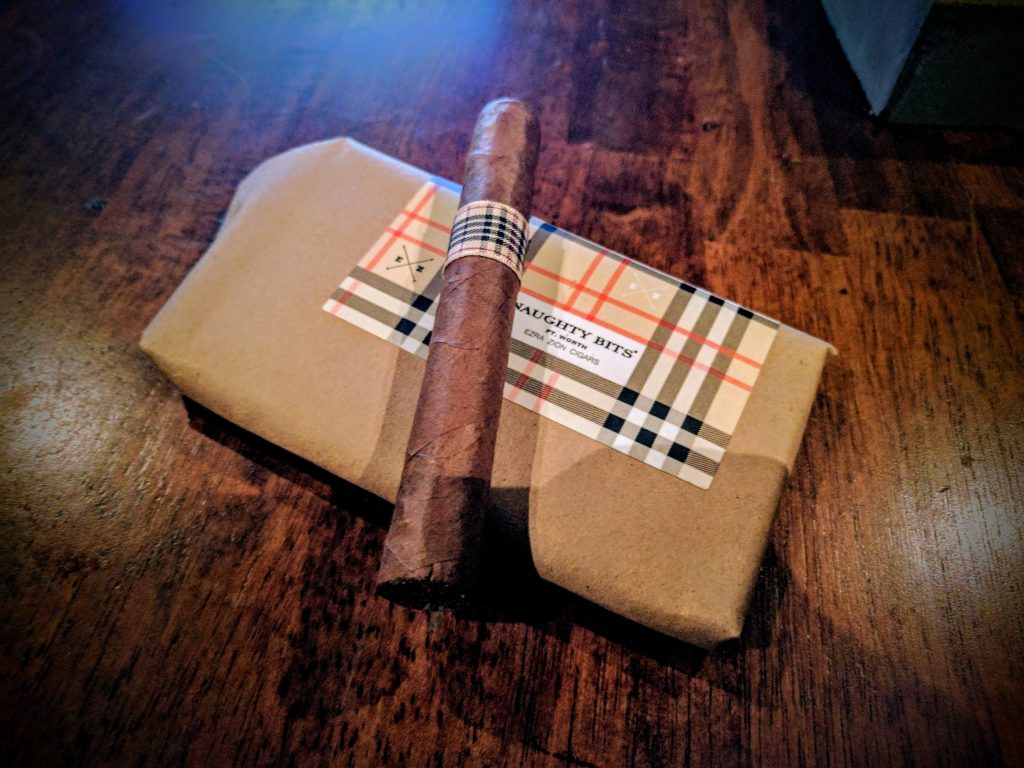 RESEARCH & BACKGROUND INFO
Like most of Ezra Zion's stuff, these are extremely limited.  They seem to do a great job of pacing their releases to drive demand – as these sell out nearly instantly.
According to Ezra Zion's site, this cigar's goal was to combine tobaccos with a sweeter profile to develop a 'candy-like' cigar.
While critically acclaimed (mostly by word of mouth), there are almost no formal reviews out there for this cigar.  It's really surprising to me considering the amazing construction and flavor profile.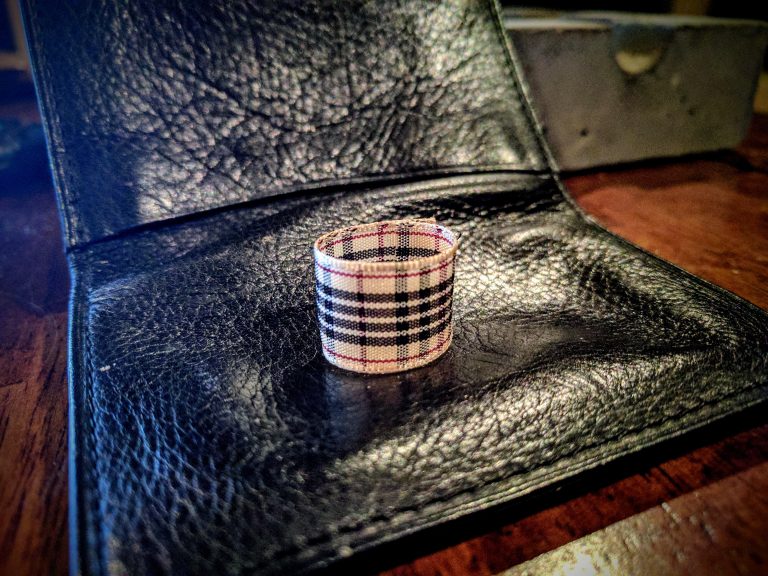 As soon as I received this cigar, I immediately asked John "What's the Burberry cigar?"  The band is a classy plaid fabric that continues one of my ongoing struggles with evaluating Ezra Zion's design.  There are no identifying markings what-so-ever on the band.  I was left to Google it – with absolutely no success.  I get the simplicity – and to be sure – I love it – but just a simple "EZ" on the band somewhere wouldn't hinder the overall look and offer the tiniest clue as to the cigar's identity.  
One more observation – frequently Ezra Zion works to make the band match the cigar's theme.  The theme here is 'candy-like cigar' and the band feels more like shopping for a nice scarf.  I know that's a lot of criticism – so I'll close with that I do appreciate and like the look, just wish there were a couple minor additions or moments of logic to help me understand it.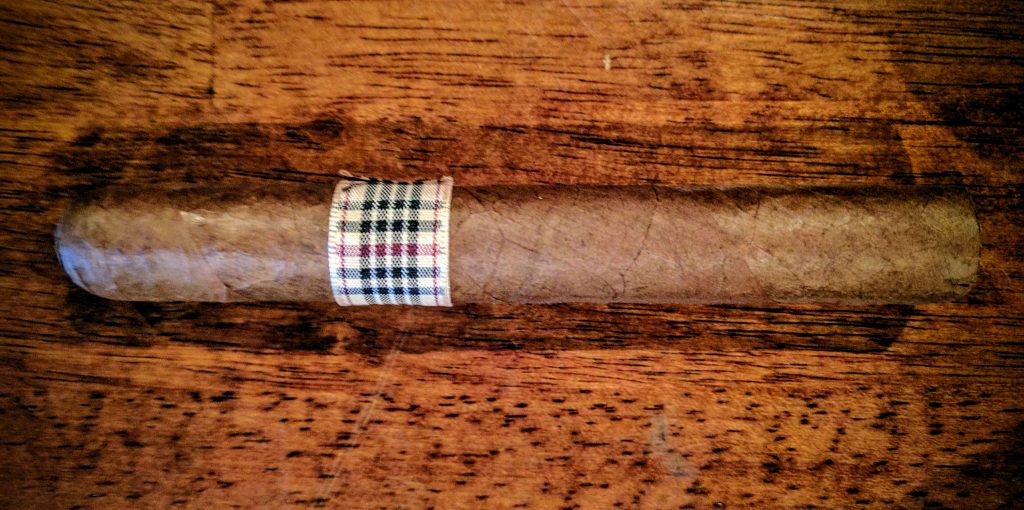 CONSTRUCTION
This cigar appears very well made on the surface.  The seams are perfectly done and while the body is populated by a fair amount of veins, there are no real raised or bumpy areas.  The corojo wrapper is glossy and oily – looks absolutely delicious.  The triple cap is well-done with a shoulder that extends very smoothly and deep into the body. The foot showcases the blend perfectly and it's clear that the filler is comprised of big selections of tobacco.  This is a really nicely done cigar.
As someone who prefers a larger vitola, I looked at these with an unfair bias – expecting not to like the size but the density and weight of this tiny cigar is impressive and feels fantastic in the hand.  A light inspection of the body doesn't turn up any lumps or soft spots.  Again, this stogie seems very well done.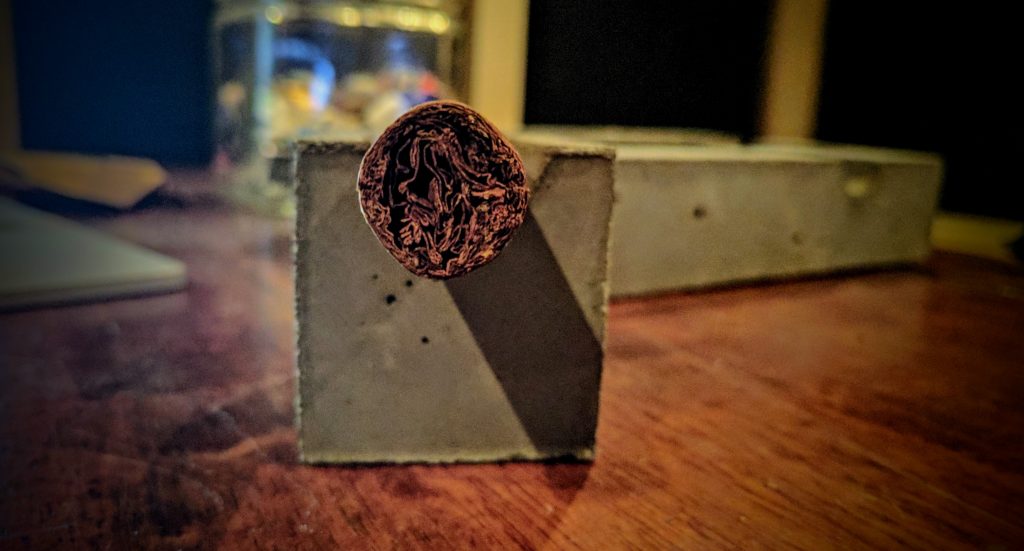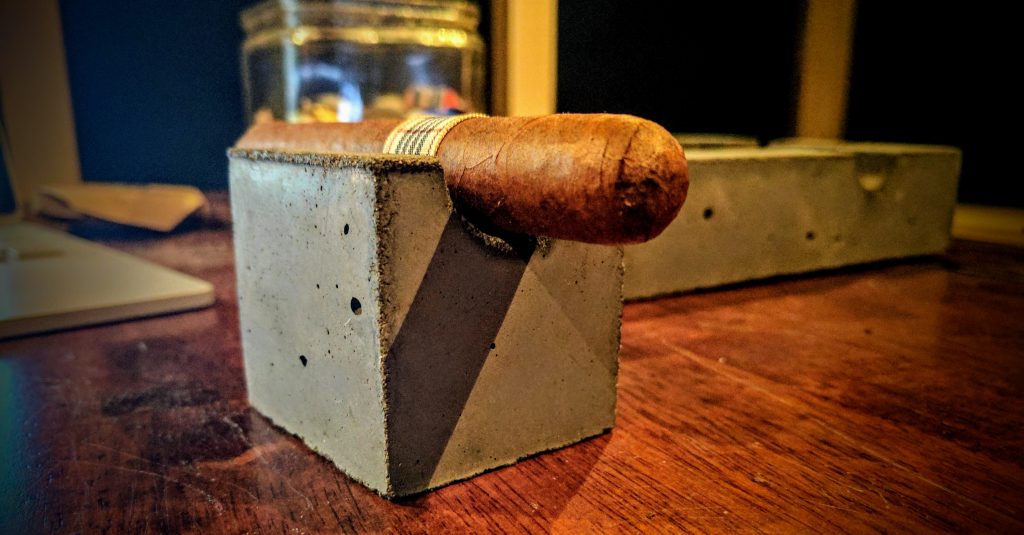 AROMA
Off the foot, I get a lot of light zest aromas. There's some minor vanilla and sweet, sugariness as well.
COLD DRAW
The cold draw is remarkably tame. There's light tobacco with a little citrus zest as well as some sweetness.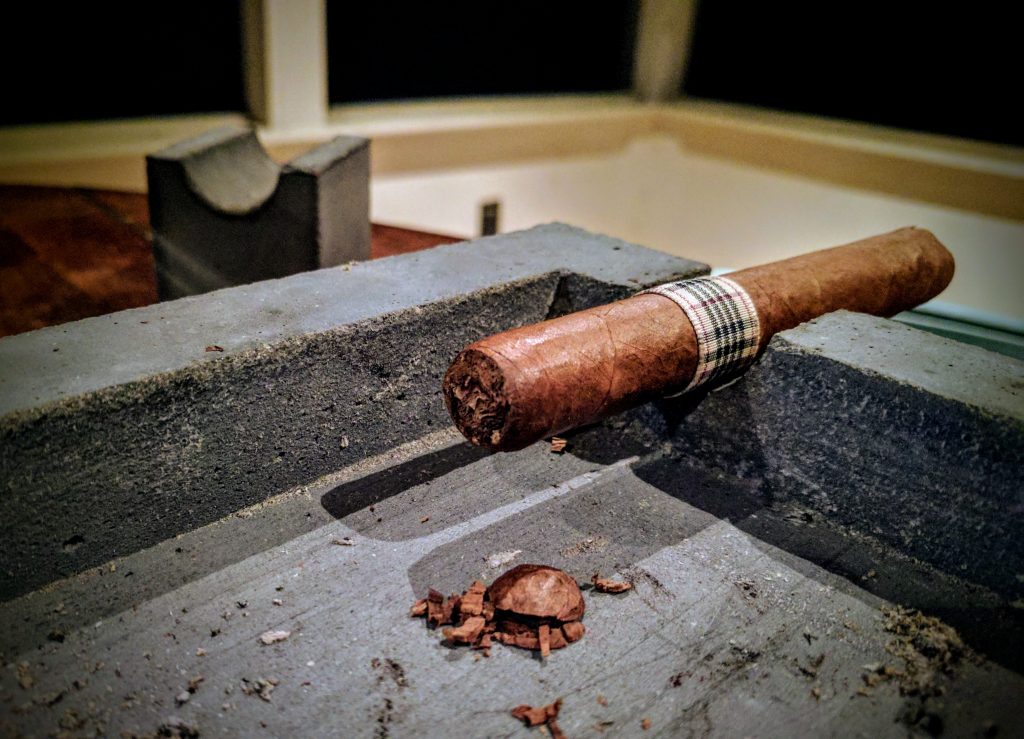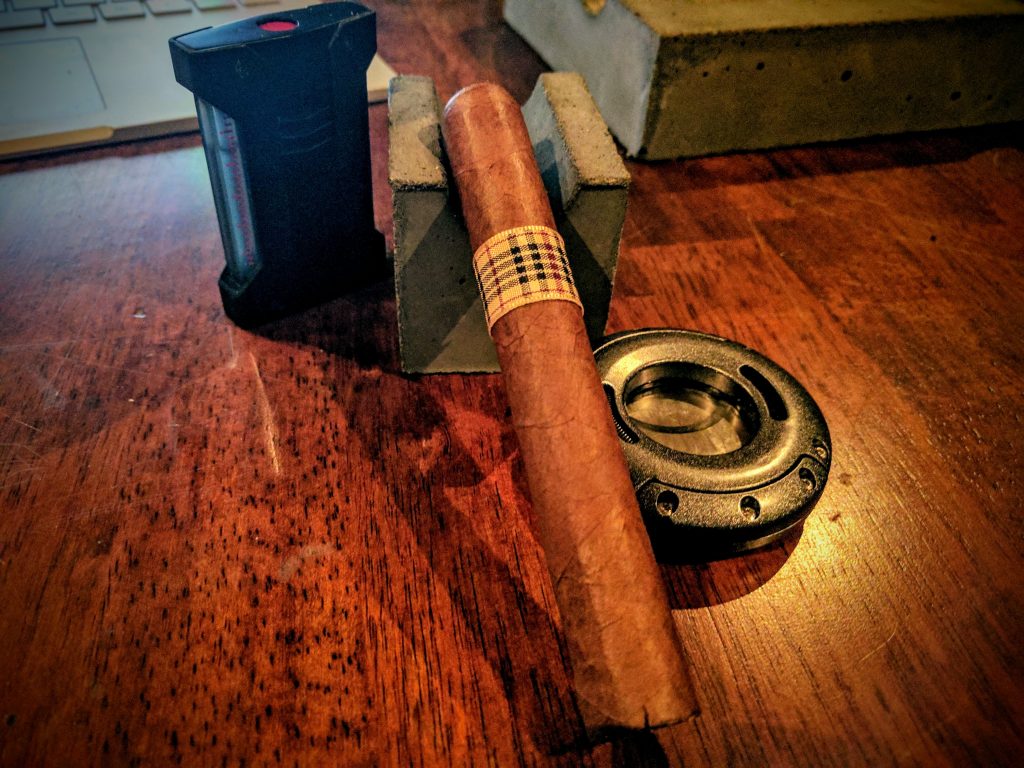 LIGHT & DRAW
Cut:  Xikar XO
Fire:  ST Dupont Defi Xtreme
The cap comes off nicely with the XO cutter – which really feels like overkill on a ring gauge this thin.  I lit her up with my ST Dupont and we're underway.  Wow.  There is absolutely zero harshness on the initial light and draw.  Instead of the usual bitterness or pepper that most cigars bring, the Naughty Bits greets you with silky smooth, creamy vanilla and some nuttiness.
The draw is very nice – clean and effortless.  The immediate burn line is a bit off but I'll give it some time to correct itself.  The ash starts out very salt and peppery – definitely darker.
SMOKE
Smoke production is relatively mild. While resting, there's nearly nothing; while puffing, it's a nice rewarding volume of grey smoke.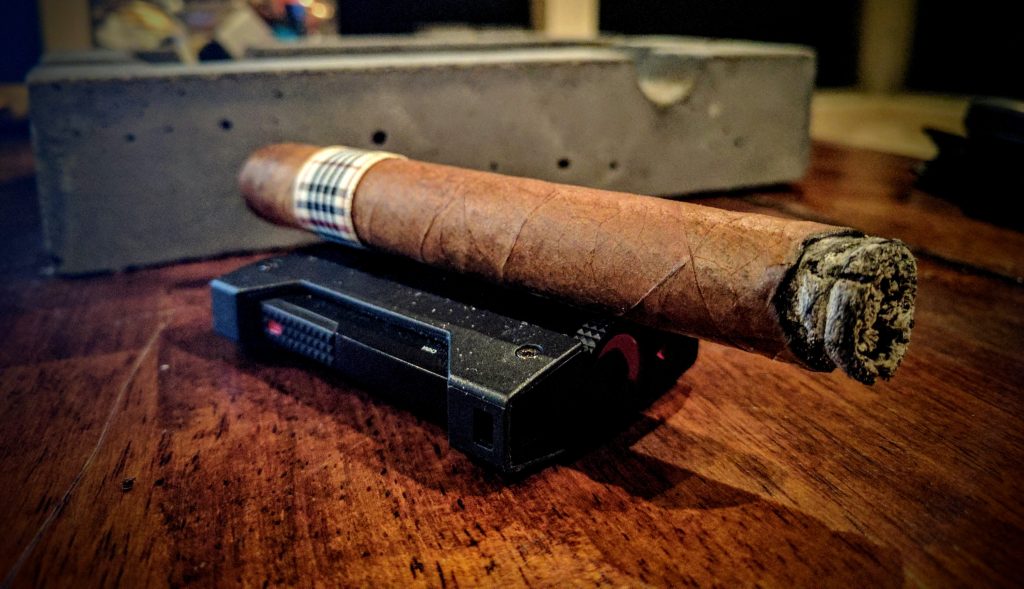 FIRST THIRD
>> cream, vanilla, toffee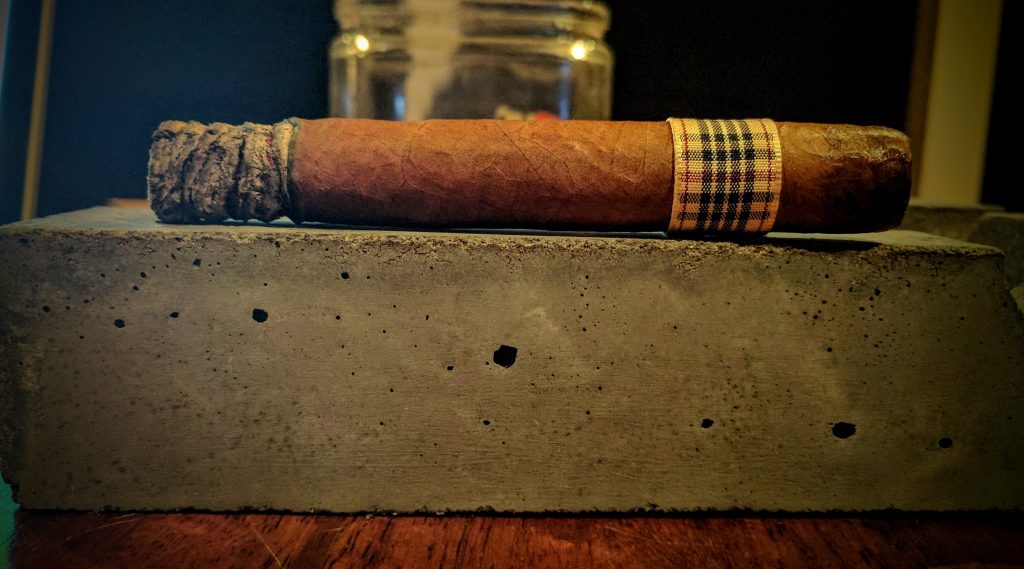 I'm well into the first third and this is truly an effortless smoke.  The ash has built and held well to about an inch and the draw continues to be open and smooth.  The immediate flavors that jump to mind are cream, vanilla and toffee.  I read a lot of reviews and many comment on a toffee flavor – I've got to say that the lingering toffee flavor on the tongue for the Naughty Bits is probably the most prominent I've experienced – and it's phenomenal.
The wonky initial burn has corrected itself nicely and everything is at the trademark of a perfectly made stogie – razor thin burn line.
SECOND THIRD
>> vanilla, wood, nut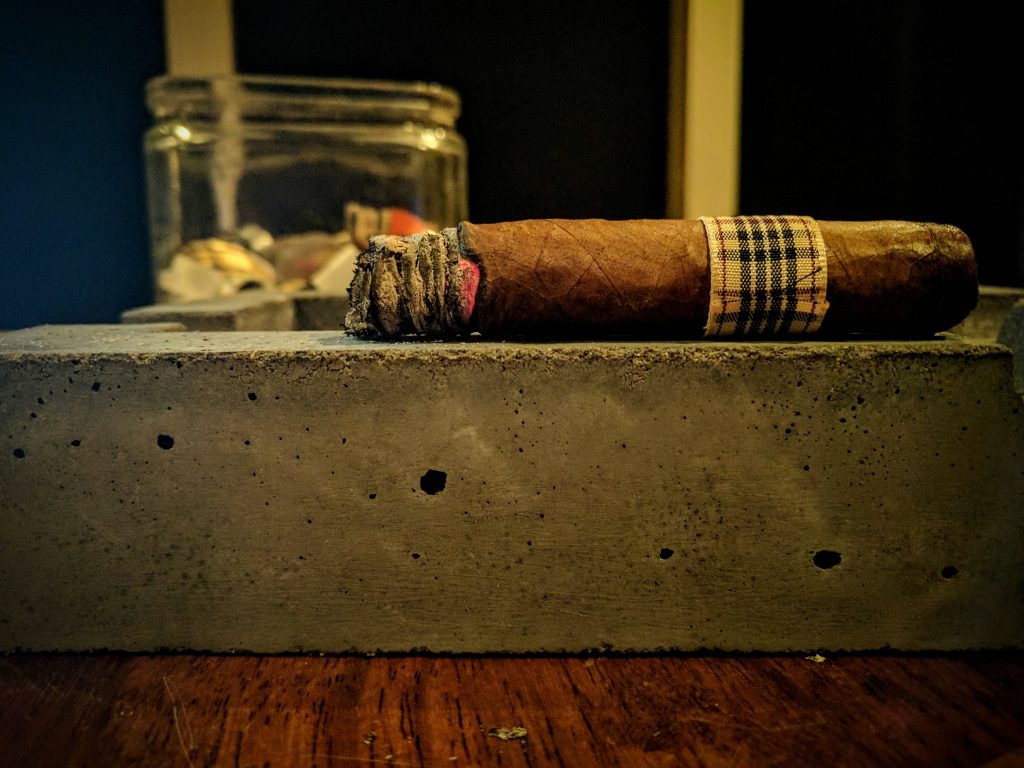 This is an easy cigar to lose track of while trying to review.  It needs no attention and smokes so perfectly you don't realize it's half gone!  The cream and vanilla have started to seamlessly transition to a woody, nutty flavor.  It's hard to place the exact type of either – but if I had to classify them I would say the nut is leaning towards an almond/macadamia with the butteriness of a cashew.  The wood is a hardwood – like that you might pop into a smoker – definitely not cedar or sweet.  The other flavor I'm getting is like the baked crust of a pie – again, not sweet – but like a toasted graham cracker.
The ash retention on the Naughty Bits really is impressive considering the slender vitola.  As I've stated in other reviews, I typically don't aim for a long ash during a review to keep the flavor profile as clean as possible but I really feel bad ashing this wonderfully stacked salt/pepper ash.
FINAL THIRD
>> wood, nut, grill, coffee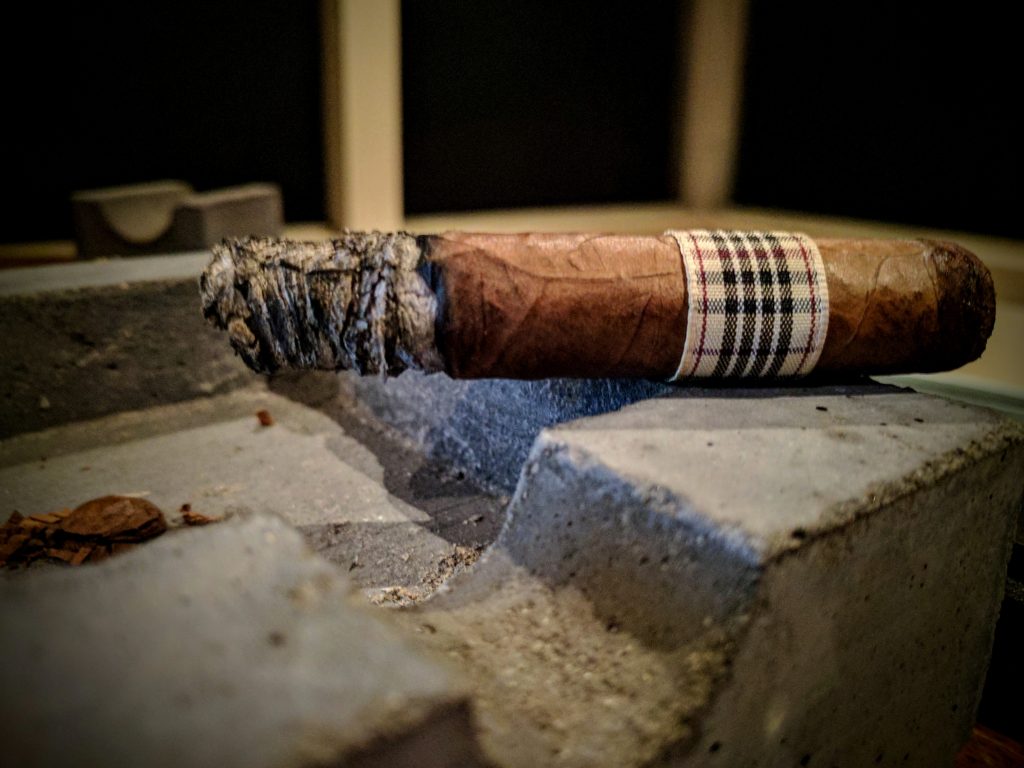 As the final third sets in the flavors have really transitioned from the sweet cream/vanilla/toffee to a heartier wood/nut profile.  There is a very minor, subtle sweetness to the cigar but the primary flavors revolve around wood/nut/grilled elements.  As I work down to the nib, there's a little bit of coffee creeping in as well.  I am hesitant to make the comparison but it really reminds me of the flavors found in Warped's Black Honey for the final third.
FLAVOR PROGRESSION
Naughty Bits had a subtle and very enjoyable transition of flavors throughout the experience.  The flavors moved from a creamy, sweet vanilla to a more wood-toned, grilled characteristic.  The cigar was continually reinventing itself which made it very engaging and interesting to smoke (and review).  
BURN EXPERIENCE
While the burn line may have started out slightly off, it quickly corrected itself to be impeccable throughout the rest of the smoke – never required a relight or touch-up.  This is truly a maintenance-free cigar to smoke.
RATING BREAKDOWN
0.73 / 0.80 … Craft & Aesthetic
0.42 / 0.50 … Pre-Light Characteristics
0.39 / 0.50 … Lighting Process
6.95 / 7.70 … Smoking Experience
0.50 / 0.50 … Personal Enjoyment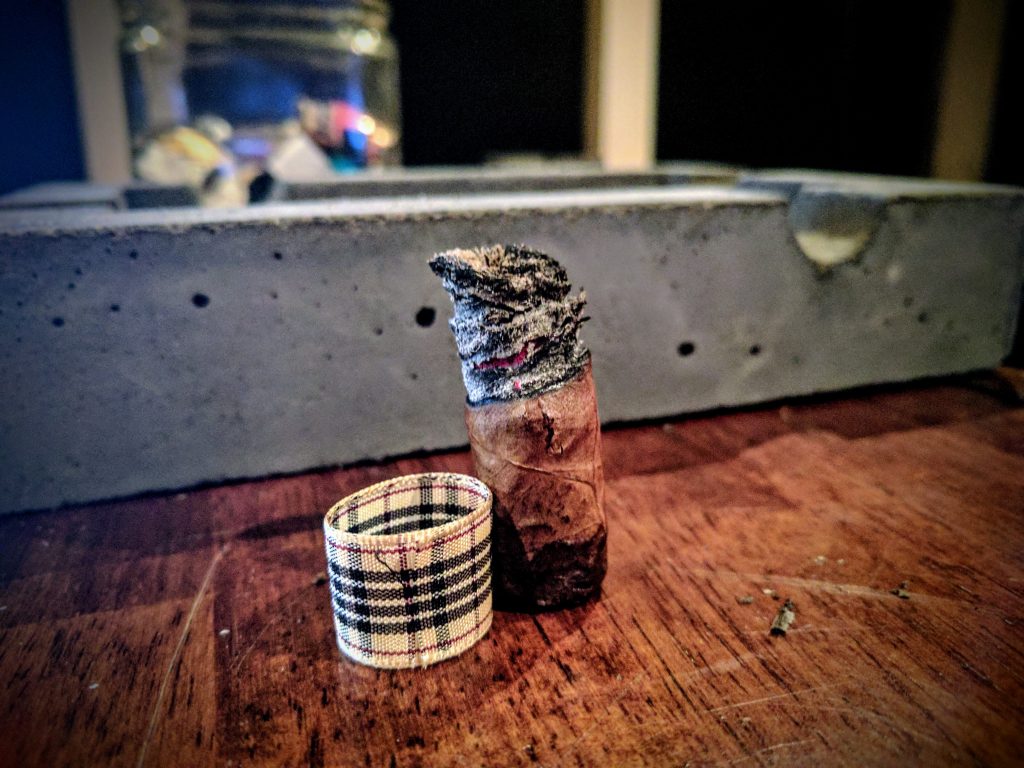 NAUGHTY NEVER FELT SO NICE.
It's rare that a cigar immediately presents itself as a 'ten' to me but Ezra Zion's Naughty Bits certainly starts and finishes strong.  The progression of the flavors is unmistakable – from a sweet, vanilla creamy goodness to start and finishing with a nice grilled, woodiness.  The flavors paired with the flawless construction land this stogie very high on my list.  I would not hesitate to buy a 50-pack when/if Ezra Zion offers more of this blend.  I won't hold my breath though – they said they stashed some away to their personal collections and I'm not surprised.  It's truly a remarkable smoke that's worthy of the price tag and the trouble to find.
SIMPLY STOGIES RATING:  9.8 / 10.0