VITOLA:   Lancero
SIZE:   7″ x 38
ORIGIN:   Nicaragua
FACTORY:   Oveja Negra (BLK WKS factory)
WRAPPER:   Vintage Mexican San Andres
BINDER:   Undisclosed
FILLER:   Undisclosed
STRENGTH:   Medium
SOURCE:   
Purchase on r/cigarmarket
RELEASE TYPE  Limited Edition
ORIGINALLY RELEASE DATE  Unknown
TOTAL PRODUCTION
Typical Box Size:     Packs of 5
Production Totals:  735 total cigars
VITOLA BREAKDOWN
o  Lancero  (7″ x 38)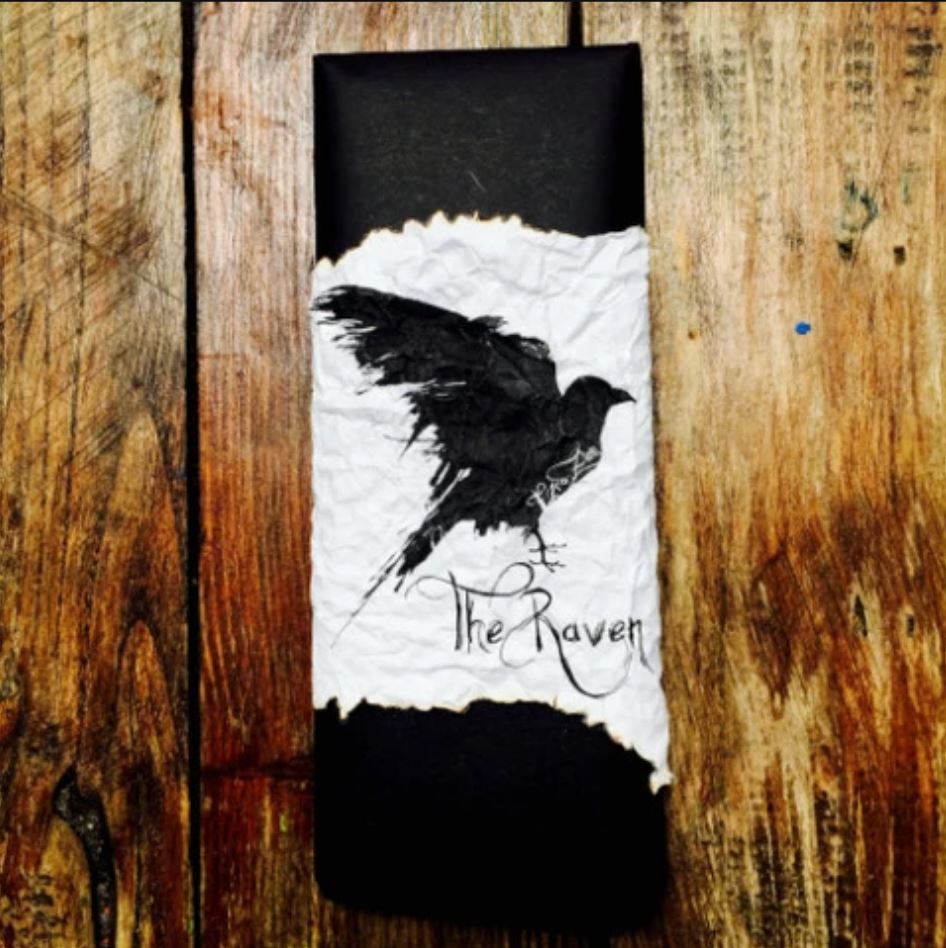 RESEARCH & BACKGROUND INFO
A collaboration between Black Label Trading Company's Black Works Studio and Ezra Zion seems like a match made in heaven.  Both tend to favor small batch limited release cigars and work in rarer tobaccos.  Big things expected from this pairing!
Not much else known about this cigar's blend or backstory.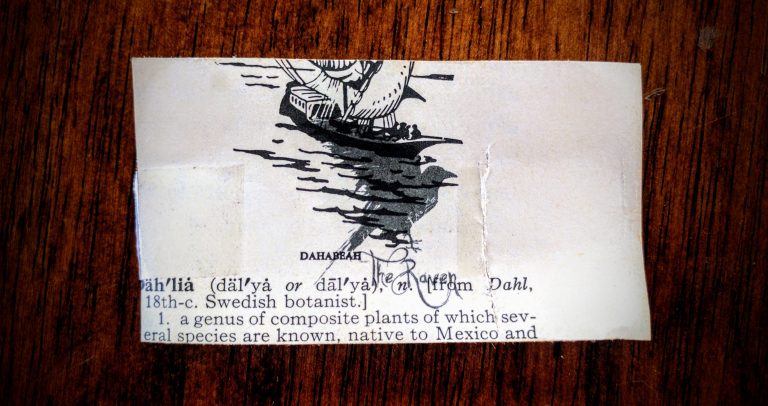 Truly awesome.
The Raven's band is crafted from 100-year old dictionaries – a perfect homage to Poe's literary prowess. I love that literally every band is unique.  The raven that adorns the band looks as though a fountain pen bled and left a rorschach-style blot.  I always wonder how it's decided to place a band at the foot rather than traditional location.  In this instance it works to show off the superbly made lancero as well as protect the delicate, skinny foot.  Two thumbs up on this band's design and execution.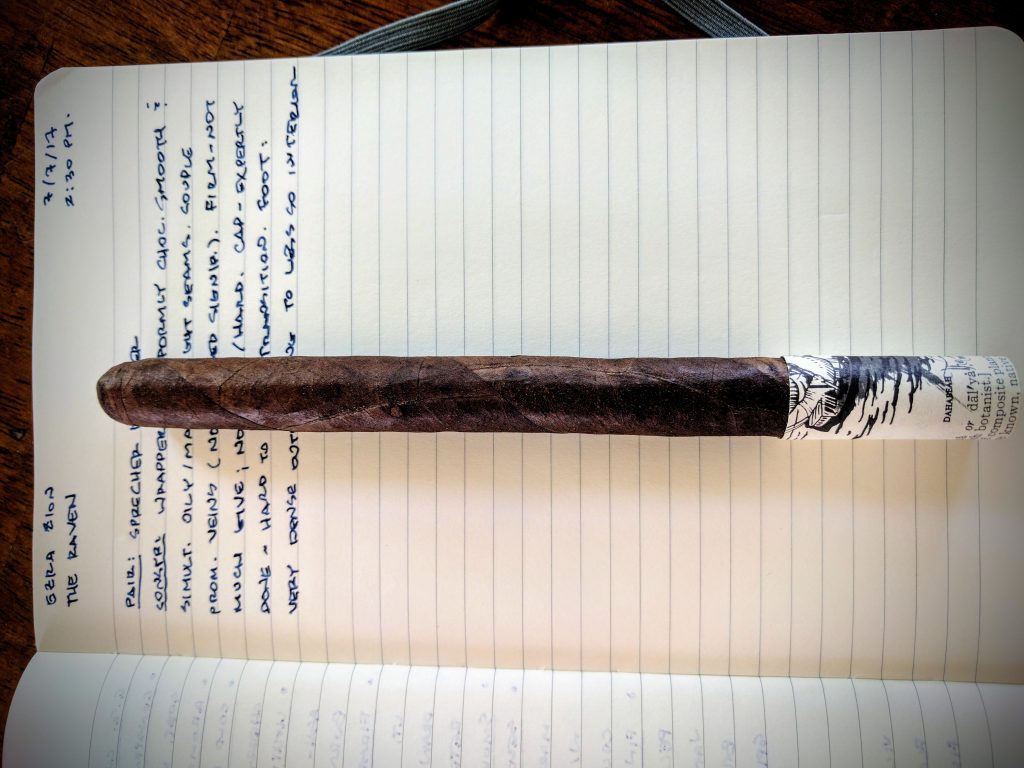 CONSTRUCTION
This maduro wrapper has a beautiful, uniformly chocolate hue.  It's smooth and somehow simultaneously matte and oily.  All the seams lay flatly on the body and are almost difficult to locate.  There are a couple prominent veins however they lay flat and tend to fade into the overall color.  The body is firm with very little give and there are no soft/hard spots found.
The cap is expertly done – as one would expect from the expert BLK WKS rollers.  Glancing at the foot, the blend looks very densely packed on the outer rings and spaced slightly as it approaches the center.
AROMA
The foot gives off some cedar and cocoa powder – not much else.
COLD DRAW
Cold draw is loaded with oatmeal raisin cookies and moderate chocolate.  The draw itself is perfectly balanced.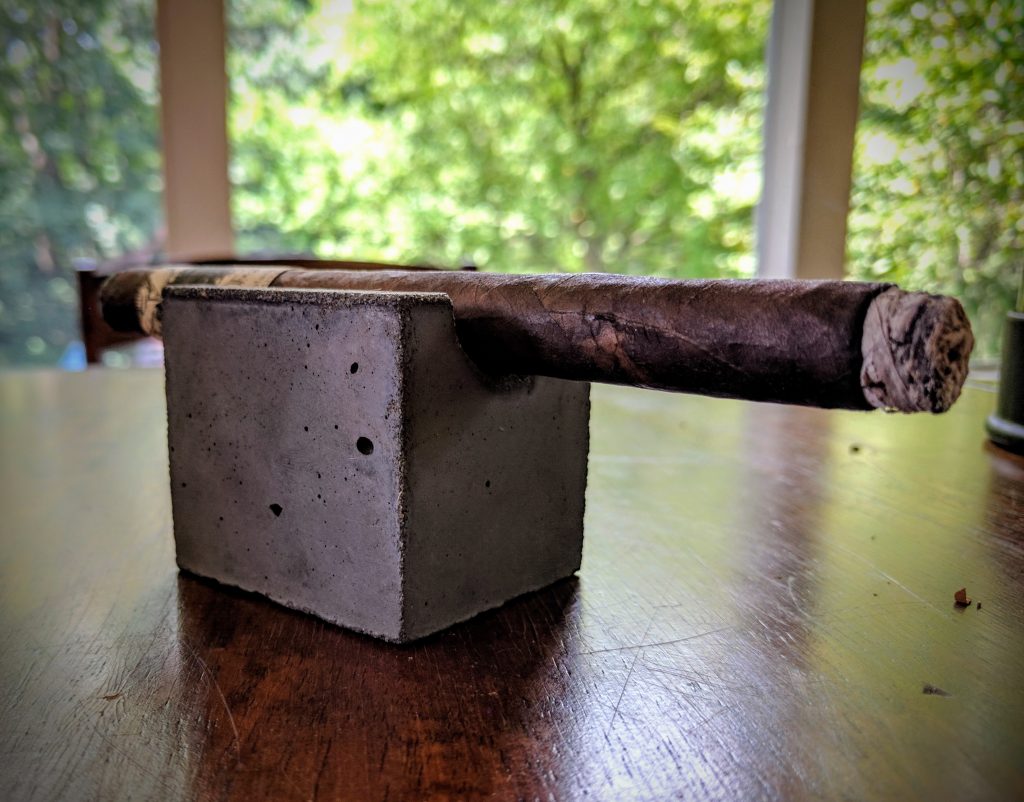 LIGHT & DRAW
Cut:  Xikar XO
Fire:  ST Dupont Defi Extreme
I removed the cap with my Xikar XO cutter and toast the foot.  The draw has tightened up a decent amount once fire hits the foot.  The first couple flavors are creamy caramel and toffee.  The burn line is starting magnificently – perfectly sharp and clean.  White and very light grey ash starts to build immediately.
SMOKE
Smoke production starts a bit on the low end but quickly builds to puffing out nice white clouds.  While resting, you'd never know the cigar was lit.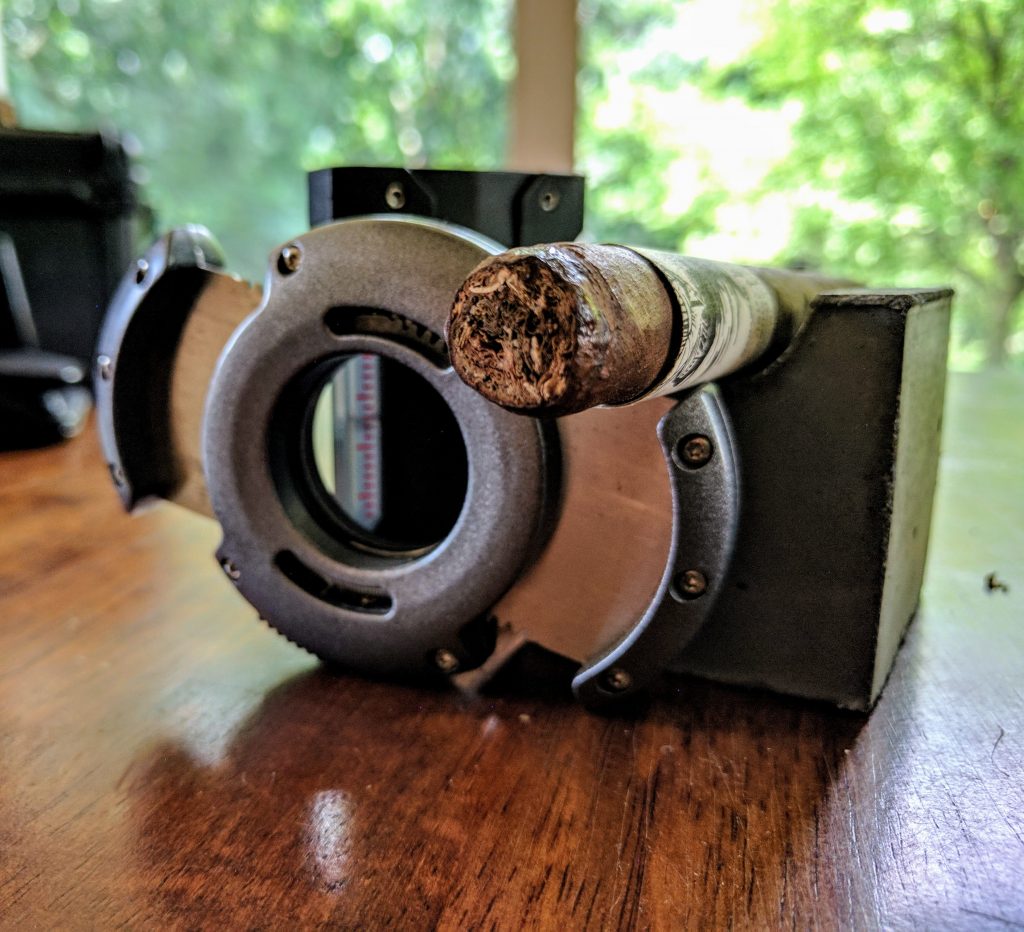 FIRST THIRD
>> cream, nougat, baking spice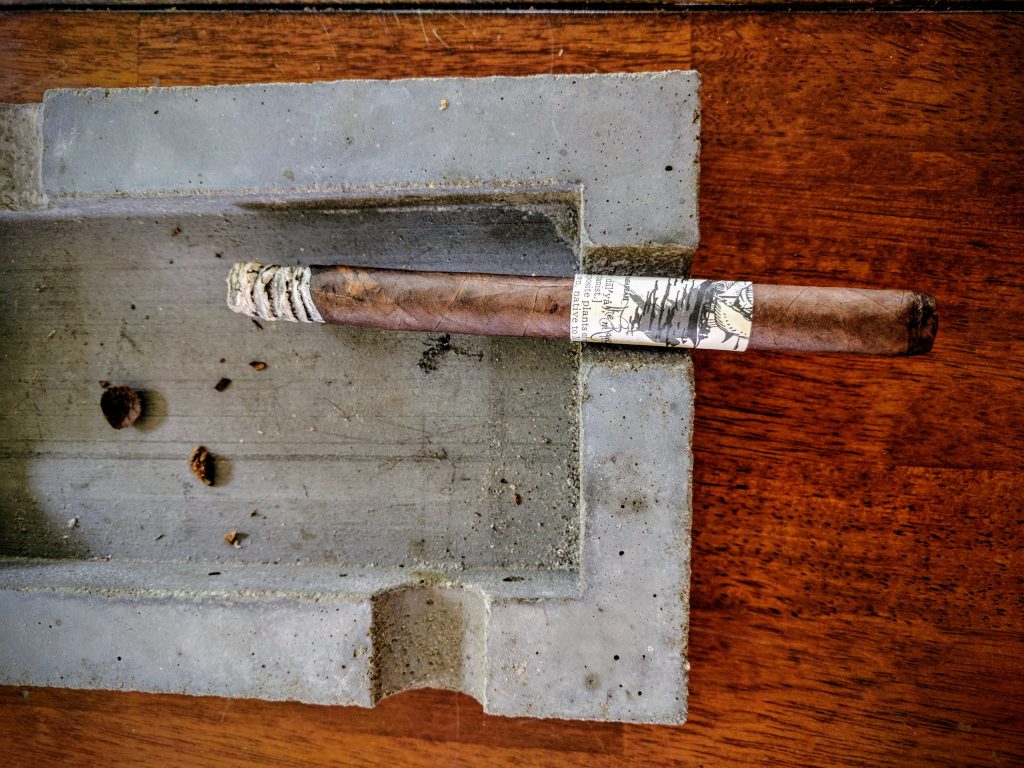 Lots of caramel, toffee, nougat and cream hit the palate right away.  Some light baking spices (mostly cinnamon) are also present.  There's a nice coffee/vanilla latte flavor as well as something just a bit savory, like flaked sea salt.
The draw remains just a touch tight.  Ash is stacking remarkably well and is backed by a razor sharp burn line.
SECOND THIRD
>> leather, burnt orange peel, wood, spices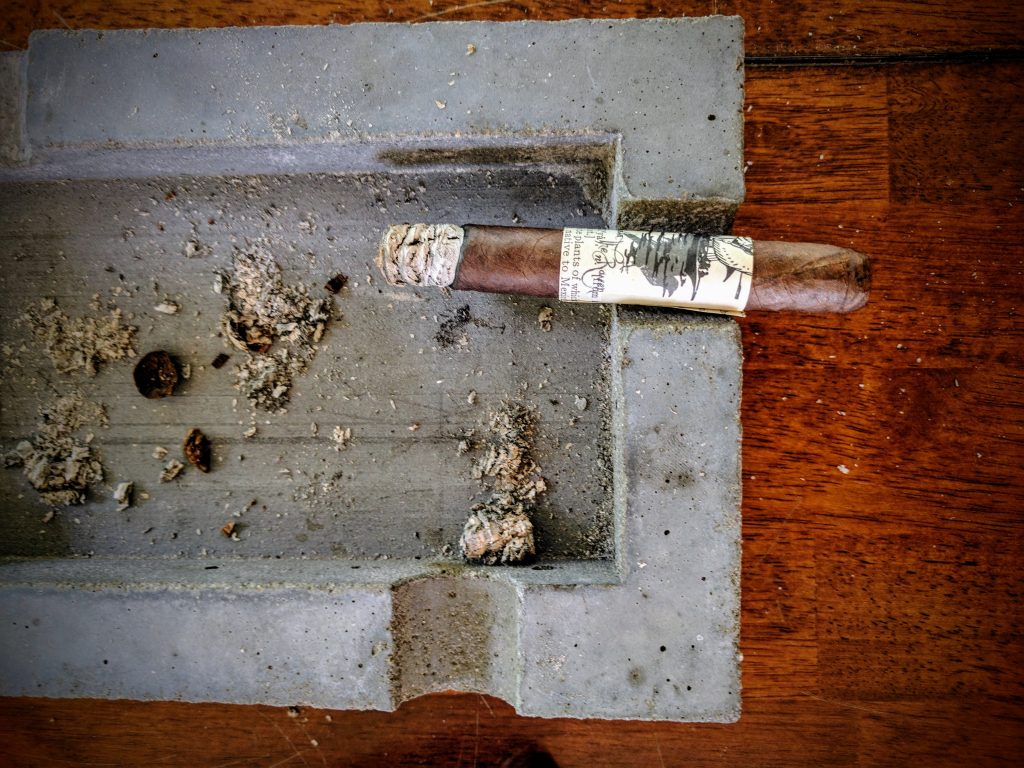 The second third really brings in some complexity.  I needed to bust out the flavor wheel to really place everything that is going on.  Hang in there – I'm going full halfwheel: Cinnamon, clove, leather, burnt dried orange peel, light nut and wood are all present with no one flavor dominating – it's a pleasant marriage of all of the above.  Very unique and delicious.
The draw is opening up fantastically. More air, more smoke, more flavor.  While there are some very minor deviations on the burn line, overall it's superb.
FINAL THIRD
>> pepper/anise, toasted nut, cream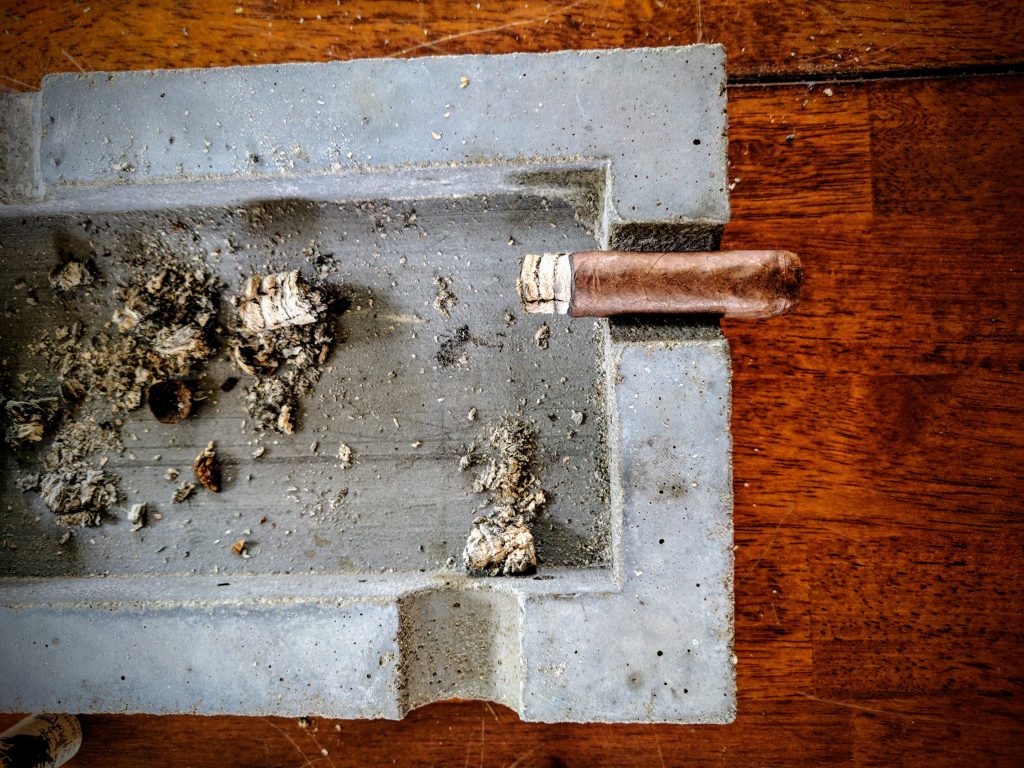 Some smokiness and pepper enter the game in the final portion.  The pepper really rests on the palate and hangs in there.  There's an underlying sweet, creaminess to the flavor with some toasted nuts, maybe walnut or almond.  Also present is a little bit of anise, which could be contributing to the lingering pepper – definite black licorice.
I am very happy the draw has opened up so well.  It's really starting to match the openness of the cold draw.  Not to harp, but the burn line is impeccable.  No touch ups needed in the least.  A couple relights were needed but at this point it's forgivable.
The ash is a gorgeous continuation of the cigar body.  Were it not for the slight ripple and color change, you might not be able to distinguish between the ash and unburned portion.
FLAVOR PROGRESSION
No doubt – this is a complex cigar experience.  The flavors are varied and constantly making you think and try to identify them – each mixing well with the others.  There wasn't a single dud in the flavor wheelhouse and from cold draw to nub, the Raven was a flavorful, enjoyable experience.
BURN EXPERIENCE
The Raven wasn't plagued by burn issues whatsoever.  There were some very minor deviations, but all-in-all, no major complaints of which to speak.  Excellent construction and excellent smoke.
RATING BREAKDOWN
0.80 / 0.80 … Craft & Aesthetic
0.42 / 0.50 … Pre-Light Characteristics
0.44 / 0.50 … Lighting Process
6.62 / 7.70 … Smoking Experience
0.42 / 0.50 … Personal Enjoyment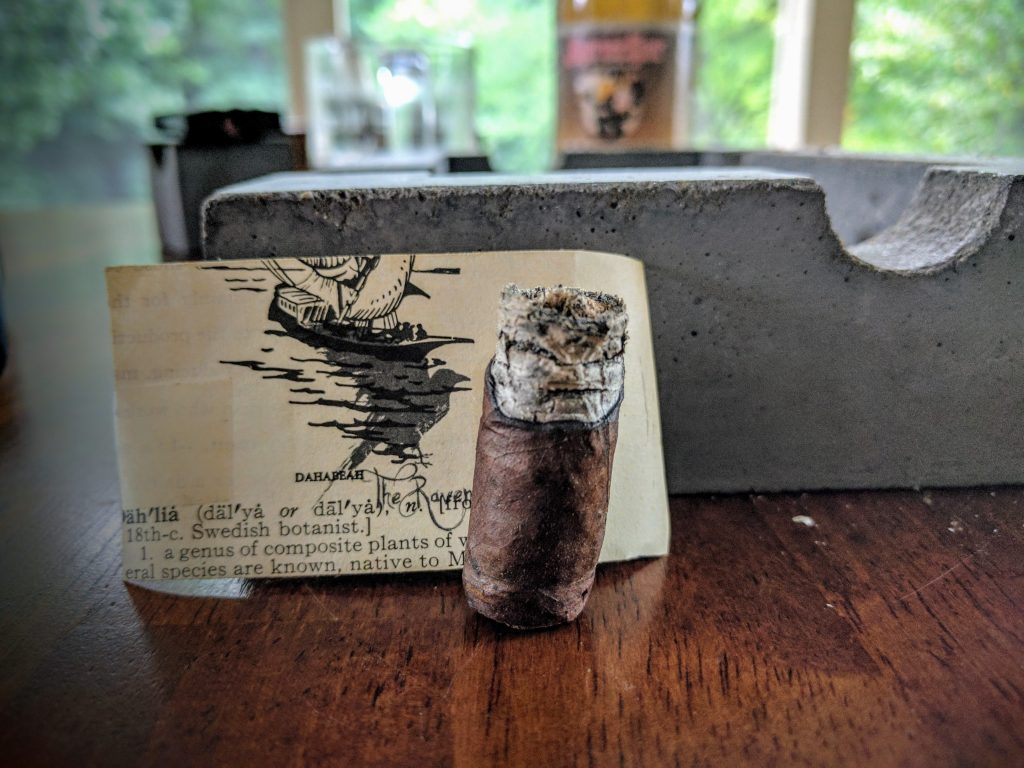 QUOTH THE RAVEN – "MAKE SOME MORE."
I nearly burned my lips and fried my tongue trying to keep The Raven going as long as possible.  It is indeed a very complex cigar but I do wish the flavor progression would have transitioned a little more gradually.  The front third is a terrific sweet caramel, cream and coffee that moves to the final third's smoky, pepperiness – it all just seems to get muddled up in the middle.  The construction and smoking experience of The Raven is truly some of the best out there.  From start to finish, Then Raven was extremely enjoyable but it left me wanting a mysterious flavor that seemed missing. 
SIMPLY STOGIES RATING:  8.7 / 10.0