VITOLA:   Toro
SIZE:   6″ x 52
ORIGIN:   Nicaragua
FACTORY:   EZ HQ
WRAPPER:   Nicaraguan Corojo
BINDER:   Indonesian & Nicaraguan (double binder)
FILLER:   Nicaraguan Jalapa, Esteli & Ometepe
STRENGTH:   Medium
SOURCE:   
Trade w/ fellow BOTL
WHERE:   
Le Cigar (Dearborn, MI)
WHEN:   
July 25, 2017 at 8 PM
DRINKS:   
Bell's Oberon – favorite summer-time brew
WEATHER:   
Sitting Inside – but 70s outside
WHAT'S ON:   
Some kind of weird trance music … (not my choice)
RELEASE TYPE  Limited Edition
ORIGINALLY RELEASE DATE  February 2016
TOTAL PRODUCTION
Typical Box Size:     Packs of 5
Production Totals:  1,005 cigars
VITOLA BREAKDOWN
Not additional vitolas available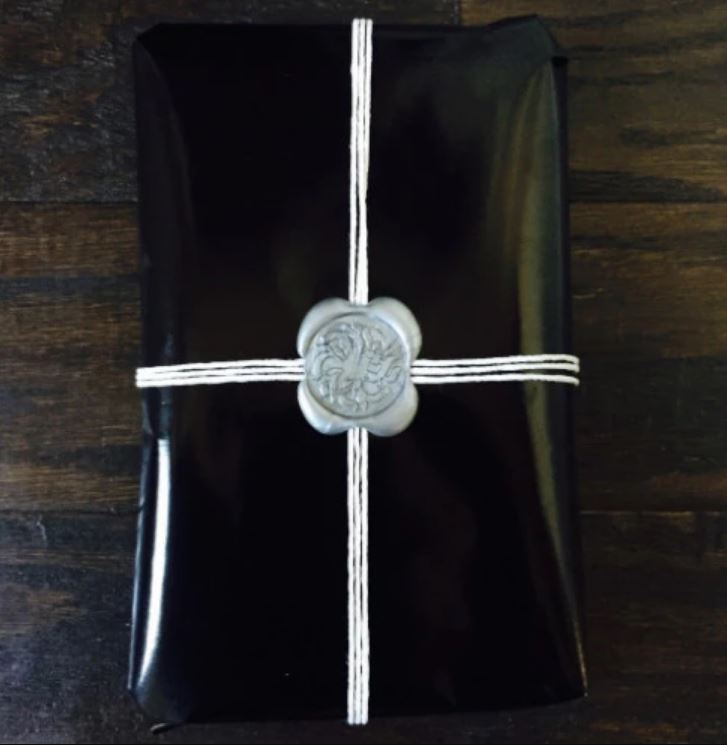 RESEARCH & BACKGROUND INFO
No, 'doxology' isn't the practice of doxxing people on the internet.  According to Ezra Zion 'it's a liturgical formula of praise to God – typically done in the form of a short "hmmmm."
Doxology is part of the Blessed Leaf line of cigars that is nod to Christian Ministry – a service founded by the boys at Ezra Zion.  
Note these were originally release at a lower MSRP in 2016 but a few original bundles were discovered and re-released in 2017 at a higher price point of $100 per five pack.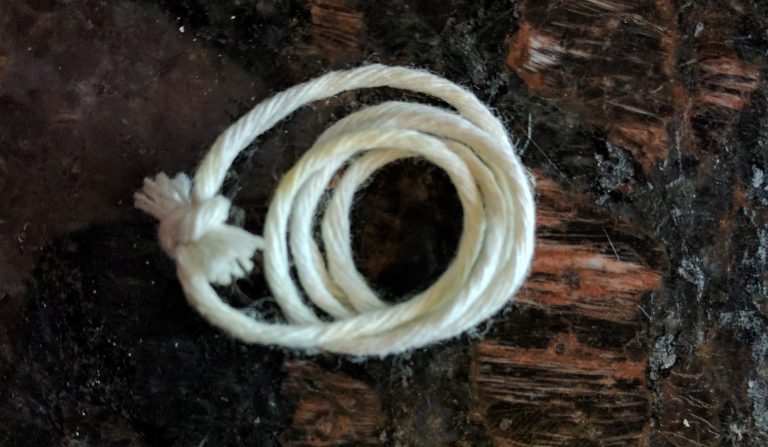 These are some of my favorite "styles" of bands Ezra Zion puts out.  The simple white string wraps the cigar five times before being tied off.  It's simple and easy.  Kyle and Chris do such a good job at developing simple, yet iconic bands that are extremely different from the norm.  I usually complain that EZ doesn't brand their bands at all on these limited release cigars, but in this instance, I don't mind it.  I love the simplicity of the material and design on (what's so far) a fantastic $20 cigar.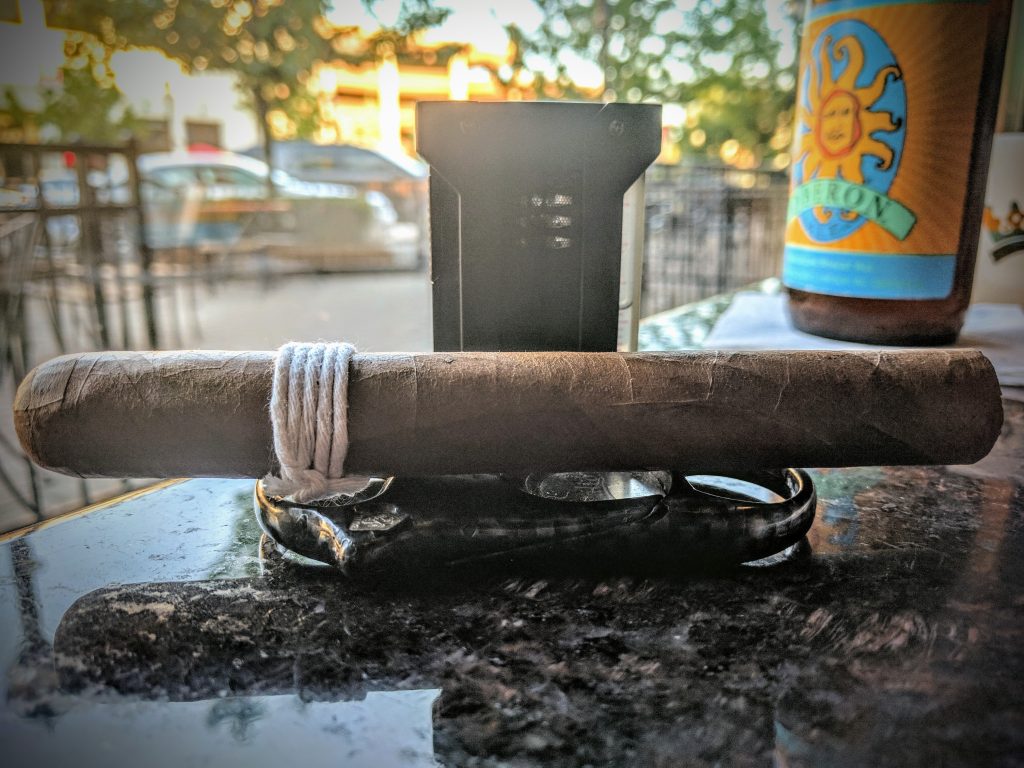 CONSTRUCTION
The Corojo wrapper is a medium brown shade and looks stunning.  The seams sit perfectly smooth to the body – in fact, save for a few veins, the entire cigar is a completely smooth.  The wrapper has a little bit of tooth to it and has a great light oily sheen to it.
The cigar feels uniform below the wrapper – no soft or hard spots found during inspection.
The cap is not the most graceful I've seen in that there is a clear, aesthetic divide between it and the wrapper.  However, it is well applied and has a nice, rounded shoulder that, while slightly asymmetrical, extends nicely into the body.  No concerns from the foot – it appears to be a nicely rolled and tightly blended cigar.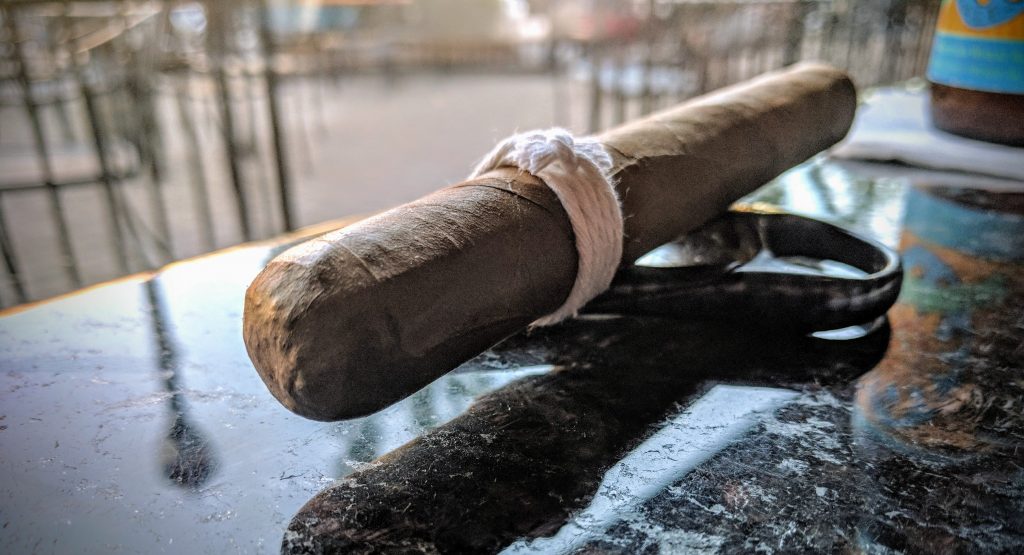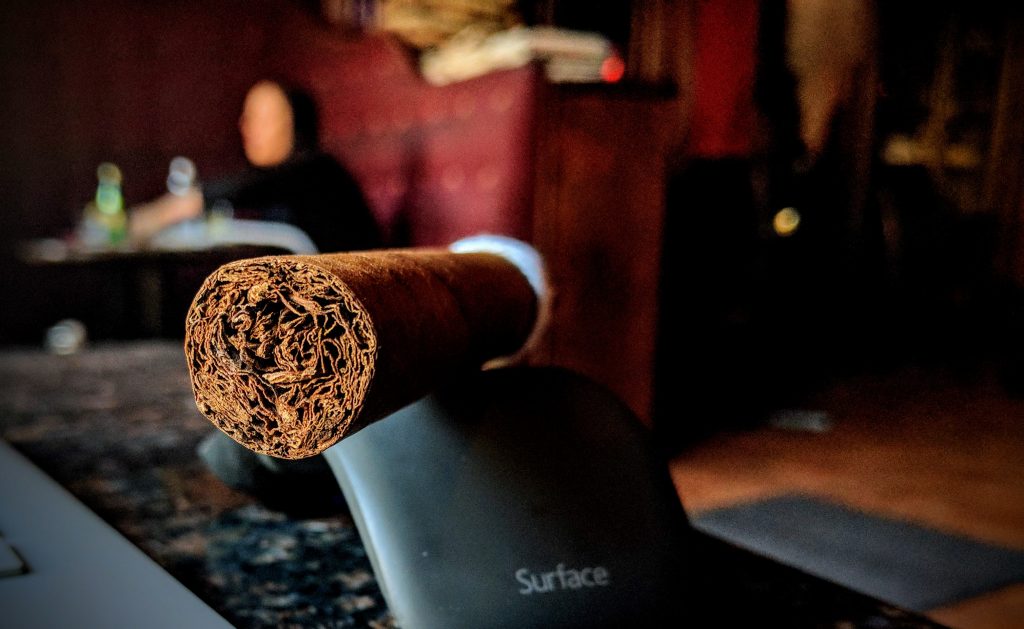 AROMA
Off the foot, I get some raisin, light sweetness and vanilla bean.
COLD DRAW
The cold draw is nice and open – much appreciated after some of the trainwreck draws I've been finding lately.  The flavors are delicious and have me excited to light the Doxology up!  There's a mix of orange citrus, vanilla and cream.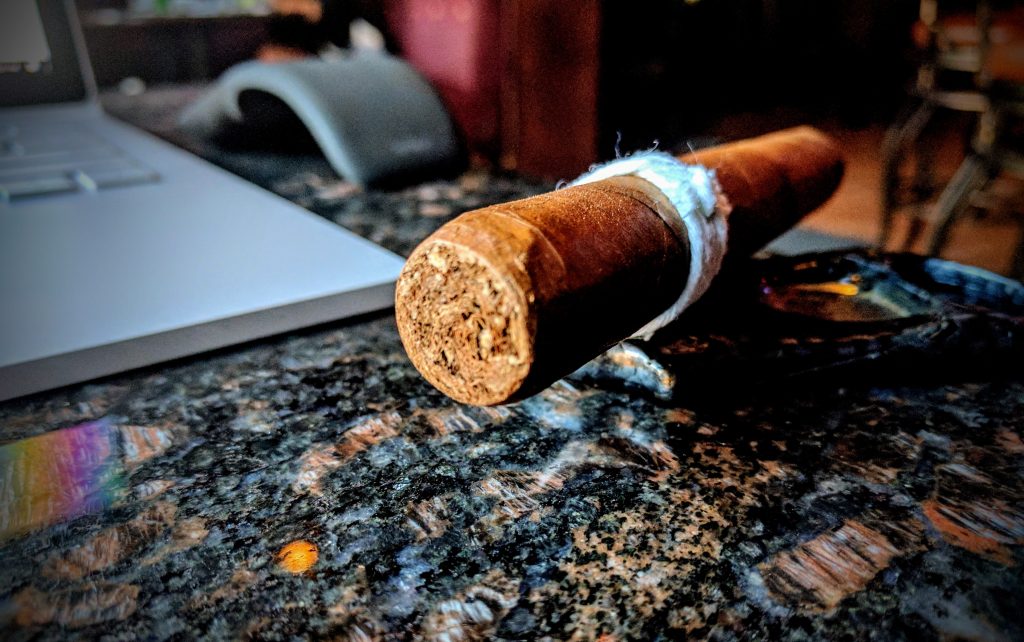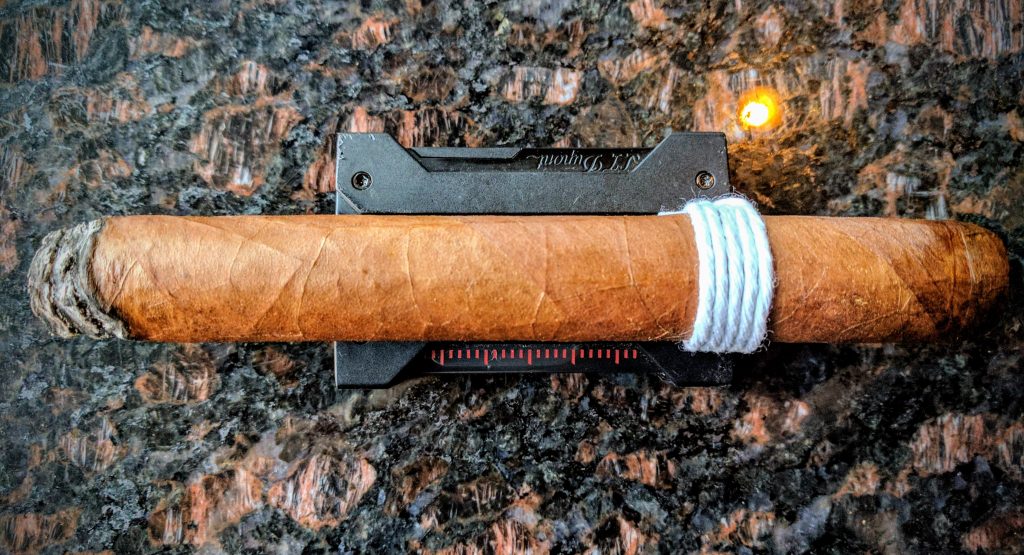 LIGHT & DRAW
Cut:  Xikar XO
Fire:  ST Dupont Defi Extreme
The first few puffs show off an amazingly smooth cigar. Flavors are cream, moderate vanilla, some citrus still – it's really reminiscent of a sugar cookie.  The draw couldn't be better – perfectly open and airy.  So far, the burn line is very clean – a couple minor ups/downs but all in all, damn near perfect.  The ash is solid and stacking nicely – marbled white and medium gray.
SMOKE
Smoke production is voluminous! Thick, white smoke on each puff that smells fantastic.
FIRST THIRD
>> cream, vanilla, orange zest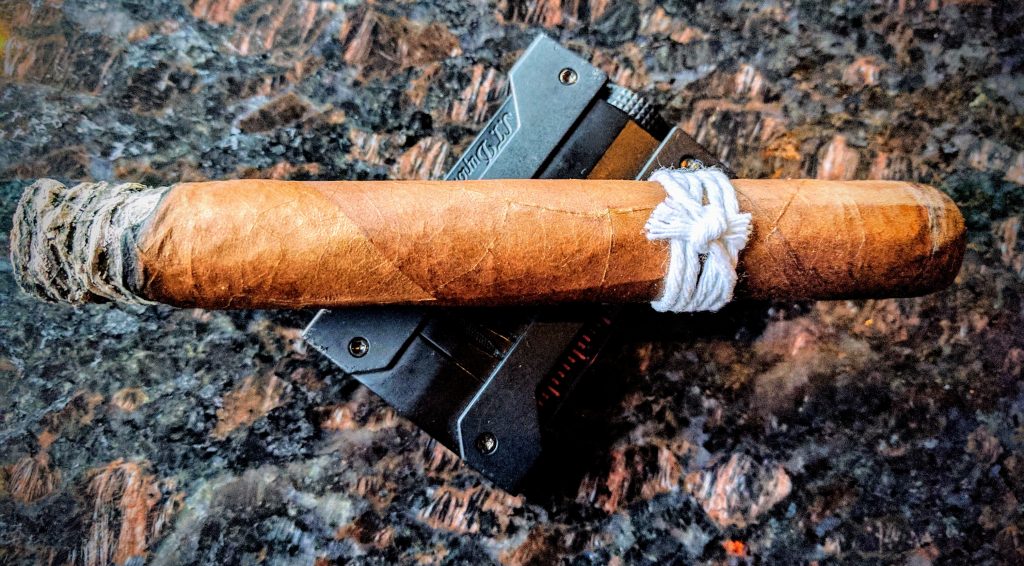 So far, the flavors are on point and very enjoyable – lots of cream and vanilla upfront with orange citrus that develops on the palate the longer you take between puffs.  It's starting to unfold with new flavors – almost like a muffin with walnuts and raisins – while maintaining the creamy vanilla qualities as well.
The draw really couldn't be better – just perfect.   The burn continues to be very clean and sharp – no touch-ups needed any time soon on this stogie!  The ash reminds me of the 'before' picture from a "Just For Men" commercial – salt and pepper with sharp streaks of white, gray and black.
SECOND THIRD
>> cocoa, cream, coffee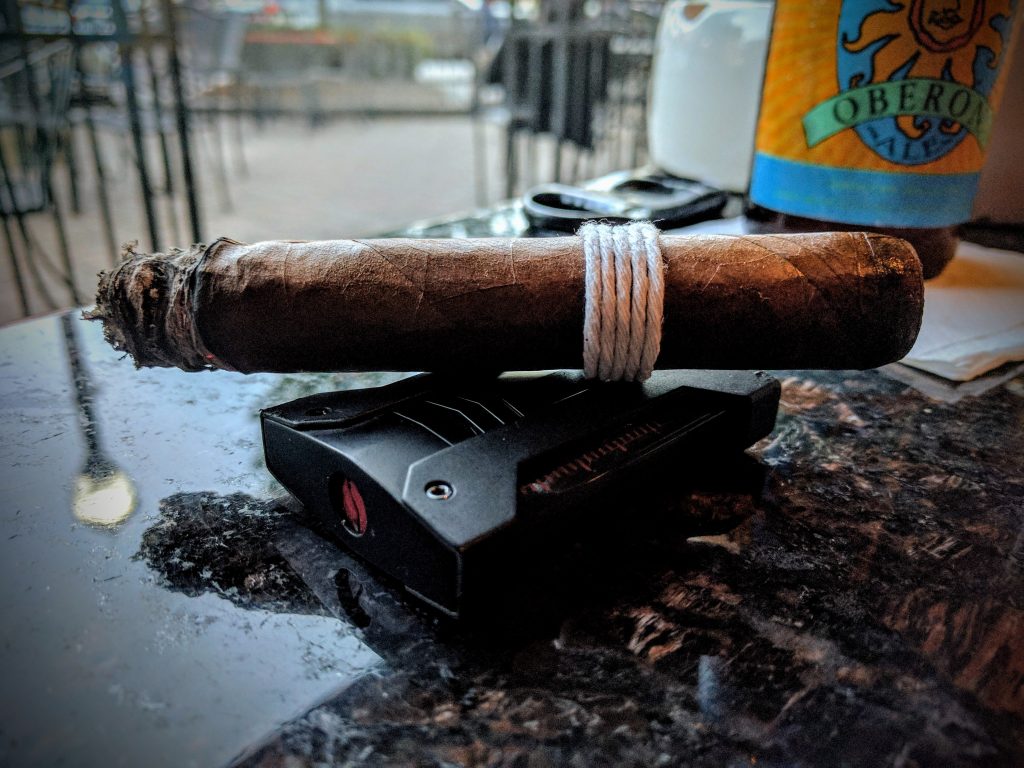 As the middle third progresses, it shifts to some distinct cocoa notes and moves away from the citrus.  There's still an underlying cream to it but it's similar to a warm, chocolate milk with little syrup.  Also, I'm getting some moderate coffee bean or espresso notes.  The mouthfeel is a heavy sweetness – like slightly burned caramel or molasses.  It's thick and really coats the mouth – I'm gonna want another of these – I think I could practically chain smoke them.
The draw and burn continue to impress – both signs of a stellar, well-crafted cigar.
FINAL THIRD
>> wood, pepper, mushroom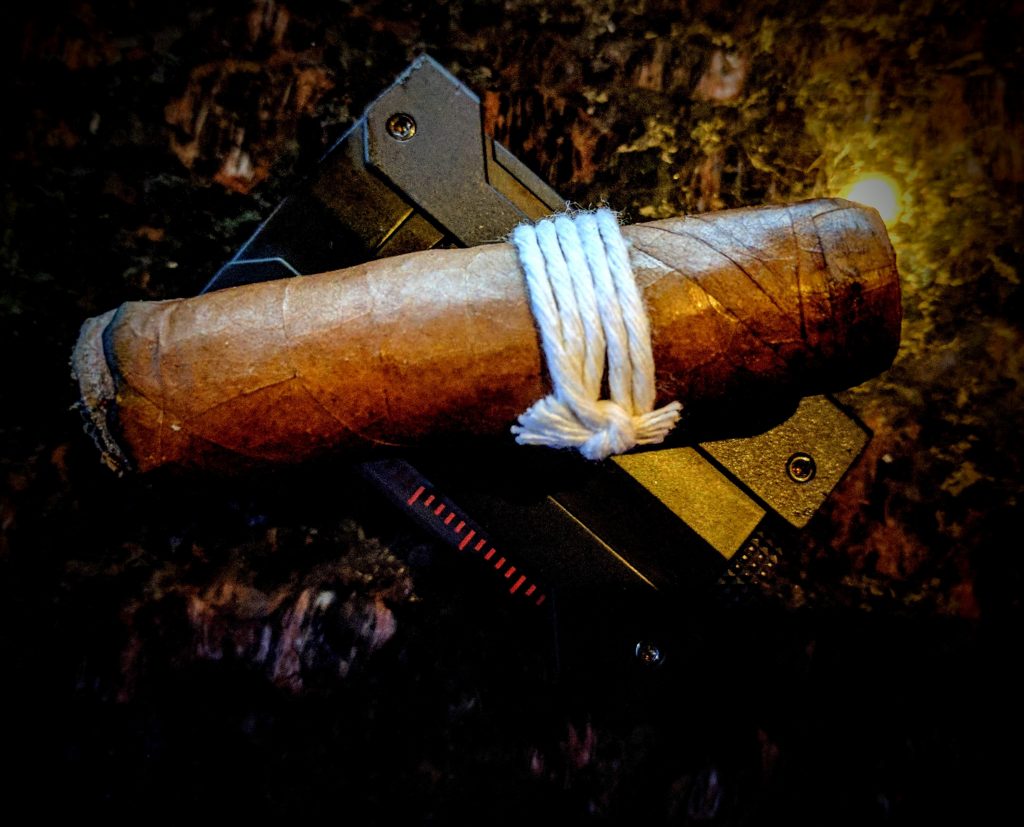 The final third shifts toward some slightly savory and woody tones. There's a little barnyard (in a good way) and lots of dense, wet forest – kinda like sauteed mushrooms with a very sparsely peppered cream sauce.
Once again, I will harp on the amazing quality of the cigar – the burn line never deviated from razor sharp and the draw remained perfect and unnoticeable throughout the whole experience.
FLAVOR PROGRESSION
Up until the final third, I was wishing for more progression of flavors – but that final chunk knocked it out of the park!  Doxology moves effortlessly from big easy to find vanilla creamy notes, to the slight bitterness of espresso and finally to wonderful deep savory tones.  At each level, I wanted the flavors to continue – and to an extent, they did.  Each flavor found was always present – even if very faint – contributing to an amazingly complex and enjoyable cigar!
BURN EXPERIENCE
As I mentioned continously above, the burn on Doxology was nothing shy of perfection!  Even down to the nub, the cigar never got overly hot or bitter – I'd be curious to know how the double binder may have contributed to the stellar burn rate.  This is exactly what I expect out of a stick in this price range – no touch-ups, no maintenance, just sitting back and focusing on the fantastic experience of smoking it.
RATING BREAKDOWN
0.73 / 0.80 … Craft & Aesthetic
0.50 / 0.50 … Pre-Light Characteristics
0.39 / 0.50 … Lighting Process
7.19 / 7.70 … Smoking Experience
0.50 / 0.50 … Personal Enjoyment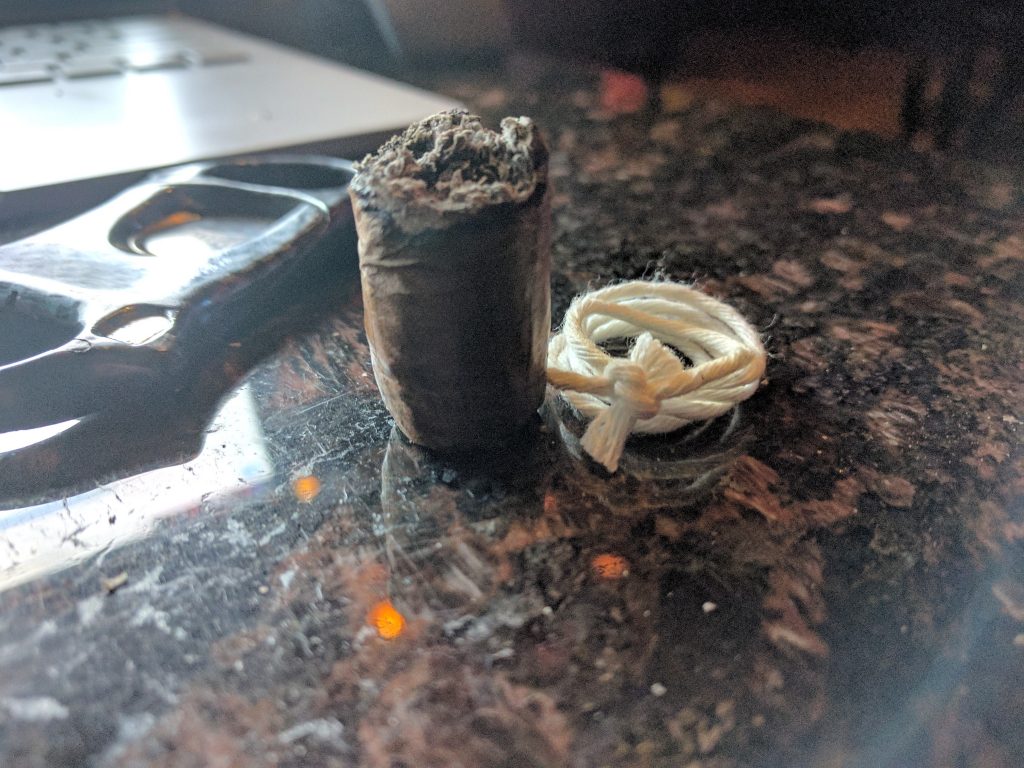 WORTH EVERY PENNY.
As one of Ezra Zion's more expensive offerings, I was expecting a lot from the Doxology and I've gotta say – it shattered my expectations!  The flavors are fantastically complex and the construction is literally flawless.  At $20, this is definitely more of a special occasion type of cigar for most people – if you've got one, fire it up and rest assured, it will not disappoint!
SIMPLY STOGIES RATING:  9.3 / 10.0