VITOLA:   Box-Pressed Robusto
SIZE:   5″ x ~50 (size undisclosed officially(
ORIGIN:   Undisclosed
FACTORY:   Undisclosed
WRAPPER:   Vintage Mexican San Andres 
BINDER:   Undisclosed
FILLER:   Undisclosed
STRENGTH:   Medium
SOURCE:   
Purchase from Secondary Market
WHERE:   
Jungle Jim's – Paradise Pavilion
WHEN:   
July 6 2017 around 6 PM
DRINKS:   
Streetside Cafe con Leche American Stout
WEATHER:   
Mid 70s – sitting inside with the garage doors up
WHAT'S ON:   
Nothin'
RELEASE TYPE  Limited Edition
ORIGINALLY RELEASE DATE  June 2016
TOTAL PRODUCTION
Typical Box Size:     Packs of 5
Production Totals:  645 total cigars
VITOLA BREAKDOWN
o  Box-Pressed Robusto  (~5″ x ~50)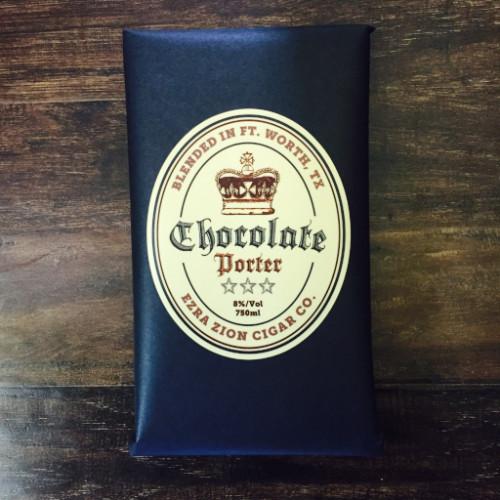 RESEARCH & BACKGROUND INFO
According to Chris & Kyle: They visited a pub in Pennsylvania and were poured a great porter. Right then and there they decided to create a cigar that bore the same tasting profile. Check out a video here of them discussing how to pair cigars and brews.
Not much else to find about this stogie – like a lot of EZ's stuff, they aren't too forthcoming with a ton of information.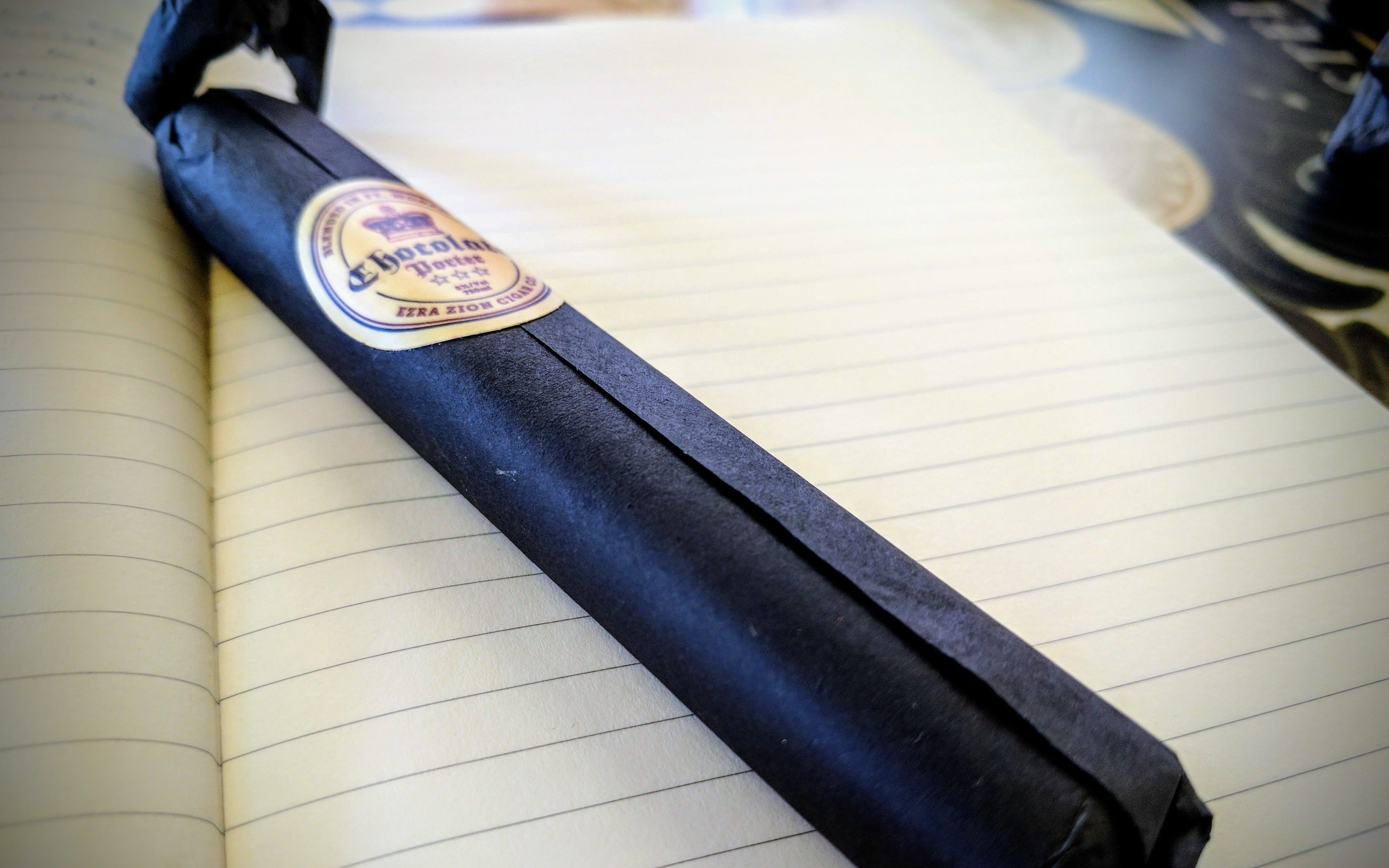 For a cigar themed after a beer, the wrapper and tissue seem to be more in line for a chocolate.  The band itself is instantly recognizable as one that may be found on a great English porter but the tissue seems a little excessive and deviates from the theme.
I do appreciate the band displaying not only the cigar's name but the brand – it's a rare feat for Ezra Zion!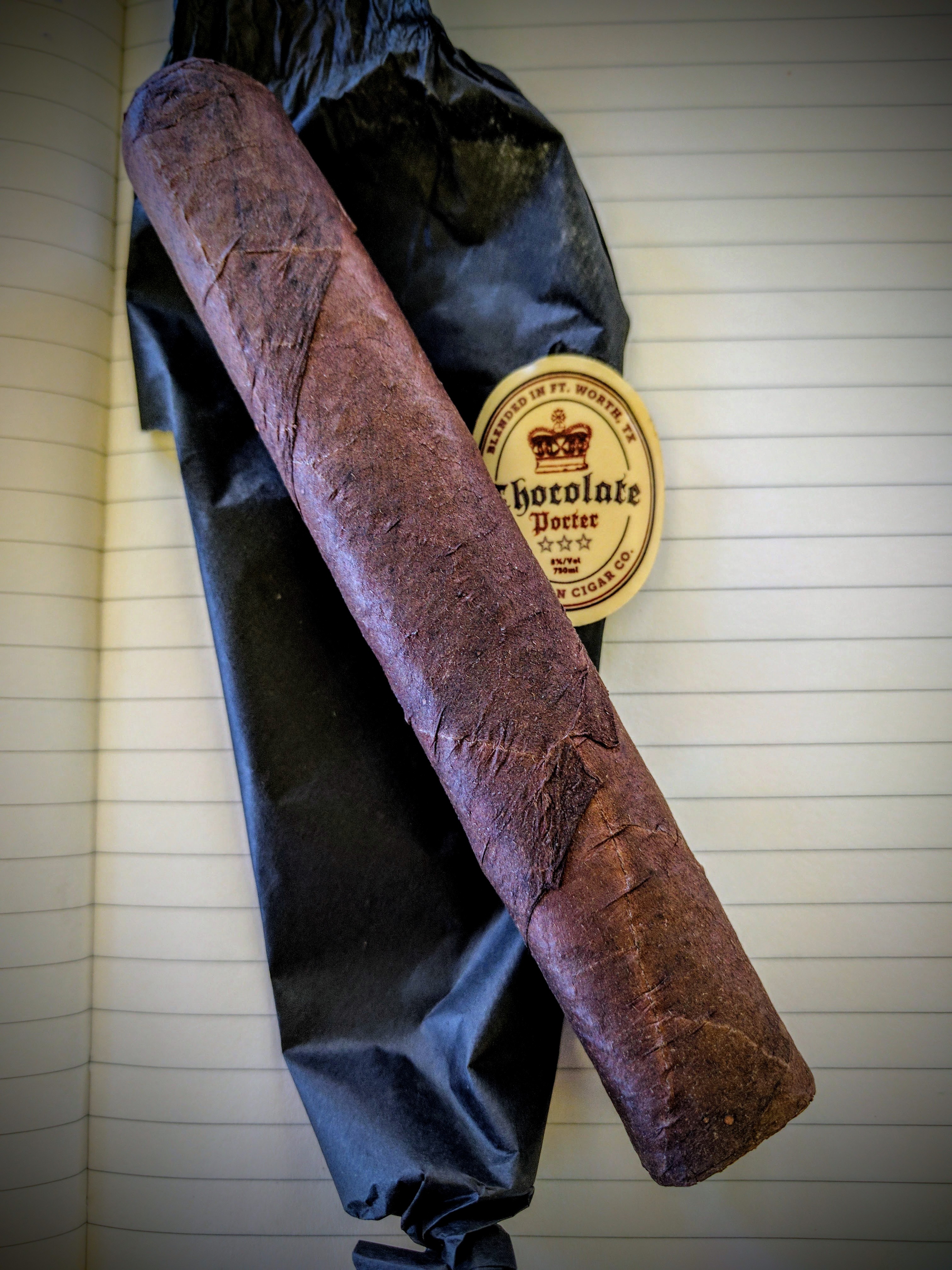 CONSTRUCTION
The Chocolate Porter has great rustic quality to its appearance.  The San Andres wrapper is toothy and seems twisted across the cigar.  As the name may imply, the wrapper has a dark chocolaty hue to it.  There are no veins visible and the seams are expertly done so that they fade from view.  The wrapper is blighted by a handful of blemishes.  The blemishes aren't cause for concern – just detracts from the overall aesthetic.
A light inspection turned up some hard spots but no real soft spots.  The box-pressed foot showcases the blend with a color variation very reminiscent of the head on a porter.  The cap is very nicely done for a box-press with a deep shoulder and seamless transition into the body.
AROMA
A whiff of the foot brings to mind cocoa and stone fruit.  There's also some faint tea or coffee notes.
COLD DRAW
The draw is a little closed and offers a touch too much resistance.  Immediate flavors to note are cocoa, sugary coffee and dried apricots/cherries.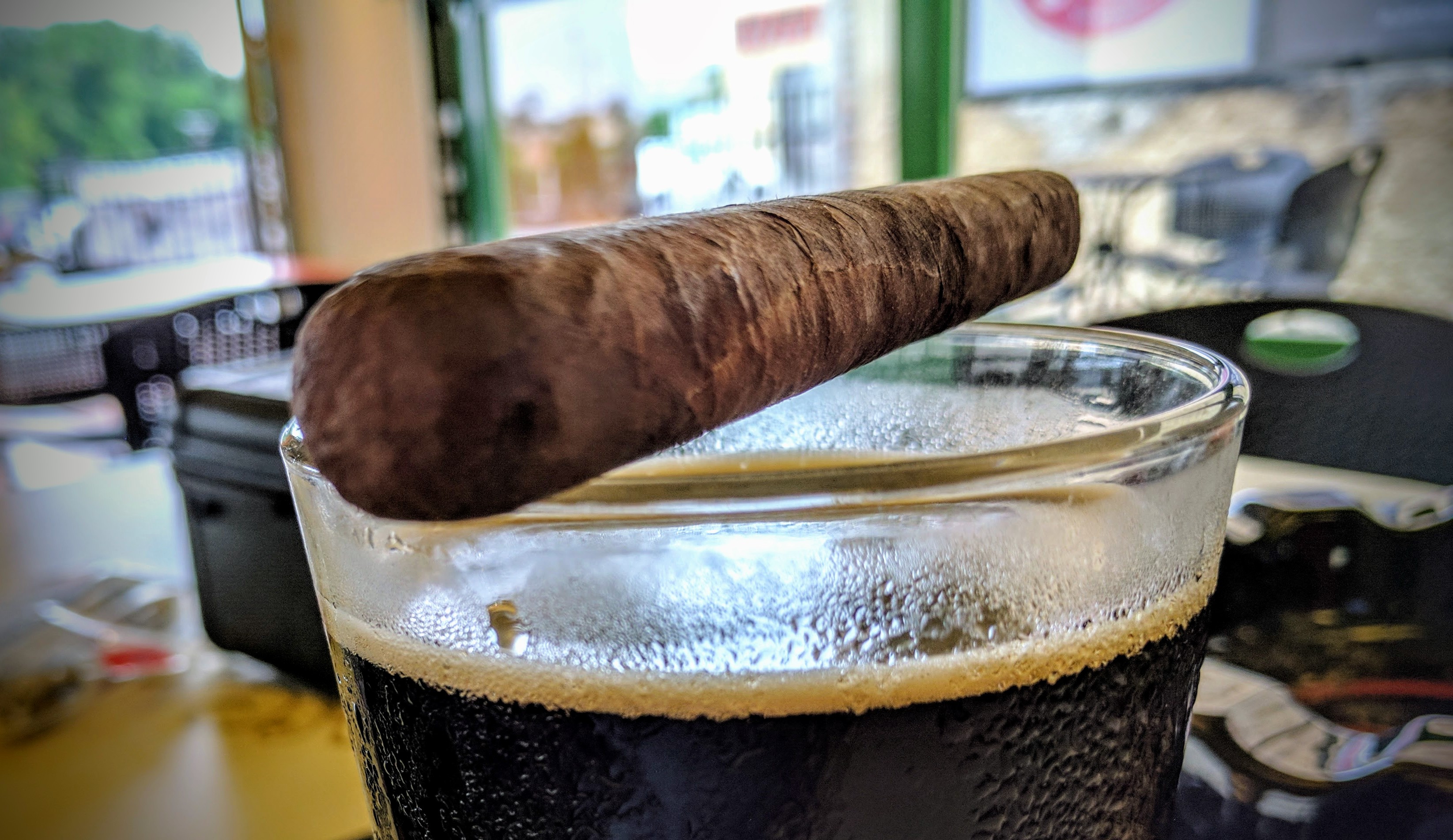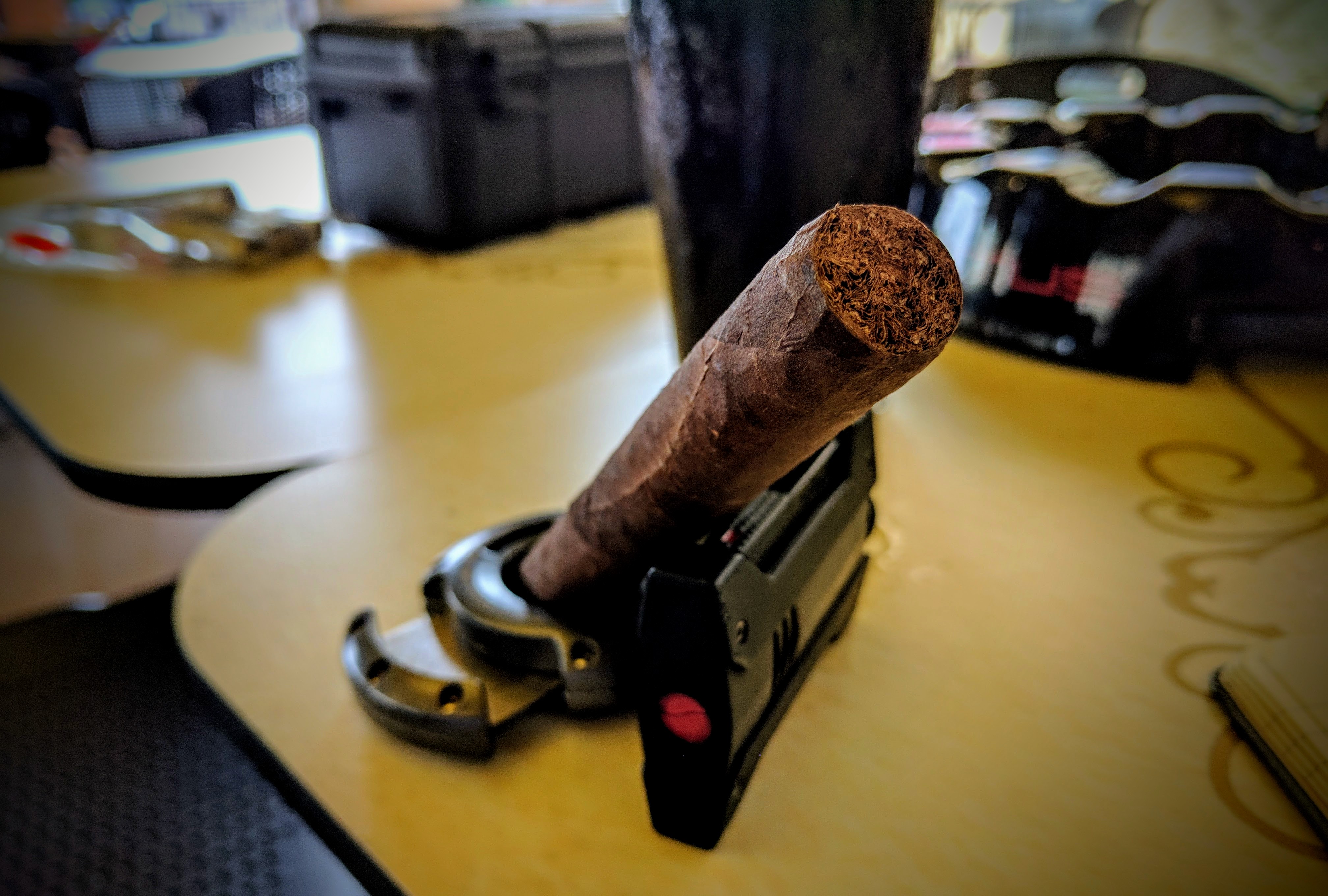 LIGHT & DRAW
Cut:  Xikar XO
Fire:  ST Dupont Defi Extreme
I clipped the cap off with my Xikar XO and fired it up.  The draw is still tight and it does take a bit more work than normal to get a good steady burn going.
Once lit though, the flavors are fantastic – albeit a bit muted.  The first flavors to come forward are chocolate with fruit – exactly like this really cool morropan chocolate from local Cincinnati cocoa-genius Maverick Chocolate Company.  What's cool about it is that the environment the cocoa is grown in produces a chocolate with a fantastic deep stone fruit flavor to it.  I highly recommend it – but I digress.  There's also some vanilla bean ice cream.  The ash is super white but the burn line is fairly erratic.
SMOKE
Smoke production is minimal at each puff. While resting a faint steady stream of smoke rises from the cigar.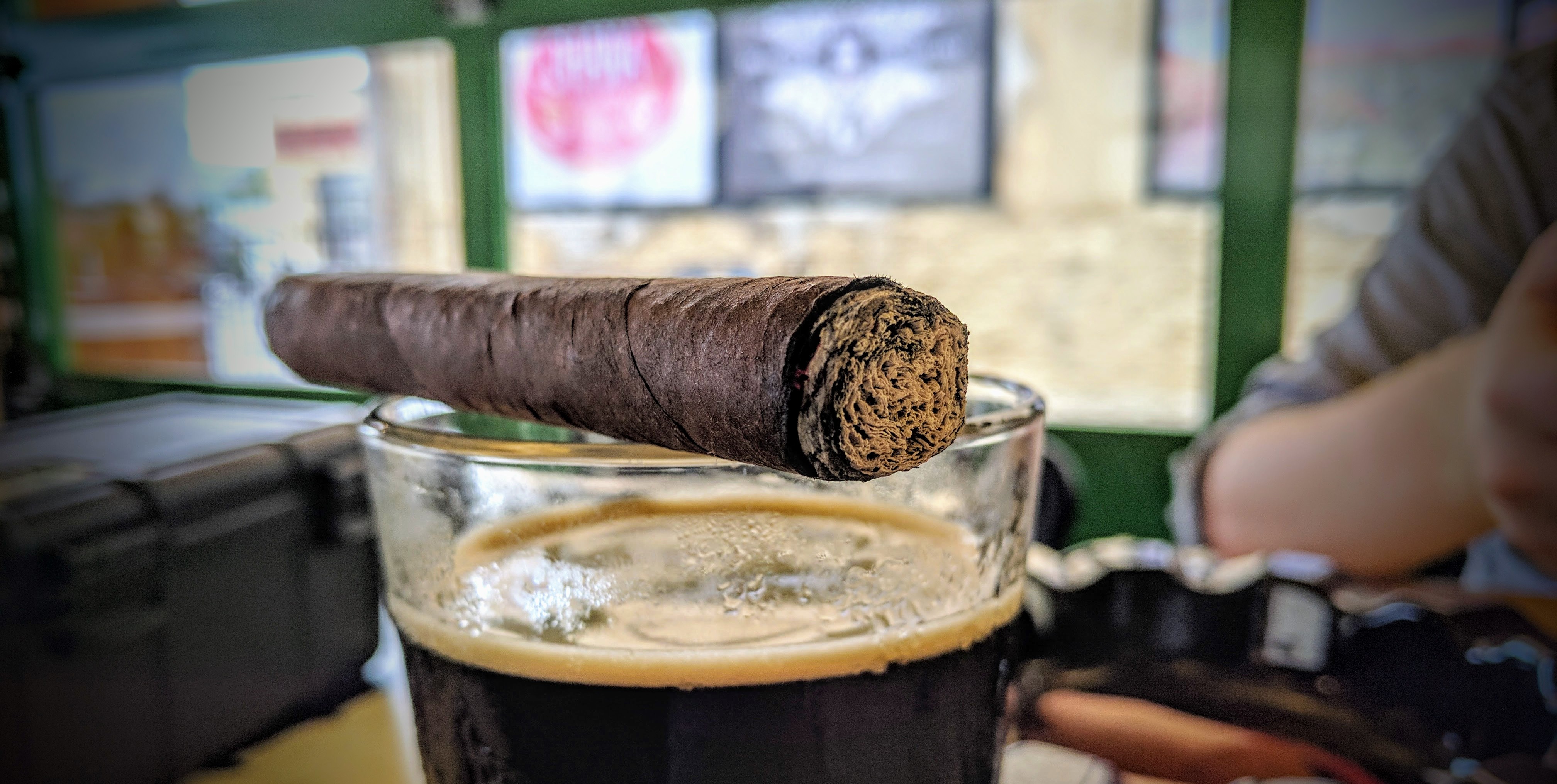 FIRST THIRD
>> milk chocolate, sweet coffee, vanilla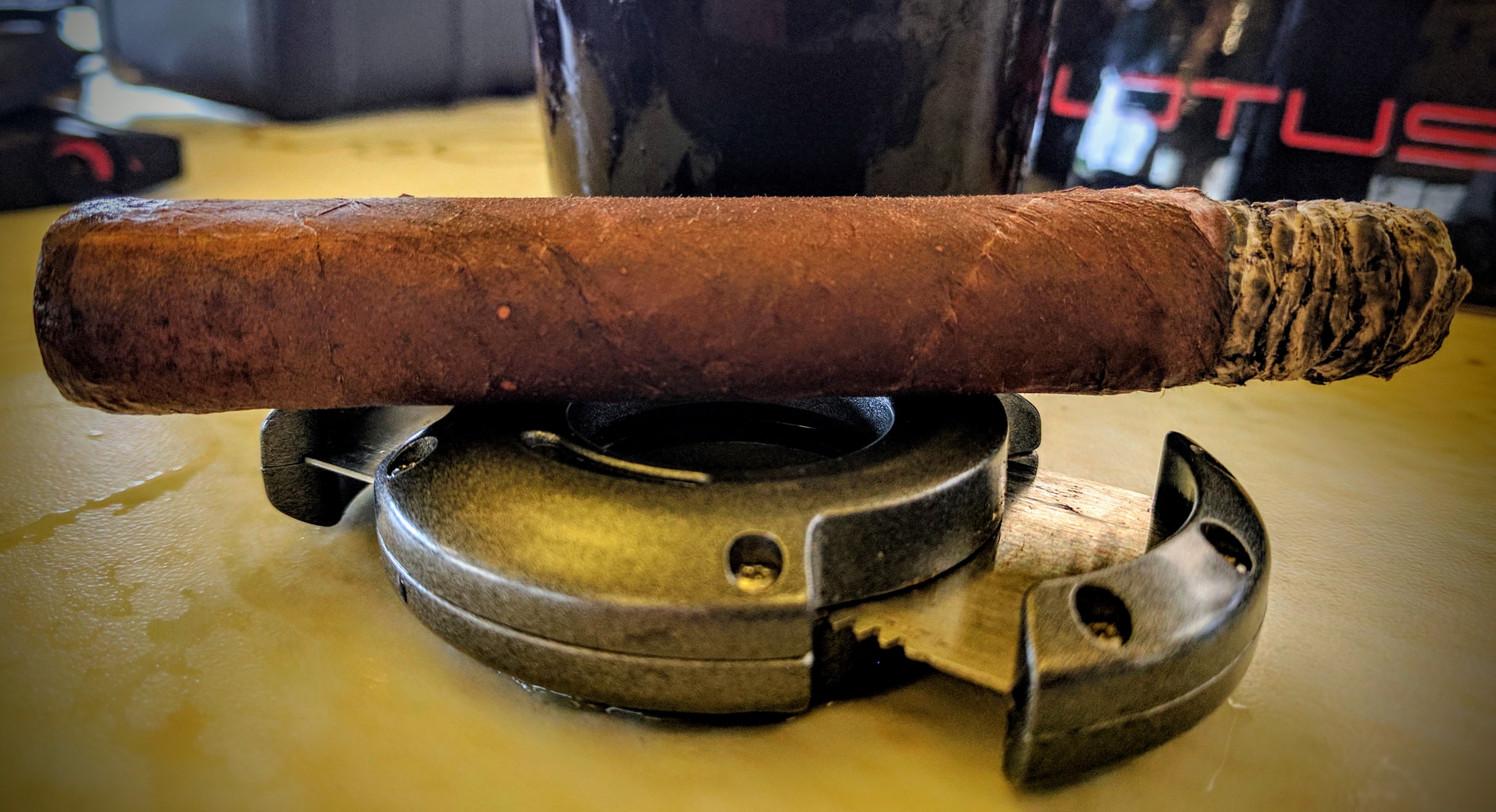 The first third brings a lot of sweet notes – milk chocolate, sweet coffee and vanilla.  There's also a light citrus flavor that's faint but definitely noticeable.  Pepper is present, although minimal.  All the flavors are wrapped up in a mild, creamy unifying profile.
The draw is good/open with just a bit of resistance.  Burn line is a little wonky but easily manageable.  The retrohale is quite smooth and brings out the black pepper.
SECOND THIRD
>> espresso/lemon twist, pepper, bitter cocoa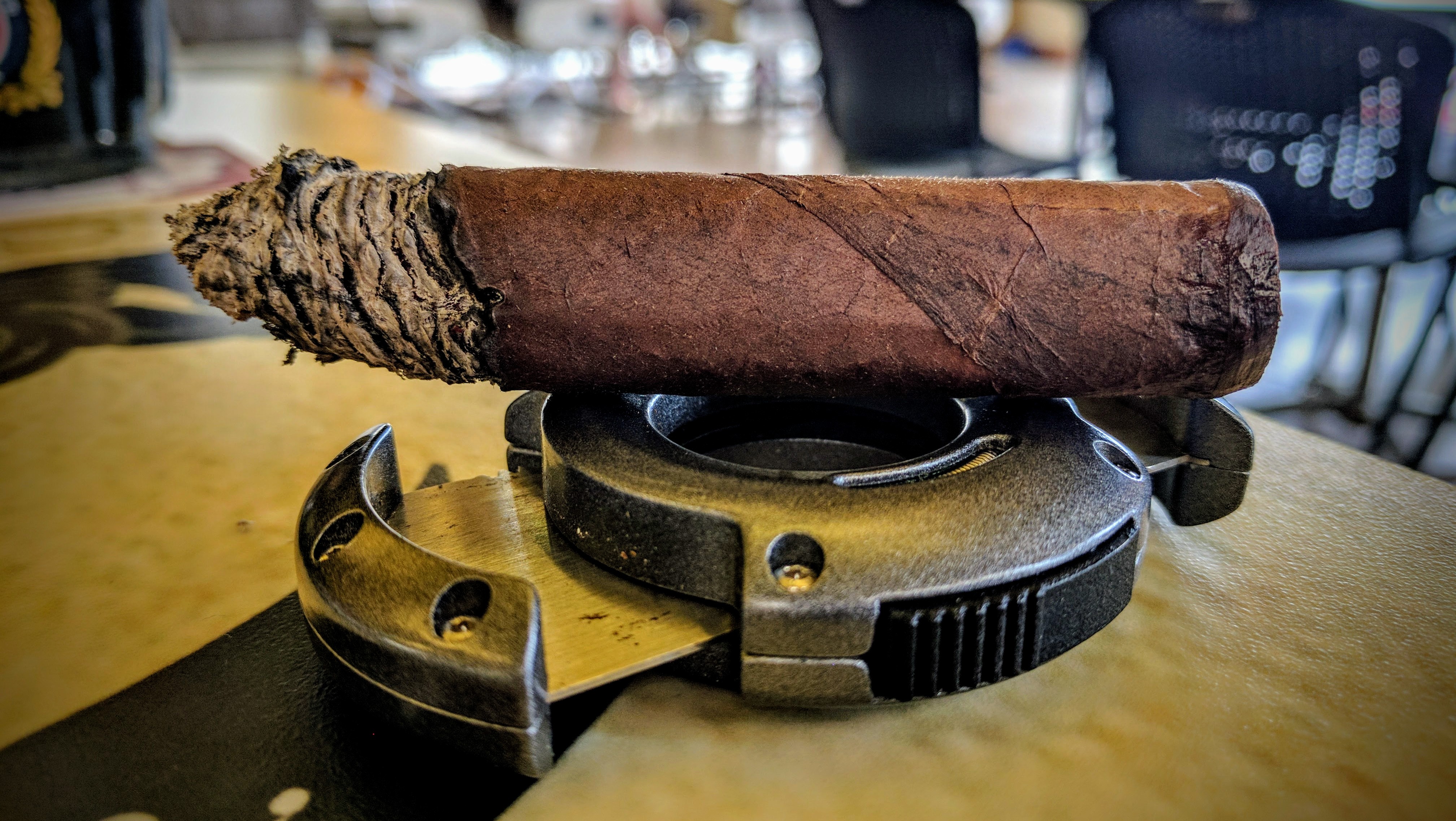 The best description for the second third's flavor profile is espresso with a lemon twist.  The pepper is at the forefront now and there's a touch of bitter cocoa.
The draw seems to have tightened – making you work a little harder at each puff.   At this point, the burn has gotten pretty bad.  I touched it up a bit to correct but it seems to have a mind of its own.  Meanwhile, the ash was stacking nicely up to about 1-1/4 inches. It has a wonderful marbled look with white, grey and black all present.
FINAL THIRD
>> toasted pecan, vanilla, charred oak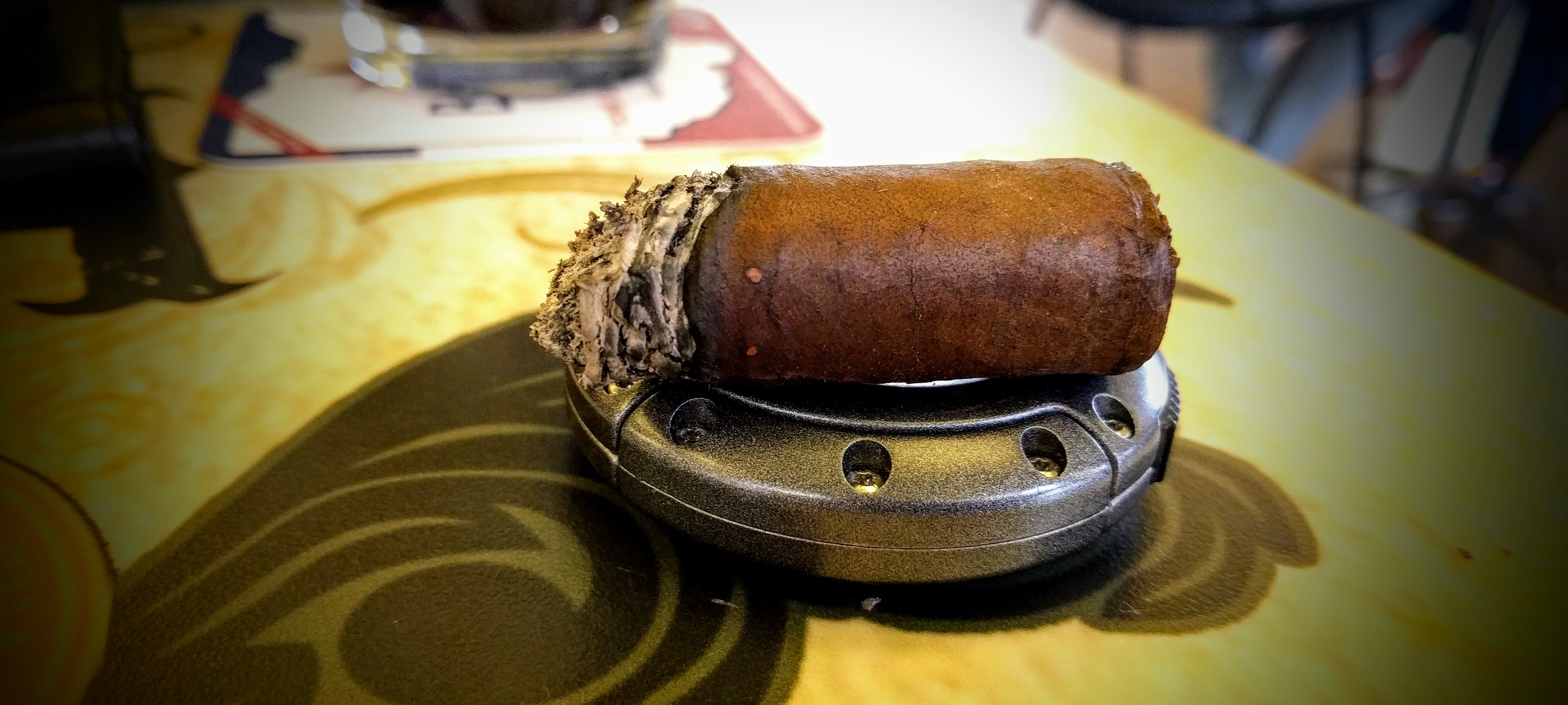 The final third brings a really interesting flavor – a slightly less sweet toasted pecan pie – or maybe just toasted pecans with light pepper and charred oak.  There's some vanilla cream as well.  One final flavor as I work to the nub – smoked brisket – very faint but definitely a smoked meaty characteristic.  
The cigar burns pretty hot as the final inch hits with a burning spicy note.  One last, very strange flavor – fragrant French cheese.  I know that's weird and I haven't really gotten that from a cigar before – but there was a camembert-like taste to it – not nearly as gross as it sounds.
FLAVOR PROGRESSION
The flavors definitely move along in the Chocolate Stout – lots of sweet notes that slowly converts to a peppery complexity.  It's not an overly complex cigar and fits into an excellent stogie to light up when you're not going to focus too hard on the flavors and experience.
BURN EXPERIENCE
The burn on the Chocolate Stout started with promise but as it progressed the burn needed some attention.  A couple touch-ups and a relight dropped the score here slightly.
RATING BREAKDOWN
0.67 / 0.80 … Craft & Aesthetic
0.42 / 0.50 … Pre-Light Characteristics
0.39 / 0.50 … Lighting Process
5.44 / 7.70 … Smoking Experience
0.25 / 0.50 … Personal Enjoyment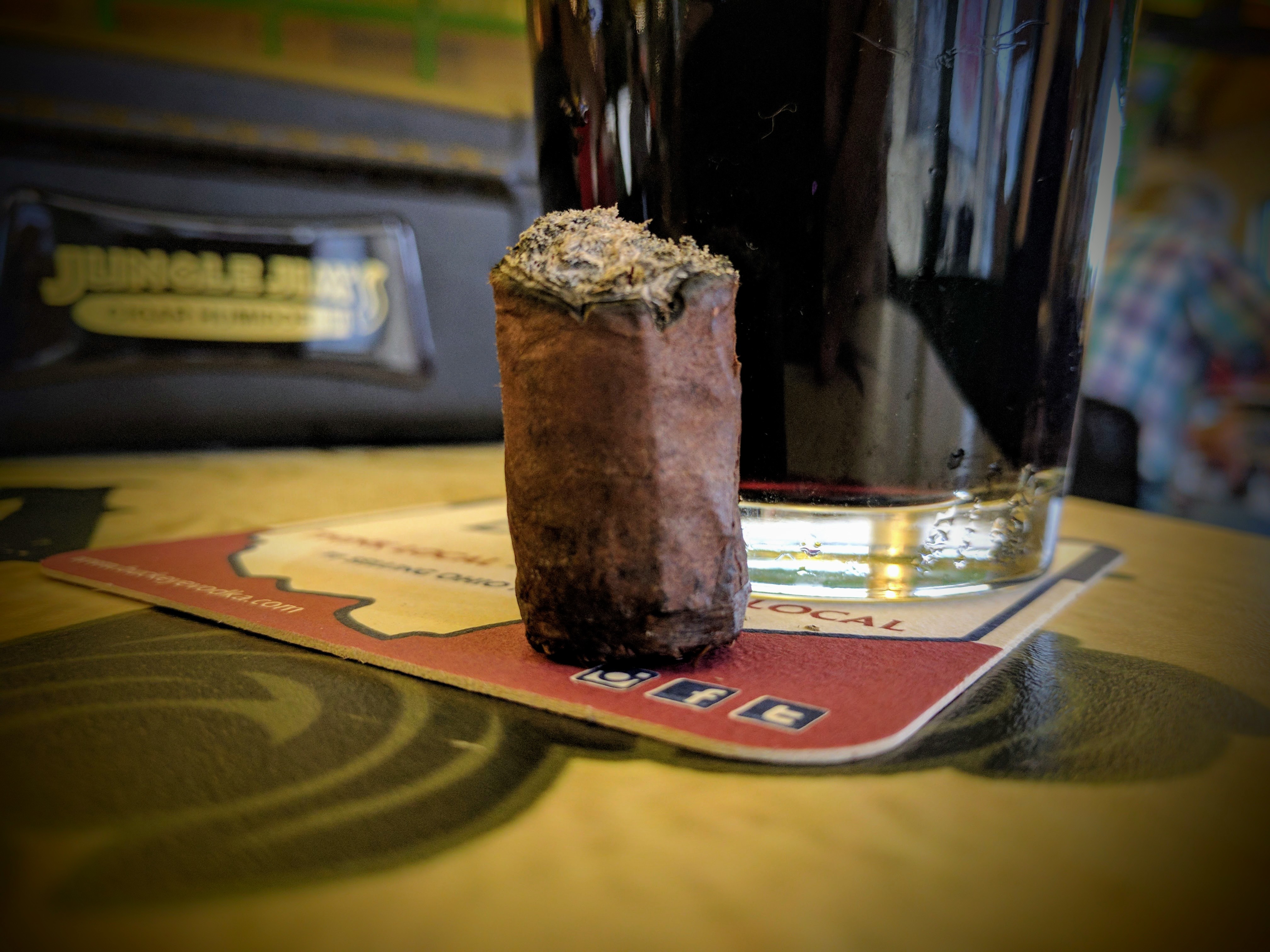 MISSING THE PORTER.
Ezra Zion's Chocolate Porter may be a victim of its name.  While the flavors progressed nicely, it was hard for me to imagine them as a porter.  Additionally, the progression seemed to peak around the first half of the first third – which made the remainder of the cigar a bit one-note.  Both the sweet and savory flavors were good and unique but overall not as impressive as other cigars in Ezra Zion's repertoire of limited edition releases.
To me, this is a great daily smoke – but the rarity and price are a hindrance to that notion. 
SIMPLY STOGIES RATING:  7.1 / 10.0