VITOLA:   Box-Pressed Prensado
SIZE:   6″ x 52
ORIGIN:   Nicaragua
FACTORY:   Undisclosed
WRAPPER:   Habano
BINDER:   Vintage Nicaraguan
FILLER:   Vintage Nicaraguan
STRENGTH:   Full
SOURCE:   
Purchased on Secondary Market
WHERE:   
Three-Season Porch at Home
WHEN:   
July 27, 2017 at 1 PM
DRINKS:   
Coffee – black
WEATHER:   
Low 80s – little humid but nice
WHAT'S ON:   
WGR 550 – Buffalo Sports Radio
RELEASE TYPE  Limited Edition
ORIGINALLY RELEASE DATE  Mid-2017
TOTAL PRODUCTION
Typical Box Size:     Packs of 5
Production Totals:  Undisclosed; speculating total production around 200
VITOLA BREAKDOWN
o  Box-Pressed Prensado  (6″ x 52)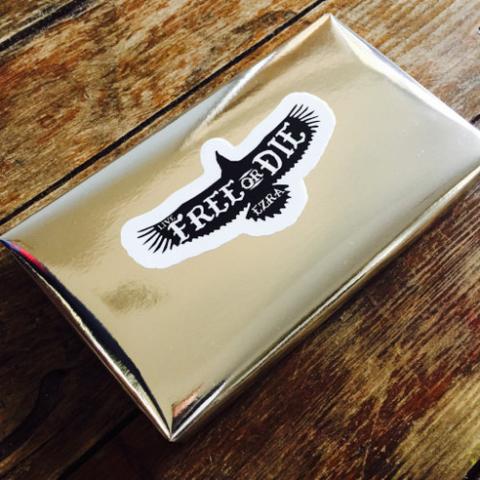 RESEARCH & BACKGROUND INFO
From Ezra Zion's website:
Art is often a snapshot of history as it happens. This past year, our beloved cigar industry has faced the most perilous times in it's existence. A range of emotions–from despair to anger–has been felt by cigar makers, retailers, and smokers alike. We knew we needed to do a project that put us on record and made a statement for where Ezra Zion stands in this fight … Live Free or Die!
There's not much else out there to help discern this cigar's history or inspiration.
"Live Free or Die" is maybe the best state slogan – thanks New Hampshire!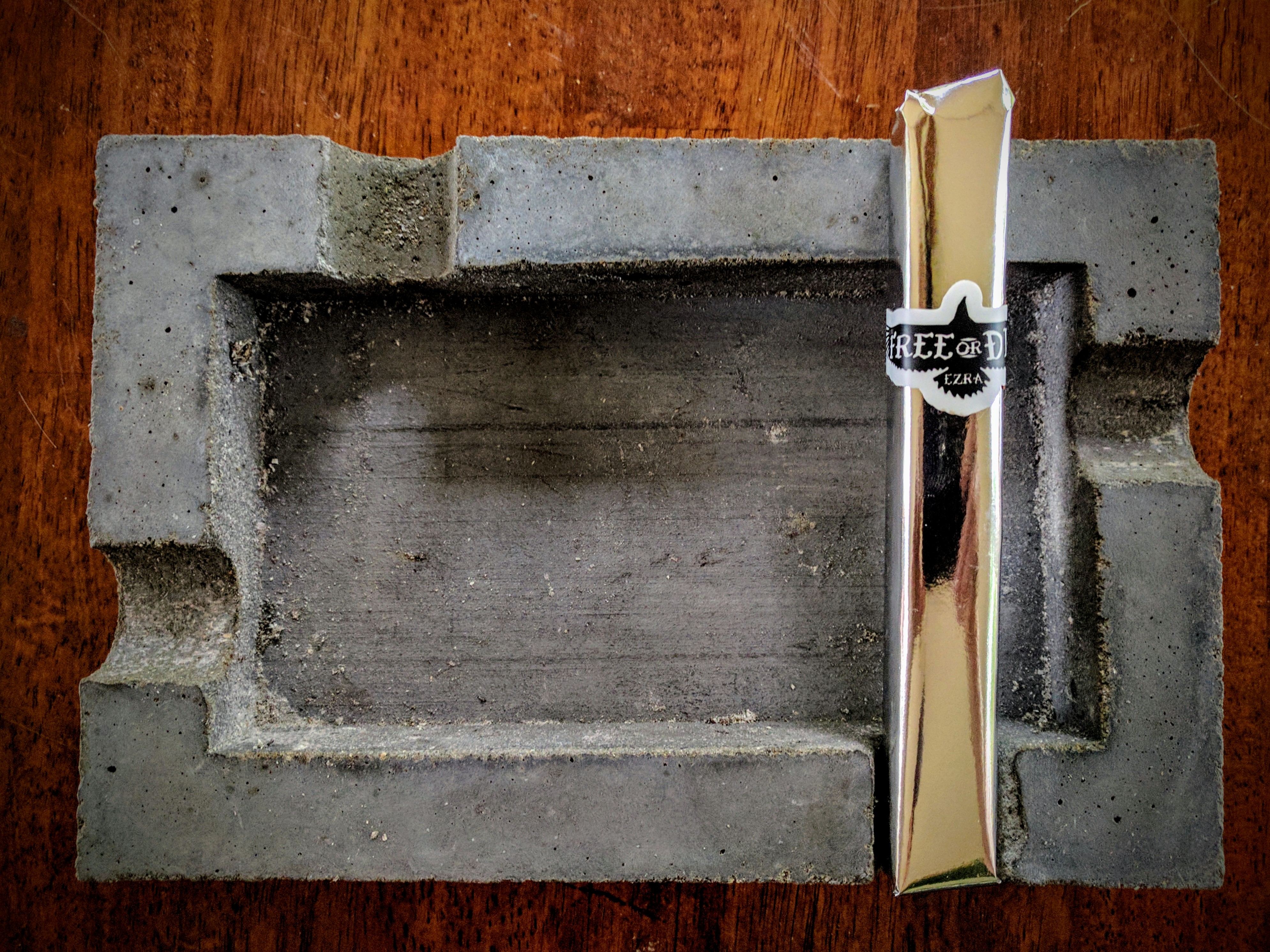 There's not a traditional band on the Live Free or Die – in place Ezra Zion has dressed the cigar in a silver, highly reflective wrapping.  I've gotta say, unwrapping this felt a little like Christmas.  I had no idea what to expect under the metallic paper and it provided a cool little sense of surprise.
The 'band' or graphic on the wrapper is a silhouetted bird with wings spread – white text inside reads "Live Free or Die – Ezra".  The graphic has a feeling to where it would be at home on the back of a biker's leather jacket cruising down some straight highway in North Dakota.  Overall, I really enjoy the look – and appreciate EZ tossing their name on such a high-end product in the profile.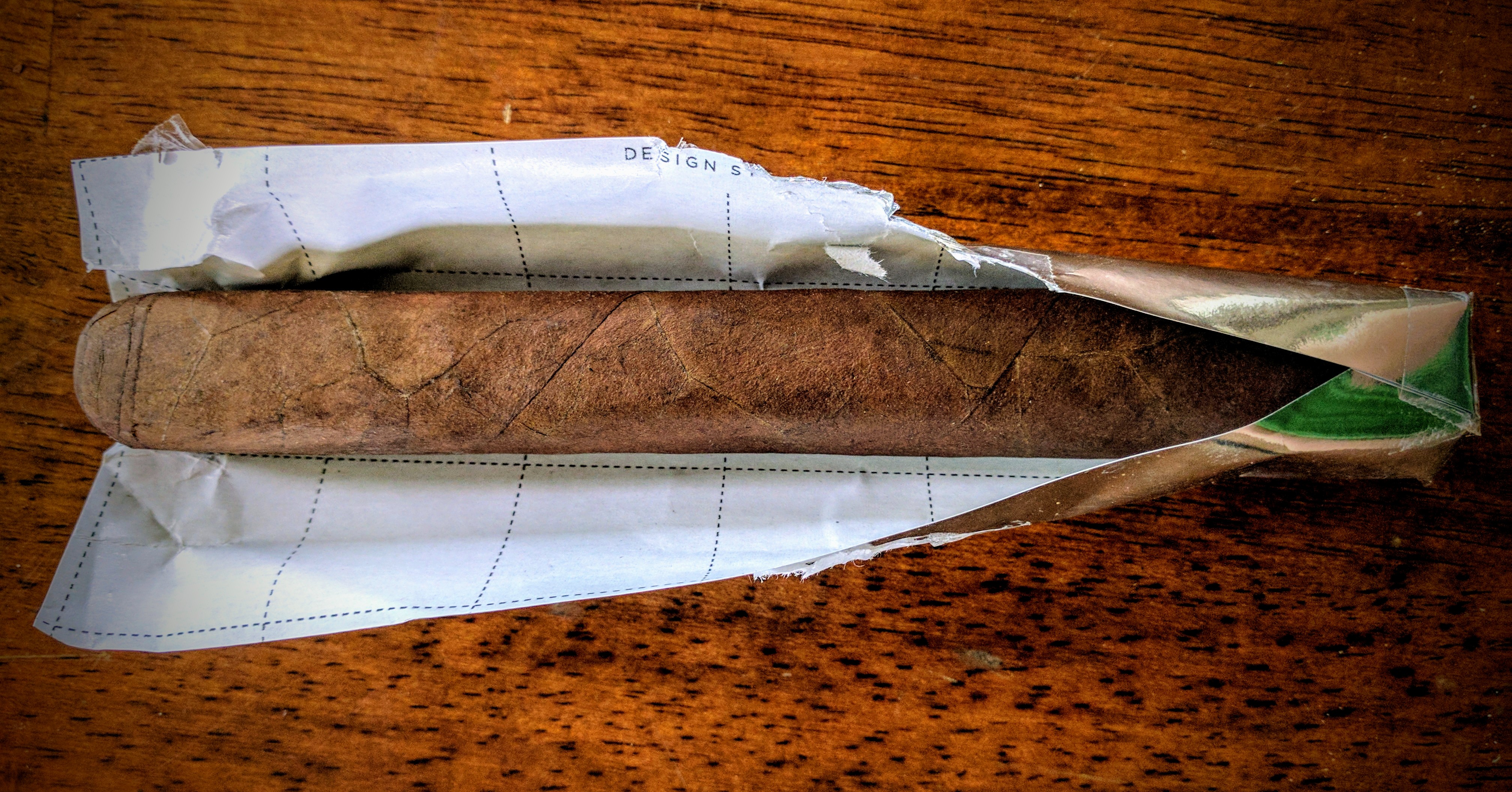 CONSTRUCTION
The Habano wrapper on the Live Free or Die is a gorgeous milk chocolate, horse-hide, vintage leathery brown.  The seams are perfectly executed, laying completely flush.  While a few veins are visible, they are predominantly flat.  There's a light oily sheen to the wrapper and it feels soft and luxurious.
A light inspection of Live Free shows that it is a surprisingly soft cigar – a decent amount of give when compressed.  However, that density is uniform – there are no spots softer/harder than the others.
The cap is a fantastically done triple cap.  The shoulders drop deep into the body.  Live Free has a rough, closed foot – perhaps a throwback to the vintage Cuban rolling style that inspired the Prensado vitola.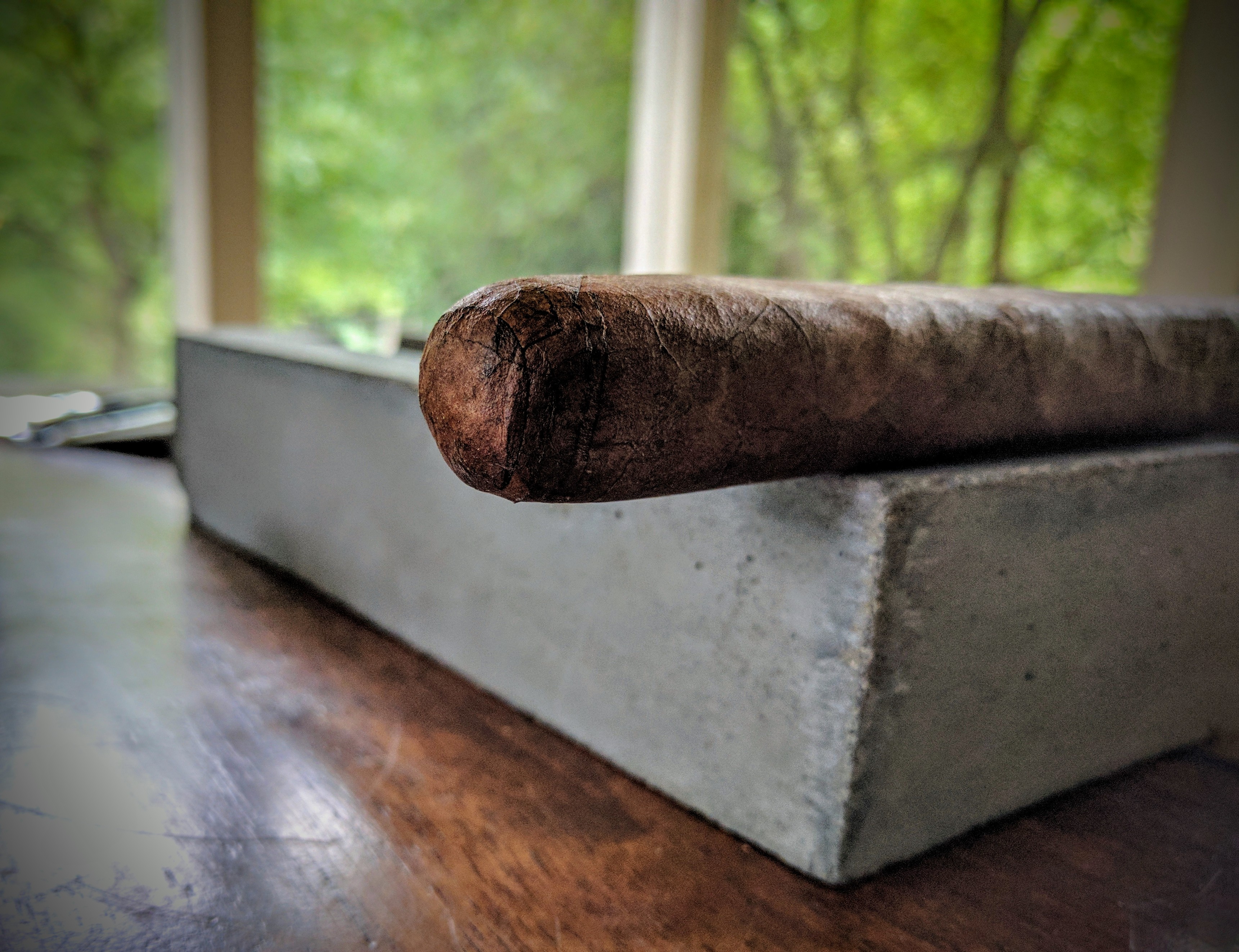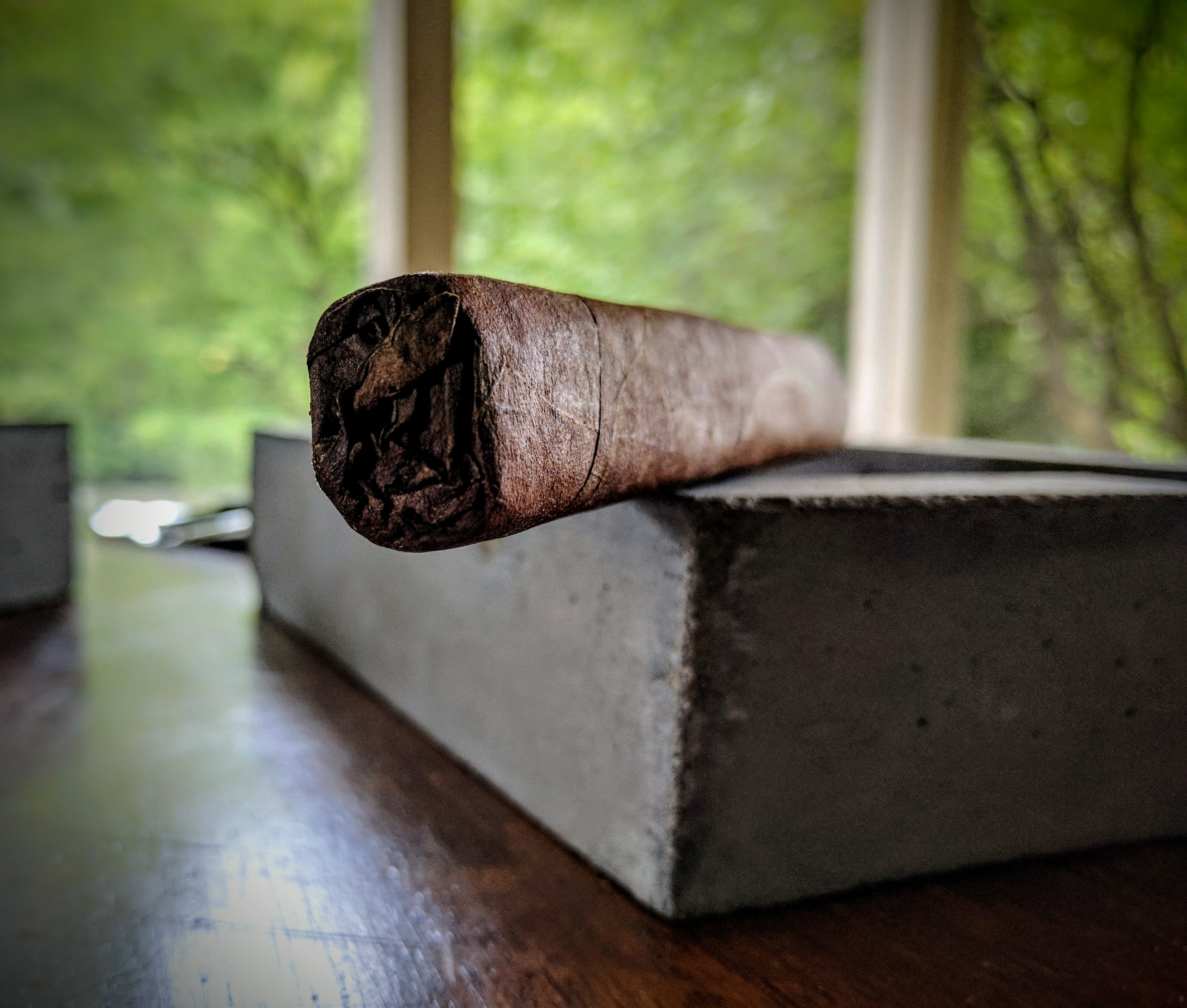 AROMA
The closed foot has some light barnyard and dates on it.  There's also a sweeter note – almost reminds me of grape jelly on saltines.
COLD DRAW
The cold is a little snug – I'm attributing it to the closed foot.  Not a ton of flavor – mostly that rich, aged tobacco flavor with a hint of sweetness.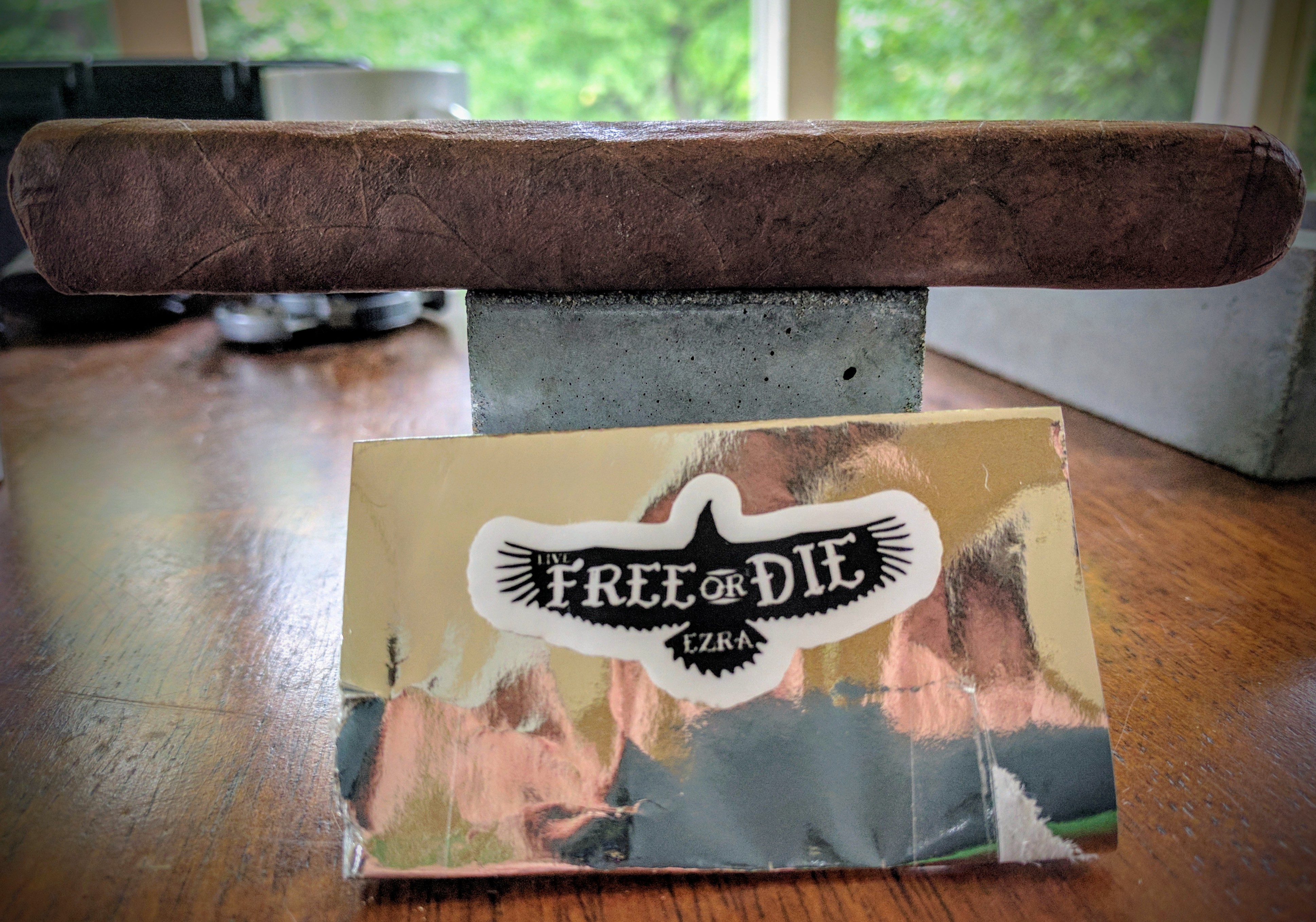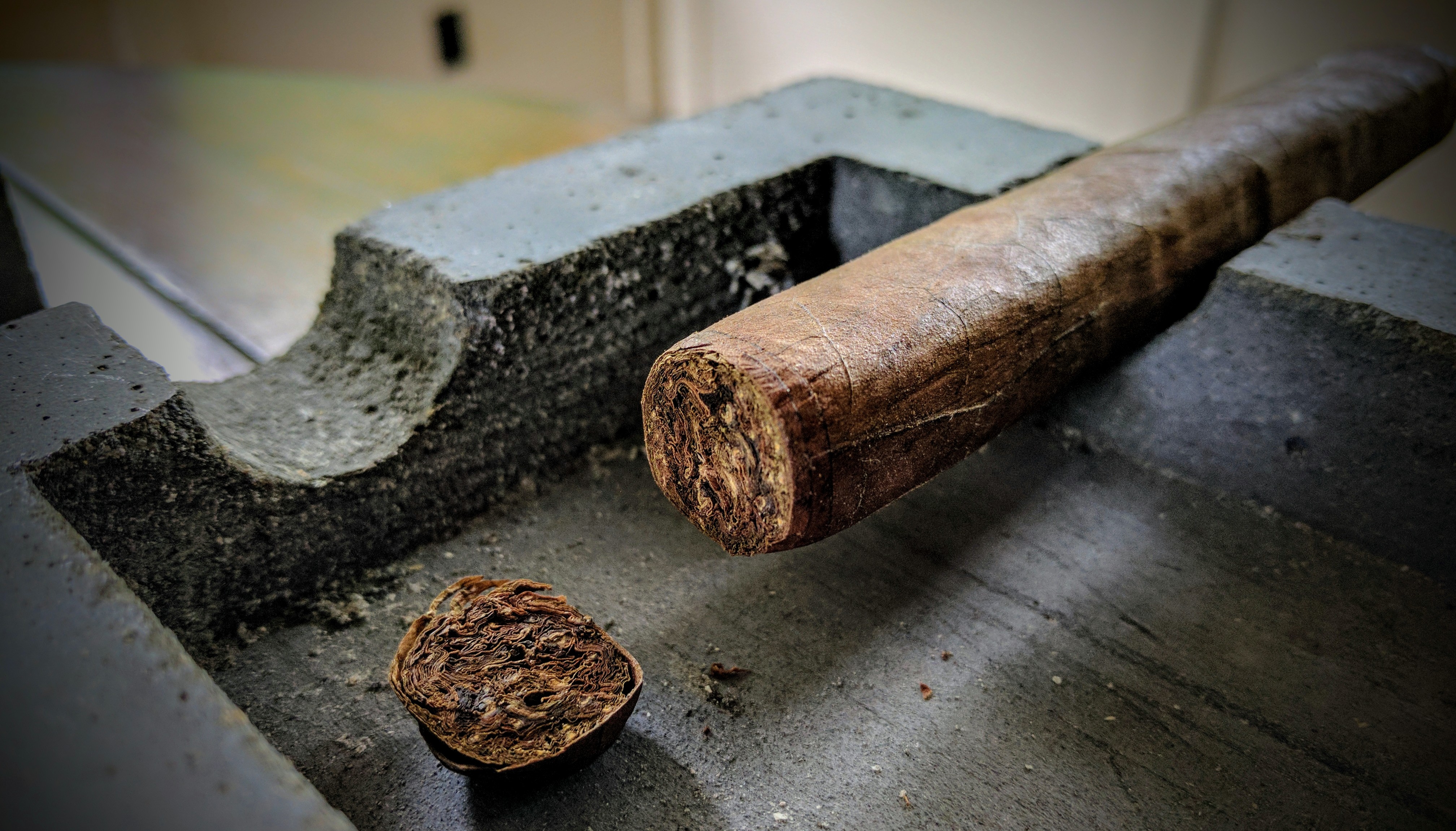 LIGHT & DRAW
Cut:  Xikar XO
Fire:  S.T. Dupont Defi Extreme
The cap stayed remarkably intact with the cut.  I usually don't remark much on that, but this was an impressive cutting experience – especially with a box-press – I feel like they tend to flake or pop a little more.
The immediate flavors are soft and sweet – there's zero harshness or bitter traits.  This is very mellow – like a vanilla salt-water taffy or the center part of those cow-tails candies.  The draw opened up very well once the closed foot burned off – great so far.
About 1/2 inch in and the burn line is very even – some minor deviations but overall no real concerns at this point.  As it burns, the Live Free or Die is creating some beautiful white ash that looks solid and sturdy.
SMOKE
Smoke production is moderate but enjoyable. While resting there is little to no smoke.  Each puff spews out minimal amounts of pure white billowy smoke.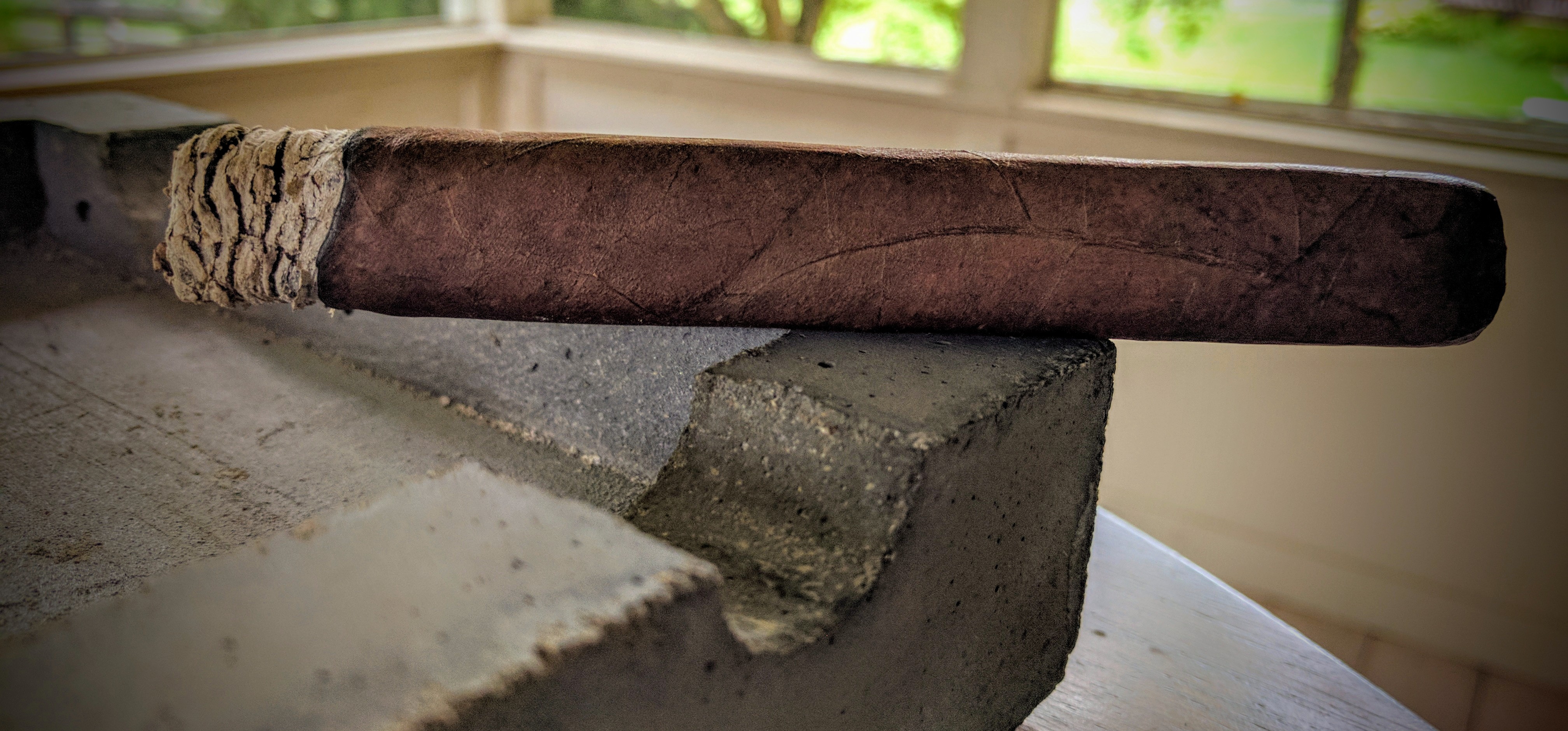 FIRST THIRD
>> vanilla, sweet cream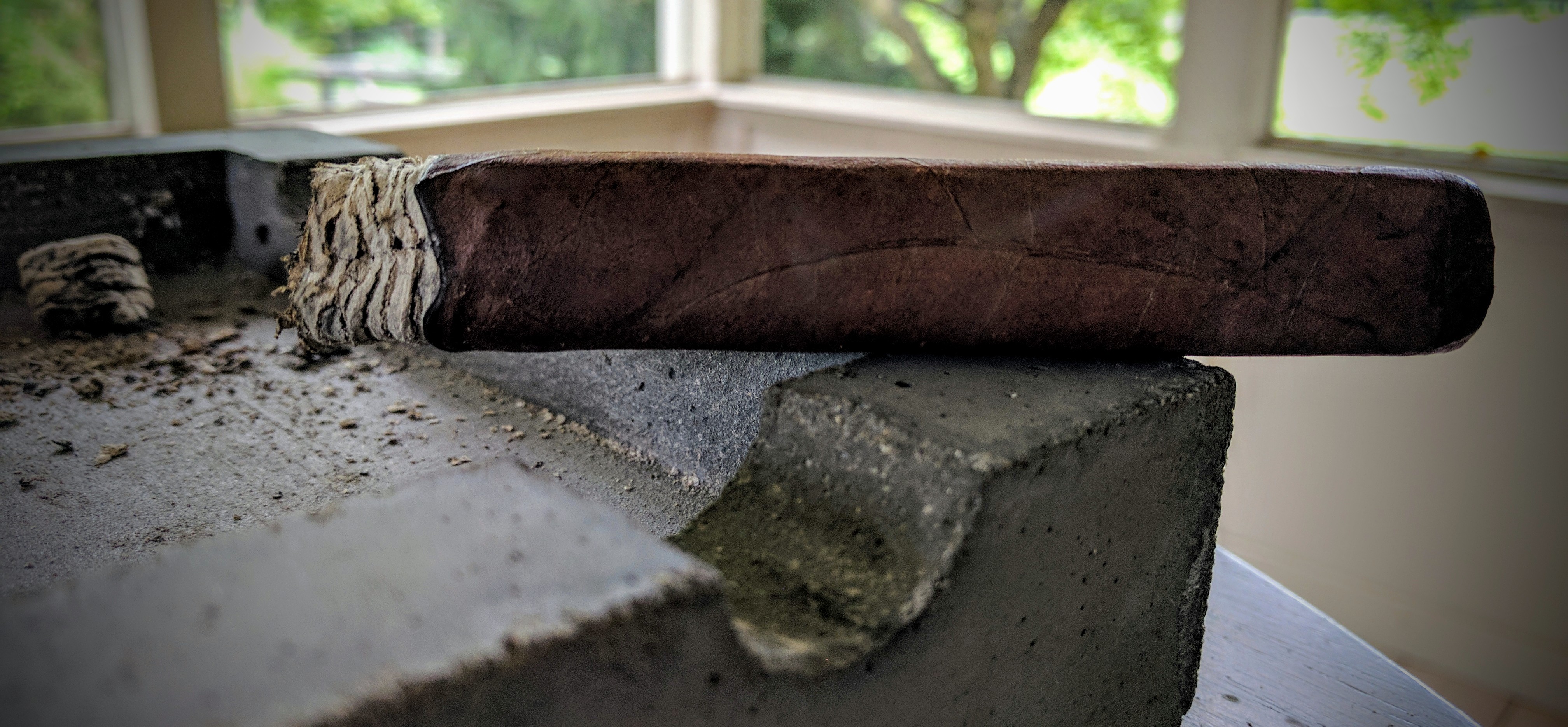 As the first third flavors build, it's very soft and subtle.  There's not a lot of 'in-your-face' anything.  Primarily I'm tasting some light vanilla sweet creaminess.  EZ's site notes "whipped buttercream" and I suppose that's pretty close – it is almost like a light, cream cheese icing – like you'd find on red velvet cake.  Absolutely no pepper or savory notes to be found.
The draw is great – maybe still a touch on the tight side, but no problems.  The burn continues to be impressive – very clean and sharp.  The Live Free or Die tried very hard to ash on my lap at about 3/4 inch in but was foiled.  Ash continues to be chalky white with some dark, black visible between the layers.
So far, this is a very supple, elegant feeling experience – definitely as-hyped by EZ as one of their higher-end, 'save for a special occassion' kind of smokes.
SECOND THIRD
>> anise, vanilla taffy, cream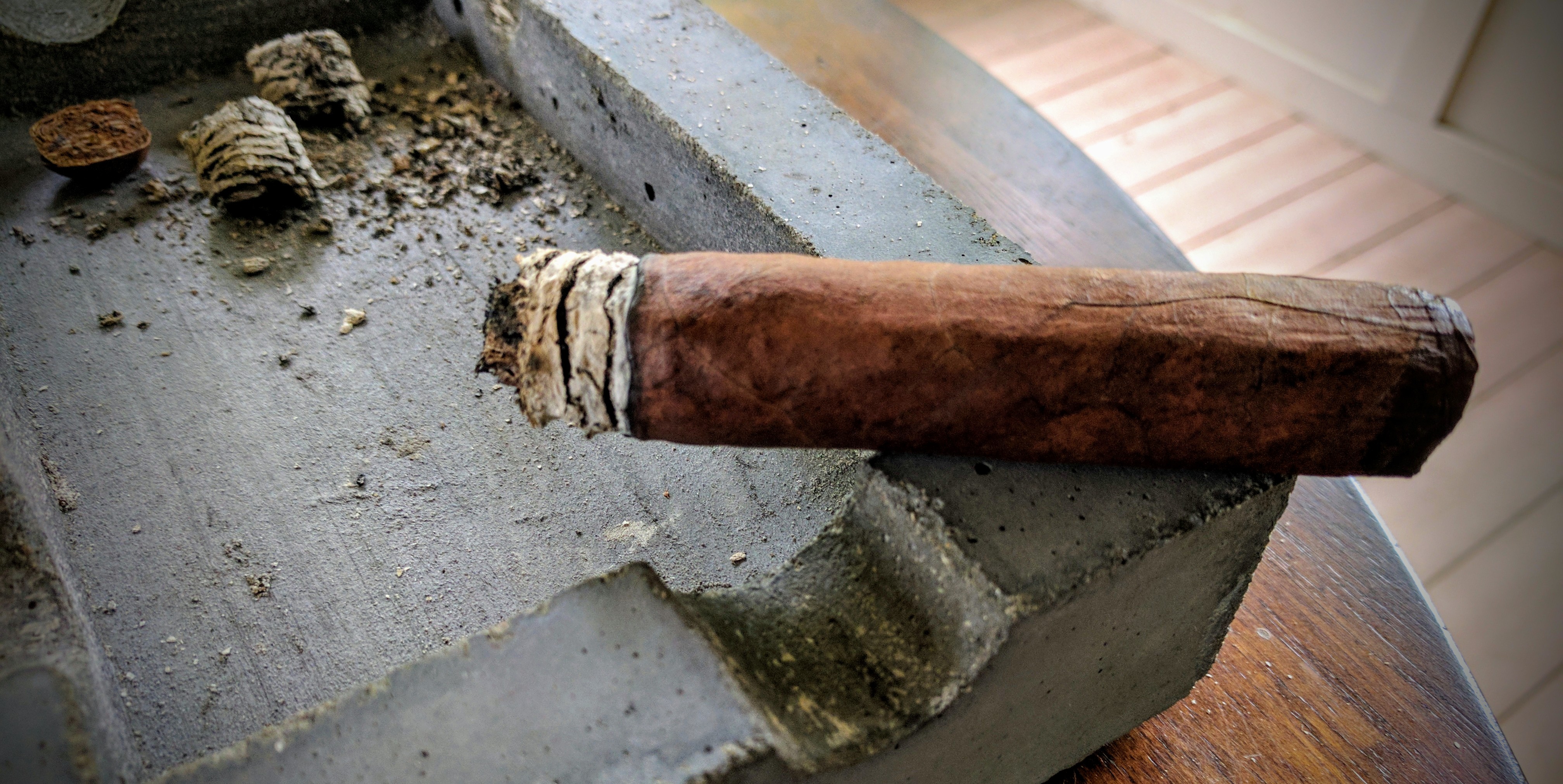 I forgot to retrohale for the first third but the retro on the second third is very interesting – there's some nice complimentary anise, a pepperiness that pairs great with the lighter, sweeter notes.  The Live Free or Die has a really nice, long finish that might go unnoticed because it is so light.  It's sort of like after you eat a marshmallow and can still feel it on your tongue for a little bit after. Flavors haven't progressed much beyond the vanilla taffy creaminess of the first third.  There are a couple new notes: a little bit of leather and some caramelized sugar creeping in at about the midway point.
The cigar seems to be ashing regularly at about 3/4 – 1 inch.  No long ash competition happening with this stogie.  I don't mind and at least it's regular enough that you can predict where/when it will ash.  Ash itself continues to be a pure white that contrasts beautifully against the darker, chocolate Habano wrapper.
FINAL THIRD
>> sweet cream, wood, peppers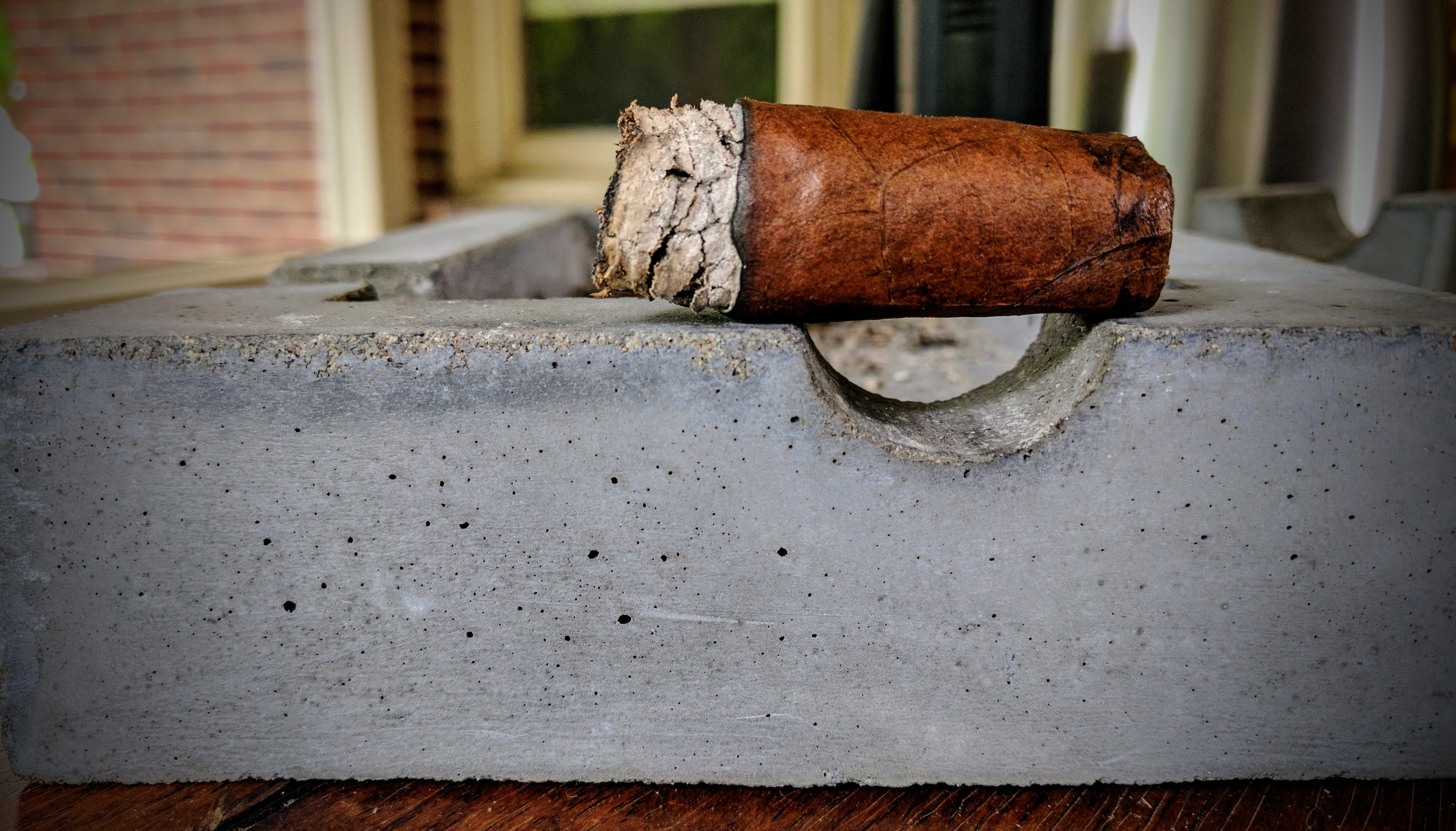 With the final third comes a hint of brininess – signaling the cigar's transition to some savory flavors, primarily some light pepper and woodiness.  The Live Free or Die still keeps just a bit of the sweetness found in the first couple thirds – everything now is just complimented with a nice savory/sweet profile.
The draw has been great throughout – no issues at all!  Unfortunately, almost exactly at the final third mark, a couple relights were needed – which is a bummer for how well this cigar was smoking.  The burn line itself is getting a little wavy but no touch-ups really needed from that aspect.
FLAVOR PROGRESSION
The Live Free or Die's flavors start with and maintain a level of sweetness throughout the experience.  Only as the final third hits is there any departure to more savory tones.  This isn't necessarily a negative but the flavor progression and complexity could've been a bit more intricate.
BURN EXPERIENCE
Ezra Zion's Live Free or Die smoked flawlessly for nearly the entire smoke – burning (mostly) evenly and at a good pace.  The final third brought a host of relights though – which like I said, is a major let down considering the experience leading to that point.  Overall, not terrible, but the last impression was the worst.
RATING BREAKDOWN
0.80 / 0.80 … Craft & Aesthetic
0.50 / 0.50 … Pre-Light Characteristics
0.50 / 0.50 … Lighting Process
6.36 / 7.70 … Smoking Experience
0.33 / 0.50 … Personal Enjoyment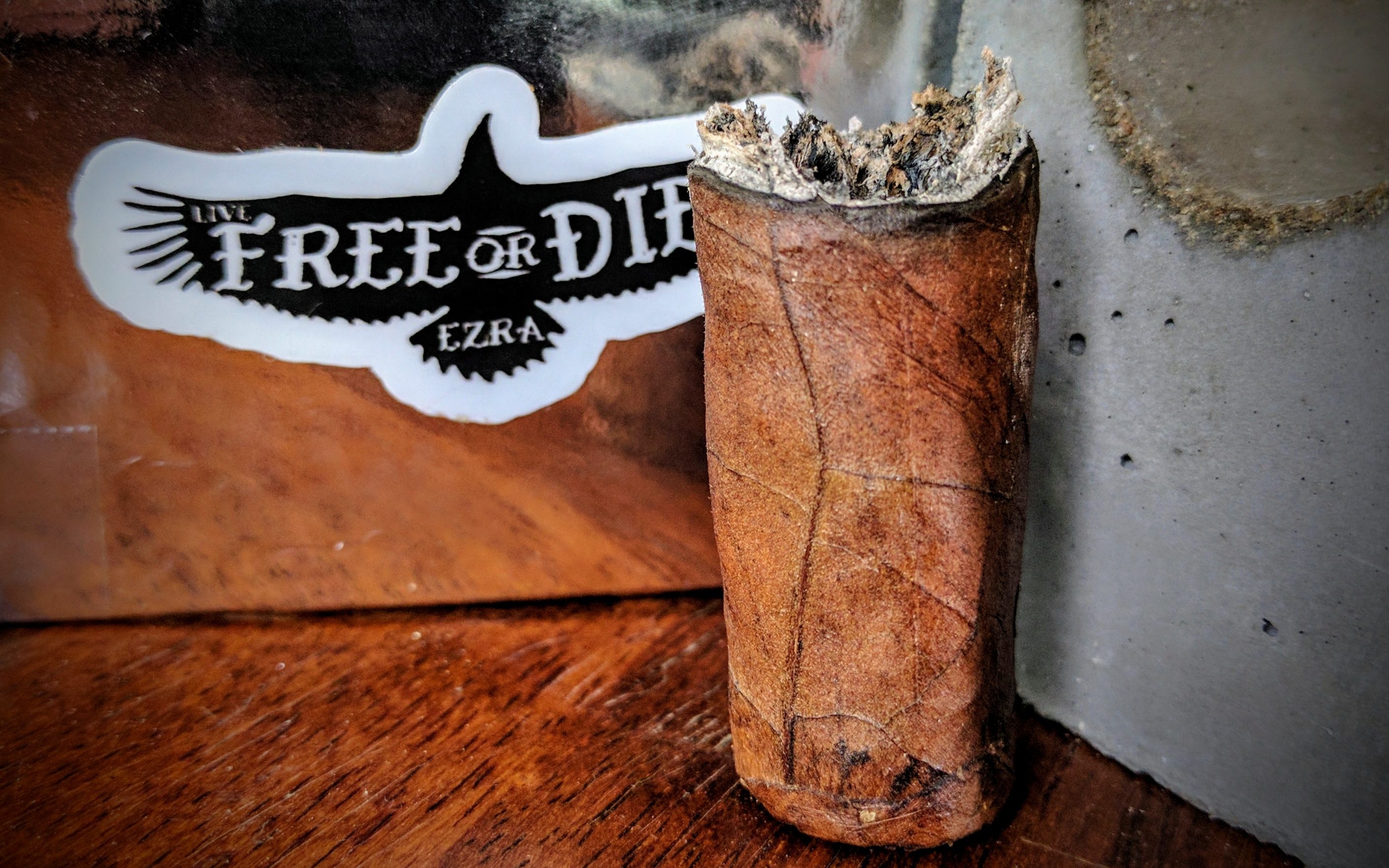 GREAT CIGAR, BUT MISSING … SOMETHING.
Ezra Zion's Live Free or Die is meticulously constructed and starts out like a top-10, luxury cigar should – smooth, subtly complex flavors with a damn-near perfect draw and burn.  By the time the final third hits, the flavors haven't really departed enough from that initial taste and the burn has started to become an issue.  Just a little more from the tail-end of this cigar would have launched it into a different class for me personally – definitely a favorite for sure.  I could pardon some burn issues if the flavors were out-of-this-world but sadly, they just were not.  Ezra Zion promotes this as a celebratory stogie and at +$12 per stick, it warrants that class for most smokers – but, for me, the flavor profile did not live up to the billing.
SIMPLY STOGIES RATING:  8.5 / 10.0