VITOLA:   Box-Pressed Churchill
SIZE:   7″ x 46 (estimate – actual size undisclosed)
ORIGIN:   Undisclosed
FACTORY:   Undisclosed
WRAPPER:   Mexican San Andres
BINDER:   Undisclosed
FILLER:   Undisclosed
STRENGTH:   Medium
SOURCE:   
Ezra Zion Website
WHERE:   
Three-Season Porch at Home
WHEN:   
July 14, 2017 @ 10 AM
DRINKS:   
Coffee – French-pressed & black
WEATHER:   
Gorgeous summer day
WHAT'S ON:   
Nothin'
RELEASE TYPE  Regular production (re-release)
RE-RELEASE DATE  May 2017
TOTAL PRODUCTION
Typical Box Size:     N/A – no boxes available
Production Totals:  Original Release – 850 cigars;  Re-Release – 370 cigars
VITOLA BREAKDOWN
o  Box-Pressed Churchill  (~7″ x ~46)
RESEARCH & BACKGROUND INFO
The boys at Ezra Zion created (Pre)Eminence as a complimentary cigar to be paired with their Eminence coffee – while I didn't pair it with that specifically, I did enjoy it with some coffee this morning.  
The cigar is based on Ezra Zion's Eminence – which earned a 94.5 rating (not sure where, but they tout it).
The priming is different but the blend is the same.  
There's usually very limited info regarding Ezra Zion's limited-run cigars but there is even less out there for the (Pre)Eminence. No reviews, no info outside of a few sentences on their site.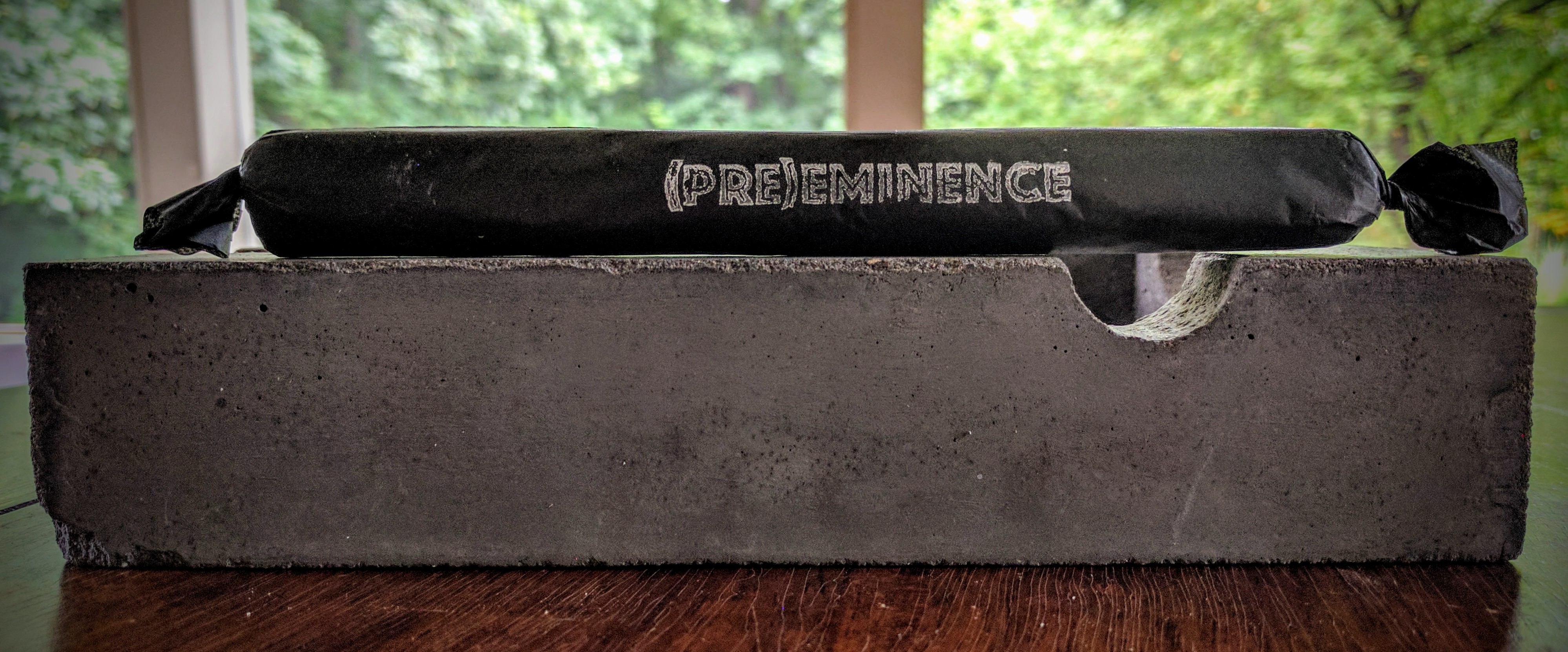 The (Pre)Eminence comes wrapped like a Tootsie Roll.  It does not have a traditional band near the cap.  Once unrolled from the full-length tissue-like paper it's naked.  Personally, I really like the full-body wrapping however it makes me a little paranoid not being able to see the cigar as it ages in my humidor.  Right or wrong, I feel like these – along with tubes, coffins, cedar, etc – tend to foster mold growth. 
Either way, I do enjoy the matte black paper with the chalky white text identifying the cigar.  One of my long standing complaints with Ezra Zion's branding of cigars is that they fail to help people identify the cigar.  It can be really hard to track down cigars from a trade or even years later trying to remember which one had only an orange fabric band.  Good on them for helping out those with bad memories like myself!

CONSTRUCTION
The (Pre)Eminence features a gorgeous, dark San Andres maduro wrapper.  It's got a little knick in it but that's the only blemish that stands out.  There are a couple prominent veins but the wrapper is essentially vein-free, or at least the dark color makes them more difficult to spot.  The seams are nicely done and it has a nice oily sheen to it.
After lightly inspecting the cigar, I didn't turn up any inconsistencies below the wrapper.  Everything is as it should be!  The cigar has just a bit of give to it – more so on the firm side than spongy.  The cap on this box-pressed churchill is a little sloppy.  The top has started to peel off slightly – not a huge problem, since I'll be slicing it off shortly anyway.  The foot is well done and has all the trademarks of a well rolled cigar.  Overall, it's a good looking stick for maduro lovers.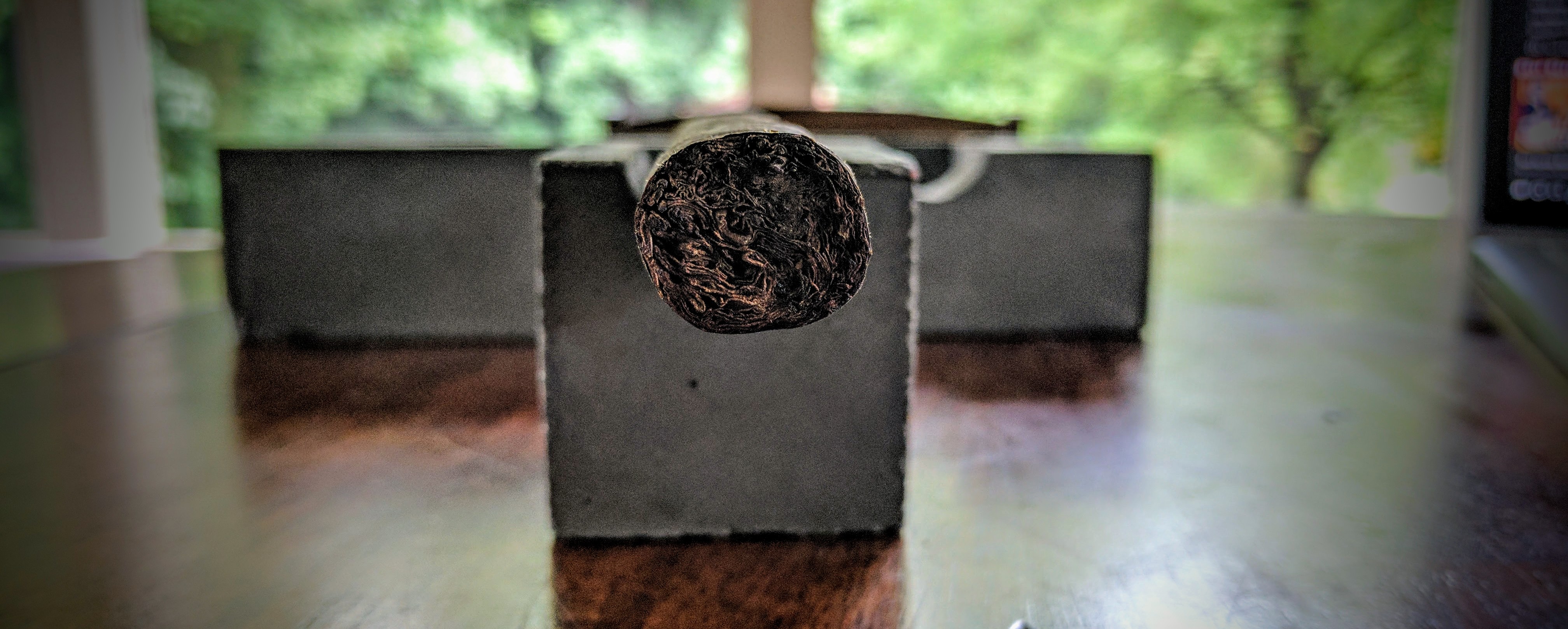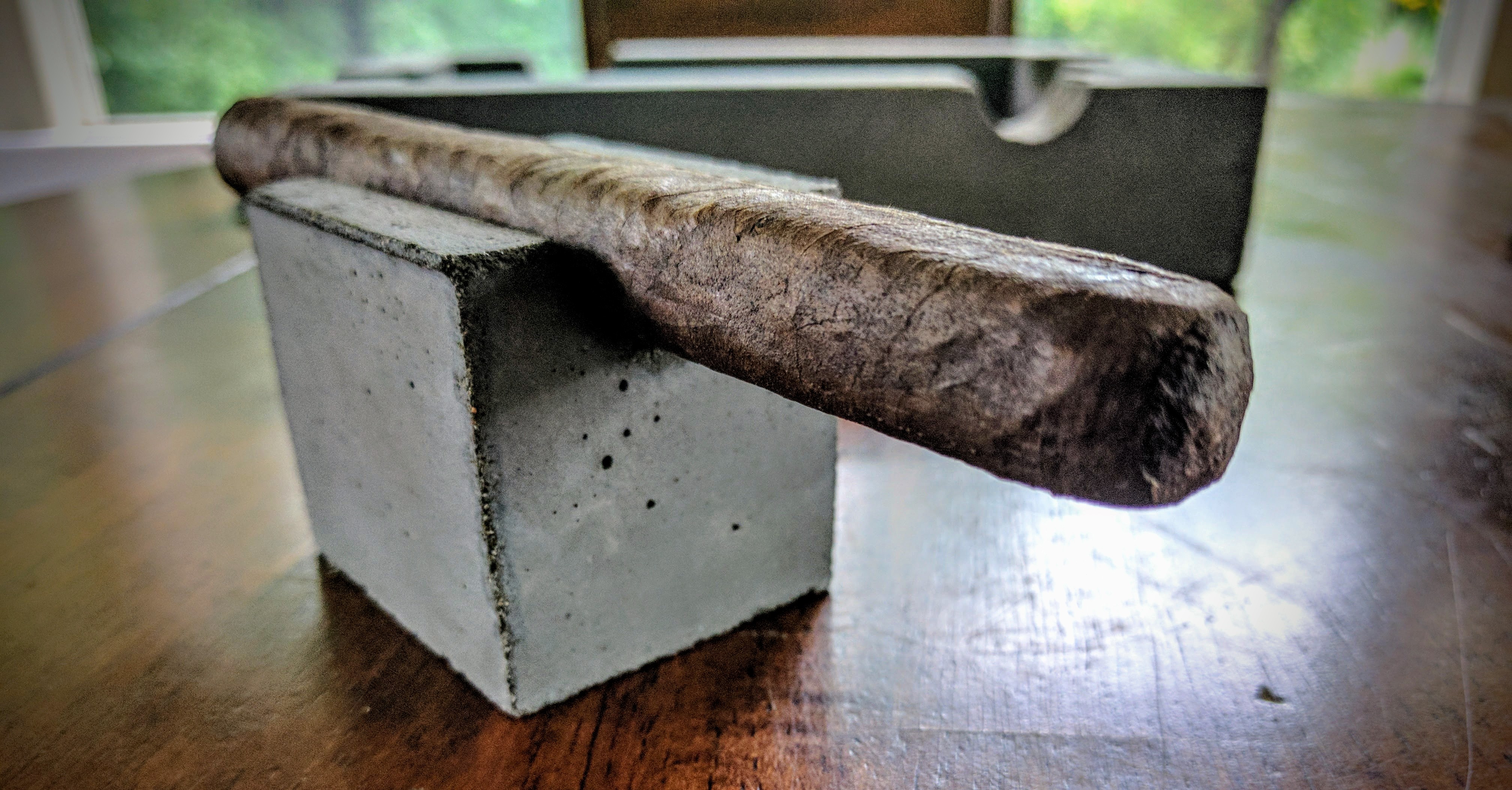 AROMA
The foot conjures up some immediate chocolate, cinnamon and horchata – definitely smelling great to pair with coffee.
COLD DRAW
The cold draw is light and quite sweet.  This reminds me a lot of the milk after you eat a bowl of Lucky Charms.  The draw itself is a little tight, but definitely workable.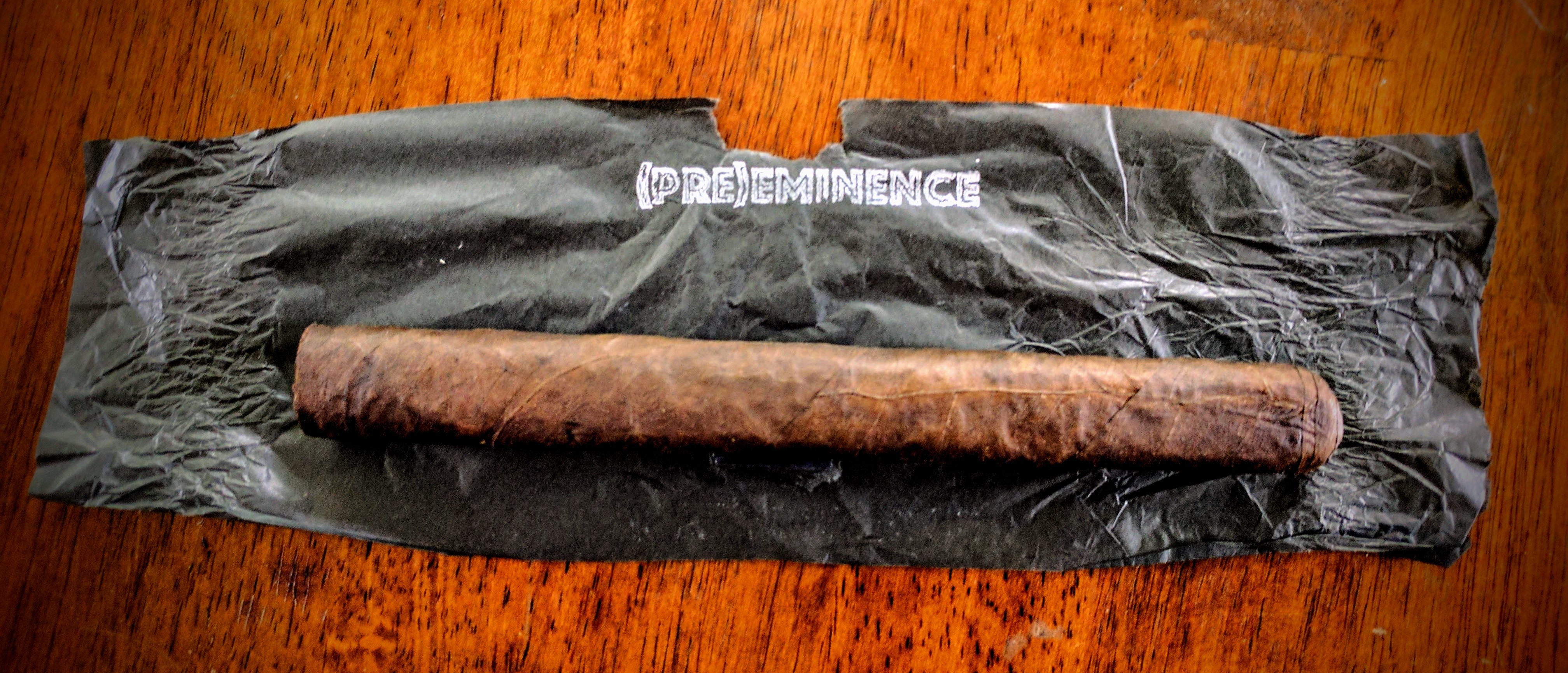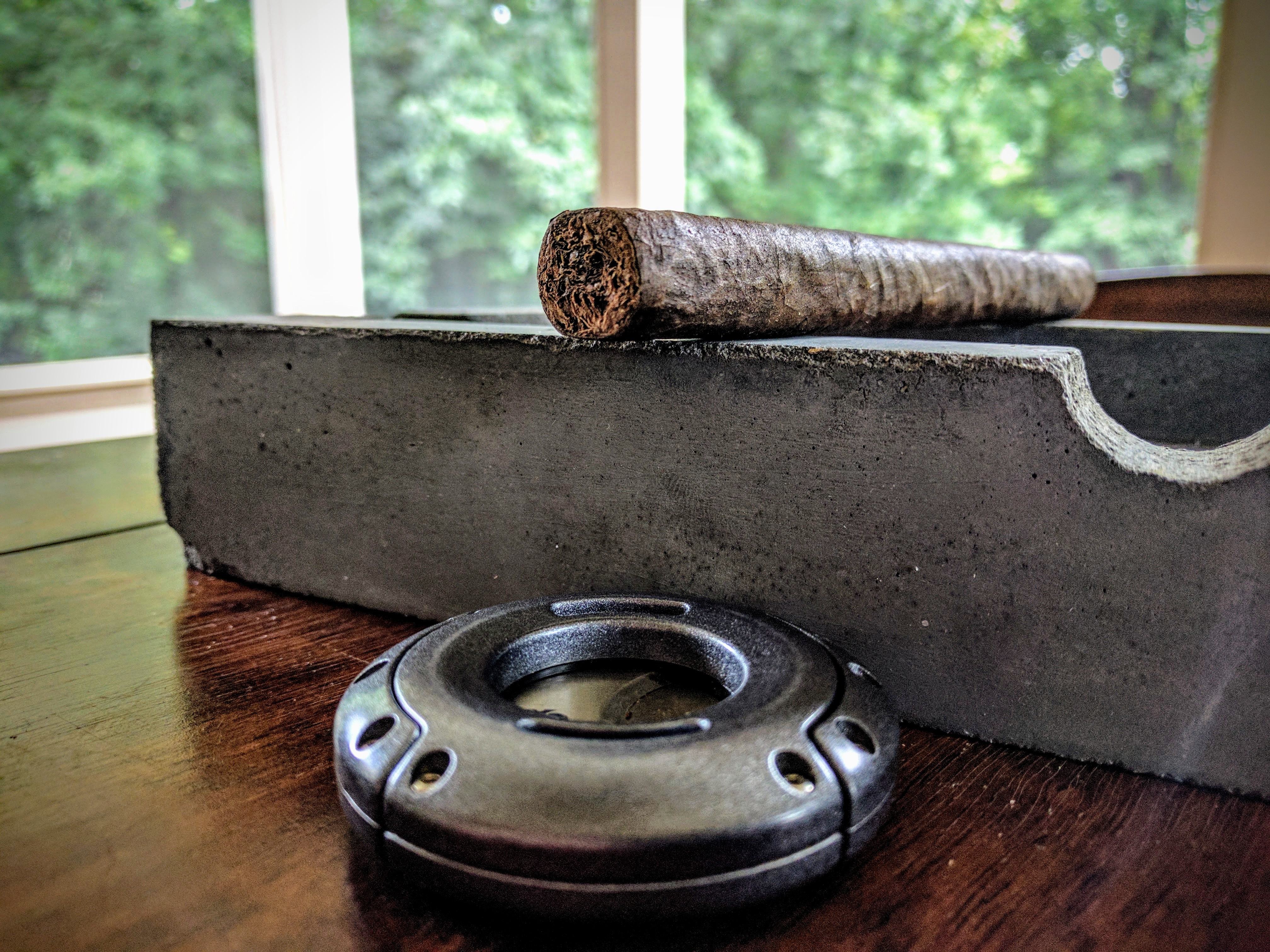 LIGHT & DRAW
Cut:  Xikar XO
Fire:  S.T. Dupont Defi Extreme
Toasted the foot, clipped the cap and we're lit!  The first flavors to pop out are deep rich and chocolatey.  There's a little spice on the tongue too – light but present.
The draw is still a bit tight – hopefully it opens up as it burns.  Speaking of the burn, the burn line has started with some waviness – nothing extreme and I think it will correct itself with time.  The ash is quite dark – leaning more towards a graphite and medium gray color.
SMOKE
Each puff of the (Pre)Eminence spews out a modest amount of white smoke.  Resting, the cigar continues to have smoke trail from the tip.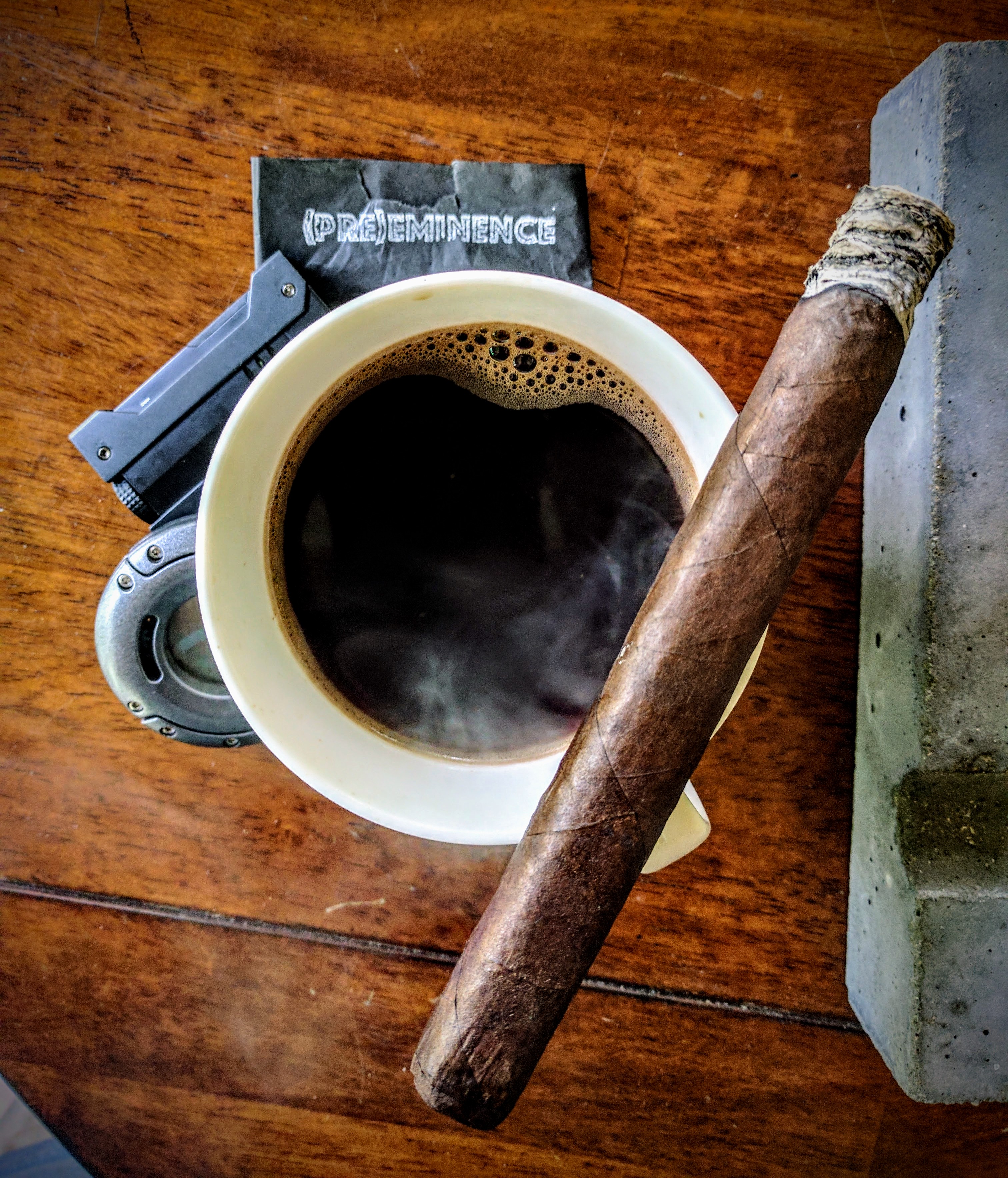 FIRST THIRD
>> breakfast sausage, pepper, cream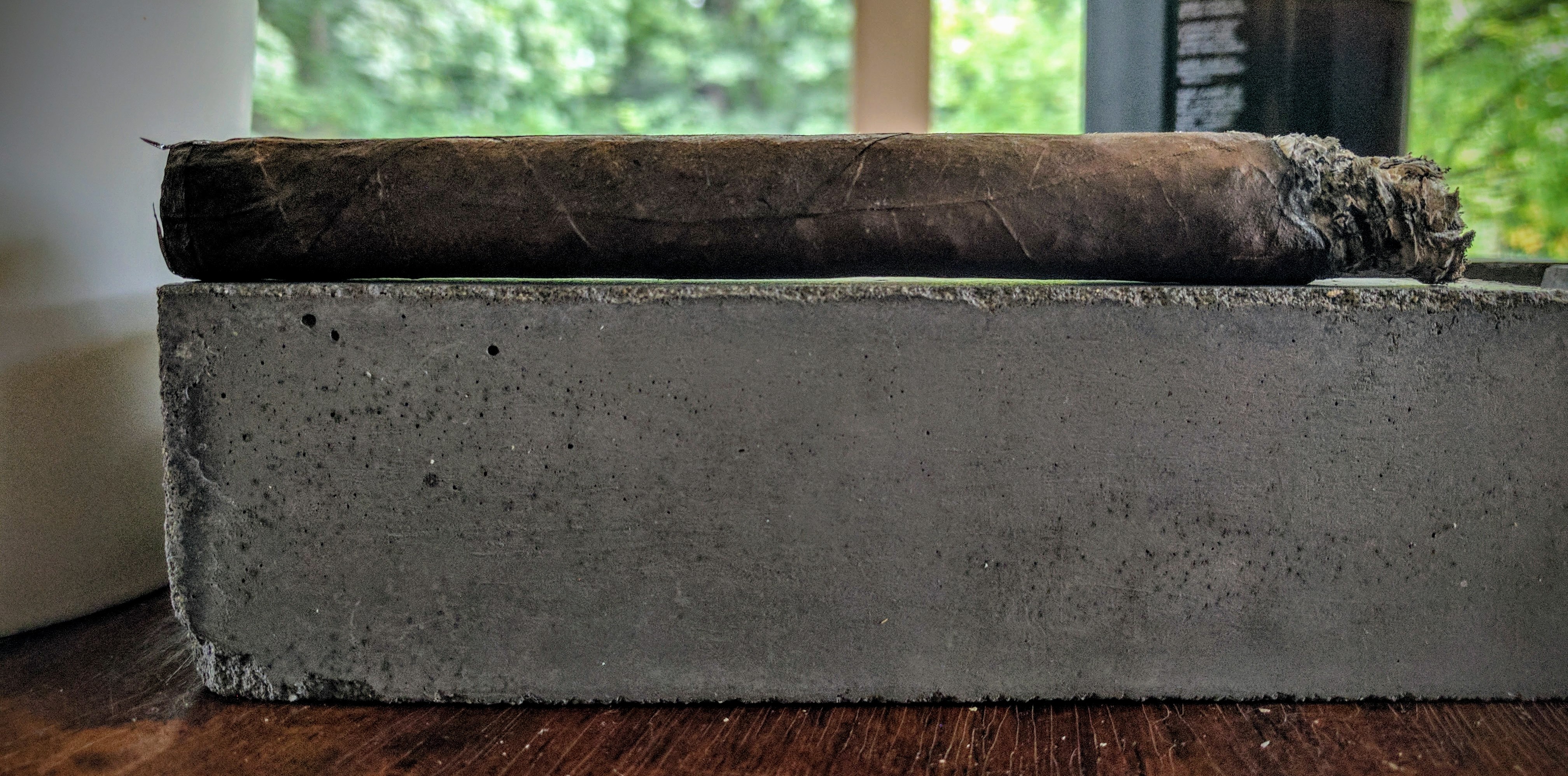 As I get into the first third in earnest, the peppery spiciness is in full swing.  It's not distastefully peppery though, it brings to mind the pepper of a breakfast sausage patty.  There is a little cream starting to develop but the chocolatey notes of the initial palate are nearly gone.
The draw has improved and it's smoking with just a hair of resistance now.  The burn line remains … interesting.  It's still uneven but, again, doesn't warrant any correction at this point.
The ash has actually lightened significantly.  I feel like ash is typically the same color throughout a cigar, so we'll have to see how the (Pre)Eminence unfolds as I smoke it down.  So far, this is pairing very well with my strong cup o' joe.  The pepper matches well with the strength of the coffee.  The cool burn of the churchill is great to match the heat of the coffee.
SECOND THIRD
>> black pepper, chocolate, cream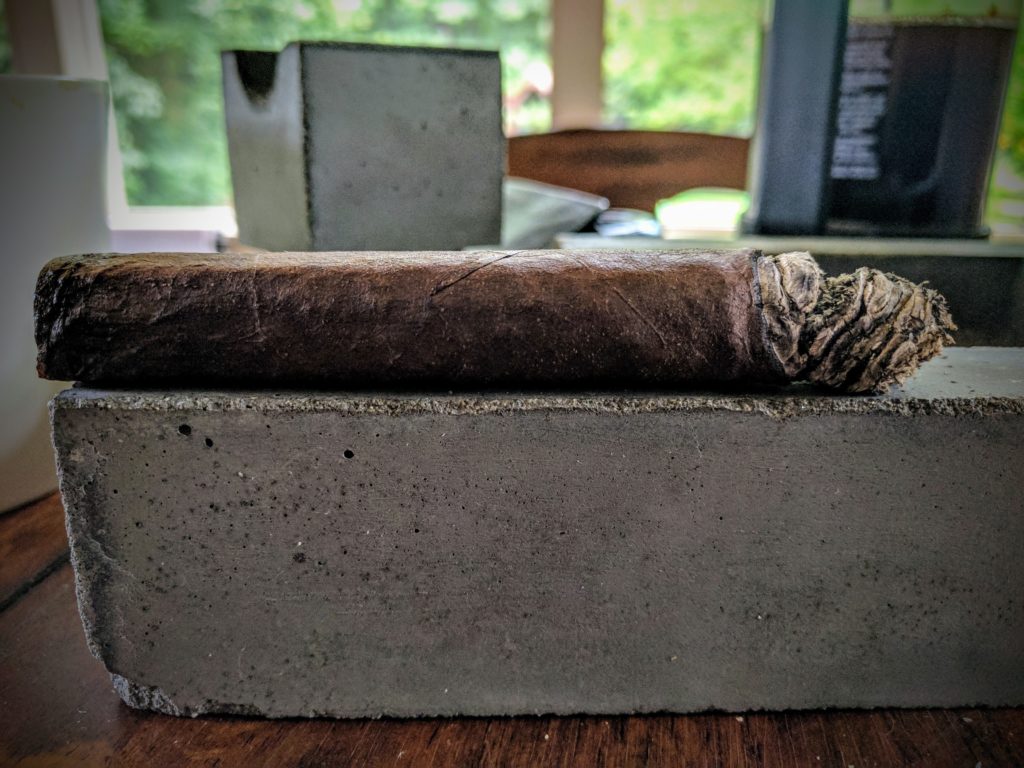 The middle third continues the black pepper noted in the first third.  There's a faint chocolate returning to the palate; it's more of a lingering notion rather than an overt chocolatey-ness.  The cream is still present as well – very light. In no big surprise, the retrohale brings out the pepperiness but it is fairly smooth and not too harsh.
The draw is just about perfect – zero complaints – it's really opened up nicely.  The same can be said for the burn line – everything has evened out and it's burning beautifully – crisp, clean and razor-esque.  The ash has reverted back to a slightly darker gray with just a hint of brown to it. It's been stacking well and ashing itself about about every inch.
FINAL THIRD
>> black pepper … that's it.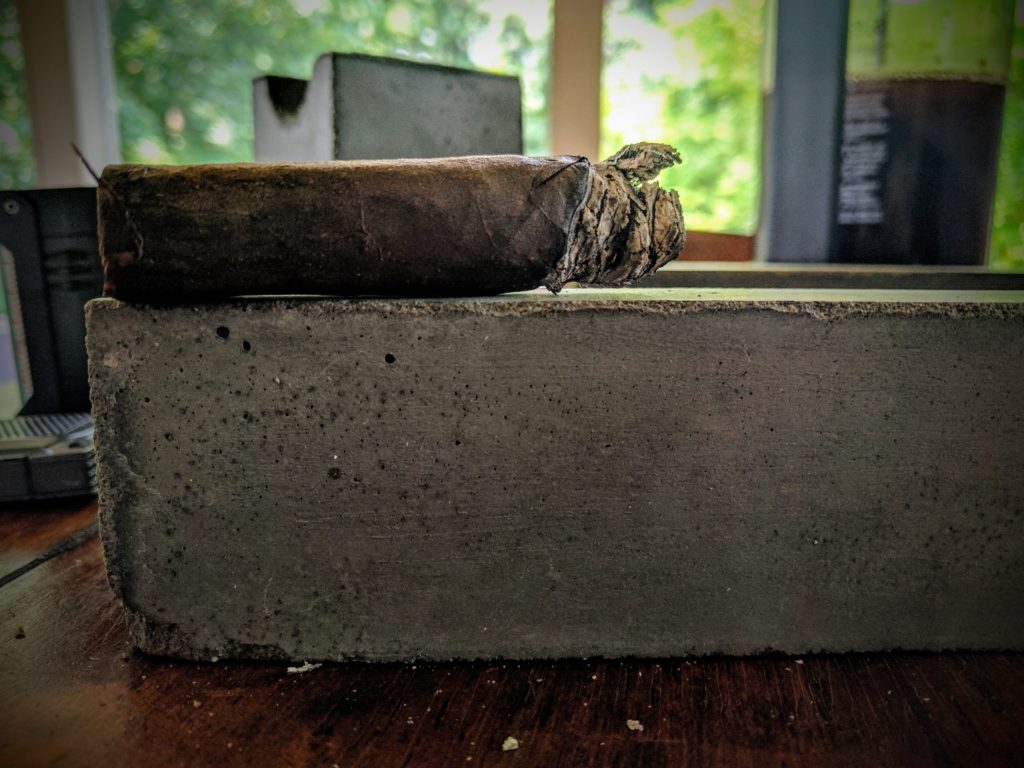 So … still pepper.  It had started to fade a little bit but it's really been a consistent flavor throughout.  I had hoped that the chocolate/cream that had started to develop in the middle third would build and swap out for the pepper, but no such luck.
Again, the draw and burn have been flawless all smoke.  Great performance indicating quality construction and leaves.  The ash mosaic continues as the (Pre)Eminence has wavered back and forth from extremely dark to very white.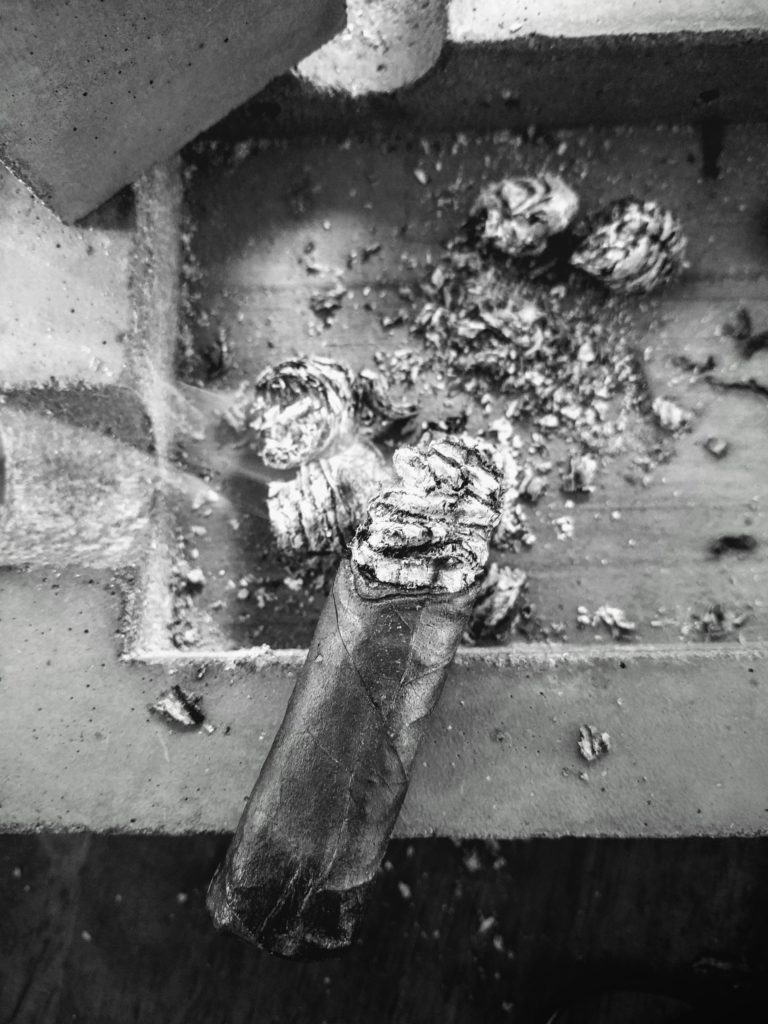 FLAVOR PROGRESSION
(Pre)Eminence was one note.  The flavors start with pepper, introduce a little chocolate and cream and then the pepper continues to dominate.  I had high hopes that the pepper would take a back seat at some point but that was never the case – black pepper through and through.
BURN EXPERIENCE
The burn rate on the box-pressed churchill was perfect – never too fast or too slow.  It burned cool down to the nub – which as mentioned, complimented the coffee paired with it nicely.  The cigar burned well and never required a relight or correction.
RATING BREAKDOWN
0.60 / 0.80 … Craft & Aesthetic
0.50 / 0.50 … Pre-Light Characteristics
0.39 / 0.50 … Lighting Process
5.52 / 7.70 … Smoking Experience
0.25 / 0.50 … Personal Enjoyment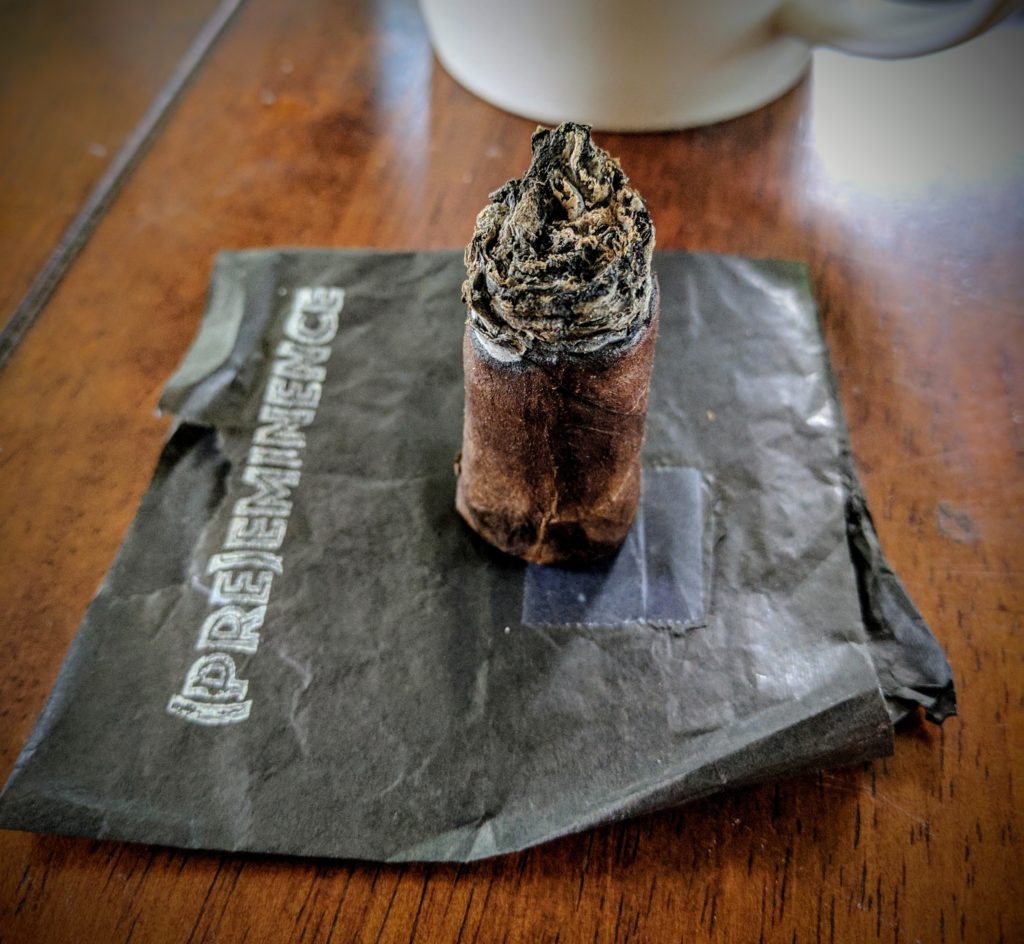 BREAKFAST SAUSAGE ACCOMPLISHED.
While I did enjoy the (Pre)Eminence, it needed to progress more to really go into my normal rotation.  Pairing with a nice, strong cup of coffee was excellent.  I wonder if this blend would be better showcased in a corona vitola, something a little quicker to smoke.
Ezra Zion's (Pre)Eminence was a good, solid early day cigar.  The breakfast sausage flavor paired superbly with coffee but as the experience continued I was left wanting more variety and complexity from the cigar.  If pepper is your thing, this is a great option as it's a well-made cigar that showed no burn issues or real construction problems. 
SIMPLY STOGIES RATING:  7.3 / 10.0
I love reading other reviewers' thoughts on the cigars I'm smoking and reviewing.  If someone else has review Ezra Zion's (Pre)Eminence, I couldn't track it down.  Nothing out there to really compare to at this point.