With a pedigree lasting 155 years, Five Brothers Pipe Tobacco is a living classic. It is a shag cut pure burley blend with a legendary strength. This high nicotine sets it quite apart from some of the more well known pouch tobaccos. With its unassuming label, pure tobacco flavor, and strength, Five Brothers is primarily made for established pipe tobacco devotees, but may be appealing from those coming from cigars or other forms of tobacco.
In this review, Michael gives a brief summary of the Five Brothers and the environment in which it was smoked. Then he gives a snippet of its long and varied history, before some comments on the pouch design, and the tobacco itself. There are flavor notes for smoking Five Brothers in a briar, cob, and mortar pipe, with some notes on the variation in the experience. Finally, he writes comments on the flavor progression, burn experience, and a list of the similar tobaccos before a final summation and scoring of this pouch pipe tobacco.
BULK or TIN:   Pouch
SIZE:   1.25 OZ (35 g)
ORIGIN:   United States
BLENDING HOUSE/PRODUCER:   STG
BLENDING COMPONENTS:   100% Burley

STRENGTH:   6/7
SOURCE:   pipesandcigars.com
WHERE:   
My backyard
WHEN:   
March 2021
DRINKS:   
water
WEATHER:   
Inches of snow through the first blush of spring
WHAT'S ON:   
The crack of ice and the chirping of birds
RELEASE TYPE  available
ORIGINAL RELEASE DATE  1866
SPECIAL RELEASE  N
AVAILABILITY BREAKDOWN
o  Pouch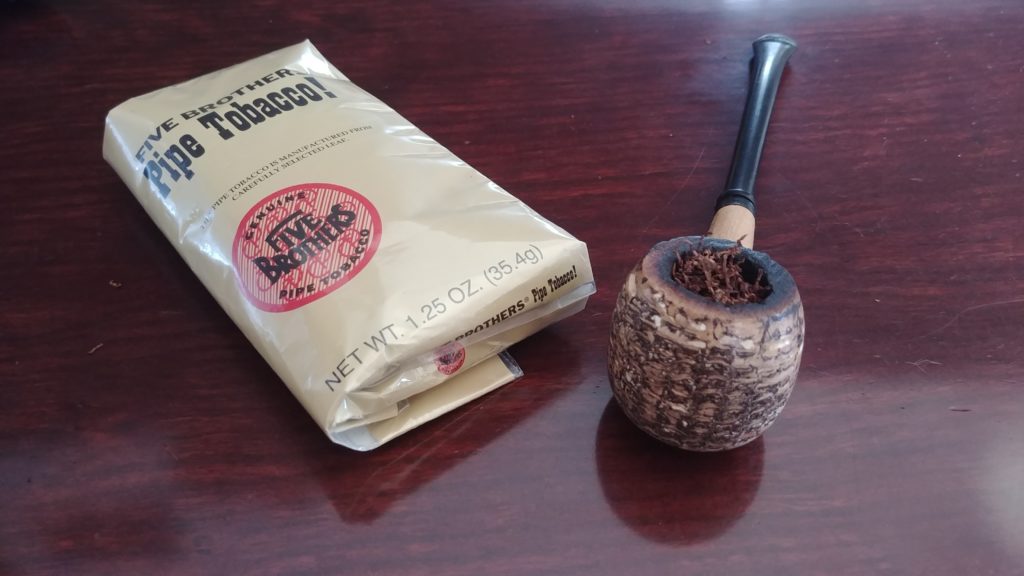 RESEARCH & BACKGROUND INFO
Five Brothers Tobacco Works was established in 1866 by the Finzer Brothers
Yes there were in fact five brothers
Finzer Brothers Tobacco was acquired by the American Tobacco Company in 1900
American Tobacco Company was disbanded as a trust in 1911
5 Brothers was spun off to Pinkerton
Pinkerton sold the rights to Swedish Match in 1985
Scandinavian Tobacco Group acquired Pinkerton in 2010
Throughout the more than 150 years, production has never left Kentucky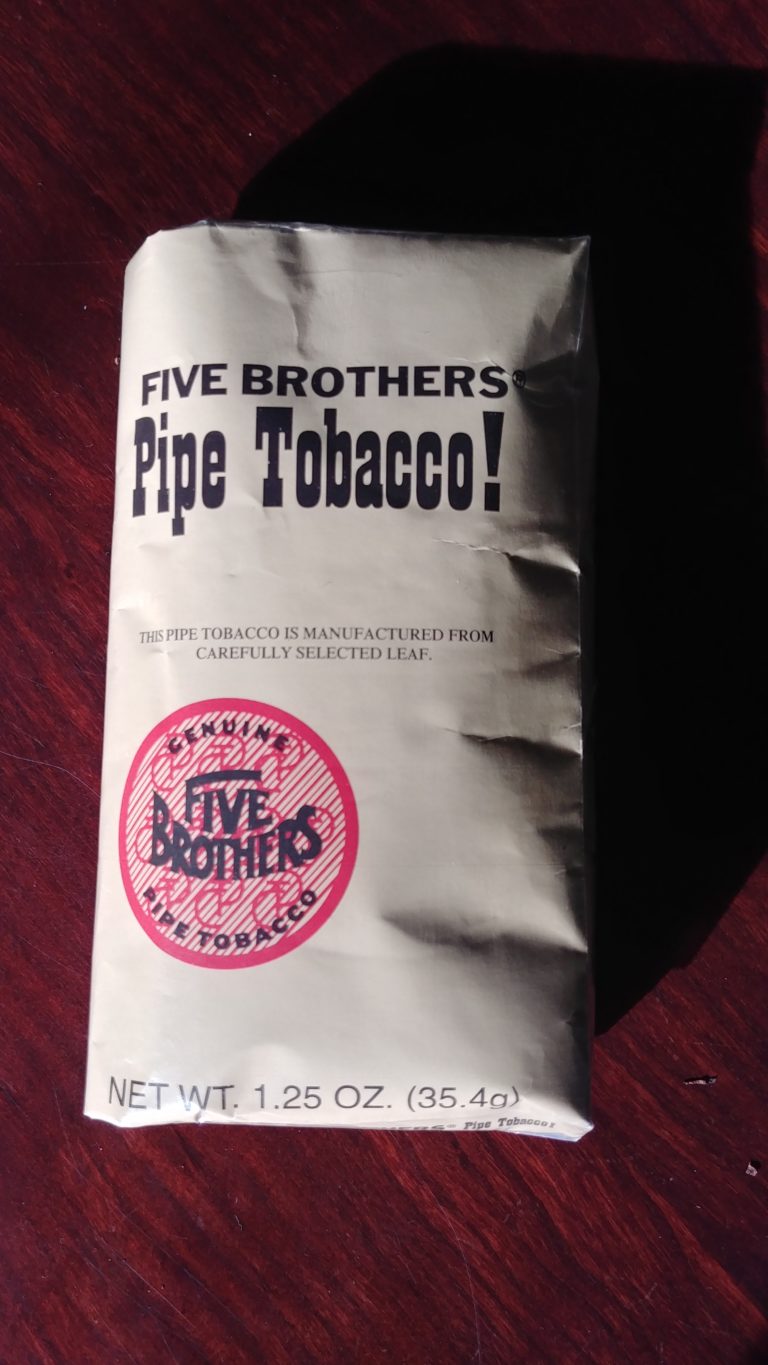 With its brown western font, tan pouch, and old fashioned stamp, this 5 Brothers announces itself as a distinctly historical tobacco. It's not advertising itself to youngsters or new smokers. It's packaged as a pipe tobacco for pipe tobacco smokers.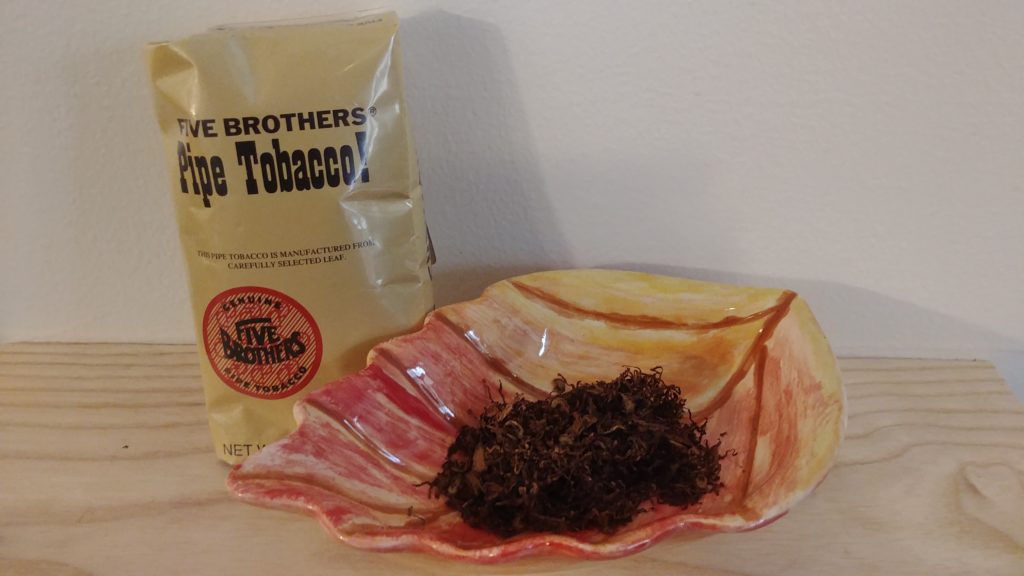 LOOK & FEEL OF THE LEAF
Five Brothers is a true shag cut. The pieces are long and almost two-dimensional they are so thin. Pulling the tobacco from the pouch, you'll find the shag is wound up into tangled clumps. You'll also find it's quite dry to the touch.
TIN AROMA
Coffee, licorice, walnuts, raisins, Hershey's chocolate syrup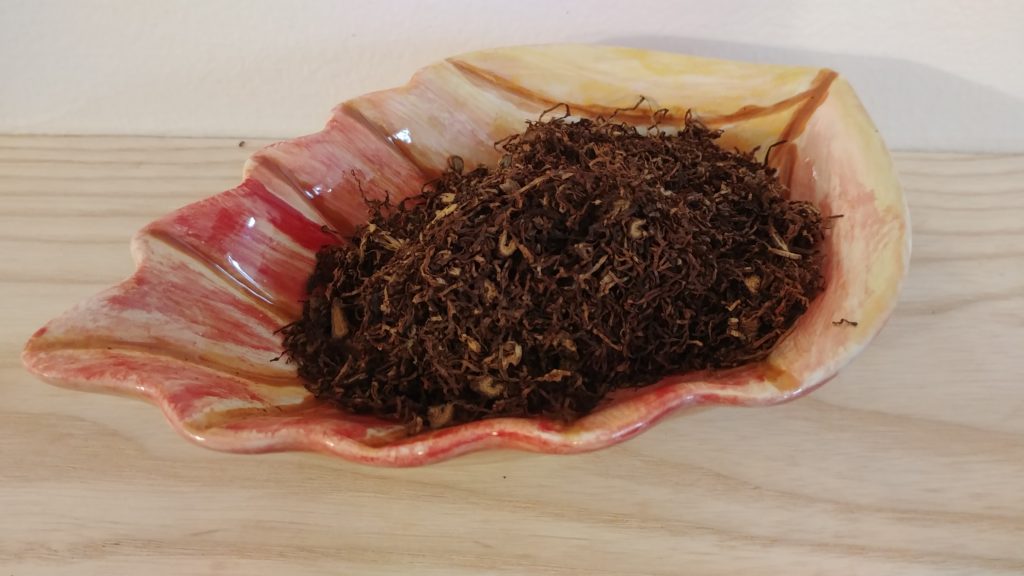 LIGHT & DRAW
Packing Style:  A single pinch of the shag clump was enough to fill the pipe
Fire: Astronaut bic
Five brothers is a cinch to pack, it's shag nature also is a natural brake on packing too much of this stout blend.
SMOKE & ROOM NOTE
The smoke is medium-to-thin. Any side stream is also thin and imperceptible. If you pushed me, I'd say vaguely nutty.
FIRST BOWL
>> Briarworks Buckeye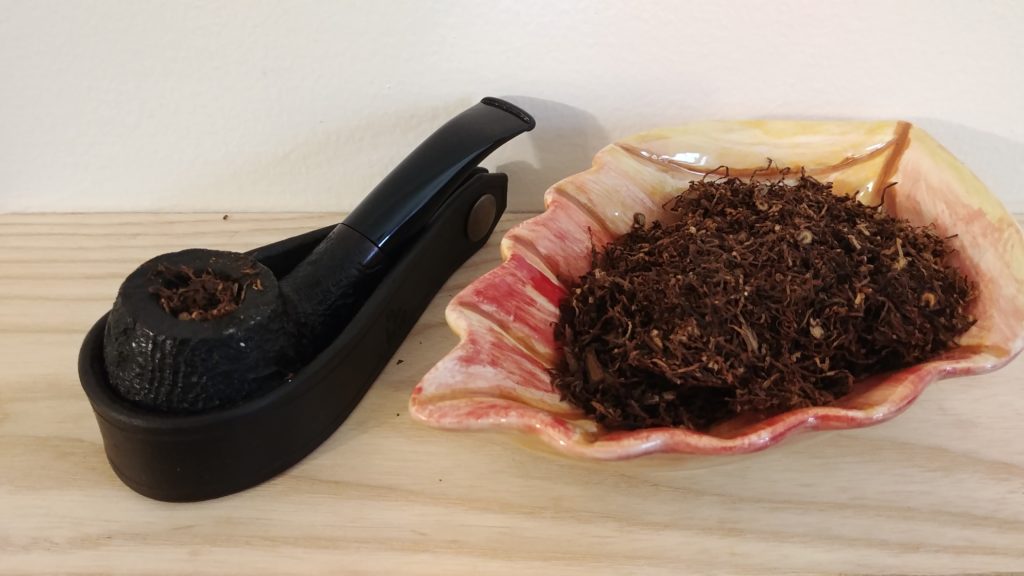 Hay, hazelnuts, and vaguely fruity. It has a mild sweetness and a dash of salt. Oily and rich. Something like a cigar wrapper. Creamy Black pepper, white pepper, and a touch of cayenne too. About the halfway point the pepper fades. This gives way for the hazelnut and oak to come through. Cocoa and coffee, with a creamy sweetness comes through towards the end.
SECOND BOWL
>> Missouri Meerschaum Dwarf Cobbit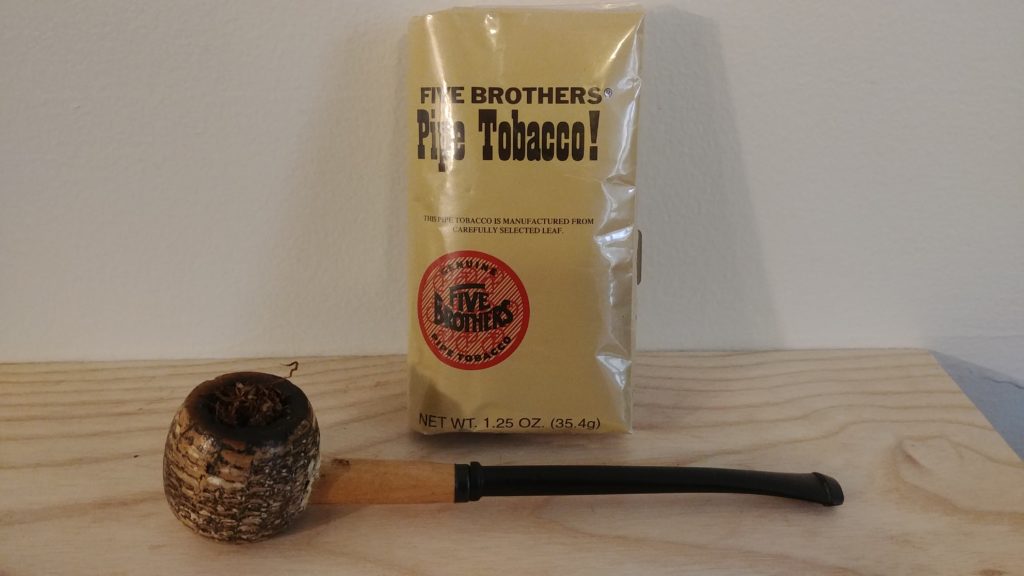 Sweet bran and raisins. Quite like one of my favorite breakfasts. Coffee, quite rich and oily. Fruit and hazelnuts. Loads of pepper rushes in. Deep earth and leather. Pepper and a bit of berry jam. Again about the halfway point the pepper backs off, cream and macadamia nuts comes through. Craisins. A slight floral minerality appears. Ends with fruit, macadamia nuts, and sweet bran.
There's little difference in the cob, maybe the sweetness comes through a little more.
THIRD BOWL
>> Vermont Freehand Morta Cherrywood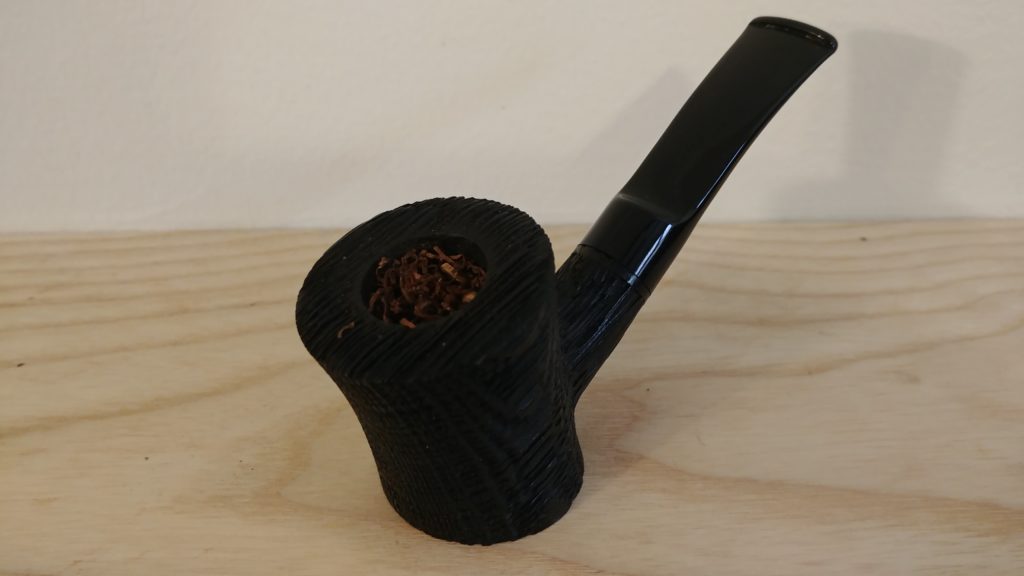 Raisin bran. Very sweet. Brown bread. I mean very sweet. Figs. Coffee. The oil comes up again. And the pepper bomb. Malty. Walnuts and macadamia nuts. Spicy. Cigar wrapper. Cream, white, black, and cayenne pepper. Leather and cocoa. A touch of bitterness. Then the pepper drops off a cliff, revealing dark chocolate, cream, and macadamia nuts.
In the taller bowl you get a bit more of each phase, which I think is an improvement over the shorter bowls.
FLAVOR PROGRESSION
Five Brothers is one of those rare tobaccos of three parts. At first its very branny-sweet. Then the pepper hits and takes over the whole bowl. Then the pepper evaporates leaving a lovely cocoa and macadamia nut flavor profile.
BURN EXPRIENCE 
As the shag is practically tinder, it will light with just the merest suggestion of flame near the bowl. However, without constant vigilance with your tamper it is likes to put itself out, but it relights so easily it's really no bother.
SIMILAR TOBACCOS
Prince Albert, Carter Hall, and Solani Aged Burley Flake have similar straight burley flavors, but between the pepper blast and the strength this is much more akin to C&D Burley Flake #1, #3, and C&D Haunted Bookshop.
RATING BREAKDOWN
0.25 / 0.50 … Craft & Aesthetic
0.40 / 0.50 … Tin Aroma
0.50 / 0.50 … Lighting Process
6.50 / 8.00 … Smoking Experience
0.35 / 0.50 … Personal Enjoyment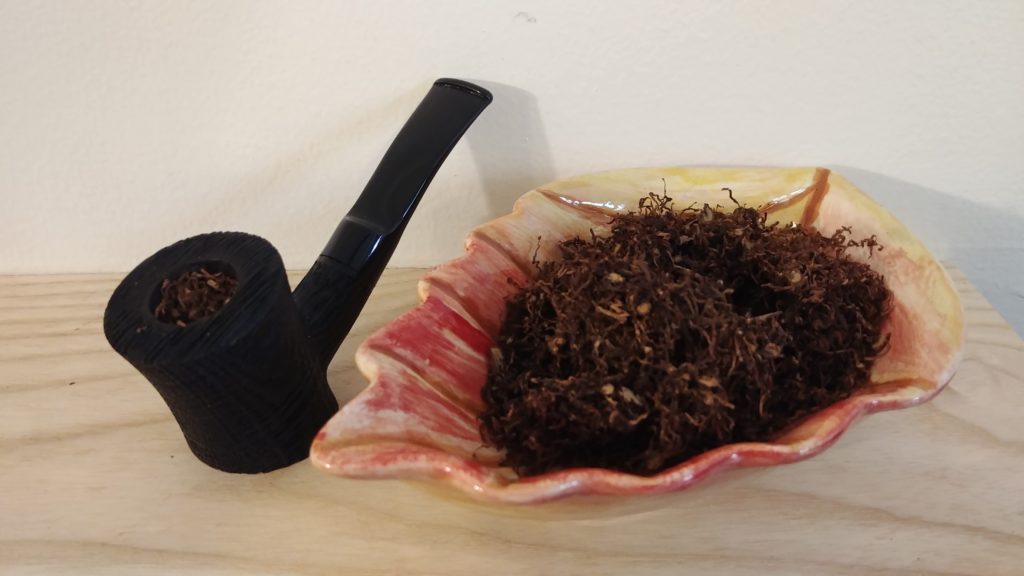 WE HAPPY FEW.
Five Brothers is a delightful relic from another age. While the Finzer Brothers were getting their tobacco business in order, the United States was deciding whether they would remain united. This tobacco is unlikely to have changed from that time, with the hint of licorice in the pouch which was customary for 19th century tobacco, easy packing, and strong, but unassuming tobacco. 
I like this tobacco quite a bit, particularly the first and last portions, less so the pepper dominate middle. Many smokers will find that pepper the most delicious part. I think many smokers, particularly those used to other pouch tobaccos like Prince Albert or Sir Walter Raleigh taken aback, first by the head on burley flavors, and later, by the unalloyed strength Five Brothers. While this review was of how this tobacco can be enjoyed itself, it has excellent potential to add both power and complexity to any blend missing one or both aspects.
SIMPLY STOGIES RATING:  8.0/ 10.0