VITOLA:   Corona Gorda
SIZE:   5-5/8″ x 46
ORIGIN:   Nicaragua
FACTORY:   Tabacos Valle de Jalapa S.A.
WRAPPER:   Nicaraguan Corojo 99
BINDER:   Nicaraguan Corojo 99
FILLER:   Nicaraguan Corojo & Criollo from Estelli & Jalapa
STRENGTH:   Medium
SOURCE:   
Jungle Jim's
WHERE:   
Three-Season Porch at Home
WHEN:   
January 12, 2017 @ 10 AM
DRINKS:   
Starbucks Dark Roast
WEATHER:   
Super windy morning but great temperature – low 60s and raining lightly
WHAT'S ON:   
WGR 550 – Bills' just got a new coach to learn up on
RELEASE TYPE  Regular Production
ORIGINALLY RELEASE DATE  September 2015
TOTAL PRODUCTION
Typical Box Size:     Boxes of 25
Production Totals:  On-going production; no total production numbers
VITOLA BREAKDOWN
o  Robusto – 5-1/2″ x 50
o  Corona Gorda  (5-5/8″ x 46)
o  Toro Huaco – 6″ x 56
o  Torpedo – 6-1/4″ x 52
o  Churchill – 7″ x 48
o  Lancero – 7-1/2″ x 40

RESEARCH & BACKGROUND INFO
The El Gueguense line is the first produced by Foundation after Nick Melillo left Drew Estate in 2014.  xxx 
The cigar is made entirely with AGANORSA tobacco.
According to Foundation's website the notoriously difficult to spell/pronounce name finds its origins from the indigenous people of Nicaragua's sarcastic name for the Spanish explorers – 'el gueguense' – which means 'the wise man'.  It is considered the culture's "signature work of drama, the ultimate expression of [their] unique history, language, dance and culture." 
During the Gran Baile, participants wear brightly colored, eccentric costumes – as shown on the cigar's band.
Interestingly, Melillo knew that growing wrappers in Nicaragua's sun-intense environment is very difficult but elected to maintain his devotion to the region by growing in shade conditions and negotiating with fact that the wrapper will burn a little unevenly, requiring some touch-ups – he just felt the flavor profile was worth it.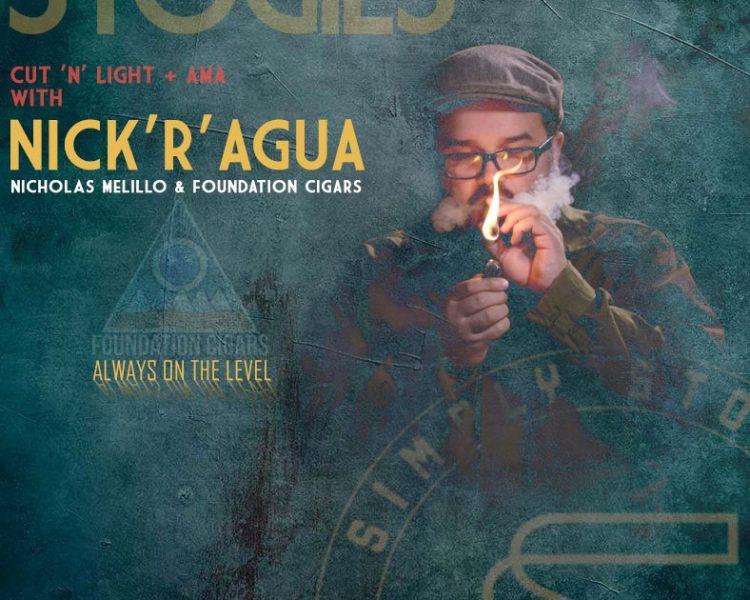 I get the opportunity to sit down and chat with Nick Melillo, master blender, and founder of Foundation Cigars for a SimplyStogies.club AMA/Virtual Cut & Light via Zoom Meeting. We had a fantastic conversation about Nick's cigar journey, how he got started, what he's learned, and where he's going. We discussed a slew of topics...
Read More
I really like when a cigar's band has a little logic to the design.  Stemming from the gueguense history, the band is brightly colored and features a traditional costume worn for the celebration.  The band is not going to win any awards but it does reinforce the cigar's concept – which gets it a high rating from me!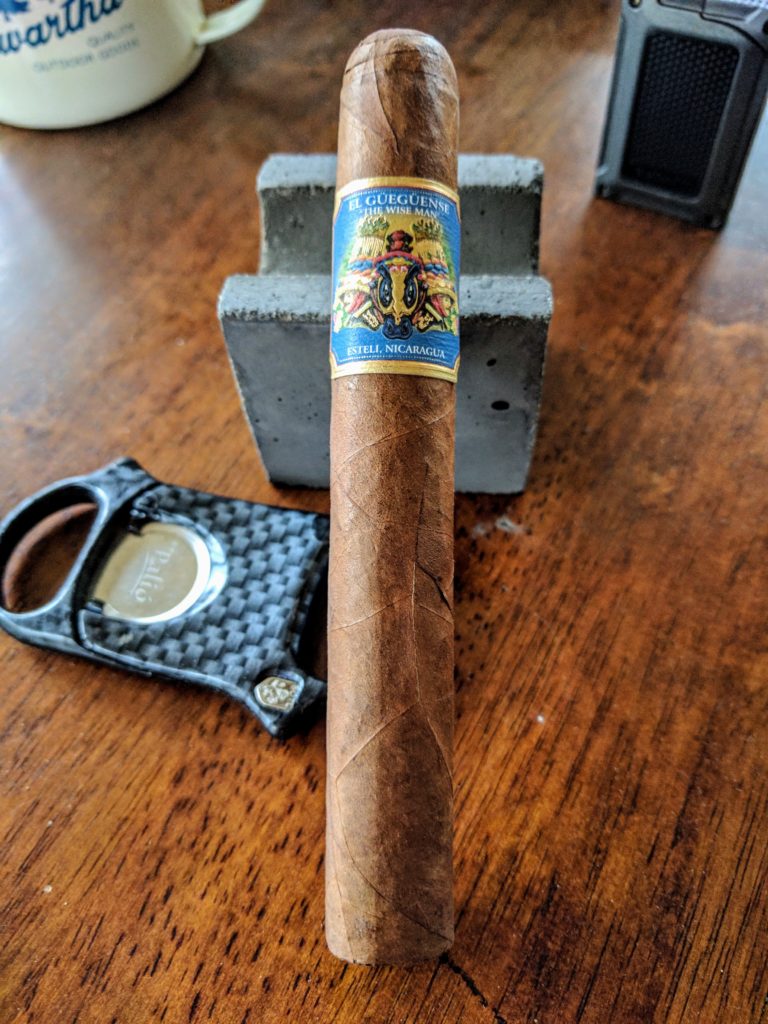 CONSTRUCTION
The cigar looks and feels very well crafted.  A couple good sized veins throughout but relatively low giving it a smooth texture.  The cap is nicely done – as is the foot, which looks packed well and uniform except for a couple little gaps.
The cigar feels very firm with no soft spots – which helps reinforce the notion of a solid, uniformly constructed cigar.  The vitola, corona gorda, feels absolutely perfect in the hand – perfect ring gauge and weight for my taste.
AROMA
Strong tobacco on those nose backed by notes of spice (like cinnamon) and some cedar.
COLD DRAW
Cold draw is fantastic.  It's dense and a little hard to pull but it feels perfect.  Some definite strong tobacco notes mixed with leather and cedar.  Leaves a sweeter, raisiny taste on the lips.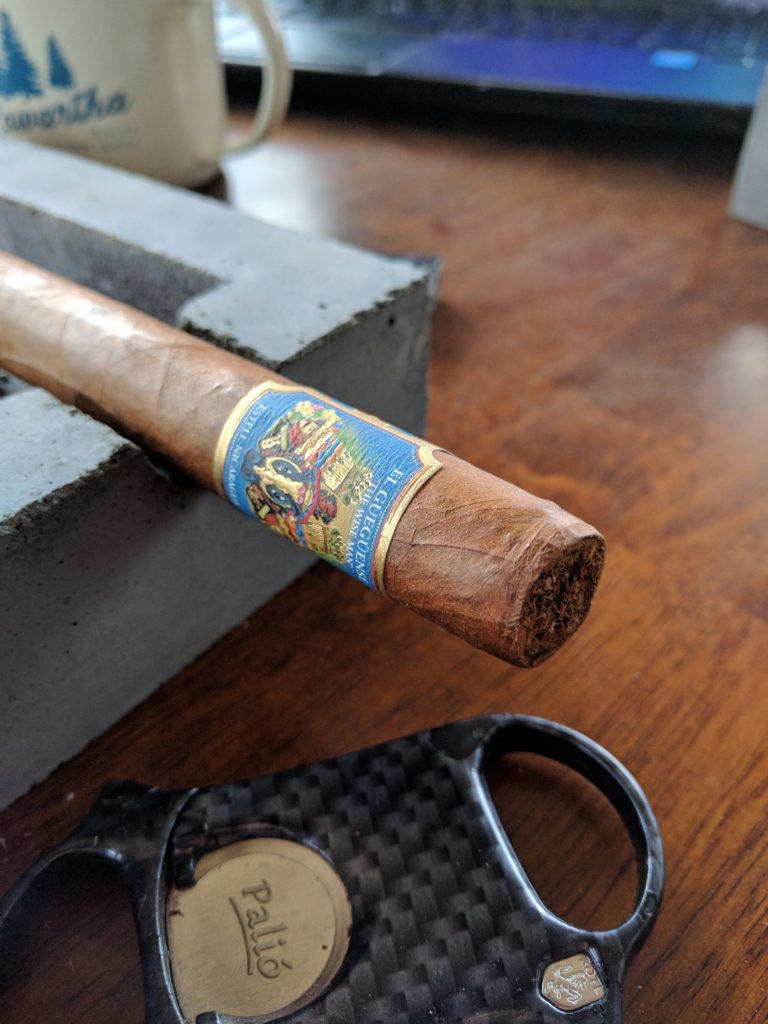 LIGHT & DRAW
Cut:  Ancient Palio
Fire:  Saints & Sinners single-torch
Snip the tip, toast and fire it up with my single torch lighter.  Some definite pepper hits you right off the bat.  The cedar notes also continue mixed with some slightly sweet creaminess.
SMOKE
Smoke is minimal. While resting, you would never know it's lit.  While smoking, it puffs out enough smoke to be satisfying but it's certainly not a chimney.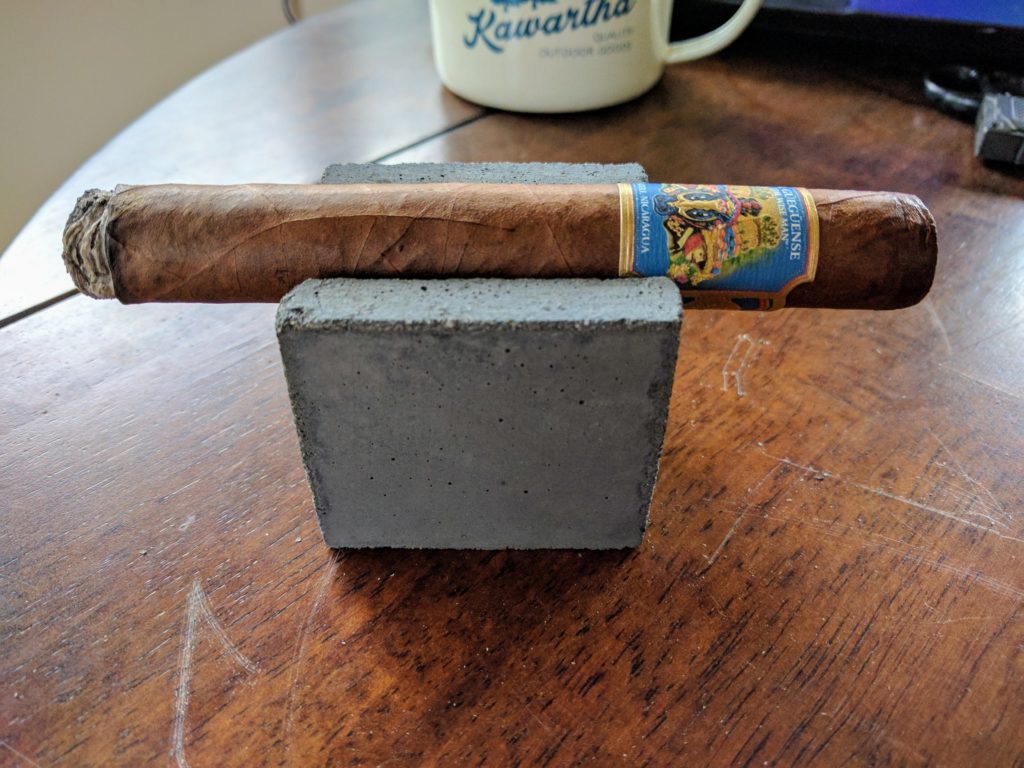 FIRST THIRD
>> pepper, cream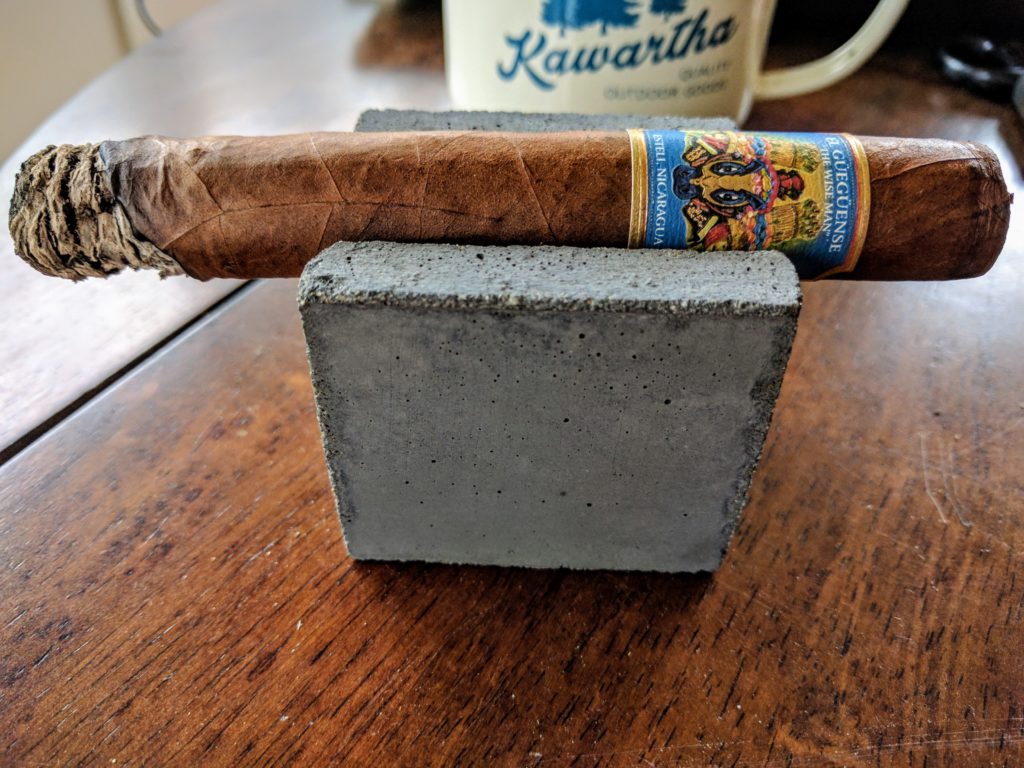 The cigar mellows out a bit as it gets into the first third in earnest – good to note though that it is very flavorful – don't think 'boring' mellow.  There are still prominent pepper notes with an underlying creaminess.
The wrapper is burning unevenly at times but seems to correct itself – no touch-ups required so far.  Well-layered grey/white ash stacking nicely – but deliberately ashed to avoid some uninvited lap ash.
SECOND THIRD
>> dark chocolate, bbq, vanilla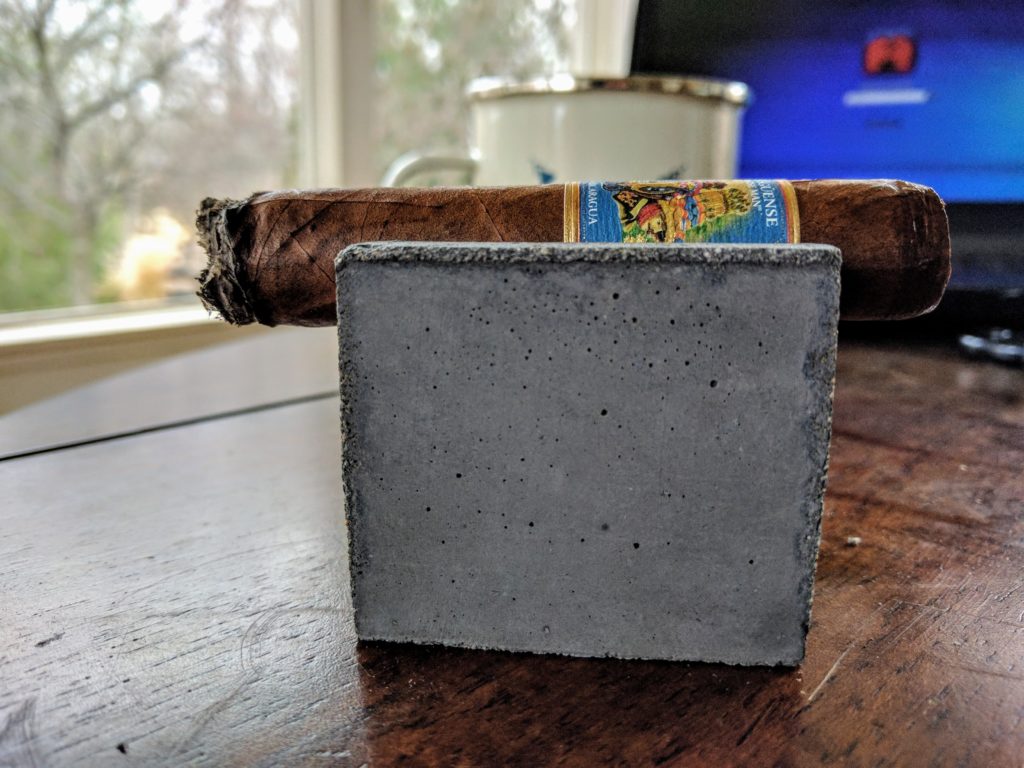 As I get into the second third, the pepper is gone.  It's transitioned to a smoother profile with some notes of high-percentage cocoa chocolate.  Halfwheel notes some barbecue spice and I kinda get that – maybe like a rib rub or deep caramelized bbq sauce.  Maybe some very subtle vanilla sweetness too.  Again, leather notes are present.  The burn continues to be consistent and sharp; draw is flawless. 
Side note: I know Dave (from Cigar Noise) notes in his reviews a heavy dose of cherries in the second third of the robusto vitola and I just can't find it in the corona gorda.  Maybe it's a minor difference in the blend, leaves used or just my palate – I even went and ate a cherry to try and compare.  I can note the same bitterness in the aftertaste of a cherry but not the upfront sweetness at all.
FINAL THIRD
>> red pepper, nut, sweetness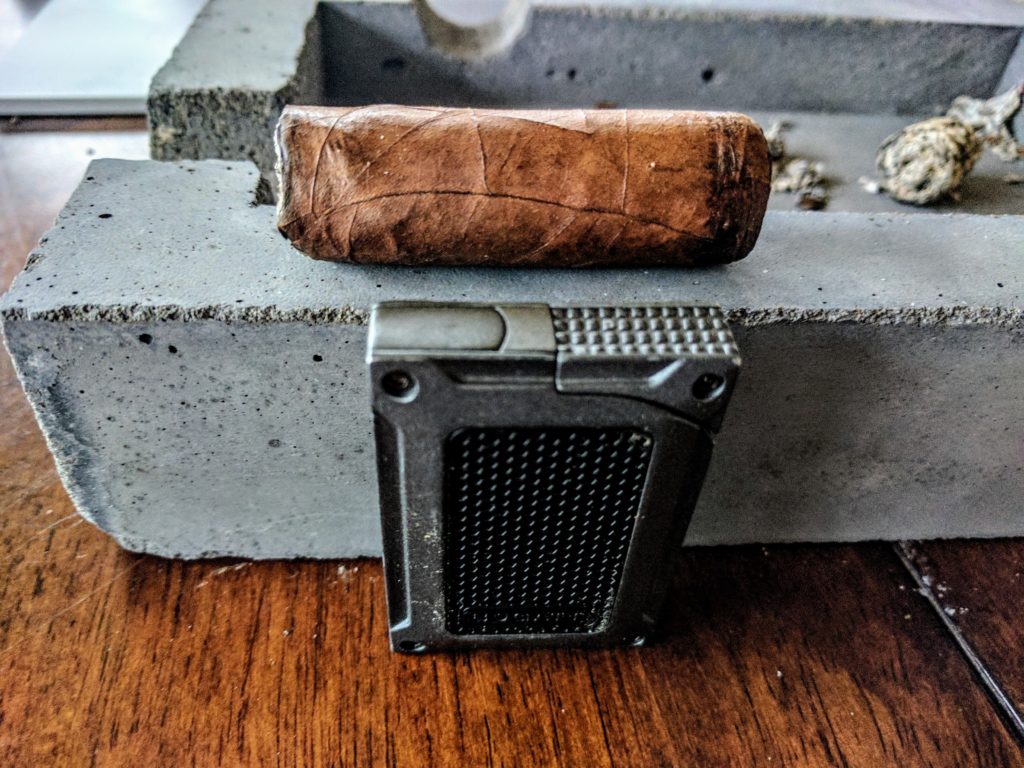 Smoke!  Suddenly, out of nowhere, this thing is a chimney!
I'm getting some red pepper and spicy notes.  Also some nut flavors – maybe walnut, pistachio and/or cashew.  The sweet tones present throughout the smoke are still there but on a much more muted level. 
About midway through the third, it finally needed its first touch-up – not a problem considering it's performed flawlessly so far!  Working down to the nub, this thing has been truly a pleasure to smoke.
RATING BREAKDOWN
0.77 / 0.80 … Craft & Aesthetic
0.50 / 0.50 … Pre-Light Characteristics
0.50 / 0.50 … Lighting Process
6.76 / 7.70 … Smoking Experience
0.50 / 0.50 … Personal Enjoyment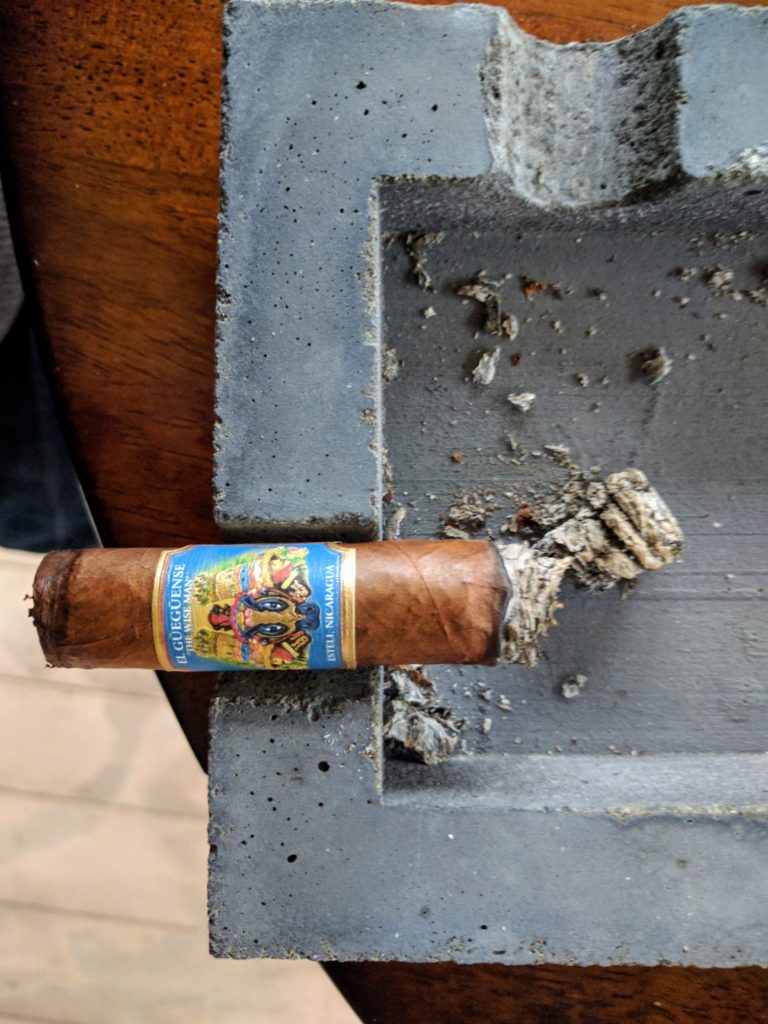 EXEMPLARY NICO PURO.
Foundation's El Gueguense will leave you scratching your head on how to say all those letters in an intelligible way but that may be the biggest knock on it!  Overall, this was a phenomenal cigar.  The flavors were a little muted in my opinion but definitely easy to distinguish at times.  It's clearly very well crafted and smoked nearly perfectly.  I admire the dedication to using purely Nicaraguan leaves and I think the result was a very unique experience.  I would not hesitate to smoke plenty more of these.  If Nico Puros are your thing, you can't afford to miss this one!
SIMPLY STOGIES RATING:  9.0 / 10.0
I love reading other reviewers' thoughts on the cigars I'm smoking and reviewing – it helps to show that no one review is perfect and there's always different opinions and tastes out there.  Here's how my review stacks up with some of the best in the biz.
I found four reviews or ratings for the corona gorda El Gueguense from Foundation.  They averaged out to be about a 9.03 which amazingly is exactly where I rated the cigar – a 9.03!  Looks like we're all on about the same page!
HALFWHEEL
CIGAR AFICIANADO
CIGAR NOISE
CIGAR AUTHORITY
HALFWHEEL
CIGAR AFICIANADO
CIGAR NOISE
CIGAR AUTHORITY