VITOLA:   Corona
SIZE:   5-1/4″ x 46
ORIGIN:   Nicaragua
FACTORY:   Tabacalera AJ Fernandez
WRAPPER:   Connecticut Havana Seed CT #142
BINDER:   Mexican San Andres
FILLER:   Nicaraguan (Esteli & Jalapa); Honduran (Jamastran)
STRENGTH:   Medium – Full
SOURCE:   
Party Source, Bellevue KY
WHERE:   
Three Season Porch at Home
WHEN:   
May 23, 2019 @ 11 AM
DRINKS:   
Coffee (Black)
WEATHER:   
70s and summer rain
WHAT'S ON:   
Games of Thrones, Season 4
RELEASE TYPE  Regular Production
ORIGINALLY RELEASE DATE  December 2018
TOTAL PRODUCTION
Typical Box Size:     Boxes of 24
Production Totals:  On-going production
VITOLA BREAKDOWN
o  Corona Gordo – 5″ x 50
o  Corona – 5-1/4″ x 46
o  Toro – 6″ x 50
o  Double Corona – 7″ x 54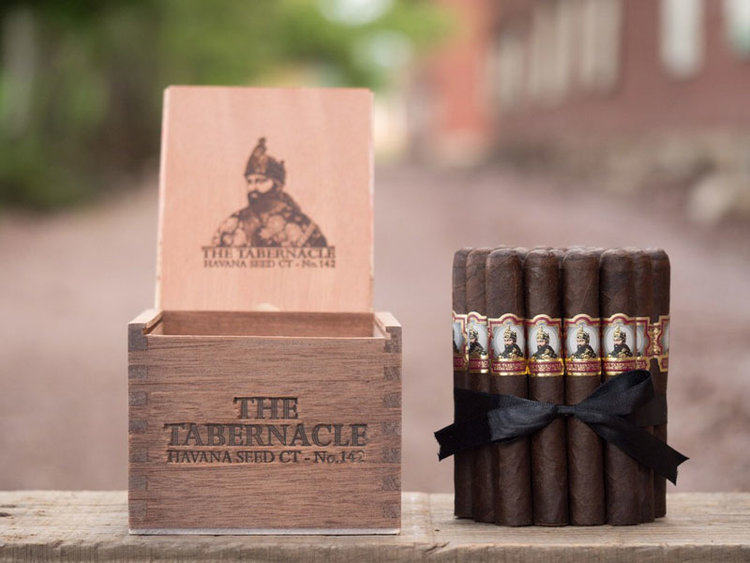 RESEARCH & BACKGROUND INFO
Back in 2003, Foundation's owner, Nick Melillo, cut his teeth in the at Drew Estate working to develop some of the brand's most popular cigars.  He was pivotal in blending the Nica Rustica, Undercrown & Liga Privada's T52 & No. 9.  In fact, it's long been rumored that some of the Liga's blends, like the Dirty Rat, started as his personal blend and grew in popularity so fast that they hit the market.
Sometime in 2014, Nick decided to venture out on his own – creating a near-instantly respected new brand of cigars.
Wondering about the cigar's long-winded name?  It has an equally long-winded history.  The wrapper leaf used on the cigar comes from a tobacco plant grown from a semi-rare Cuban seed brought up to Connecticut sometime between 1860-1880.
Nick has been working with the local Connecticut farmers to hone the seed over the better part of a decade and the Havana Seed CT #142 is not his first hit with the seed.  Liga Privada T52 for example was none other than Havana Seed #52.
Havana Seed #142 is a hybrid blend of Havana Seed #38 and Havana Seed #1207, commonly known as Page-Comstock.  The 142 variation was specifically bred by Melillo and the local farmers to resist black shank, a common disease afflicting the tobacco plants in the region.  The plant grows very straight and allows for better yields typically.
From Nick Melillo's own lips:
I've been working with particular farmers in the valley since 2014 to help optimize the plant's overall health while maintaining the seeds unbelievable flavor characteristics. The culmination of these efforts involved combining the seed with Havana Seed #38 and Havana Seed #1207, also known as Page-Comstock. The end result is Havana #142.
Also from Melillo:
The Havana Seed CT is a completely different animal and seed variety from broadleaf, yet it is grown in the same region of Connecticut. So it shares the same sandy loam soil of the Connecticut River Valley. The plants are very different. Broadleaf is a much larger leaf, thicker cellular walls & a larger vein structure. This makes it more durable in fermentation piles. There is a tremendous amount of oil on the leaf but it doesn't compare to the amount of grasa (fat of the leaf) of the Havana Seed. Havana Seed Connecticut has a much narrower shape, less vein structure, thinner, yet it has a tremendous amount of grasa. This is what makes it so special & at the same time so difficult & time-consuming to ferment.
The tobacco plant produces a very thin leaf with an exceptional amount of oil.  Melillo hit up AJ Fernandez to help him develop a curing process suited for the delicate oily leaf.  The resulting process that uses a very low heat to over about three years to completely ferment.
The rest of the cigar's blend is very similar to the typical Tabernacle line although Foundation owner, Nick Melillo, said he didn't use as much Honduran tobacco in the filler this time around.
The much anticipated line debuted at the IPCPR show in 2018.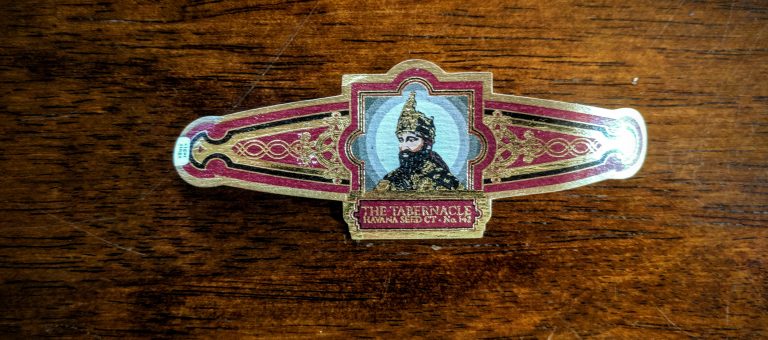 The band is a slight variation of the line's predecessor – Tabernacle, which is a reference to the biblical Ark of the Covenant King Solomon, legendary biblical ruler well revered for his knowledge.  The man on the band however is Ethiopian Emperor Haile Selassie.  He was the 225th ruler of Ethiopia and, as such, is viewed as a deity per the Rastafari ideology – descending from King Solomon himself.  Selassie ruled in the early 1900s prior to being exiled for leading a resistance effort against the Italians in World War II.  Eventually he returned to rule once more in 1941.  King Solomon is said to have housed the Ark of the Covenant in the tabernacle of his temple which is rumored to have found its final resting place with the Ethiopian Orthodox Church.  
Ok, follow me so far?  Now – why Tabernacle? Simple, Nick is from Connecticut and loves the broadleaf tobacco grown there … you might even say he respects it with a sort of sacred religious reverence.  So with a little history lesson, we come to learn with Nick Melillo chose the name and man to adorn these cigars and box.
The original Tabernacle line features a portrait in profile whereas the Havana Seed shows the Emperor looking slightly to the side.  The other notable difference is the accent coloring – the original uses a matte grey/black; the Havana Seed elects for a royal red background.  Each is emblazoned with an elegant gold foil.  The whole aesthetic of the band is a perfect homage to the religious-like notion of the Tabernacle line.  These bands could easily be found in some beautifully ornate ancient temple as easily as the sit on these cigars.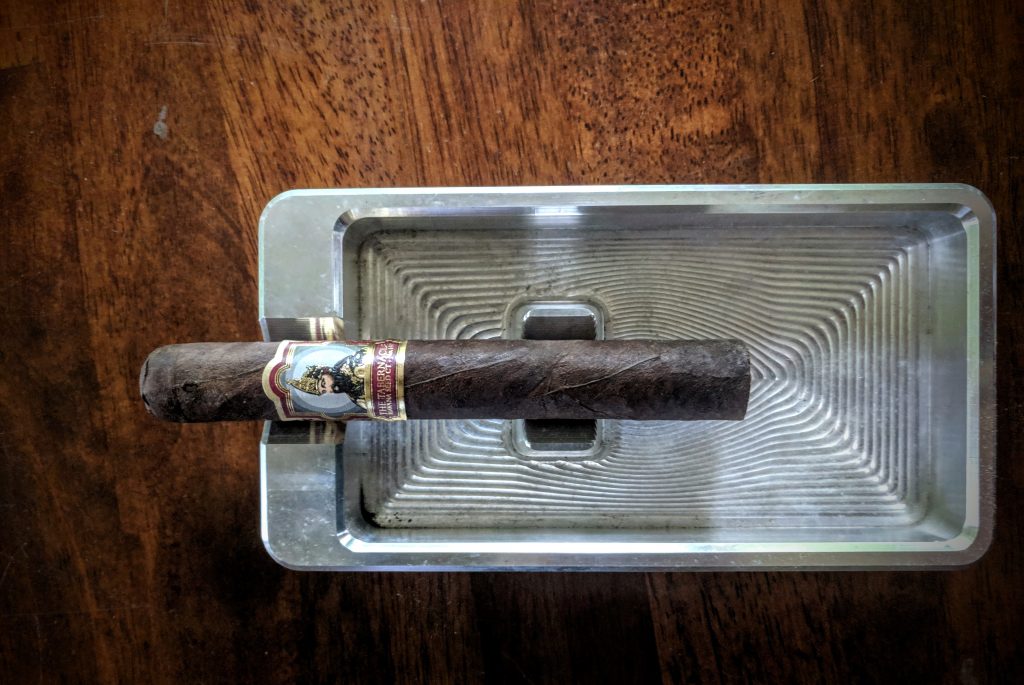 CONSTRUCTION
Whatever Nick Melillo did to grow this beautiful wrapper leaf, I hope he doesn't stop!  If you're a fan of darker wrappers, this Connecticut-grown leaf does not disappoint – it's a gorgeous dark shade of brown with moderate veining, just a little tooth and oil to spare.  Like most stuff that pops out of the hands of the skilled rollers at AJ Fernandez's factory down in Nicaragua.  This cigar has a good firmness to it – compressing just slightly before bouncing back.  I didn't find any concerning soft or hard spots during a quick inspection.
The cap is excellently applied with shoulders that seamlessly drop off into the cigars body.  My lone complaint is that it's a little lop-sided.Not much to report on the cigar's foot – it looks to be a well-blended and uniformly rolled cigar.  Off the foot, there's a light leathery and faint cedar/wood aroma.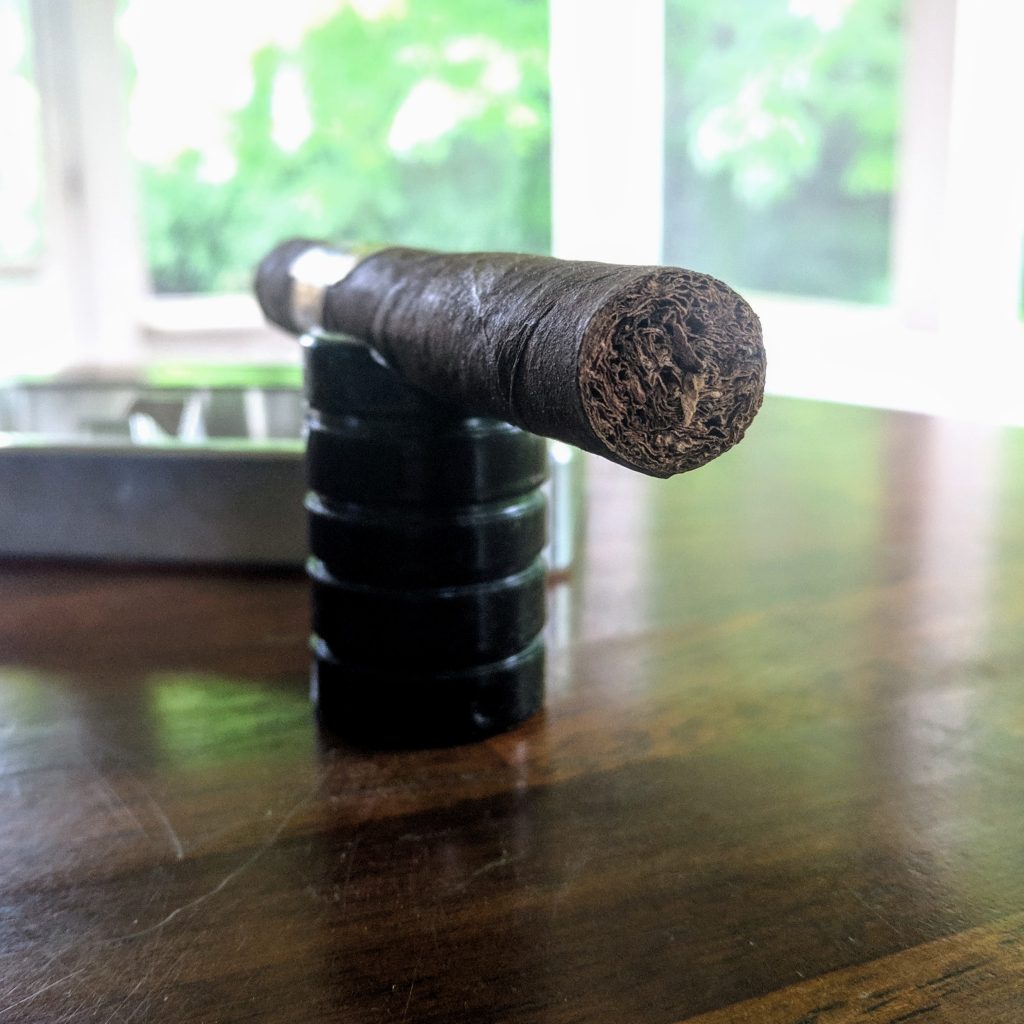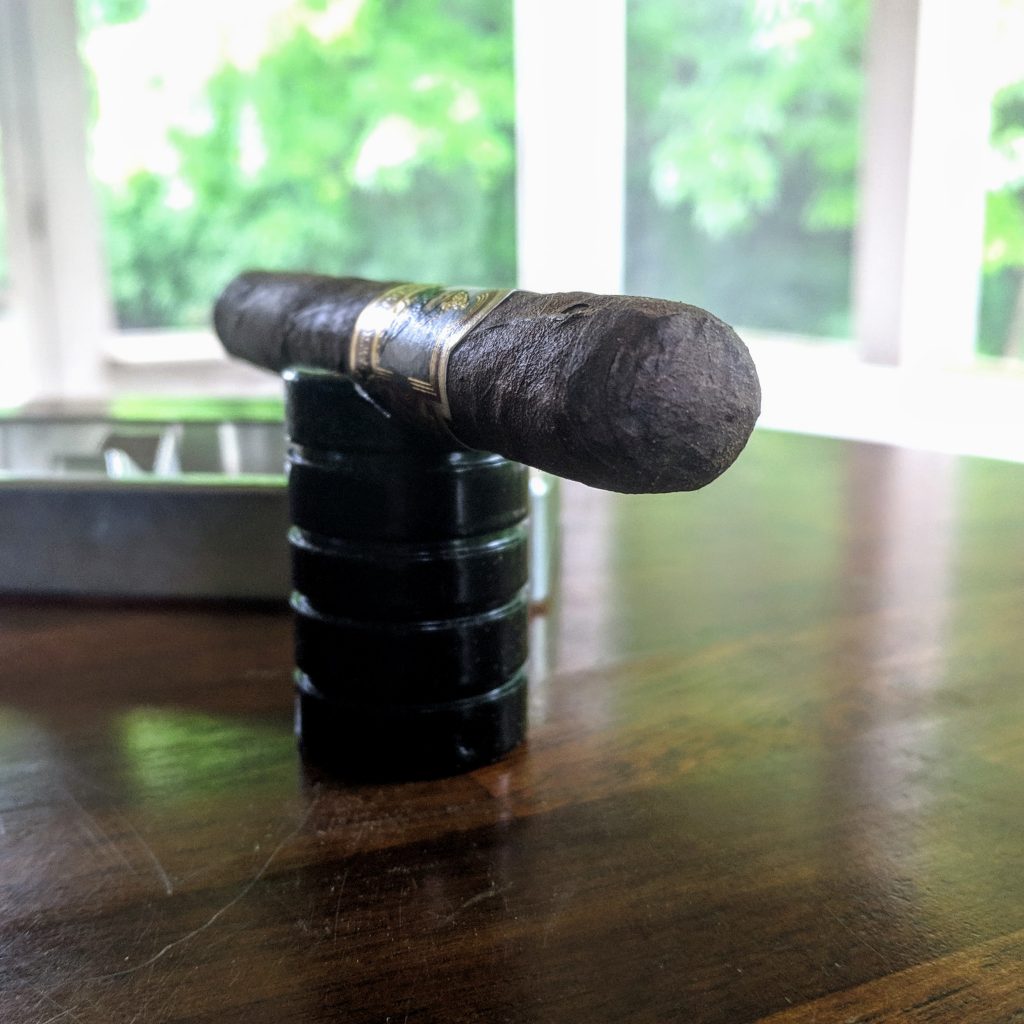 AROMA
For how dark this wrapper is the aroma off the body is surprisingly airy – mainly a nice floral smell.
COLD DRAW
The draw itself is great – nice resistance to it without feeling plugged by any stretch. There's a subtle sweetness to it paired up with some woody tones.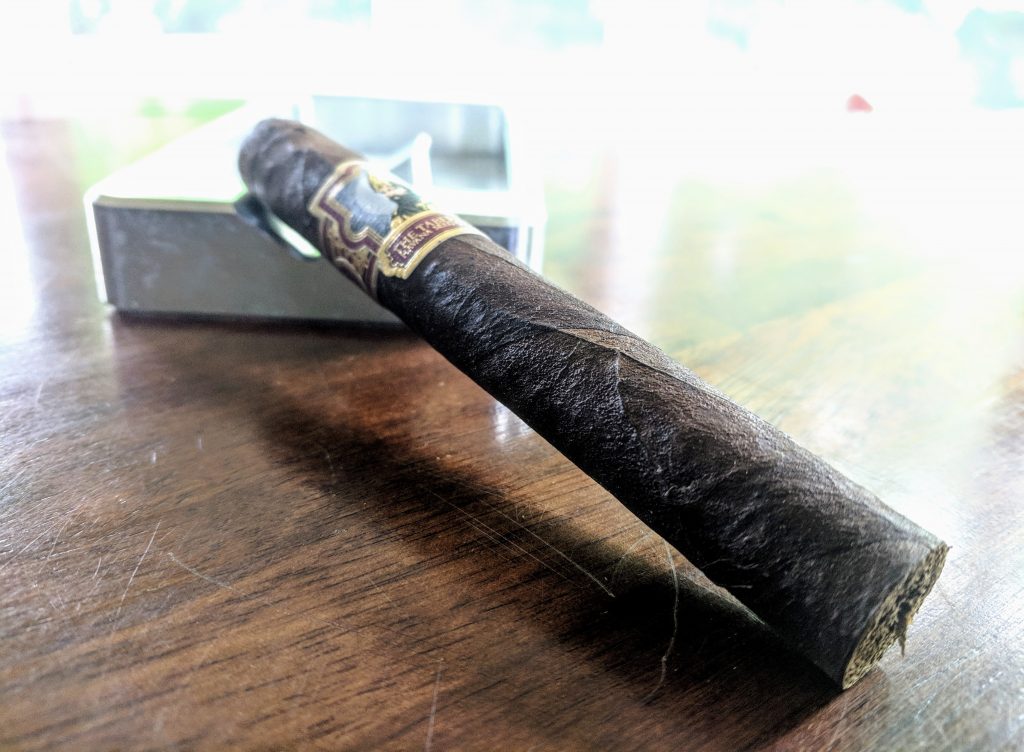 LIGHT & DRAW
Cut:  Colibri SV (v-cut)
Fire:  ST Dupont Defi Extreme
The Foundation Tabernacle Havana Seed CT #142 (whoa, that's a mouthful) took a little more effort than usual to get a good even light but once I did the flavors jumped right out. The initial flavors are devoid of any peppery harshness and instead offer up a nutty profile with a little cream.
The draw is fantastic – allowing a good amount of smoke on each effortless puff. I've read the burn line as a frequent knock on this cigar – presumably because of the oil content – but so far it's starting as well as could be expected.
The first few layers of ash are stacking fairly well – a soft grey color with some black striations making for a really nice contrast against the dark wrapper leaf.
SMOKE
Smoke production is satisfactory – nothing out of control or lacking – just good voluminous amounts with each puff that fade to near nothing when resting.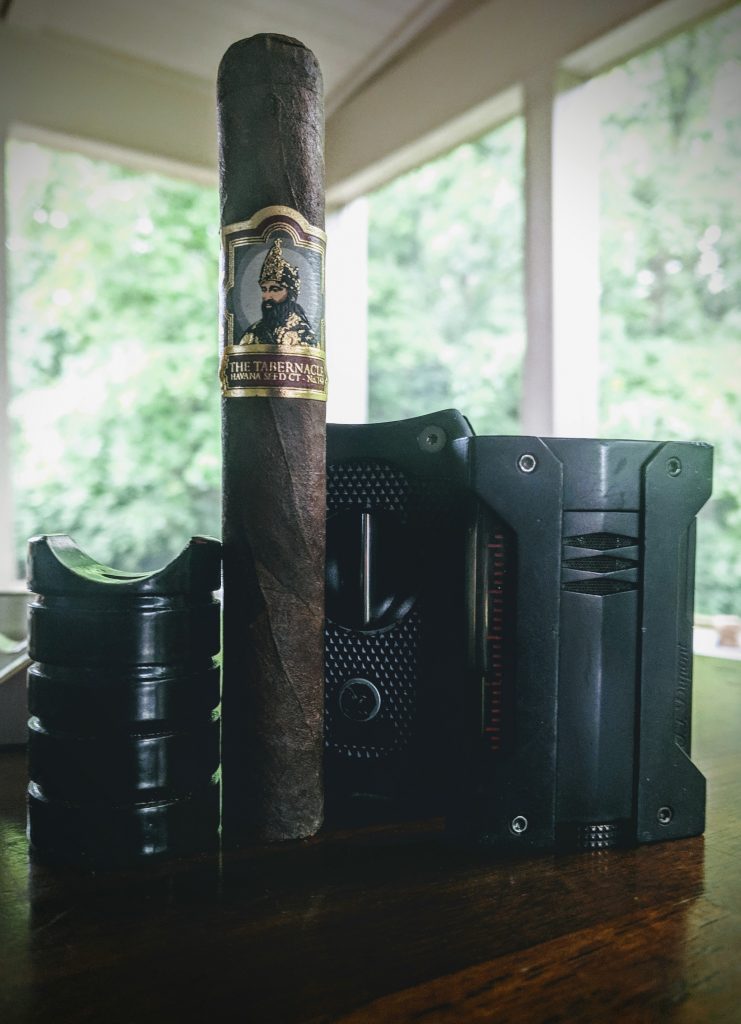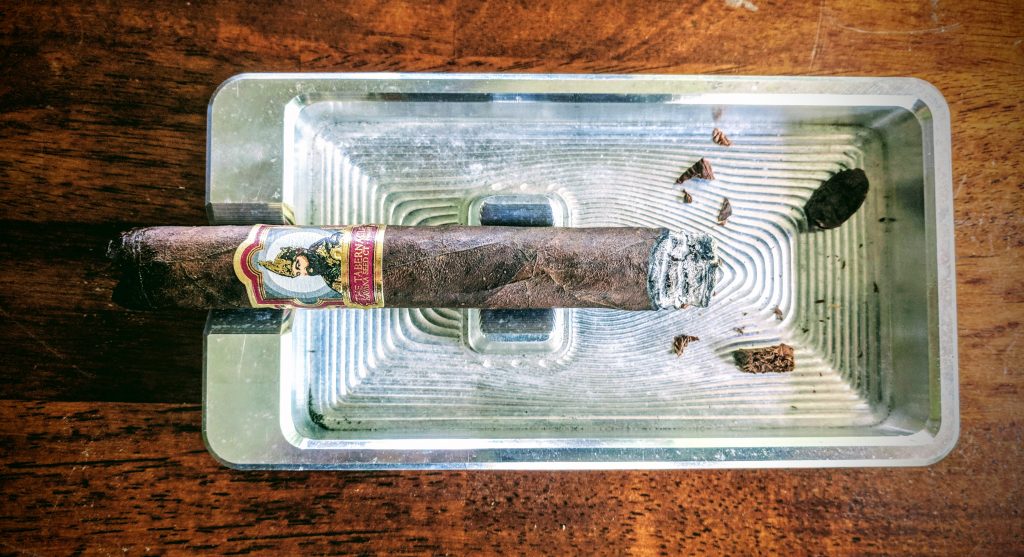 FIRST THIRD
>> Cream, wood, nut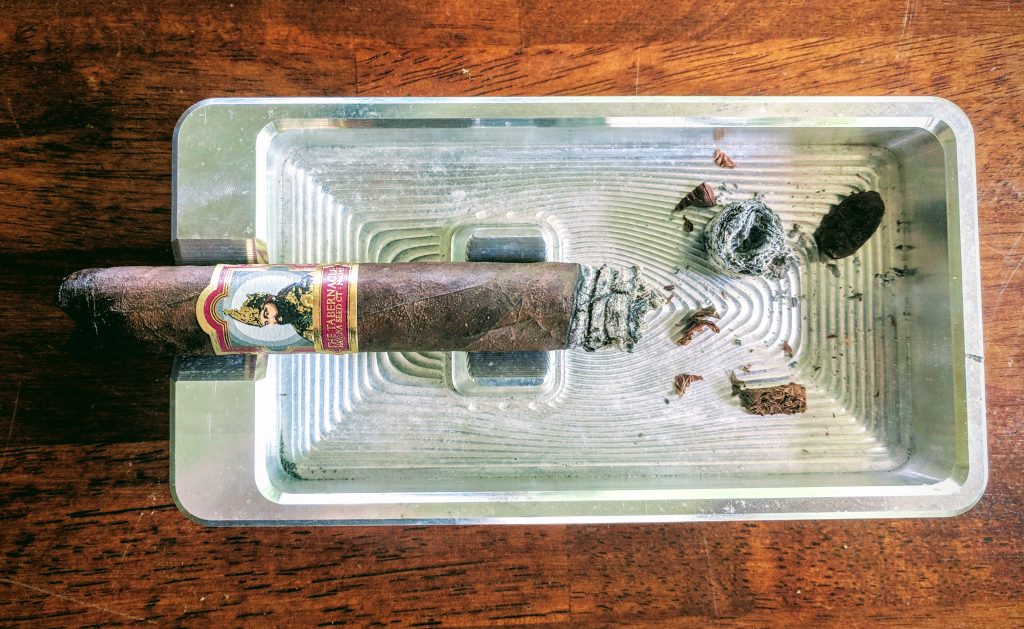 A couple inches into the Havana Seed CT #142 and so far it's very enjoyable.  There's a rich creaminess to the cigar leaving a soft, elegant mouthfeel.  The flavors continue to be dominated by wood/nut and backed up with a barely-there pepper bite on the finish.
The retrohale introduces some intense coffee bean and pepper to the palate.  Also, it seems to highlight the sweeter nature of the cream.  The draw and burn are non-issues – just how you want a good cigar to perform.
Even burn, comfortable draw … perfect.The ash builds firmly and, if it weren't for my clumsiness, it would have clung on much longer.
SECOND THIRD
>> Dough, mustiness, coffee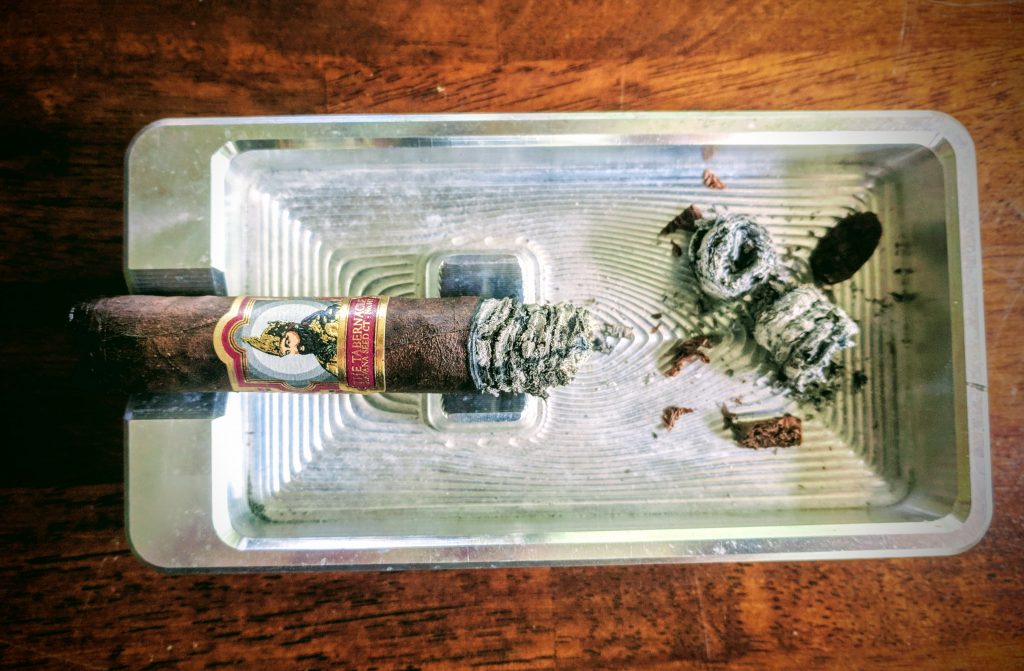 At about the halfway point and the body is on the medium-full side but the strength seems pretty tame – probably close to medium.  The flavors are developing a bit more yielding a spice-laden doughy quality – kinda like an everything bagel – a good doughiness paired up with lots of spice cabinet elements.
There's a good damp, musty 'flavor' to it.  I put flavor in quotes because I'm not sure anyone knows how really mustiness tastes – it's more of a notion being in a forest after it rained and there's that thickness to the earthy air.  The salted nut and rich coffee flavors really shine towards the end of this third – a lot of good flavors playing nicely in this cigar.
Neither the draw nor burn present any issues – again, perfect so far.
FINAL THIRD
>> Cherry, charred wood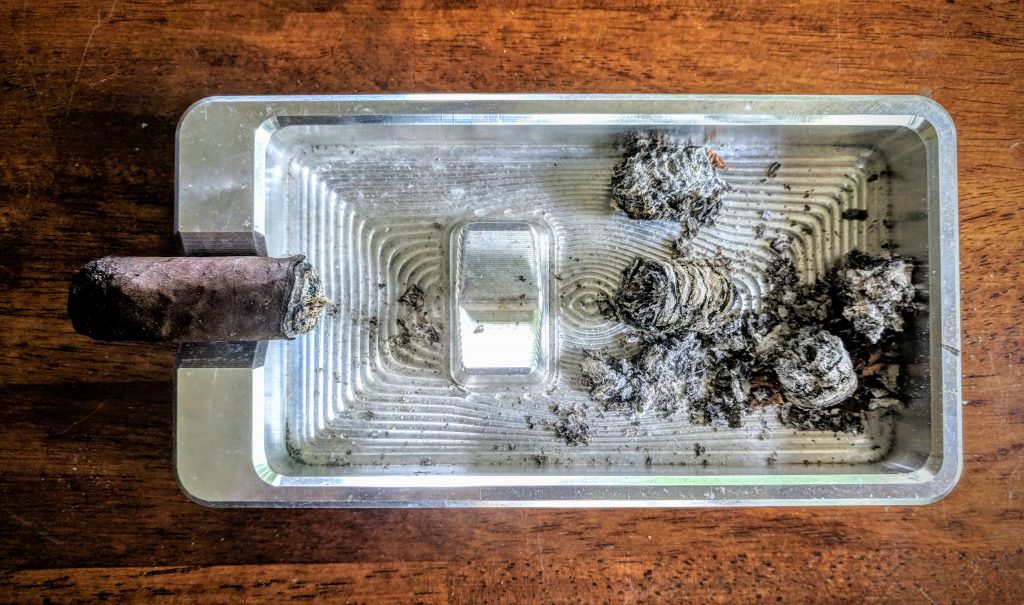 I feel like there's a notable shift from the second third to the last.  The cream/wood/nut profile that has dominated this cigar continue without question but the sweetness seems amplified.  The sweetness is that of a juicy dark plum or cherry mixed with a noticeable floral quality.  The cream continues to coat the palate and the wood has shifted from the raw cedar/hickory at the onset to more of a charred, smoky tone.  Down to the nub and the sweetness definitely fades out a bit to let the charred wood and cream to the forefront once more.
FLAVOR PROGRESSION
The flavor profile of Foundation's Tabernacle Havana Seed CT #142 don't progress as much as they intertwine.  The flavor profile was never far from smoky wood, nut, cream tones and tended to introduce new flavors here and there that worked very well with an established rich palate.
BURN EXPERIENCE
The burn characteristics (as well as the draw) on this cigar are impeccable – never requiring attention or correction.
RATING BREAKDOWN
0.80 / 0.80 … Craft & Aesthetic
0.42 / 0.50 … Pre-Light Characteristics
0.47 / 0.50 … Lighting Process
6.62 / 7.70 … Smoking Experience
0.50 / 0.50 … Personal Enjoyment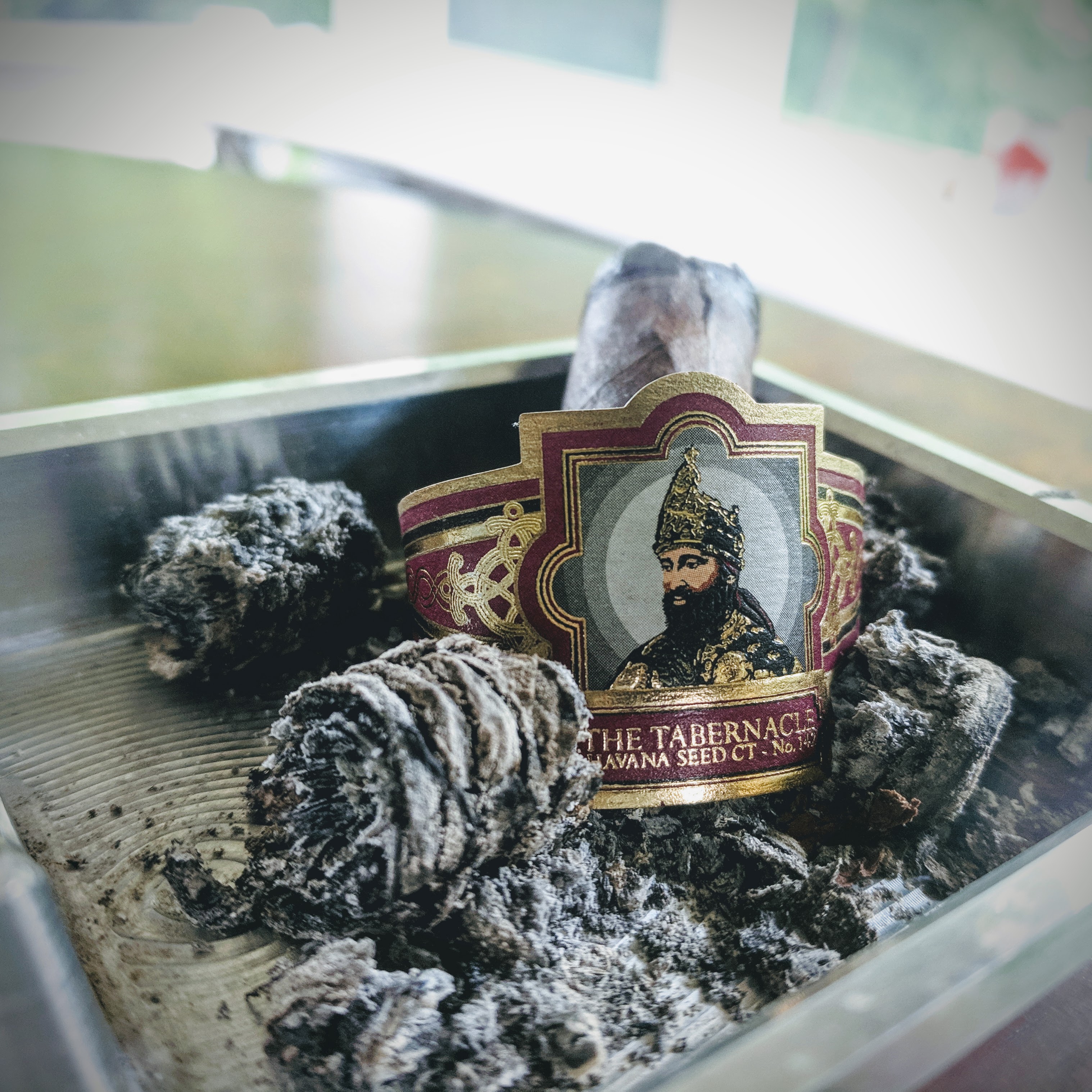 HAVANA, BY WAY OF CONNECTICUT.
Foundation's owner and master blender Nick Melillo is intent on showcasing one of his favorite leafs from Connecticut with this gem.  The striking wrapper is matched by an intensely rich, creamy array of flavors balanced by a true master blender.
The price point on the Tabernacle Havana Seed CT #142 is right on to make it accessible to just about anyone to try a few.  To me, this is a beautiful cigar for just about anytime time of day or pairing – noteably coffee or bourbon.
 
SIMPLY STOGIES RATING:  8.8 / 10.0
I love reading other reviewers' thoughts on the cigars I'm smoking and reviewing – it helps to show that no one review is perfect and there's always different opinions and tastes out there.  Here's how my review stacks up with some of the best in the biz.  
Foundation's Tabernacle Havana Seed CT #142 was one of the most hyped releases of 2018.  Reviews for the cigar are just about everywhere – and they are all over the place in terms of flavors noted and scores.  Most seemed to enjoy the cigar and felt it merited a spot on the year's lists for top cigars (if not for its delayed release).  Overall, from the above reviews they averaged out to about an 8.84 – which falls almost exactly in line with how I rated it.
Cigar Authority
Cigar Coop
Developing Palates
Stogie Press
Cigar Authority
Cigar Coop
Developing Palates
Stogie Press