Ok, so you are on vacation in Myrtle Beach, SC and want to know where to go to get some vacation cigars?  A short 15 minute ride south is the small town of Murrells Inlet, SC.  There sits a great spot to pick up some cigars or sit in the comfortable lounge and enjoy a cigar.  Goodfella's is the spot.  Goodfella's is owned by Pete Andre, a retired New York Police detective.  Pete took over ownership at the beginning of the summer in 2021 and is in the shop just about everyday.  If Pete has the day off, you'll find either his brother Vinny (I know not his cousin) or their tobacconist John in the shop working.  If you have any questions they are all very knowledgeable and can help you out.  
ADDRESS:   3100 US-17 Business Suite E, Murrells Inlet, SC 29576
PHONE #:   (843) 299-0170
HOURS:    Monday-Saturday: 10am-8pm; Sunday: 12pm-5pm
BOOZE AVAILABLE:   No
DRINKS AVAILABLE:   Yes; Water and soda
FOOD AVAILABLE:   No
SMOKING LOUNGE:   Yes
WALK-IN HUMIDOR:   Yes
SPONSORED LOUNGE:   No
OUTDOOR SMOKING AREA:   Yes
MEMBERSHIPS AVAILABLE:  Yes; they have available lockers that customers can purchase.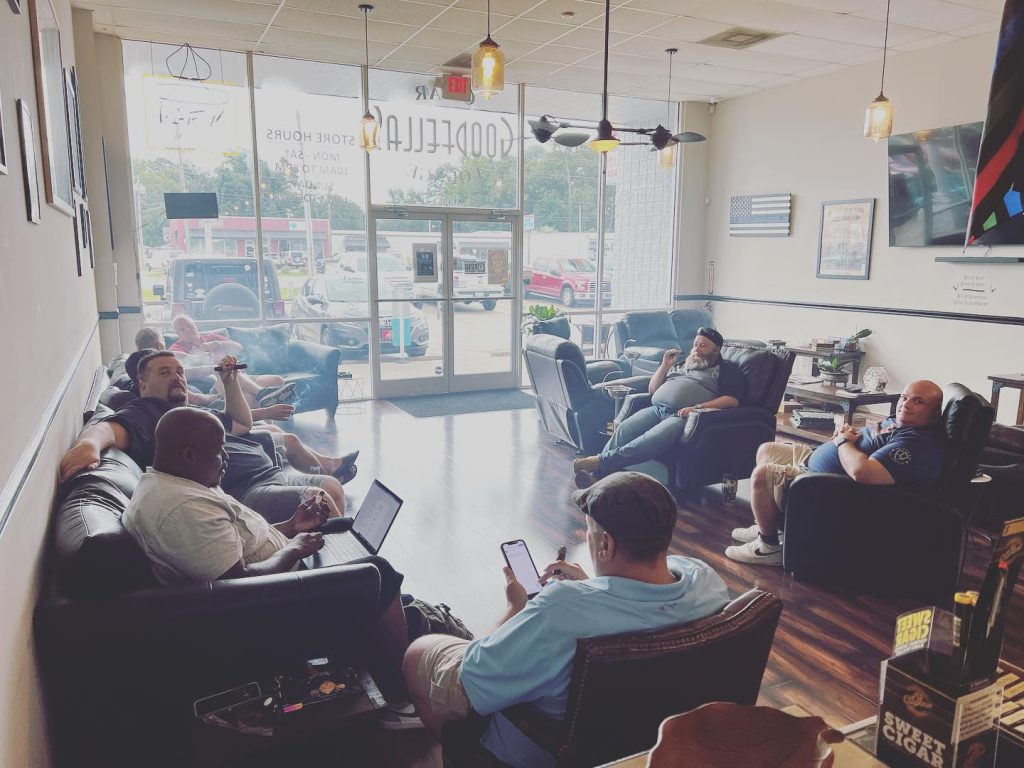 Goodfella's is a great spot to come and enjoy a cigar.  Walking into the shop you will find a great mesh of locals and tourists.  Everyone is friendly and greets people as they come through the door.  As you enter the shop there is  decent sized seating area with leather couches and recliners.  There is a large television on the wall in the main seating area.  The walk-in humidor is behind that area and is very well stocked from floor to ceiling.  There is another smaller seating area with some bar top tables and stools with another television.  In the back of the shop is were the lockers are and a private room that people can use for meetings, poker games, or just some quiet time away from the bustle of the shop.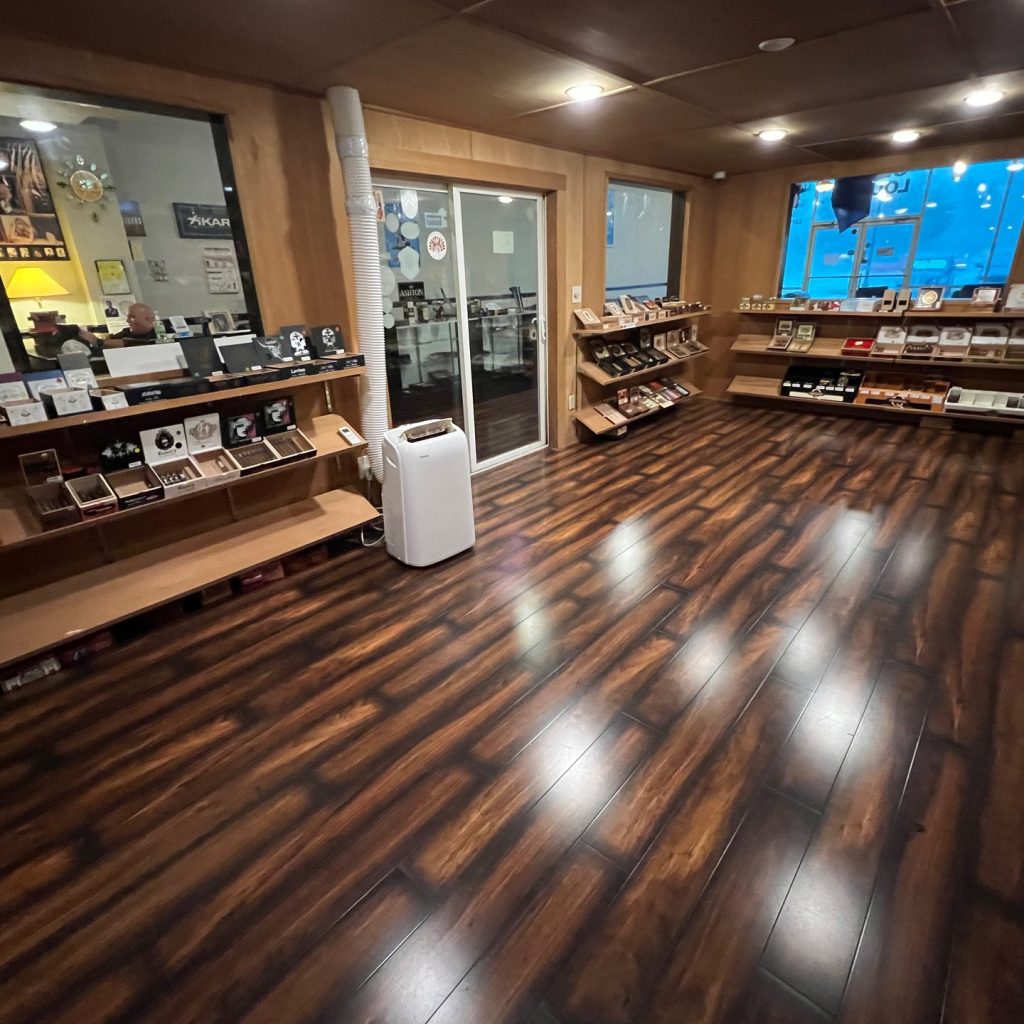 SELECTION/HUMIDOR SIZE
As you are entering the humidor the first thing you will notice is that it is very well stocked.  Floor to ceiling all the way around the room with some center islands.  They have a great selection from Padron and Ashton to Black Works and Room 101.
HUMIDOR MAINTENANCE
Pete and the guys are very detail oriented.  If Vinny is working the shop that day he is in the humidor cleaning and organizing.  There is no dust, mold or empty boxes.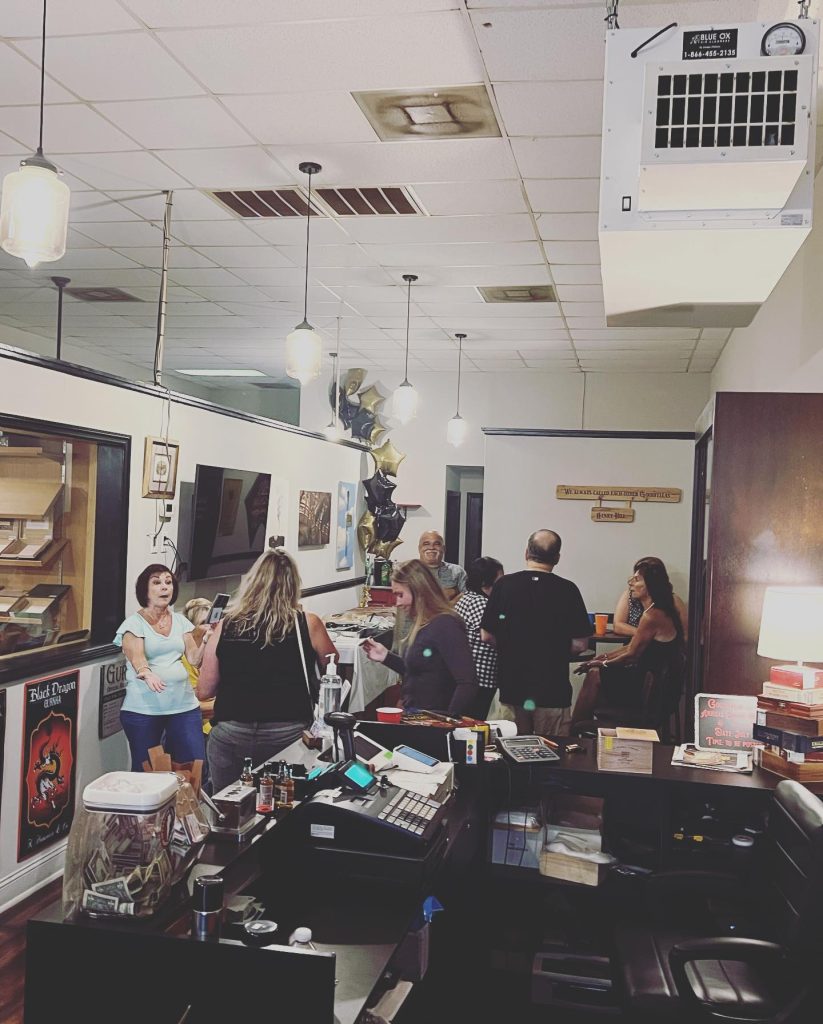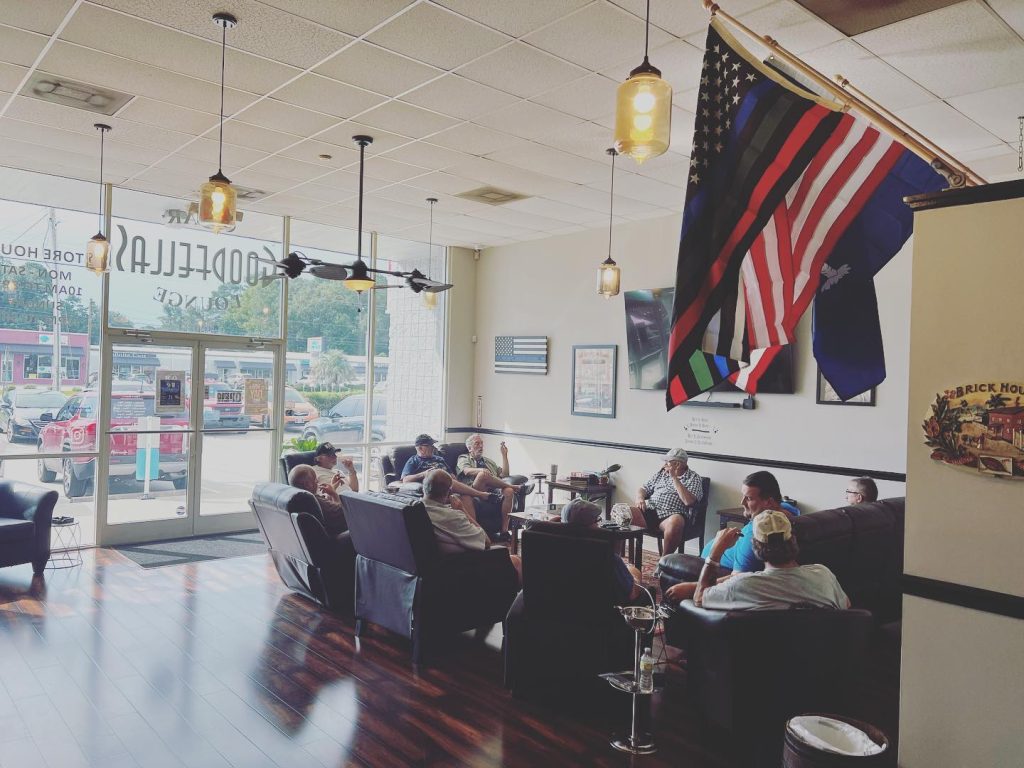 CUSTOMER SERVICE/STAFF KNOWLEDGE
The staff there is very friendly and will great you with a hello as you come in.  They are always accommodating and helpful.  Pete and Vinny have a good knowledge of cigars.  John is extremely knowledgeable and has been in the business for a long time.
LOUNGE SIZE
The lounge is average size.  You can seat about 20 people comfortably in the main area.  The humidor is large enough for 6 or 7 people to be in there without being close together.  
AMBIANCE
I felt very welcome when I walked in the door.  Pete greeted me and welcomed me to the shop.  I witnessed quite a few people enter the shop and they were all treated the same way.  
The shop is set up nicely with a good flow so people are not tripping over each other or over the décor.  
HUMIDOR EXPERIENCE
The humidor was very well stocked.  I was able to find several cigars that are not always available in the area.  I grabbed a few cigars and made my way to the lounge to smoke them.
LOUNGE EXPERIENCE
The lounge is set up into 2 horse shoes, there is an inner row of seats and then along the back wall is another row of couches.  I was greeted by all of the people smoking in the lounge and they are a mix of locals who grew up in the area to transplants who either retired to the area or moved for work.  
RATING BREAKDOWN
3.00 / 3.00 … Customer Service/Staff Knowledge
2.98 / 3.00 … Selection/Humidor Size/Humidor Maintenance
3.50 / 3.50 … Ambiance
0.48 / 0.50 … Lounge Size
Good Times at Goodfella's
If you are coming to the Myrtle Beach, SC area for vacation, work or whatever make sure you take the 15 minute ride from the boardwalk area to Murrells Inlet.  Goodfella's is worth the drive.  It is a warm and friendly atmosphere.  If you just have time for a grab and go or to sit and enjoy your selection this is a great place near the beach.  
SIMPLY STOGIES RATING:  9.96 / 10.0