Vegas is a lot. A lot of everything. A lot of walking. A lot of spending and on a trip to attend the PCA… a lot of smoking. I've never smoked as many cigars as I did last night at the opening reception party sponsored by Crowned Heads and after at the bar.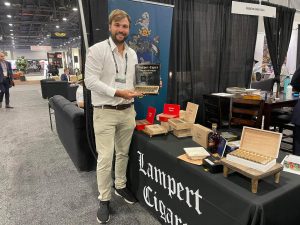 I've only ever been to tattoo conventions and the similarities are striking. There's the heavy hitters, the ones that have really made it, people get excited when they see them wall by, there's the ones who get put in the back corner. A tattoo convention though never had the elaborate booths of this trade show. 
The Arturo Fuente booth is amazing. They have a piano player off to the corner, all of their cigars and merchandise are put together in an eclectic collection of memorabilia and mementos. It's huge and to see them in action, selling their beautiful cigars, it's just fascinating. 
Across from them is The Padron booth. Exuding class, with their salesmen in nice modern blue suits, their collection sits along the outside of the reception area they've created. It was bigger than some of the apartments I lived in back in NYC.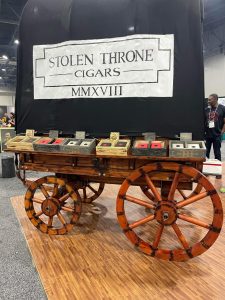 These two booths and their connection to their lineage is something to behold. 
Nelson Alfonso set up his booth like a beautiful high class boutique, all of his products, cigars, ashtrays, and humidors are all incredibly designed. Everything looks as expensive as it is. 
The Crowned Heads booth was packed all day long, the Tatuaje booth was the same and they made their statement by only having about six options available. Some people just have the touch. 
It's fascinating to think of how much it must have cost some of these companies to set up their booths. JC Newman's booth is a miniature recreation of their factory in Florida. 
The end of day one has arrived and tonight I'm looking forward to a good night of sleep l,  to get ready for another jam packed day tomorrow.