ADDRESS:   432 E 4th St, Davneport, Iowa
PHONE #:   (563) 888-5477
HOURS:   Sunday – Thursday 11AM-12AM
                  Friday & Saturday 11AM-12AM
BOOZE AVAILABLE:   N
DRINKS AVAILABLE:   Water & Coffe
FOOD AVAILABLE:   Milkshakes (coming soon!)
SMOKING LOUNGE:   Y
WALK-IN HUMIDOR:   Y
SPONSORED LOUNGE:   N
OUTDOOR SMOKING AREA:   Y (coming soon!)
MEMBERSHIPS AVAILABLE:   Y (Tiered memberships available)
They have a separate Hookah lounge and smoke shop. 
There are 3 other Habano Cigar Lounges in the Chicagoland area.
The owner owns a total of 5 lounges (including this one).
Has a great relationship with Drew Estate.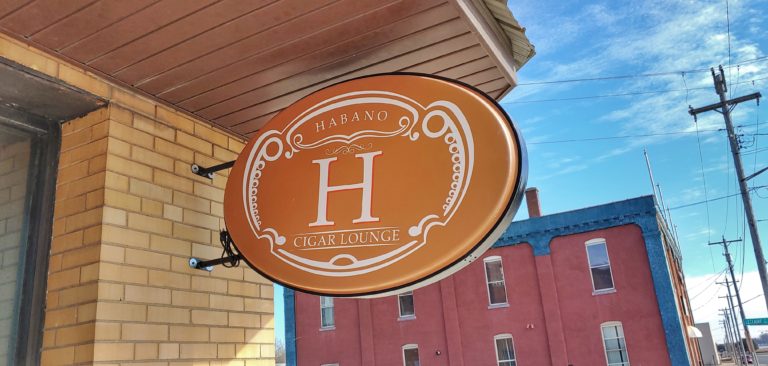 How I approach reviewing cigar shops and lounges varies, depending on the shop. Every shop is different. Whether it's a difference in business plans, layout, product choices, treatment of customers, or treatment of other shops in the area, every shop is unique. As are their members and patrons. It's that uniqueness that brings cigar smokers, enthusiasts, and aficionados together. It's important for a cigar shop and lounge owner to know that, and Freddy Allan knows that.
Freddy is the owner of the new Habano Cigar Lounge, located at 432 East 4th Street Davenport, Iowa. Freddy has been in the cigar industry for over 20 years. Freddy owns four other cigar shops and lounges in the Chicago area, and he's brought those years of expertise to an area that sorely needs it. For Freddy, though, it is more than just the opportunity to fill a need; it is an opportunity to bring his vision to the Quad Cities area.
I've had the chance to sit down and share a cigar and some great conversation with Freddy on two separate occasions, one of which you can hear here. During those conversations, we talked about a lot of things that a lot of cigar smokers discuss in a lounge setting: sports, politics, society, culture, and of course, cigars. Freddy's years of experience as a lounge owner help him navigate the myriad of personalities, cultures, and points of view that come through his doors. For Freddy it boils down to one simple question; "why?"
The "why" for Freddy is more simple than just a passion for cigars. You have to have that passion in order to be in this business, especially the retail side, for as long as he has. It's far simpler than just trying to put food on his family's table. The "why" for Freddy is about bringing together the myriad of personalities and points of view that walk into his shops. Freddy's "why" is about community. Does any community "need" a cigar lounge? The answer to that, in my opinion, is yes. But why?
The cigar is the great equalizer. There is no class division, political divide, or sports rivalry that the cigar cannot transcend. Freddy understands that and he fosters that idea through how he interacts with his customers. From how inviting the lounge is, to how he stocks his humidor, to how he offers memberships (membership is NOT required to purchase or use the lounge facilities) is all done with the customers and the community in mind. Freddy wants to get to know his customers and for his customers to get to know him and his staff.
Freddy wants every potential patron to feel welcomed and invited in the lounge. The lounge is area is well lit and well ventilated. With four tv's in the cigar lounge area, there are enough screens to accommodate everyone's tastes. Freddy's vision for Habano Cigar Lounge Davenport includes over 100 milkshakes, a hookah and cigarette area, a members only area, and a place for the community to come together and find some common ground over their appreciation of the tobacco leaf.
Freddy gets it. Not only does he understand cigars and tobacco, but he understands how to bring people together. And in today's current environment of divisive politics, social media blurbs, and our fast-paced lifestyles this is no easy thing. The cigar forces us to slow down, take stock of our lives, and notice those who are around us. Freddy and his staff at Habano Cigar Lounge Davenport have purposely created an environment that facilitates just that.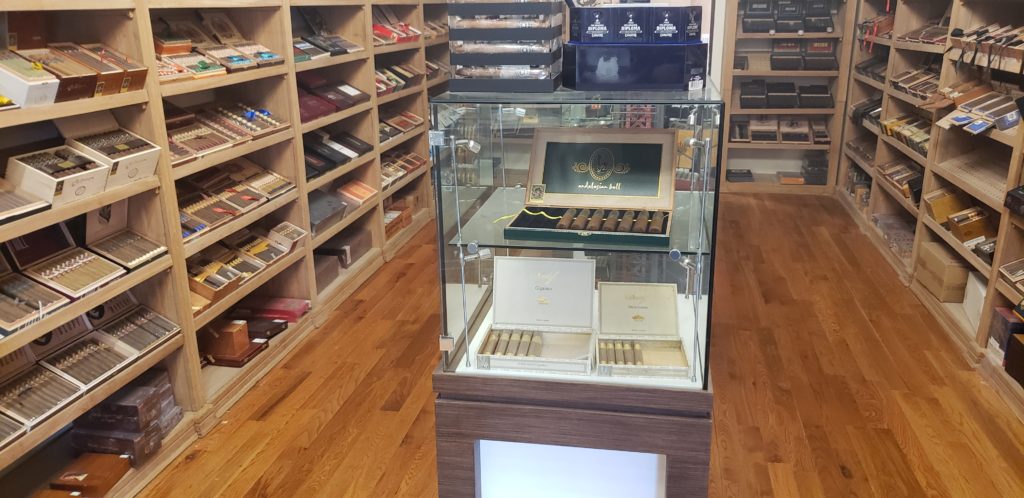 SELECTION/HUMIDOR SIZE
For patrons who enter on the "Cigar" side of the shop you literally enter the store through the humidor. The humidor at Habano Cigar Lounge Davenport is huge and well stocked. Large enough to accomodate 8 or 9 cigar shoppers at once, the humidor is the focal point of the store; and it should be. Freddy and the staff have this large humidor stocked with cigars that appeal to all palates and budgets. From the ultra premium brands like Padron, Davidoff, and LFD; to the humidor staples like Oliva, My Father, and Cohiba; and even boutique brands like Crowned Heads, Foundation, and Drew Estate.
Speaking of Drew Estate, Freddy and his brother have a great personal relationship with Jonathan Drew. They not only carry a large selection of Drew Estate, Acid, and Liga Privada but they also have a Habano exclusive. The Pork Beli. This Habano Lounge exclusive (available at any Habano Lounge location) is special vitola based an a proprietary blend from Drew Estate and is, in a word, amazing. Make sure you give this cigar a try!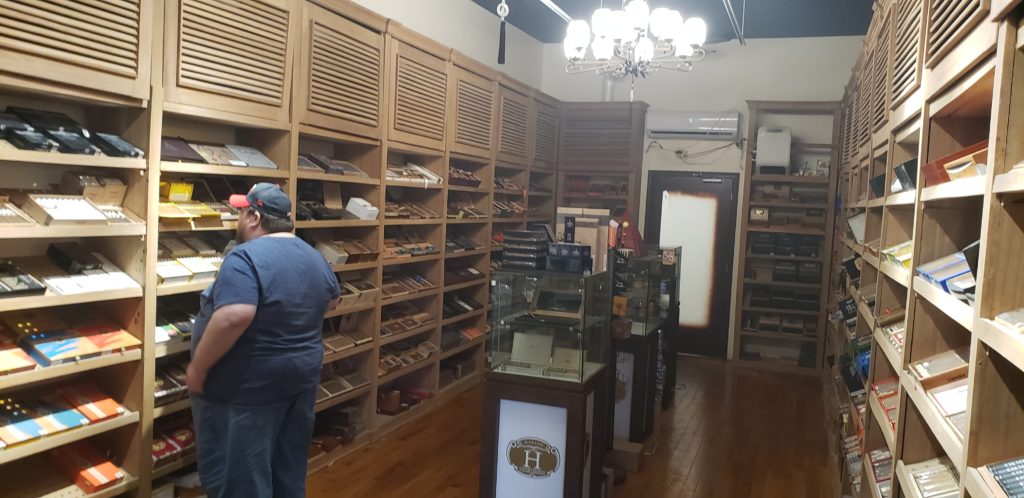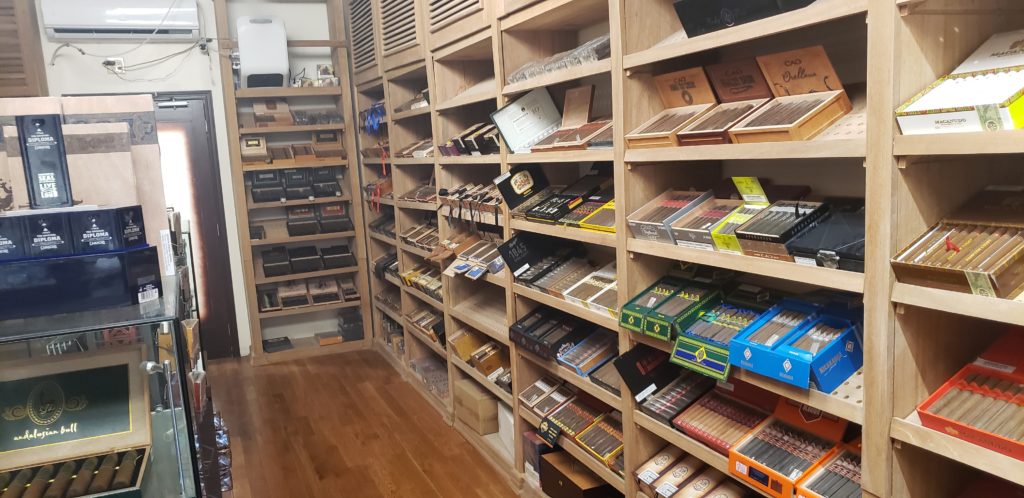 HUMIDOR MAINTENANCE/SIZE/SELECTION
With this lounge being brand new, it's hard to determine "humidor maintenance;"however, they do have two humidifiers set for 70%rh (one on each end of the humidor), and I had no burn issues with the three cigars that I smoked there. What goes a long way for me is how the Freddy recognized that the sunlight coming through the front door was going to be a potential issue. He immediately purchased door blinds for the front the door. 
The staff at Habano Cigar Lounge Davenport (Freddy, Mark, and AJ) are taking the time to find out what their customers want before ordering more cigars to fully stock their shelves. This is where their years of experience really come into play. They know that every area has different tastes and palates and are doing all they can to cater to their customers in the area.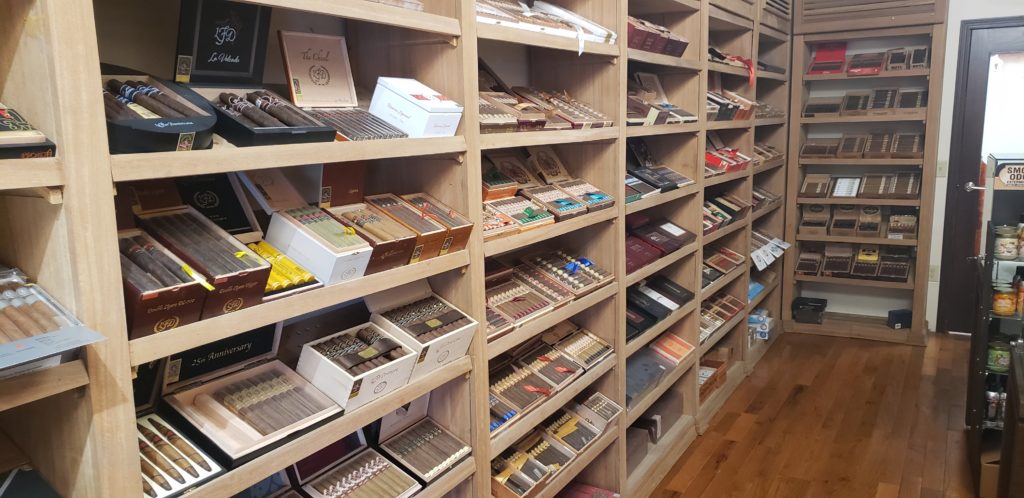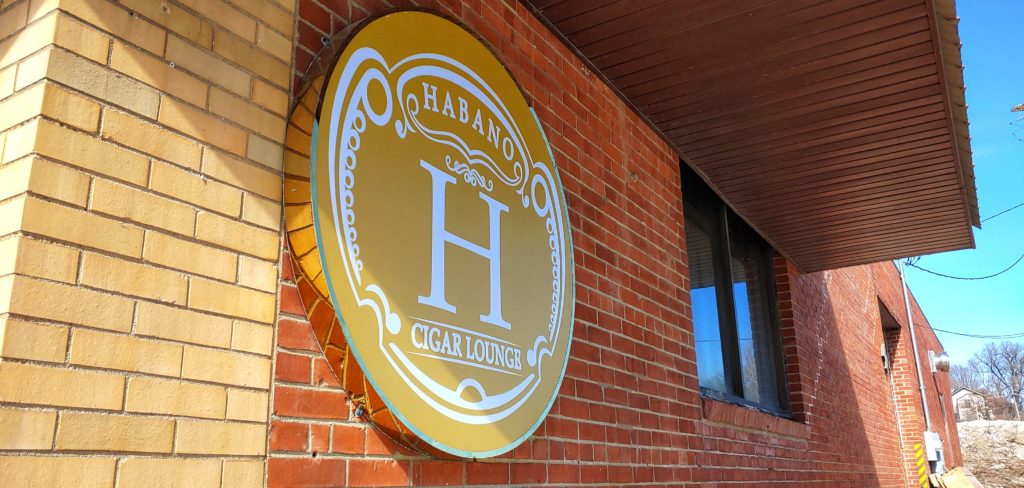 CUSTOMER SERVICE/STAFF KNOWLEDGE
I got to spend a good amount of time talking with both Mark, the manager of the Davenport location, and AJ. They both know their stuff when it comes to cigars. They are well trained, friendly, and don't hover over you while you're selecting a cigar. They will chat with you and find out what you like, what your experience with cigars are, and make recommendations based on that. In fact, AJ and I seem to have very similar tastes. They are both very personable and will treat you like family.
This goes to Freddy's overall vision for all of his Habano Cigar Lounge locations. He understands that smoking a cigar is an experience, and visiting one of his lounges should be, too. He has made sure that his staff understands that and treats every customer with care and respect. Novice or new cigar enthusiasts will feel just as welcomed in their humidor as veteran cigar aficionados do. Their goal is to make sure that nobody feels overwhelmed or intimidated when choosing a cigar.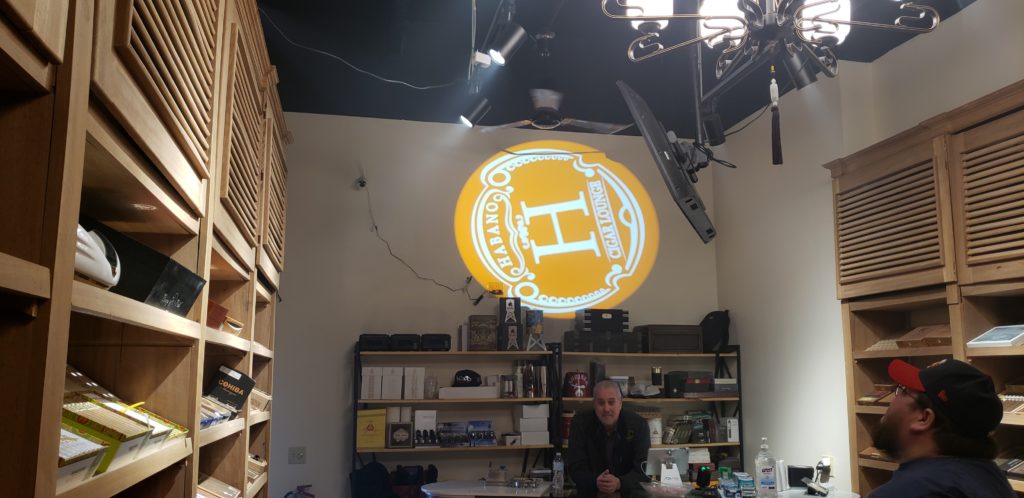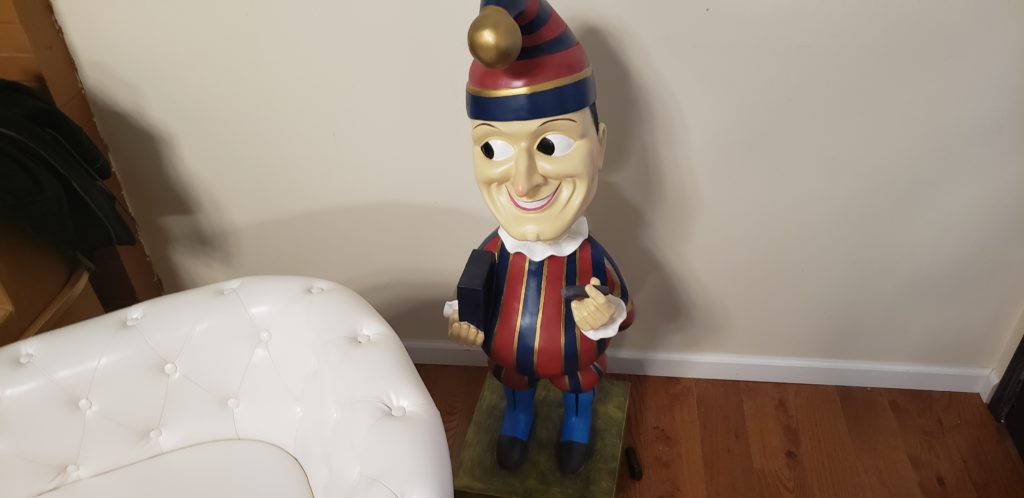 LOUNGE SIZE
The lounge size is accomodating and has room to expand. There are plans to have a 24/7 Members Only Lounge and a hookah/vape/cigarette lounge (at the time of this writing, neither are open). The cigar lounge is spacious with four large tv's, a coffee and water station, and two "privacy booths." The cigar lounge will comfortably seat 30 (up to 50), and still have enough room to walk around and carry on private conversations. 
While there are larger cigar lounges out there, Freddy's vision is to have a place where cigar smokers can commiserate and get to know one another, while still allowing space for those who want their privacy.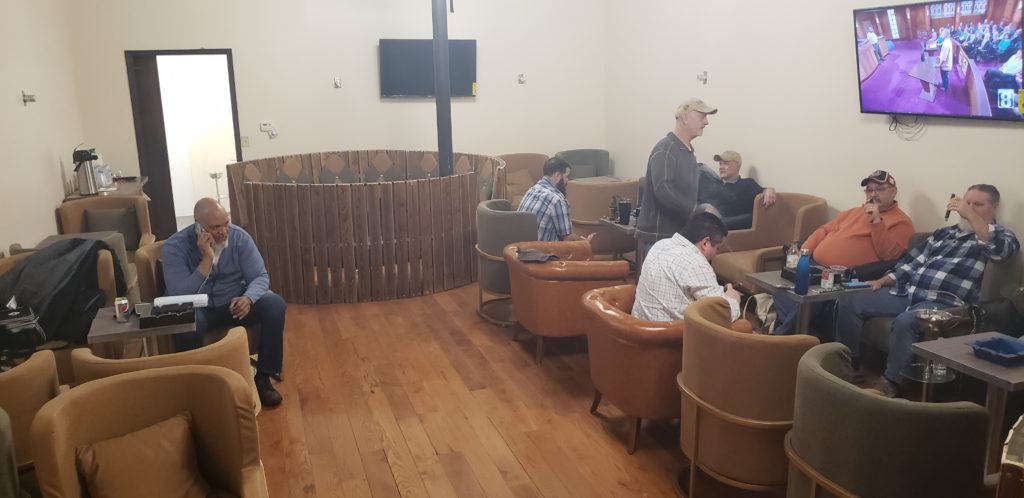 AMBIANCE
While they have 4 tv's, they typically leave them off and quietly play music in the background. Classy. Sure, you could turn on the game, news, or whatever strikes your groups fancy, but for those times when you want to relax and just enjoy the cigar it gets no better than that. The chairs are comfortable, if a bit different than the normal lounge fare found in other lounges I've been in. There is also a very noticeable lack of decor on the walls. If you listen to Episode 23 of Simply Stogies Podcast, you'll learn just how far behind schedule the opening of Habano Cigar Lounge Davenport was. Don't let the lack of wall decorations keep you from visiting. There was never any lingering smoke. Their HVAC and air filtration system worked flawlessly and make for a great few hours spent in the lounge. They may have the fanciest restrooms of any cigar lounge I've ever been in. Seriously.
For me, the ambiance is set with the staff and how they execute Freddy's vision for this lounge. They are looking to partner with a local coffee shop to provide coffee; Freddy plans to offer over 100 milkshakes; a hookah lounge that is separated from the cigar lounge; cigar lockers; and a welcoming vibe to the place. They want your business. Repeatedly. And it shows. Everything here is new, inviting, and welcoming. The ambiance is the pinnacle of Freddy's vision for his lounge: A place where everyone is welcome. In a world where we are constantly divided, Habano Cigar Lounge is a beacon of togetherness and comradery. 
HUMIDOR EXPERIENCE
The staff is friendly without hovering over you. They are knowledgeable and more than willing to share their knowledge. The humidor is stocked with a great selection and they are in the process of tailoring their inventory to the palate of the area.
LOUNGE EXPERIENCE
Open and inviting with comfortable, and different, chairs. A style all it's own, that lends itself to the vision of togetherness and community that Habano Cigar Lounge Davenport is striving for. Staff made sure the ashtrays are always cleaned and the tables cleared, while offering you water or coffee more than once during your visit. 
RATING BREAKDOWN
3.00 / 3.00 … Customer Service/Staff Knowledge
3.00 / 3.00 … Selection/Humidor Size/Humidor Maintenance
2.80 / 3.50 … Ambiance
0.40/ 0.50 … Lounge Size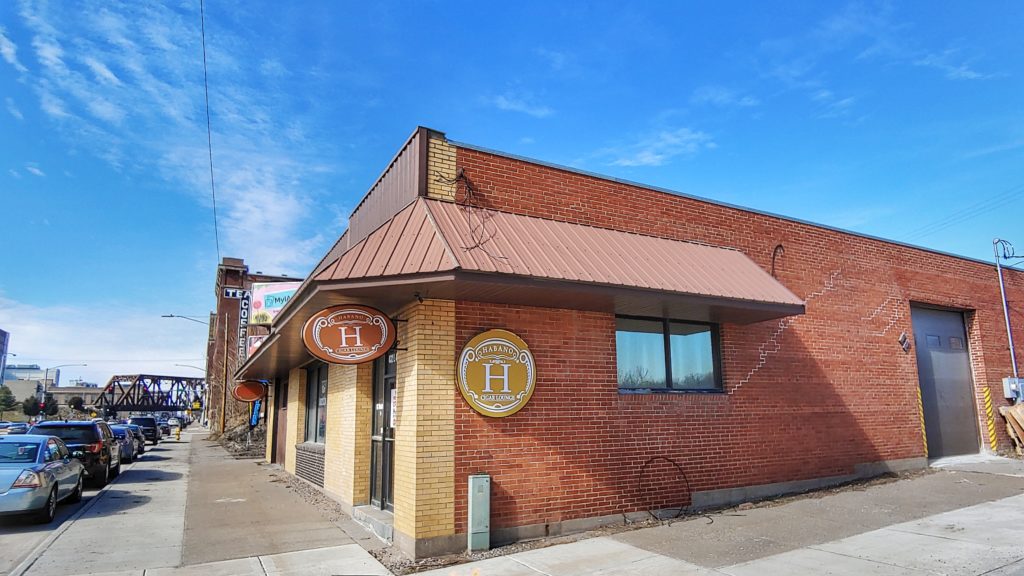 THE QCA's PREMIERE CIGAR LOUNGE AND SMOKE SHOP.
This is the best cigar lounge in the Quad City area, and the best cigar lounge in a 3hr radius. From the staff to the humidor and from the lounges to the restrooms, this is THE place to go to buy your cigar and find cigar smoking friends. When the metaphorical dust settles, Habano Cigar Lounge Davenport will vie for the premiere cigar lounge in the state of Iowa. The staff is friendly, well-trained, and knowledgeable; they want every person of the leaf to feel welcomed. I cannot recommend this lounge enough. *Mention Simply Stogies Podcast and get 10% off your purchase*
SIMPLY STOGIES RATING: 9.2 / 10.0