If you have even a passing familiarity with online cigar spaces, you've probably heard of r/cigars: the cigar-centric subreddit of the "front page of the internet." It was there, early in my cigar journey, that I was introduced to Fox Cigars. There were so many posts by reddit users that featured purchases from Fox Cigars, and those posts always sang the praises of Fox Cigars. I was intrigued and bought a box of Opus X Lost City Double Robusto from them. I ended up talking to their warehouse and online manger, Rob, after the purchase. It was during that conversation that I learned Fox Cigars had two B&Ms. I knew right then, that I needed to visit them.
On my way back from the PCA 2021 Trade Show I had the opportunity to stop at the Fox Cigar Bar in Scottsdale, AZ and speak with Rob. It was a great conversation about how Fox Cigars flourished in the online space, what Fox Cigar Bar is all about, and just getting know Rob a bit. While I hope to get one day get Rob on the podcast, for now, here is my take on Fox Cigar Bar in Scottsdale, AZ.
ADDRESS:   7443 E 6th Ave, Scottsdale, AZ 85251
PHONE #:   (480) 214-5011
HOURS:   Monday – Friday 10AM-2AM
                  Saturday & Sunday 9AM-2AM
BOOZE AVAILABLE:   Liquor & Beer
DRINKS AVAILABLE:   Water, Coffee, Soda
FOOD AVAILABLE:   N
SMOKING LOUNGE:   Y
WALK-IN HUMIDOR:   Y 
SPONSORED LOUNGE:   Y  (Rocky Patel)
OUTDOOR SMOKING AREA:   Y 
MEMBERSHIPS AVAILABLE:   N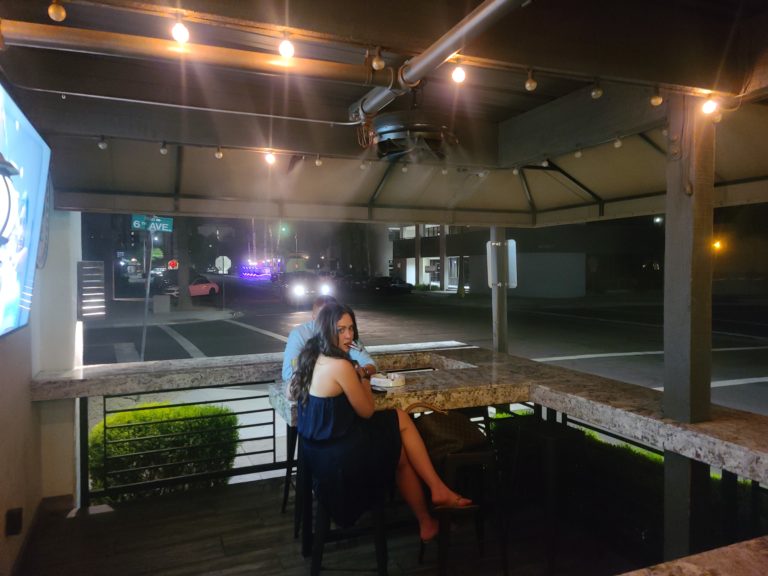 Located in a standalone building in the heart of Old Town Scottsdale, Fox Cigar Bar definitely has a southwestern look to on the outside. It's near other bars and restaurants in Old Town, so it's in a convenient location. There is plenty of parking near and around the building, and due to it's location in Old Town, it's easy to walk to after having dinner. There is a lot to like about the location, including an outdoor patio with plenty of space and televisions.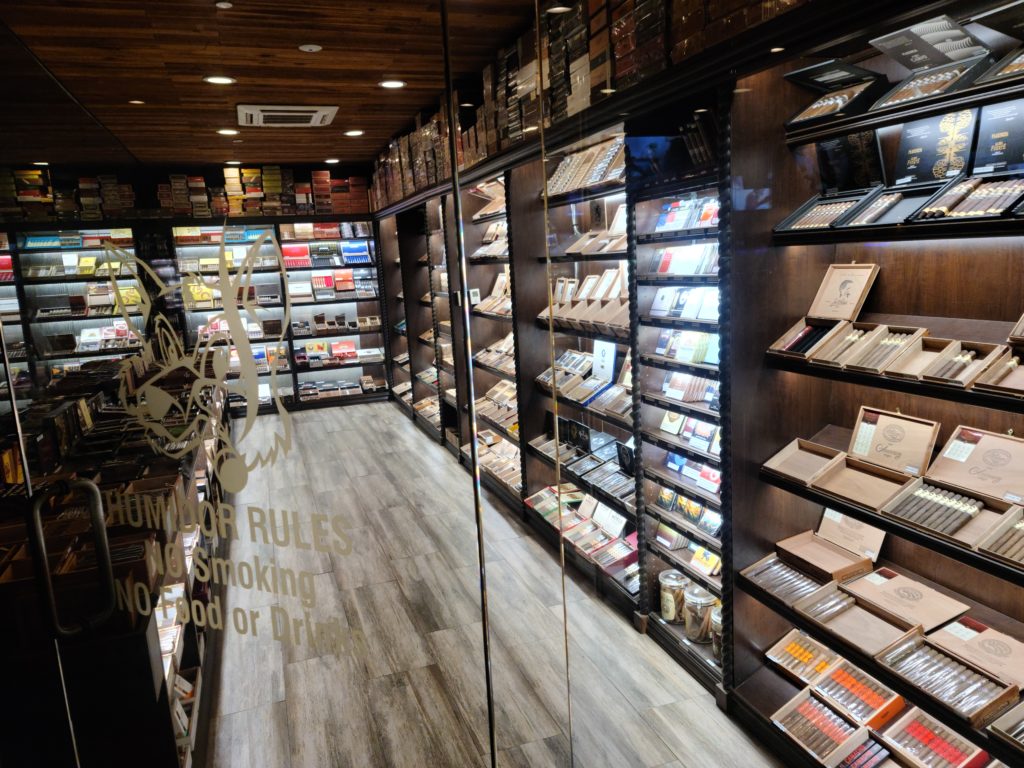 SELECTION/HUMIDOR SIZE
A walk-in humidor inside a bar? Yes, please! I've been to bars that had cabinet humidors and felt more like a bar than a cigar lounge. Fox Cigar Bar in Scottsdale is a bona fide cigar lounge that has a bar. The walk-in is big enough to not feel cramped and will comfortably fit more than 8 patrons at once. Large glass doors beckon you inside. The cabinets and humidor are well lit, the space is clean and well-organized, and the overstock is neatly stacked above the cabinets. 
The selection at Fox Cigar Bar in Scottsdale is great. They have some of the usual suspects: Montecristo, Acid, Arturo Fuente, Romeo y Julieta, Cohiba, and La Aroma de Cuba to name a few. However, they also have a good selection of boutique cigars: Illusione, Drew Estate, Foundation, and Aganorsa Leaf among them. One thing of note regarding their selection: Through talking with some locals, what they carry in their Scottsdale and Gilbert locations differs from what they have on their website. The reason for this is their warehouse is used only for online sales. This makes sense, but can be frustrating for locals looking for Opus X or the brand new releases that may not have made it to the cigar bars yet.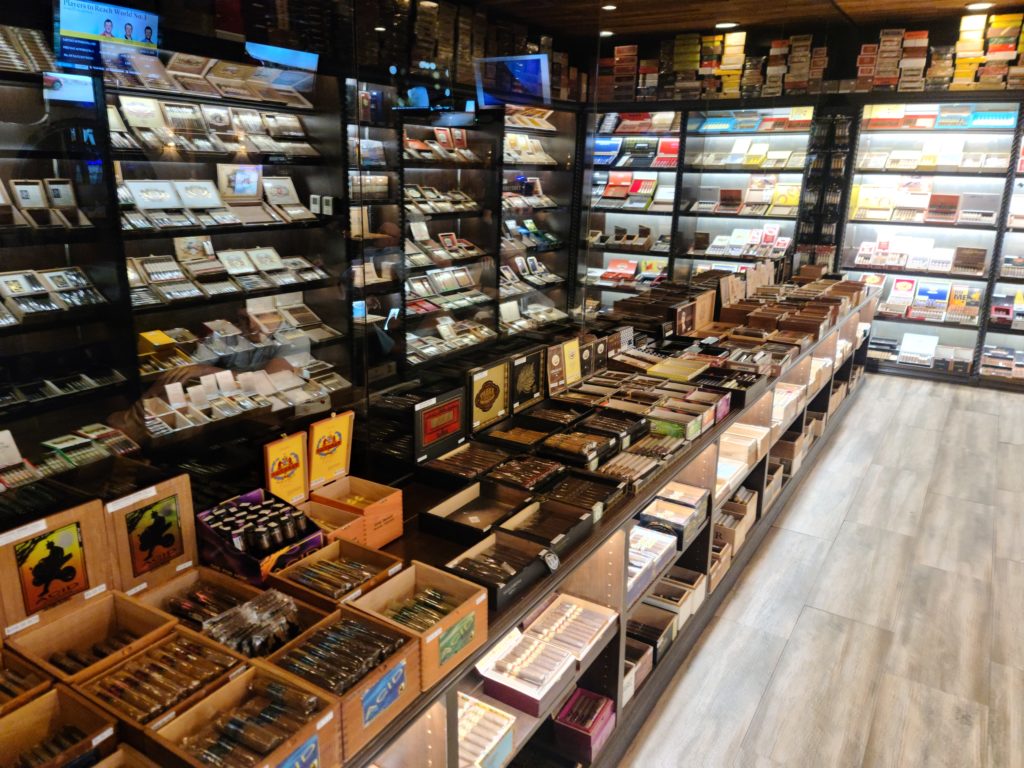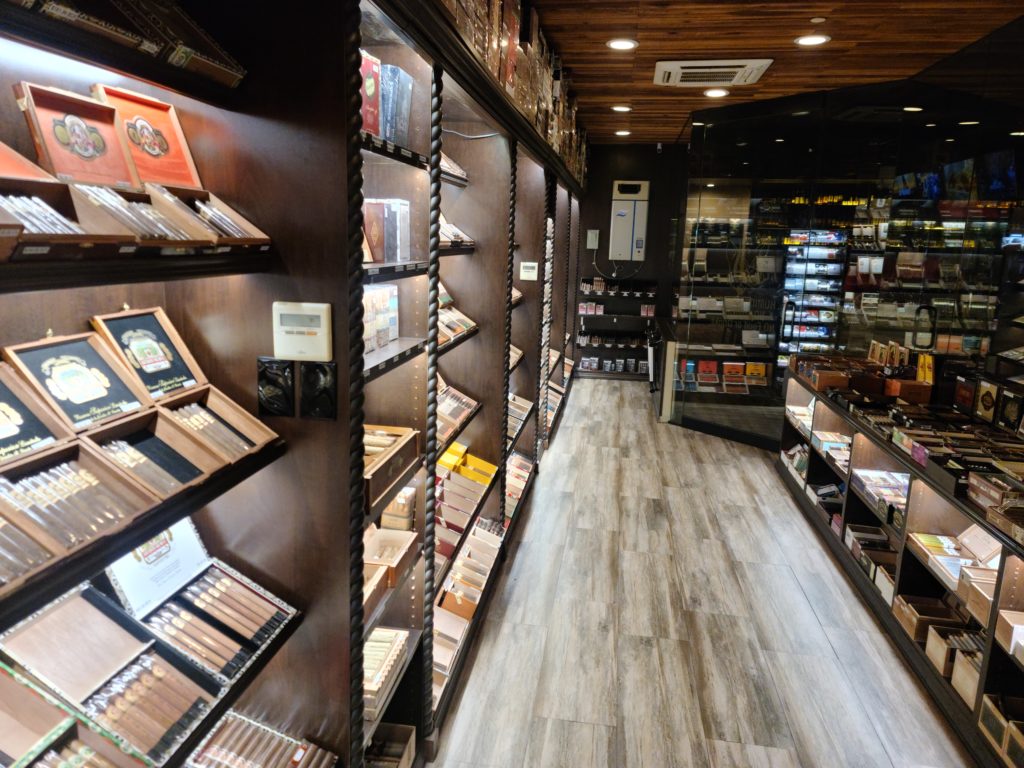 HUMIDOR MAINTENANCE
The biggest thing for me is that the humidifier isn't on the floor. That's not always a sign of poor maintenance and it's probably just an esthetic thing. I smoked two cigars from their walk-in and both burned like a dream. None of the cigars in their inventory had mold and they all appeared to be well-maintained. I did note a couple of empty boxes on the shelves, but those could have easily been picked through throughout the day. What struck me most was the level of cleanliness found in the humidor, and the rest of the bar for that matter. There was no dust on the shelves or on the cigars. There was an obvious level of pride taken in what they do.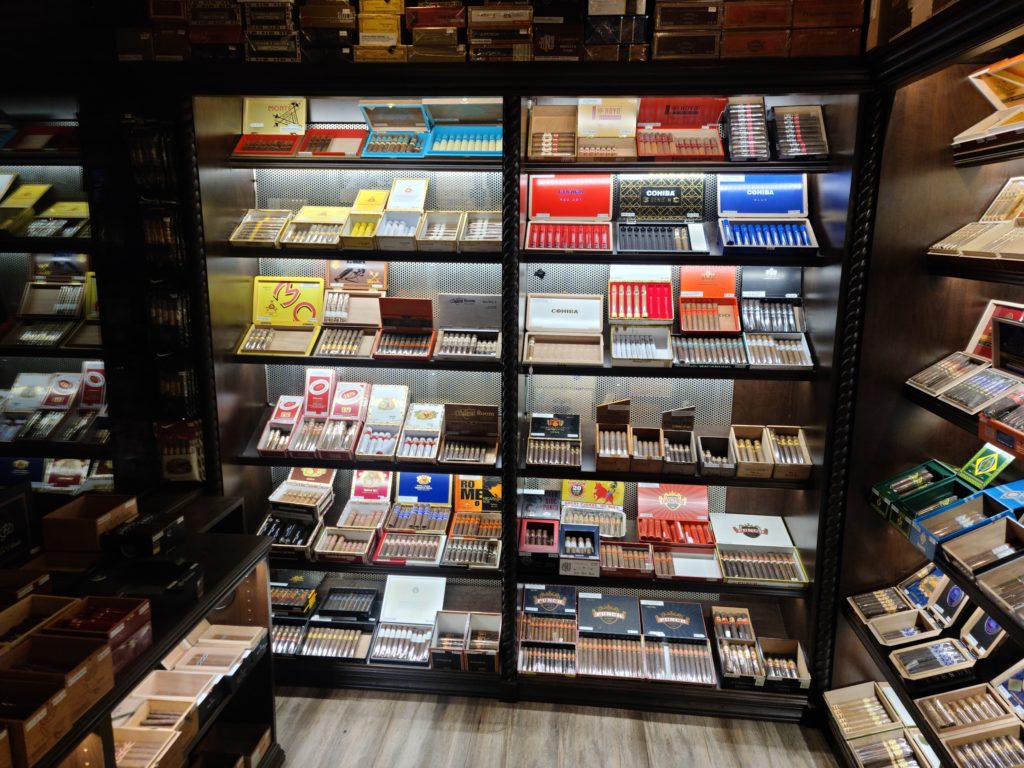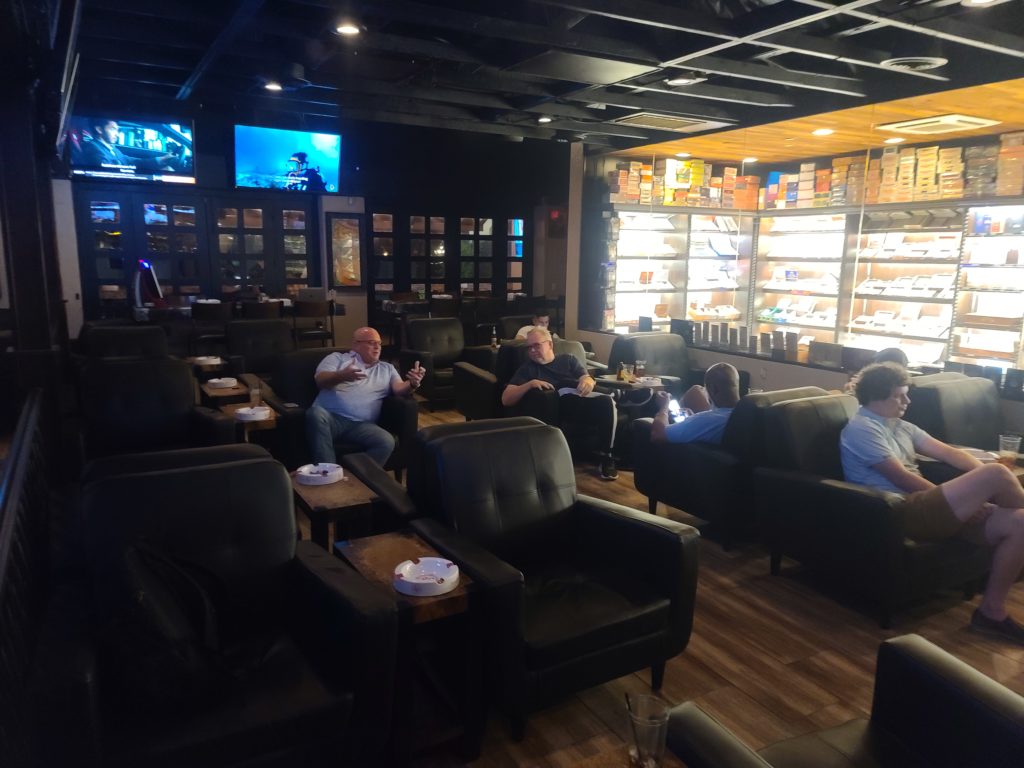 CUSTOMER SERVICE/STAFF KNOWLEDGE
If you've read any of my cigar lounge reviews before, then you know that this is where I am typically the hardest on lounges. The staff was very pleasant and friendly on both of my visits. I was greeted as I walked into the bar/lounge and asked if I needed any help before I walked into the humidor. I was allowed to peruse the humidor, un-accosted or hovered over. I observed an employee helping a customer find a cigar, thanks to the glass that allows you to see into the humidor, even though the bar area was pretty busy. However, I can only assume that those behind the bar know their stuff when it comes to cigars. I did not have an opportunity to "talk shop" with anyone because of how busy they were. So, I'll give them the benefit of the doubt based on my conversation with Rob.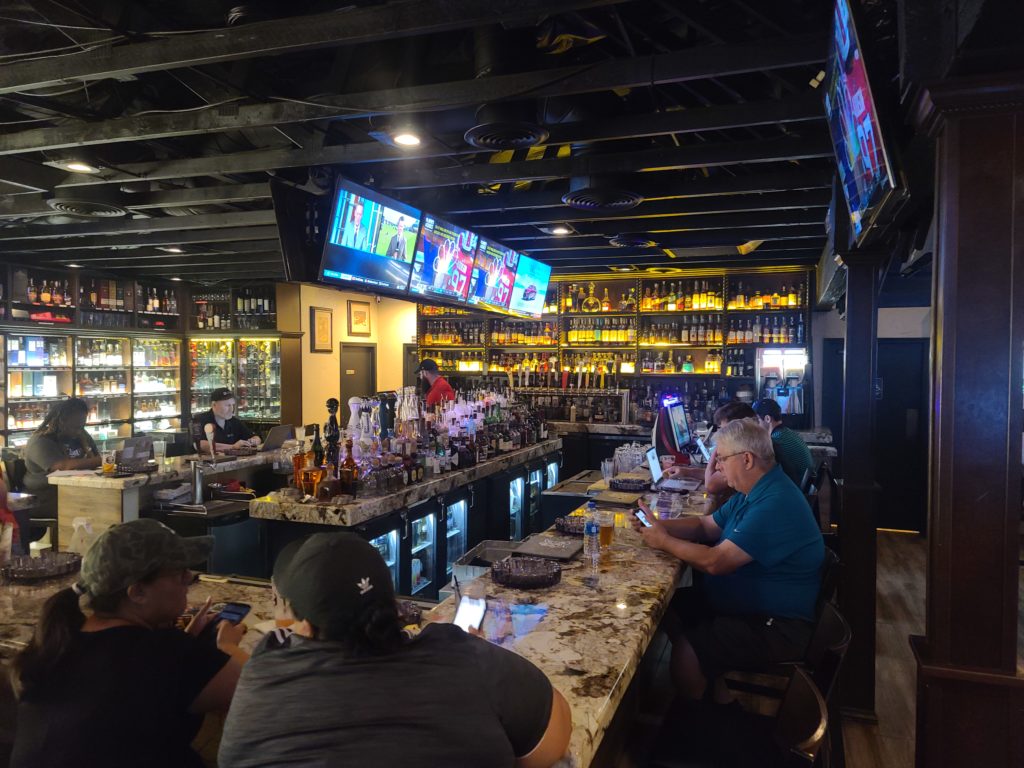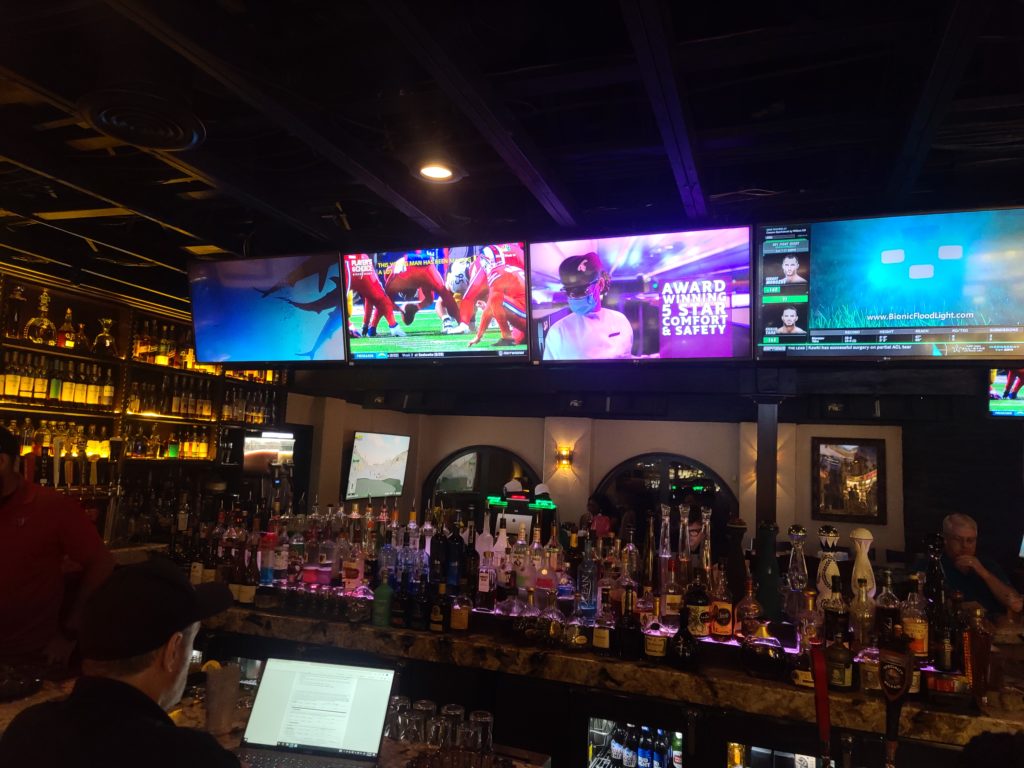 LOUNGE SIZE
The space at Fox Cigar Bars is well utilized. There are several long conference tables with high-back bar chairs for larger parties. There are several lounge chairs in the middle of the space that allow for comfortable cigar smoking and a more intimate feeling. Then, of course, there is the bar area that allows for additional seating. When you include the outdoor patio area, Fox Cigar Bar in Scottsdale has plenty of seating for everyone and almost any size group.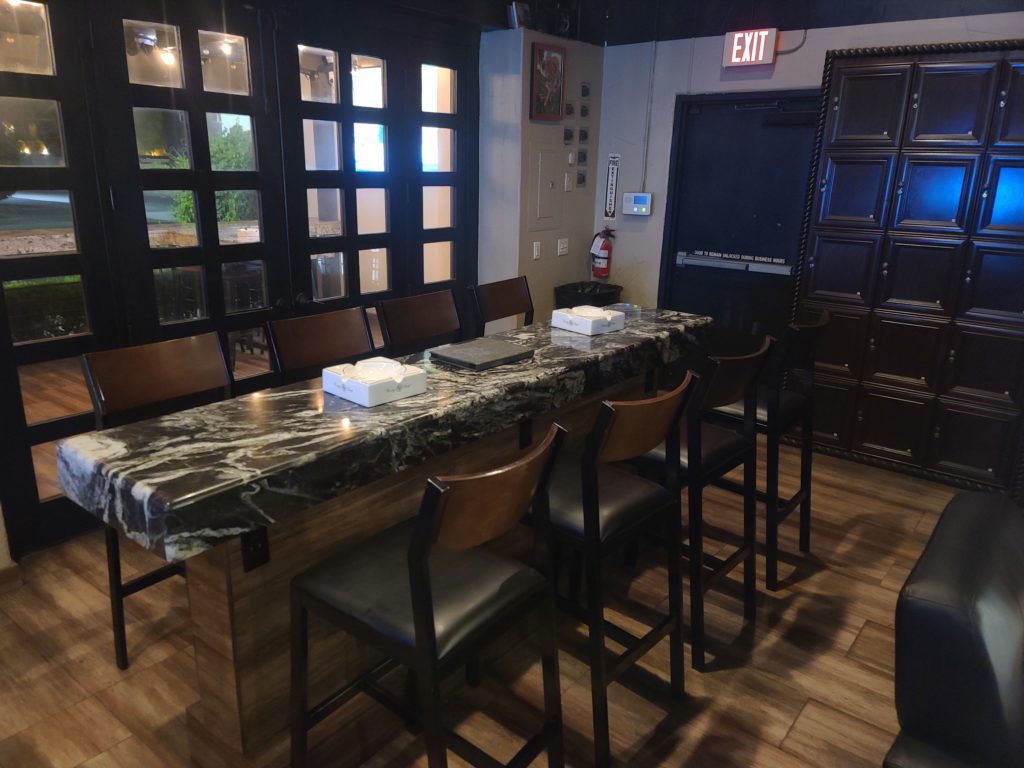 AMBIANCE
For a bar, Fox Cigar Bar has some great ambiance. Because of the way they have their seating spread out, you could come to enjoy the game with your friends while drinking some local craft beers or your favorite whiskey. You could come with a work group and strategize or plan your next quarterly meeting. You could also bring a date for an after dinner cigar. Or, you could just come by yourself and belly up to the bar and watch tv or get lost in your thoughts.
What you must keep in mind is that this is a bar. There's going to be noise. Certainly you could have an intimate conversation with a date, but there's going to be music and televisions on. This isn't a quiet place; nor was it meant to be. At night, the lights are turned down a bit (allowing the humidor to stand out even more) and the music is turned up. During the day it's much quieter and more subdued. 
There are a ton of televisions found throughout the bar and the patio. Fox Cigar Bar is what I think of when I want to watch a game with some friends, have a couple of drinks, and enjoy a cigar at the same time. 
HUMIDOR EXPERIENCE
The humidor at Fox Cigar Bar in Scottsdale has a little bit for everyone. It's not the largest walk-in humidor that I've been in, but it has a nice selection for its size. There were no issues with any of the cigars I smoked from the humidor and the level of cleanliness found inside the humidor is second to none. The staff was able to help other customers find what they were looking for on both of my visits.
LOUNGE EXPERIENCE
The staff emptied the ashtrays several times, and checked on those smoking on the patio more than a few times while I was there. My drink was refilled and I was engaged in friendly conversation even though I was obviously from out of town. The level of noise wasn't any higher than what I would expect from a bar or from the amount of televisions around the lounge. Everything was clean and comfortable.
RATING BREAKDOWN
2.80 / 3.00 … Customer Service/Staff Knowledge
2.95 / 3.00 … Selection/Humidor Size/Humidor Maintenance
3.00 / 3.50 … Ambiance
0.30 / 0.50 … Lounge Size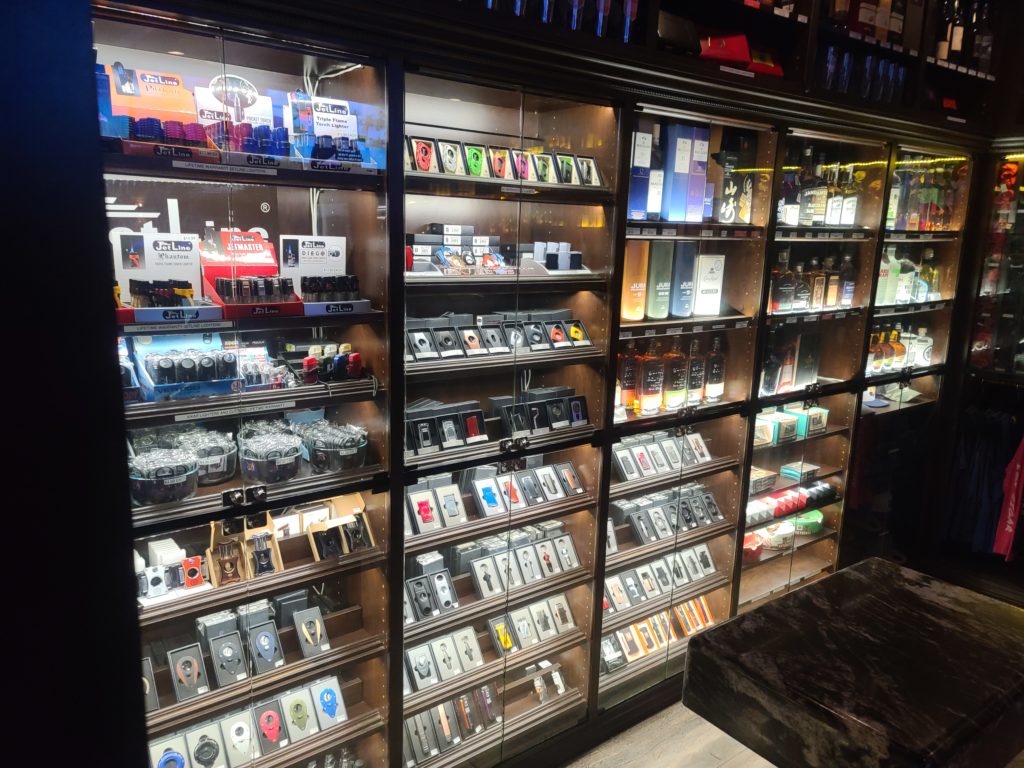 A LITTLE BIT OF SOMETHING FOR EVERYONE.
The only thing that would, in my opinion, make Fox Cigar Bar in Scottsdale, AZ even better is a larger humidor. Their selection is great, however, especially given their size. They have a nice selection of cigar accessories and an even better selection of whiskey! They're always getting in new liquor for their customers, and they sell by the bottle! Fox Cigar Bar has a good selection of LOCAL craft beer, too. All-in-all the place is great. You could go during the day and get some work done or just enjoy a cigar and some conversation with a friend. At night, it's a bar…and that vibe comes through loud and clear. Rob told me that they love to have fun at Fox Cigars and it shows. Everyone is friendly and makes sure that you're having a great experience. If you're a local, I envy you. If you're traveling to Scottsdale, you need to stop by!
SIMPLY STOGIES RATING:  9.05 / 10.0