Located in an upscale suburb of Nashville, Franklin Cigar sits unassumingly in a strip mall. However, you quickly realize how special Franklin Cigar is once you walk inside. From the impressive selection of cigars that sit in their walk-in humidor, to their local beers on tap, to their friendly and knowledgeable staff, everything about Franklin Cigar screams luxury. You're not just having a cigar, you're having an experience.
Franklin Cigar has been there for seven years, and while they have some pipes and pipe tobacco, their primary sales come from cigars. Their focus is solely on the customer. From the eight taps of local beer, to what they carry in their humidor, it is all done by what their customers want. "There are no strangers here, only friends you haven't met yet."
ADDRESS:   103 International Dr #110, Franklin, TN
PHONE #:   (615) 771-6767
HOURS:   Monday – Thursday 10AM-10PM
                  Friday & Saturday 10AM-11PM
                  Sunday 12PM-9PM
BOOZE AVAILABLE:   Y (8 beer taps)
DRINKS AVAILABLE:   Water, Coffee, Soda
FOOD AVAILABLE:   N
SMOKING LOUNGE:   Y 
WALK-IN HUMIDOR:   Y 
SPONSORED LOUNGE:   Authorized Davidoff Retailer (not a sponsor)
OUTDOOR SMOKING AREA:   N
MEMBERSHIPS AVAILABLE:   Y
They have an exclusive cigar that was a collaboration between Kix Brooks (country music artist and co-owner of Arrington Vineyard) and Jon Huber of Crowned Heads called the Double-W.
Their location in Nashville is much larger and carries a larger selection of pipes and pipe tobacco.
Franklin Cigar "counts the votes" when it comes to what to carry in their humidor and what they have on tap.
Their focus is on comfort and a luxurious experience for every customer.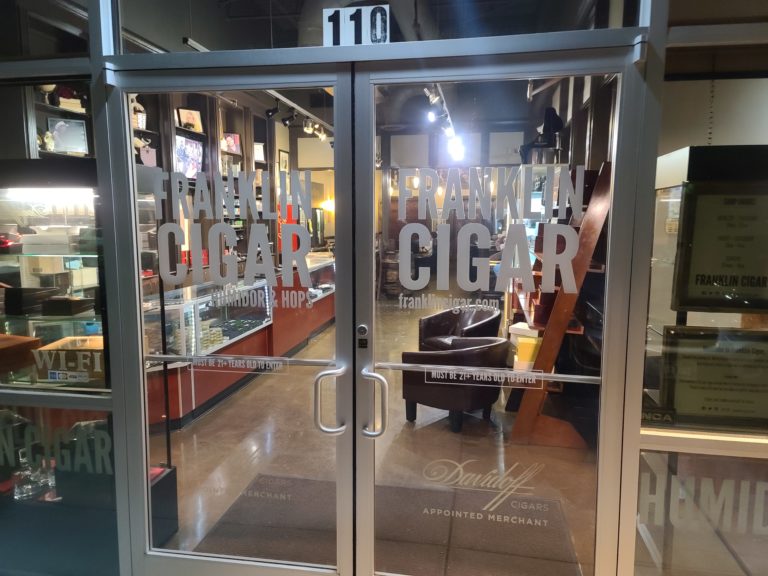 Franklin Cigar is located at 103 International Dr #110, near I-65 and was fairly easy to find. There are several restaurants and cafes that are close, as well as very nice accommodations for those traveling from out of town. Their outdoor signage is large enough to make it easy to spot in the strip mall area.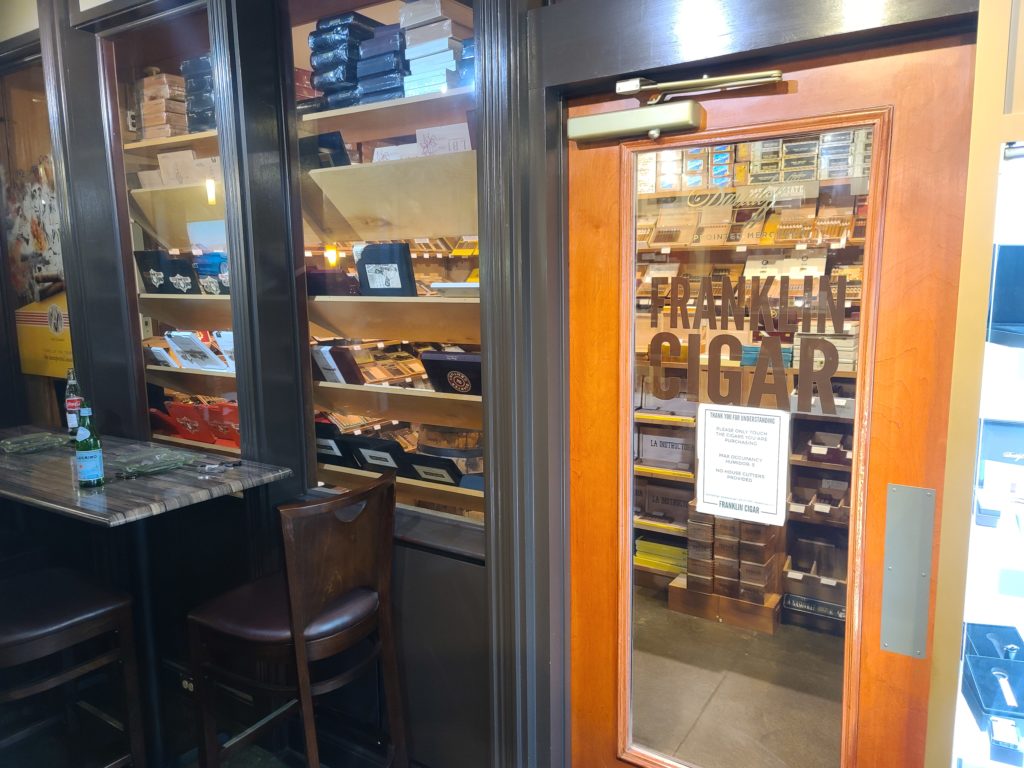 SELECTION/HUMIDOR SIZE
Oh, what I wouldn't have given to be able to snap some shots of what they have inside their humidor! However, they asked that I not take pictures in order to protect their pricing. I happily obliged and you can find some pics of their humidor here. Is this the largest walk-in humidor I've ever set foot in? No. Is this one of the best and most carefully curated retail humidors that I've seen? Unequivocally yes! Setting aside the fact that Franklin Cigar is an Authorized Davidoff Retailer, their selection of cigars runs the gamut. Customers can choose from your usual suspects of premium hand rolled cigars: Drew Estate, Arturo Fuente, Camacho, etc… Customers could also choose your ultra premium hand rolled cigars like Davidoff and Padron, or even boutique cigars like Crowned Heads. However, Franklin Cigars carries a wide array of very boutique cigars for every price range including: Atsiniki Cigars, Atabey Cigars, Byron Cigars, and Sans Pereil. 
HUMIDOR MAINTENANCE
I spent a lot of time inside their walk-in humidor choosing what to smoke and talking with Travis and John about what they carry, why they carry it, and what some of their favorites were. Their humidor is kept very clean. I noticed no mold, the door was always secure, and every cigar I smoked while there burned like a dream.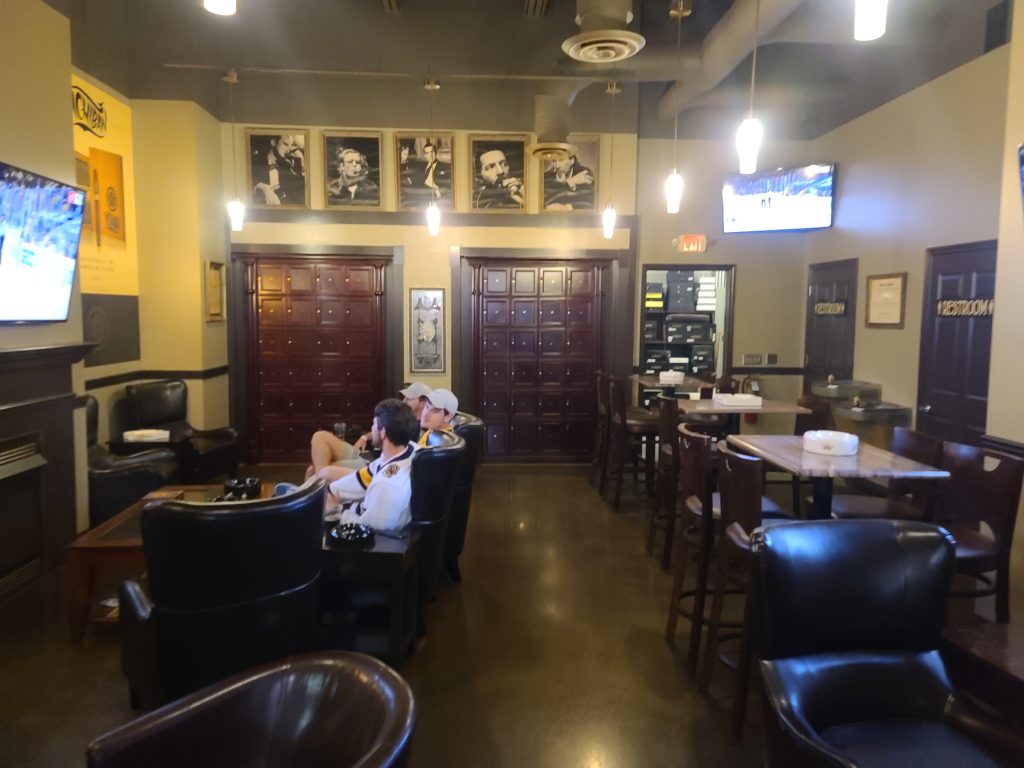 CUSTOMER SERVICE/STAFF KNOWLEDGE
Customer service is where Franklin Cigar truly shines. I was greeted immediately by Travis who, surprisingly, had only been working there for a couple of weeks. He was very friendly and seemed rather knowledgeable, especially after I learned he was a relatively new employee. He was excited about Atsiniki Cigars and knew the story behind them. John was even more knowledgeable, knew what questions to ask, and was more than gracious with his time and knowledge. Neither one hovered over me in the humidor, instead they engaged me in conversation and answered every question about the shop that I asked.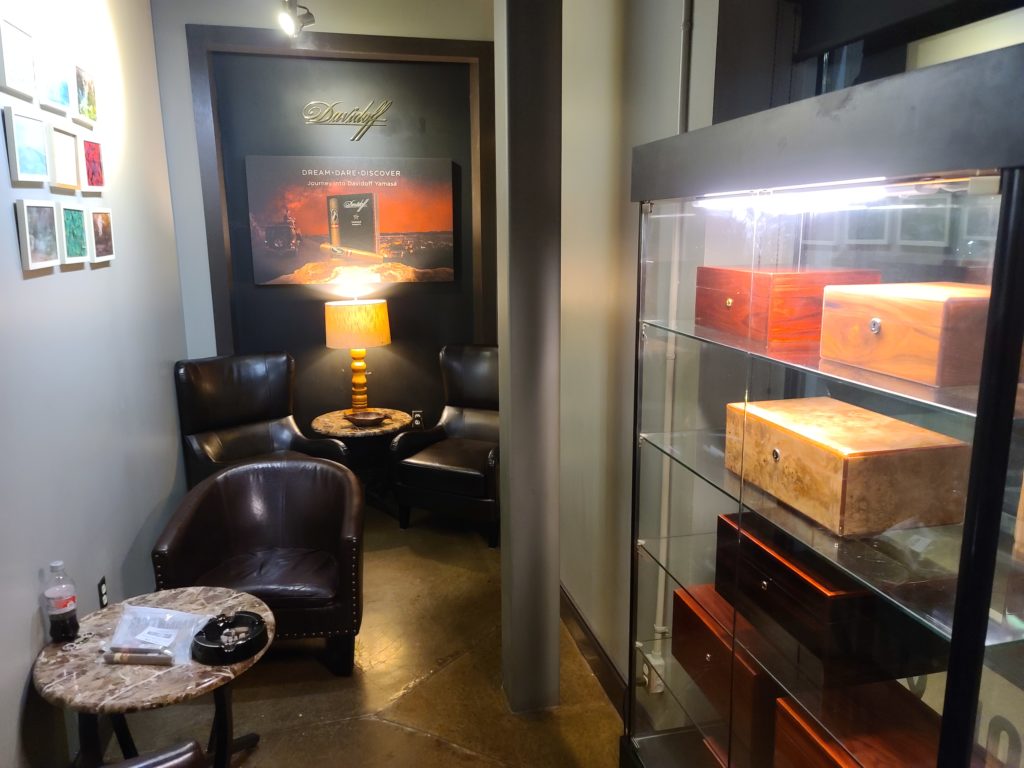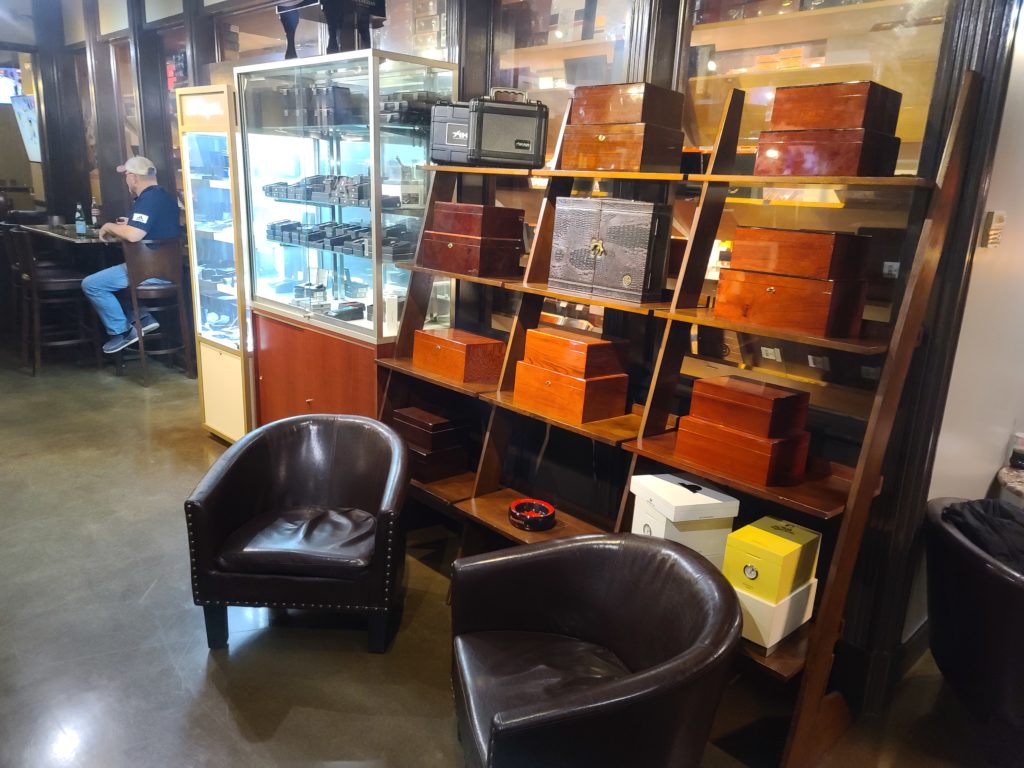 LOUNGE SIZE
If there were going to be any points deducted, this is where they'd be. This isn't a tiny lounge, but it's not overly huge either. Their use of space is fantastic. They have several areas where intimate conversation can be had, as well as a large space to accommodate larger parties. With three televisions on the wall, there isn't a bad a seat if you want to catch the game with your friends. For the size and the location, it can't be beat.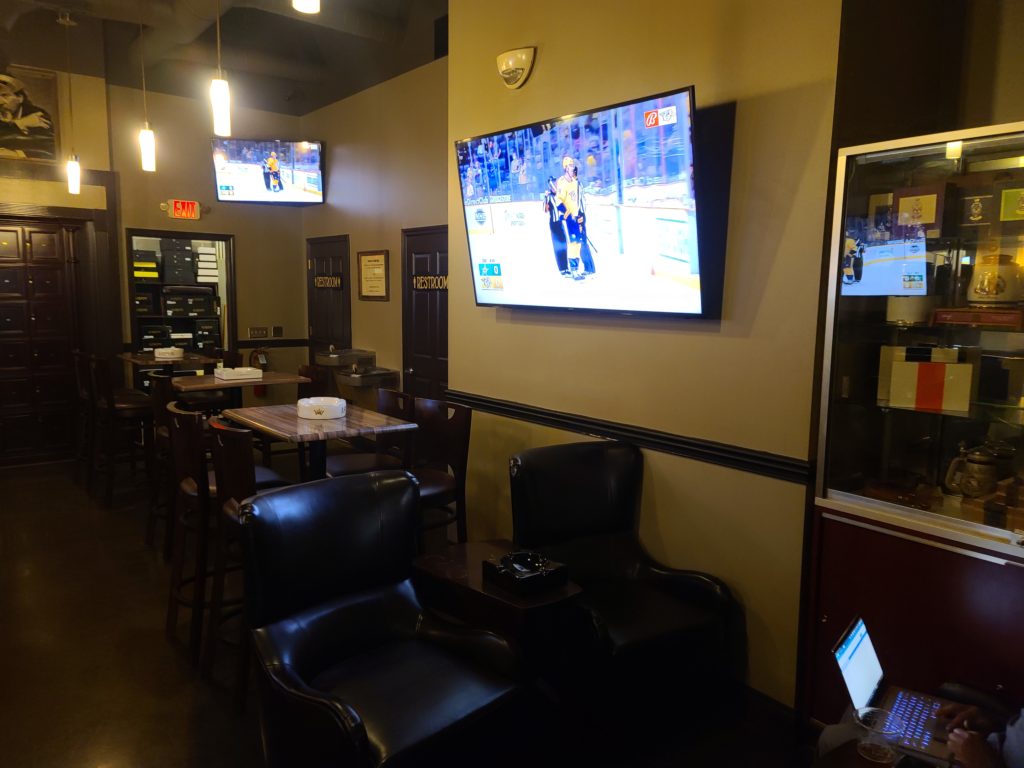 AMBIANCE
John told me that everything at Franklin Cigar is done with the comfort of the customer in mind. The chairs are all dark leather, save for the few chairs near the bar area. Everything has the look and feel of something upscale. The front of the store is well lit, as is the humidor. The main lounge is dimly lit with wood accents and just a touch of modern creature comforts. The vibe is relaxed and refined, while being approachable and friendly.
HUMIDOR EXPERIENCE
I couldn't say enough good things about the humidor if I tried. It has something for everyone and, more importantly, something in every price point. It's one thing to have a nice selection of cigars, but it's quite another to have employees who are knowledgeable and passionate about what is stocked in their humidor. Franklin Cigar has both.
LOUNGE EXPERIENCE
Again, I find myself really searching for any areas of weakness. Certainly size might be kind of an issue, but I think it goes to the type of atmosphere they're creating at Franklin Cigar. The staff is friendly, informed, and more than willing to share their knowledge. Conversely, if you know what you want and just want a quiet lounge experience Franklin Cigar 
RATING BREAKDOWN
3.00 / 3.00 … Customer Service/Staff Knowledge
2.75 / 3.00 … Selection/Humidor Size/Humidor Maintenance
3.25 / 3.50 … Ambiance
0.25 / 0.50 … Lounge Size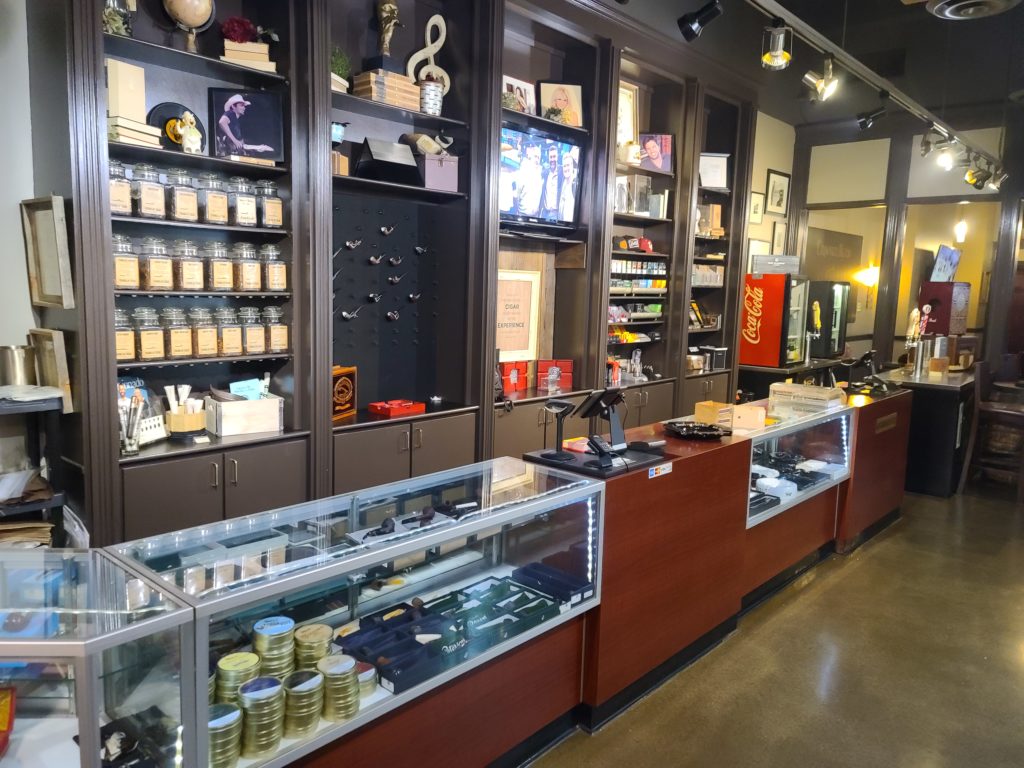 UPSCALE BUT APPROACHABLE.
Franklin Cigars does a great job of being both high-end and approachable. Located in an affluent area (the average house sells for over $500,000) Franklin Cigar has found a way to cater to aficionados and enthusiasts from all walks of life. The lounge can be cozy and intimate, as well as handle a larger crowd for sporting events and cigar related promotions. Their humidor is one of the most well-stocked and carefully curated retail collections as I've seen. They don't have the space to carry everything, so they carefully select what they carry, and get the input of their customers. Where they truly shine is their customer service. The staff at Franklin Cigar is knowledgeable, friendly, and go the extra mile for everyone who walks through their doors. As John told me, "There are no strangers here, only friends you haven't met yet."
SIMPLY STOGIES RATING:  9.25 / 10.0